Chilled cucumber soup shots with spicy crab are cool and creamy with the use of avocado and coconut cream, Dairy free, it is the perfect easy cucumber soup recipe for summer entertaining. The soup shots can be made vegan by omitting the crab and using tofu. Everyone is a winner!
Summer in Australia is hot, don't let anybody tell you differently. It's also the time that Aussies love to entertain. Relaxed barbeques at home, accompanied by cooling beverages, lasting until the heat of the day is put to bed by the arrival of evening.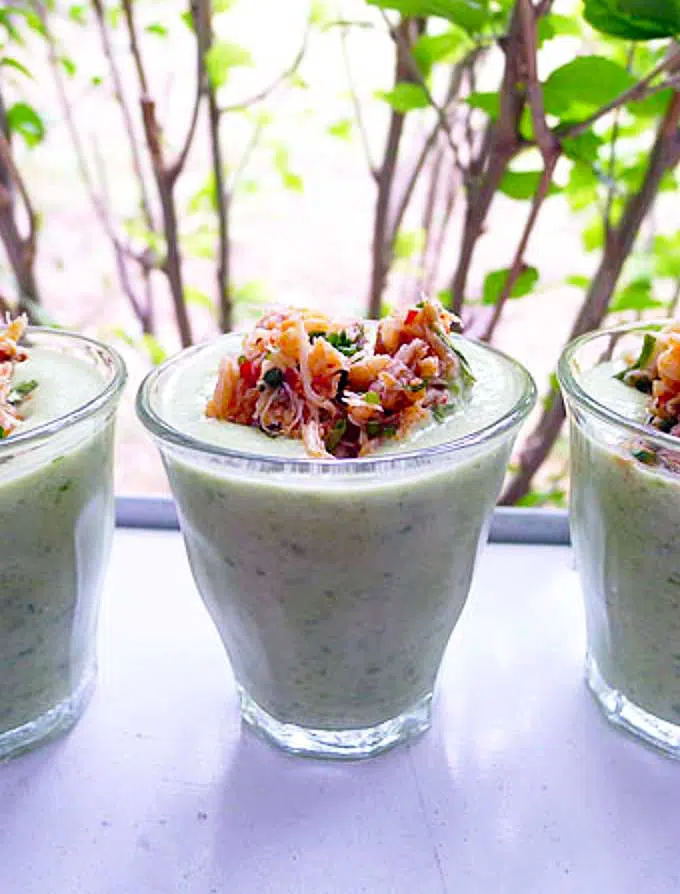 Our hot Summer days do cry out for barbeques, but cooling dishes for entertaining are also an essential requisite for any serious home cooks' repertoire.
Another recipe that I am not 100% sure where I nabbed it from, maybe Delicious? I originally made these for Christmas Day back in 2012, and since have used it in cooking demonstrations. The recipe has been a huge hit with family and strangers alike. Amazed how easy this canape is to make, and how flavour packed it is.
Why not try my Chilled Corn Soup with Crab and Gin Pickled Tomatoes!
The chilled cucumber soup looks great in a shot glass. Topped simply with spicy crab meat it is a chilled flavour bomb. The beauty of this recipe is that you don't have to make shots, you could quite as easily prepare larger versions of this cooling soup in bowls or larger glasses.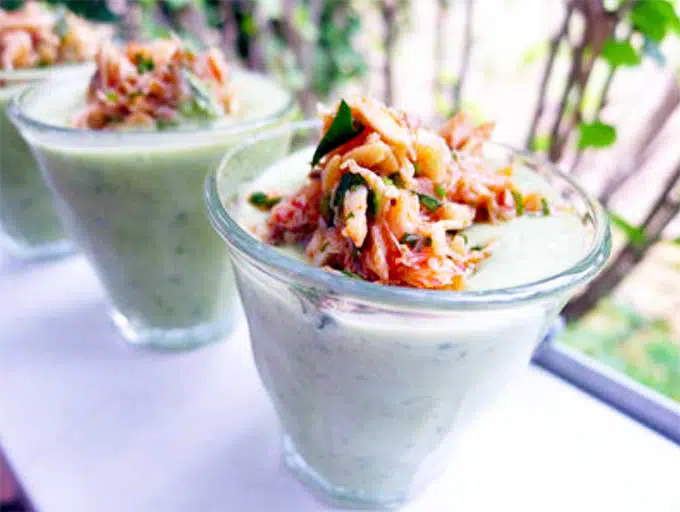 Not sure if you like chilled soup? Quite a few people are put off by the idea This is the perfect chilled soup introduction recipe to see if chilled soup is for you.
There is wiggle room with this recipe. Chopped cooked prawn or lobster can replace the crab. Don't want to use shellfish? Finely shredded poached chicken works a treat. For a vegan chilled cucumber soup, some crispy tofu is magical.
Recipe pressure points
None, it all goes in a blender and whizzzzz.
Special equipment for this recipe
Again none, you will need a blender. You could get away with a stick blender in a pinch, but a blender with a jug is the way to go.
Special Ingredients for this Recipe
Buy picked crab meat from your local fishmonger. There is no need to buy crabs and pick the meat yourself. This is meant to be an easy cold cucumber soup recipe for entertaining after all!
What to do with any leftovers
This is a devour on the day kind of recipe. The cold cucumber soup does not freeze well. Any leftover spicy crab can be used the next day in a salad.
Do tell! Are you a fan of chilled soup? Or do you feel soup should remain a warming dish for winter?
Sara xxx
Other Seafood Hors d'oeuvres
Seared Scallops with Sake Butter Sauce - a Japanese twist on a classic
Chilled corn soup with crab and gin pickled tomatoes - a little sassy and one for gin lovers
Seared scallops, blood limes & hazelnut brown butter - another tasty seared scallop recipe
Fried prawn dumplings, water chestnuts & Ginger - one for the dumpling addicts out there
Smoked trout on potato rosti - a mouthful of amazing
Prawn toast with corn & black sesame - twisted prawn toast at its best
Spiced prawn pappadams - mini pappadams filled with spicy prawn
Printable Recipe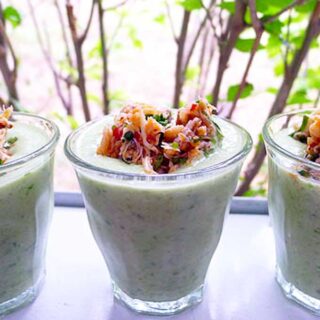 Chilled Cucumber Soup Shots with Spicy Crab
Chilled cucumber soup shots with spicy crab, creamy with the use of avocado and coconut cream. Dairy free, and can be vegan by replacing crab with tofu.
Ingredients
1

telegraph cucumber

peeled, seeds removed & chopped

1

avocado

peeled, seed removed & chopped

4

spring onions

trimmed (roots removed) & roughly chopped

¼

cup

lime juice

¼

cup

coriander leaves

finely chopped

1

cup

coconut cream

1

Tablespoon

canola oil

1

teaspoon

sambal oelek

1

cup

fresh crabmeat
Instructions
In a blender place cucumber, avocado, spring onion, 2T of lime juice and 2T of coriander with 1 cup of iced water. Season with salt and ground pepper, then blend until smooth. Transfer to a large jug and stir in the coconut cream. Taste and adjust seasoning if necessary. Place in fridge and chill for at least 30 minutes.

In a bowl combine canola oil, sambal oelek, crab, remaining lime juice and coriander. Season with salt.

When ready to serve, divide the soup into your 8 shot glasses (or small bowls). Top with a spoonful of the spicy crab mixture and serve immediately.
Measurement Notes
All measurements are Australian metric standard. All measures are level, and cups are lightly packed unless specified. 1 teaspoon = 5ml / 1 tablespoon = 20mls / 1 cup = 250ml /4 teaspoons = 1 tablespoon.
NUTRITIONAL INFORMATION
The recipe's nutritional information is an approximation based on an online calculator. It is meant solely for reference purposes. If you're looking for precise details, be sure to double-check with your own research.
Calories:
202
kcal
Carbohydrates:
10
g
Protein:
7
g
Fat:
16
g
Saturated Fat:
9
g
Cholesterol:
8
mg
Sodium:
195
mg
Potassium:
672
mg
Fiber:
3
g
Sugar:
1
g
Vitamin A:
570
IU
Vitamin C:
51.2
mg
Calcium:
118
mg
Iron:
4.3
mg
Did You Make This Recipe?
I do a happy dance when people share how they went. Tag me on Instagram or Twitter @bellyrumbles & #bellyrumbles