Summery peach vanilla bourbon jam. Make a big batch to enjoy the taste of summer long after peach season has disappeared. The sweetness of seasonal peaches, with notes of vanilla bean and a mellow kick of bourbon.
Jam is readily available at your local supermarket, and generally quite cheap to purchase. But there is something I find quite satisfying, almost therapeutic, about making jam at home.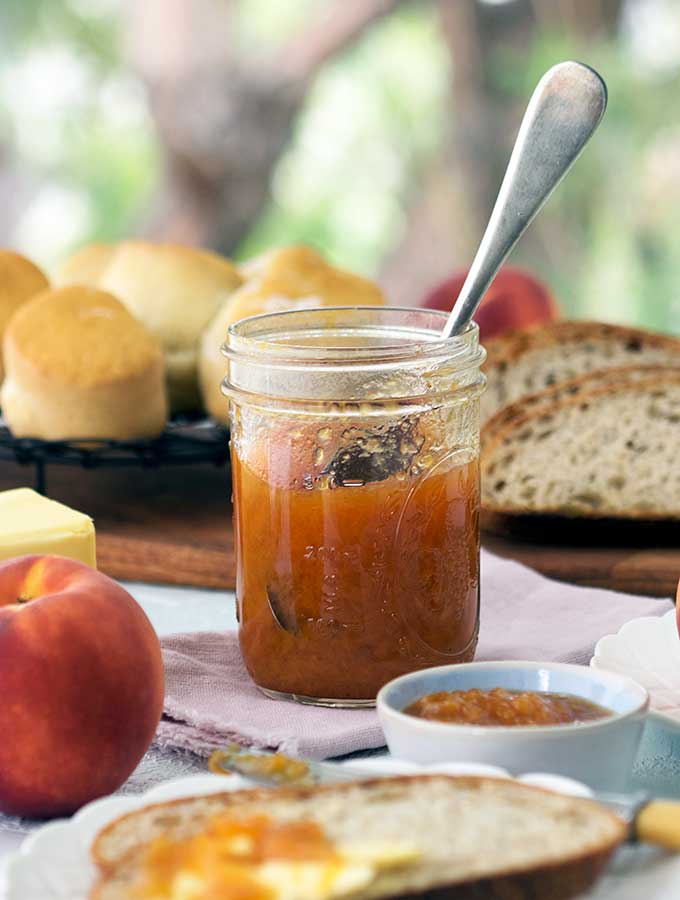 Making your own jam gives you the opportunity to play with flavours that aren't available commercially. When strawberries are in season I do whip up a 12 month supply of strawberry jam, a staple in our house. Okay, nothing out of the ordinary about strawberry jam, I just like it.
A regular jam I also make is my easy pineapple jam. I love slathering it on toast in the morning, and when there is a batch in the house will always bake a scrumptious pineapple almond tart. I can't buy pineapple jam in Sydney, therefore if I don't make it I go without.
With the peach season in full swing, I decided to make a big batch of bourbon peach jam with vanilla bean. Another jam hard to find in Sydney.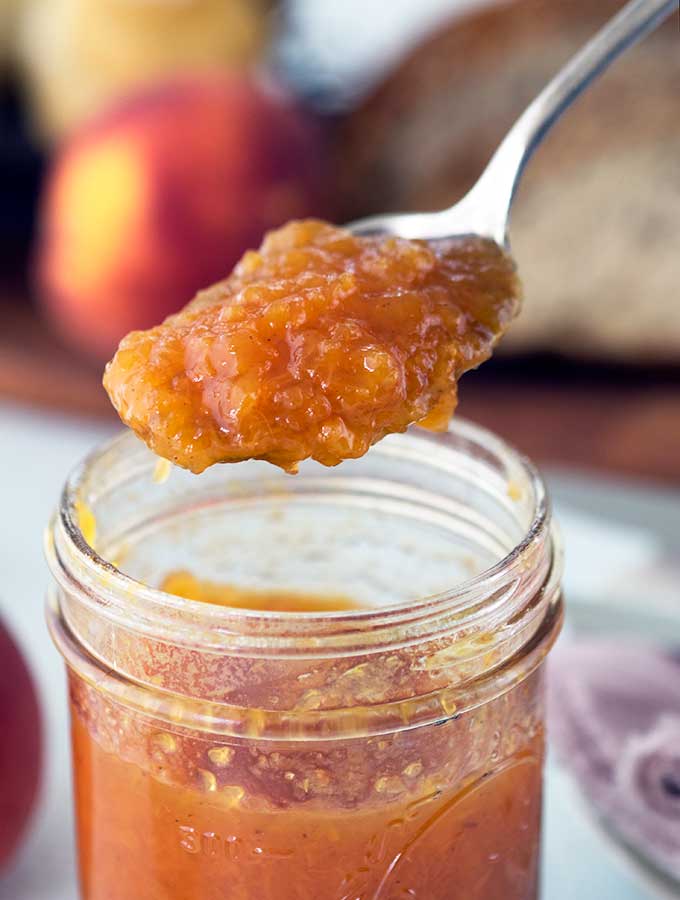 Last Christmas I scoured supermarkets and delis to find a jar of peach jam for my peach and bourbon glazed baked ham. No luck, none to be found. That my friends was the inspiration to make peach bourbon jam, the inability to make a bourbon peach glaze for my Christmas ham.
I made this jam without pectin, commercially bought pectin that is. I avoid additives when making any food from scratch at home as it misses the point of doing so. The 'real fruit pectin' which is available commercially does have other things in it besides fruit pectin.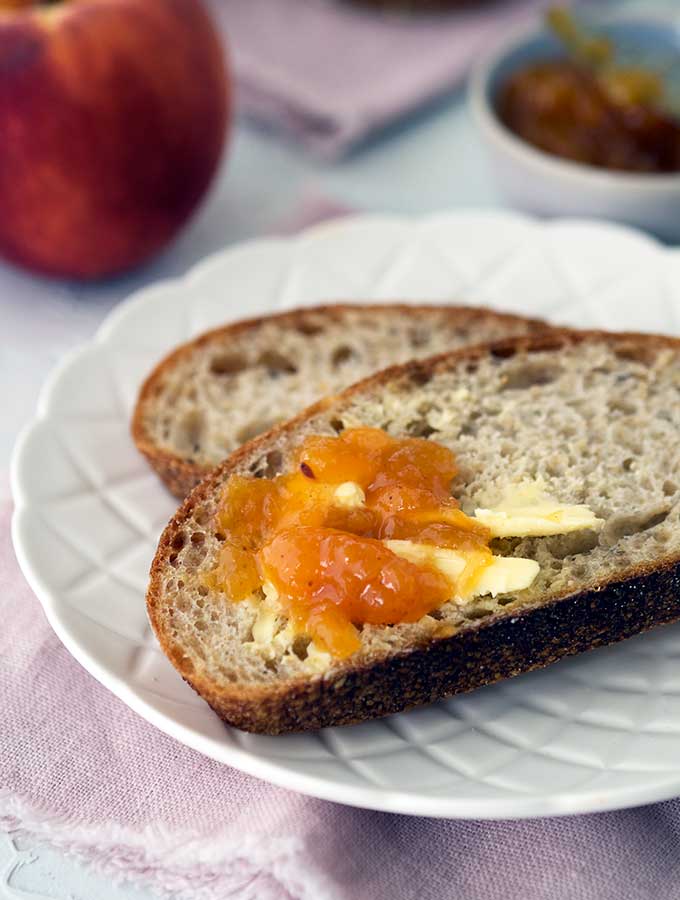 Recipe Hazard Zones
Removing skin from peaches
When you know how it is very simple, and I find it the best way to remove skin from peaches. Just like tomatoes, cut a small cross at the bottom of the peach and blanch them in boiling water for one minute. Remove immediately and place in a bowl of iced water to stop cooking. The skins will easily slip off the peaches.
Yellow Peaches
Make sure you use yellow peaches for this recipe. Both for taste and acid level of the fruit.
Canning the bourbon vanilla peach jam
Ensure the jars and lids are sterilised. I put mine through the dishwasher on the hottest setting without any dishwashing detergent, and be sure to take out any deodorisers you may have in your dishwasher.
After pouring your jam into your sterilised jars make sure that the jar rims (where the lids will sit) are clean of any jam spills to ensure a good seal.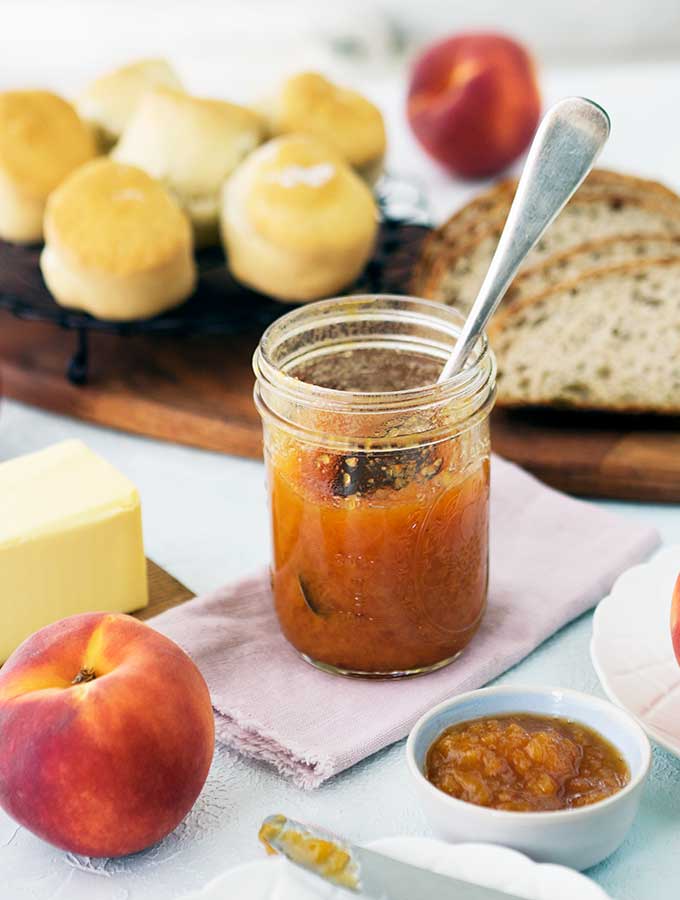 Special equipment for this recipe
Invest in a candy thermometer if you don't have one. You will need a pot large enough to fit six 1 cup jars, covered with water that will be boiling.
Special ingredients for this recipe
None, but I did use a Kentucky straight bourbon whisky for this jam. My personal favourite is Maker's Mark, but feel free to use your favourite.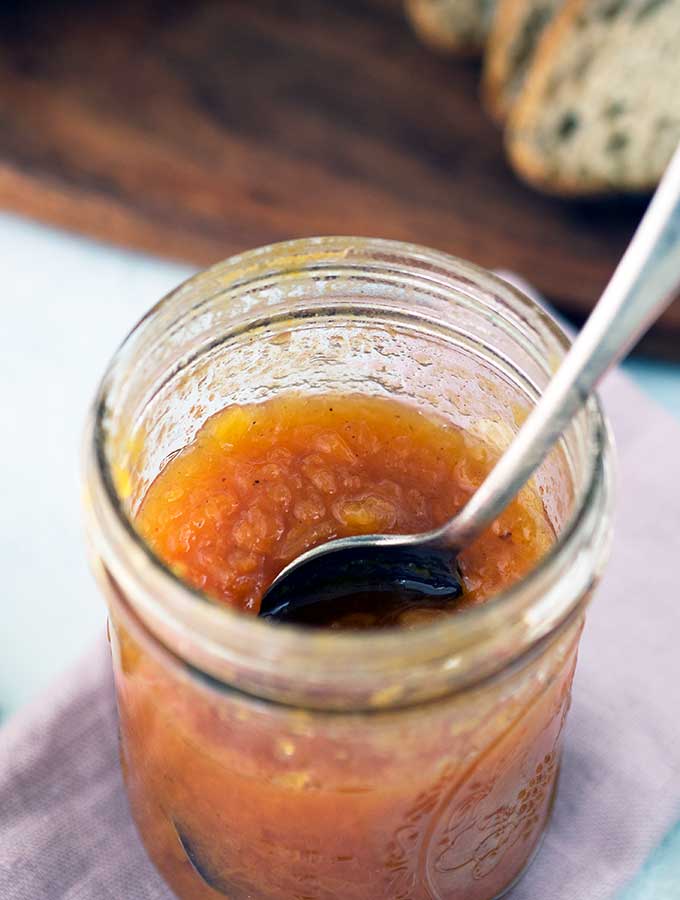 What to do with any leftovers
The idea is to have a stock of jam for use throughout the year. If you do not want to can your jam it will keep for two to three months in your refrigerator. You could use the jam in baked goods like a tart or pie. It would also be delicious folded through homemade vanilla ice cream.
Sara xxx
Become a subscriber and don't miss a single delicious recipe, restaurant review or travel adventure.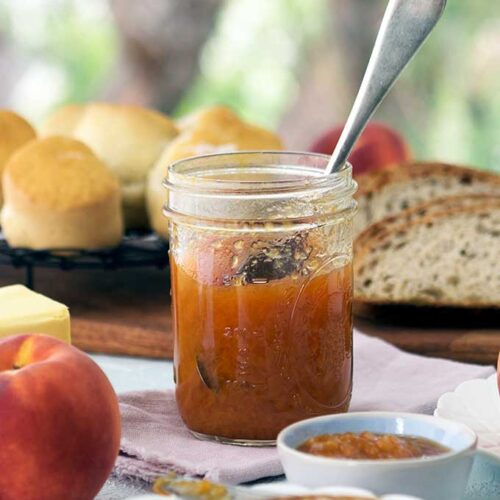 Peach Vanilla Bourbon Jam
Summery peach vanilla bourbon jam. Make a big batch to enjoy the taste of summer long after peach season has disappeared. The sweetness of seasonal peaches, with notes of vanilla bean and a mellow kick of bourbon.
Print
Pin
Rate
Ingredients
5 ½

cups

of small diced yellow peaches

skin removed (roughly 6 peaches)

2 ½

cups

sugar

2

teaspoons

vanilla bean paste

1

cup

bourbon

2

tablespoons

lemon juice
Instructions
Before starting this recipe sterilise six 1 cup jars and lids. Once sterilised keep warm in the oven until needed.

Place a small plate/saucer in the freezer to chill.

Put peaches, sugar, vanilla, and bourbon in a large saucepan. Stir together and leave to sit covered for 30 minutes.

Over a low heat stir mixture until all the sugar has dissolved. Once the sugar has dissolved increase the heat and bring the mixture to a simmer.

Simmer for a further 10 minutes or until peaches are soft, stirring the mixture occasionally.

Remove saucepan from the heat. Using a potato masher crush the peaches until they are almost smooth, but still, have some nice textural lumps/bumps to them.

Return peach mixture to medium-high heat and bring to the boil. Stir occasionally for the mixture not to catch. Bring the mixture up to 105°C (220°F) and remove saucepan from the heat.

Remove the small plate from the freezer and test 1 teaspoon of the mixture. Drag your finger through the mixture, if your finger leaves a trail and the jam stays parted it is ready. If not return to the heat for a few more minutes and test again. Repeat until the jam is the right consistency.

Once the jam is at the right consistency, using a spoon skim any surface foam and discard.

Fill warm sterilised jars with peach vanilla bourbon jam. Use a funnel for easy and to keep the jar rims clean.

Seal jars with their lids and then place in a pot of boiling water, making sure that the lids are covered.

Boil jars for 10 minutes and then remove carefully and leave to cool.

Once cool double check that the jars have all sealed tightly and then store in a dark cool place until ready to use.

Once a jar of jam has been opened, store in the fridge until finished.
Nutrition
Calories:
38
kcal
|
Carbohydrates:
7
g
|
Potassium:
21
mg
|
Sugar:
7
g
|
Vitamin A:
35
IU
|
Vitamin C:
0.9
mg
|
Calcium:
1
mg
DID YOU MAKE THIS RECIPE?
I love knowing when readers make my recipes, tag me on Insgragram @bellyrumbles
PIN THE RECIPE TO MAKE LATER!