A simple goat butter recipe using large plump butterflied prawns. Accompanied by a toasted almond goat milk butter sauce flavoured with saffron, lemon zest, and white wine. Serve with a squeeze of lemon and crusty fresh bread to mop up saucy remains.
Casual conversations can be a funny thing. A simple, "what are you up to" resulted with a few turned up noses over the past couple of weeks. It's surprising how many people aren't familiar with goat butter or like the sound of it.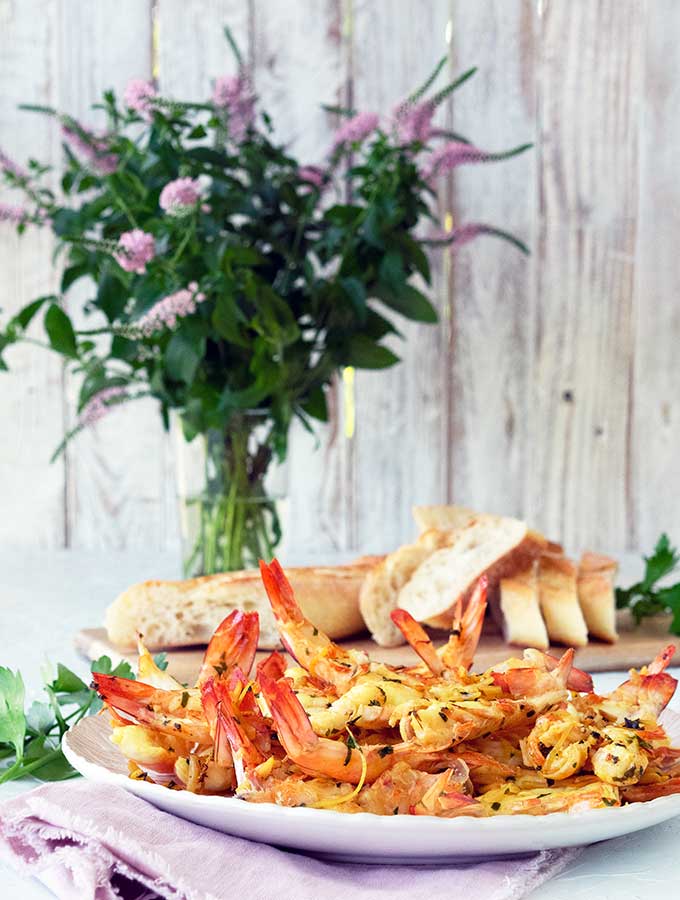 There are many rules I live by when it comes to food, a major one is, do not turn your nose up at something you haven't tried.
It drives me crazy when somebody will not taste something just because it smells funny, looks funky, is unusual, or they feel they won't like it. Sadly, my mention of goat butter had that reaction on a few people.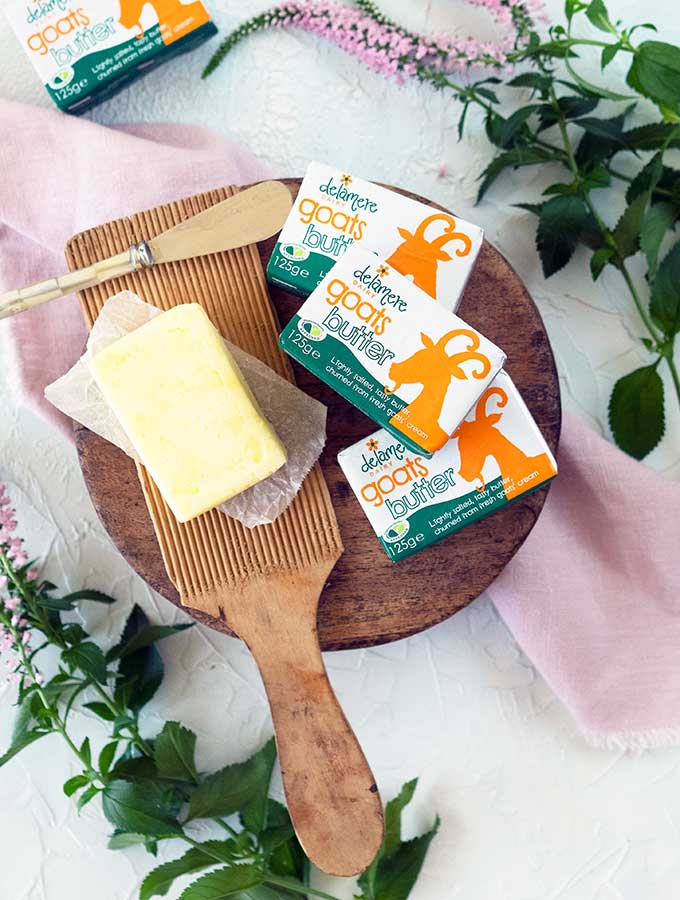 The butterflied prawn, saffron and almond goat butter recipe I am sharing is due to my collaboration with Delamere Dairy. Like a lot of people, before Delamere contacted me, I had never tried goat butter.
I wanted to create a recipe that showcased the butter. The prawns are still very much the hero of this dish, but the goat butter is one tasty unmissable sidekick.
Haven't tasted or cooked with goat butter before? Then you probably have a few questions. I researched and experimented with the goat butter Delamere sent me. Hopefully I can shed some light on this great alternative to cow's butter.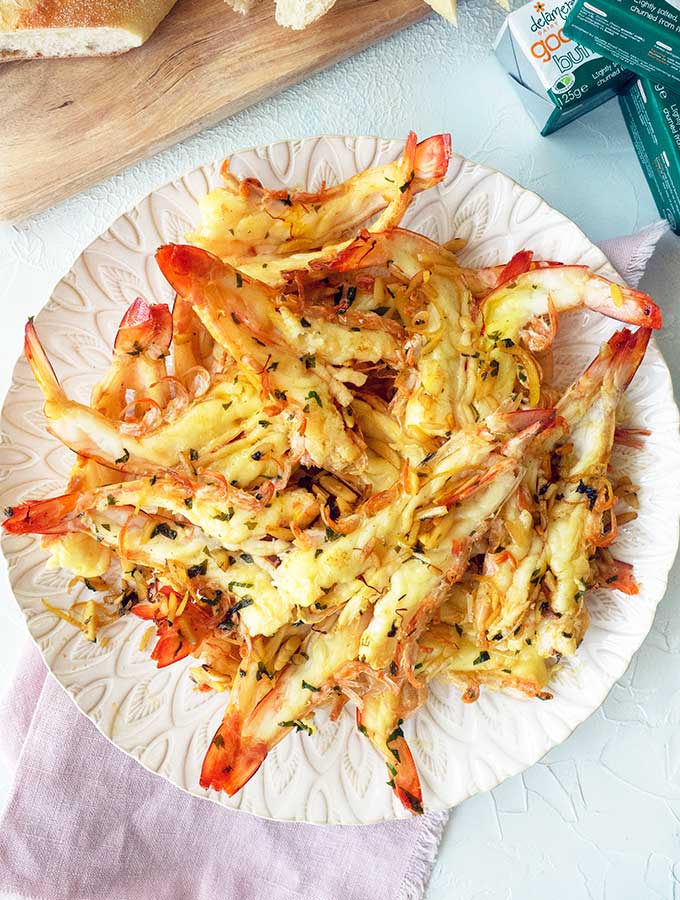 FUN FACT, when researching I discovered a something called "breath of the wild goat butter". I investigated further wanting to know more. Who wouldn't? It sounds so exotic. I was sadly disappointed. BOTW goat butter refers to one of the Nintendo Zelda games. Seems video games even have recipes these days!
How does goat butter taste?
Guess what, if you don't like goat cheese chances are high you will like goat butter. I'm not a huge fan of goat cheese and was surprised by the mild flavour of the butter. I liked it!
There is a slight tang, but not as much as expected. The taste of the butter is subtle, but enough to distinguish it from cow's butter when slathered on bread.
When used in cooking it isn't as rich as cow's butter. It also loses that mild tang but can add a subtle cheese flavour to the dish.
There are a few benefits to goat butter over cow butter
The big winners are people who have difficulty digesting butter from cow's cream. Goat butter has a lower lactose content making it suitable for those with an intolerance to lactose.
Goat butter can be used in the same manner as run of the mill butter. Spread it on bread, a dollop on your baked potato, use it to make flavoured butters, baking cakes and cookies. The possibilities are endless, simply swap one for the other.
The butter has a lower melting point which makes spreading an easier task when taken from the fridge.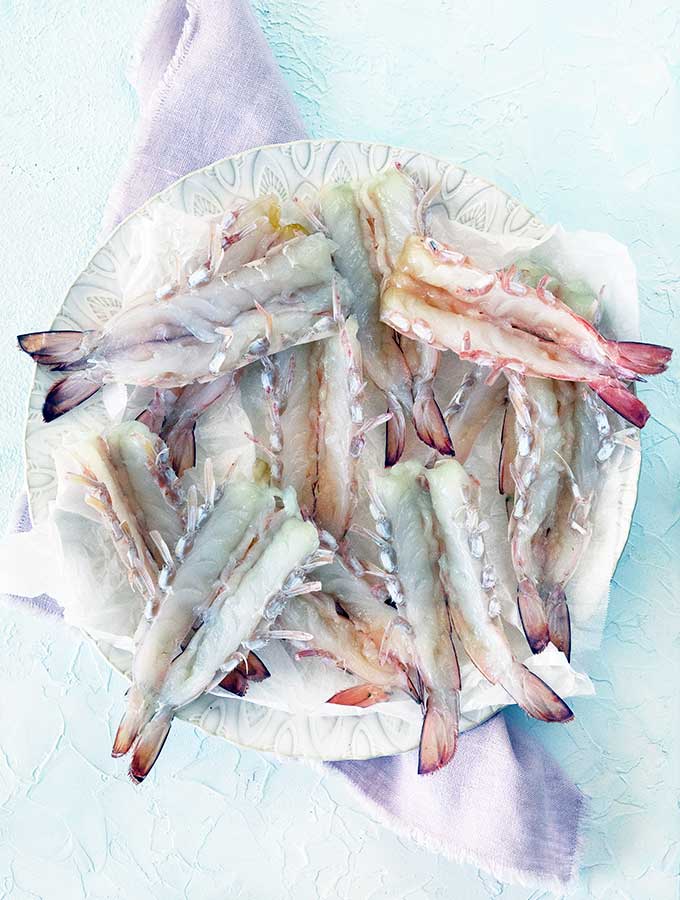 These butterflied prawns are an alternative to my much loved and popular butterflied garlic prawn recipe. The same things you love about that recipe stand true to this one.
Big plump prawns served simply with a delicious butter based sauce that is greedily mopped up with crusty fresh bread.
Almond slithers sautéed in goat's butter until toasty and brown. A pinch of saffron for colour and decadence. Lemon zest and white wine are added to elevate and balance the buttery sauce. All finished off with some parsley and a squeeze of fresh lemon.
Recipe pressure points
The prawns (shrimp) are the pressure point of this recipe. Being the hero ingredient, you don't want to over cook them.
At stage one of cooking, make sure you sauté them until they just lose their translucency. Cook in batches, do not over crowd your fry pan.
If you over cook them at this stage, you will end up with rubbery prawns. Remember that they will be placed back in the pan to finish cooking and infuse with the butter sauce before serving.
Special equipment for this recipe
No special equipment but do use the largest non stick fry pan you have.
Special Ingredients for this recipe
Goat Butter: Can be found in specialty food stores and delicatessens.
If you are in Australia you can find Delamere Goat Butter at IGA stores Nationally, Foodworks (Vic), Harris Farm stores (NSW) and Ritchies stores (Vic & Tas).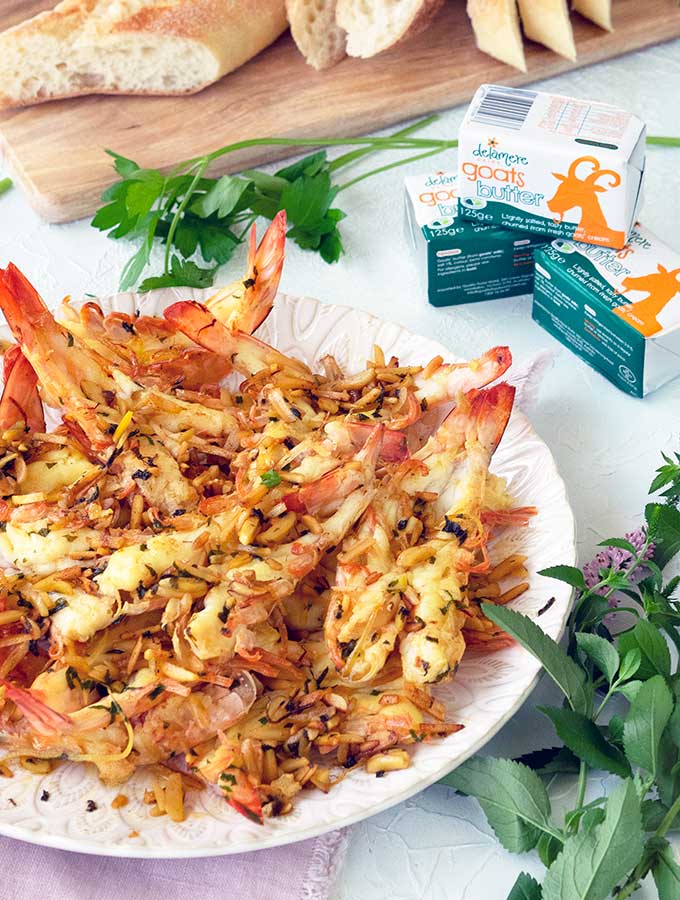 What to do with any leftovers
Unlike revenge, this dish is best eaten hot off the cooktop. Any leftover prawns should be stored in an airtight container in the fridge (not suitable to freeze). Leftover prawns are delicious on bread rolls with some lettuce, mayo and a squeeze of lemon. Alternatively add them to a salad.
Goat butter is an interesting product to have up your sleeve for cooking. Definitely giving your recipes a different dimension and twist. A great dinner party talking point too.
Have you ever tried or cooked with goat butter before? If you have I would love you to share them with me and other readers in the comments section below.
Sara xxx
Belly Rumbles created this recipe in conjunction with Delamere Dairy, but all opinions remain her own.
Become a subscriber and don't miss a single delicious recipe, restaurant review or travel adventure.