Saying this is the best garlic butterfly prawn recipe ever is a pretty big call. If you are like me and head to a café or restaurant that claims to have the best coffee since coffee's creation, best omelette since a French chef picked up a whisk or the best hamburger since Americans put a patty between two buns, you generally don't believe it.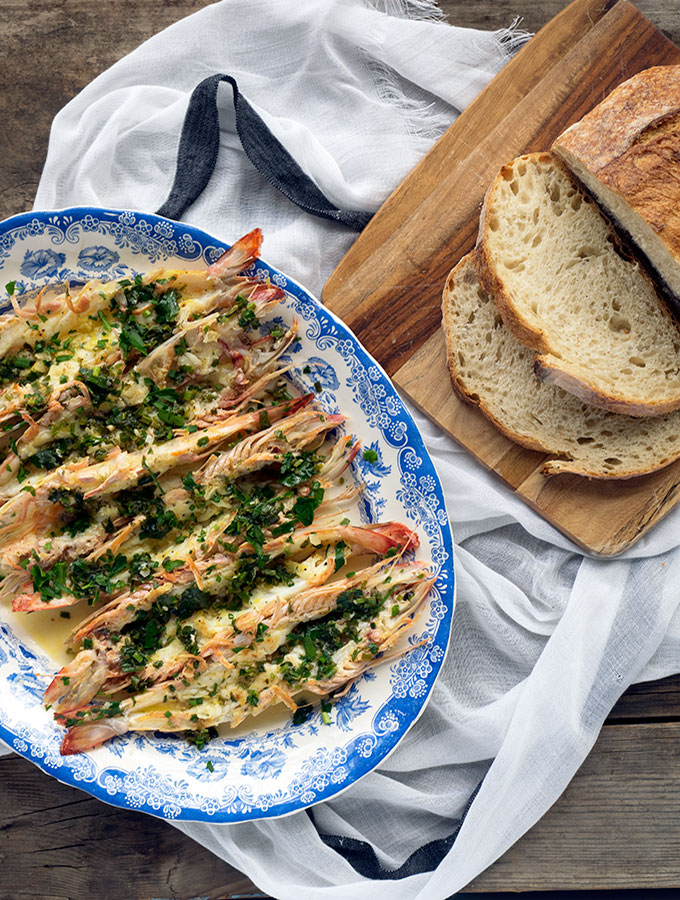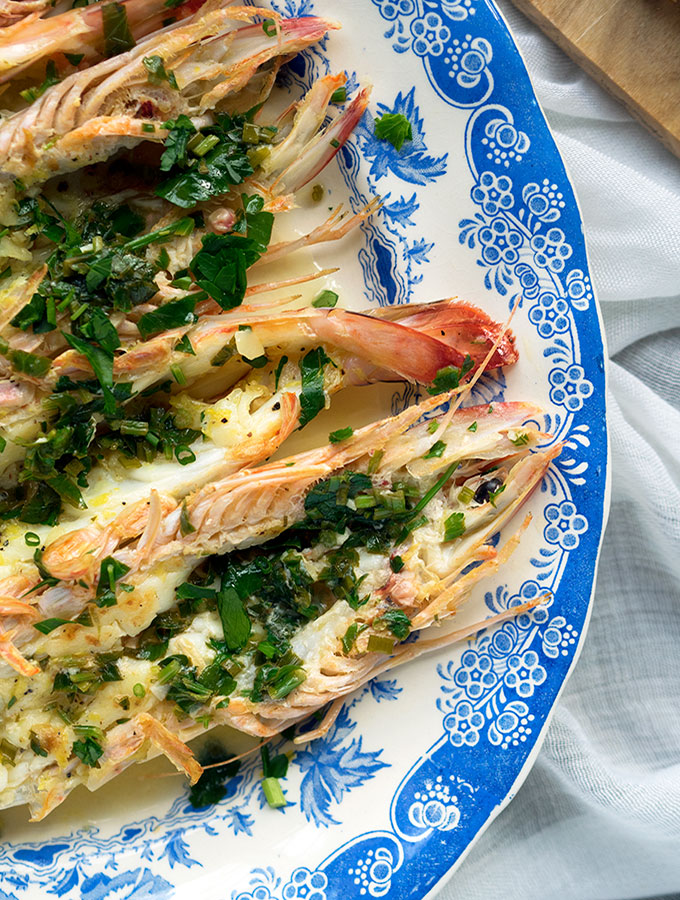 This my friends, is the best garlic butterfly prawn recipe ever. Unless of course you don't like garlic, you don't like tender succulent prawns or you don't like lots of buttery garlic juices to mop up with crusty bread.
If you don't like all those things, then this isn't the best butterfly prawn recipe ever for you.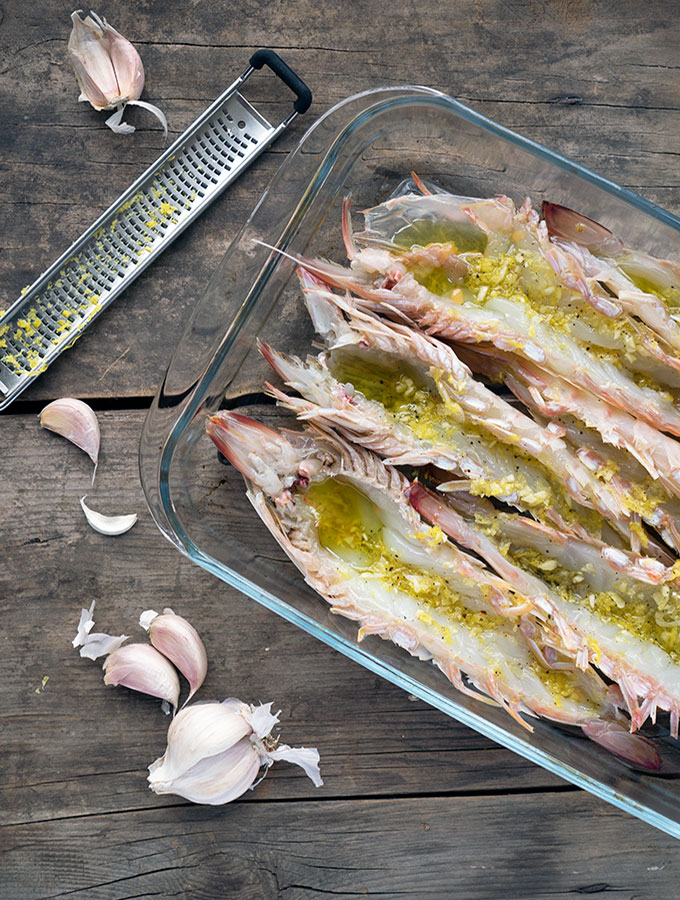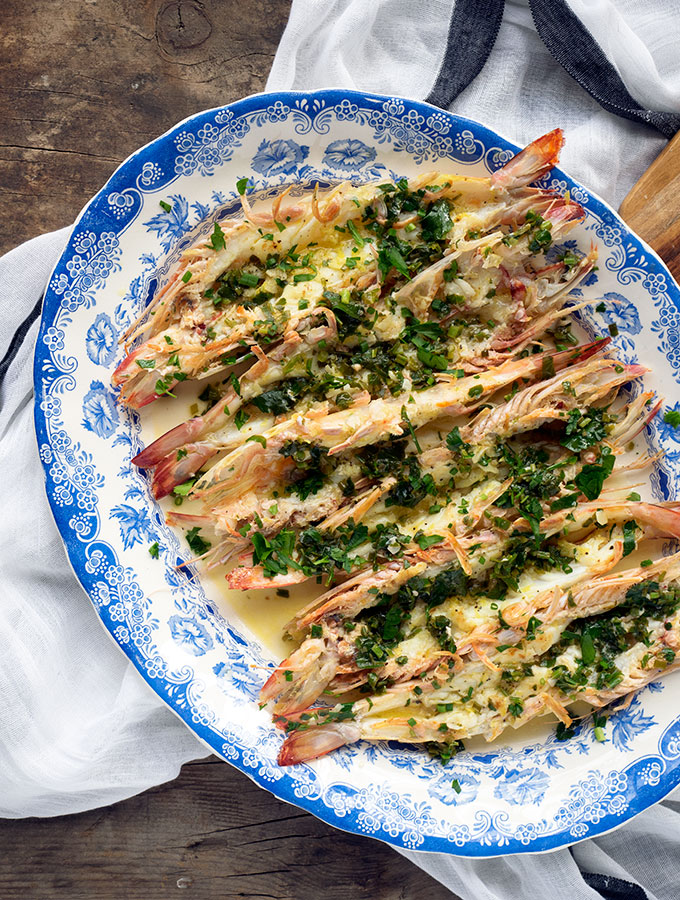 I paid a visit to the Cleanfish Australia Market Day and picked up some jumbo prawns. If you are one of my amazing American readers, these are the prime example why we don't call prawns shrimps in Australia. There is nothing shrimp about Aussie prawns in general, but these babies were over 25cm (10 inches) long each.
If you can't get your hands on Godzilla sized prawns then just choose the largest you can find. The smaller they are the more careful you need to be about the length of cooking time. Once the flesh turns white from their raw translucence get them out of the pan. Place on a plate, cover them with foil, they will continue cooking while covered for a little bit longer.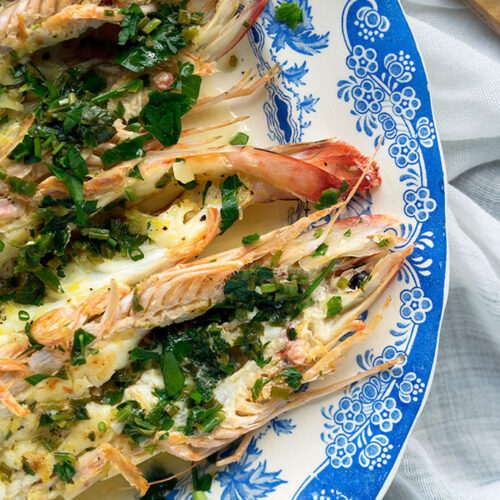 Best Garlic Butterfly Prawn Recipe Ever
This is the best garlic butterfly prawn recipe ever, the only one you will ever need. Lots of garlic butter sauce to mop up with crusty bread & juicy prawns
Print
Pin
Rate
Ingredients
6-8

large green prawns

in shells

60

ml

olive oil

2

cloves

garlic

finely chopped

Cracked pepper and salt

50

grams

butter

¼

cup

white wine

¼

cup

lemon juice

10

grams

chives

chopped

½

bunch parsley

chopped
Instructions
Split prawns down the middle from underneath, top to bottom with a sharp knife. Do not cut all the way through, you are butterflying them and wanting to keep the shells, heads and tails attached to the prawn meat.

Press the prawns flat and devein. Clean out the mustard if you wish to.

In a large bowl mix olive oil, garlic, cracked pepper and a pinch of salt. Place prawns in the bowl and toss gently to coat in the marinade thoroughly. Leave aside for 15 minutes for the flavours to infuse into the prawns.

Heat a large non stick frying pan over a medium heat. Fry the prawns flesh side down for around 4 minutes or until they start to change colour around the edges.

Add butter to the pan and swizzle it around the pan as it melts. Once bottoms of the prawns have been coated in butter, turn them over. Add white wine, lemon juice, chives and parsley. Cook for a further few minutes.

Remove prawns and place on a serving plate. Continue to cook the white wine sauce for a further few minutes to reduce it slightly. Then pour over your prawns.

Serve immediately with crusty bread to mop up the sauce.
They make a great communal dish, prawns piled high on a serving platter, and a basket overflowing with crusty warm bread. Dig in with fingers and mop up the addictive garlic, butter and white sauce with the bread.
Of course you could make this dish a little more refined and serve in individual bowls with juices poured over. Crusty bread again is a must, but you will find that the prawns peel easily from their shells when you use a knife and fork, saving your guests from messy fingers.
This recipe is going to be a staple now the weather is getting warmer for easy no fuss outside dining. I hope it becomes a staple of yours too this spring/summer.
Sara xxx
Become a subscriber and don't miss a single delicious recipe, restaurant review or travel adventure. Plus you will also receive extra content and benefits.