It may only be March but I am really feeling the need for a holiday. I find myself day dreaming of getting away more frequently than I should. Those daydreams are what inspired these easy scallop and prawn curry pies.
You are probably wondering how a holiday could inspire a pie. Christmas a couple of years ago, I escaped family commitments with husband and son in tow to have a no fuss Christmas on Viwa Island in Fiji.
Seriously one of the best Christmases I have had. No cooking, no fuss, just sheer relaxation and somebody else doing the cleaning and cooking.
But a curry pie? Really not that tropical?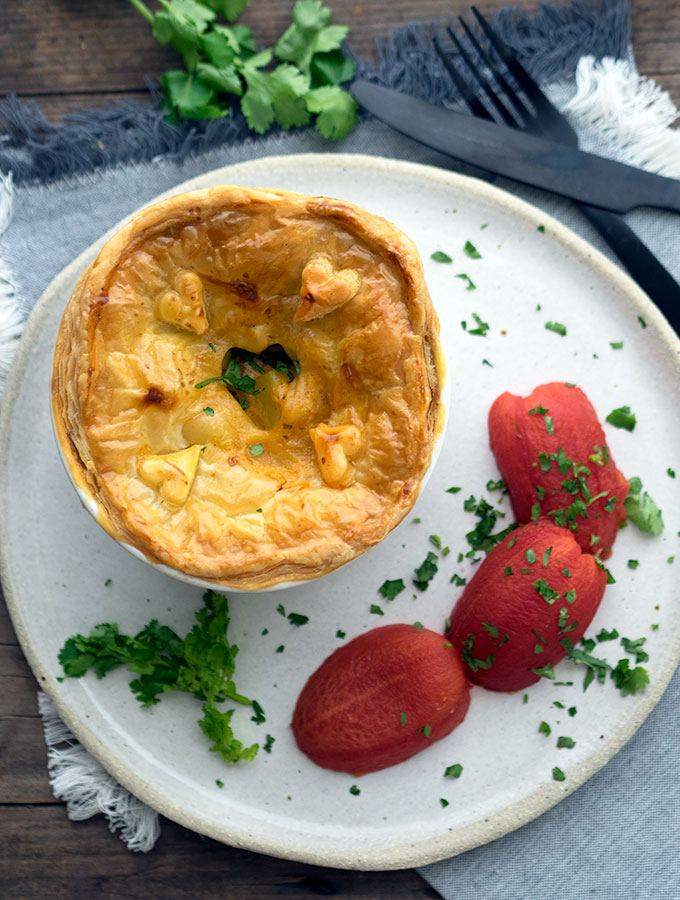 I know the seafood inclusion of scallops and prawns makes perfect sense, but you may be questioning the curry factor. Fiji has a large Indian population and their influence can be found in the food. We had some pretty mean curries on Viwa Island.
These scallop and prawn curry pies are a combination of holiday reminiscing, winter heading our way and the love of Australian seafood. Finally, wanting to share a recipe that is easy, but will impress your family or guests.
It is the perfect recipe for midweek entertaining, or special mid week dinner. Or just a meal to impress the family. Or just a pie for pie's sake!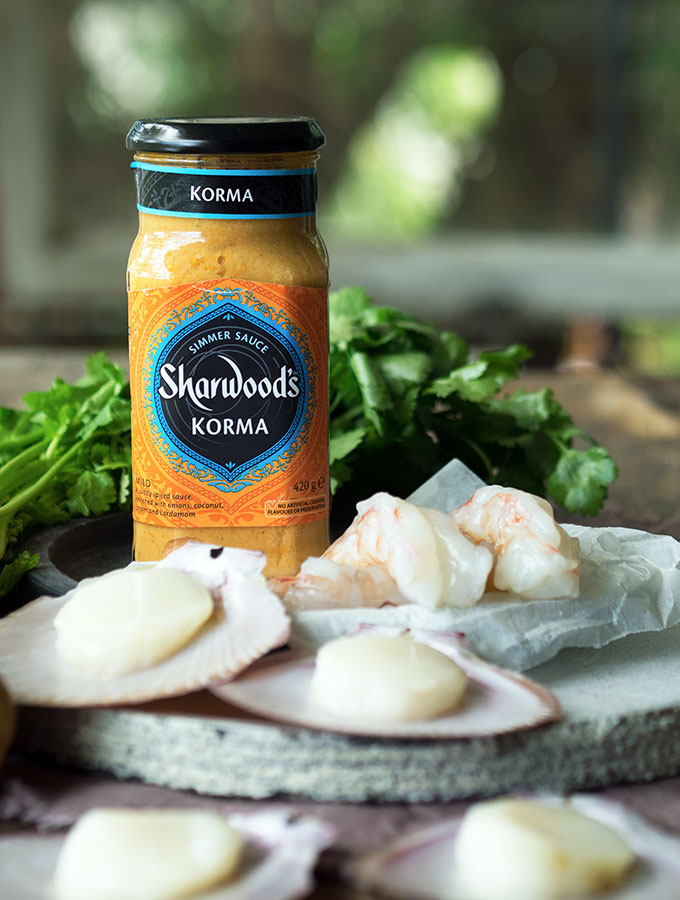 If the thought of smoking tomatoes is making you hesitant about this recipe, don't worry. Oven roasted tomatoes will be just as wonderful. But if you feel like experimenting, smoking some tomatoes isn't hard, and they add a touch of wow factor.
By using Sharwood's Korma Simmer Sauce you have a great base for your scallop and prawn pies. It takes time to develop flavours in a curry. For the sake of easy during the week, I'm happy to use Sharwood's helping hand.
Sharwood's Korma Simmer Sauce has a mild heat and delicate taste that works beautifully with seafood. You have a hit of flavour without overpowering the scallops and prawns.
By adding cream, onions and coriander to Sharwood's Simmer Sauce, you elevate the base sauce flavour, making it your own. Plus Sharwood's make preparing your pies very simple and easy. The tomatoes served on the side add a lovely burst of tangy freshness with inquisitive smokiness.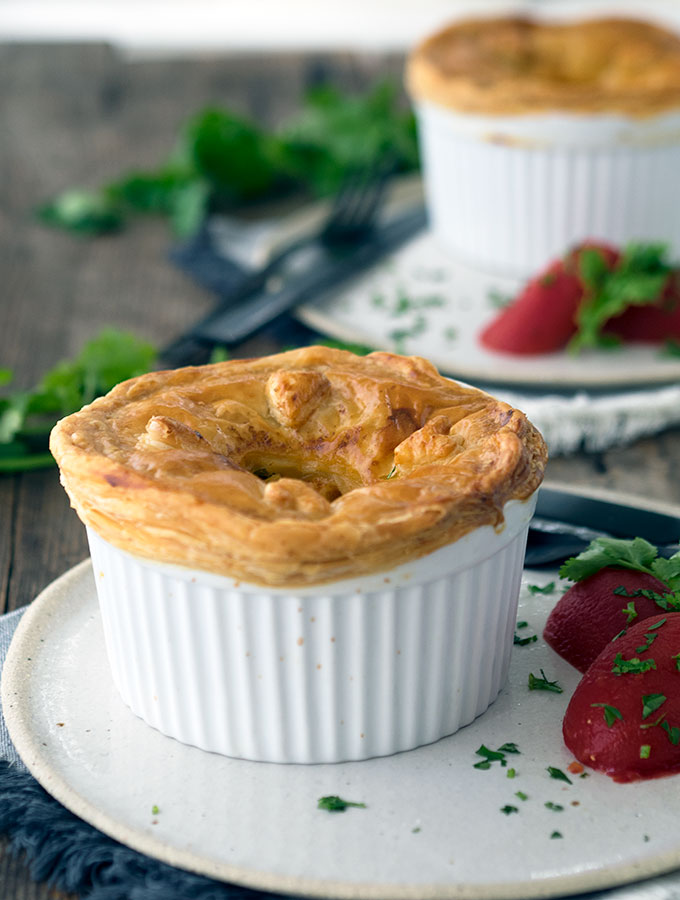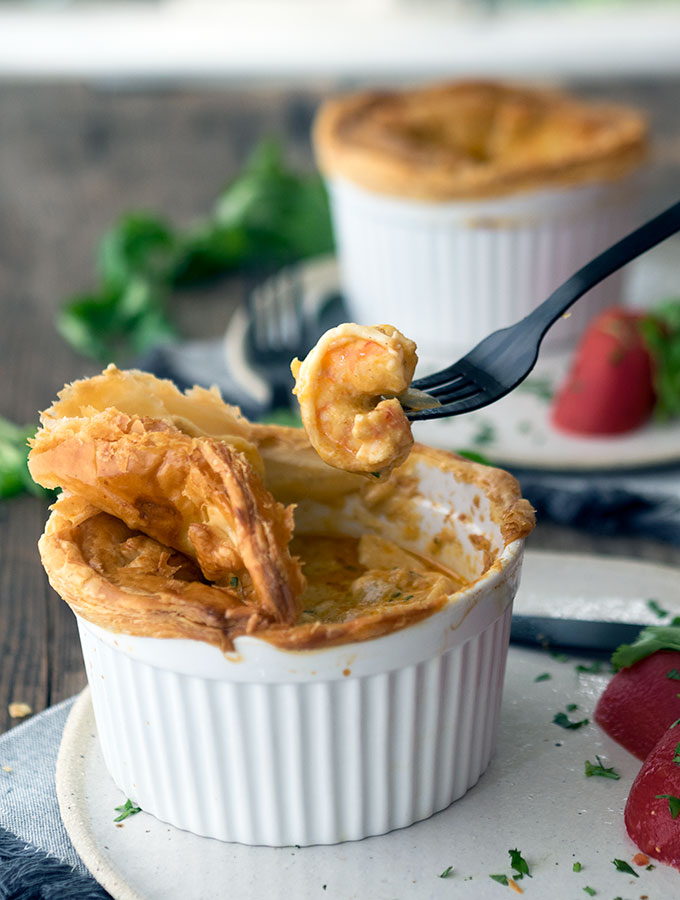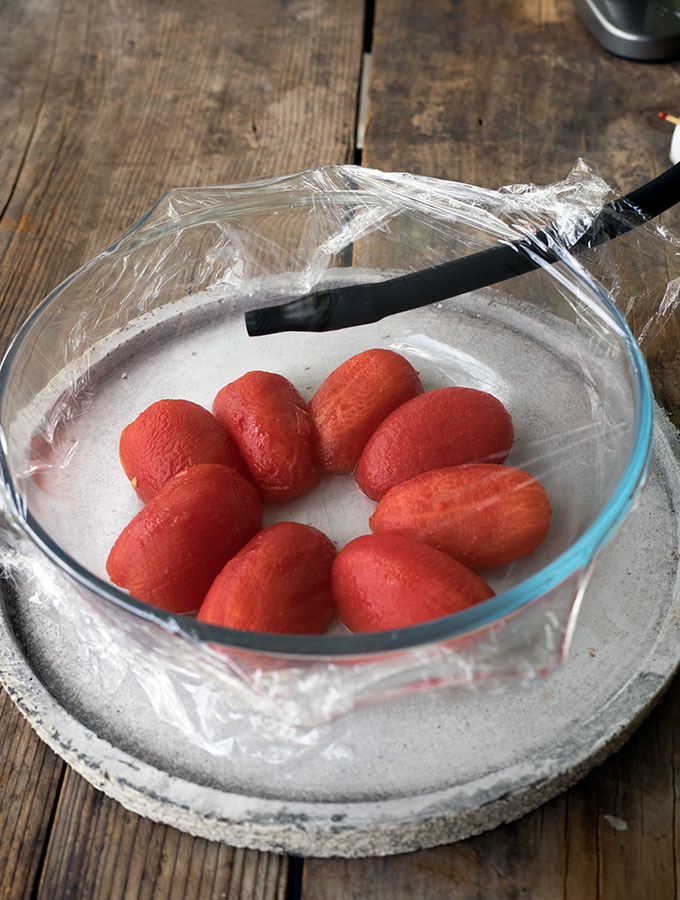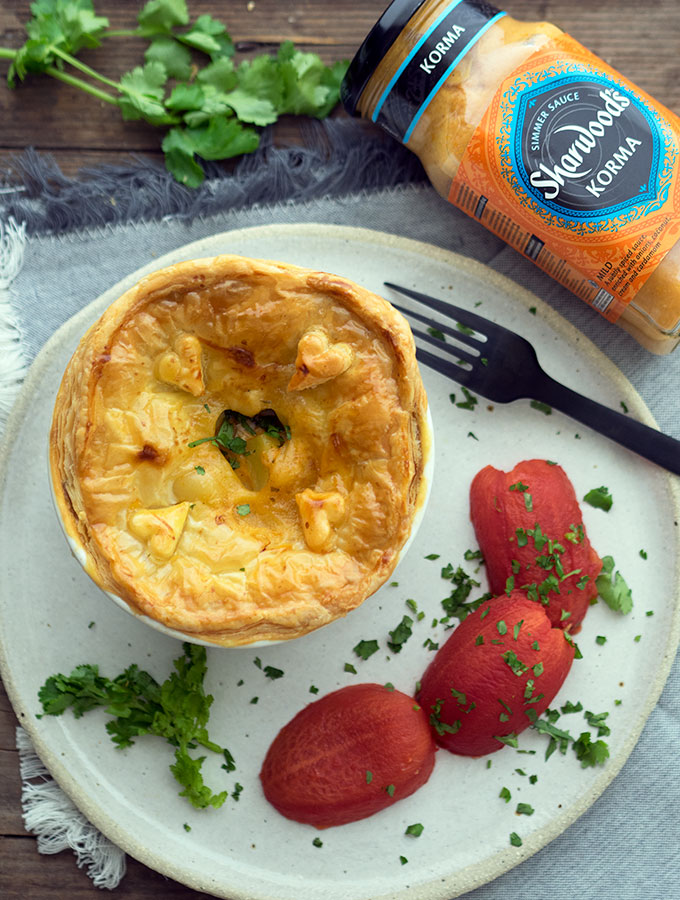 I originally planned to serve these pies with rice, but it would have been overkill. The pies are quite hearty with the addition of potato. Add to that the puff pastry on top, and I think there are enough carbs in the pie.
The scallop and prawn curry pies are hearty pies, and very filling. The perfect "fill you up" pie for winter. You could easily adapt this recipe to make eight smaller pies and serve them an entree.
If you are planning on making these scallop and prawn curry pies for mid week entertaining, you can prepare a little ahead. Make the pie mixture the day before, up to cooling stage, before placing the mixture in the. Store the mixture in a sealed container in the fridge.
Peel your prawns and prepare your scallops at the same time. You can even cut out your puff pastry pie tops the day before and store them individually between sheets of baking paper wrapped in plastic.
On the night your guests arrive, all you need to do is assemble the pies and bake them. Of course the tomatoes can be made the day before too, but they take nextto no time while the pies are baking.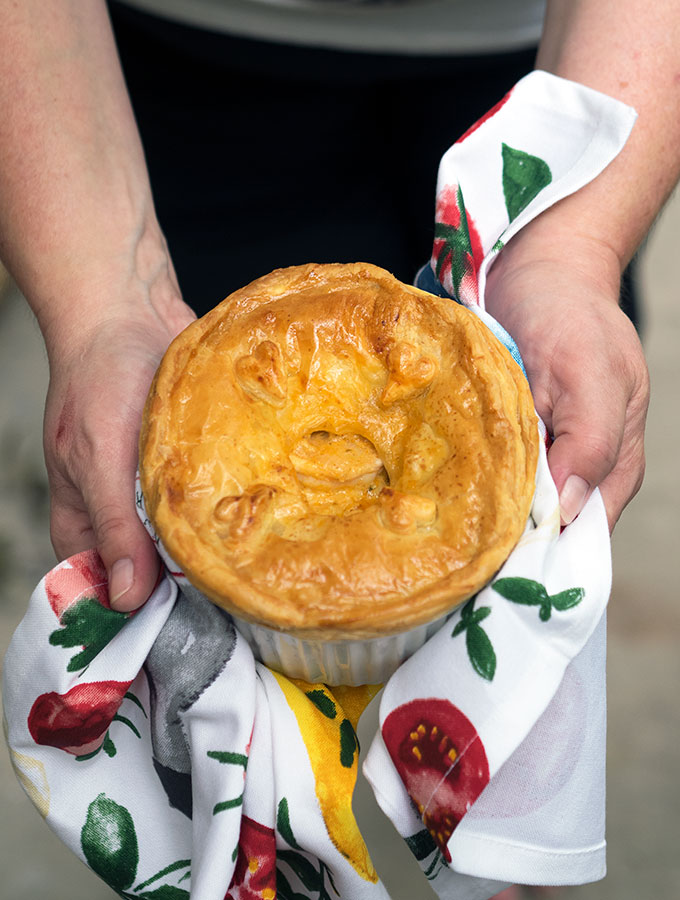 Like a lot of my recipes you can tweak this baby. Not a fan of scallops and prawns? Then some cut up snapper fillets would be a wonderful substitute, making your own version of The Boathouses famous snapper pies.
If you prefer chicken, then I suggest using some thigh fillets cut into bite size pieces. Brown those in your sauté pan, adding them in after the onions and before the potatoes.
Plus Sharwood's have a great range of simmer sauces for all tastes. Along with their Korma flavour there is Butter Chicken, Madras, Rogan Josh and Tikka Masala. Making a meal is simple, just add a protein and vegetables to the Sharwood's Simmer Sauce, and bingo you are done. Alternatively you can get creative like I have. What delicious creations you make are only limited by your imagination.
Once you have tried the scallop and prawn curry pies, why not give the alternative suggestions a go? I know you will enjoy them all.
Sara xxx
Belly Rumbles would like to acknowledge its partnership Sharwood's for this post. This recipe was created, developed and photographed by Sara McCleary.
Printable Recipe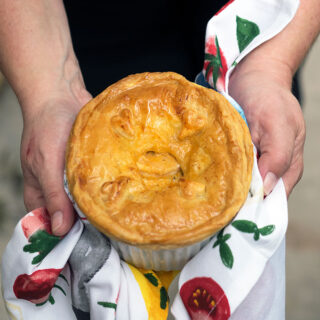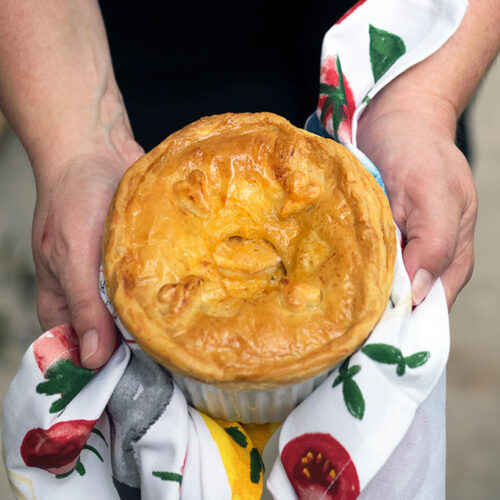 Scallop and Prawn Curry Pies
Easy to make scallop and prawn curry pot pies. Korma is a wonderful flavour base with seafood, making for delicate flavours with some zing.
Ingredients
16-20

large raw scallops

16-20

large green prawns

1

medium white onion

chopped

400

grams

Dutch cream potatoes

small diced

1

jar

Sharwood's Korma Simmer Sauce

190

ml

(¾ cup) cream

5

grams

(¼ cup) coriander

finely chopped

puff pastry

1 roll or 2 sheets

1

egg yolk

4

roma/egg tomatoes

smoked
Smoked Tomatoes
4

roma tomatoes (egg tomatoes)
Instructions
Pre-heat oven 220°C or 200°C fan forced (430°F or 400°F fan forced).

Sauté onion in a heavy based large sauté pan with 1 tablespoon of oil until soft. Add potato, stir and cook for a further minute.

Add Sharwood's Korma Simmer sauce with ½ cup of water to the pan, stirring until mixed through. Place lid on sauté pan and simmer on low for 10 minutes.

After 10 minutes remove the lid and continue to cook for a further 5 minutes. The add cream and coriander. Stir the mixture as it cooks for another few minutes until sauce has thickened slightly.

Remove potato/korma mixture from the stove and allow to cool. Once cool divide mixture between 4 ramekins.

Place an even number of scallops and prawns in each ramekin and stir through the potato/korma mixture.

Cut 4 x 14cm circles from puff pastry. Make cut a steam escape hole in the middle of each circle. You can also decorate your pie tops with any excess puff pastry you have to snazzy them up.

Place egg yolk in a small dish with a tablespoon of water and mix well. With a pastry brush, brush the top of the rims of the ramekins lightly with the egg yolk wash. Place a round of puff pastry on top of each ramekin, pushing down slightly on the rims to secure. Brush the puff pastry tops thoroughly with egg yolk wash.

Place scallop and prawn curry pies in the oven, on the middle shelf. Bake for 10 minutes. After 10 minutes turn oven down to 200°C or 180°C fan forced (400°F or 360°F fan forced). Bake pies for a further 35 minutes.

Serve immediately with smoked tomatoes.
Smoked Tomatoes
There are a few ways you can smoke tomatoes; in a dedicated smoker, on top of your BBQ with smoker boxes (if your BBQ has a lid), in a foil lined wok (with lid) or with a smoking gun.

Use a mild wood for smoking, I used applewood.

I used a smoking gun to smoke my tomatoes, but you can use the method available or easiest for you.

Pre-heat oven 210°C or 190°C fan forced (410°F or 375°F fan forced). Line a baking tray with baking paper.

Remove tomato skins by blanch tomatoes in a pot of boiling water for a minute. Remove immediately and place in iced water. This will blister the tomatoes' skin making removal easy.

Cut tomatoes in half-length wise. Place on baking tray. Bake in oven for 15 minutes. Leave to cool.

Place tomatoes in a glass or metal baking dish, big enough to lay them side by side. Do not use plastic, as it will retain the smell of the smoke. Prepare smoking gun as per manufacturers' instructions.

Cover baking dish with plastic wrap, leaving a small hole to insert the smoking gun's hose. Fill with smoke, remove hose and seal well to stop smoke escaping.

Leave tomatoes to infuse in the smoke for 2 minutes. Remove plastic wrap and release smoke. Place tomatoes covered in fridge until needed.

If using an outdoor smoker or BBQ there is no need to pre-cook the tomatoes. The tomatoes do not need long in the smoke as you want a delicate smoke flavour to accompany not overpower your pies.

No matter how you cook your tomatoes, they need to still be firm. We aren't making pasta sauce.
Measurement Notes
All measurements are Australian metric standard. All measures are level, and cups are lightly packed unless specified. 1 teaspoon = 5ml / 1 tablespoon = 20mls / 1 cup = 250ml /4 teaspoons = 1 tablespoon.
Recipe Notes
If you are planning on making these scallop and prawn curry pies for mid week entertaining, you can prepare a little ahead. Make the pie mixture the day before, up to cooling stage, before placing the mixture in the. Store the mixture in a sealed container in the fridge.
Smoking Gun
A smoking gun is a great investment. It is wonderful for small smoking jobs which you can do in your kitchen. They are small and easy to store. I personally purchased the Breville Smoking Gun. We even use to for making dramatic cocktails.
NUTRITIONAL INFORMATION
The recipe's nutritional information is an approximation based on an online calculator. It is meant solely for reference purposes. If you're looking for precise details, be sure to double-check with your own research.
Calories:
310
kcal
Carbohydrates:
27
g
Protein:
12
g
Fat:
19
g
Saturated Fat:
11
g
Cholesterol:
145
mg
Sodium:
223
mg
Potassium:
1326
mg
Fiber:
5
g
Sugar:
4
g
Vitamin A:
2153
IU
Vitamin C:
106
mg
Calcium:
277
mg
Iron:
10
mg
Did You Make This Recipe?
I do a happy dance when people share how they went. Tag me on Instagram or Twitter @bellyrumbles & #bellyrumbles