We are very lucky in Australia with the quality of our local produce. It does rank as some of the best in the world. Since 1999 the Australian Dairy industry has paid homage yearly to our best diary produce.
The Australian Grand Dairy Awards are the most prestigious national awards in recognising our local diary producers. Recognition for their hard work, their achievements and of course the amazing products they create.
Recently I was sent some of this year's award winning products to try. Which resulted in my recipe for tomato, mozzarella, basil salad. Not that you could really call it a recipe.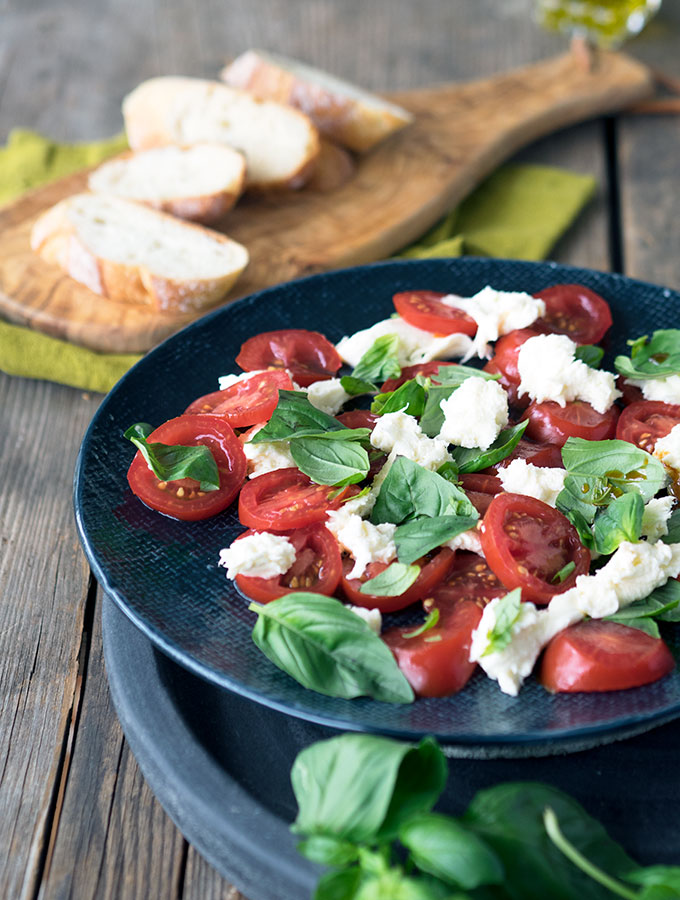 As expected the products I tried were fantastic. The winners were a combination of some of the big guys in the industry and smaller producers.
So what did I think of the items I was sent to sample?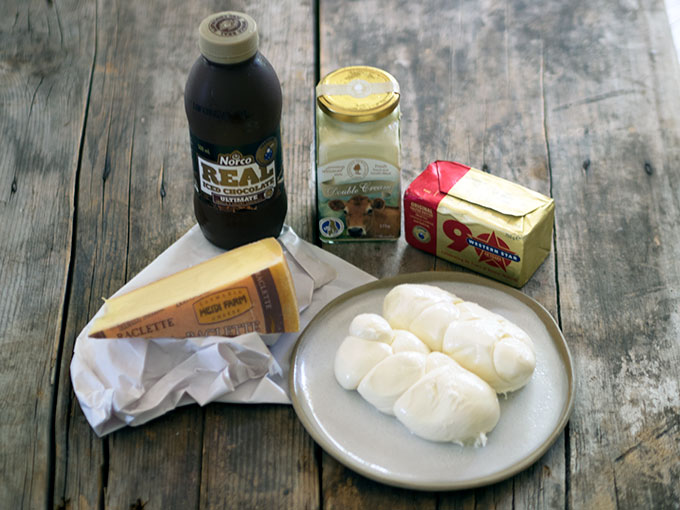 Heidi Farm Raclette (Champion Semi-Hard & Eye Cheese). It was great to see that Heidi Farm winning again. I shared a recipe using their product a few years ago. It's still a great raclette.
Norco Real Iced Chocolate Ultimate (Champion Flavoured Dairy Drink). Great chocolate flavour, I really enjoyed this flavoured milk. I have been looking for it ever since with no luck!!
Western Star Original Butter (Campion Butter or Butter Blend). To be honest I'm not sure why this butter won, don't get me wrong it's a great product. I use it (as well as other butters) for baking and cooking, but not for general consumption. For simply slathering on bread I prefer Pepe Sayer, which is an amazing cultured butter made in Sydney.
Bannister Downs Double Cream (Champion Cream). What an outstanding cream! This fresh cream has a natural sweetness and is the thickest cream I have seen on the Australian market. It is seriously thick! I adored the product so much that I whipped up a batch of my favourite scones and made some strawberry jam.
Montefiore Trecce (Champion Fresh Unripened Cheese). Simply beautiful plaited mozzarella. Delicate with a sweet milky taste, I would have been happy to just eat it as is, nothing else.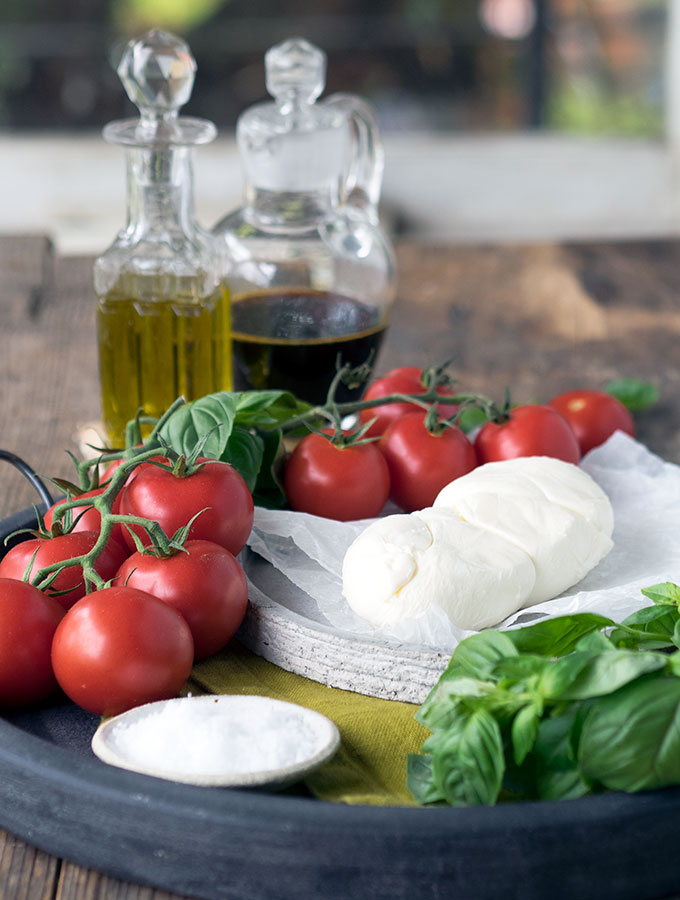 I wanted to share a recipe with you using Montefiore Trecce, which didn't take away from its delicate texture or taste. This mozzarella would be perfect on a simple pizza. I can vouch that it is, as we did make some using it. Perfect for a variety of dishes, but I felt best used with seasonal tomatoes and fresh basil.
Really this isn't a recipe at all. It is a combination of beautiful Australian produce, simply put together and designed for those consuming it to appreciate those ingredients.
You could call it a caprese salad, but some caprese salads are made with onion, capers, and additional vinegar on top of the balsamic. That would be over kill for the delicate flavours of the Montefiore Trecce.
Along with the tomatoes and freshly torn basil I simply added a sprinkle of my favourite Australian sea salt, a drizzle of Australian olive oil and a splash of an Australian Vino Cotto. The vino cotto was a far better match than a more vinegary balsamic. Plus it rounded my ingredients out to make this a totally Australian dish.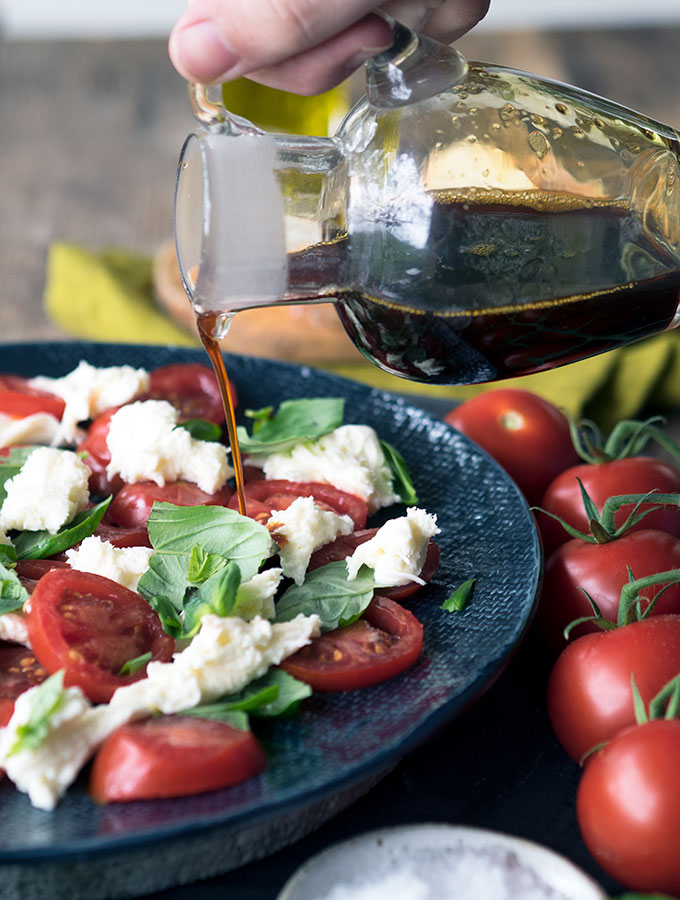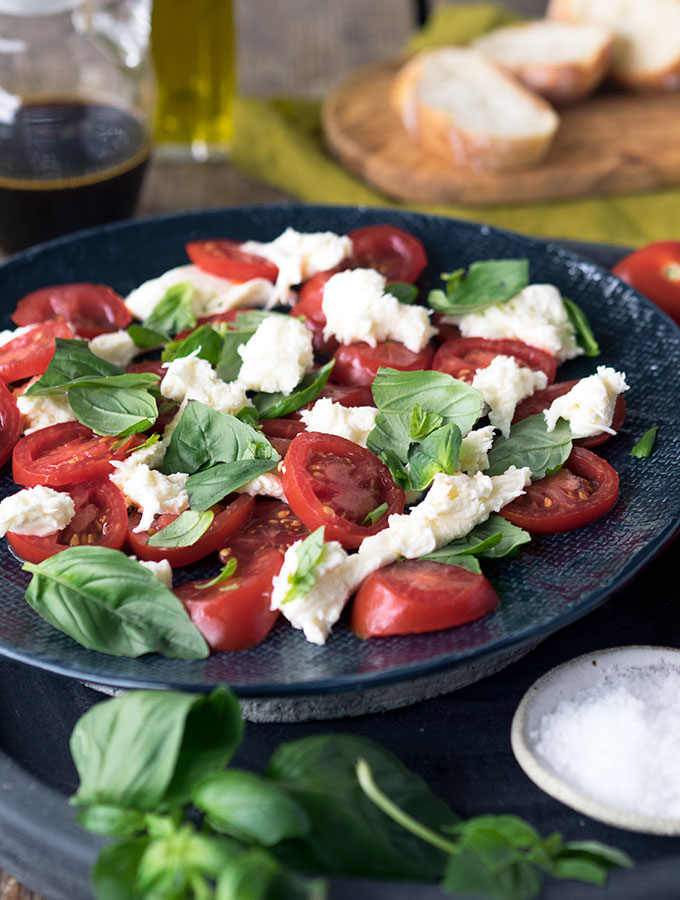 I am a big believer in good quality ingredients, served without stress and with simplicity. Allowing the seasonal and beautiful local products to shine. This would be one of my favourite dishes that I prepare regularly for lunch. Definitely beats a salad sandwich any day!
Sara xxx
Printable Recipe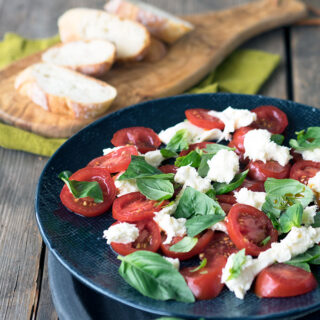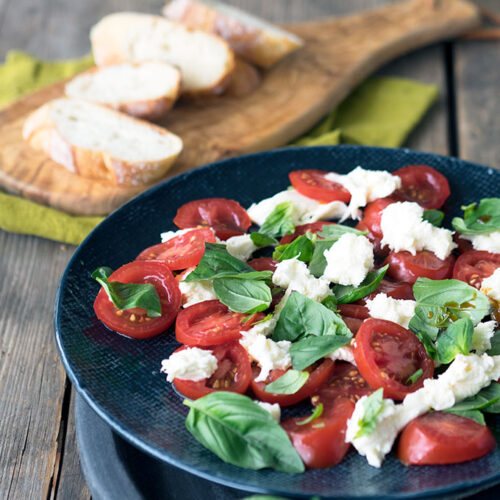 Tomato, Mozzarella, Basil Salad
Simple and tasty salad using fresh seasonal produce.
Ingredients
1

punnet

small truss tomatoes

1

portion

Montefiore Trecce

any fresh mozzarella may be used

½

bunch

basil

olive oil

vino cotto

sea salt

crusty bread

to serve
Instructions
Slice tomatoes and place on a serving plate. Sprinkle with sea salt to taste

Tear bite size pieces from the Montefiore Trecce and scatter over the tomatoes.

Tear basil leaves and scatter over tomatoes and mozzarella.

Drizzle olive oil and vino cotto over the salad and serve immediately.

Serve with crusty bread and enjoy!
Measurement Notes
All measurements are Australian metric standard. All measures are level, and cups are lightly packed unless specified. 1 teaspoon = 5ml / 1 tablespoon = 20mls / 1 cup = 250ml /4 teaspoons = 1 tablespoon.
NUTRITIONAL INFORMATION
The recipe's nutritional information is an approximation based on an online calculator. It is meant solely for reference purposes. If you're looking for precise details, be sure to double-check with your own research.
Calories:
1
kcal
Carbohydrates:
1
g
Protein:
1
g
Fat:
1
g
Saturated Fat:
1
g
Cholesterol:
1
mg
Sodium:
2
mg
Sugar:
1
g
Vitamin A:
53
IU
Did You Make This Recipe?
I do a happy dance when people share how they went. Tag me on Instagram or Twitter @bellyrumbles & #bellyrumbles