Chocolate Mud Cupcakes decorated for Easter. Pretty flowers with chocolate bird's nests filled with mini speckled eggs. The chocolate mud cupcakes are rich and not too dense, and perfect for Easter. The bird's nests are mini versions of the ones I made last year, and the flowers are piped using Russian icing tips.
I purchased a set of Russian icing tips around 12 months ago. I had seen quite a few cakes around the internet gorgeously decorated using these tips. Of course all the YouTube tutorials and other information I could find made them look extremely easy to use.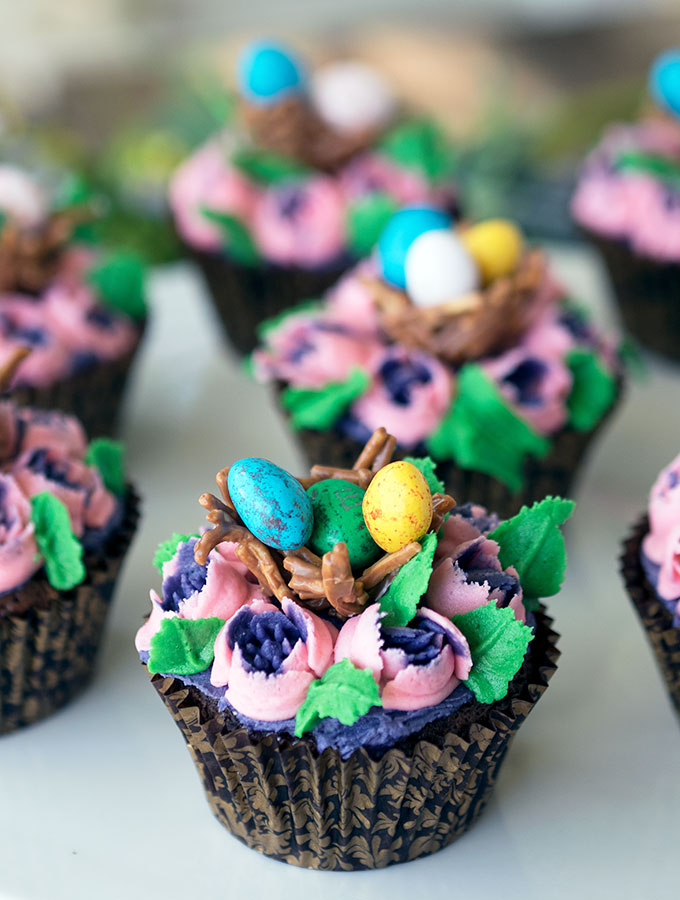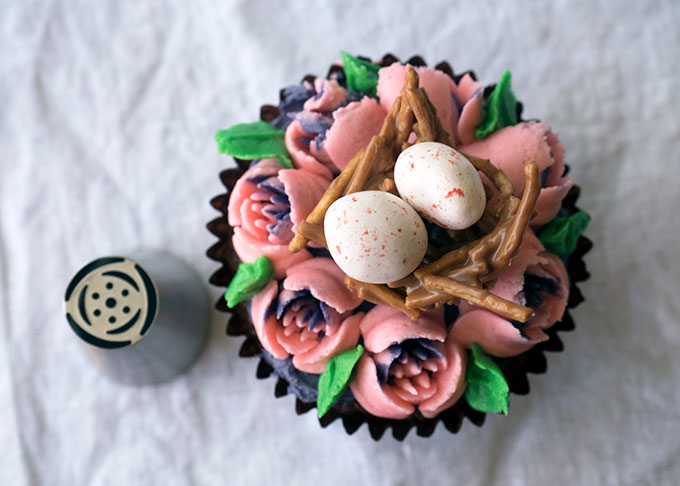 For 12 months they sat with my other cake decorating items, glanced at on the odd occasion with good intentions, but never used. That was until The Good Guys Kitchen Star Showstopper cake challenge. I had the bright idea of pulling them out for that. Because filming, using gravity defying cake props and under competition pressure isn't enough. Why not add never been used before Russian pipping tips to the mix!?
I made a whale cake, which was meant to be surfing a wave of flowers with flowers spurting out of her blowhole. After various buttercream tantrums, swearing at the Russian piping tips numerous times, the flowers were scraped and replaced with piped water. End result, my whale looks like it is on merry-go-round pole.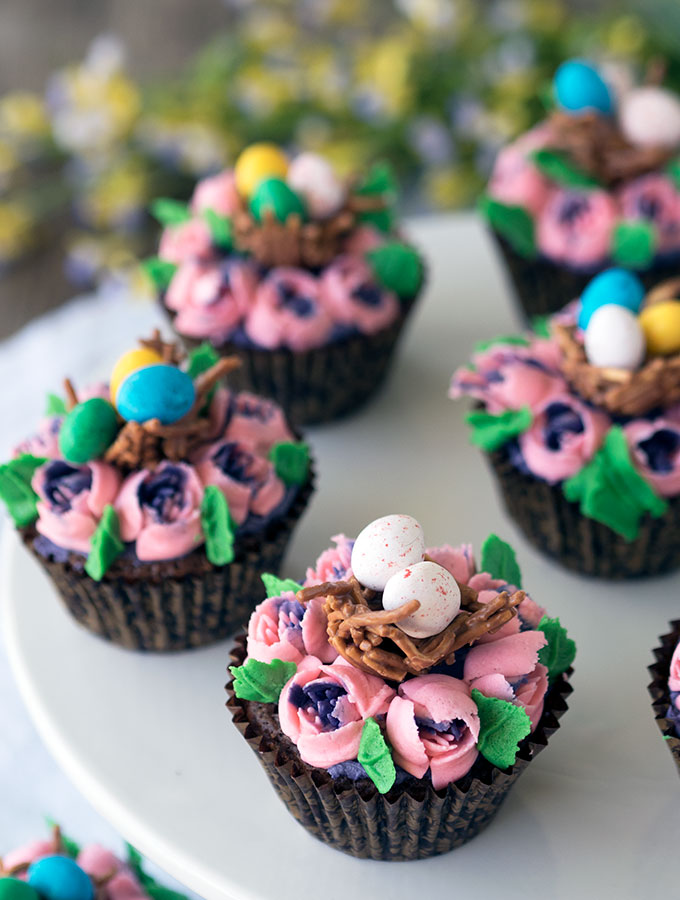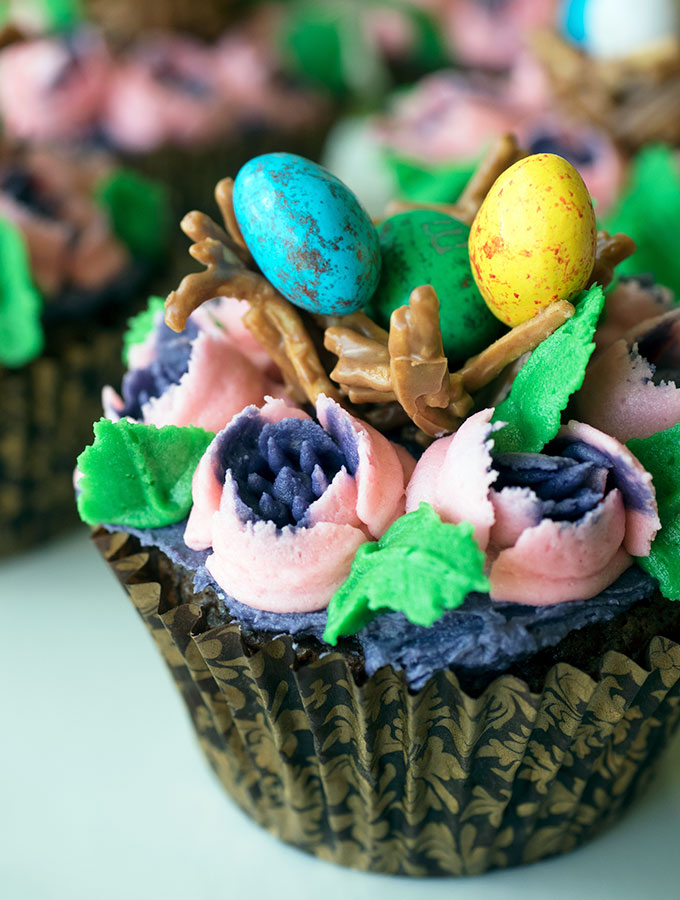 Determined to not be defeated, I have pulled them out again for Easter to decorate the chocolate mud cupcakes. My chocolate mud cupcakes turned out okay, at least I think they did.
The Russian tips aren't that hard to use, you just need to get a feel for them. I am so use to piping swirls that it feels a little unnatural to just pipe small bursts, pull up and wiggle.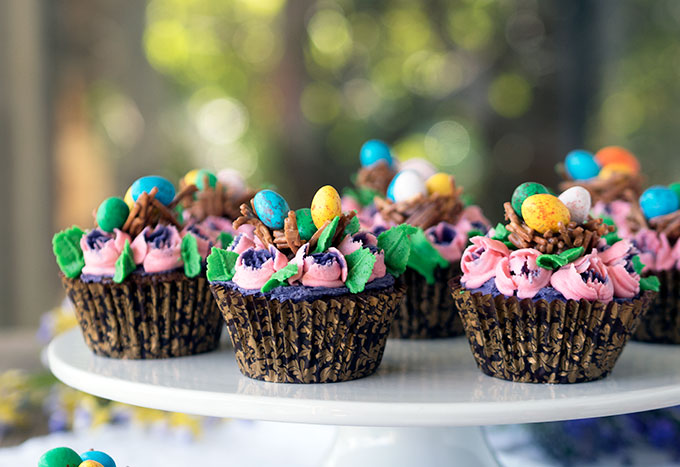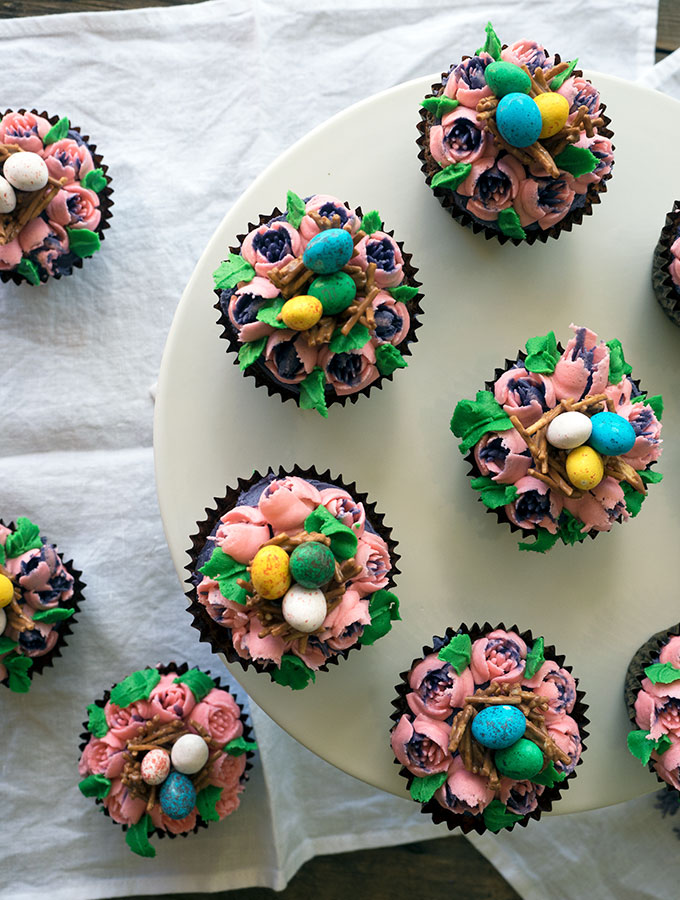 I have 15 Russian tips in the stash I purchased. I think I may have a go at creating something pretty, light and bright for Mothers' Day. Stay tuned for more piping tantrums!
Sara xxx
Printable Recipe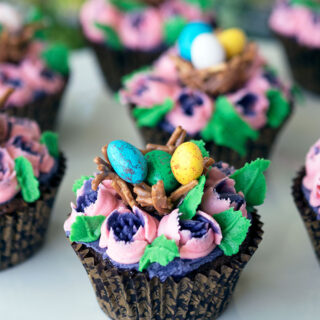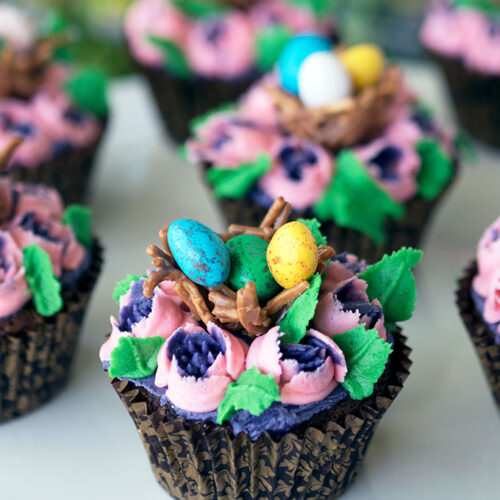 Easter Chocolate Mud Cupcakes
Chocolate Mud Cupcakes decorated for Easter. Pretty flowers with chocolate bird's nests filled with mini speckled eggs.
Ingredients
Cupcakes
250

grams

butter

chopped

250

grams

dark chocolate

chopped

375

ml

(1 ½ cups) milk

330

grams

(1 ½ cup) caster sugar

2

teaspoons

vanilla bean paste

2

eggs

184

grams

(1 ¾ cups) plain flour

sifted

7

grams

(1 ¾ teaspoons) baking powder

25

grams

(¼ cup) cocoa

sifted
Birds' Nests
100

grams

milk chocolate

100

grams

fried noodles
Buttercream Icing
250

grams

butter

500

grams

icing sugar

sifted

food colouring
Assembly
mini speckled chocolate eggs

to decorate
Instructions
Cupcakes
Pre-heat oven 150°C (300°F) and place 18 cup cake papers in small muffin/large cupcake tin/s.

In a large heavy based saucepan heat butter, chocolate, milk, sugar and vanilla. Stir continuously until melted and combined. Remove from heat and leave to cool slightly. Once cooled whisk in eggs.

Pour chocolate mixture into a large bowl and whisk in flour, baking powder and cocoa.

Pour mixture into prepared cupcake papers.

Bake in the oven for 30 minutes or until cooked through.

Place cupcakes on a rack to cool completely.
Birds' Nests
Melt chocolate in a microwave safe bowl and mix through fried noodles.

Shape noodle mixture into bird's nests and place in the fridge to set.
Buttercream Icing
Beat butter with a stand mixer (or hand beaters) on high speed until light and fluffy, turn the speed down to low, one tablespoon at a time, add icing sugar slowly, beating well after each addition.

Divide icing into three bowls, ¼ of the mixture in one, ⅓ in each of the others.

Colour the smaller bowl of icing green for the leaves.

Colour each other bowl the two colours you would like your flowers. The internal contrasting colour (this will also be spread on the tops of your cupcakes) and the outer petals. For my cupcakes I used deep pink and violet.
Assembly
Spread a thin layer of contrasting buttercream on top of each cupcake.

On a piece of plastic wrap spread the buttercream for the outer petals in a thick oblong. Spread the remaining contrasting buttercream down the centre of the oblong. Gather the long edges of the plastic wrap together and roll the buttercream into a sausage. Twist up the ends of the pastic wrap. The buttercream will now resemble a sausage, the contrasting colour will be inside the outer petal colour.

Prepare an icing bag with chosen Russian icing tip. Snip end off of buttercream sausage and place into the icing bag. Squeeze until a little of the icing comes out the end, scrape it off and put bag aside.

Place green leaf icing in another icing bag which has a small leaf icing tip. Squeeze until a little of the icing comes out the end, scrape it off and put bag aside.

Place bird's nest in the centre on top of each cupcake.

With the Russian tip icing bag ice individual flowers around the bird's nest. Place tip right next to the iced surface of the cupcake, squeeze and pull upwards, stop squeezing, wiggle and release from the top of the flower. Continue with all cupcakes.

Pipe leaves into gaps between the flowers and the bird's nest.

Place a couple of speckled eggs in the bird's nests and they are ready to serve.
Notes
Russian piping tips are available at good cake decorating stores on online here.
NUTRITIONAL INFORMATION
The recipe's nutritional information is an approximation based on an online calculator. It is meant solely for reference purposes. If you're looking for precise details, be sure to double-check with your own research.
Calories:
551
kcal
Carbohydrates:
66
g
Protein:
4
g
Fat:
32
g
Saturated Fat:
19
g
Cholesterol:
80
mg
Sodium:
218
mg
Potassium:
223
mg
Fiber:
3
g
Sugar:
51
g
Vitamin A:
755
IU
Calcium:
61
mg
Iron:
3
mg
Did You Make This Recipe?
I do a happy dance when people share how they went. Tag me on Instagram or Twitter @bellyrumbles & #bellyrumbles