I'm a little in love with my waffle maker. We have been making all sorts of waffles over the past couple of months, sweet and savoury. I felt it was about time one of our favourites was shared with you, triple chocolate waffles.
This triple chocolate waffles recipe comes in perfect timing for Easter. No crosses, no eggs, just purely delightful chocolate. Not just one kind of chocolate either. These triple chocolate waffles have white, milk and dark chocolate chips incorporated in to the batter. Plus there is a nice dose of cocoa powder thrown in.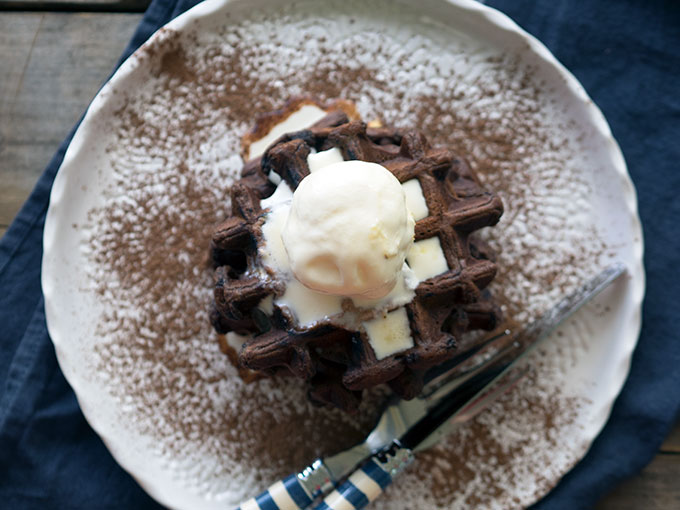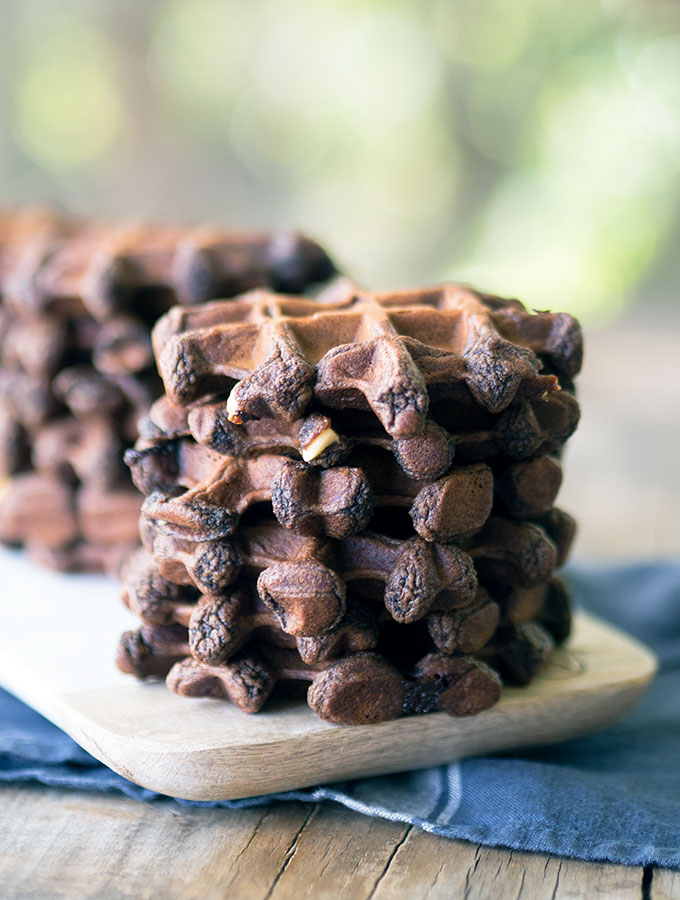 Of course it doesn't have to be Easter to enjoy them. They are perfect any time. The chocolate chips melt and create little pockets of melted goodness throughout the waffles.
Some chocolate will escape and melt on the waffle maker during cooking. The white chocolate caramelises quite nicely when it escapes. I can personally vouch for this as I meticulously cleaned the splodges from the waffle maker between batches and nibbled on them once cooled.
The triple chocolate waffles were simply served with ice cream. You could dish them up with whipped cream or fresh berries.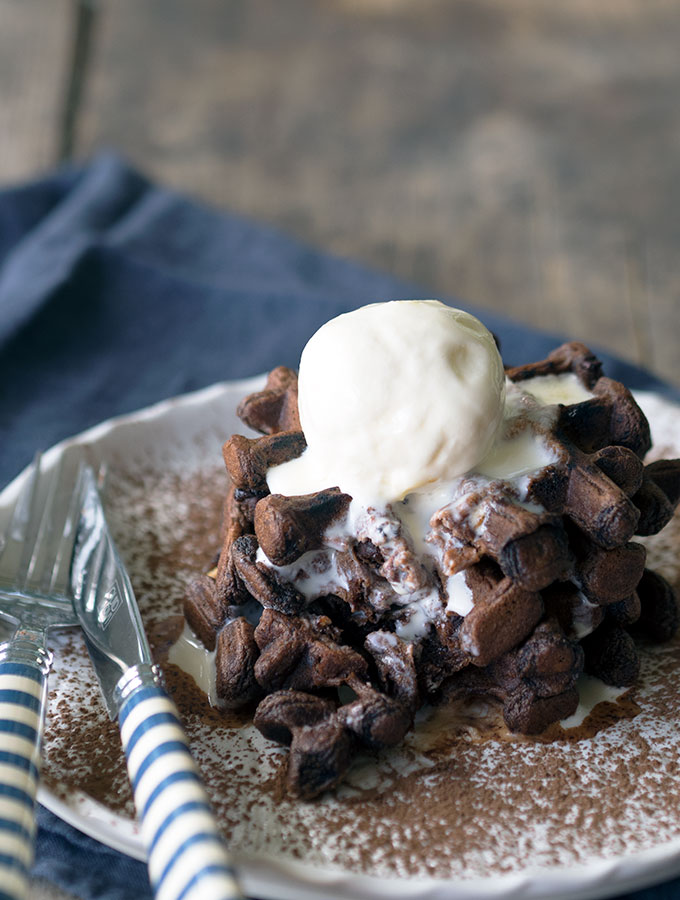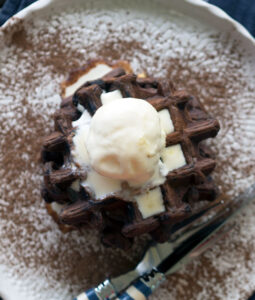 Print
Triple Chocolate Waffles
Yield 6 serves
The best triple chocolate waffles recipe you will ever make! Packed with white, milk and dark chocolate, these are great buttermilk waffles for breakfast
Ingredients
2 cups plain flour
½ cup cocoa powder
¼ cup dark brown sugar
2 teaspoons baking powder
1 teaspoon bicarbonate soda
1 teaspoon salt
3 large eggs, separated
2 cups buttermilk
½ cup vegetable oil
1/3 cup white chocolate chips
1/3 cup milk chocolate chips
1/3 cup dark chocolate chips
ice cream or cream to serve
Instructions
Sift flour and cocoa powder into a large bowl. Mix in brown sugar, baking powder, bicarbonate of soda and salt.
Add egg yolks, buttermilk and oil, stir until well combined. Stir through chocolate chips.
Place separated egg whites in a bowl and whip until stiff peaks form using electric beaters.
Gently fold through half the egg whites into the waffle mixture. Once just combined fold through the remaining egg whites.
Heat waffle maker as per manufacturer's instructions. Once hot and ready to go, spoon mixture onto waffle plates and cook.
Keep waffles warm in a low oven while other waffles are cooking.
Serve with ice cream or freshly whipped cream.
Courses Brekfast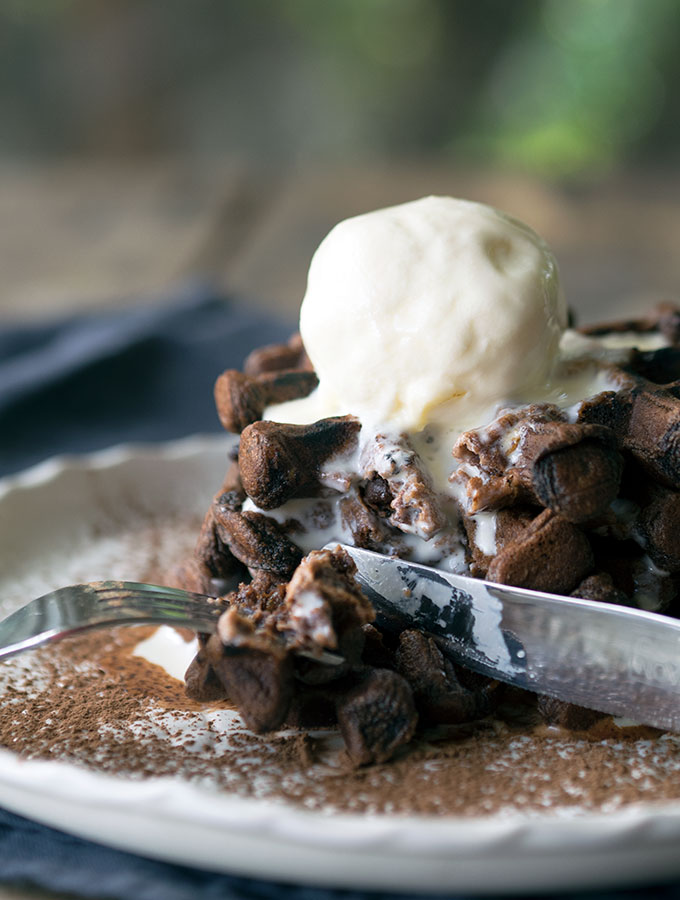 If you are faced with left over triple chocolate waffles, which I highly doubt, they freeze brilliantly. To warm them up again and regain their crispness, simply pop them in a toaster. They won't need long, so keep an eye on them.
These guys definitely are a great addition to a lazy weekend breakfast or brunch. I hope you enjoy them.
Sara xxx
Become a subscriber and don't miss a single delicious recipe, restaurant review or travel adventure.