What are cloud eggs? They sound rather ethereal don't they?
Cloud eggs, eggs on a cloud or even eggs in a cloud have been around for a while. Lately they have become the next avocado flower or pimped up smoothie bowl on Instagram. People have been happily snapping their cloud eggs for everyone's visual enjoyment.
Me being me, I did try and find out the origin of cloud eggs. The earliest reference I could find on the internet was back in 2002, where the recipe was published by the Dairy Farmers of Canada. Though I will admit I didn't spend too much time traipsing down that cyber bunny trail.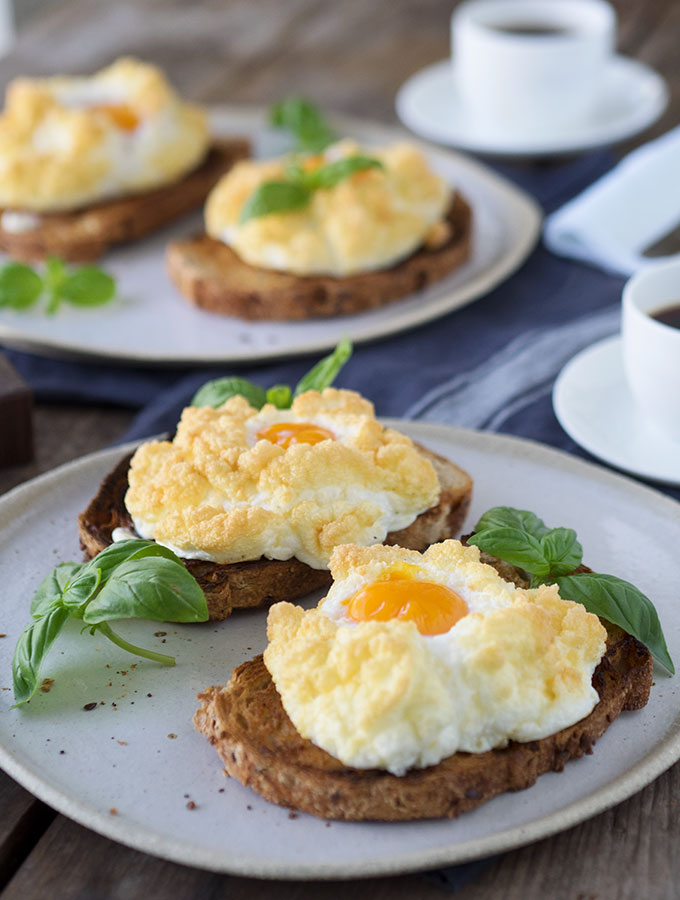 I also had a look at my beloved 1963 copy of Larousse Gastronominque as I felt that due to the whipping up of the egg whites, that it may be a French technique of cooking the eggs. Among the 25 pages of egg recipes, I couldn't find anything similar. Then again, anyone reading this who is familiar with near 60 year old versions of Larousse, will know that it could be hidden amongst those pages somewhere.
Escoffier was also pulled from the bookshelf, along with Julia Child's "Mastering the Art of French Cooking". Escoffier was just as intense as Larousse, and Julia reminded me why she became so popular with her easier style, but still thorough recipes. A recipe similar to cloud eggs couldn't be found in either book.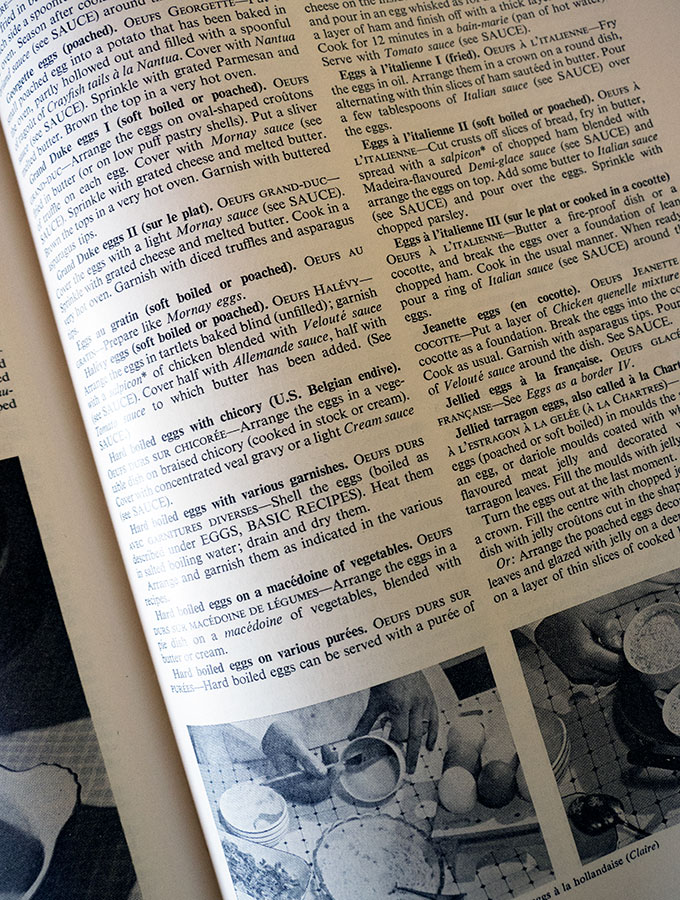 No doubt some blogger will claim they came up with the recipe in due course, or in a few years from now. I was reading a thread on Facebook just recently where a blogger claimed they invented baked avocado with eggs. To which I made my fingers stand down from the keyboard and moved on.
A close friend once shared some words of wisdom. If you think you have come up with an original idea, you can make a sure bet that somebody else has thought of it too.
Originality of Cloud Eggs Update: Thank you to one of our wonderful reader's Heidi, who has shared an article on the originality of Cloud Eggs, which was published in The Salt by Maria Godoy 21/5/17. I was happy to read that it confirmed my suspicions, the recipe is nearly 400 years old, and originated in France. The article references the recipe Oeufs à la Neige (eggs in snow), which appeared in Le Cuisinier François, 1651.
So what are cloud eggs?
Cloud eggs are gorgeously wonderful, and yes, I would even say ethereal. They are simple to make, and have endless creative possibilities. This recipe is baked without added oil or butter, therefore not bad for the waistline either. Of course the waistline comment completely depends on what you add in as extras to the recipe.
The main feature of this dish is the separation of egg whites and egg yolks. The egg whites are whipped with a pinch of salt until stiff peaks are reached. Here you have the opportunity to fold in some other ingredients for flavour if you wish, or you can simply scoop mounds of egg white on to a lined baking tray.
The egg whites are baked for a few minutes, then the yolks added on top and returned to the oven for further baking. This way you have a cooked fluffy egg white with an egg yolk cooked to the runniness that you desire. I personally like 3 minutes, which leaves the yolk gooey, and not overly runny.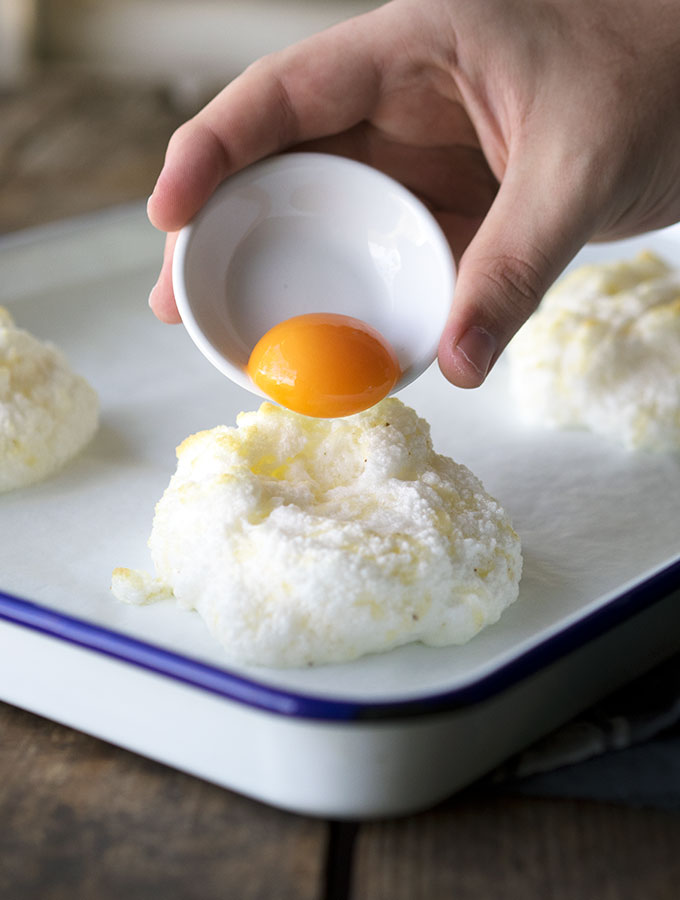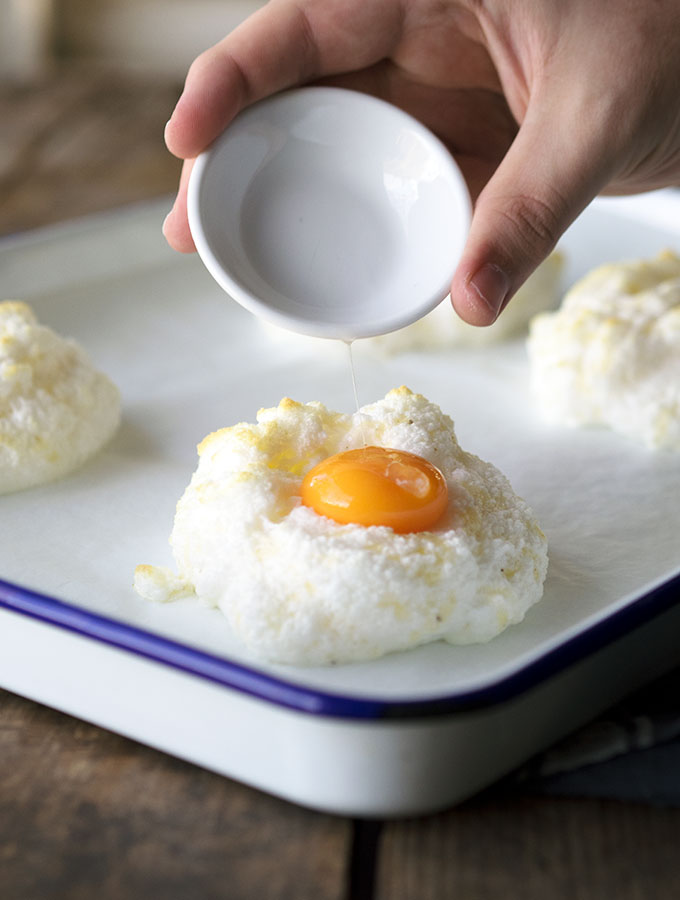 To flavour the egg white I used some cheddar with black truffle. But the sky is the limit, or should I say your imagination. People are adding all sorts of other cheeses including parmesan, as well as finely chopped ham, herbs, and even cooked bacon.
If you do find a reference to cloud eggs before 2002, please let me know I would love to see it. You may even be able to shed some light for me on the origin. I am most probably completely off track with my thoughts on French beginnings.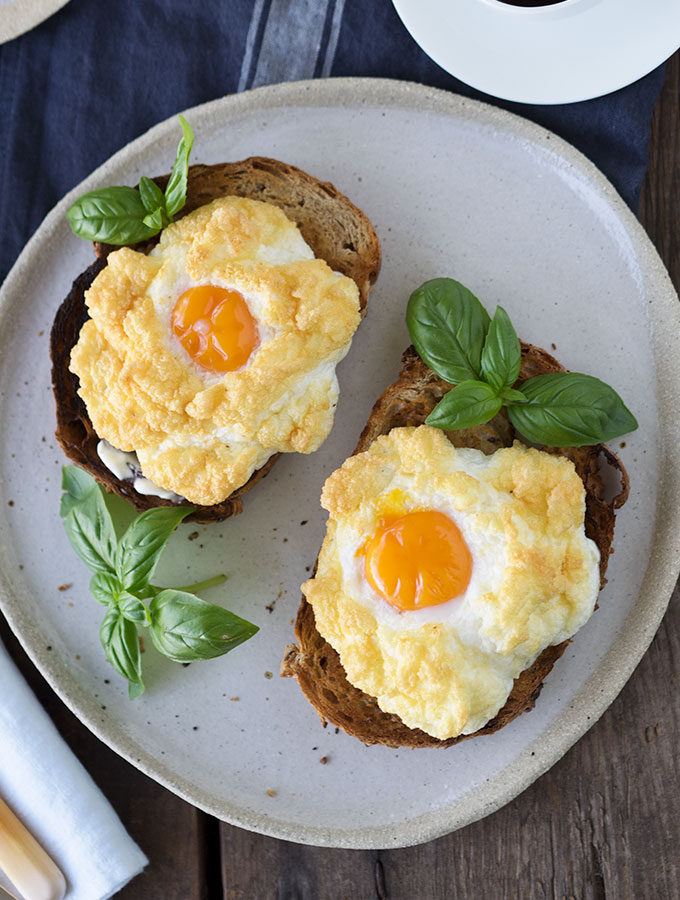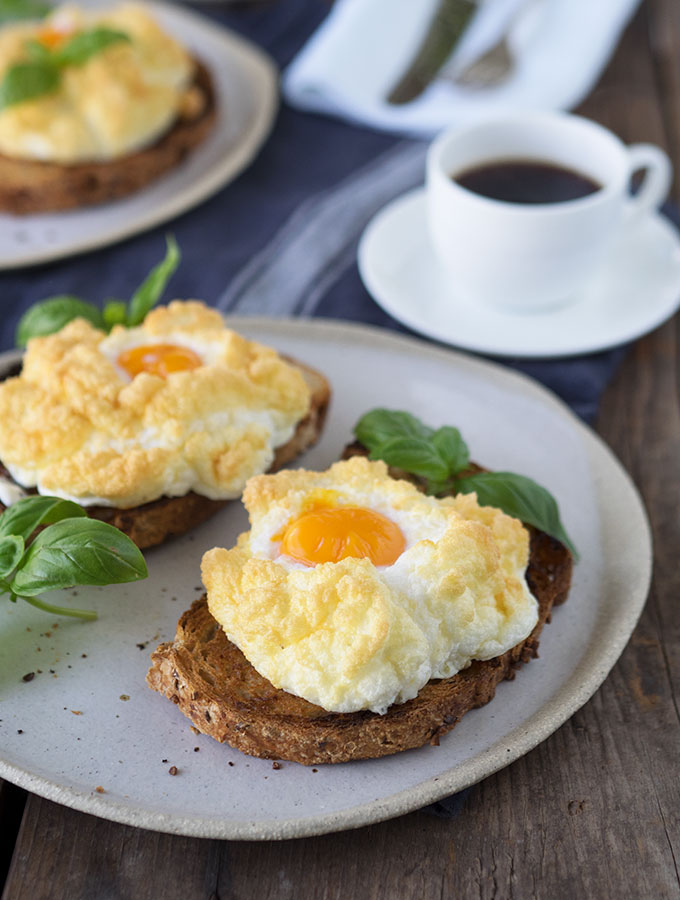 No matter what, if you enjoy eggs do give this recipe a try. You will have breakfast on the table in under 15 minutes. Which when these cloud eggs look as stunning as they do, is a pretty awesome thing indeed.
If you are after some other egg breakfast ideas you may also enjoy my Ham & Egg Hash Brown Nests or my Latvian Farmers Breakfast.
Sara xxx
Printable Recipe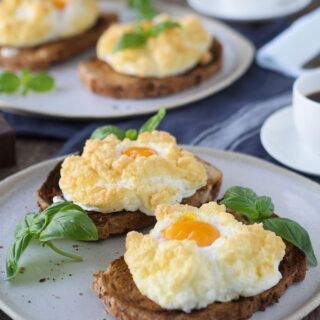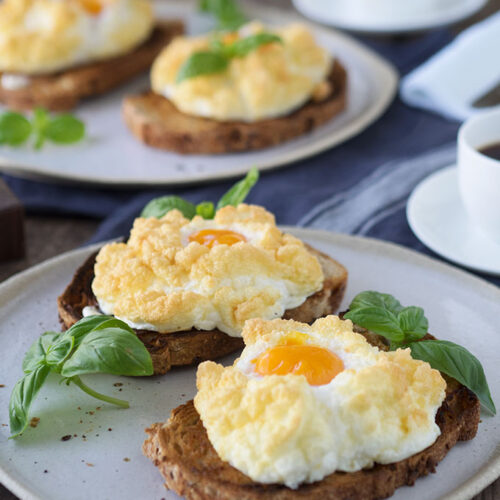 Cloud Eggs
Light and fluffy breakfast eggs. Which are baked not fried.
Ingredients
4

eggs

30

grams

(¼ cup) black truffle cheddar cheese

salt

sourdough

sliced and toasted

basil
Instructions
Pre-heat oven 220°C (430°F). Line a baking sheet with non stick baking paper.

Separate egg whites from egg yolks. Place egg whites in a medium bowl. Place egg yolks in individual smaller bowls.

Beat egg whites with a pinch of salt until still peaks form. Then gently fold through the grated cheese.

Place four even mounds of the egg white mixture on the lined baking tray. Bake for 3 minutes.

After 3 minutes remove tray from oven and carefully place an egg yolk on top of each egg white mound. You may need to create a slight indent on top of the egg whites to stop the egg yolk sliding off.

Place tray back in the oven for 3 minutes to finish cooking.

Serve clouds immediately with toasted sourdough and basil leaves.
Notes
Egg yolks are gooey when backed for 3 minutes. If you want runny yolks bake for 2 minutes, and for more solid cooked through egg bake for 4 minutes.
Measurement Notes
All measurements are Australian metric standard. All measures are level, and cups are lightly packed unless specified. 1 teaspoon = 5ml / 1 tablespoon = 20mls / 1 cup = 250ml /4 teaspoons = 1 tablespoon.
NUTRITIONAL INFORMATION
The recipe's nutritional information is an approximation based on an online calculator. It is meant solely for reference purposes. If you're looking for precise details, be sure to double-check with your own research.
Calories:
150
kcal
Carbohydrates:
1
g
Protein:
14
g
Fat:
9
g
Saturated Fat:
3
g
Cholesterol:
330
mg
Sodium:
211
mg
Potassium:
121
mg
Sugar:
1
g
Vitamin A:
504
IU
Calcium:
108
mg
Iron:
2
mg
Did You Make This Recipe?
I do a happy dance when people share how they went. Tag me on Instagram or Twitter @bellyrumbles & #bellyrumbles