Papaya Pecan Streusel cake, sounds a little bit different doesn't it? As we Aussies march feet first into colder weather we also are lucky to have a bumper crop of tropical papayas in Australia. Papaya and pawpaw are available all year, but come autumn and spring they are in abundance.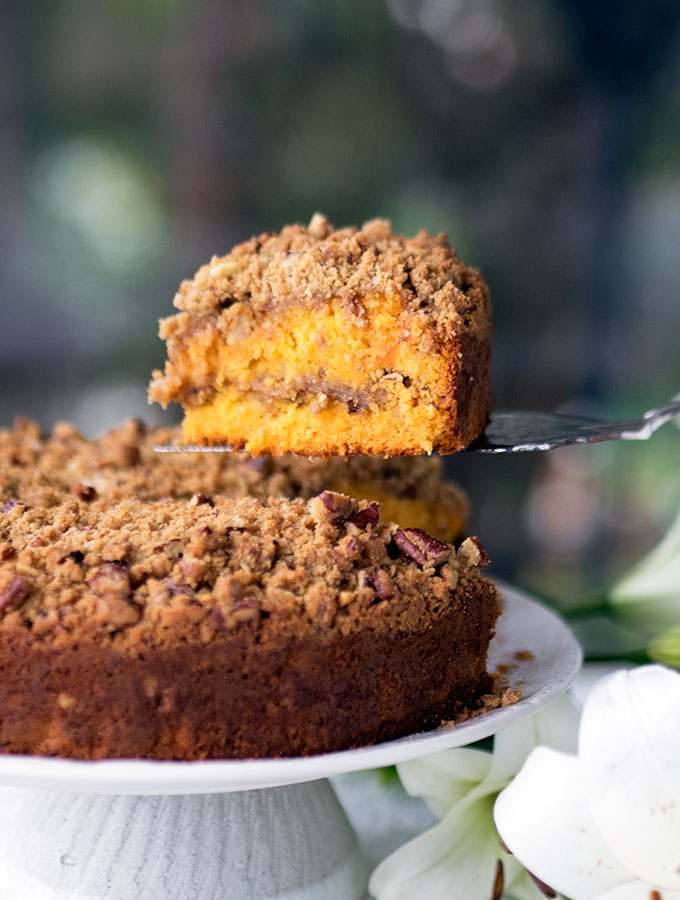 Being a tropical fruit I thought it would be fun to come up with a recipe with an autumnal feel. Every slice of my papaya pecan streusel cake takes you to the tropics, but also richly comforts you with delicious pecan streusel. This rich and buttery cake is perfect with a cup of tea or coffee for an afternoon treat, of served with ice cream or cream for a blissful dessert.
I do love eating papaya just as it is. Even though Mum would always have papaya around, a big favourite for breakfast, I only developed a taste for it as an adult. I was never very fond of it as a child. These days I can't get enough, and as papayas are a healthy addition to your diet, that's a good thing.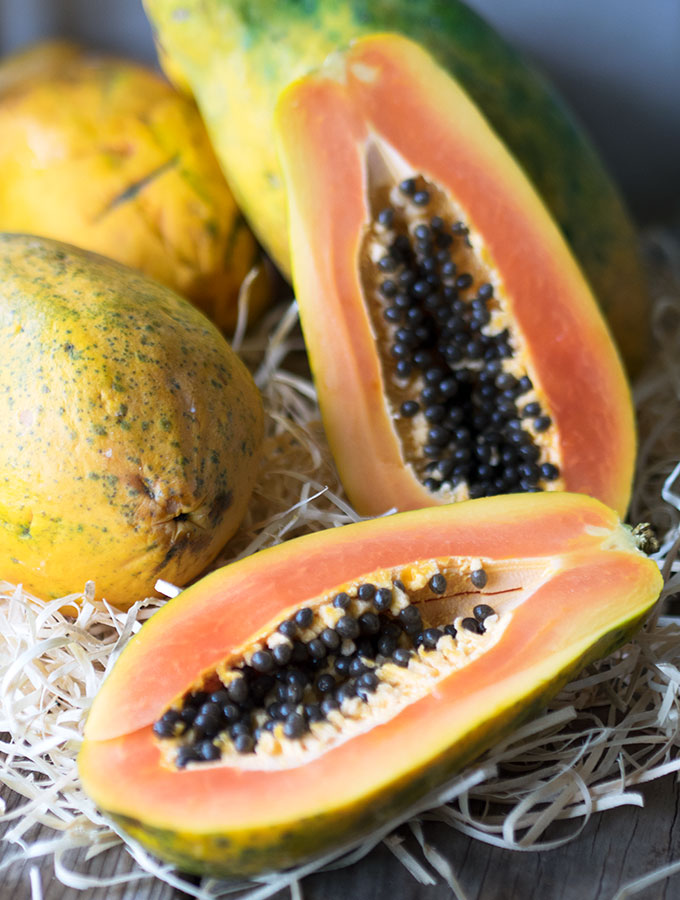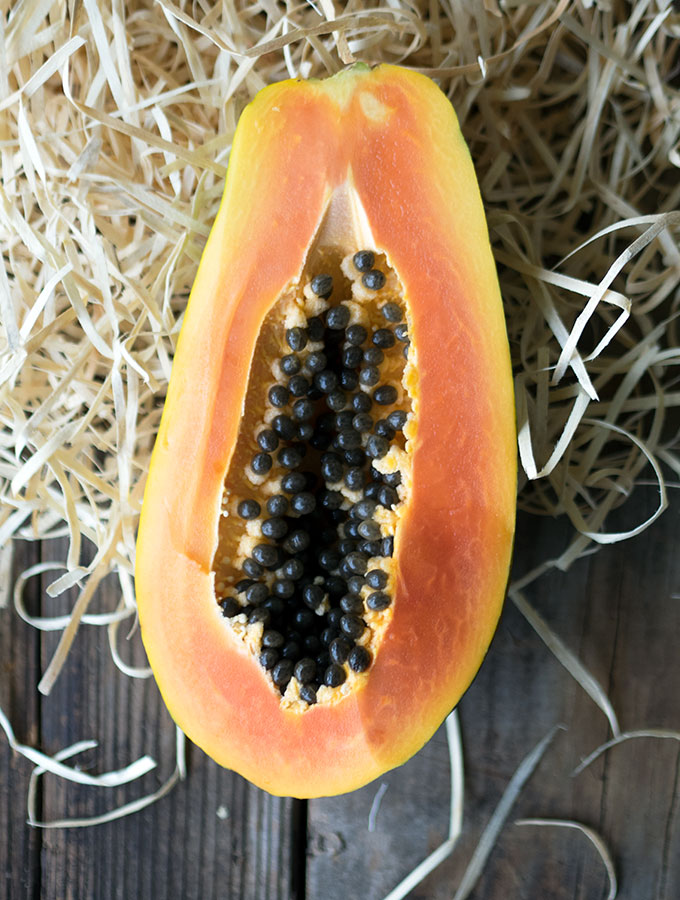 Papaya contains a unique bundle of antioxidants, Vitamin C and carotenoids, which will give your body's immune system a boost. So rich in vitamin C, that around one cup of diced papaya (150g) provides more than twice your recommended daily intake (RDI). This amount will also provide you with nearly one third of your RDI of Vitamin A. Papaya is also a great source of fibre, folate, has a high water content and has the added bonus of being low in calories.
Now I do have to warn you that my papaya pecan streusel cake contains butter, sugar and then more butter. It's not a health cake by any means, but it sure is delicious. The good thing is you will still have some papaya left over from a whole one for some healthy breakfasts.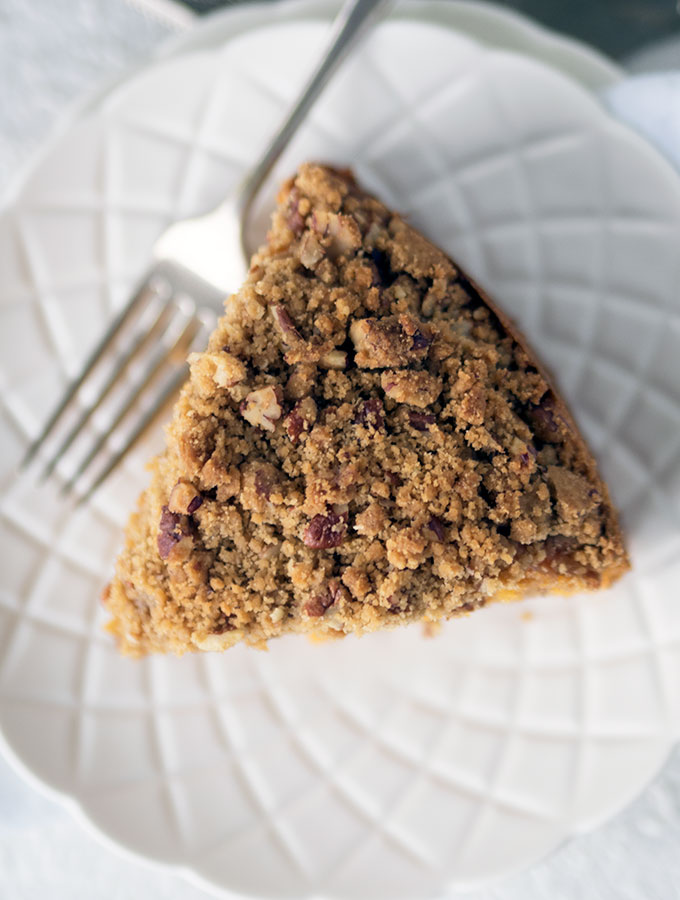 What makes me happy about this cake (besides being darn delicious) is that the papaya retains its vibrant colour when incorporated into the batter and cooked. Your cake will end up with a lovely orange hue.
The papaya pecan streusel cake has a generous amount of streusel in the middle and on top of the cake. The buttery streusel in the middle adds a band of colour and flavour difference. Where the streusel on top has the role of going crunchy when baked for some beautiful texture.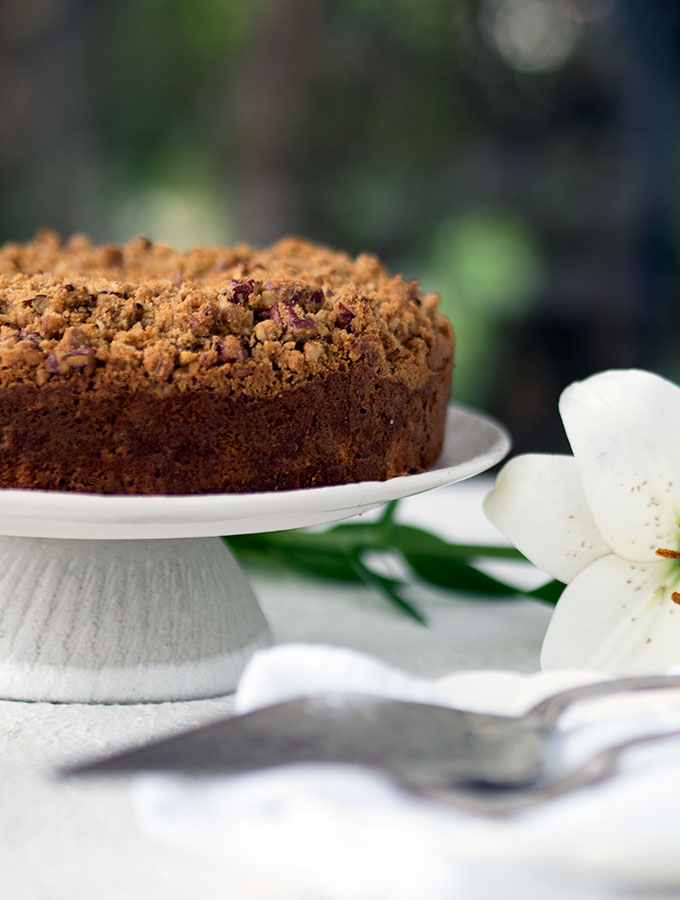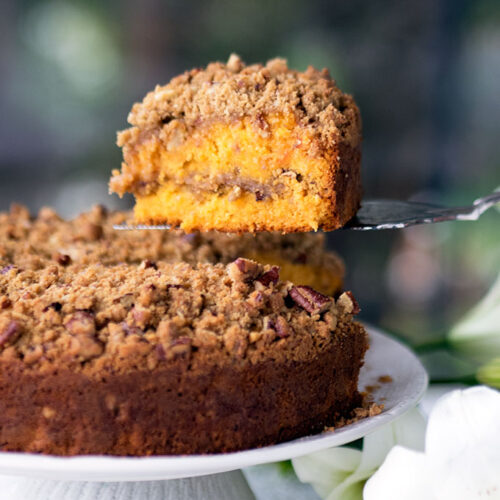 Papaya Pecan Streusel Cake
Papaya Pecan Streusel Cake Recipe, and moist, with a crunchy pecan streusel topping. Plus a gorgeous orange hue from Australian red papayas. You can use Australian yellow pawpaw as an alternative.
Print
Pin
Rate
Ingredients
Pecan Streusel
1 1/4

cups

(190grams) plain flour

3/4

cup

(155grams) brown sugar

firmly packed

125

grams

butter

chilled and cut into small cubes

1 1/2

cups

(185grams) pecans

roughly chopped
Papaya Cake
125

grams

butter

room temperature

3/4

cup

(155 grams) caster sugar

1

teaspoon

vanilla bean paste

2

eggs

1 1/2

cups

(285 grams) papaya

mashed

1 1/2

cups

(260 grams) self raising flour

1/4

teaspoon

bicarbonate of soda
Instructions
Pre-heat oven 180°C (360°F). Grease and line a 23cm (9 inch) loose base round cake tin.
Pecan Streusel
In a medium size bowl mix flour and sugar. Add butter and rub through the mixture with your fingers, it should resemble fine breadcrumbs when you are done.

Mix through pecans, and place mixture in the fridge until needed.
Using stand mixer or beaters, in a large bowl cream butter and sugar until light and pale. Then add vanilla bean paste, mixing well.

Add eggs one at a time, beating well in between each addition.

Once eggs are incorporated add mashed papaya, mixing through thoroughly.

Add flour and bicarbonate of soda, half at a time, mixing well.

Pour half the cake mixture into your prepared cake tin and then sprinkle half the streusel mixture over the top.

Carefully spread the remaining cake mixture over the top of the streusel. It may feel like the cake batter won't cover it, but it does. Take your time spreading slowly. Then top the second layer of cake batter with the remaining streusel mixture.

Place in the oven and bake for 40 minutes.

Test with skewer in the middle of the cake, there shouldn't be any raw batter on the skewer when removed.

Remove from oven and leave on a cake rack in the tin to cool for 10 minutes. After 10 minutes carefully remove the loose base with the cake from the tin, remove the base, and leave on the cake rack to cool.

The cake can be served warm from the oven with ice cream, cold with unsweetened whipped cream or just as it is.
DID YOU MAKE THIS RECIPE?
I love knowing when readers make my recipes, tag me on Insgragram @bellyrumbles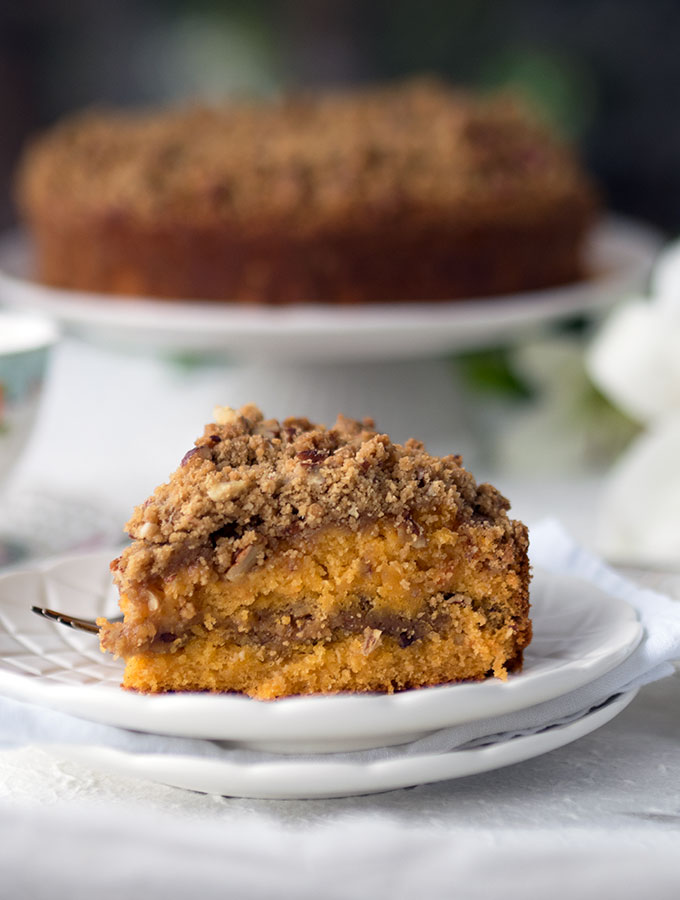 I used a 23cm (9 inch) loose base round cake tin for this recipe, but you could use a 21cm (8 inch) loose base if you wish. You will end up with a higher cake, and cooking time may be a few minutes longer.
It's important to use a loose base cake tin with this recipe due to the thick layer of streusel that graces the top of the cake. It's much easier to push the cake up and out of the tin than try to pull it or tip it out and lose half your streusel in the process.
I do hope you enjoy this slightly out of the box streusel cake. This papaya pecan streusel cake will definitely make a delicious alternative to coffee streusel cake or any of the other normal contenders. What's the most unusual streusel cake flavour you have tried?
Sara xxx

Belly Rumbles would like to acknowledge its partnership Papaya Australia for this post. This recipe was created, developed and photographed by Sara McCleary.

Become a subscriber and don't miss a single delicious recipe, restaurant review or travel adventure.