Are simple Easter recipes on your agenda this Easter? They are? Excellent, these Easter egg nests are just for you. I know easy and minimal time are both firmly planted on my dance card right now.
I have no desire to cook. My cooking mojo is MIA. No, its not missing, I know exactly where it is. It ran out the front door, hailed a cab, hot footed it to the airport and winged its way to Bora Bora. Now probably enjoying a cool tropical cocktail on the beach with a good book, while I scratch my head and try to work out what the hell's for dinner.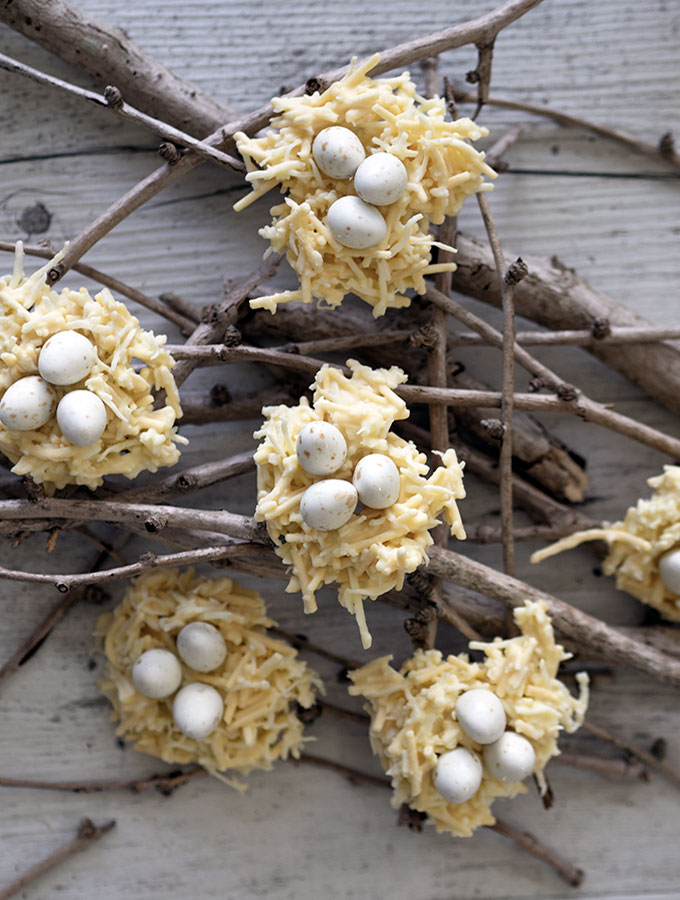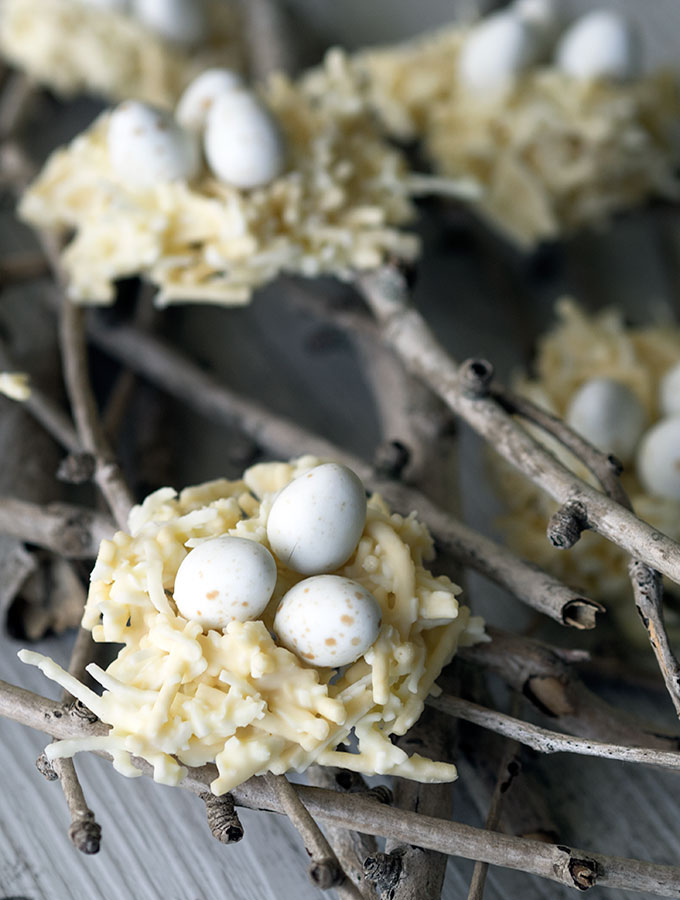 For those of you whose mojo is enjoying a frothy pina colada on a sun lounge next to mine, you are going to like these Easter egg nests. This will be the easiest recipe you make this Easter.
To make these Easter egg nests you only need four ingredients, white chocolate, fried noodles, coconut and speckled eggs. You could use any kind of chocolate egg for these Easter egg nests, but I think something pastel or white works very well with them. They are quite pretty.
Not a white chocolate fan? No problem, just substitute your favourite dark or milk chocolate when making the Easter egg nests. It really isn't a precious recipe at all, it will cope with a chocolate flavour change.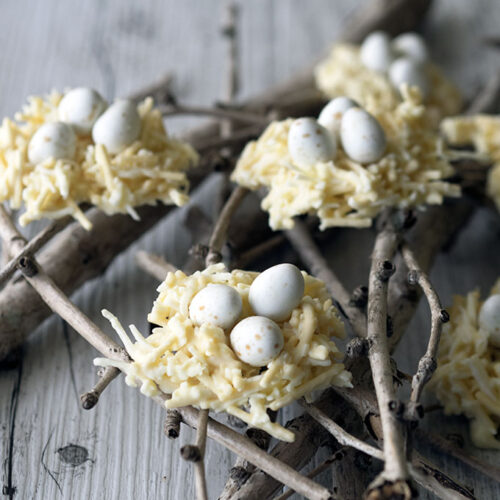 Super easy Easter Egg Nests using just 4 ingredients. Whip up these Easter Egg Nests in under 5 minutes with chocolate, coconut, noodles & mini eggs.
Ingredients
200

grams

white chocolate of choice

70

grams

fried noodles

-

crunchy chow mein noodles

70

grams

shredded coconut

mini speckled Easter eggs
Instructions
Melt white chocolate in a medium size bowl in the microwave. I do this in 30 second, then shorter bursts, mixing well in between, until the chocolate is melted.

Mix the fried noodles and coconut in to your chocolate. Making sure everything is mixed through thoroughly.

On a baking tray lined with baking paper spoon out heaped tablespoons of your Easter egg next mixture. Gently push three eggs into the centre of each nest.

Place tray in the fridge to allow your Easter egg nests to set. Once set store in an airtight container in the fridge.
DID YOU MAKE THIS RECIPE?
I do a happy dance when people let me know, tag me on Insgragram @bellyrumbles #bellyrumbles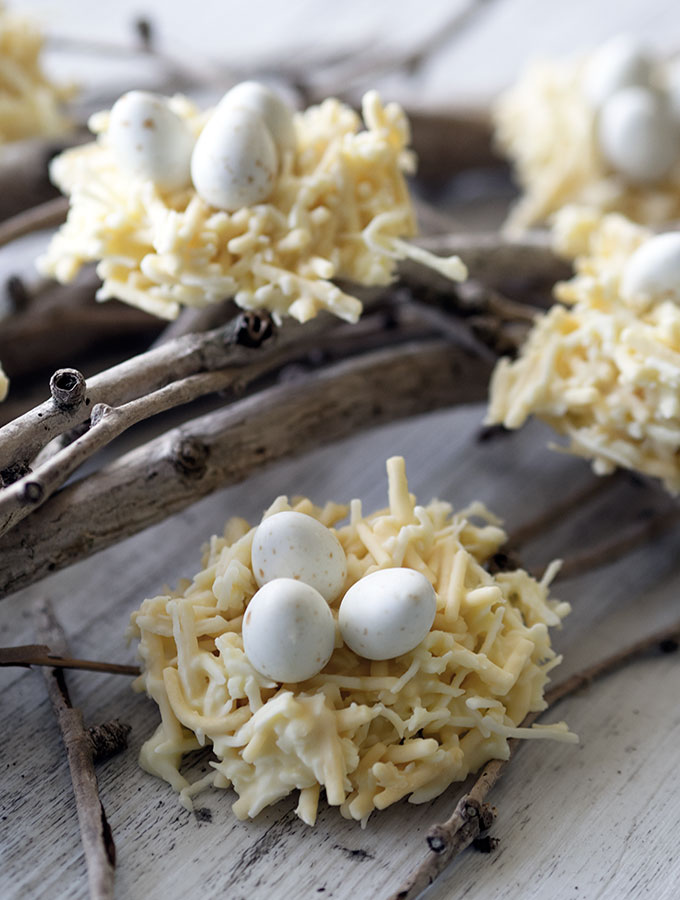 See, I wasn't lying. Dead easy recipe! Not sure I can really call it a recipe, more like a craft project using edible materials.
Want to get a little more creative? Add some matcha or lemon myrtle to your white chocolate. You will get the cutest little green Easter egg nests.
The coconut mixed in with the noodles adds a great flavour to the chocolate. The noodles of course add a "biscuit" style crunch and "stick" texture to the Easter egg nests. They really are quite moreish. Consider yourself warned.
Is your cooking mojo still around for Easter? If not, what is your easy go to Easter recipe (or edible craft project)?
Sara xxx
Become a subscriber and don't miss a single delicious recipe, restaurant review or travel adventure.