Yes my fanatical LOTR and Hobbit friends, Hobbiton does exist. Though any die hard fans reading this would most probably already know this, and a visit to Hobbiton already firmly on your itinerary when you next head to New Zealand's North Island.
I'm not a big LOTR or Hobbit fan. I enjoyed the books and the movies, but that is where it ends for me. On the other hand Josh is a massive fan and on a recent visit to New Zealand Mac and I decided to make his LOTR/Hobbit dreams come true.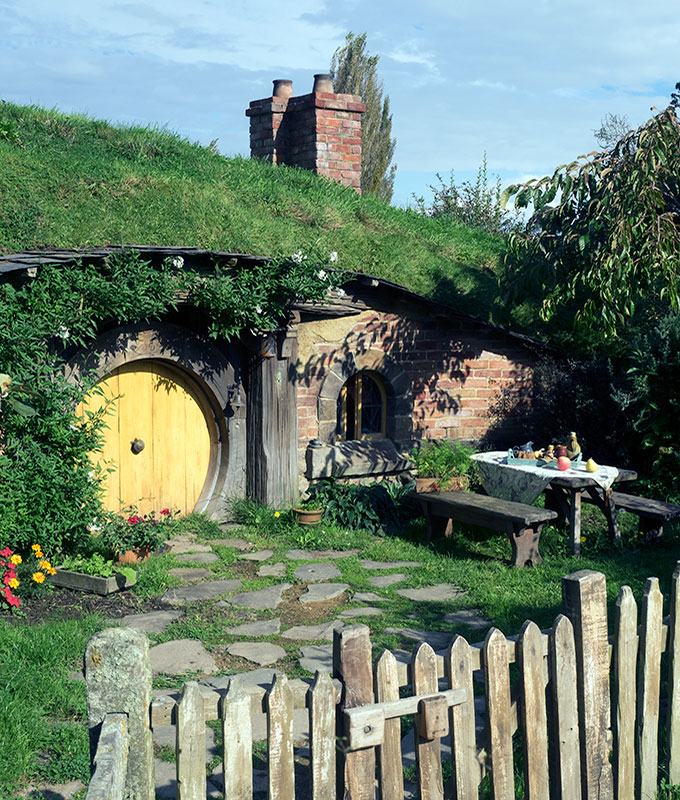 Hobbiton is located in Matamata, a rural community in the Waikato Region, two hours drive south from Auckland. Who am I kidding; a five minute drive in any direction out of Auckland is rural.
To visit Hobbiton you must do so via a tour. The Hobbiton crew will take care of your from Rotorua, Matamata i-SITE or from The Shires Rest Café situated opposite the entry gates to Hobbiton. Alternatively you could arrange a visit through an independent tour company. This could be a day tour from Auckland, or half day tour from somewhere closer. No matter how you visit, you can't just go wandering around Hobbiton on your own, you will have to go on a tour of the site.
We decide to self drive to Hobbiton and start from The Shires Rest. Driving there really did put us in the LOTR going on an adventure spirit. As we drove along tiny little back roads surrounded by farmland and sheep, the spirit of LOTR was strong in the car. Would we ever find Hobbiton? Was our GPS working? Where the hell are we, we're in the middle of bloody nowhere??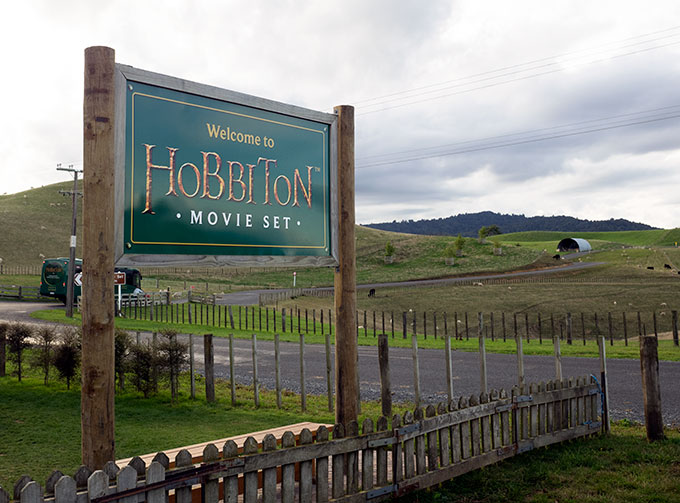 Find it we eventually did. The Shires Rest just sort of pops up from nowhere on a back road. You can't miss it due to being surrounded by parked cars and coaches. Oh and the big green sign that says Hobbiton sort of gives it away too.
Once you arrive at The Shires Rest you will need to pick up your tickets. Then feel free to head upstairs and enjoy a coffee or snack while you wait for your tour. Alternatively there is a gift shop, of course.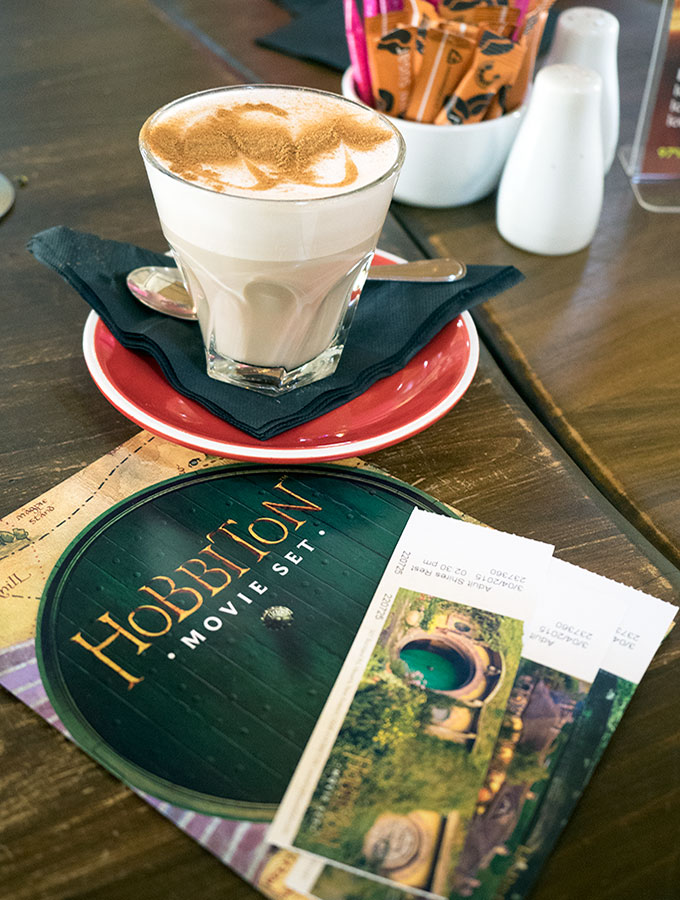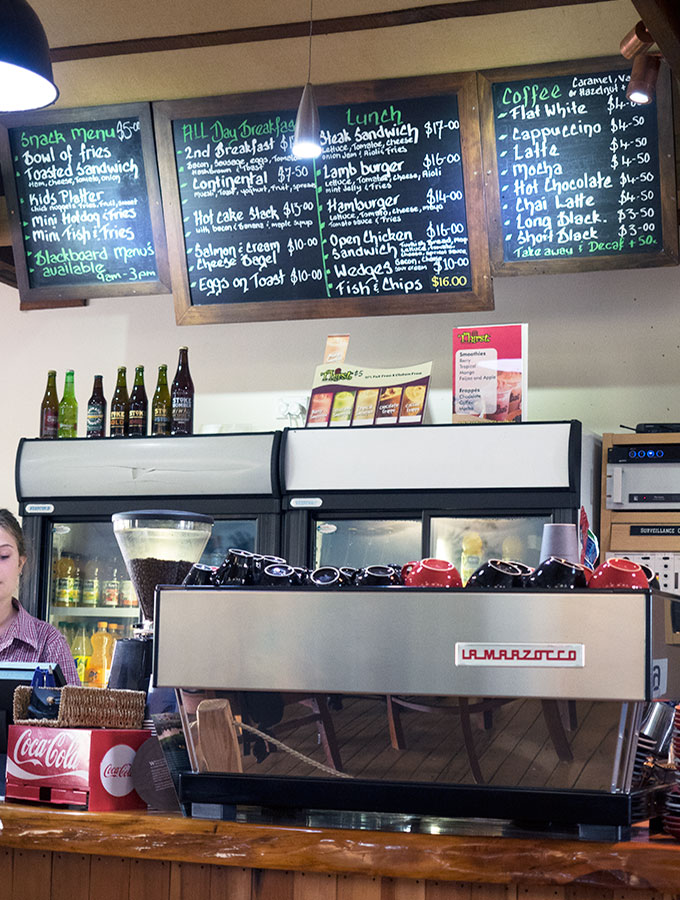 Booking is essential, don't turn up without booking over the phone or on line first, if you do there is a high chance you wont get any further than the front gates. The popularity of Hobbiton is amazing. There is a tour running every 30 minutes, plus the private tour operators coming and going. Adult tickets are NZ$79/person.
What was once a sleepy sheep and cattle farm is now New Zealand's biggest tourist attraction. Actually it is still a sheep and cattle farm, just not as sleepy as it use to be, with coaches filled with visitors rolling in every few minutes.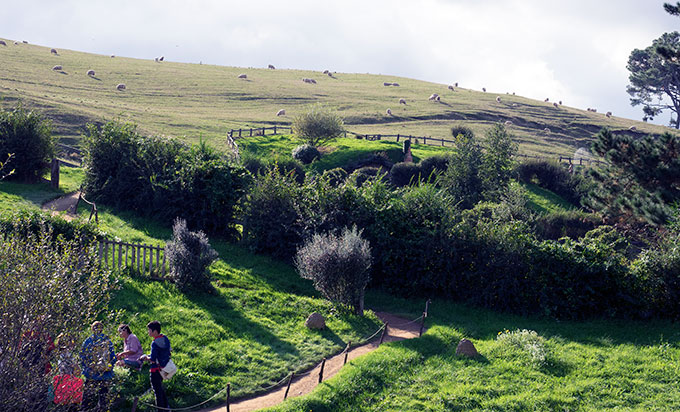 Sir Peter Jackson discovered the Alexander farm in 1998 when conducting an aerial search for a suitable film site for the LOTR trilogy. What drew him to the farm was a humongous established pine tree, which was to become "the party tree", and the lack of roads, buildings and power lines. Making the site the perfect home for Hobbits.
Construction on the site started in 1999 with the aid of the New Zealand Army and heavy earth moving machinery. At the end of 1999 the three month filming schedule for LOTR trilogy commenced. Movie set tours commenced in December of 2002.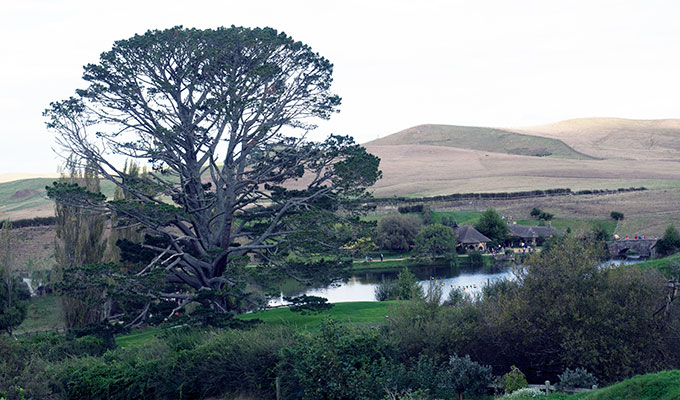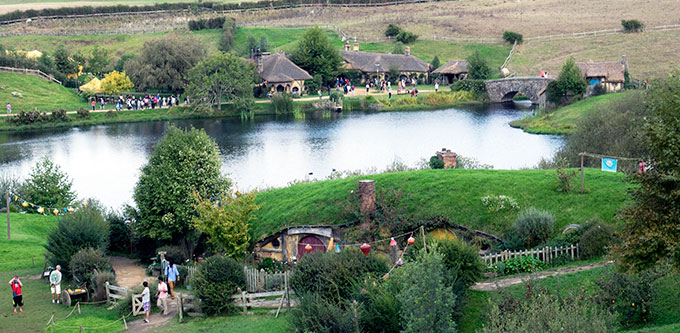 The set was rebuilt in 2011 for the Hobbit Trilogy. Instead of using Styrofoam and other typical set building materials, as they did back in 1999, they used permanent materials designed to last. Filming on site started in October 2011 for a 12 day duration.
Since tours started in 2002 there have been over 800,000 visitors to Hobbiton.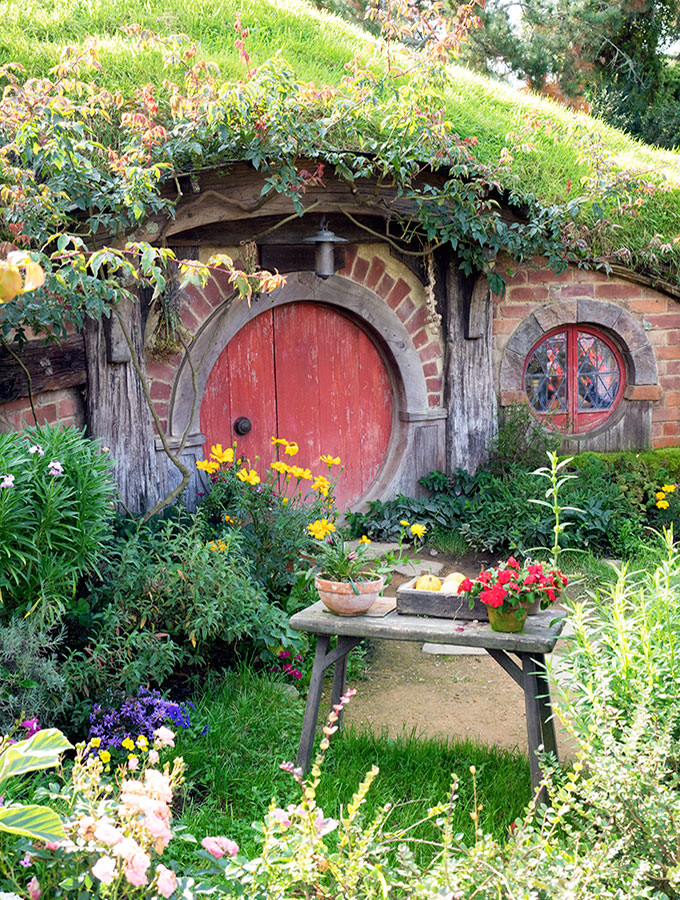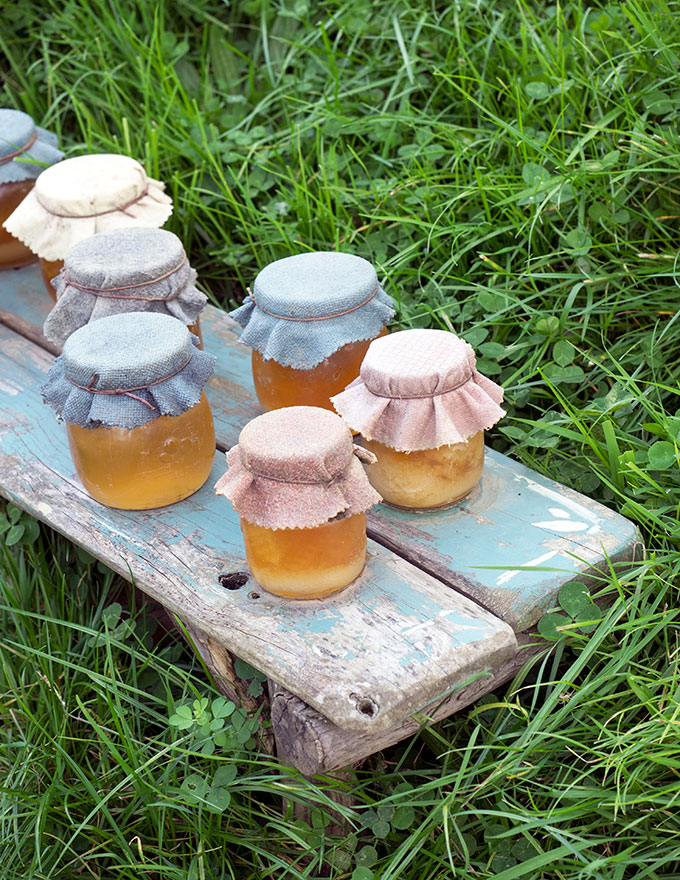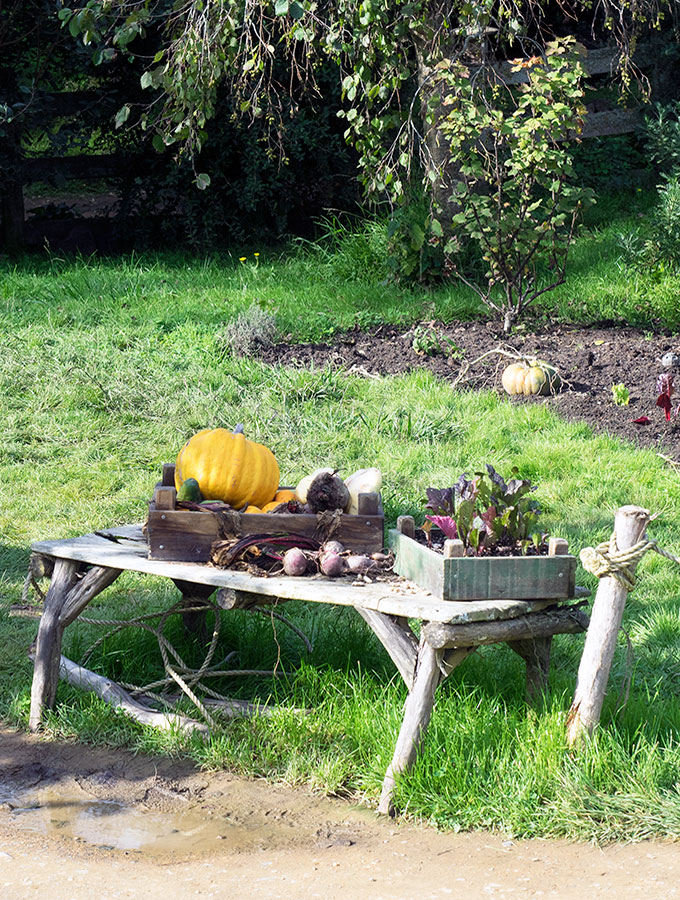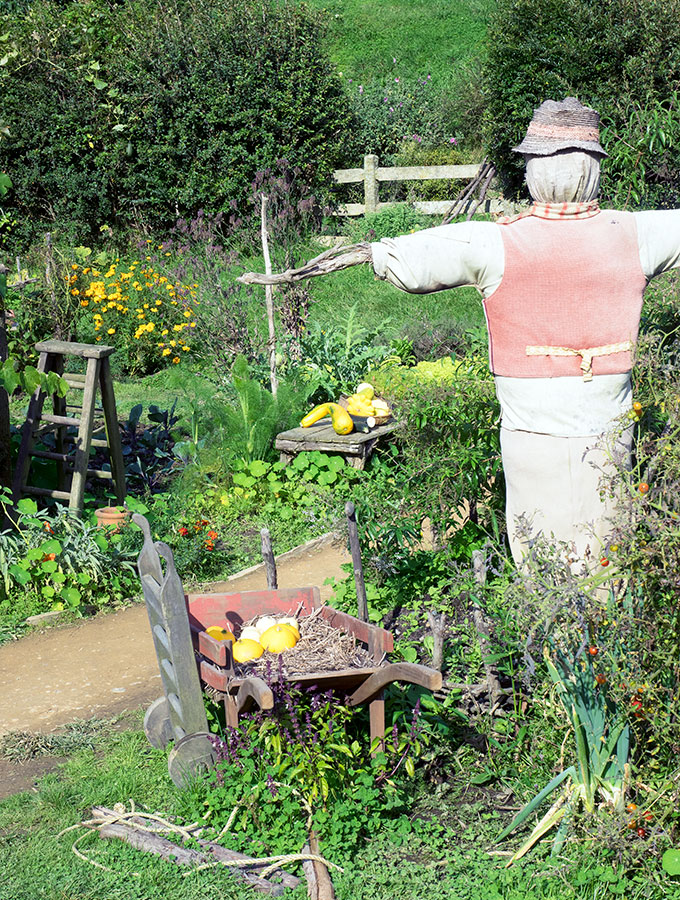 Once you have been bussed into Hobbiton, it is off the coach to be around the set via foot. The tour takes over an hour as you meander around and take everything in. There are lots of picture opportunities and you will see things like Bilbo Baggins' hobbit hole, the party tree, Gandolf's cutting, gardens, orchards, basically everything to do with Hobbit life. Hobbit and LOTR fans will be in their element.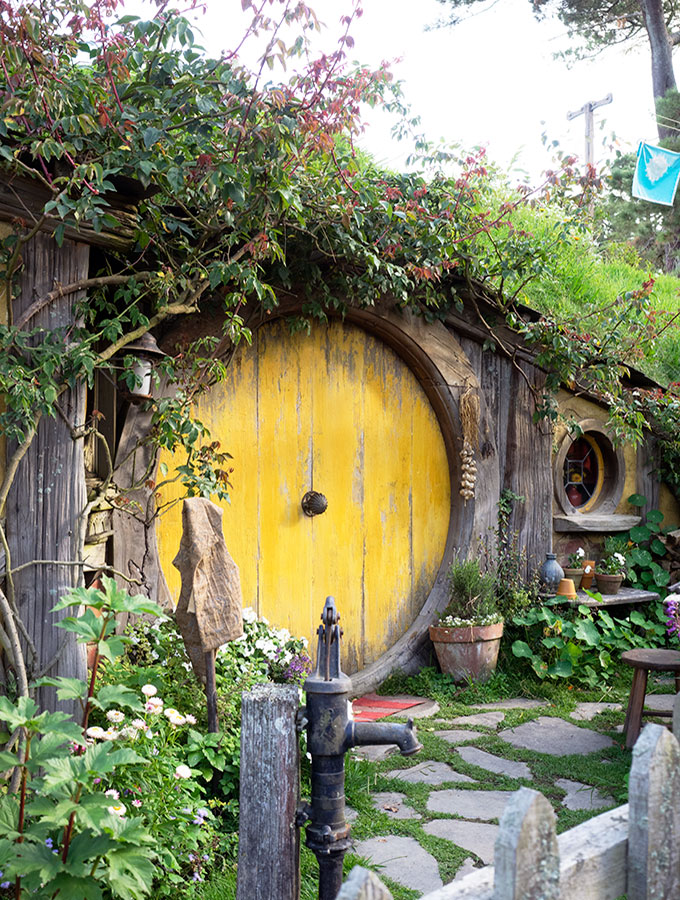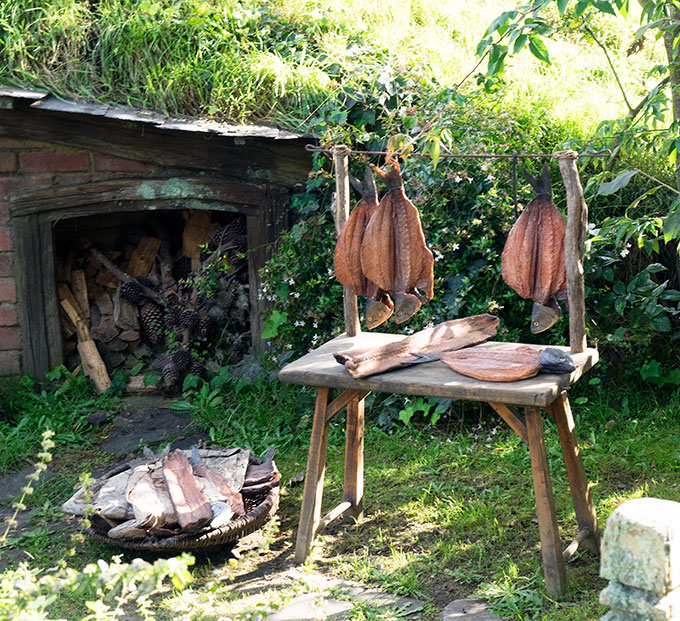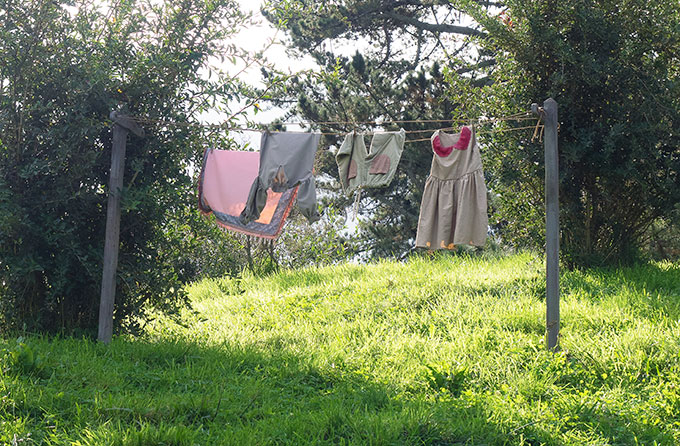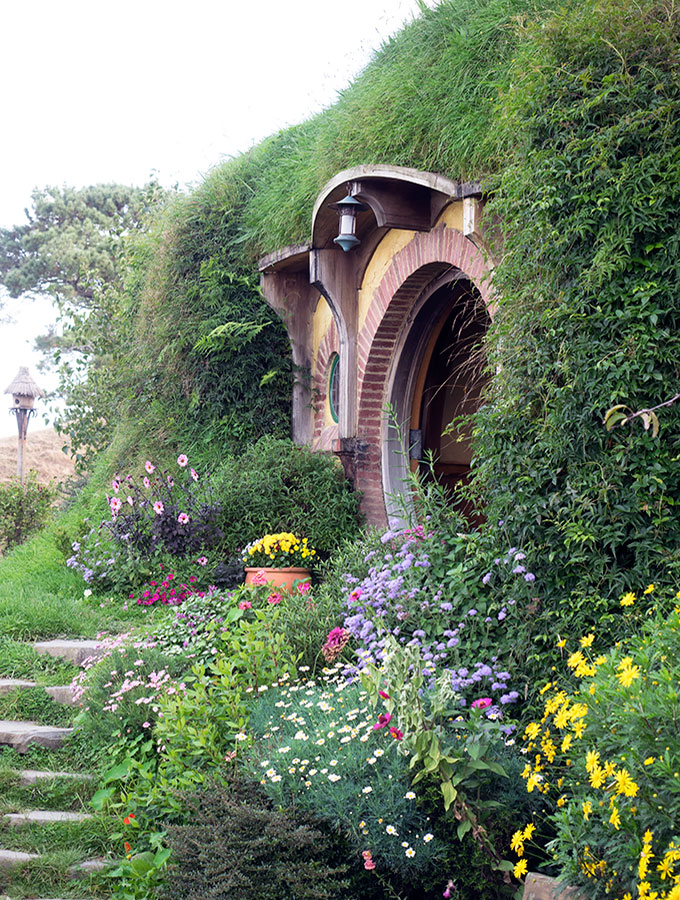 I love the detail in the set. You do feel like you have walked into Hobbiton, or more accurately, invaded. It is like the Hobbits have run away on our arrival into their habitat, going into hiding until we leave again. With fruit piled up on tables, honey pots, fish being smoked and washing hanging out, there is the sense of sudden abandonment by its dwellers.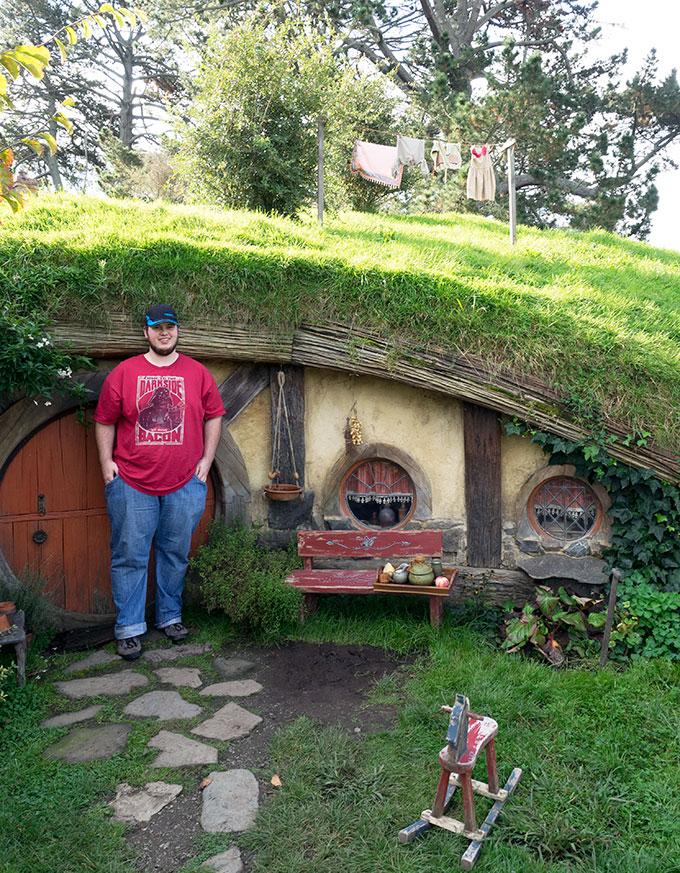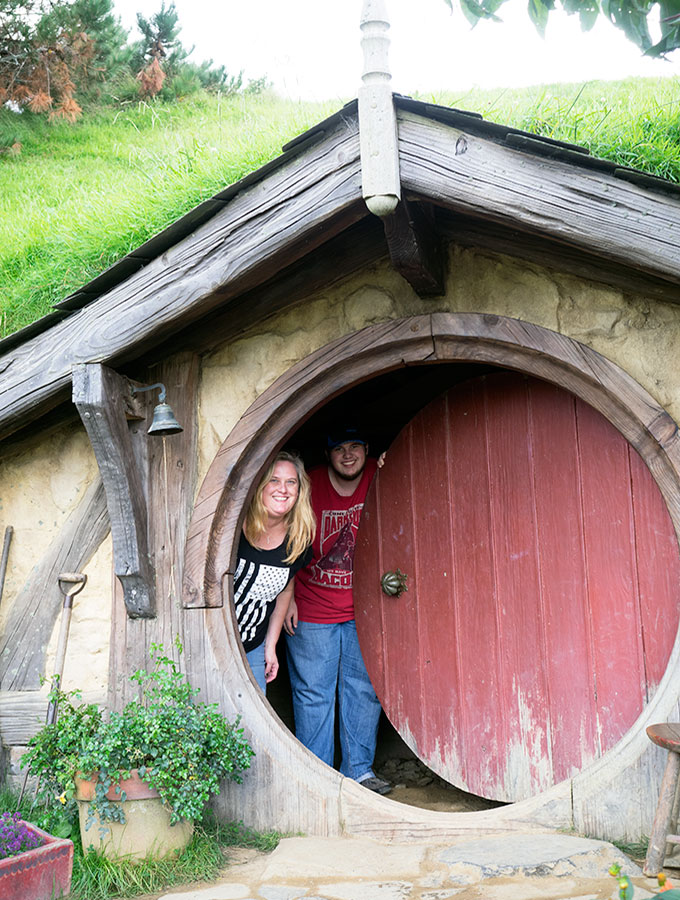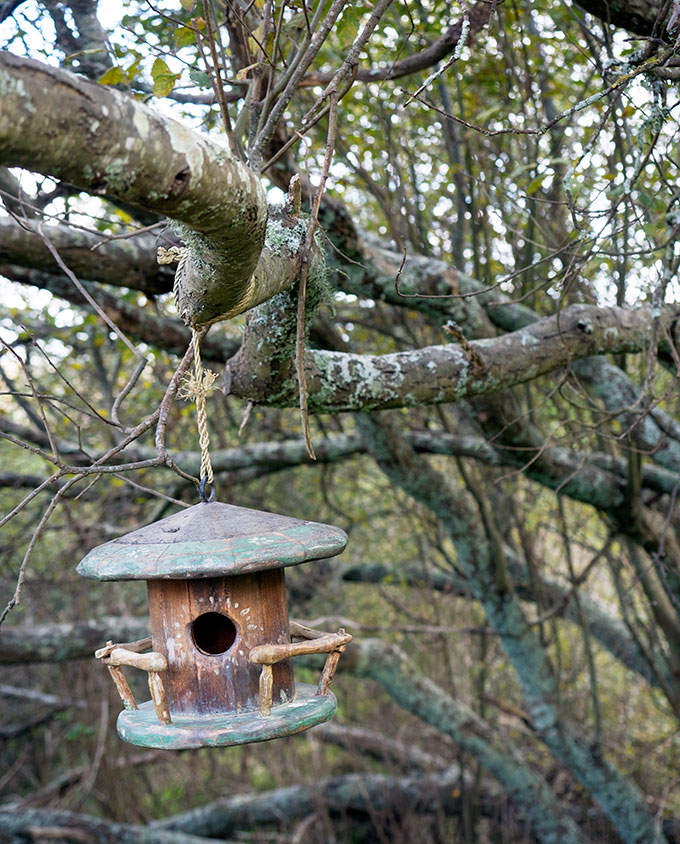 As you walk around the set you will see that the Hobbit holes vary in size, from quite large through to small. The dwellings were created this way so the actors playing hobbits would look like hobbits, and to make Sir Ian McKellen's character Gandalf, look like a giant.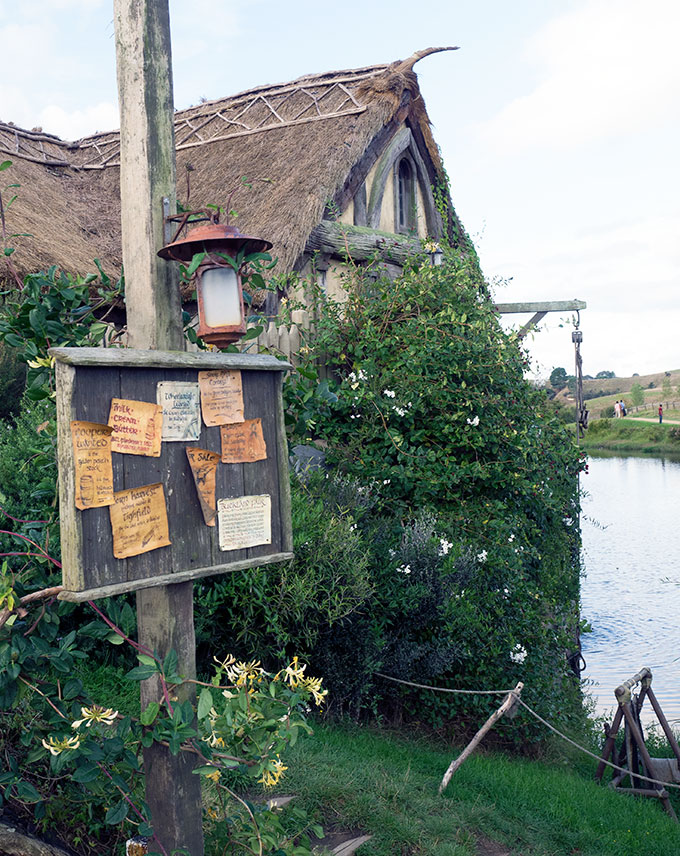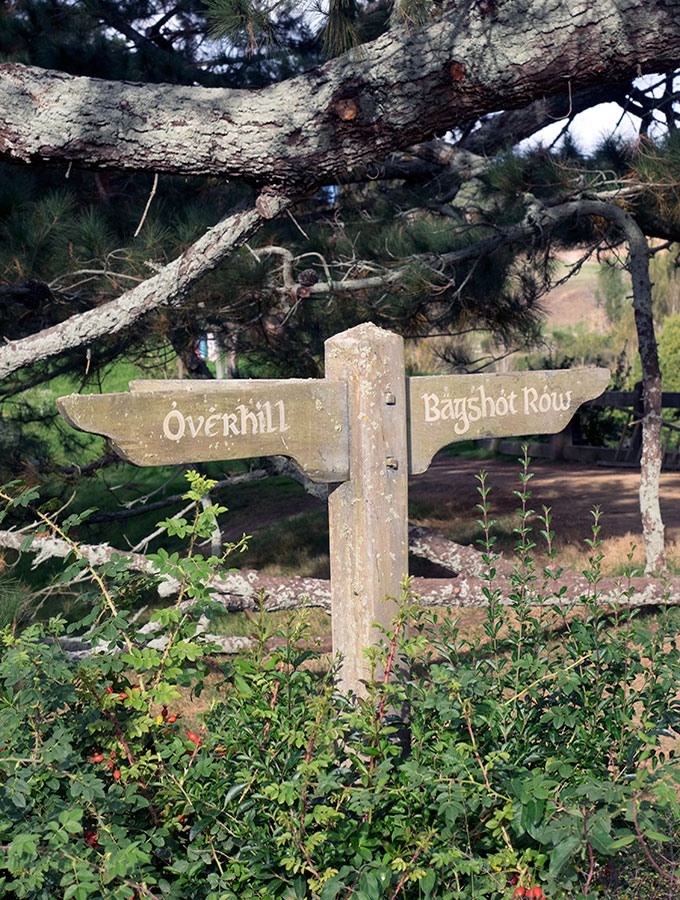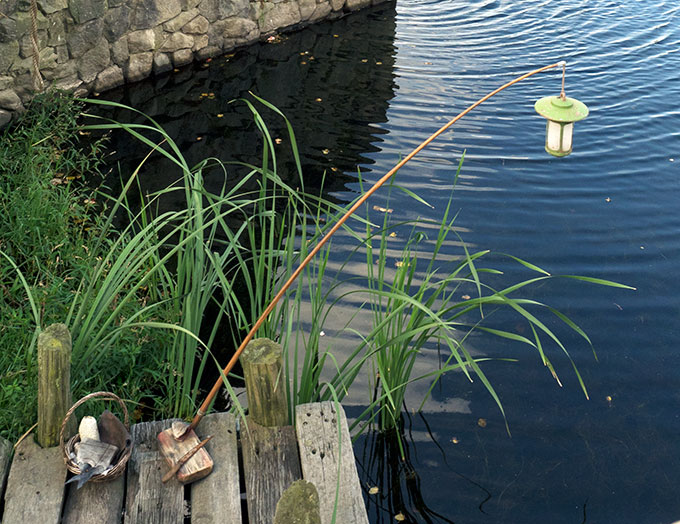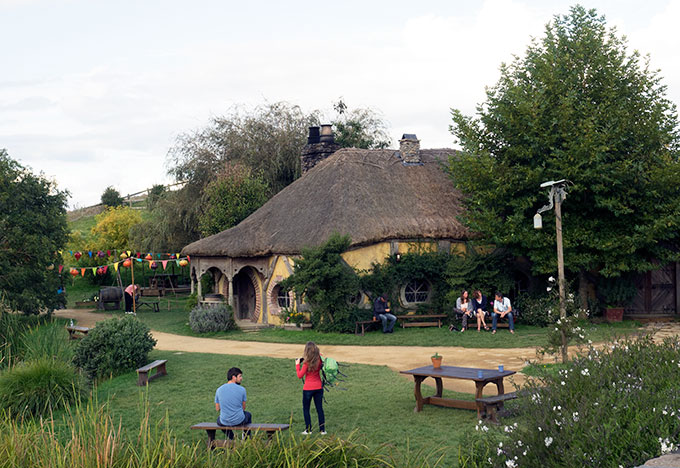 The tour concludes at the Hobbits inn of choice, The Green Dragon. Here you will be offered a complimentary cider, beer or ginger beer. There is also food to purchase if you wish. We didn't have time to order anything to eat, as once we got to The Green Dragon we barely had time to drink our complimentary ciders before being whisked back on the coach and away from Hobbiton.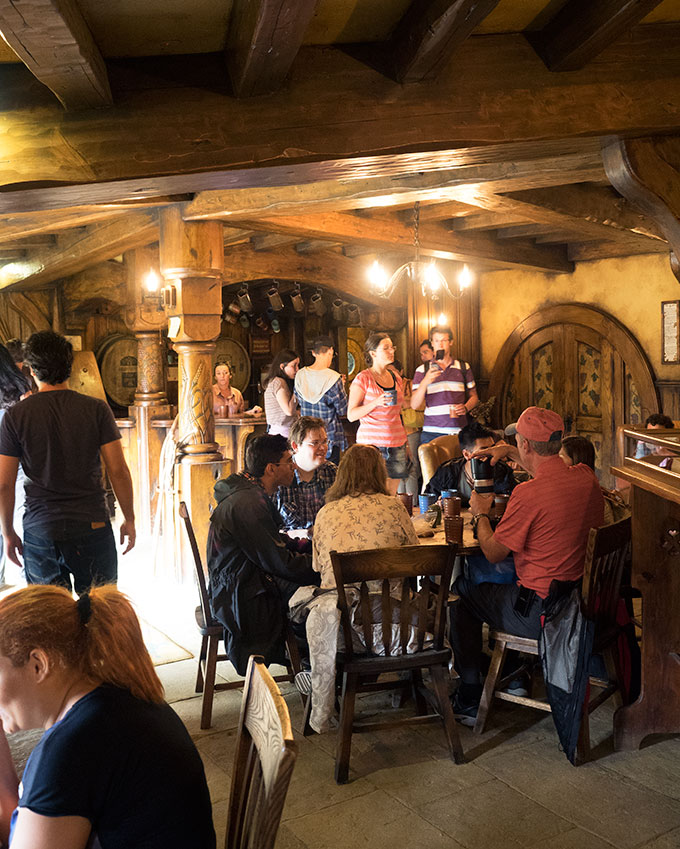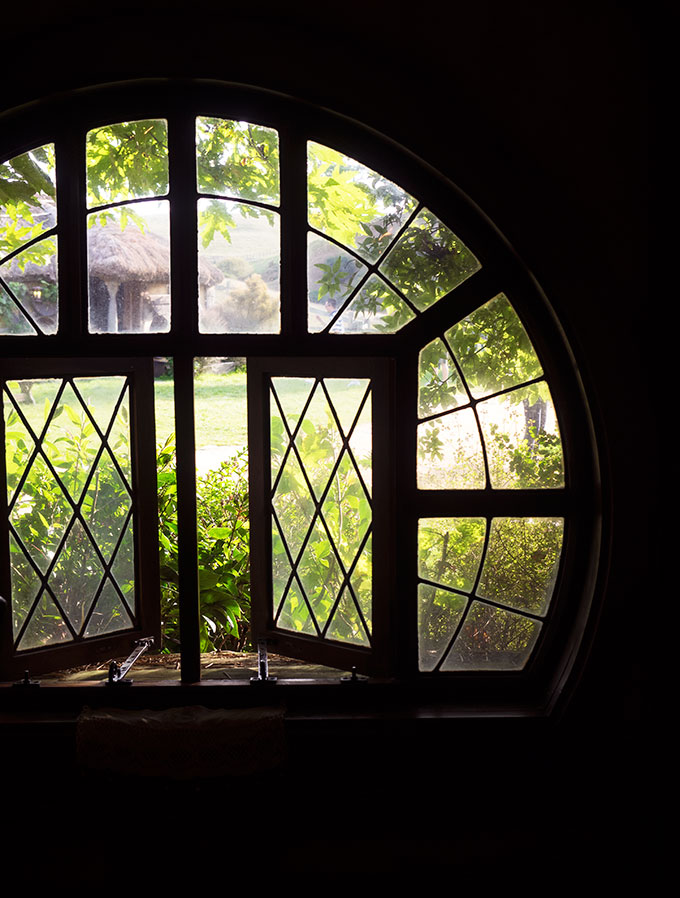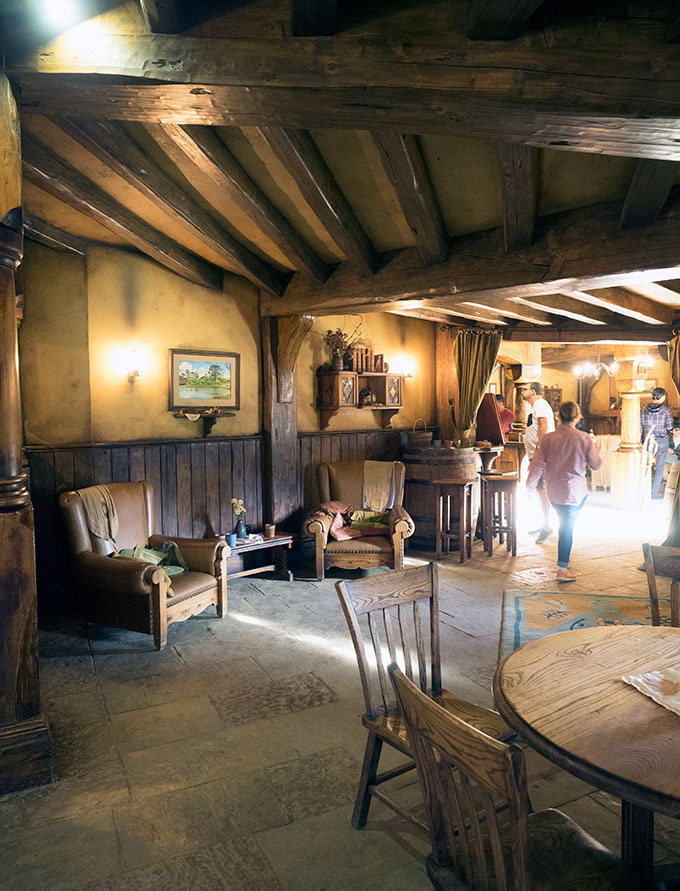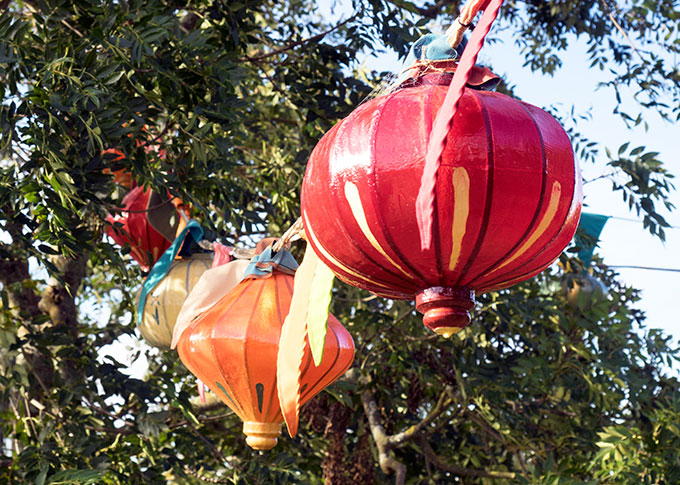 If you do want the chance to spend more time at The Green Dragon, one of the evening tours that end in a dinner there could be the option for you.
Not being a diehard fan of JR Tolkien's books or Sir Peter Jackson's movies (not saying I didn't enjoy them, I'm just not a fanatical nutcase over them), I still loved my visit to Hobbiton. Mac not having read the books or having paid much attention to the movies was bored as batshit. And Josh? Well lets just say he was in his magical place with a big grin on his face.
Sara xxx
Hobbiton Movie Set
501 Buckland Road, Hinuera, Matamata, New Zealand
Tel: +64 7 888 1505 website
Become a subscriber and don't miss a single delicious recipe, restaurant review or travel adventure.