You will always find garlic in my pantry. When I am lucky enough to stumble across smoked garlic at the local farmers' markets, then you will find that in my fridge. Sealed tightly in a zip lock bag to prevent my fridge smelling like a bush fire.
Why in the fridge? I found out the hard way that smoked garlic tends to sprout a lot more quickly than normal garlic. I am not sure if the smoking process speeds up the garlic's 'shelf life', but by keeping it in the fridge, it keeps very well for quite a long time.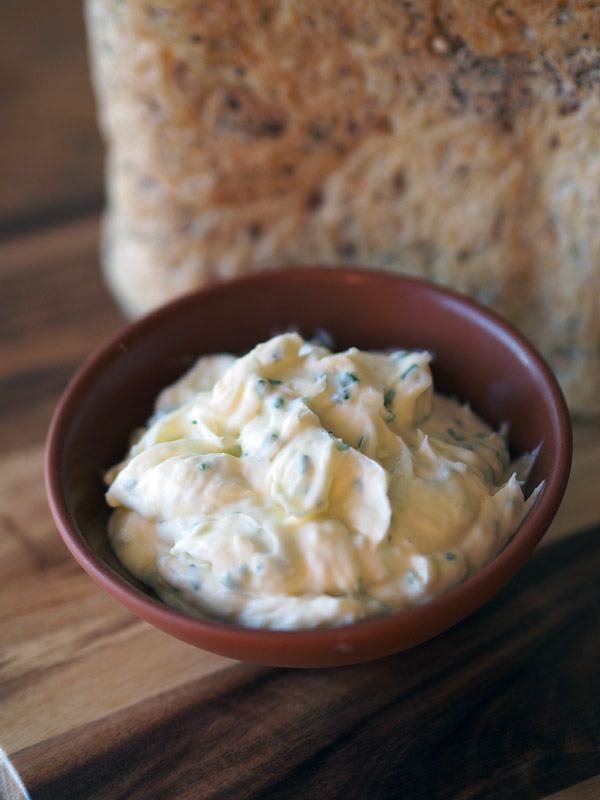 Smoked garlic can be used just like normal garlic. It may have a brown colour due to the smoking process, and a deep smoked smell, but once peeled it looks and handles just like regular garlic. I use it in almost anything, but It really shines when you confit it.
You may have roasted a whole head of garlic before? If you have you know that wonderful transformation that takes place. The garlic goes soft, flavour mellows and sweetens through caramelisation. When you confit smoked garlic it goes soft, mellows and sweetens a little , plus retains a lovely smoked taste. It is seriously good stuff.
One of my favourite ways to enjoy confit smoked garlic is simply generously smeared on a thick slice of fresh crusty bread. If you find that pure confit garlic goodness is a little too much, why not make garlic butter?
Beside spreading this lusciously flavoured butter on your favourite bread, there are numerous other uses. Roll it in to a log, cut into thick rounds, and place a round on top of a barbequed steak. Use it as a filling for a smoked chicken Kiev, or even just pop a dollop through your favourite steamed vegetables. Use it anywhere you would use a savoury flavoured butter. Use is only limited by your imagination.
Make sure you reserve the oil you confit the garlic in. Let it cool, strain through a fine mesh sieve and store in a glass jar. The oil will have a great smoked garlic flavour which can be used for grilling a steak through to use in salad dressings.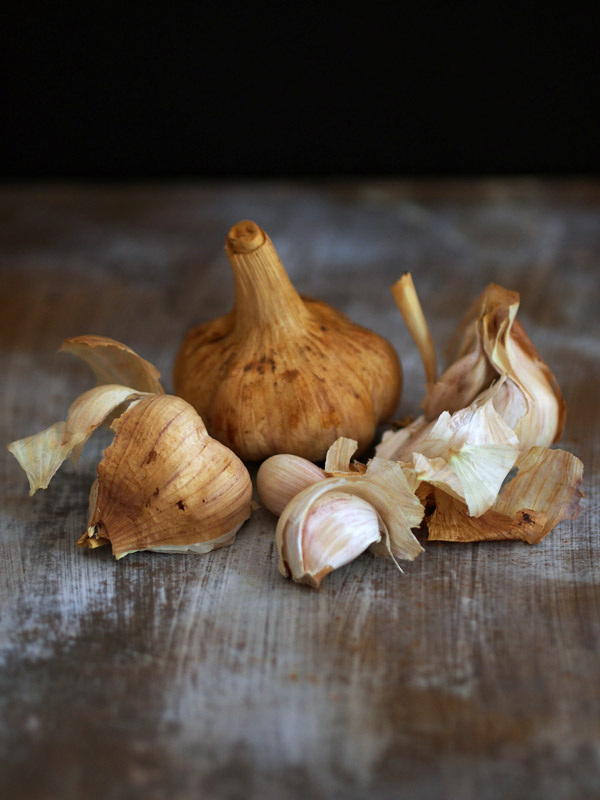 Printable Recipe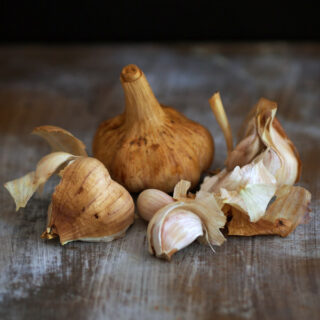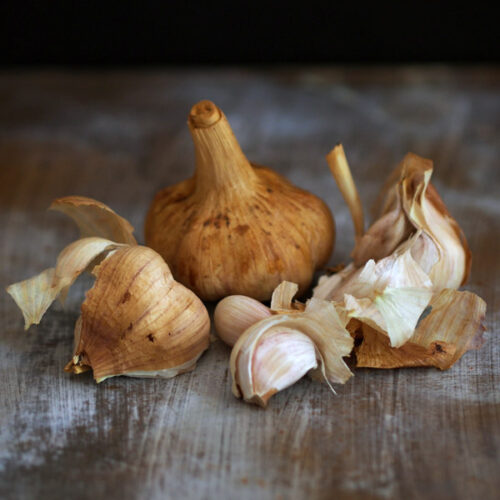 Confit Smoked Garlic Butter Recipe
Simple and unique butter for your next BBQ or dinner party.
Ingredients
Oil

5

cloves

smoked garlic

125

grams

unsalted butter

whipped

pinch

of salt

4

teaspoons

chopped chives
Instructions
In a small heavy based saucepan place garlic and cover completely with oil. Use a light olive or other light flavoured vegetable oil of choice.

Over a very low heat, cook your garlic until it is soft. It is very important that you do not let the oil bubble, you are cooking it at just before fry point. If the oil is too hot you will end up with deep fried garlic. The garlic shouldn't brown either. You will get a colour change, but no browning.

Drain and let your garlic cool.

Once cool mash with a heavy knife, mash with the flat side of the blade.

In a bowl mix, garlic, butter, salt and chives.

Place in fridge until ready to use.
Measurement Notes
All measurements are Australian metric standard. All measures are level, and cups are lightly packed unless specified. 1 teaspoon = 5ml / 1 tablespoon = 20mls / 1 cup = 250ml /4 teaspoons = 1 tablespoon.
NUTRITIONAL INFORMATION
The recipe's nutritional information is an approximation based on an online calculator. It is meant solely for reference purposes. If you're looking for precise details, be sure to double-check with your own research.
Calories:
919
kcal
Carbohydrates:
5
g
Protein:
2
g
Fat:
101
g
Saturated Fat:
64
g
Cholesterol:
268
mg
Sodium:
16
mg
Potassium:
60
mg
Vitamin A:
3255
IU
Vitamin C:
6.4
mg
Calcium:
57
mg
Iron:
0.3
mg
Did You Make This Recipe?
I do a happy dance when people share how they went. Tag me on Instagram or Twitter @bellyrumbles & #bellyrumbles