The challenge is an ombre cake. That's cool, I've not made one of those before. Hmmmm, let's make the cake a pink lemonade cake, because I've not made one of those before either. Icing? Yes I need to ice it. Let's pipe flower rose thingies, because I've never piped icing onto a cake before. Oh hang on, let's make the iced rose thingies dual coloured, because the YouTube video (obviously a pro that has made rose thingies many times before) makes it look like a breeze, and I'm an idiot.
The challenge has been set by friend, fellow blogger, MasterChef contestant 2011 and cook book author, Billy Law. Billy has started the 'Have You Eaten? Baking Club'. But Sara, 'Have You Eaten?', that's a interesting name for a baking club. Well, it just happens that the baking club has been named after Billy's delicious cookbook of the same name.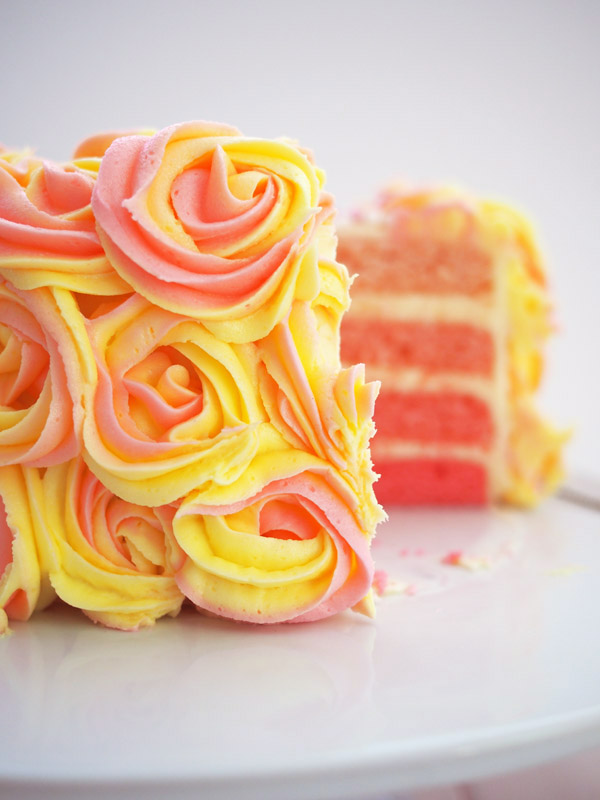 September marks our first challenge, and of course I have made it more of a challenge than it needs to be. I am no stranger to the kitchen. I can bake a cake, but I'm a simple girl when it comes to how they look. Never have I piped icing onto a cake before. I have smeared icing on with a knife before, but never something pretty and piped. An extra challenge with the ombre cake was not only is the top piped but the sides as well.
After reading Billy's recipe a thousand times and much on-line research, a plan was in motion. I can't express how nervous I was. Would the rose thingies stick to the side of the cake? Or would they fall off and look like a trashed bridal bouquet? Would they actually look like flowers of any description at all or just a wiggly mess?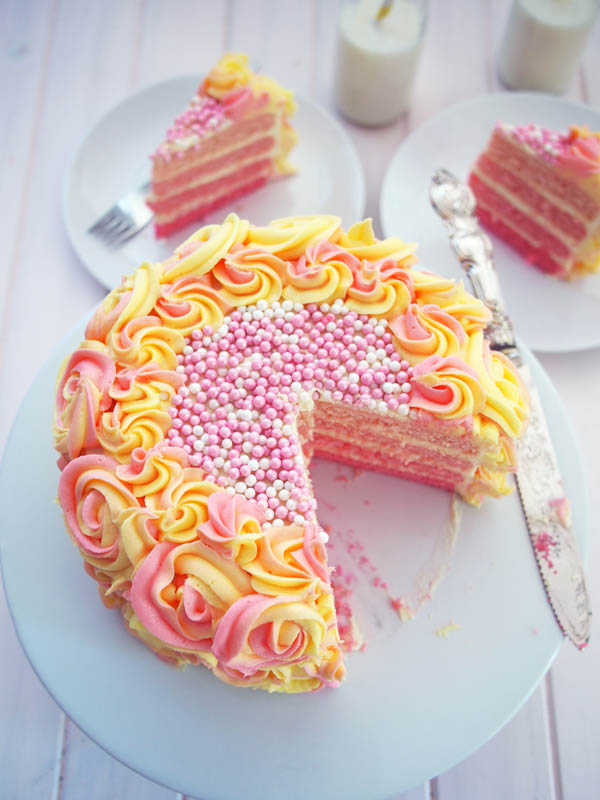 Of course I didn't want just simple one colour flowers and saw a cool technique where two colours were combined. Would my colours meld into something that resembled a clown throwing up?
Then there was the cake itself. The recipe called for 1.5kg of butter icing. That's a lot of sweet buttery goodness. I wanted a cake that would stand up to the sweetness and contrast it. This is when the thought of lemon danced in to my mind. It was then a case of what colour I wanted to make the cake. Decision was made on pink ombre, and my pink lemonade ombre cake was born.
I did alter Billy's recipe, by removing the milk and replacing it with freshly squeezed lemon juice. Zest of one lemon was also added to achieve a strong lemony flavour.
Important Note: The cake layers in this cake aren't very thick. Each layer will end up being around 15-20mm thick. If you feel you would like thicker layers, then please double the recipe. I feel the thinner layers work very well as the cake is very tart, dense and balances well with the amount of butter cream icing. Please be warned if you do double the mixture you may end up with lemon overload.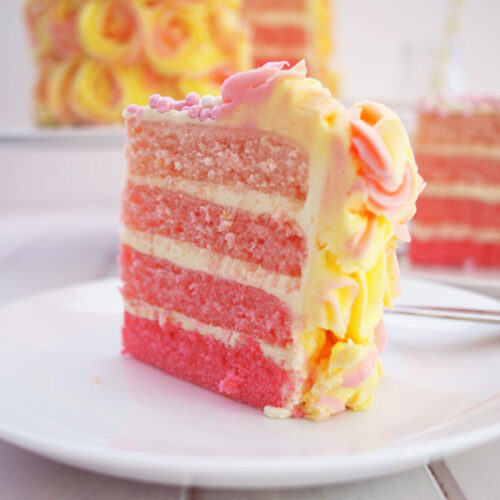 Pink Lemonade Ombre Cake for the Have You Eaten? Baking Club.
Ingredients
For the cake

200

grams

self raising flour

150

grams

all-purpose plain flour

a pinch of salt

300

grams

caster sugar

200

grams

unsalted butter

-

softened

4

medium eggs

2

Teaspoon

vanilla extract/paste

200

ml

lemon juice

-

for a plain cake replace lemon with milk

Food colouring paste

-

colour of your choice

Icing for the inside

500

grams

icing sugar

-

sifted

250

grams

salted butter

2

tablespoon

lemon juice

zest of one lemon

Icing for decoration

500

grams

icing sugar

-

sifted

250

grams

salted butter

2

tablespoon

milk

Food colouring paste

-

colour of your choice

sugar pearls to decorate
Instructions
Preheat oven at 180C (350F). Grease and line 4 x 20cm cake tins with baking paper. If like me you don't have 4, and only 1 tin, bake them one at a time.

In a bowl sift flour and salt.

Cream butter and sugar in a stand mixer (or using hand beaters) on high speed until pale and light. Reduce speed to low and add eggs one at a time, beating well after each addition. Add vanilla extract and mix well.

Then alternately add flour and lemon juice into the mixture. Beat until smooth and lumps free.

In four small bowls divide mixture evenly. Add a tiny small drop of food colouring to each bowl and fold it into the mixture. Gradually add more colouring to each bowl from a drop to almost half a teaspoon until you get an even gradient of colour among the four mixtures.

Pour batter into cake tins, bake each layer for 25-30 minutes or until a skewer inserted into the centre and comes out clean. If you are baking two cakes at the same time, swap the baking trays half way through baking. Once done, let cakes cool in tins for 5 minutes, then tip out and onto wire racks to cool completely before icing.

To make the buttercream icing, beat butter with a stand mixer (or hand beaters) on high speed until light and fluffy, turn the speed down to low, one tablespoon at a time, add icing sugar slowly, beaten well after each addition. Add milk and beat until well combined.

Prepare cake for icing, if required, trim the tops and sides to make sure all layers are same size, level and flat. Start from the cake layer with the darkest colour, put a big dollop of icing on top then spread it with a palette knife evenly to make sure the whole top is covered and level. Place the second darkest colour on top, and repeat with more icing, cake, icing and finally the lightest colour cake on top. Now ice the whole cake and make sure the sides and top are smooth with icing. Transfer the cake to refrigerator and let it set for at least 2 hours.

When you are ready to decorate the cake, make another batch of icing as previously. In two bowls divide icing evenly and colour as desired, I used pink and yellow colouring.

In a large pipping bag with a large open star tip, place one colour of icing down one side. Then transfer the other colour, carefully placing it down the other side of the bag.

In a round circular motion pipe rosettes onto the side of your cake and around the top edge. Place coloured sugar peals on top to decorate.

Alternatively decorate as you desire.
Nutrition
Calories:
1460
kcal
|
Carbohydrates:
197
g
|
Protein:
8
g
|
Fat:
73
g
|
Saturated Fat:
45
g
|
Cholesterol:
270
mg
|
Sodium:
485
mg
|
Potassium:
127
mg
|
Fiber:
1
g
|
Sugar:
160
g
|
Vitamin A:
2305
IU
|
Vitamin C:
11.1
mg
|
Calcium:
46
mg
|
Iron:
1.5
mg
DID YOU MAKE THIS RECIPE?
I do a happy dance when people let me know, tag me on Insgragram @bellyrumbles #bellyrumbles
How did I go with icing the cake? Ha! I managed to shove my thumb through my piping bag mid pipping. Resulting in me swearing like a wharfie as I ran to the kitchen to grab another pipping bag to shove over the top of my broken one. I discovered that even though these roses are meant to be the most easiest to pipe, they aren't. There is a technique involved which I think I achieved for only two of my flowers. To my surprise using two colours of icing in the same bag, worked! I really thought this was where I was going to have issues. On top of that I ran out of icing to finish piping rosettes on the top of the cake. Thank goodness for a stash of sugar pearls in my cupboard to fill the void.
The result, a tart lemony butter cake that tamed all that sweet butter icing. The cake was a success as far as I am concerned. Sure, there are prettier cakes with perfectly piped icing floating around the web, but for my first attempt, I am thrilled.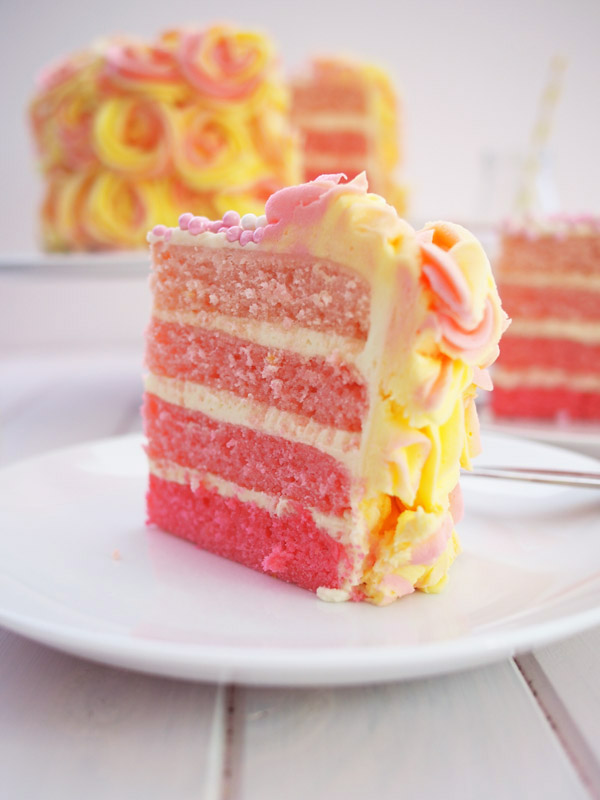 I should mention that Billy's baking club is open to all those who love to bake. You don't need to be a food blogger to get involved. If you would like to challenge yourself each month, learn some new baking skills and get inspired by others taking up the challenge each week, then why not join up? More details can be found here.
Do tell dear Belly Rumbles' reader, do you ever bite off more than you can chew in the kitchen?
Sara xxx