Todd, who is The Daring Kitchen's AWESOME webmaster and an amazing cook, is our September Daring Cooks' host! Todd challenged us to make light and fluffy potato Gnocchi and encouraged us to flavor the lil pillows of goodness and go wild with a sauce to top them with!
I'm prone to blond moments.  I mean seriously epic ones at times.  Being a blond, I can call them blond moments without offending  countless blonds around the Nation.
When I messaged Ms Lily about my gnocchi blond moment, venting my anger, sharing my idiocy and hoping for some sympathy.  The sympathetic reply was "I snorted out loud when I read that".   Hmm, yah, gee, thanks GF (said with duck face pout and diva style finger waggle).
So what had I done?  More like what hadn't I done.
I had received a lovely delivery of fresh seasonal asparagus from the Australian Asparagus Growers, and I wanted to make a dish to do those lovely spears justice.  Instantly I thought what a great idea to combine the asparagus with my Daring Cooks' September challenge.  Gnocchi was the challenge, so why not add asparagus?  Plus, honestly, if you can kill two birds………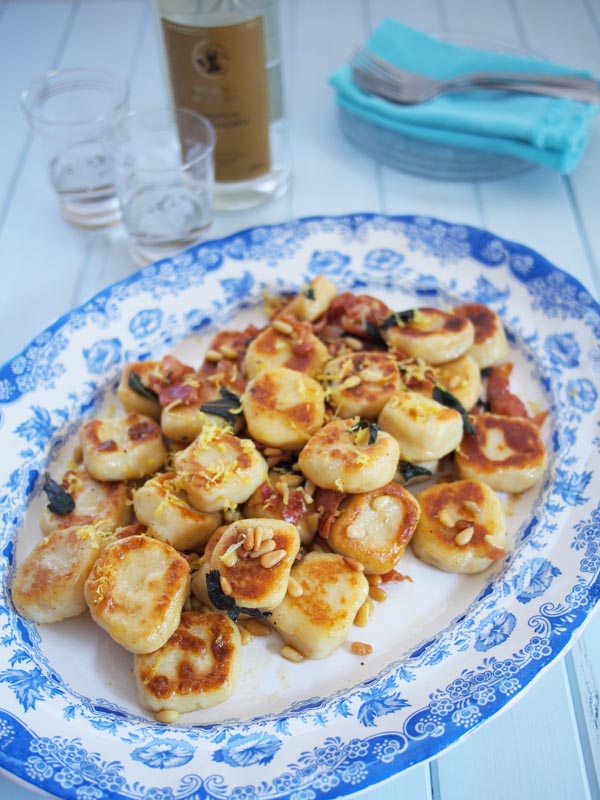 A brilliant recipe came together in my mind.  Potato gnocchi with asparagus, pine nuts, prosciutto, sage, browned butter and lemon.  I had a plan, and a tasty one at that.
The dish was a hit, absolutely delicious.  The flavours worked well together as imagined.
I cooked.  I photographed.  We ate.
Then I swore so loudly that Mac said I probably scared the neighbourhood children.  After scoffing down the gnocchi, I returned to the kitchen, opened the fridge and realised I had left out the key ingredient, the damn asparagus! (insert said swear words)  There was the asparagus, in the fridge, waving back at me.  Yes a complete and utter blond moment.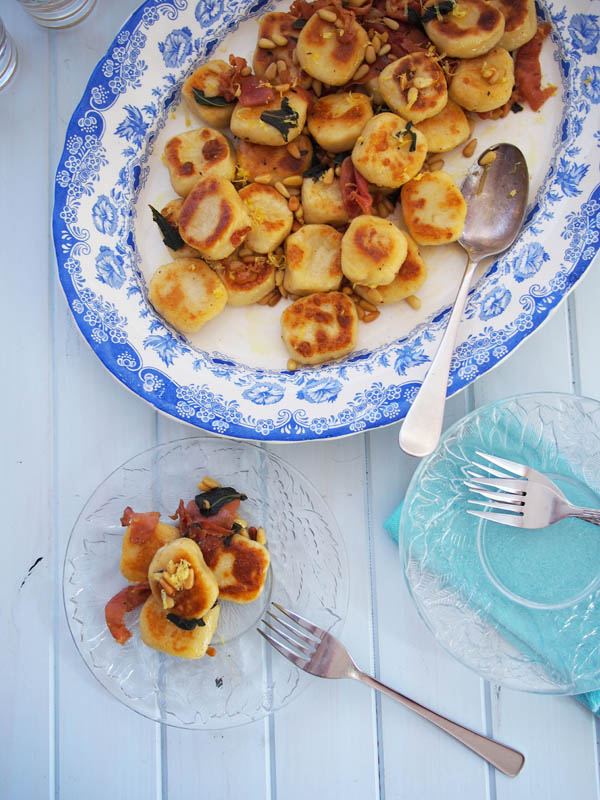 I humbly ask dear reader that you use your imagination and visualise plump green spears of asparagus mingled with the gnocchi in my photos.  You can see how visually stunning it would of been, I know I can.
You may wonder about the grappa in the recipe.  It just adds another dimension to the gnocchi.  I have never used it before in gnocchi, it just happened to be in an old recipe I found.  I would of asked my personal authority on all things Italian, but she is AWOL at the moment in Italy.  If you don't have grappa in your cupboard, and I would imagine that most would not, then just leave it out.  I wouldn't purposely search for grappa just for this recipe.  Trust me, grappa is pretty nasty stuff and I am trying to work out what to do with the two bottles I have had in my cupboard for the past 20 years.  Limoncello maybe?  Stay tuned.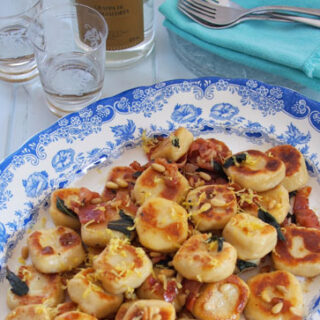 Pan Fried Potato Gnocchi with Pine Nuts, Prosciutto & Sage Recipe
Gnocchi is even better when quickly pan fried with some simple but beautiful ingredients.
Print
Pin
Rate
Total Time:
1
hour
20
minutes
Ingredients
600

grams

potatoes

1

teaspoon

salt

1

Tablespoon

grappa

optional

1

egg

120

grams

plain flour

1

Tablespoon

butter

1/2

Tablespoon

olive oil

60

grams

butter

1/3

cups

pine nuts

6

thin slices of prosciutto

sage leaves

a handful

1/2

lemon juiced

1

bunch of asparagus

when in season & if you remember!
Instructions
Peel potatoes and cut into large even pieces (halves or quarters depending on the size of your potatoes). Boil them in a pot of salted water over a medium heat. Once tender, strain.

While potatoes are still hot place through a ricer or press through a wire sieve.

In a large bowl mix mashed potato, salt, grappa (if using) and egg. Then mix through flour. Turn out onto a floured surface and knead until combined. Either roll in to a sausage and cut off pieces and shape. Or pull off dough from the mother dough and shape into a square.

In a large pot of boiling water carefully drop in gnocchi. Once they have risen to the surface of the water, cook for a further minute. Remove, drain and place on baking paper. Be careful not to over crowd your pot with gnocchi, you may want to cook in a couple of batches.

Place a large non stick pan over medium heat and add 1T of butter and oil. When the butter has melted add gnocchi and cook until brown. Once brown remove from pan and place on a plate. Wipe down your pan with paper towel and place back on the stove top.

Add remaining butter to your pan. Once melted and starting to bubble add pine nuts. When nuts are starting to brown add torn pieces of prosciutto and sage.

Then add lemon juice, stir well. Add your gnocchi back to the pan to warm through and coat with the sauce. Remove from pan onto a serving plate and serve.
Nutrition
Calories:
503
kcal
|
Carbohydrates:
44
g
|
Protein:
12
g
|
Fat:
30
g
|
Saturated Fat:
12
g
|
Cholesterol:
88
mg
|
Sodium:
825
mg
|
Potassium:
822
mg
|
Fiber:
5
g
|
Sugar:
1
g
|
Vitamin A:
765
IU
|
Vitamin C:
18.9
mg
|
Calcium:
67
mg
|
Iron:
7.8
mg
DID YOU MAKE THIS RECIPE?
I love knowing when readers make my recipes, tag me on Insgragram @bellyrumbles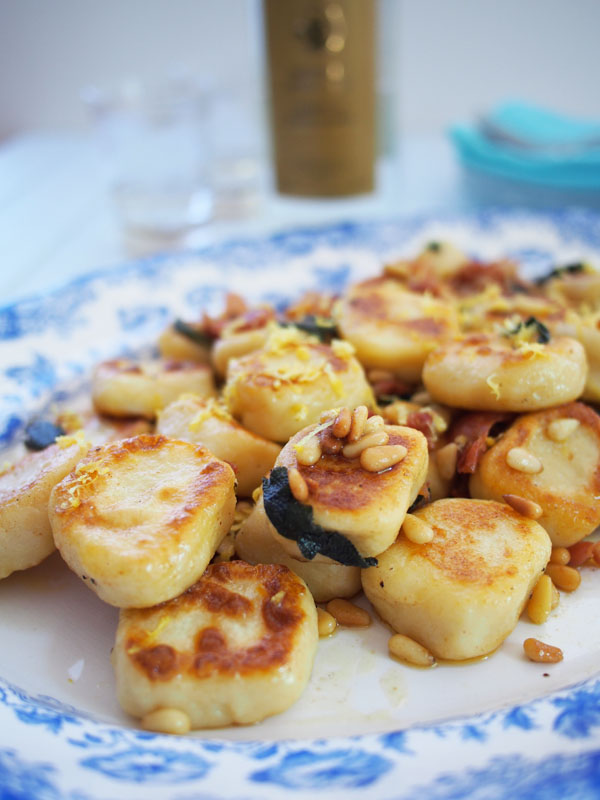 Do tell dear Belly Rumbles' reader, have you ever left the key ingredient out of your recipe?
Sara xxx