Finding a jar of pineapple jam is not an easy feat in Sydney these days, which I find absolutely crazy as we grow an abundance of pineapples in Australia. With the frustration of not easily obtaining a jar of pineapple jam I decided to make this super easy pineapple jam recipe.
As I started to chop up the juicy sweet yellow fruit, I started to wonder, is this spiky thing a fruit? As I spiked myself, yet again on one of the pointy leaves springing from its crown, I thought to myself, what the hell is a pineapple?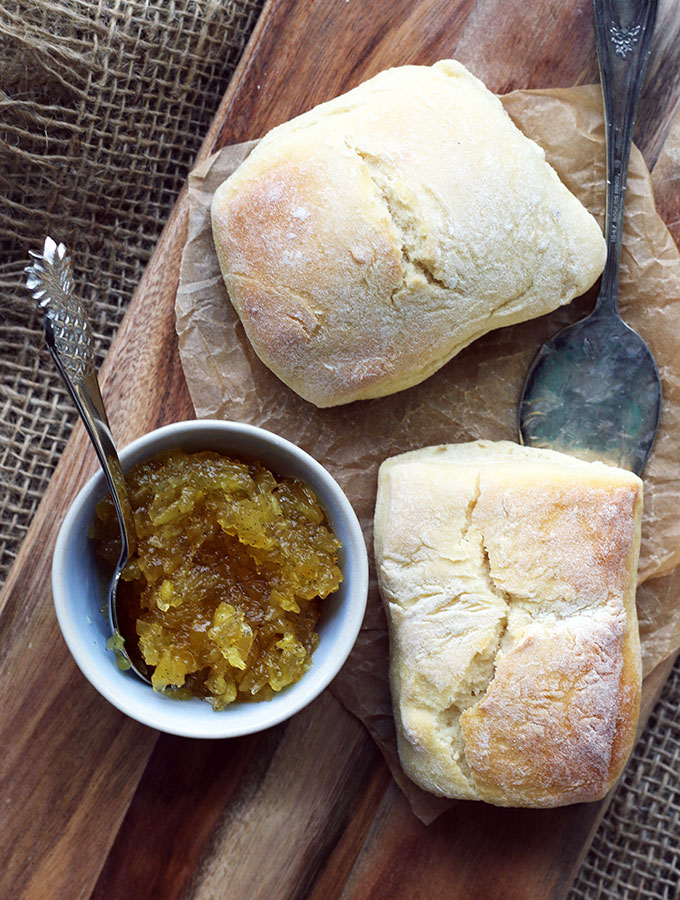 I know how they grow, and what they look like on the plant. I can thank mum and dad for taking me on a few trips to the Big Pineapple as a kid. Which, by the way, is where my pineapple jam love for formed. They make a pretty mean pineapple jam at the Big Pineapple, which is readily available for purchase. In fact they make quite a few varieties of pineapple jam, probably no surprise there.
Did you know that a pineapple is a berry? Well, actually that isn't technically true either. Pineapples are a group of berries, which are formed on the one plant that join together as they grow.
When the pineapple plant (Ananas Comosus) flowers there are around 200 of them. Each flower ends up producing a berry, and these berries grow together to form a clump, which turns in to a tasty pineapple. Quite fascinating, and after many years of eating pineapple, something I hadn't realized.
You probably will never pick up a pineapple at your local grocer and look at it the same way again. I know I won't.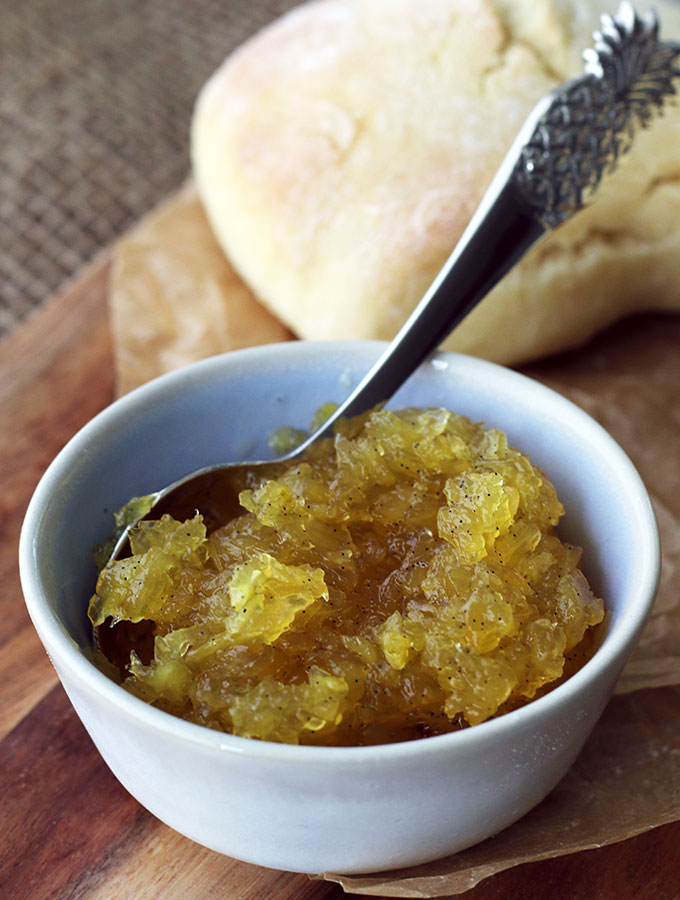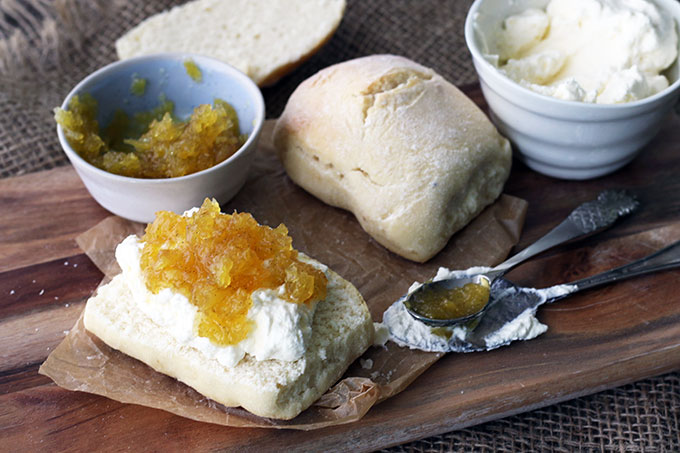 This easy pineapple jam recipe has been a huge hit at home. The boys just loved it. In fact I had to hide one of the jars to ensure it didn't get eaten before photographing, as it was taking me longer than normal to photograph it. There was this thing called Christmas, then there was New Year, and before I knew it the whole of January slipped by. I really am quite hopeless.
It was devoured on hot buttery toast and English muffins, it became a very popular breakfast jam. I made one of my coconut slices, substituting strawberry jam with pineapple, which turned out simply delicious! It also made it's way into some fairy cakes instead of curd.
The most unusual way it was used was with some Asian pork belly wraps I whipped up for a lazy dinner over the summer holidays. The sweet pineapple jam was the perfect accompaniment with the pork belly, its crackling, coriander, spring onion, chili, lettuce and a sprinkling of toasted peanuts.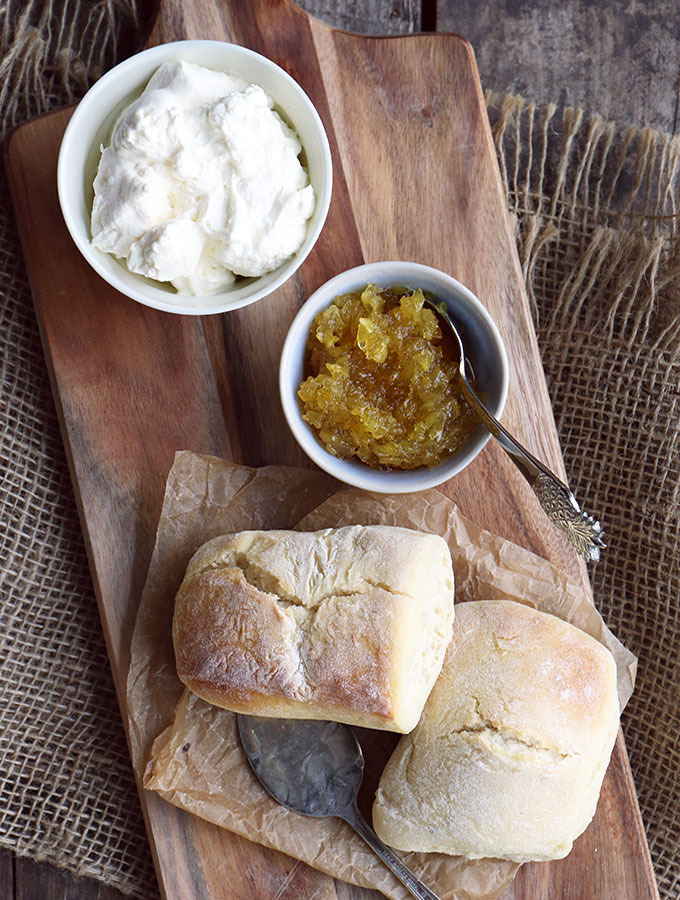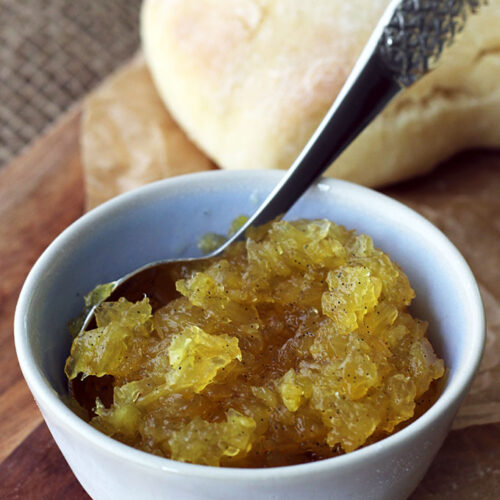 Total Time:
1
hour
10
minutes
Ingredients
1

ripe pineapple

2

cups

sugar

2

limes

-

juice only

1

vanilla bean

-

seeds scraped (reserve the bean)
Instructions
Remove crown, base and from the pineapple. Cut pineapple in half lengthways and then in quarters, remove the hard core from your pineapple pieces. Then cut pineapple up into very small diced pieces, about 1mm.

It will start to get messy, make sure you reserve any juice as you go.

Place pineapple, any juices and 2 cups of water in a heavy based medium size pan. Bring to a simmer over a medium heat and cook for around 20 minutes, stirring occasionally. The reason for this process is to soften the pineapple.

Once the pineapple is soft add sugar, lime juice, vanilla bean seeds and the scraped bean.

Simmer for around 30 minutes, the mixture is ready once it has thickened.

Store in clean glass jars in the fridge for up to 3 months.

If you wish to use sterilised jars and can your jam you can, it will keep for 12 months.

Makes around 3 cups of jam.
DID YOU MAKE THIS RECIPE?
I do a happy dance when people let me know, tag me on Insgragram @bellyrumbles #bellyrumbles
To say that I am a little in love with this easy pineapple jam recipe is an understatement. It is fantastic as it is, but you know me, I am already thinking of ways to experiment with it a little. My initial thoughts are pineapple chili jam, as well as pineapple and macadamia nut. Then of course I could go down the route of adding citrus, like orange, and head down the marmalade road. So many options!
Sara xxx
Become a subscriber and don't miss a single delicious recipe, restaurant review or travel adventure. Plus you will also receive extra content and benefits.