Chorizo stuffed chicken and white bean salad, recipe by Australian celebrity chef Miguel Maestre. An easy recipe packed with flavour that the whole family will love.
Would you like to come along and have lunch with Miguel Maestre to celebrate the launch of Stockland's A to Z of Mmmm?
Hmmm, I don't know, let me think about that one. (insert 5 seconds thinking time).
Okay sure, you have twisted my arm, I'll come along.
Who in their right mind would say no to catching up with Miguel?
It was at this particular event that I tried first hand Miguel's chorizo stuffed chicken with white bean salad.
I've been lucky to meet Miguel on a few occasions since I started Belly Rumbles. Even though Miguel has no recollection of our first encounter, I will always remember it fondly. It was at his now closed restaurant in Manly, El Toro Loco. I had only been blogging a few years, and after dinner I sheepishly asked if I could take a photo of him at the pass. He had no idea who I was and I didn't tell him that I was a food blogger. I was just somebody who enjoyed her meal.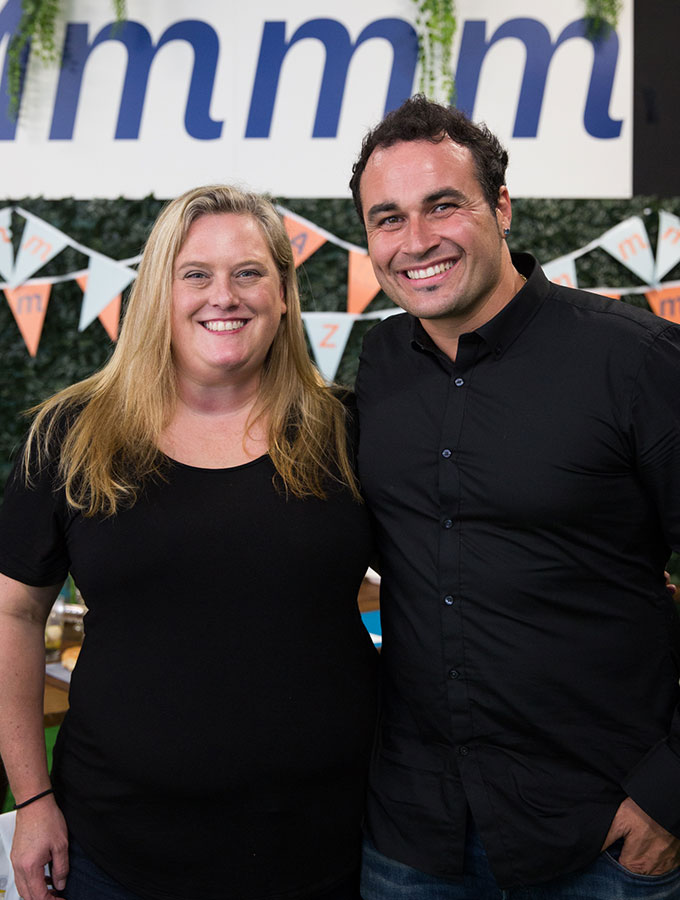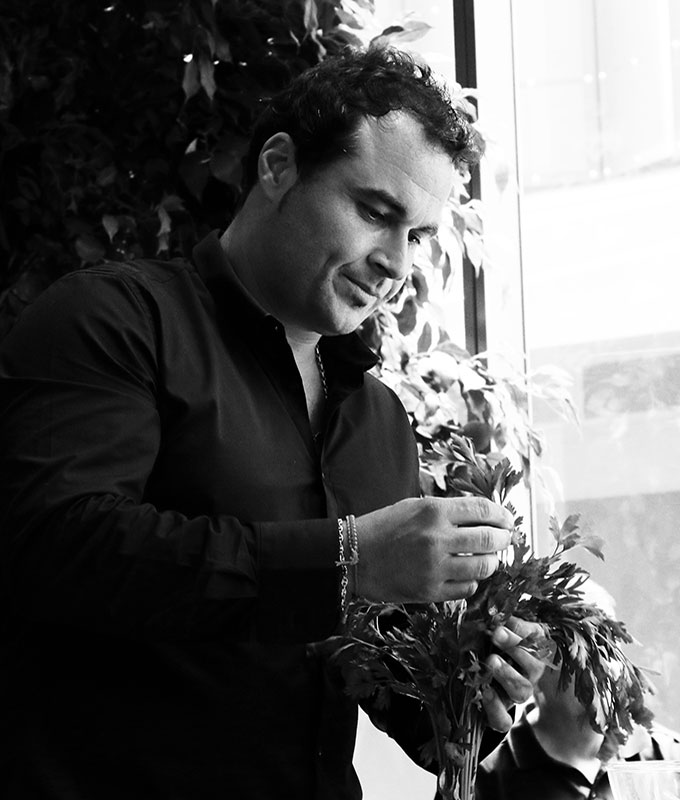 My shy request was met with a big smile and an energetic response of "come into the kitchen and have your photo taken with me". Into the kitchen I went, we had a vibrant chat as dinner service went on around us, photo was snapped, and I went on my way.
That first meeting sums Miguel up. He is a lovely guy, who reminds me of an extremely energetic puppy. A person who will happily take the time to have his photo taken with fans. It's reassuring that this hasn't changed as his celebrity star has shone brighter over the years.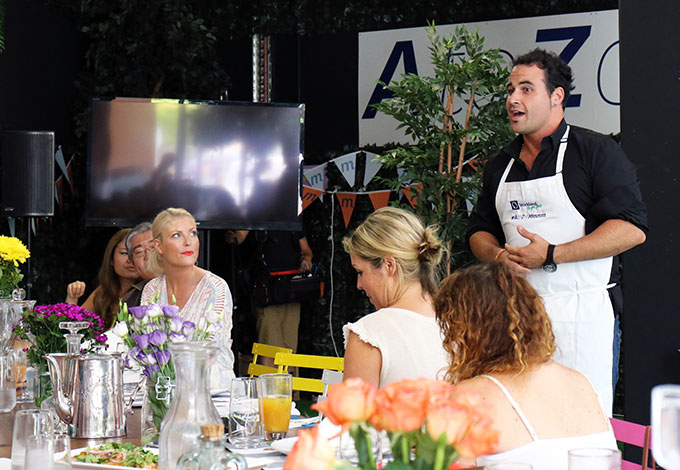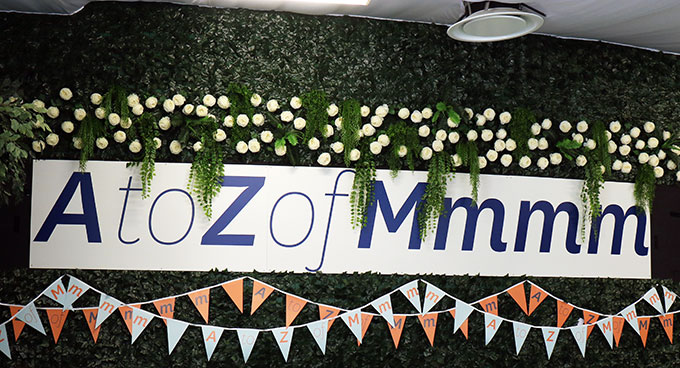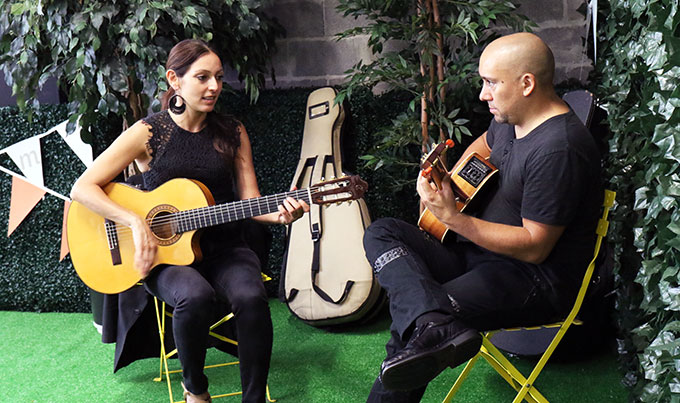 Miguel has taken on the role of Stockland's ambassador for all things delicious, the head honcho of the A to Z of Mmmm. From early March Miguel will be making appearances around the country at various Stockland Shopping Centres, his first stop will be Merrylands on March 4. Shoppers will be able to get their hands on exclusive recipes from Miguel, which they will be able to cook up at home.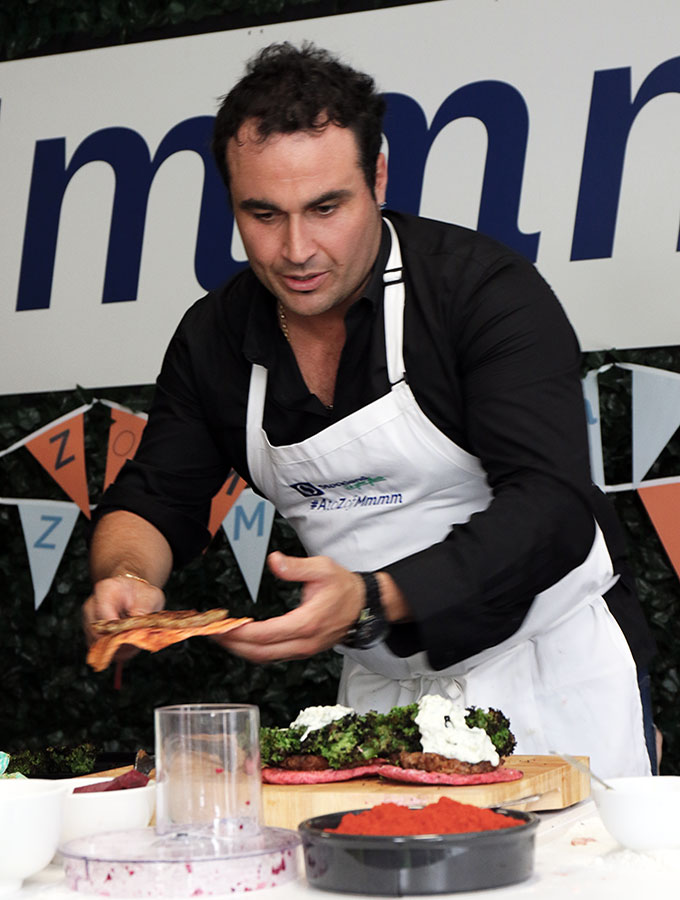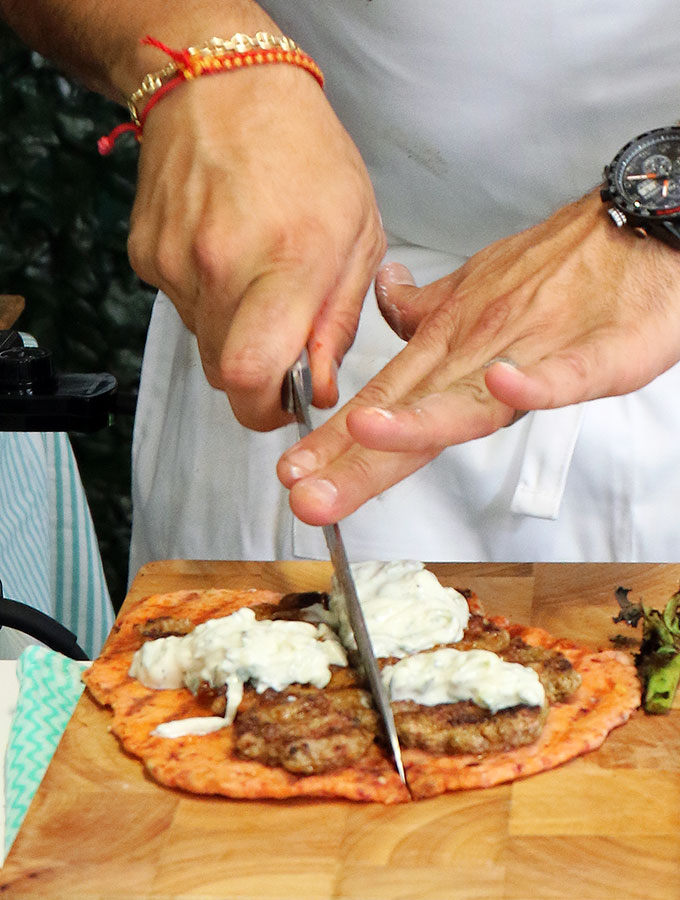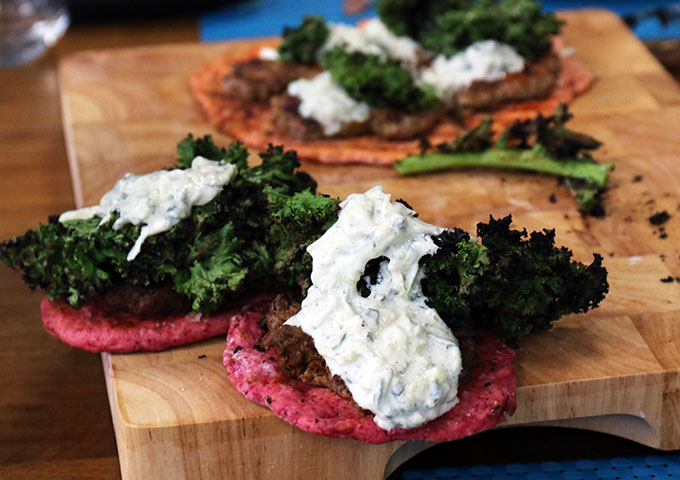 Miguel gave us a little taste of what shoppers can expect when they come and join him at one of his appearances. He launched his first recipe, BBQ lamb koftas with beetroot pita and chargrilled kale. It was a messy and fun filled demonstration.
We had an epic lunch which included cerviche, the lamb pita and, chorizo stuffed chicken with white bean salad. There was an a stellar heirloom tomato salad and baba ganoush too.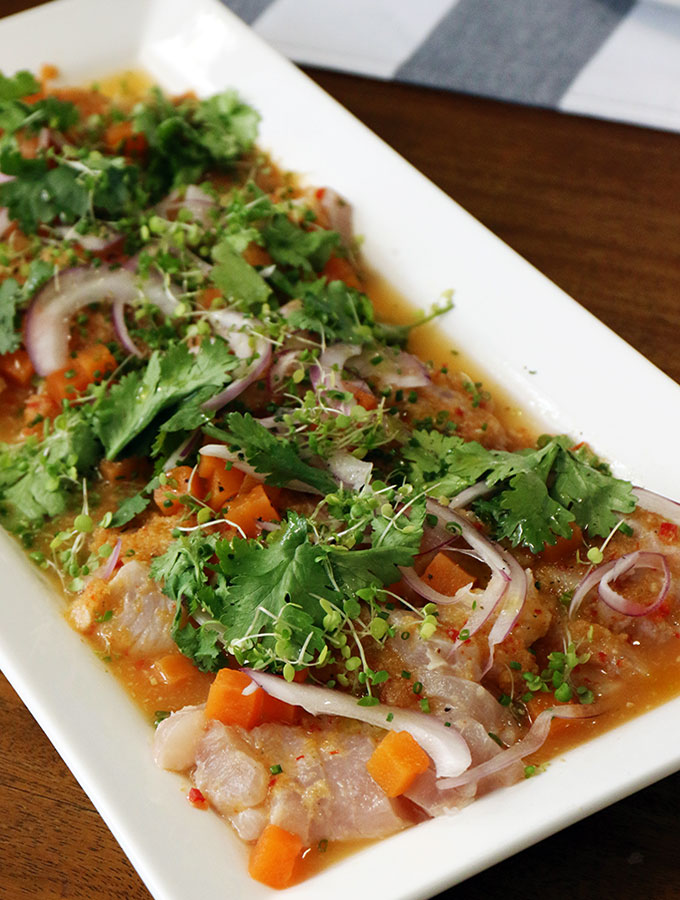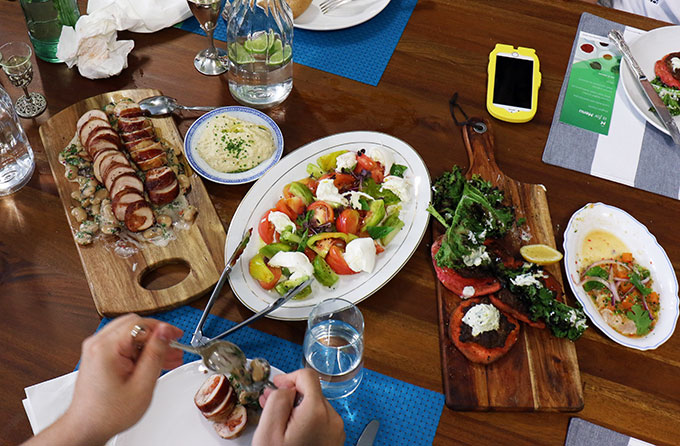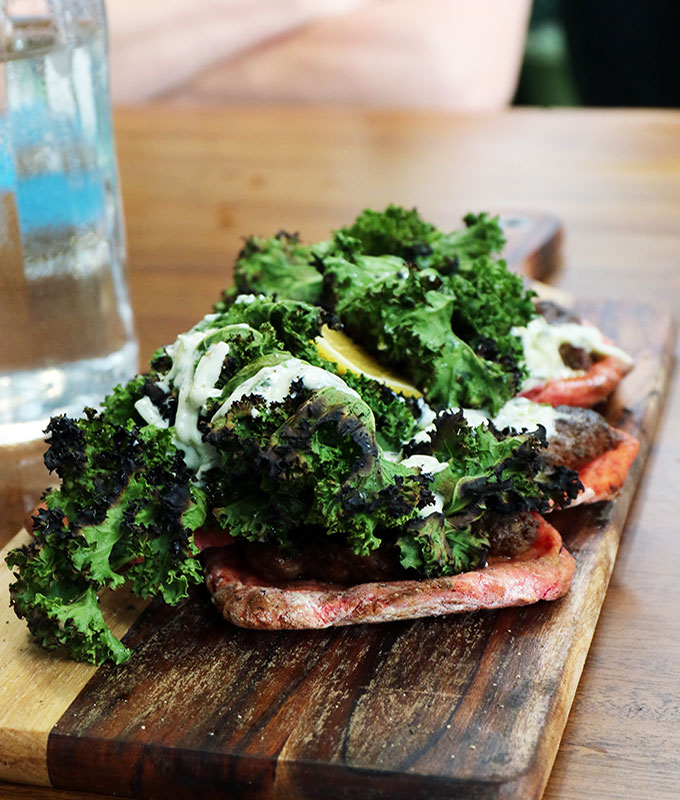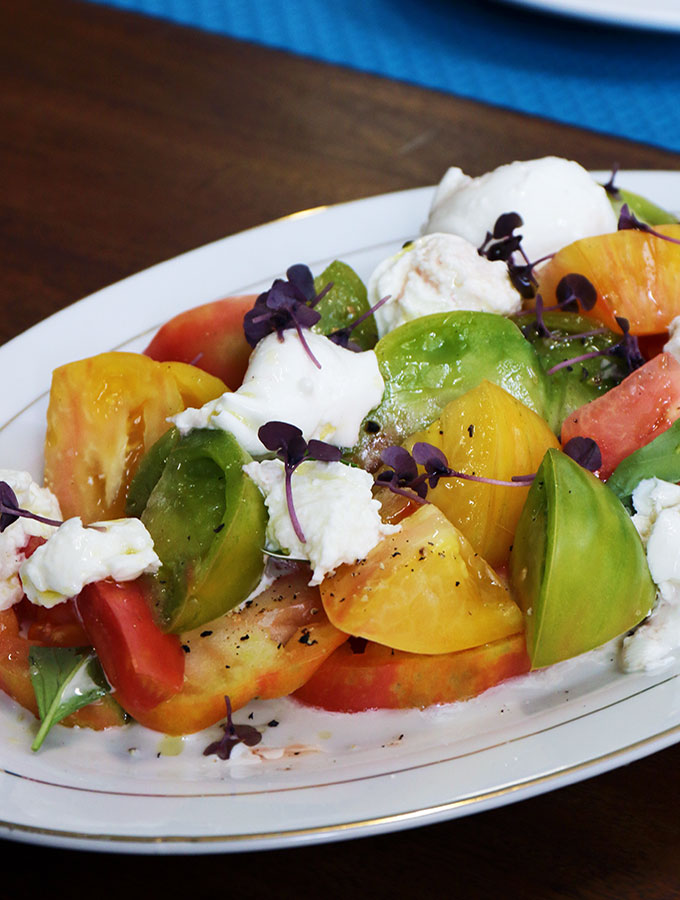 As I am not a fan of lamb, but I do love the beetroot pita idea, I am sharing my favourite dish from the lunch. Yes, the chorizo stuffed chicken with white bean salad.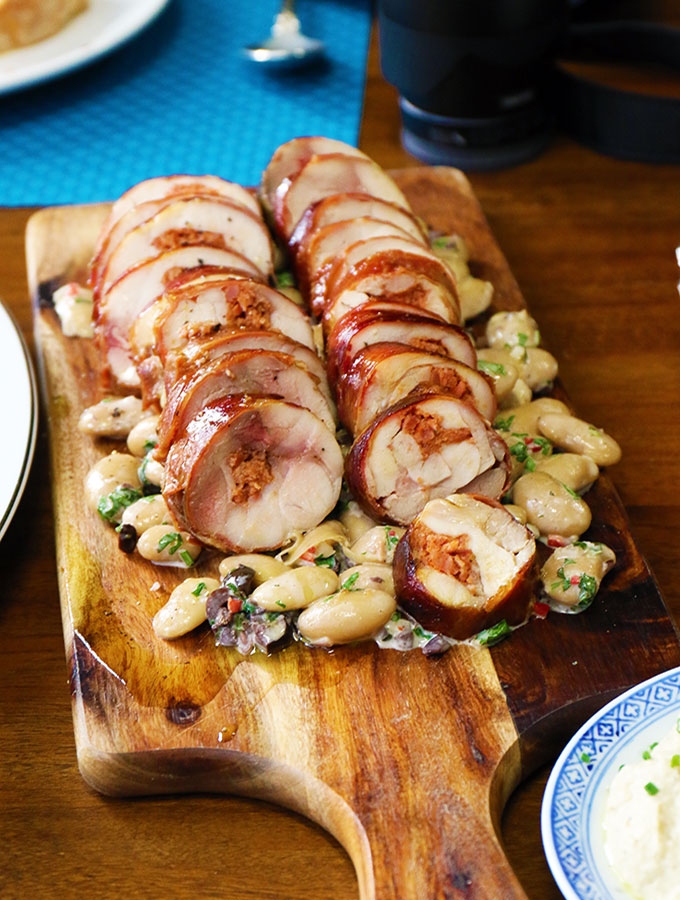 I have made a couple of changes to the recipe I was given, mainly as it had a few steps missing which may make it harder for an at home cook to follow.
Of course you could use chicken breast fillets if you prefer, but thigh meat gives a juicier result. It's a great dish, which is pretty non fuss.
If your chorizo is a soft style sausage, I think you could get away without pureeing it, just to make life a little easier. Give it a little "smush" up with a fork in a bowl, but shhhh, don't tell Miguel I said that.
On top of Miguel's live appearances around the country, as of today Stockland's web series goes live. You will be able to join Miguel as he goes behind the scenes as he meets local food retailers and discovers their food secrets.
Sara xxx
Become a subscriber and don't miss a single delicious recipe, restaurant review or travel adventure.
More Chef Dinners & Recipes
Curry Beef Cheeks - Adam Liaw
New Autumn Menu - Francesco Mannellis
Taste of Sri Lanka - Peter Kuruvita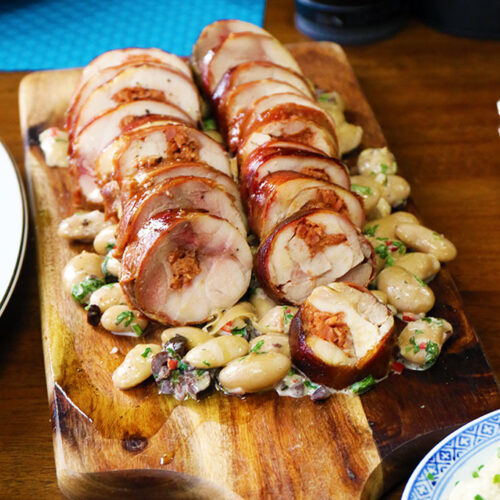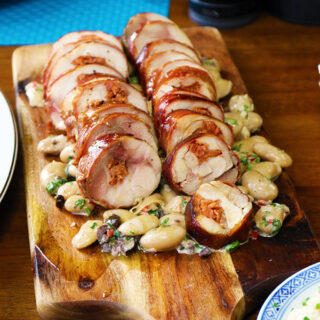 Miguel Maestre's Chorizo Stuffed Chicken & White Bean Salad
Tender tasty juicy chorizo stuffed chicken with a white bean salad. A recipe for chorizo stuffed chicken by Miguel Maestre which is brilliant.
Ingredients
3

large chicken thigh fillets

2

chorizo sausages

mild

8

thin slices of jamon

1

can butter beans

drained and rinsed

1

red chilli

seeds removed, finely diced

1

French shallot

finely diced

3

tablespoons

finely diced chives

3

tablespoons

roughly chopped coriander

cilantro

3

tablespoons

roughly chopped mint leaves

2

tablespoons

roughly chopped olives

3

tablespoons

mayonnaise

Chives

extra for garnish
Instructions
Pre heat oven 200°C (390°C).

Remove skin from chorizo sausage and discard. Puree sausage meat in a food processor.

Give the thicker parts of the chicken thigh fillet a slight bash with a meat cleaver or rolling pin. Don't over do it, the purpose behind this it to make the fillet a little more uniformed in thickness. Just remember a couple of whacks only, you are not beating out schnitzel!

On a sheet of non stick baking paper lay out your jamon, slightly overlapping the slices. Lay chicken on top of the jamon. Spread pureed chorizo down the length of your chicken, a third in from the edge.

Using the baking paper roll your chicken over itself and into a tight cylinder. The baking paper is being used as an aid, make sure you don't roll it up with your with your chicken. Discard baking paper.

Place rolled chicken on a lined baking tray. Ensure that the "seam" of the jamon is on the bottom. Bake for around 20 minutes, or until it is just cooked through. Juices will run clear when cooked. Remove from oven and cover with some aluminium foil, leave to rest while you make the salad.

In a large bowl place beans, chilli, shallot, chives, coriander, mint, olives and mayonnaise. Mix well to combine, then season with salt and pepper and set aside.

To serve, slice chicken in 3 – 4cm slices and serve with white bean salad, which has been garnished with extra chives.
Nutrition
Did You Make This Recipe?
I do a happy dance when people share how they went. Tag me on Instagram or Twitter @bellyrumbles & #bellyrumbles