Crowne Plaza Terrigal recently hosted the Taste of Sri Lanka with Peter Kuruvita. A family style dinner showcasing all that Sri Lankan food has to offer.
The main objective of my recent wintery weekend stay at Crowne Plaza Terrigal was for an introduction to Sri Lankan food. I'm a little ashamed to say that my knowledge of the food from Sri Lanka is pretty minimal. I knew there were curries involved, string hoppers and a good dose of coconut, but that was about it.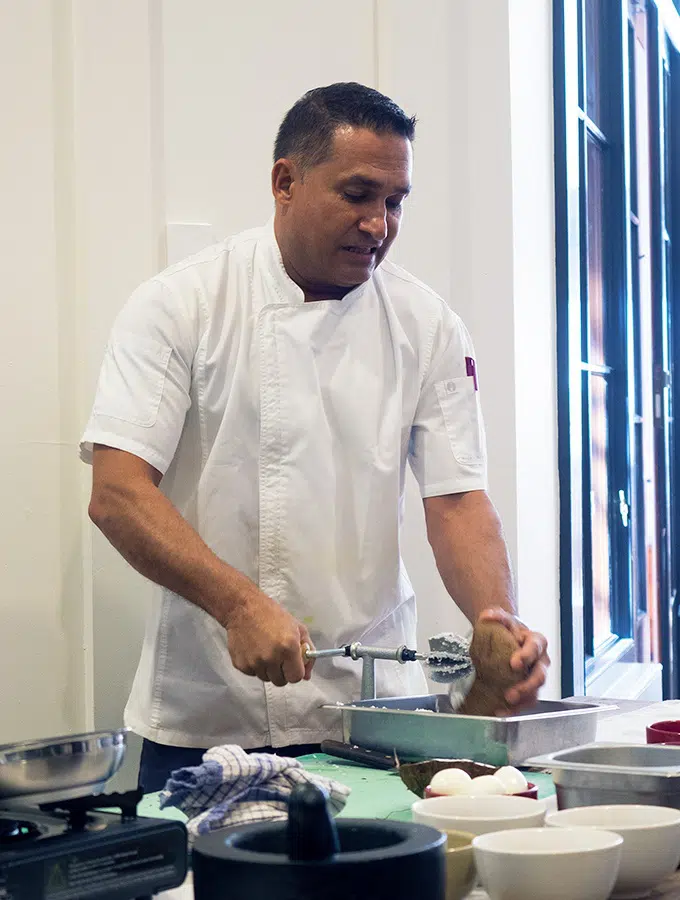 The man doing the introducing is Peter Kuruvita. A familiar name to most Australians. Peter has run various restaurants throughout his chef's career as well as being the host of numerous food shows on television.
He is also author to a handful of well received cookbooks: Serendip, Coastal Kitchen, My Feast and Mexican Fiesta, just to name a few.
The main event was a multi course family style dinner at Seasalt restaurant. But for those really keen on brushing up on their Sri Lankan food knowledge, there was a masterclass held earlier that afternoon.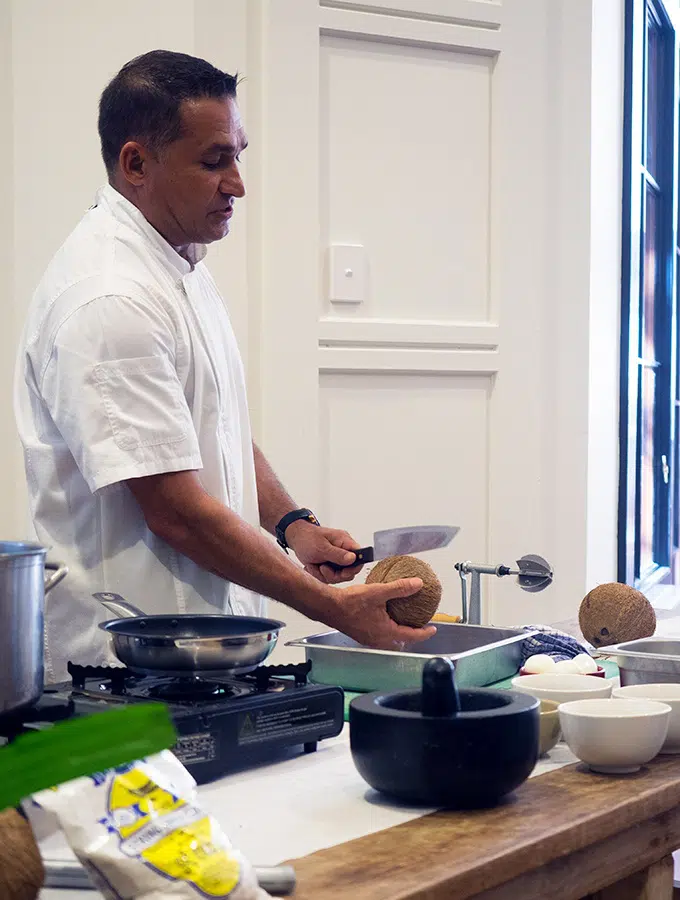 The afternoon masterclass is full of handy tips and tricks, as well as a solid introduction to the base ingredients of Sri Lankan cooking. Peter passionately talks about fresh coconuts or the lack of them in Australia. How the coconut palm is fully utilized from making rope to making cuisine.
This isn't a hands on class. It's a case of sit back, relax and watch Peter do all the work. With plates of his demonstrated recipes making a magical appearance from the kitchen ready for us to try.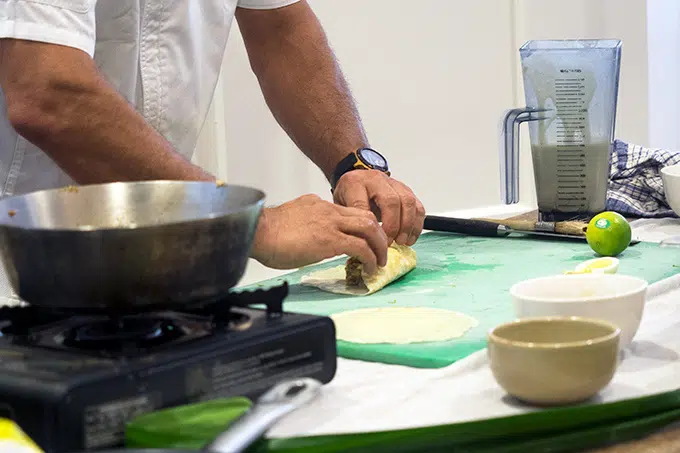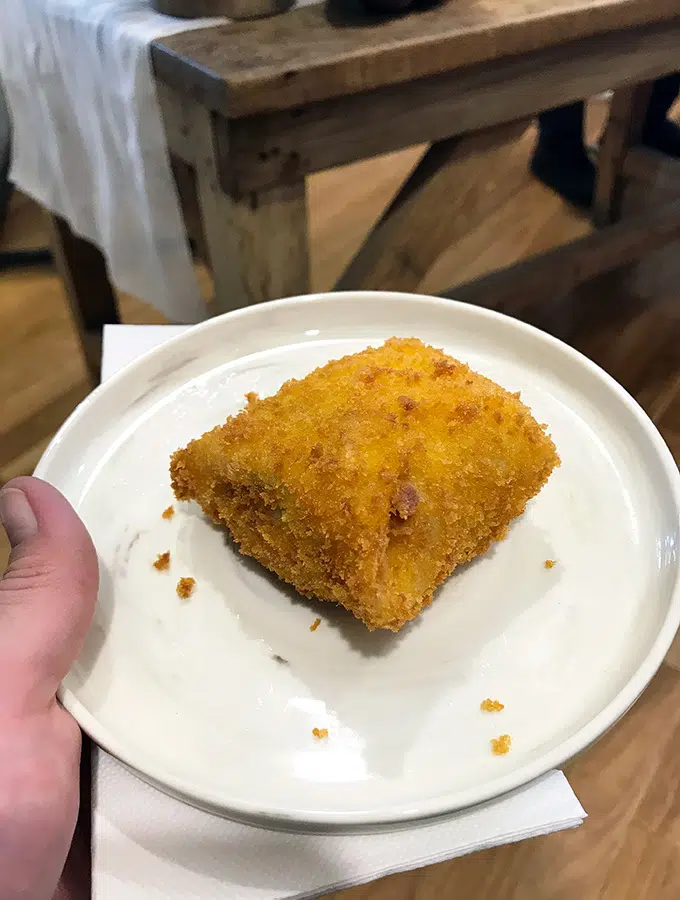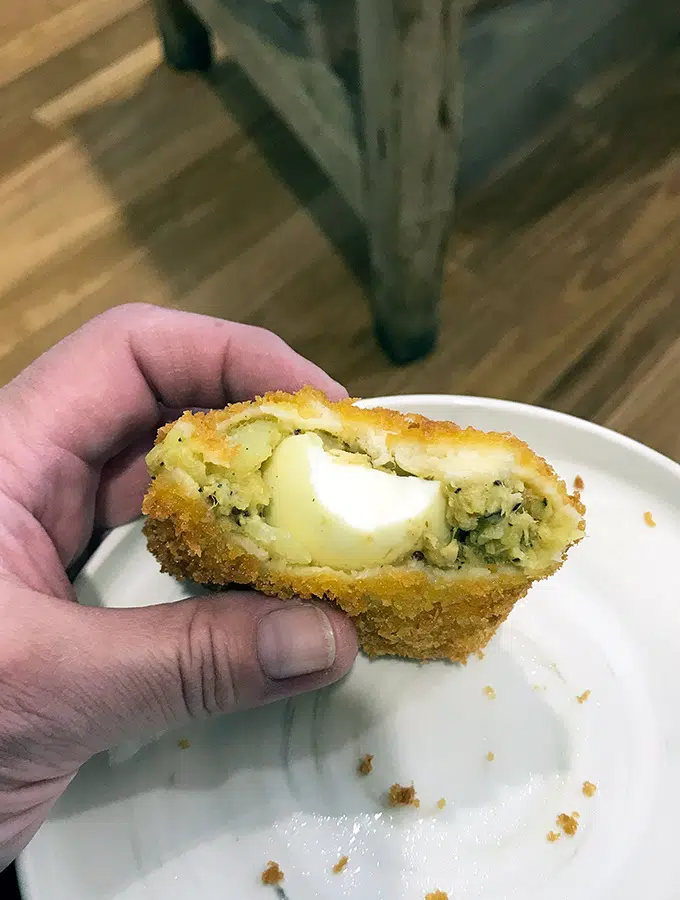 The first dish is a Sri Lankan egg roll, a popular street food. A folded pancake stuffed with chicken, potato, spices and a boiled egg. The stuffed pancake is then dipped in excess pancake batter, covered in panko crumbs and deep fried.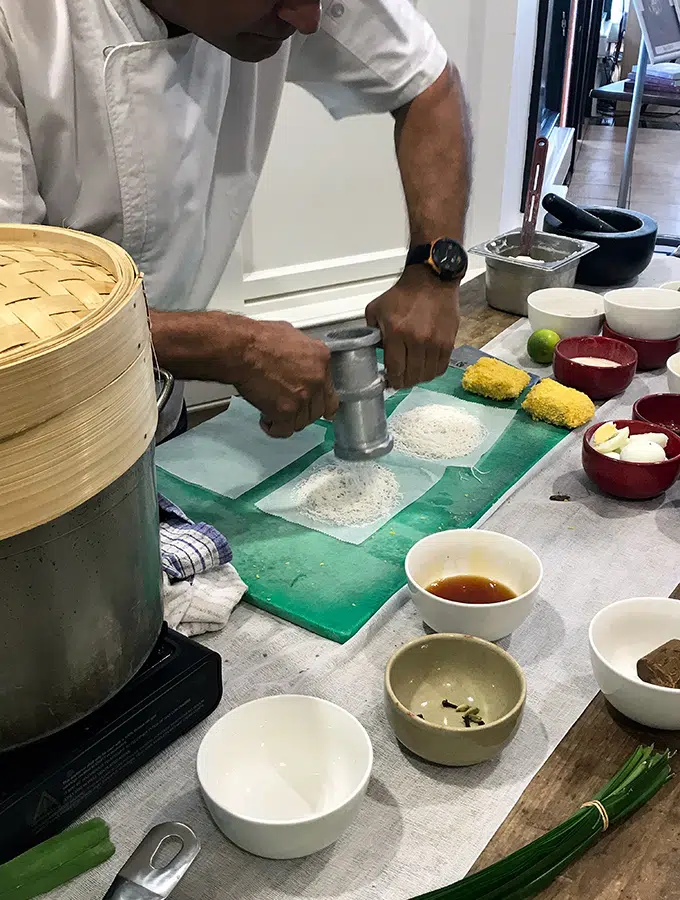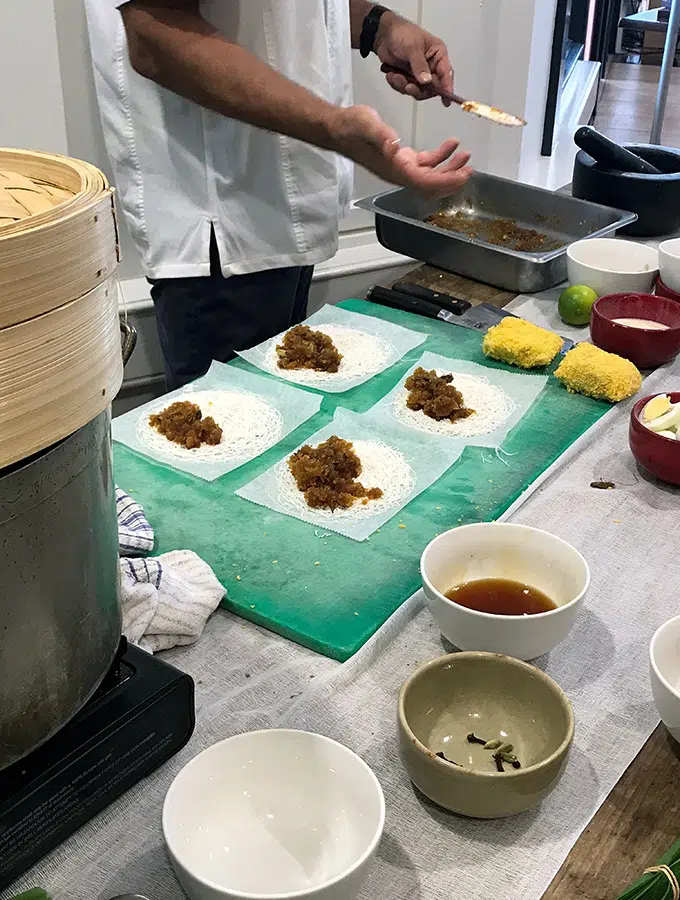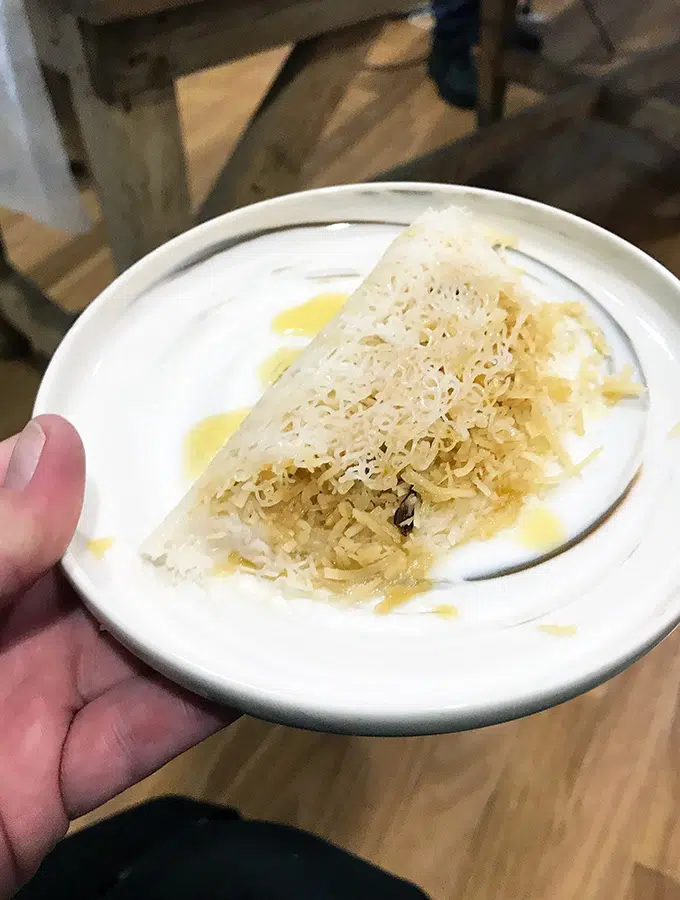 String hoppers filled with a sweet mixture of freshly grated coconut, spices and sugar are the other recipe demonstrated.
With my initial introduction to Sri Lankan cuisine, I feel I am ready to tackle the multicourse dinner that awaits later that evening.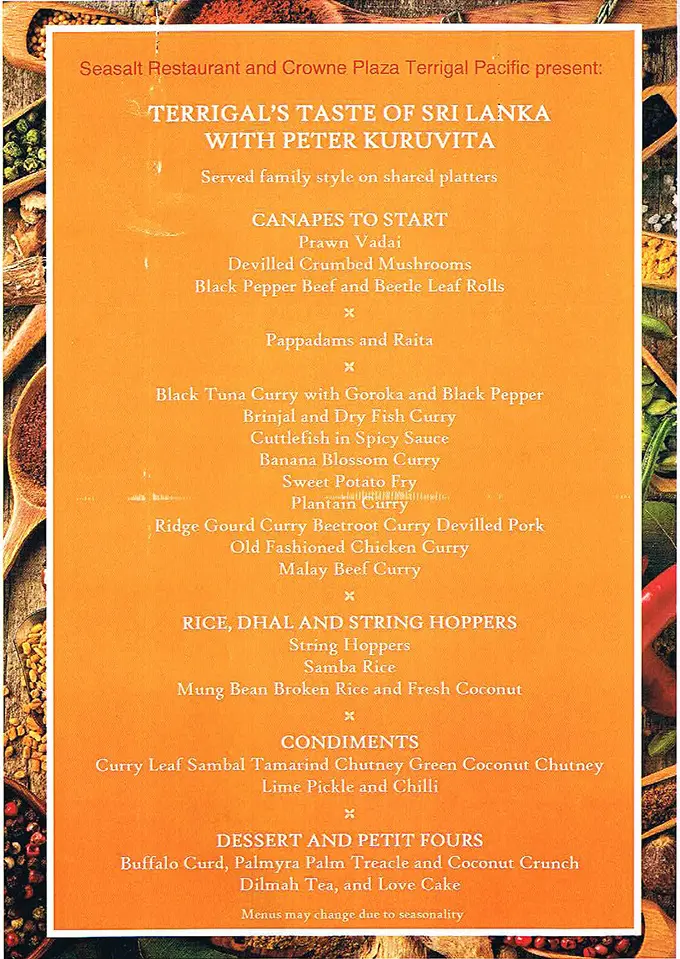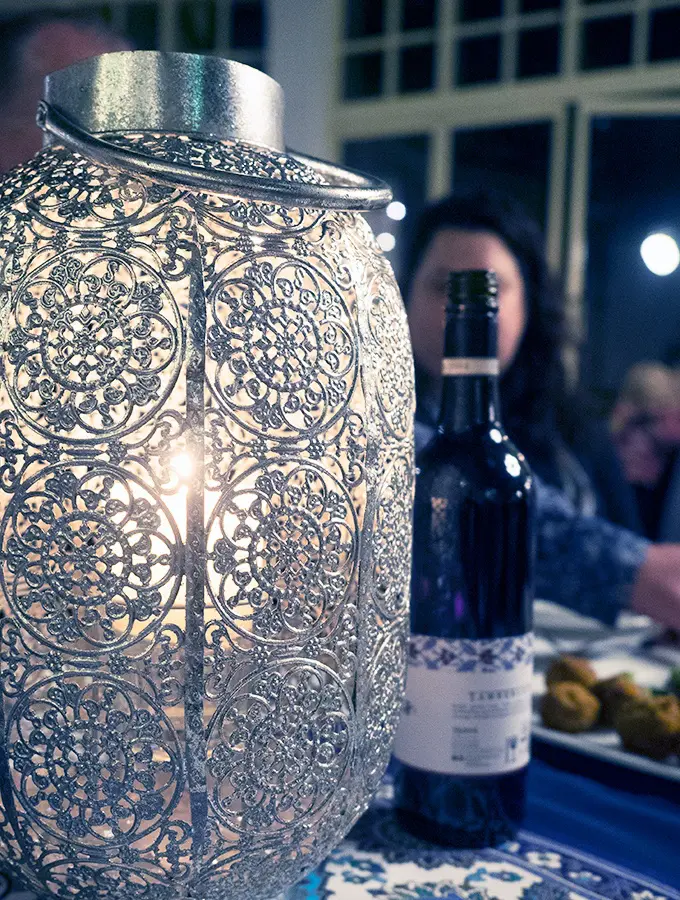 It's a full house for dinner, and it is great to see support from many locals as well. The evening starts with a cocktail on arrival. It is a Colombo vodka and Dilmah tea creation (Peter is also an ambassador for Dilmah tea).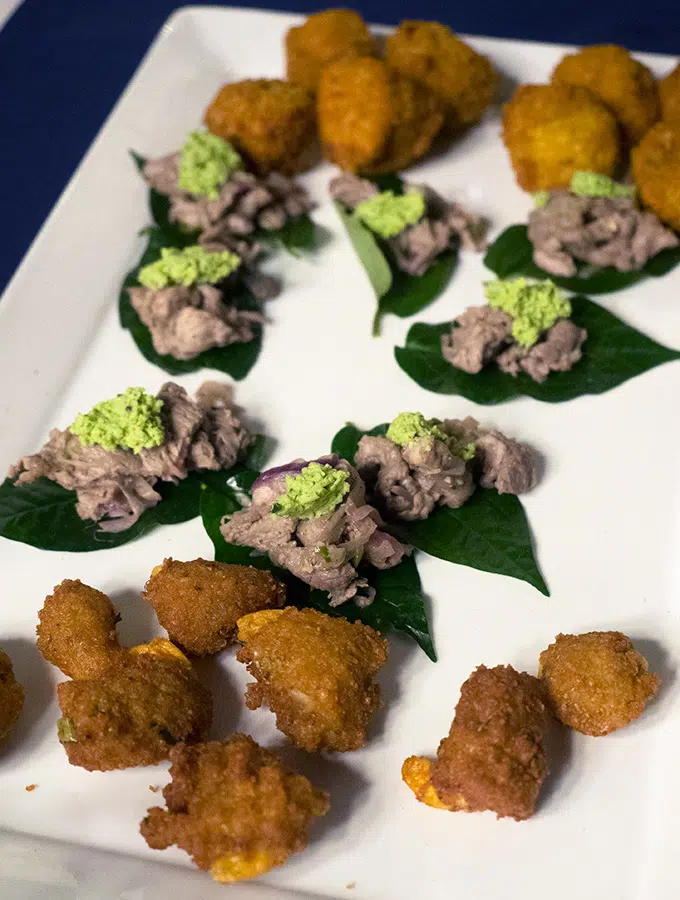 prawn vadai, devilled crumbed mushrooms, black pepper beef and beetle leaf rolls
We start with a trio of canapes and the devilled crumbed mushrooms are my favourite. A deep fried mushroom will win me over at the best of times, these ones are stuffed with a mild potato masala, a Aussie and Sri Lankan fusion. The prawn vadai pays homage to a popular street snack in Colombo. It has a curry leaf hit with chili heat. We get a lime and chili kick from the black pepper beef and beetle leaf rolls. Peter came up with these from inspiration from his dad's favourite drink, arac.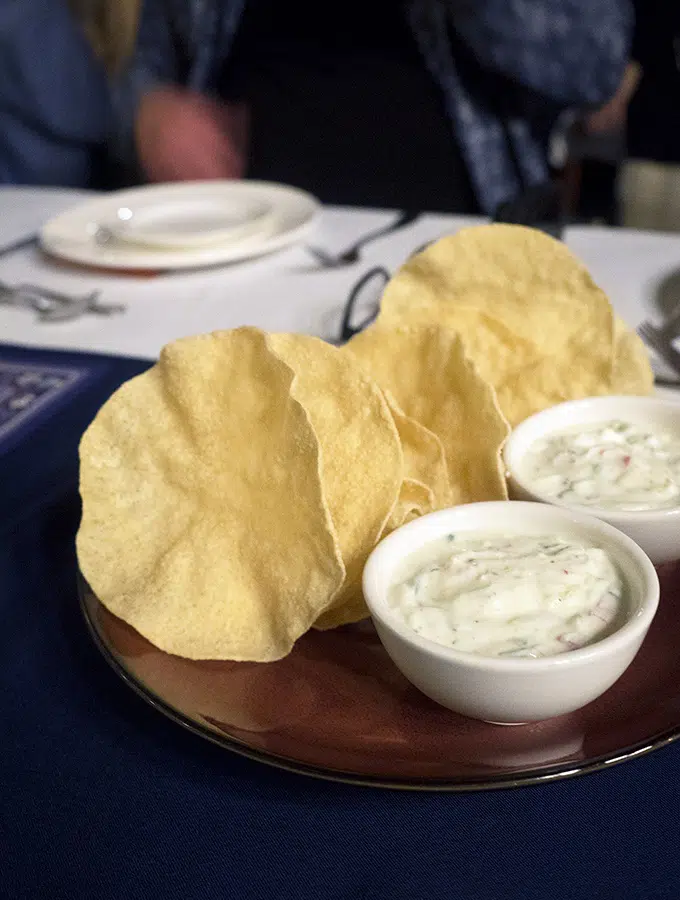 pappadams and raita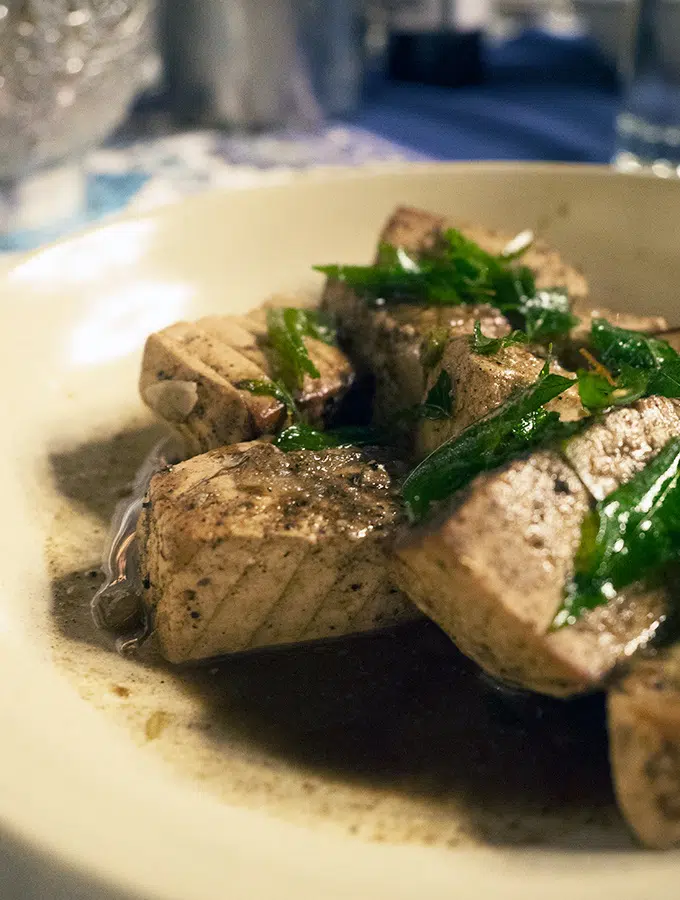 black tuna curry with goroka and black pepper
Peter gives us instructions on how to plate up. A serving of rice in the centre of your plate and then place spoonfuls of curry around the the rice. The goroka in the black tuna curry is an unusal ingredient, not common. Also known as arcinia gummi-gutta, a dried fruit that is used as a souring agent in cooking.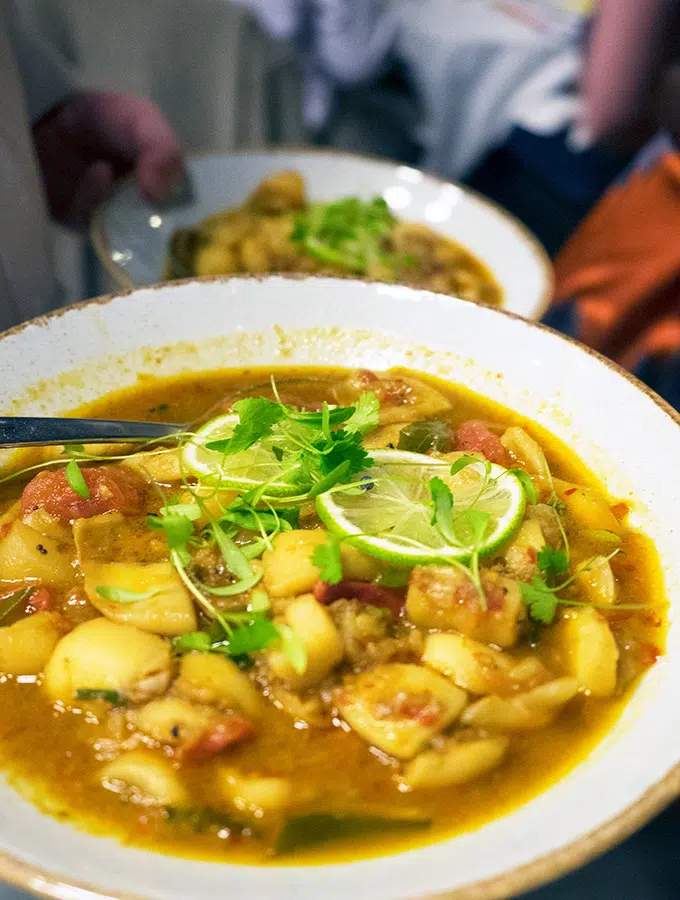 cuttlefish in spicy sauce
To be honest I don't find any of the dishes all that spicy. Aromatic yes, the cuttlefish in spicy sauce is given a depth via dried prawns in the curry.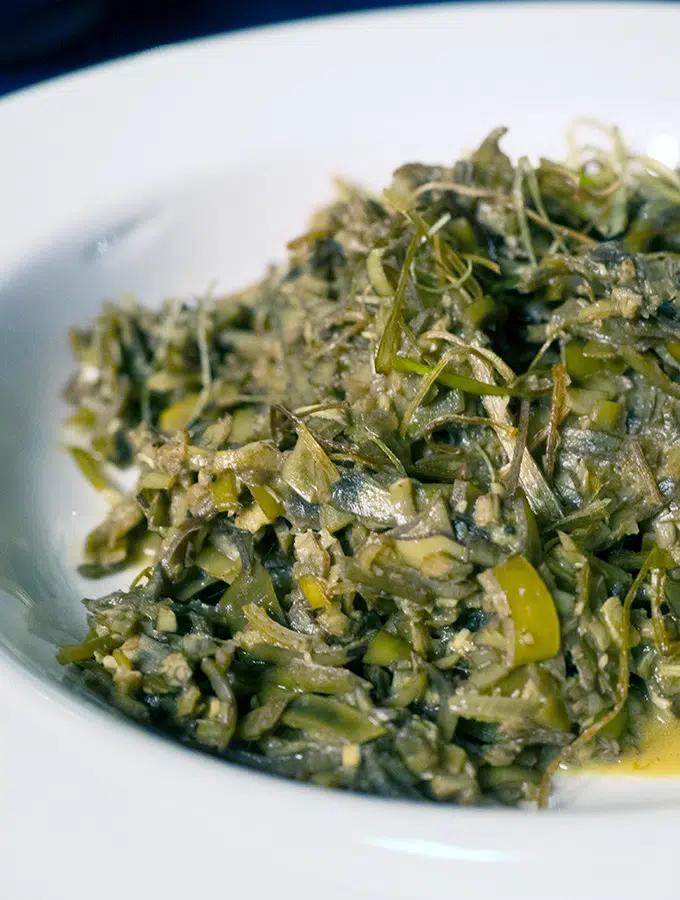 banana blossom curry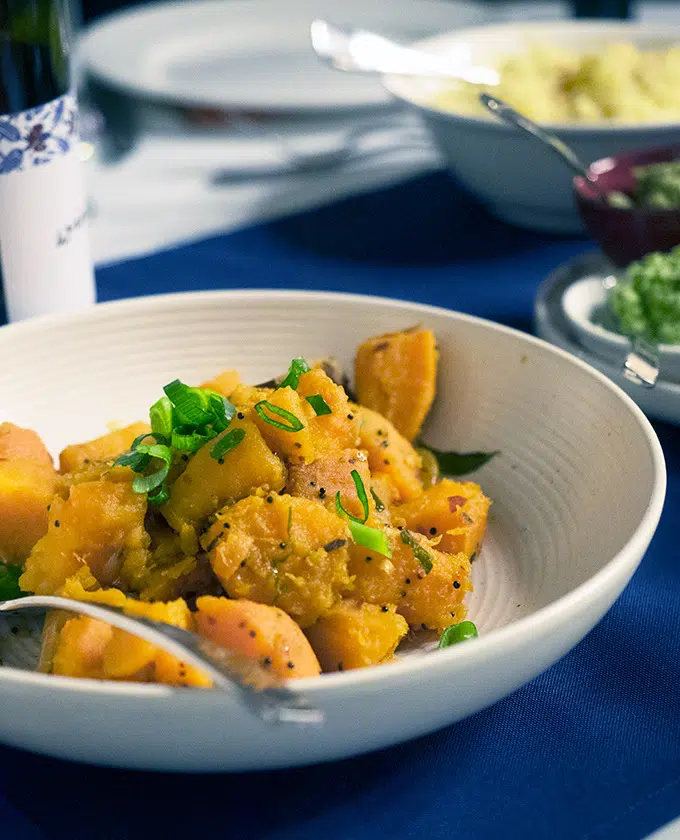 sweet potato fry
The banana blossom curry is quite sour to taste, which surprises me on my initial mouthful. The sweet potato fry is just that.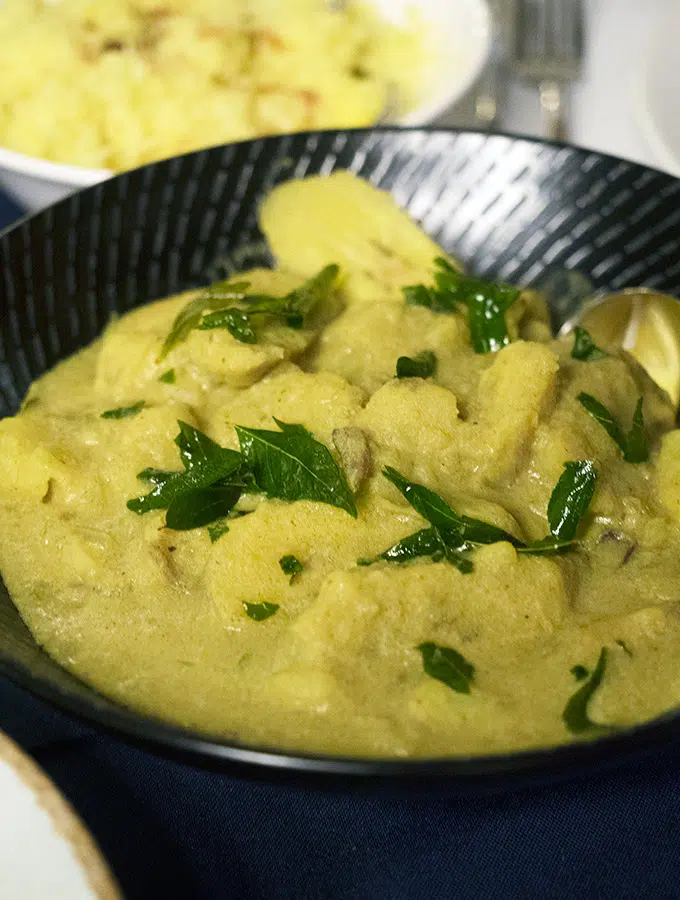 plantain curry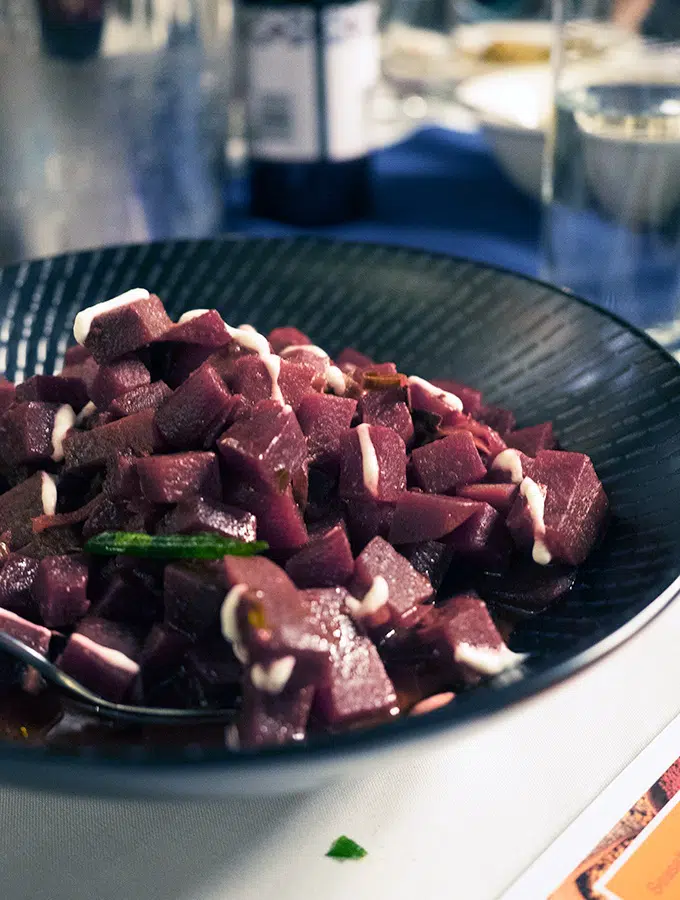 beetroot curry
The plantain curry is mild, and it is quite surprising (to me) that my favourite curry of the meal is the beetroot curry.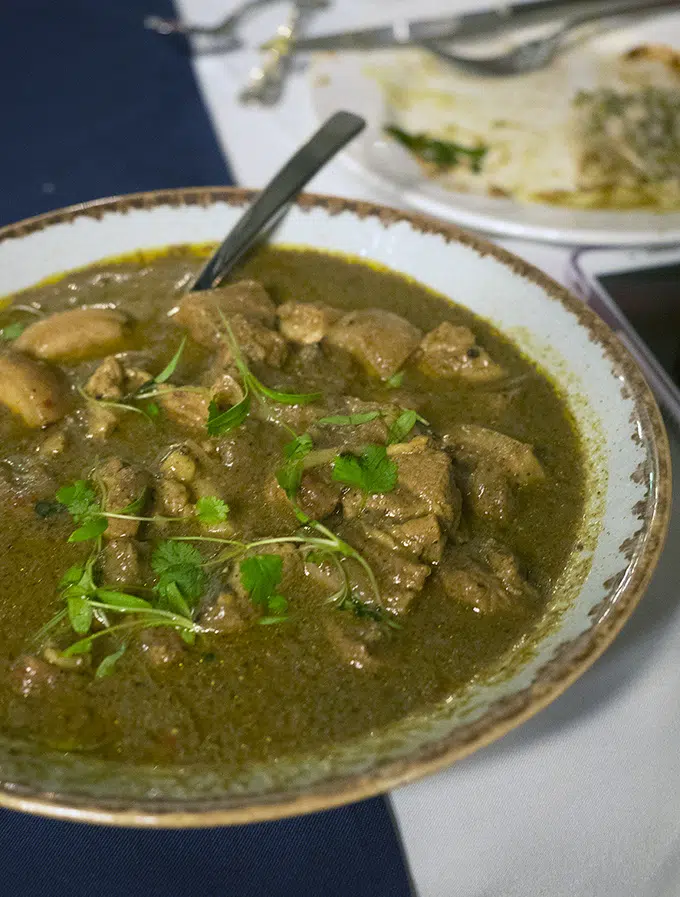 devilled pork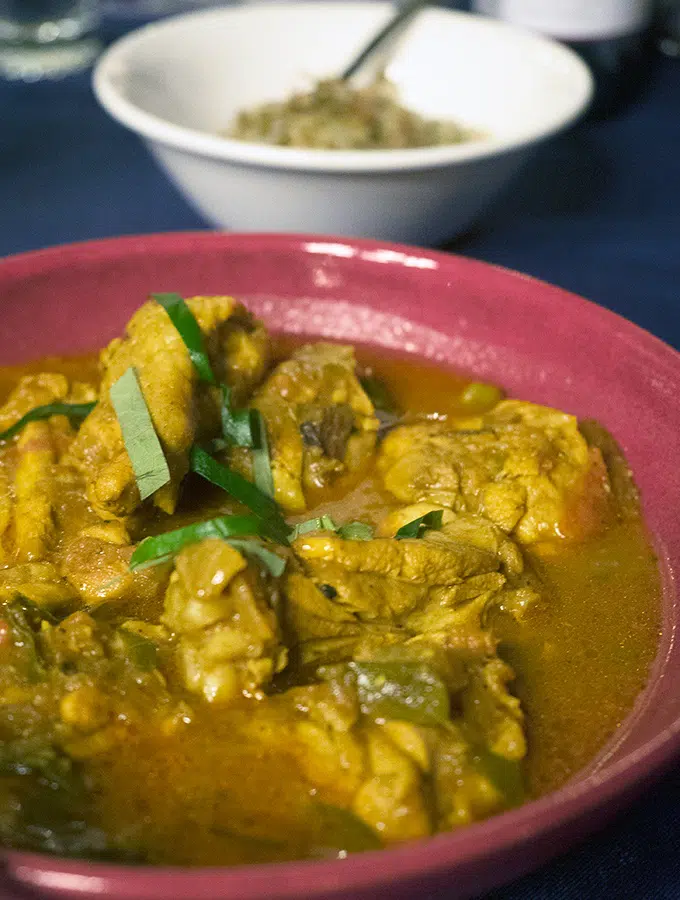 old fashioned chicken curry
The old fashioned chicken curry and devilled pork are both hearty and comforting curries.
There was also a Malay beef curry, brinjal and dry fish curry and a ridge gourd curry which aren't pictured. I didn't get to taste either the Malay beef curry or the brinjal and dry fish curry, they just didn't make their way to me.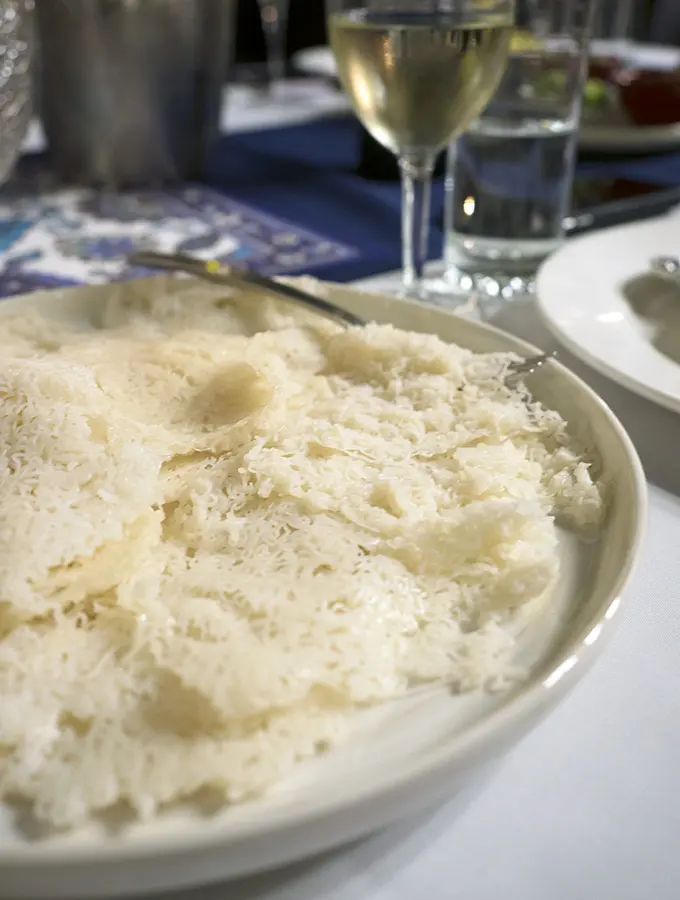 String hoppers
String hoppers are served in a savoury capacity with dinner. Unlike our sweet filled ones we had at the masterclass. The idea is to mop up the curries with the hoppers.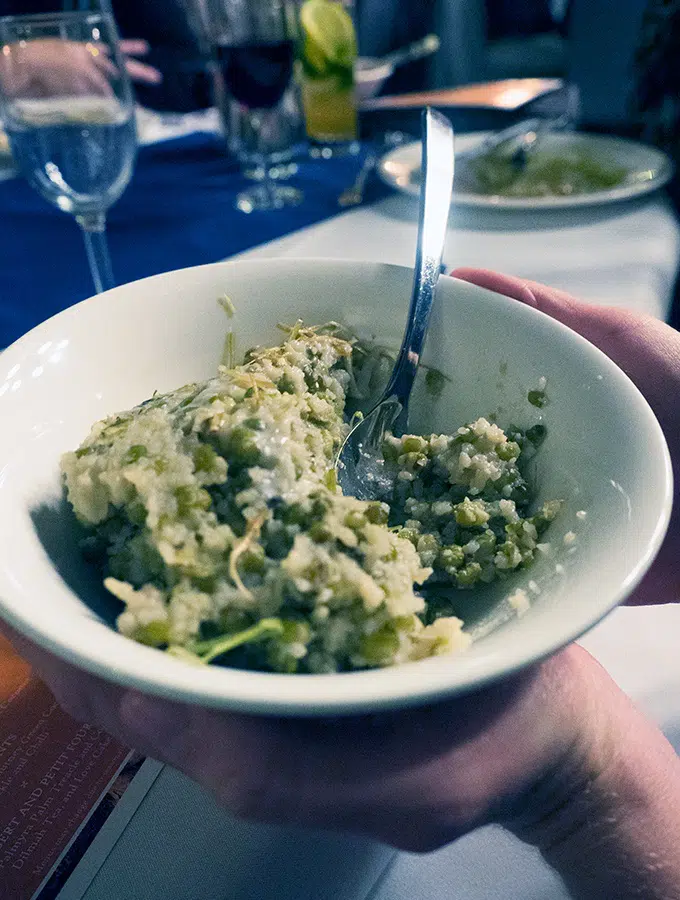 mung bean broken rice and fresh coconut
Not a fan of the mung bean broken rice, I find it gluggy. Totally different to Asian style fried rices which have awesome crunchy bits in them where the "broken rice" is fried to an inch of its life in a wok.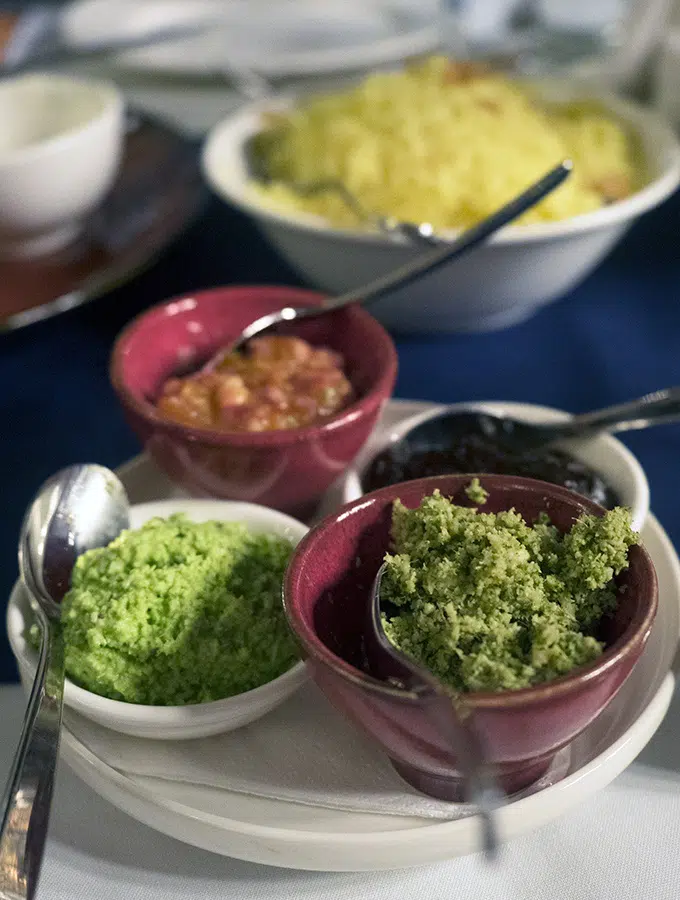 curry leaf sambal, tamarind chutney, green coconut chutney, lime pickle and chilli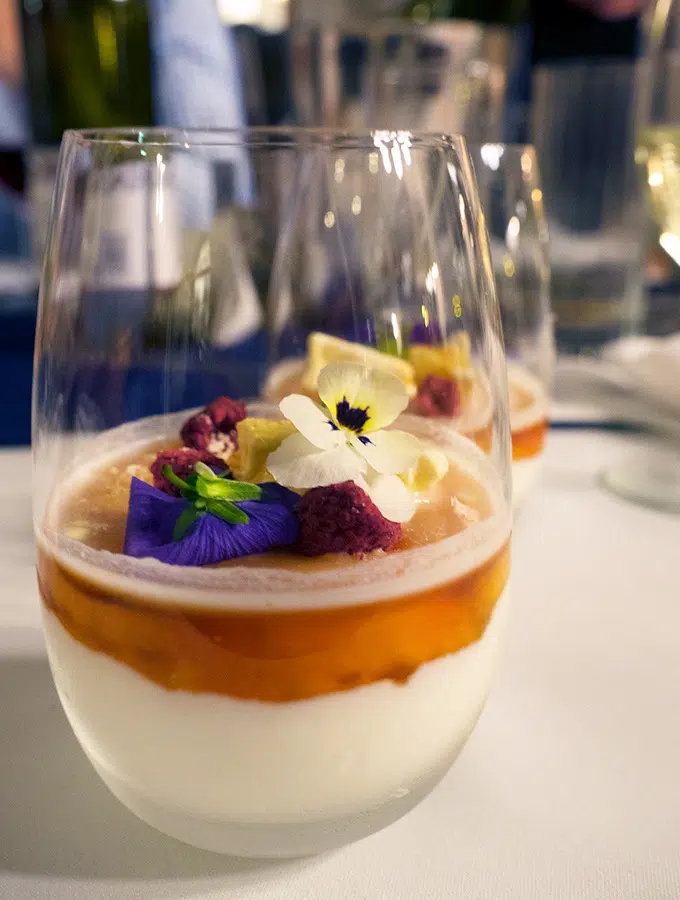 buffalo curd, palmyra palm treacle and coconut crunch
Dessert is my favourit dish of the dinner. Which is quite surprising for me as I always sway towards savoury. My highlight is the shards of freeze dried pineapple that top the dessert. Sri Lankan love cake is also served with tea or coffee to end the meal.
Peter Kuruvita has a great love for his Sri Lankan heritage and its cuisine. His passion is obvious and it is this a passion that makes him want to educate and introduce Sri Lankan food to Aussie taste buds.
So what did I think of Sri Lankan food? I am and always will be a fan of string hoppers, papadums, coconuts and anything fried. The sambals and chutneys are super tasty, but the cuisine in general is a mild one, whereas I prefer punchier curries.
Sara xxx
Belly Rumbles was a guest of Crowne Plaza Terrigal, but all opinions remain her own.
Other Chef Dinners & Recipes
Chorizo Stuffed Chicken - Miguel Maestre
Curry Beef Cheeks - Adam Liaw
New Autumn Menu - Francesco Mannellis
Become a subscriber and don't miss a single delicious recipe, restaurant review or travel adventure.