The blessing of the truffle dogs is part of the Canberra Region Truffle Festival that runs throughout June, July and August. A celebration of everything truffle with truffle hunts, dining events and cooking classes.
How to make black truffles stretch further
Baked Brie with black truffle, recipe
Black truffle chicken breast baked in milk, recipe
Black truffle and parmesan souffle, recipe
I love dogs and I love truffles. Nothing could keep me away from the start of the season's blessing of the truffle dogs. Neither the chill to the bone five degree temperature nor the icy cold winds. Even the regularly repeated "I think it might snow" didn't deter me.
And snow it does in the Canberra region of NSW. It gets cold and it gets frosty. It's the perfect clime to grow some of Australia's most sought after Perigord/black truffles.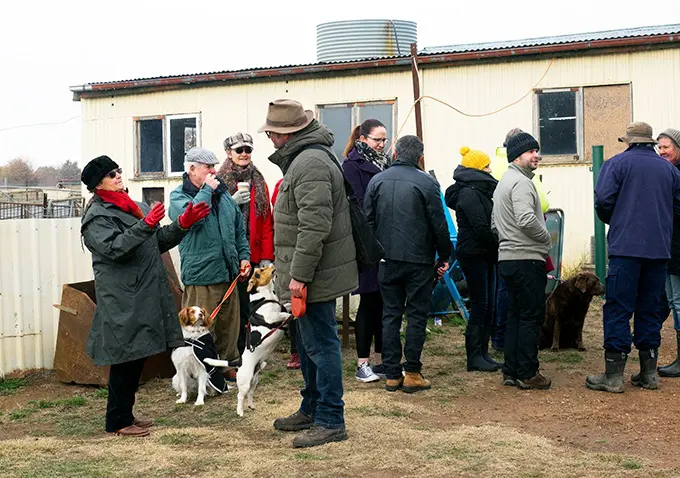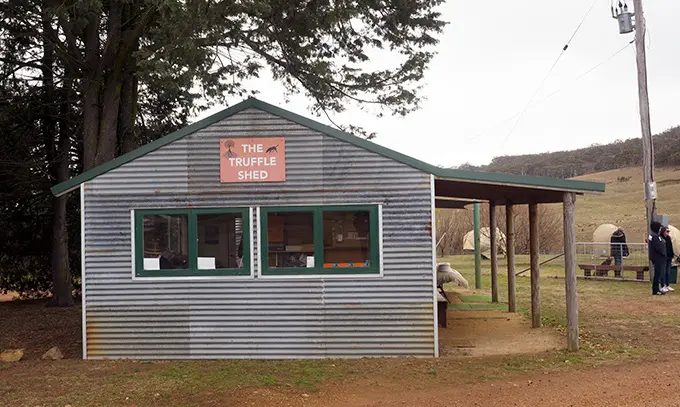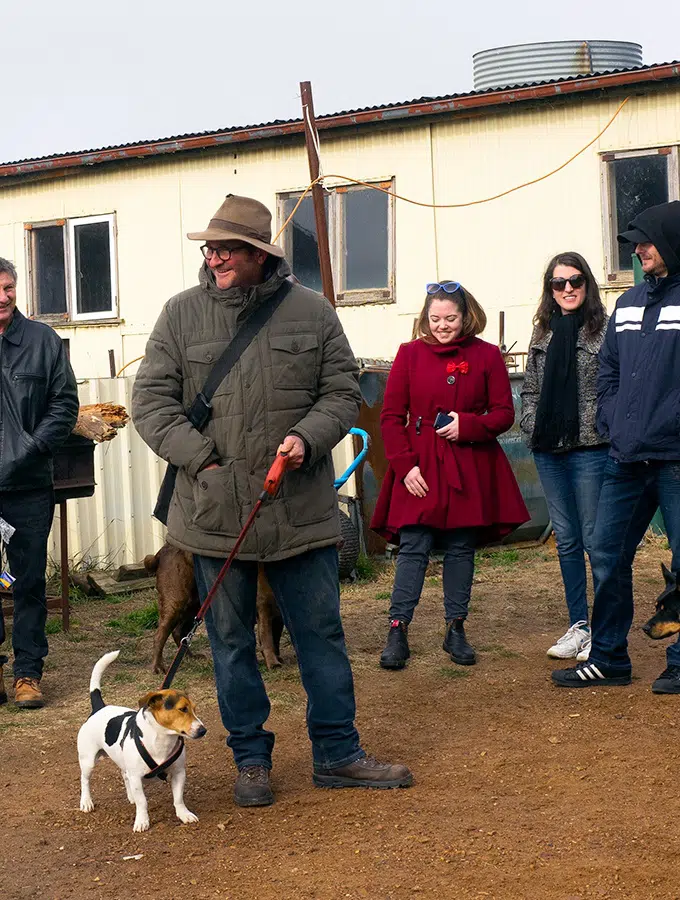 The Canberra Region's truffle season is from June through to August. To celebrate, educate and promote these black earthy nuggets of deliciousness the region holds a Truffle Festival.
The season and the festival officially launched last weekend. There is a lot happening, but the highlight, in my eyes, is the blessing of the truffle dogs.
While the Truffle Festival celebrates its 10th year, it's the 5th year of the blessing of the truffle dogs.
As mentioned, it is one hell of a cold Sunday. Thankfully it isn't an early start. The three degrees of 8am in Braidwood has warmed up to a balmy five degrees by the time we reach Tarago at 11am.
The blessing of the truffle dogs is being hosted by Anne and Denzil Sturgiss at their property, Tarago Truffles. It is an intimate affair with around ten truffle dogs, their owners, some media and visitors.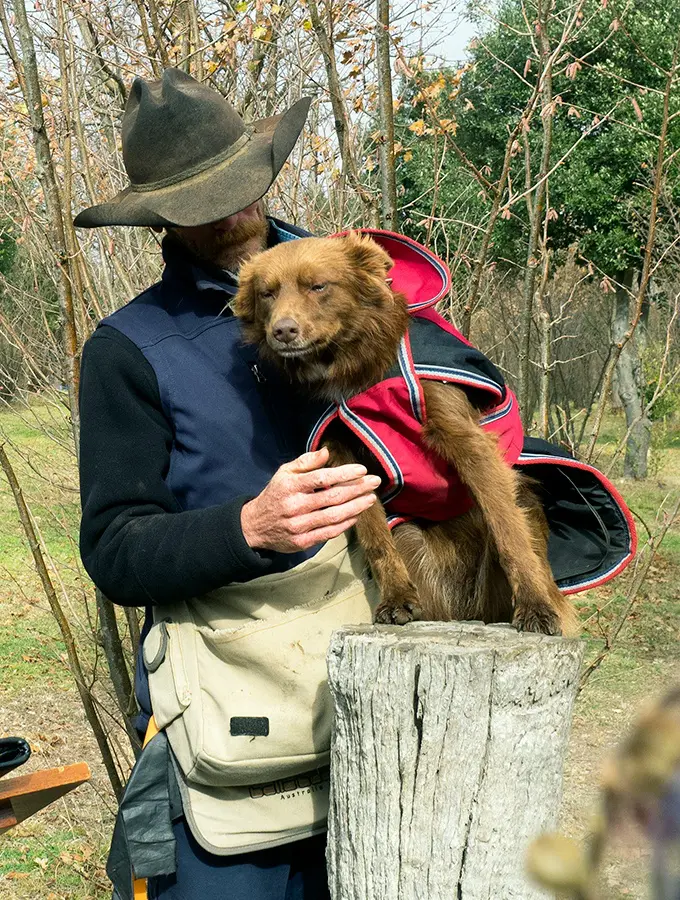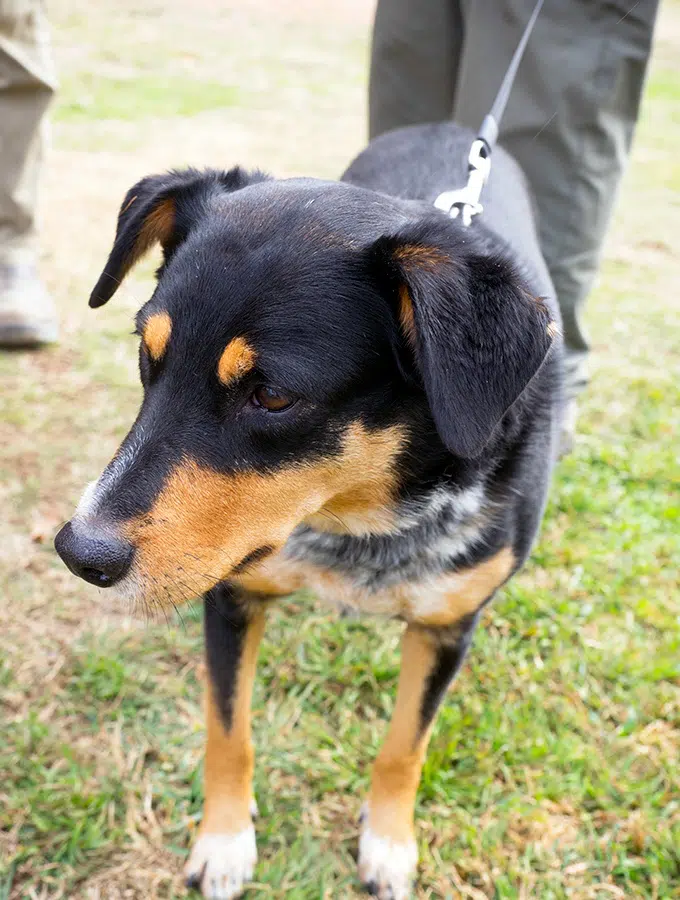 Anne and Denzil planted their truffiere, in 2002 and are one of the more established growers in the area. A truffiere is where growers plant oak and/or hazelnut trees to grow truffles under. They grow and harvest truffles along with their son Matt and two truffle dogs, Dusty and Joker.
When chatting to Anne later in the day she explains that the star truffle dog is Dusty, and that Joker just thinks he knows what he is doing. But watching both dogs in action, I do know that they love what they do and that the bond between Matt and Dusty is a very strong and special one.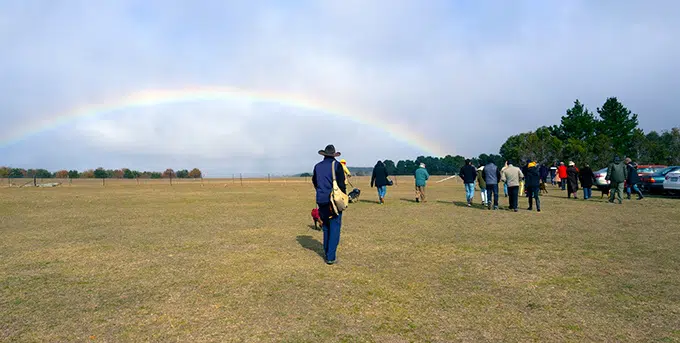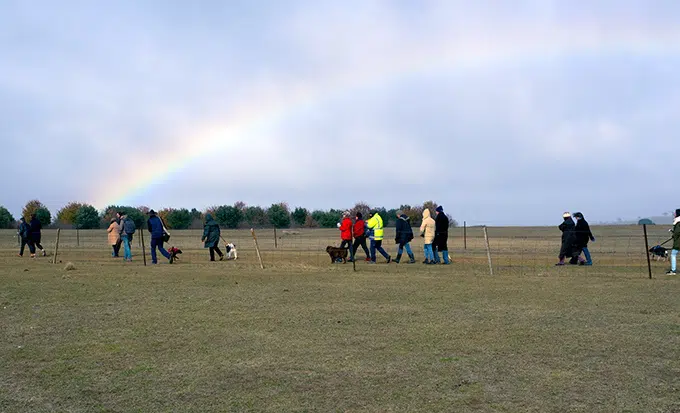 The proceedings start with a walk to the truffiere. As we make our way, it is like we have a sign from God, a magical rainbow appears. A full rainbow that ends smack bang in the middle of the truffiere.
Is there gold at the end of the rainbow? Yes, there is, black, earthy, delicious gold called truffles.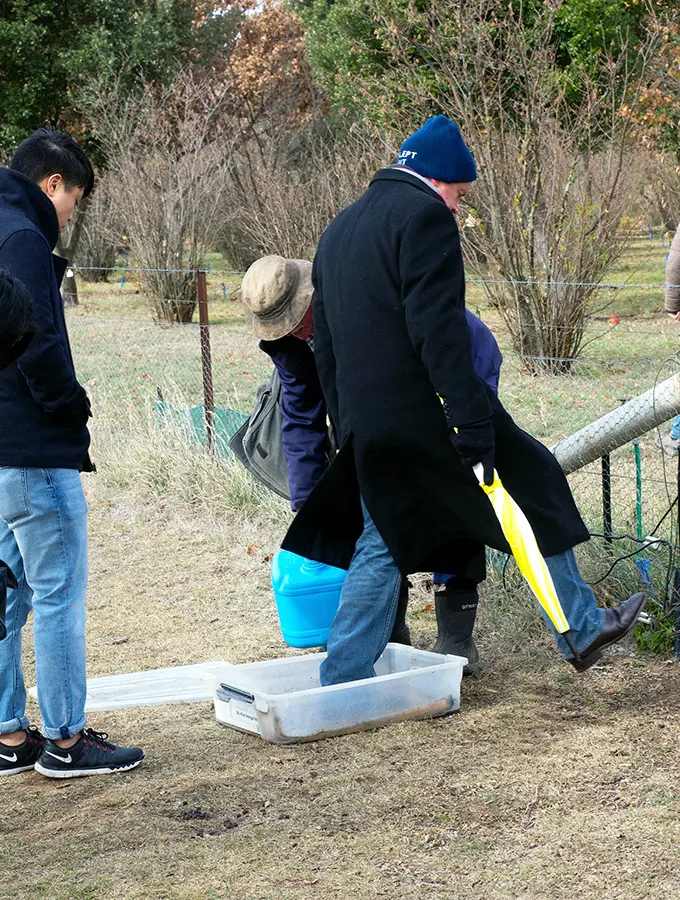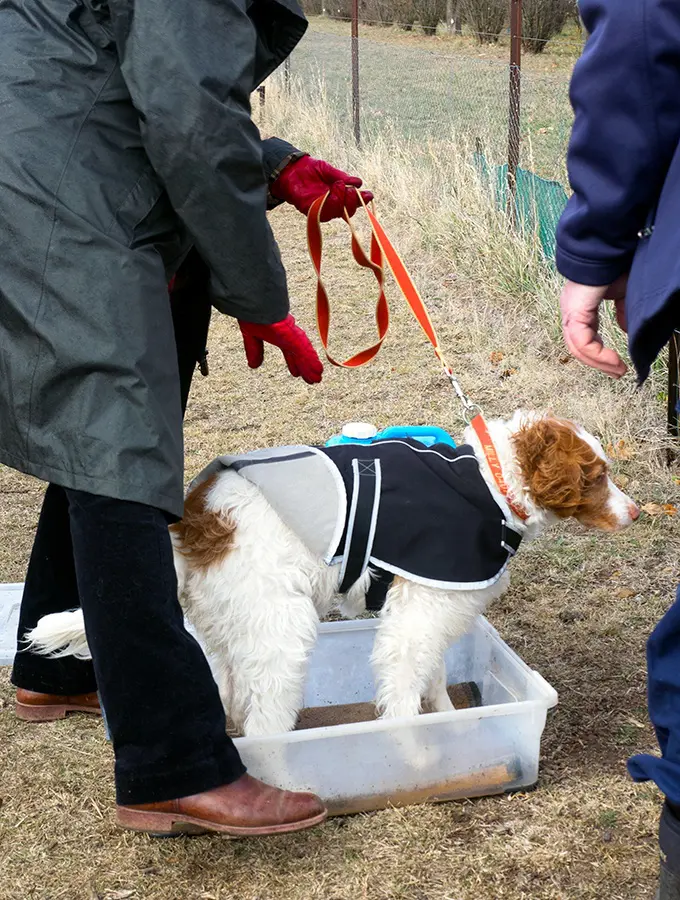 Before entering the truffiere everyone, including the dogs need to walk through a foot bath that contains a chlorine solution similar to pool chlorine. It is a shallow foot bath that cleans the bottom of your shoes. Some of the dogs are not keen at all and need to be placed in, others begrudgingly step on through.
Talking to Tricia Lockart of L'Air du Wombat Truffles, she explains that everyone does this at all truffieres. As they are out and about they will always walk through a sterilising foot bath before entering their truffiere. They won't make their truffle dog Barry do this every time. There is no need if he hasn't been off the property.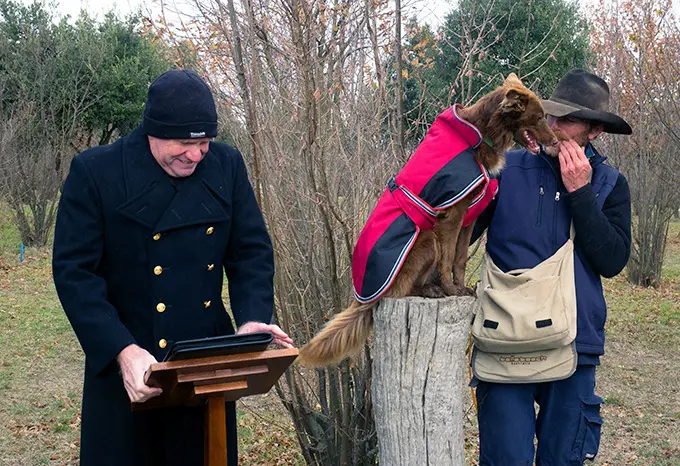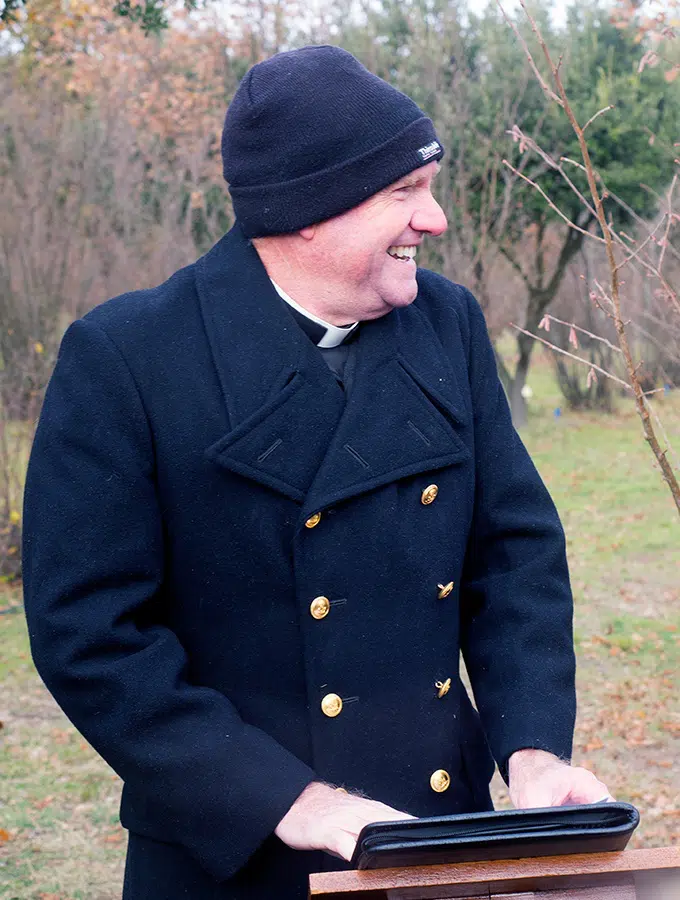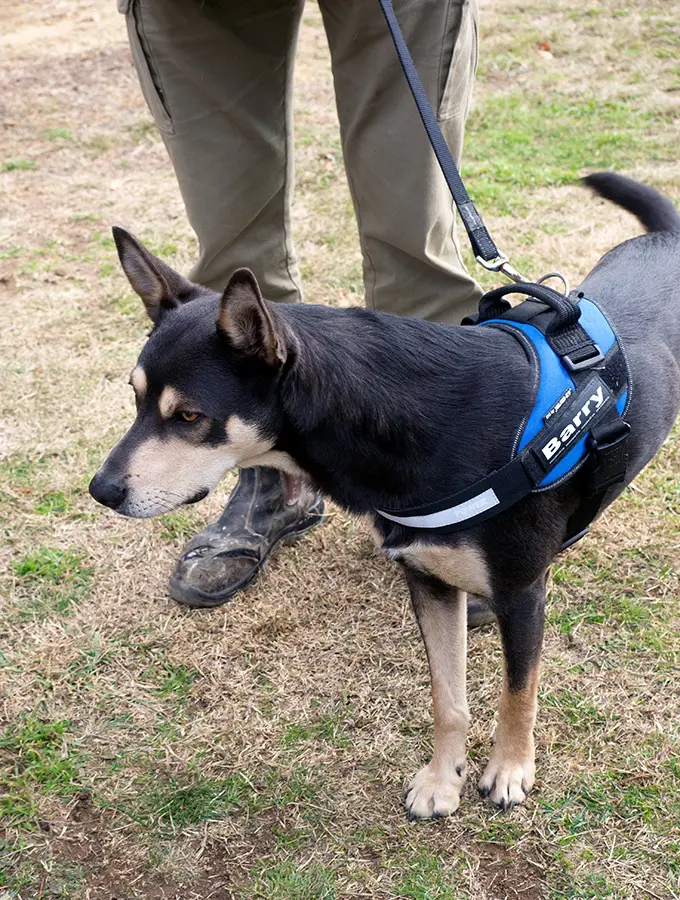 Once inside the Tarago Truffles' truffiere it's time for the pups to be blessed. The blessing is conducted by Reverend Tom Frame of Mulwaree Anglican Parish with the assistance of Minister Haydn Swinbourne.
It's a light and heartfelt service. A blessing of not only the truffle dogs but also for the success of this year's truffle season. The service concludes with the Lord's Prayer, and then it's off to hunt truffles.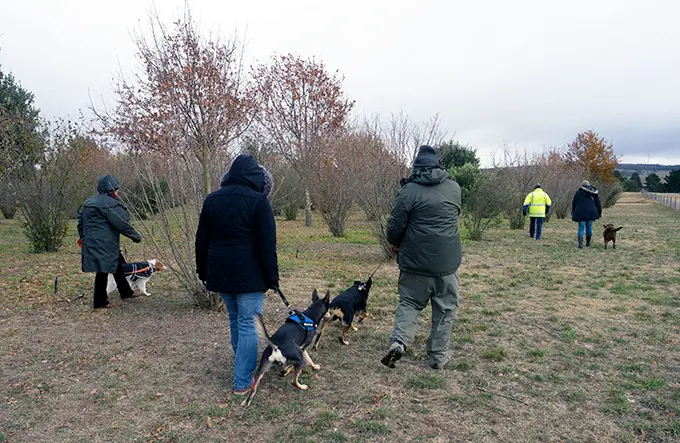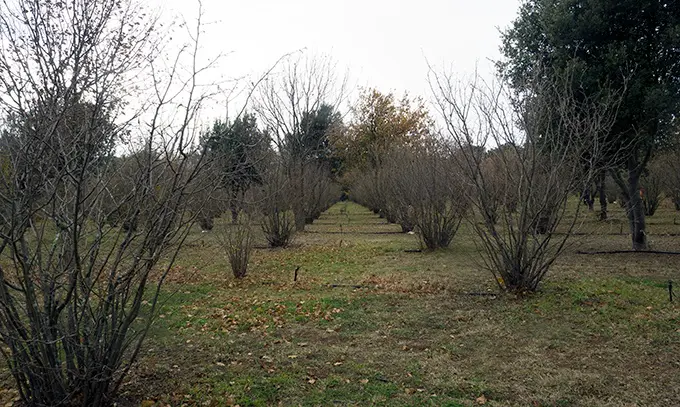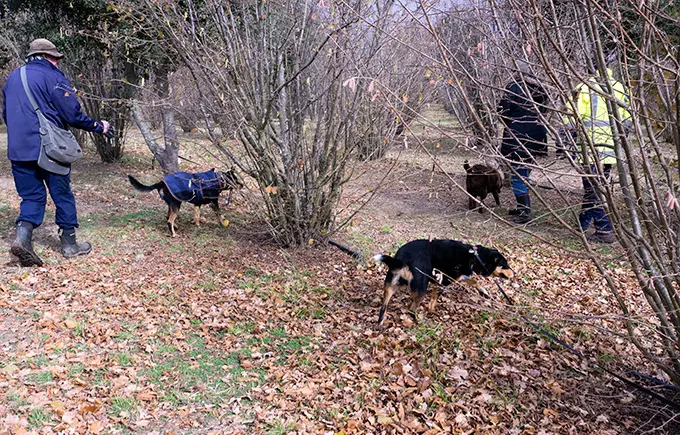 The problem is most of the dogs are more interested in sniffing each other's butts than sniffing out truffles. They are all so excited. New dogs to get to know, new smells to smell, truffles, pfft, who needs truffles!
As this is Dusty's home turf she gets to work pretty quickly with Joker by her side. A couple of the other dogs are also quite keen to seek out that black gold. And truffles we do find.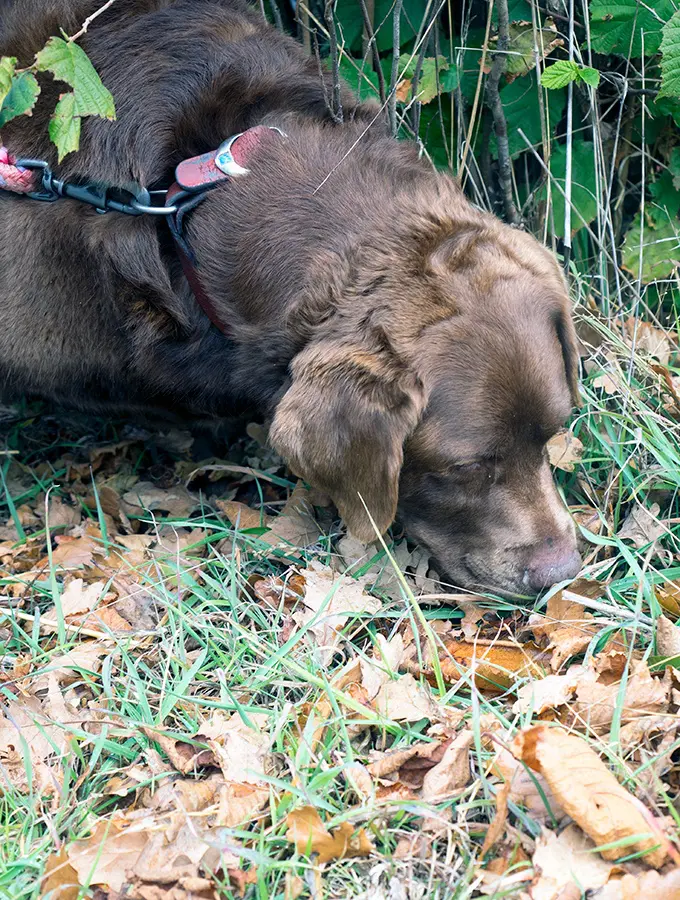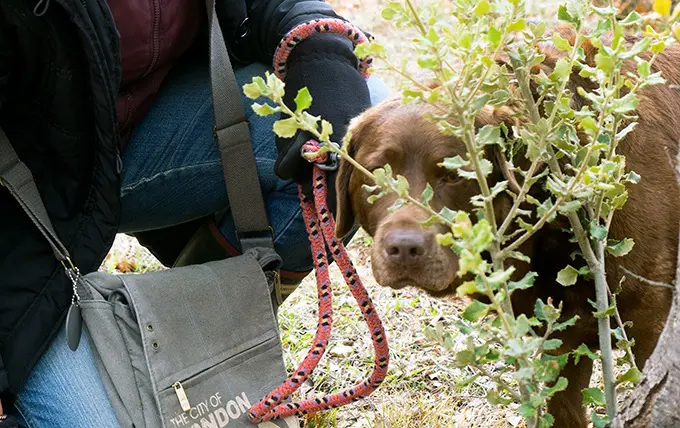 Truffle hunting is a bum in air and nose in dirt activity. Not only for the dogs, but for the truffle growers as well.
The dogs are taught not to dig. It is a case of pawing at the dirt, pointing, or whatever they personally do to indicate. Once the dog has located a truffle, they are given a food reward. It's then up to the truffle farmer to determine if the truffle is ready to be harvested.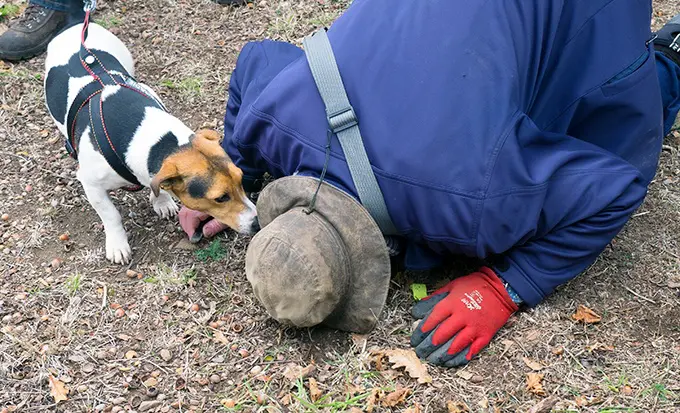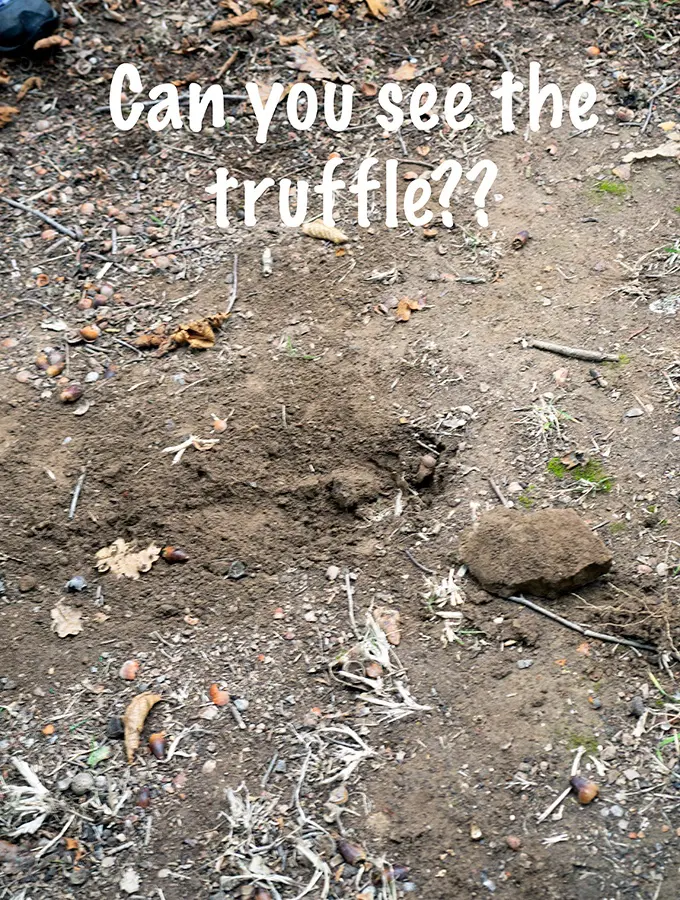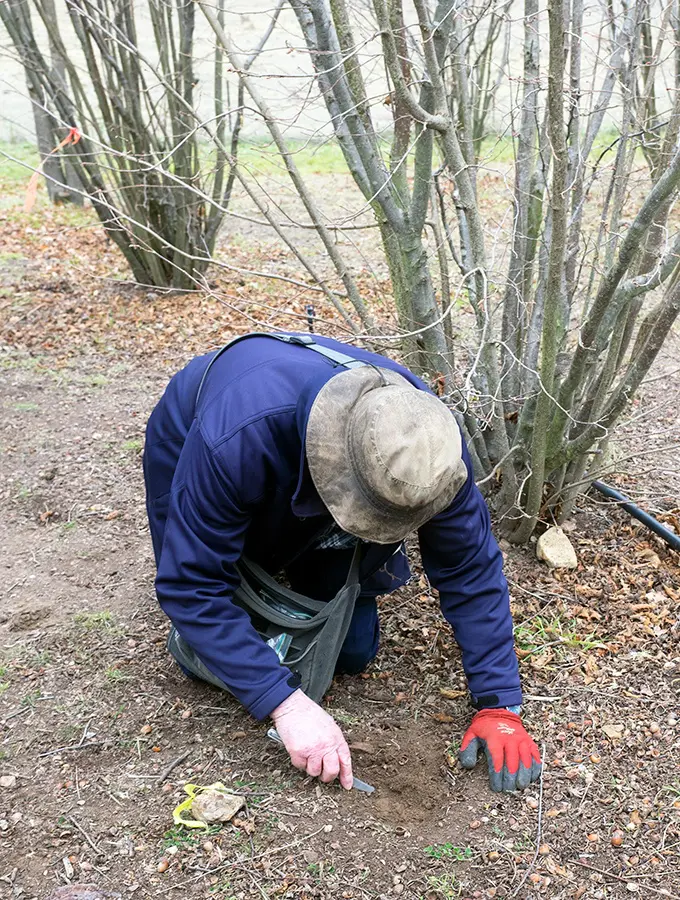 This is where the truffle farmer takes up the rather unglamorous position of butt in the air and nose in the dirt. The soil is smelt to see if a truffle is lurking underneath. The soil around the truffle takes on a distinct smell.
Using a butter knife, soil is then gently scraped away until the truffle is found. Usually only a few centimetres under the surface. The truffle is smelt again and pressed with a finger to check firmness. If it smells ripe enough and firm it is harvested. Not ripe enough it is covered back up with soil and location marked. Soft means it is over ripe and rotting. It is also harvested to later go back into the soil as a slurry.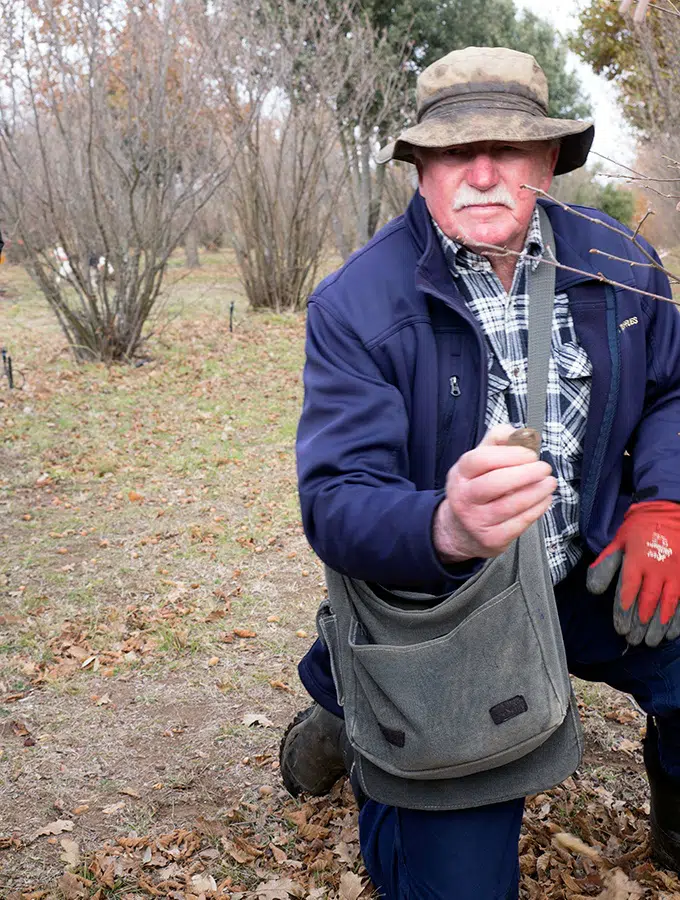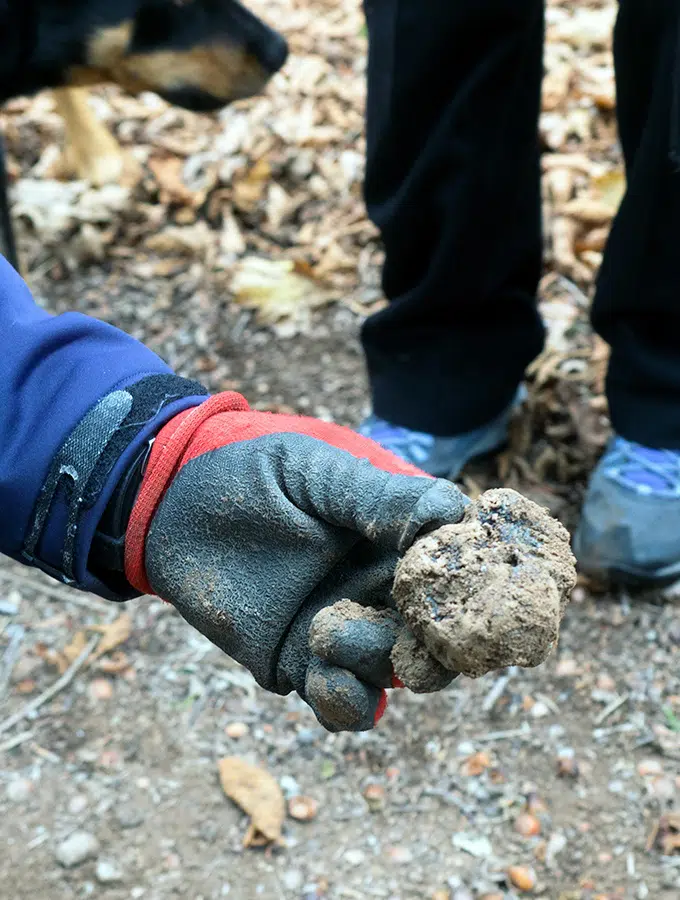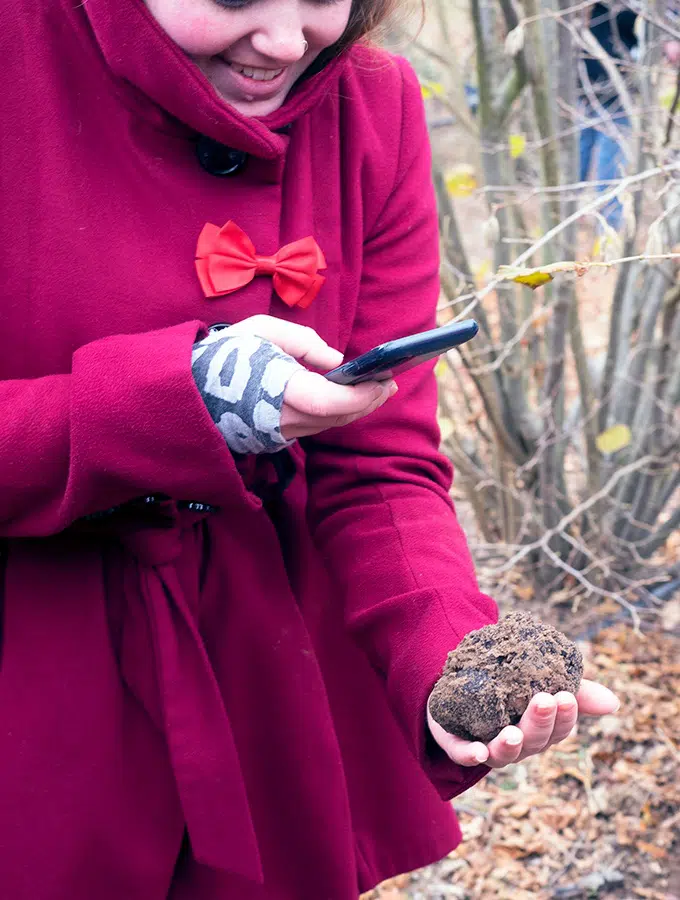 Truffle dogs are as individual as their owners, by which most have been trained. Family pets and/or farm dogs taught how to find truffles. They all love it, it's a big game for them. Find truffles, get a tasty food reward. A win win situation if you ask me
After the hunt we head back to the farm house where a large tent has been set up for lunch. With frozen fingers a big bowl of Jerusalem artichoke and black truffle soup is greatly welcomed. Plus greedily devoured. A combination of cold weather and truffles make this the most delicious soup I have had in ages.
Travis and Stefanie of Woodbrook catering are in charge of lunch today. A two course affair to showcase the truffles.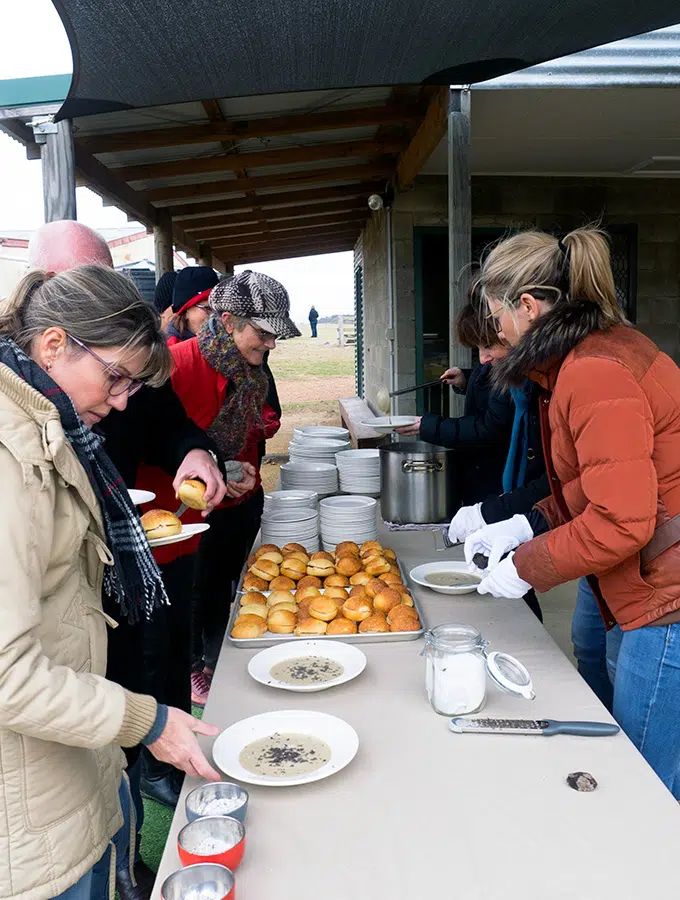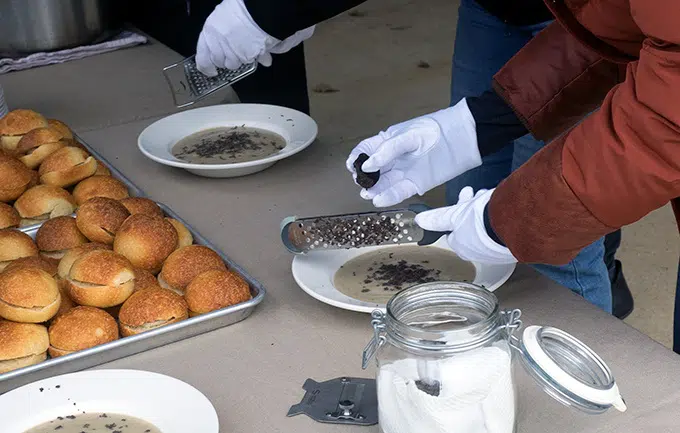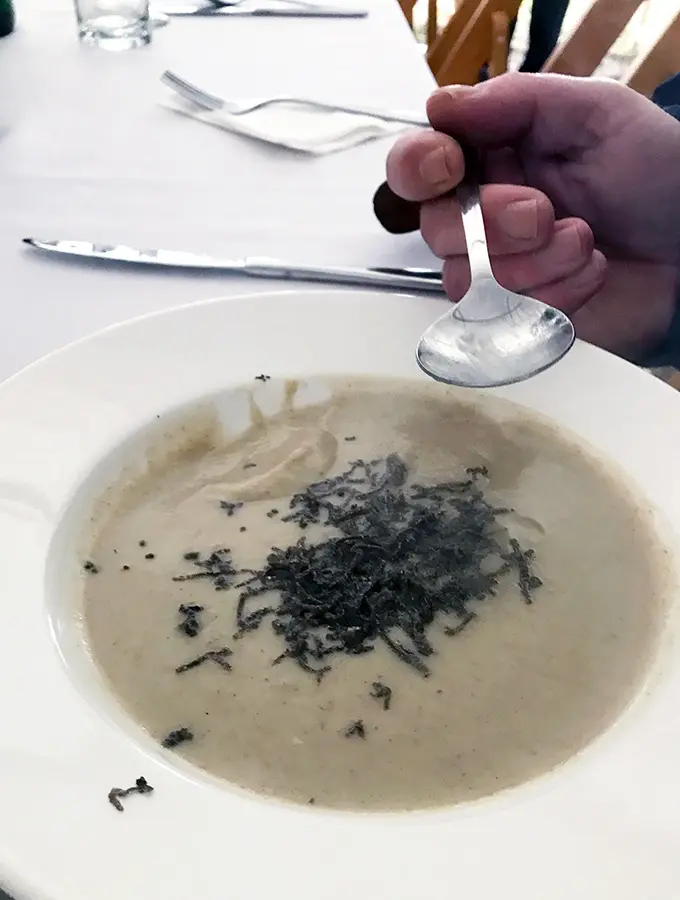 The soup is a great hearty start, which is followed by truffle chicken with roasted cauliflower, mushrooms and pan fried gnocchi. There is also a large supply of crunchy bread rolls loaded with truffle butter. Local wines, including a rocking Pino Noir from Contentious Character and Chardonnay from Mount Majura Vinyard, are served along with lunch.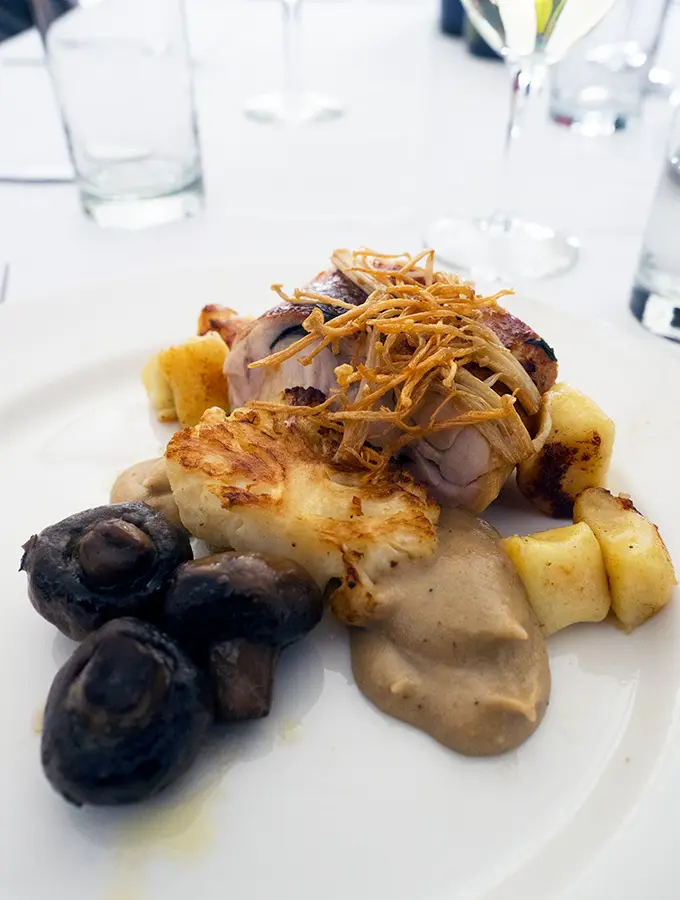 Before heading back to Sydney, I have a mission to get my hands on some truffles. The plan was to purchase some from Tarago Truffles. Instead I am introduced to Damian Robinson from Turalla Truffles.
Damian has brought some of his "rejects" along. He explains that he can't sell them as they aren't up to standard but are perfectly good to eat. Would I like one? Hell yes Damian!
I'm told to pick one that I would like. This turns into a one on one lesson on how to pick a good truffle, which I am grateful. As I go to choose, Damien interjects with "Nope, not that one" followed by a, "smell it, see how it is starting to go off?" I smell and yes, I can smell the difference. With Damien's guidance I select a suitable truffle, then he hands me another for good measure.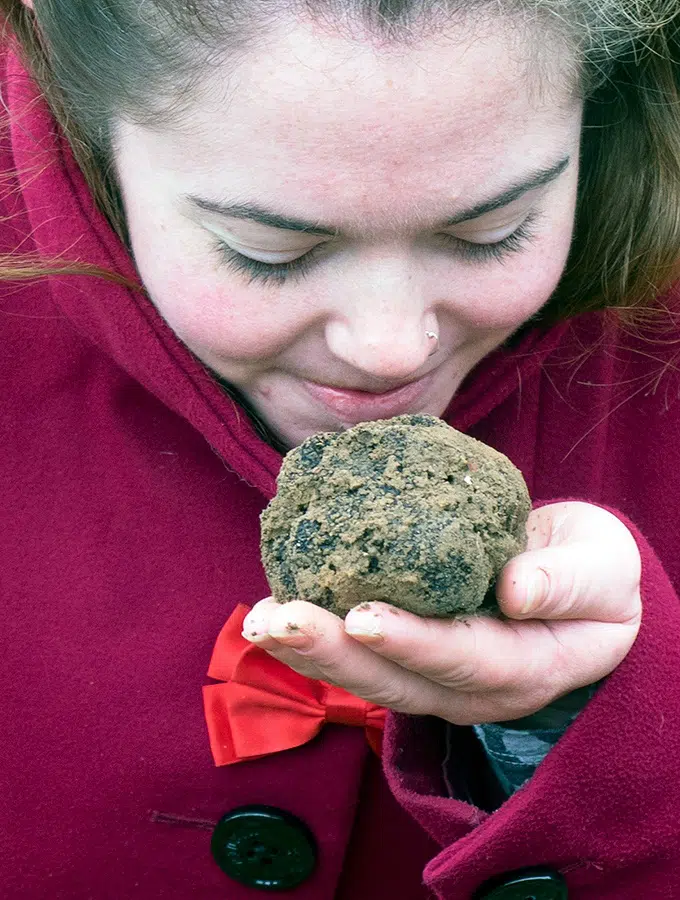 The Canberra Region's Truffle Festival runs throughout the truffle season June, July and August. There are various ways you can get involved, truffle hunts, special dining events, cooking classes and of course many opportunities to buy truffles straight from the source.
A good place to start your planning is to head to the Truffle Festival's website.
Sara xxx
Belly Rumbles attended the blessing of the truffle dogs as a guest of The Truffle Festival, but all opinions remain her own.
Tarago Truffles website
Truffle Hunts & Sales
Lockart of L'Air du Wombat Truffles website
Accommodation, Truffle Hunts & Sales
Become a subscriber and don't miss a single delicious recipe, restaurant review or travel adventure.