Fresh black truffles are expensive. Here are a few ways to make your black truffles stretch further.
I look forward to the Australian truffle season every year. As much as I love truffles, they are expensive. Truffle prices change every season, and at present they are around $3/gram. That means a 50g truffle is going to set you back $150.
This has transformed me into the queen of making one little black truffle stretch a very long way. I thought it was about time I shared some of my favourite ways to make fresh black truffles stretch further.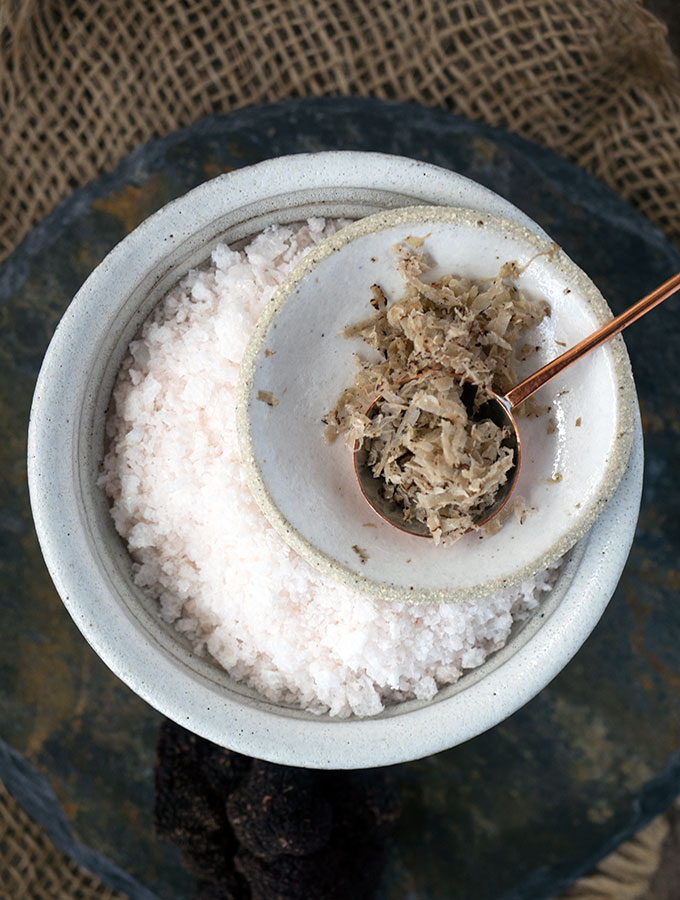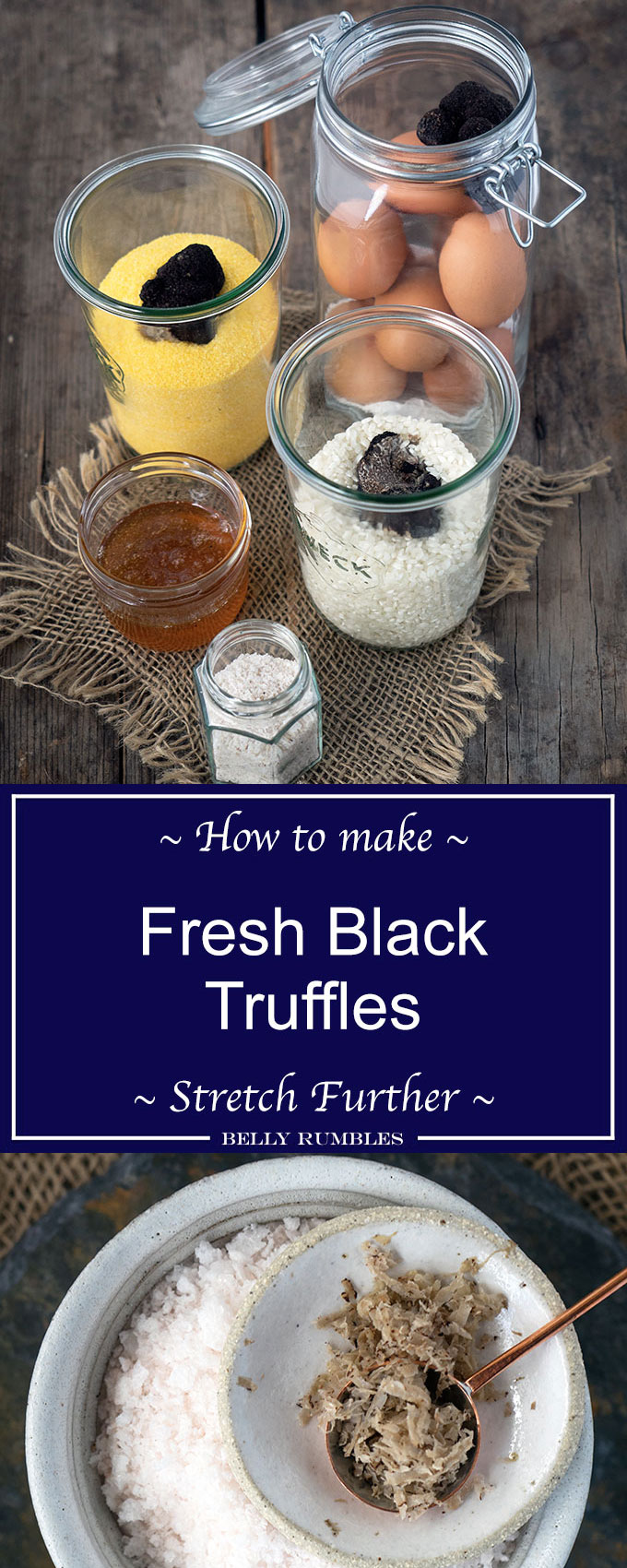 It is important to note that not all fresh black truffles will have the same strength of smell and taste. There are also good and bad seasons, which will determine the truffle's quality.
Due to this please note that truffle quantities below are a guideline. How much you need to use will depend on the strength of your truffle's fragrance and flavour.
Truffle Butter & Truffle Oil
Butter and oil are fantastic flavour carriers. This is why you add citrus zest to butter during creaming when making a cake. The butter grabs the flavour.
It is the same when it comes to a black truffle. When added to butter or oil the flavour infuses, which in turn stretches your little truffle that bit further.
Use left over bits of truffle to make truffle butter and oil.
Truffle Butter
150g of the best unsalted butter you can buy
1 tablespoon of grated fresh black truffle
a pinch of salt
Bring butter to room temperature and mix in truffle and salt. Place truffle butter on a piece of plastic wrap and roll into a log. Store butter in the fridge.
Alternatively, once the butter has chilled in the fridge, cut rounds from the log, individually wrap and store in the freezer for up to 3 months. This is my preferred method.
Use: Slather it on fresh crusty bread, scramble some eggs with it, add some to mashed potatoes, top freshly grilled salmon or steak with it, or finish off a risotto with some.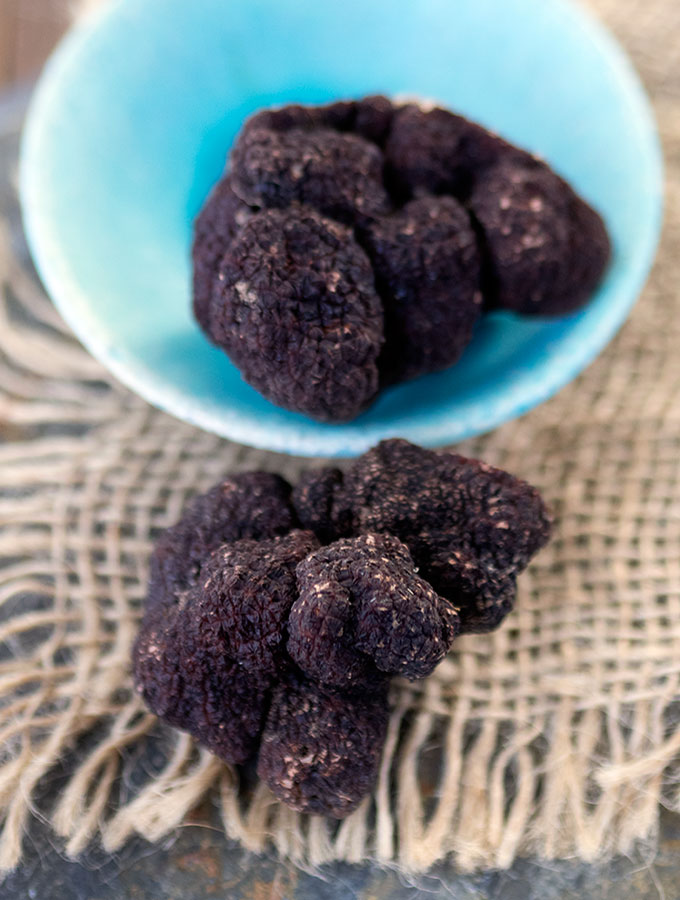 Truffle Oil
250ml good quality light olive oil
A couple of slices, or the crumbly end bits of a fresh black truffle
Place truffle in to into a sterilised bottle and pour in the oil. Alternatively, add the truffle to a 250ml bottle of oil. Store in a dark cool cupboard.
Use: Don't cook with truffle oil, instead use it as flavour enhancer on finished dishes. Drizzle over pizza fresh out of the oven, over pasta, in salad dressings, on poached chicken, scrambled eggs, or toss freshly made popcorn in some.
Click here for Baked Brie with Black Truffle Recipe
Truffle Honey
I know that we tend to think savoury when we think of black truffles, but honey is an excellent companion. It adds a wonderful earthiness to the honey. Plus it is great at making your fresh black truffle stretch further.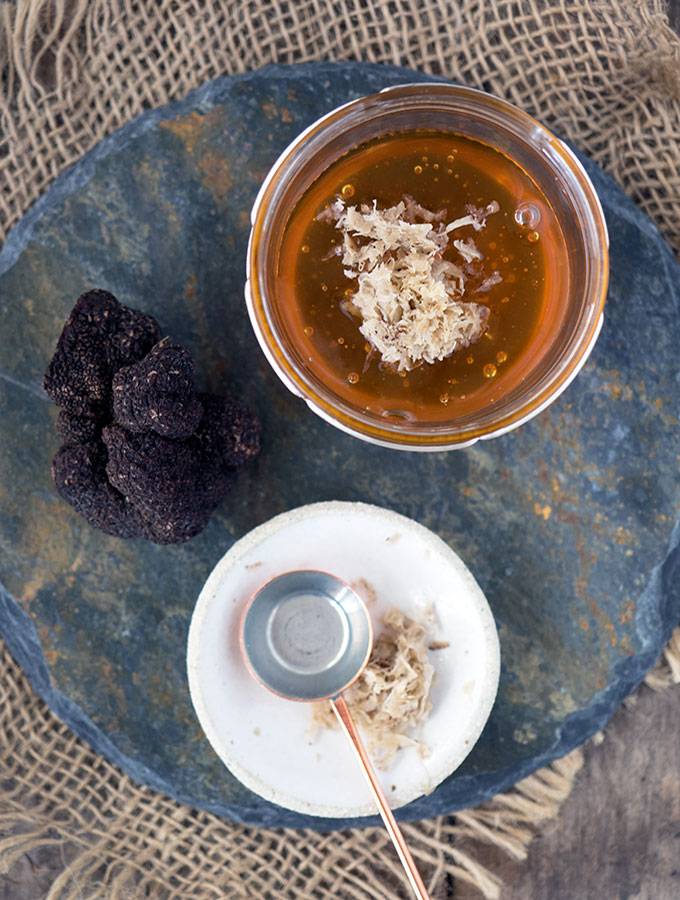 Truffle Honey
150ml honey
1 tablespoon fresh black truffle grated
Place honey and truffle in a sterilised jar. Mix truffle through and leave to infuse in the fridge for a couple of days.
Use: Great on a cheese board, drizzled over blue cheese, glaze for a roast chicken, or drizzled over figs and prosciutto.
Truffle Salt
Salt is a great way to make black truffles stretch further. Not only does it carry the flavour well, it zaps all the moisture from the grated truffle, preserving it. This means your truffle salt lasts quite well in a dark cool spot. Like truffle oil, truffle salt is used to finish dishes off, it's not to be cooked with.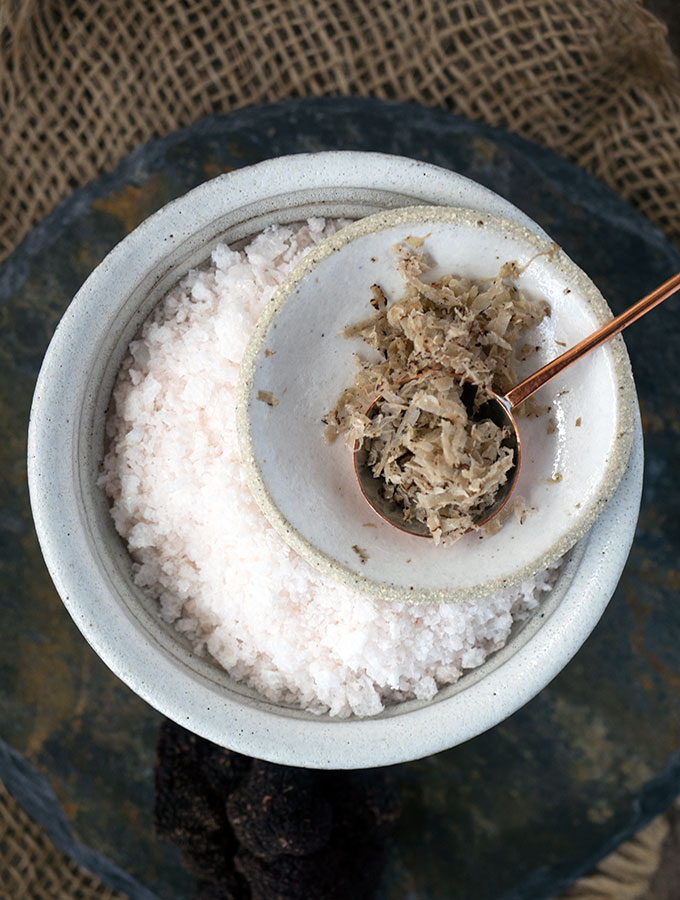 Truffle Salt
⅓ cup good quality sea salt
1 tablespoon grated fresh black truffle
Mix salt and truffle together and place in a glass jar with a lid with a good seal. Store in a dark cool place and leave for a couple of days to infuse.
Use: Sprinkled over popcorn, scrambled eggs, baked potatoes, fries, or steamed vegetables.
Truffle Eggs
One of my favourite ways to make black truffles stretch further. Eggshells are porous and soak up the fragrance of the truffle with ease. I probably eat more scrambled eggs during truffle season than any other time of the year. Just take a couple of truffle infused eggs, scramble them in some truffle butter and then finish off with some truffle salt.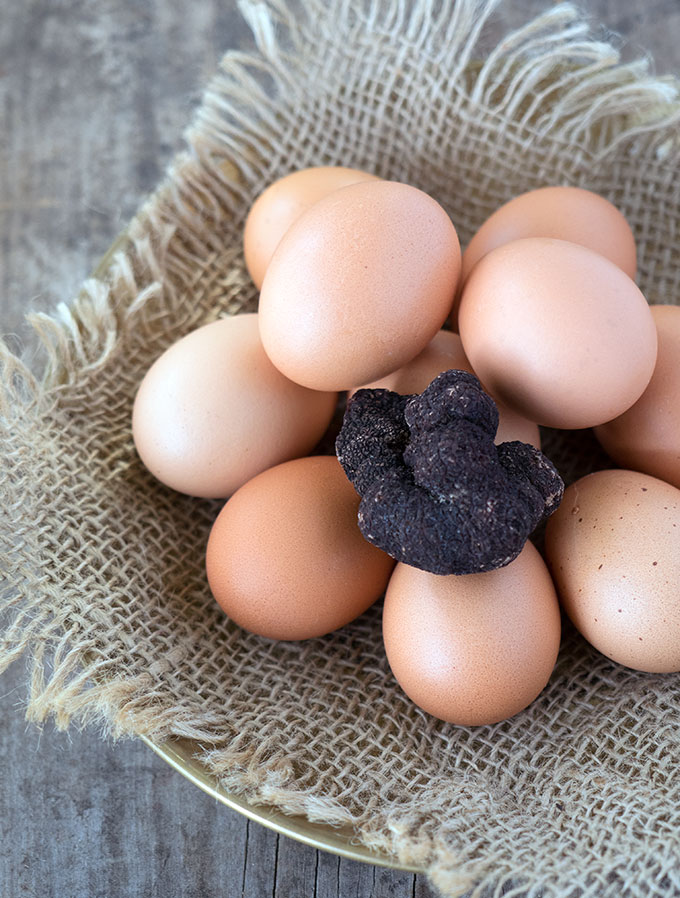 Place as many free range eggs you are able to in a lidded glass jar with a whole truffle. Leave to infuse for 24 hours before use.
Use: Cook your eggs any way you like them, or use in quiches or frittatas.
Truffle Polenta
Again another easy way to make black truffles stretch further. Place the desired amount of polenta and truffle in a jar with a lid. Leave to infuse for at least 24 hours in the fridge before use.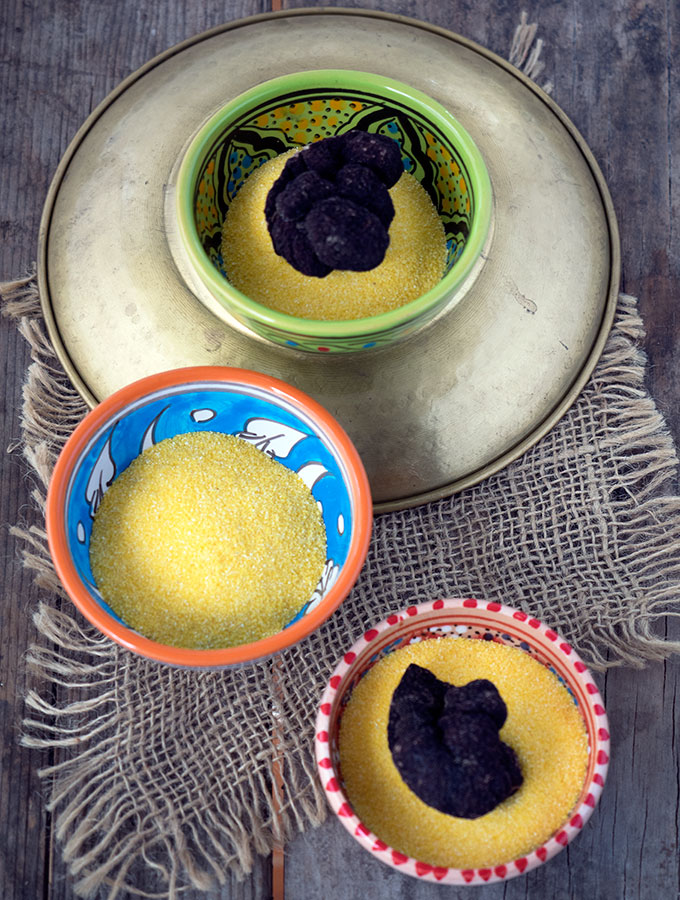 Use: Creamy polenta with mushrooms and parmesan or oven baked polenta chips.
Truffle Rice
To make truffle rice is the same method as for truffle polenta. Simply place rice in a glass jar with a truffle. Leave to infuse for at least 24 hours in the fridge.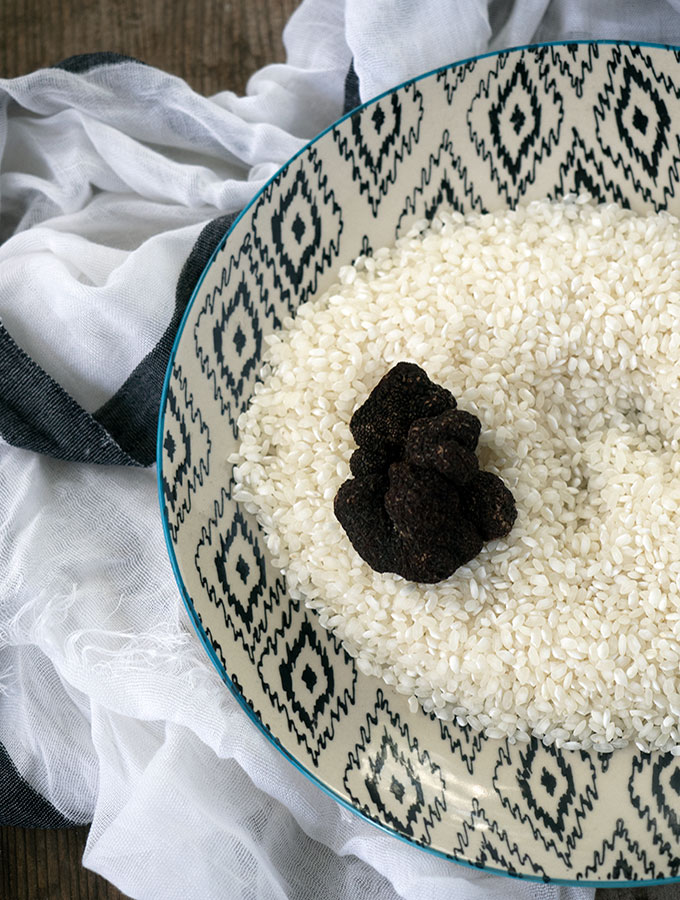 Use: Risotto
By a whole truffle or simply grating some in to the above ingredients you can make your fresh black truffle stretch quite a long way. This also means you can use slices of the truffle in dishes like my Poulet en Demi Deuil or Black Truffle Chicken Breast Baked in Milk.
It is important to note that fresh truffles have a short shelf life. As soon as they are harvested they will start to loose their taste and fragrance. To make the most of fresh black truffles you should use them as soon as possible.
Storage is also important. I wrap black truffles in a piece of paper towel and then store in a sealed container. I change the paper towel daily and ensure that the truffle is kept dry. Moisture is not a friend of black truffles!
My action plan when I get my hands on a fresh black truffle is to firstly infuse some eggs. Then I make a lovely meal for the family showcasing the truffle. The scraps leftover are then used to make truffle butter.
I find doing the above I am enjoying and making the most of wonderful fresh truffles. Plus I am certainly making my black truffles stretch further.
Sara xxx
Become a subscriber and don't miss a single delicious recipe, restaurant review or travel adventure.