Dish, a cookbook sharing recipes from Australia's most renowned chefs in aid of The Starlight Children's Foundation.
I'm quite excited about Dish. Not only is it a goldmine of delicious recipes from Australia's most popular restaurants and chefs, it is all for a good cause. Dish has been published to raise money for The Starlight Children's Foundation.
If you haven't heard of  The Starlight Children's Foundation before, they are all about giving kids in the hospital a brighter experience, their mission "to brighten the lives of seriously ill children and their families". But they do so much more, and you can read all about their programs in and out of hospital on their website.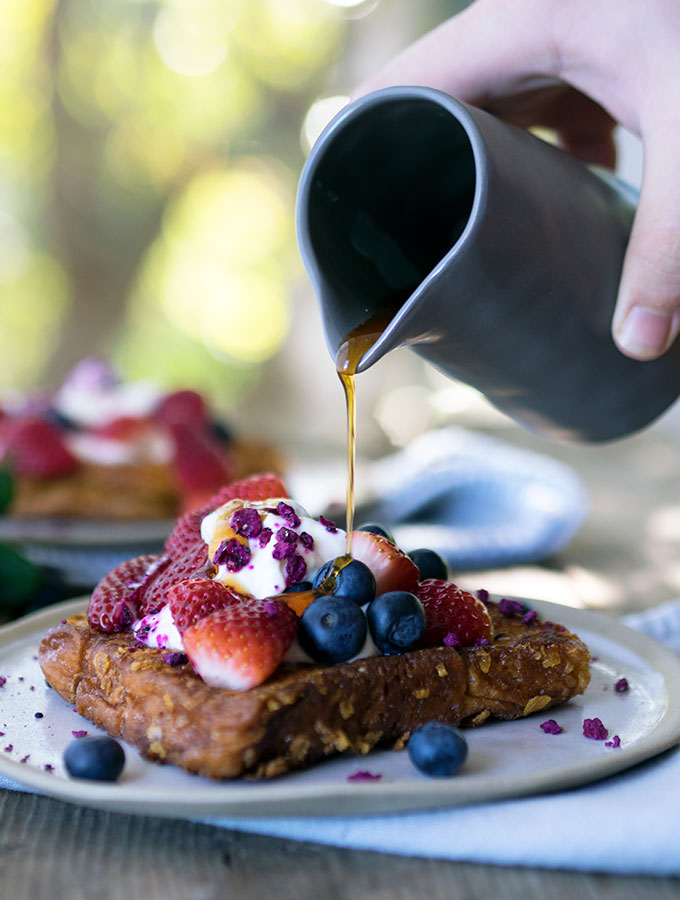 44 establishments have donated some of their favourite recipes to make Dish. It is really a snap shot of the on trend places in Australia at the moment.
You will find recipes from firm favourites like Blackstar Pastry, Acme, Saint Peter, Stanbuli, Africola and Firedoor. On closer look it is very Sydney-centric, but it really confirms what Pierre Marco White said recently, does food better than Melbourne.
To share Dish with you I wanted to make a recipe. Of course, when would I promote a cookbook without making something from it?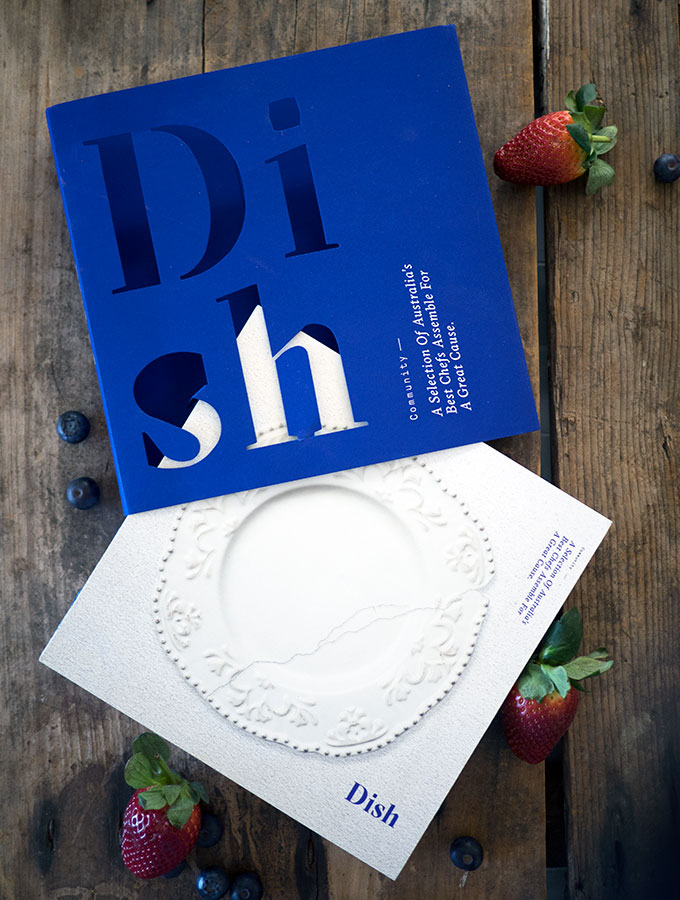 Tempted as I was by the Fish and Chips recipe from Josh Niland of Saint Peter, who was one of the first chefs to jump on board to be involved with Dish. What most people wouldn't know is that he was diagnosed with Wilms tumour, a rare kidney cancer, as a child. Thus his strong connection with The Starlight Children's Foundation.
"As an eight-year-old in hospital I was granted a wish that turned a terrible chapter of my life into one of my most memorable experiences. Starlight flew my family and I to the USA to watch the Chicago Bulls play – every kids dream! The trip gave us a chance to laugh and take a break from a stressful time in our lives. For this I am forever in debt to Starlight and any way I can give back, I will. Dish is a great way of sharing my love of food and the foundation with fellow foodies."
– Josh Niland (Saint Peter)
Instead I went for a breakfast option from Three Williams, their French toast recipe. What won me over was the ease of the recipe and their special addition to a classic dish. They coat the French toast in crushed cornflakes!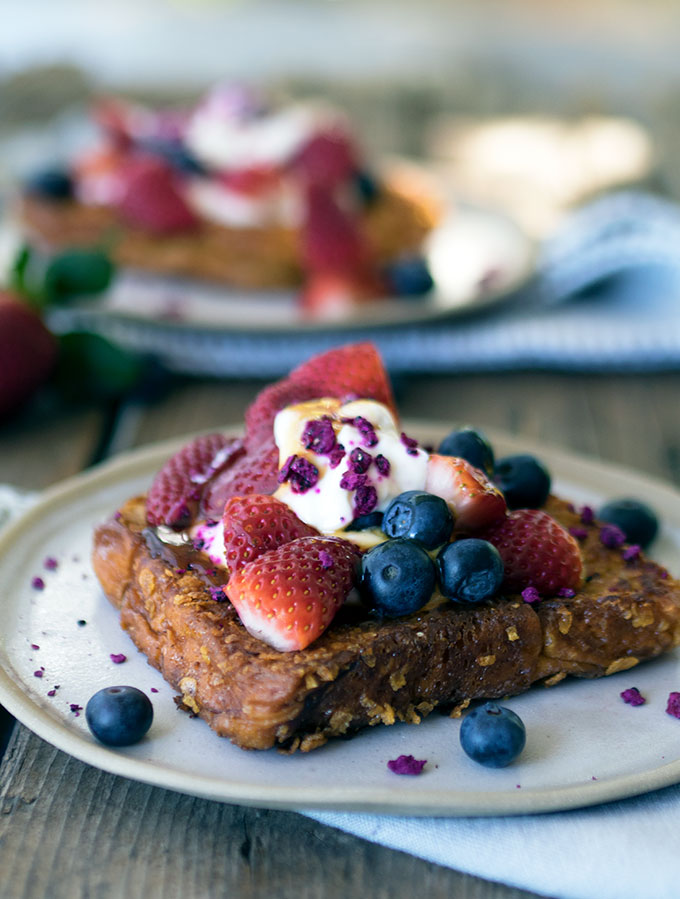 This may turn a French toast purist off at first, but it really is sensational. Thick slices of buttery brioche bread are soaked in an egg mixture flavoured with maple, cinnamon and cardamom. This is then crumbed in the crushed cornflakes and fried in a copious amount of butter. Their recipe dictated a knob. I used a big knob.
For Instagram picture perfection, the French toast is topped with fresh berries, vanilla yoghurt and maple syrup. The Three Williams add a handful of roasted pecans, I didn't have pecans and decided to pretty it up even further with some freeze dried pink pitaya granules.
The below recipe is for one serve, but I found I had enough egg mixture to soak two thick pieces of brioche. This French toast recipe has now become the firm favourite of mine to make. The addition of the cornflakes really transforms a simple dish easily. The cardamom is also a surprising and tasty addition.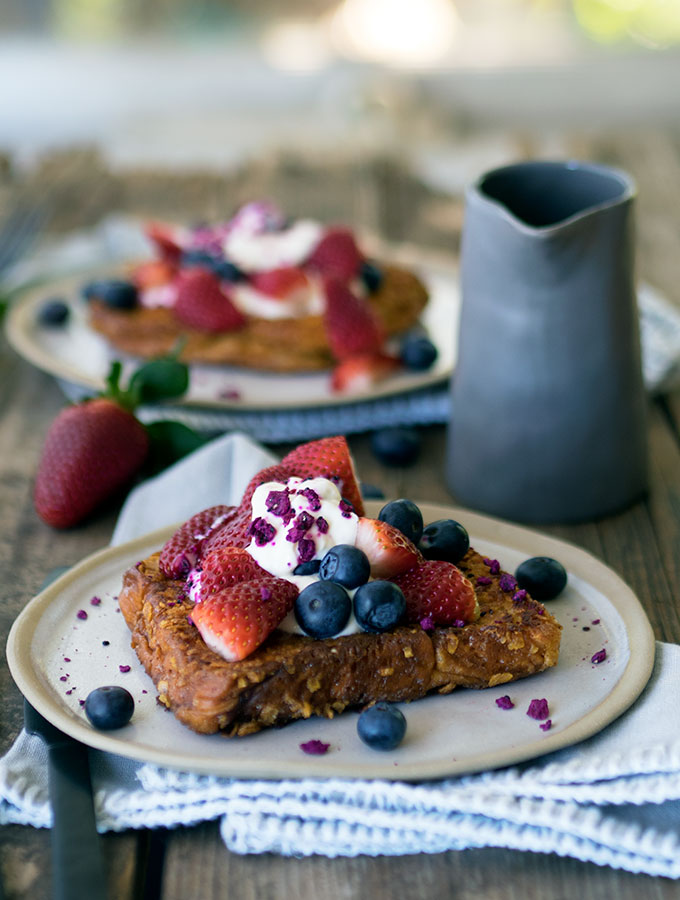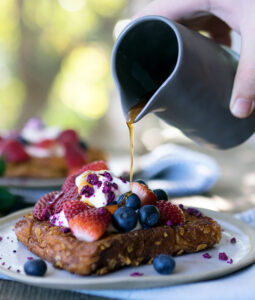 Print
French Toast
Yield 1
Three Williams French Toast Recipe for cookbook Dish to raise money for The Starlight Children's Foundation.  Has a wonderful twist, it is coated in cornflake crumbs before frying.
Ingredients
Thick slice of brioche bread
¼ cup cream
¼ cup milk
2 free range eggs
1 tablespoon maple syrup
pinch of cinnamon
pinch of cardamom
½ teaspoon vanilla extract
crushed cornflakes
knob of butter
maple syrup extra to serv
generous spoonful of vanilla bean yoghurt
3 strawberries quartered
handful of fresh blueberries
handful of roasted pecans
freeze dried pink pitaya granules (optional)
Instructions
In a shallow wide dish whisk together the eggs, before incorporating cream, milk, maple syrup, cinnamon, cardamom and vanilla.
Pop in the slice of brioche and leave to soak for a few minutes on each side. Do not squish down as you will flatten the bread.
While the brioche is soaking, pop a pan on a medium heat and add a good knob of butter, allowing to melt and begin to bubble.
Remove brioche from egg mixture and roll in crushed cornflakes before placing in the pan with the butter.
Fry each side of the French toast until golden brown and crispy.
To serve place French toast on a plate and top with a generous dollop of vanilla bean yoghurt, strawberries, blueberries and roasted pecans (or pitaya granules). Finish off with lashings of maple syrup.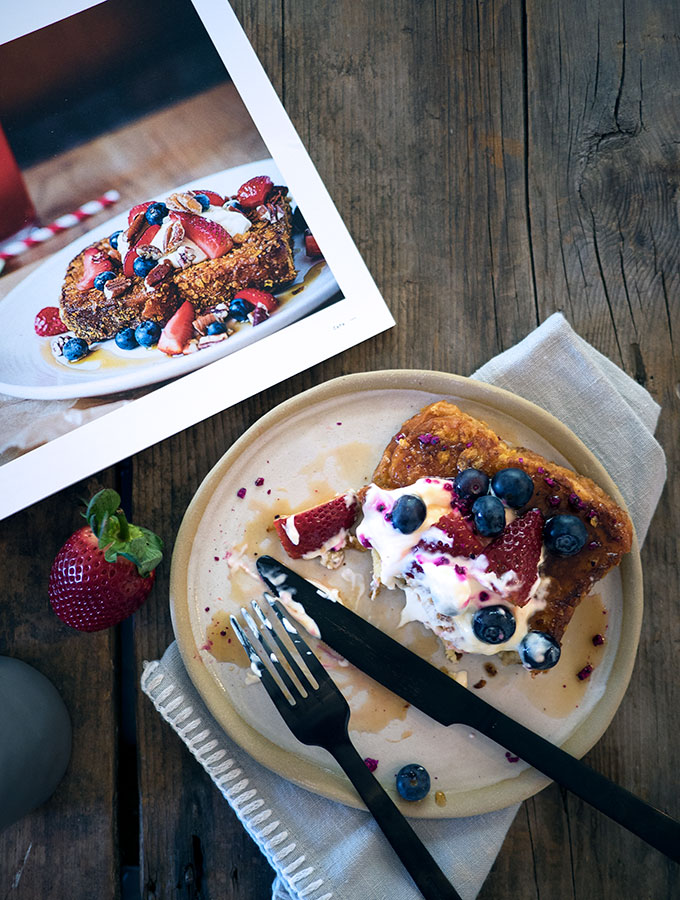 Dish is available online and in selected restaurants featured in the book for $75 RRP. The limited print run means each edition is numbered, with all proceeds to go directly to the Starlight Children's Foundation. There are an even smaller number of books autographed by a collective of the chefs for $100 RRP
Sara xxx
Become a subscriber and don't miss a single delicious recipe, restaurant review or travel adventure.