Pork, Duck and Fig Terrine is flavour packed and easy to make. You will feel so much accomplishment with little effort when making this terrine.
It's funny how recipes evolve. You start with one idea and then end up with something completely different. Well, I know I do far more times than I want. Cooking can be a little like playing sports. You push yourself to go that extra mile. With a sport that often means injuring yourself when pushing your limits. When cooking it means ending up with something on the plate (or in the bin) that you weren't expecting.Originally Josh and I had plans on making the most spectacular Game of Thrones recipe for the start of season 7. It all seemed very win win in our heads. An awesome interesting dish with some added click bait along the way.
Those grand plans didn't come to fruition. There were thoughts of making pork and duck pies, in the fashion of traditional English pork pies. Of course, they would be decorated perfectly with dragon tops. But pies have been done before and I knew there was no way I could even compete with this perfect Game of Thrones pie made by Billy from A Table for Two.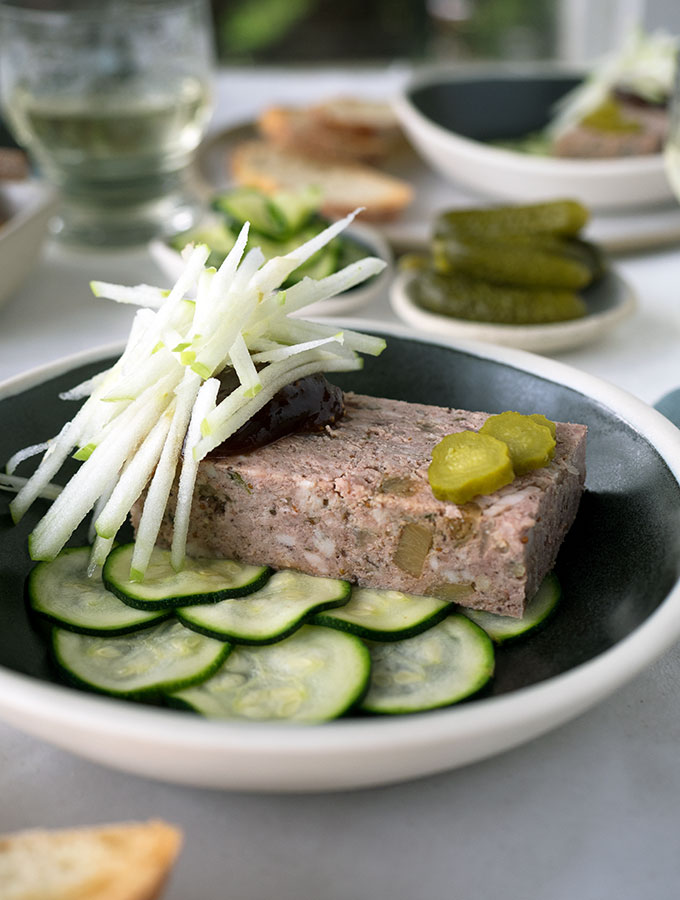 I then thought, okay why not stay clear of the predictable recipes that are flooding the internet for GoT, and come up with something sophisticated? So I did, and it was an epic bloody fail.
The vision. Oh, the vision, it was a splendorous thing. Imagine puff pastry dragon eggs. Or should I say half eggs, with the perfect scales. There were even thoughts of colouring the puff pastry to match the eggs in the series.
Diners would lift their pastry eggs with the grandeur of waiters simultaneously raising cloches in a high end restaurant circa 1980. Revealing underneath a perfectly portioned piece of terrine decorated with condiments and flowers. All this would be sitting on a bed of green to simulate the forest floor. The vision, a stunningly plated entrée for an adult GoT themed dinner.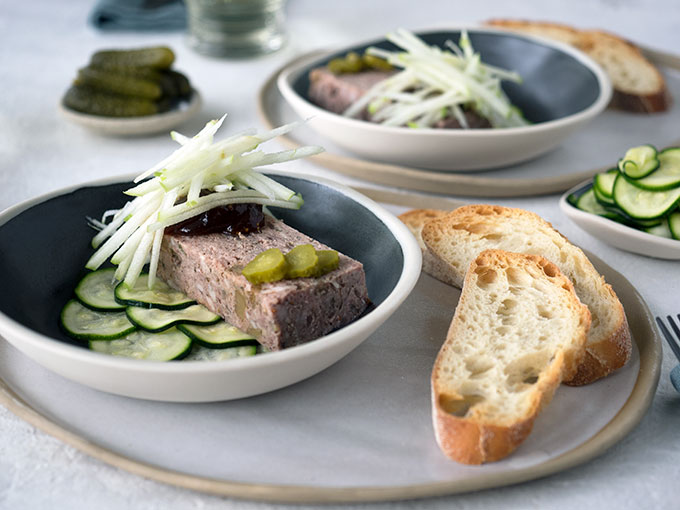 Yup, that didn't happen. It's surprising how difficult it is to bake egg shaped puff pastry domes. Which of course have been scored and marked perfectly with dragon scales until your hand feels like it is about to bloody well fall off.
The puff pastry was a fail. I threw a hissy fit in the kitchen. Walked away for the day. Came back and huffed at the delicious terrine I made. Decided that it alone was worth sharing and a GoT themed dish could go to hell.
The result, a damn tasty Pork, Duck and Fig Terrine.
I personally think terrines are a marvellous to make. They look so spectacular and tasty in speciality charcuterie shops. A mouth watering terrine really is a synch to make at home, no more complicated than making a meatloaf. Though it will take a little more time, and therefore planning.
This Pork, Duck and Fig Terrine recipe has been inspired by a couple of recipes I came across when researching. David Lebovitz's Duck Terrine with Figs from his cookbook "My Paris Kitchen" and Gourmet Traveller's recipe for Duck and Pork Terrine with Pickled Cherries.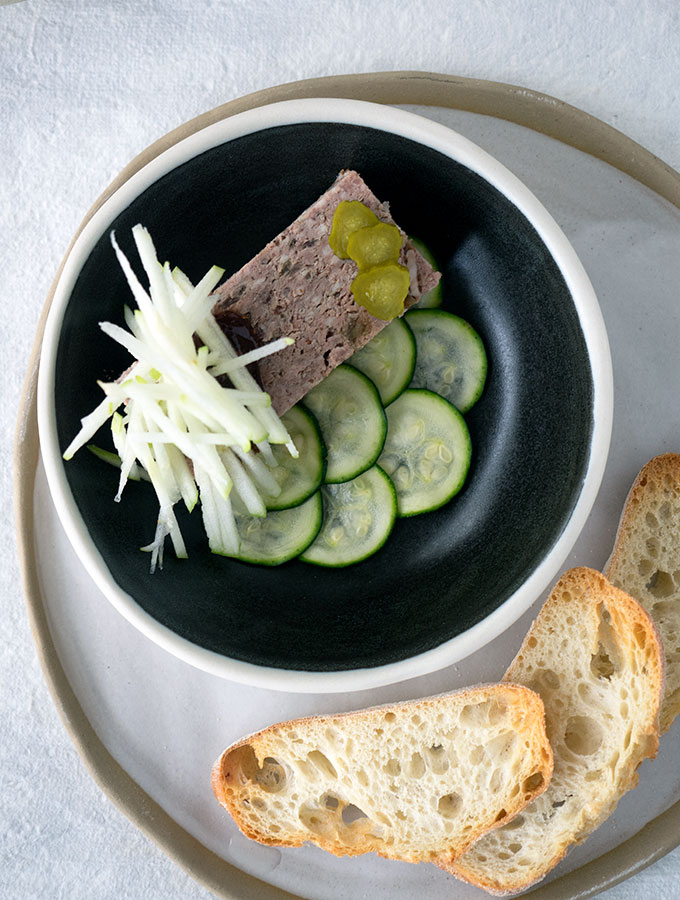 The terrine has a rich flavour and a delicate texture. Don't be put off by the use of chicken livers, they add a smooth richness, but also lighten the texture.
The figs are a lovely contrast dotted through the Pork, Duck and Fig Terrine. I used Cognac, and I suggest you do too. This may not be a complicated dish but it is a special one. If you don't' want to break into your good Cognac, use brandy, it's poorer brother.
I decided to serve the terrine with quick zucchini pickles, fresh apple, fig date & balsamic chutney and slices of cornichon. Plus toasted sourdough.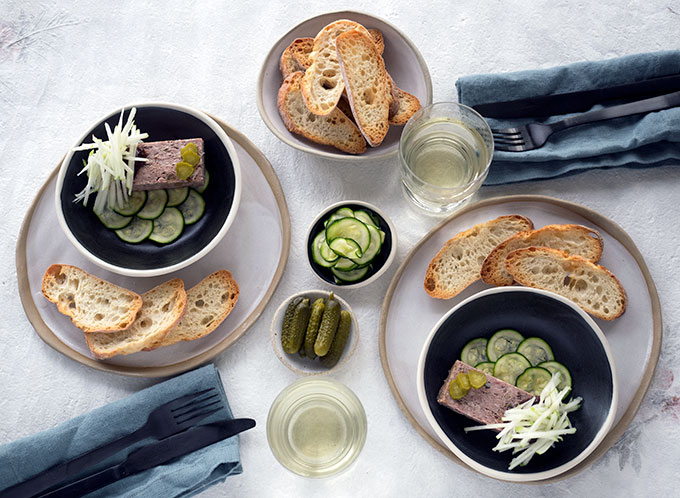 Pork belly mince is used in this recipe. You will need to visit your local butcher and ask them to mince/grind some pork belly for you. Make sure they give you the skin (this is removed before grinding) and you can use it to make my Pork Scratchings with Toffee & Pepperberry Salt.
The tin used to make the terrine was a large one 14cm (W) x 28.5cm (L) x 6cm (D) (5.5 x 11.5 x 2.5 inches). It made one massive slab of terrine. This was perfectly fine for my purposes, as I was cutting the terrine down to size for plating.
As this recipe makes a lot of terrine, you could also use two smaller baking tins. This way you will end up with two terrines. One for now and freeze one for later, even give one as a gift. Or stick with the large size and cut it in half if you aren't going to get through it all.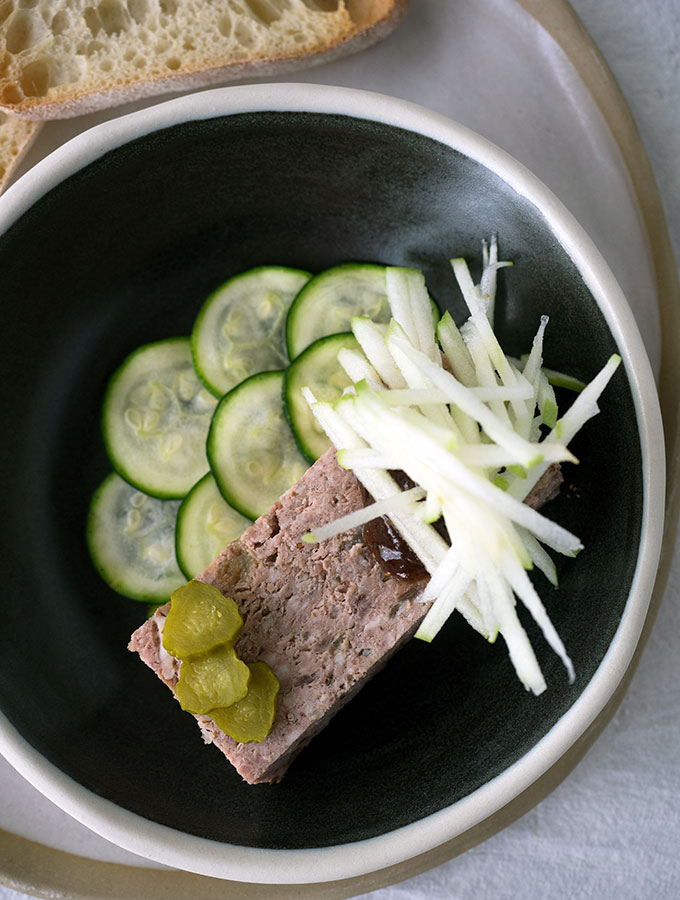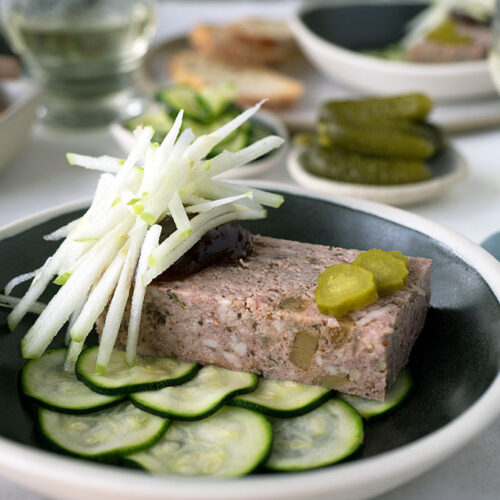 Pork, Duck and Fig Terrine
Pork, Duck & Fig Terrine Recipe. Making this terrine you will feel like a Master of Charcuterie. Packed with flavour and as easy as making a meatloaf.
Print
Pin
Rate
Cook Time:
1
hour
30
minutes
Total Time:
1
day
2
hours
Ingredients
100

grams

(¾ cup) dried figs

diced

125

ml

(½ cup) cognac

250

grams

duck breast

cubed

100

grams

bacon

un-smoked, sliced

200

grams

chicken livers

800

grams

pork belly minced

(ground)

60

grams

(2-3) shallots

diced

2

cloves

garlic

minced

1

tablespoon

thyme

fresh, chopped

1/4

teaspoon

cinnamon

1

teaspoon

allspice

1/2

teaspoon

nutmeg

salt and pepper

quick zucchini pickles

fig, date and balsamic chutney

cranberry sauce

apple batons

cornichon

sourdough

sliced and toasted
Instructions
Preheat oven 180°C (350°F) and line baking a 14cm (W) x 28.5cm (L) x 6cm (D) (5.5 x 11.5 x 2.5 inches) loaf tin with baking paper.

Place figs and Cognac in a small saucepan and bring to a slow simmer. Remove from the heat and leave to cool.

Place chicken liver in a food processor or bullet blender and puree and place in a large bowl.

Place duck meat and bacon in a food processor (or do batches in a bullet blender), and blitz until the majority of the mixture is a smooth paste, but you still want to have textural chunks in it. Place in the bowl with the chicken livers.

Then add pork belly, shallots, garlic, thyme, cinnamon, allspice, nutmeg, reserved figs and any liquid, and a pinch of salt and pepper to the bowl.

Mix all ingredients until thoroughly combined. I put on some disposable plastic gloves and use my hands, you will get a better result.

Put terrine mixture in your prepared loaf tin, pressing it down well.

Cover with a piece of baking paper, and a double layer of aluminium foil on top of that, sealing the sides well.

Put terrine in a large baking dish and add enough water to go half way up the sides of the tin.

Place in the oven and bake for 1 ½ hours or until the internal temperature of the terrine reaches 160°C (71°F).

Once cooked remove terrine from the oven and large baking dish.


Place terrine on a heatproof board to cool.

Once cool place a heavy weight on top of the terrine, a brick or large cans work well. Place in the fridge over night or preferably 24-48 hours to allow the flavours to develop.

Serve terrine with quick zucchini pickles, apple batons, fig, date and balsamic chutney, cornichon and toasted sourdough.
DID YOU MAKE THIS RECIPE?
I love knowing when readers make my recipes, tag me on Insgragram @bellyrumbles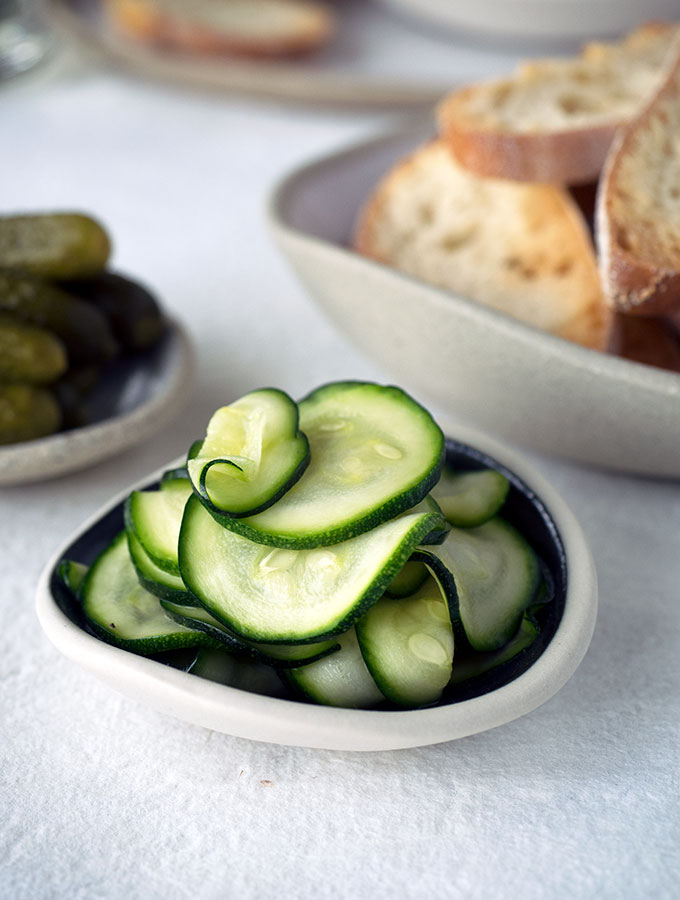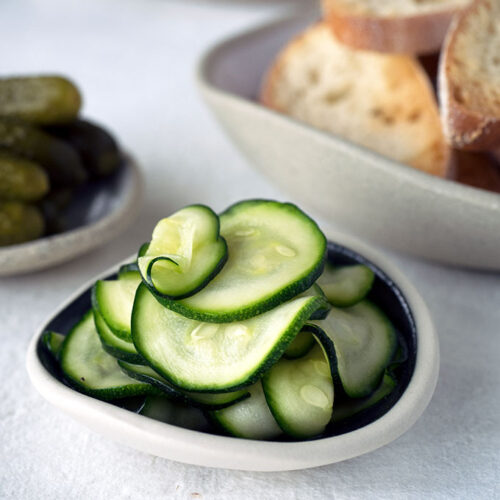 Quick Zucchini Pickles
Super quick zucchini pickles which are perfect for sandwiches or salads
Print
Pin
Rate
Ingredients
1

zucchini

thinly sliced

3/4

tablespoon

salt

1

tablespoon

sugar
Instructions
Place zucchini, salt and sugar in a glass bowl and mix well. Leave for 10 minutes.

Remove zucchini from the bowl, rinse well and dry.

Serve with Pork, Duck and Fig Terrine.
DID YOU MAKE THIS RECIPE?
I love knowing when readers make my recipes, tag me on Insgragram @bellyrumbles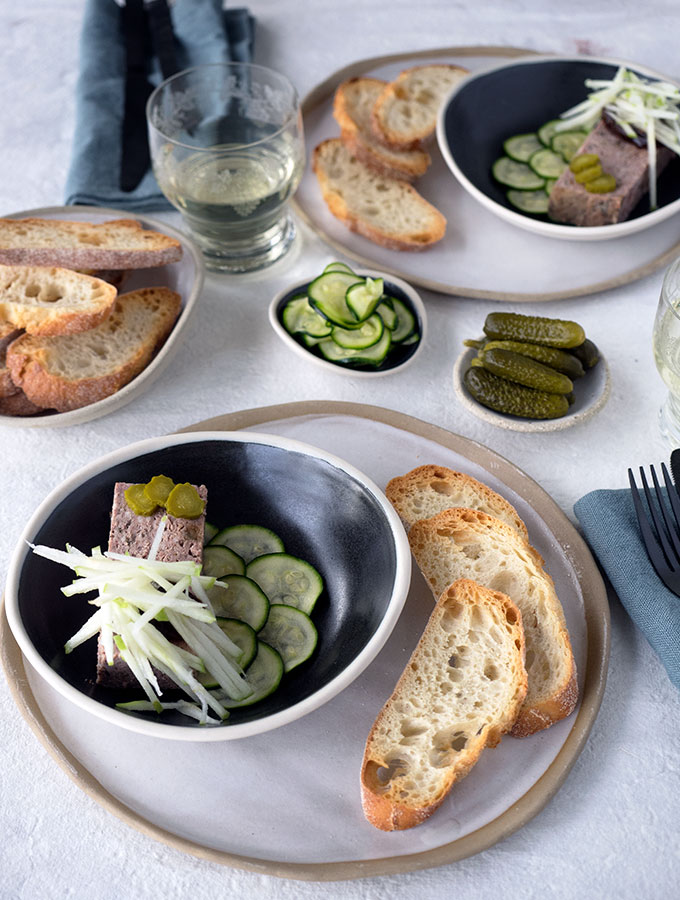 This Pork, Duck and Fig Terrine isn't the first terrine to appear on Belly Rumbles. A few years ago I shared my easy Pork & Veal Terrine. A beautiful terrine studded with pistachios and wrapped in bacon. The recipe was a huge success with readers, and I do hope that this one will be just as well received.
Sara xxx
Become a subscriber and don't miss a single delicious recipe, restaurant review or travel adventure.