Bale Dutung Restaurant in Pampanga, the Philippines. A nose to tail Lechon dining experience from celebrity Chef Claude Tayag.
Gated communities are common in the Philippines, but this was my first experience of dining in a gated community. As our bus drives past suburban homes, it feels strange that there would be a dining establishment amongst it all. But there is, and it is a complete contrast its surroundings.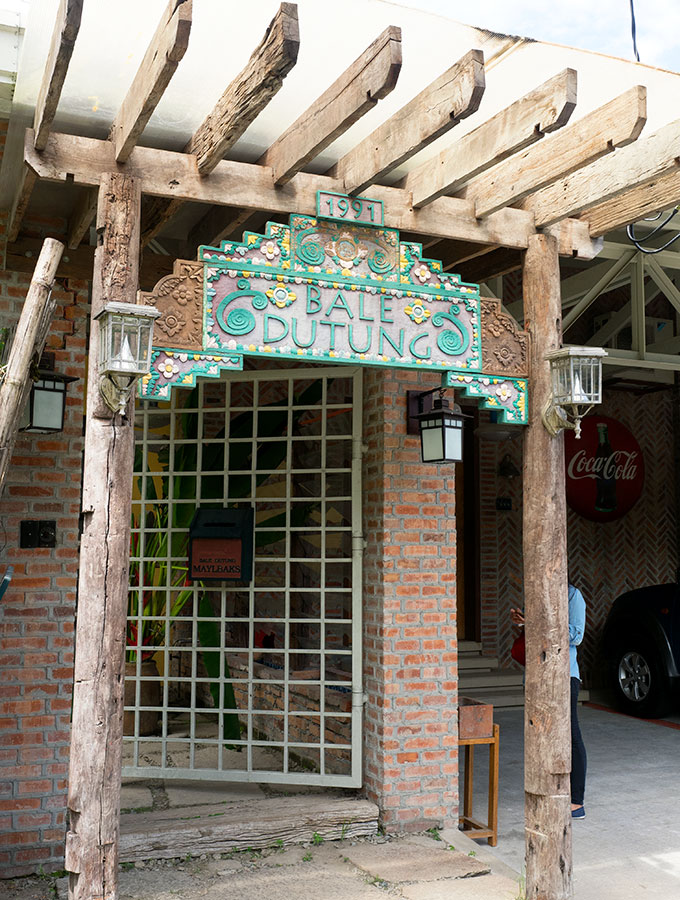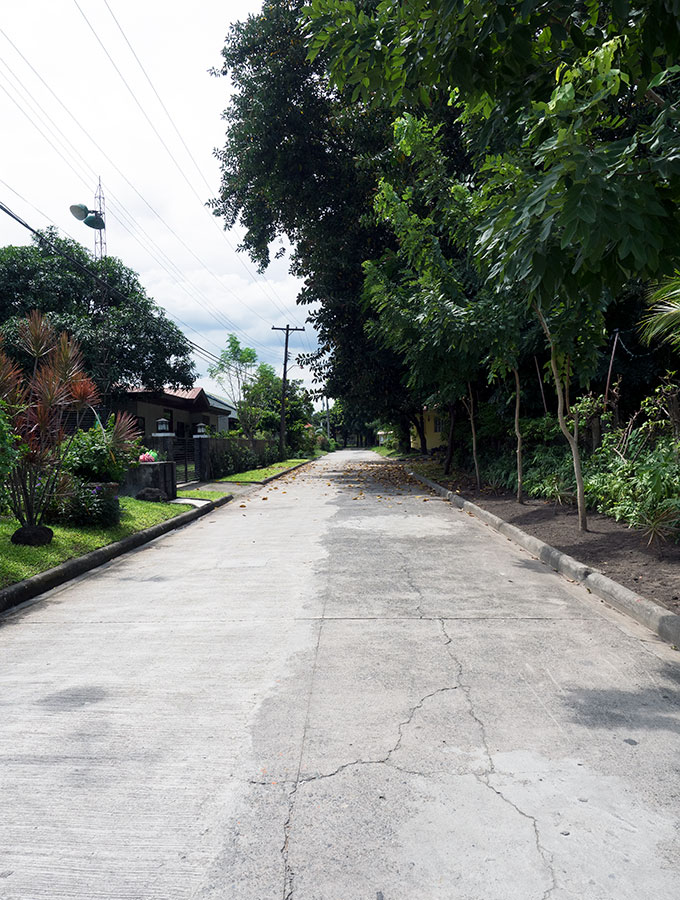 Once you walk in the front gate of Bale Dutung you are transported somewhere else. The restaurant is a two story wooden building with wide balcony and verandas. No walls, which allow the tropical breezes to flow through the restaurant. An al fresco dining experience.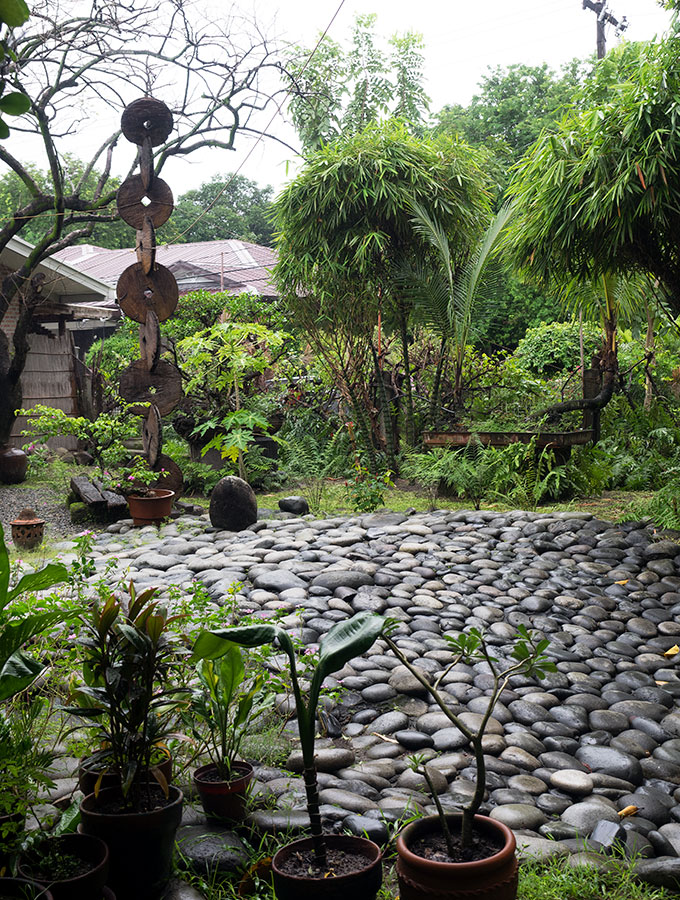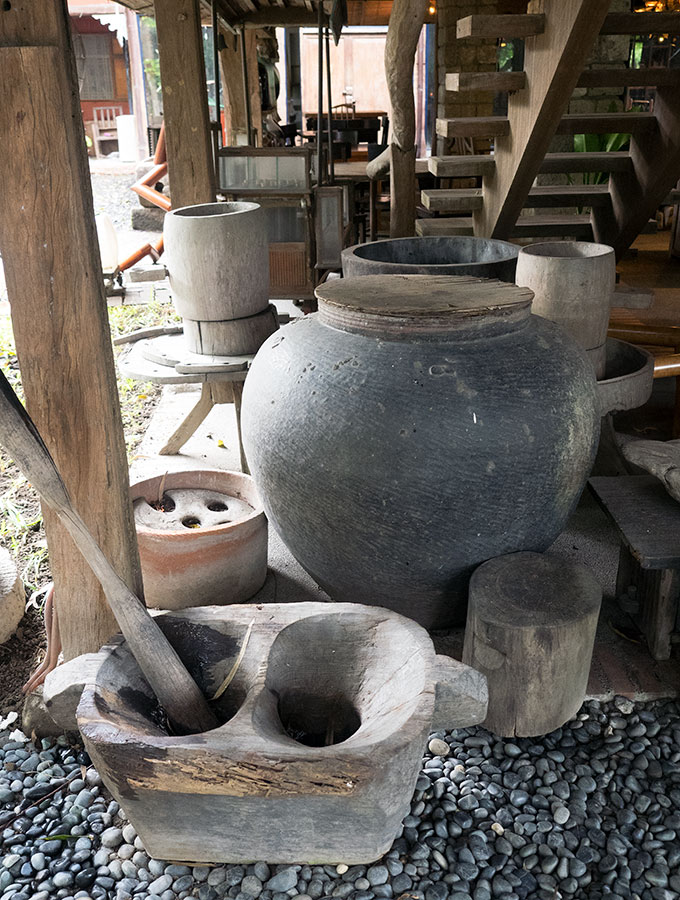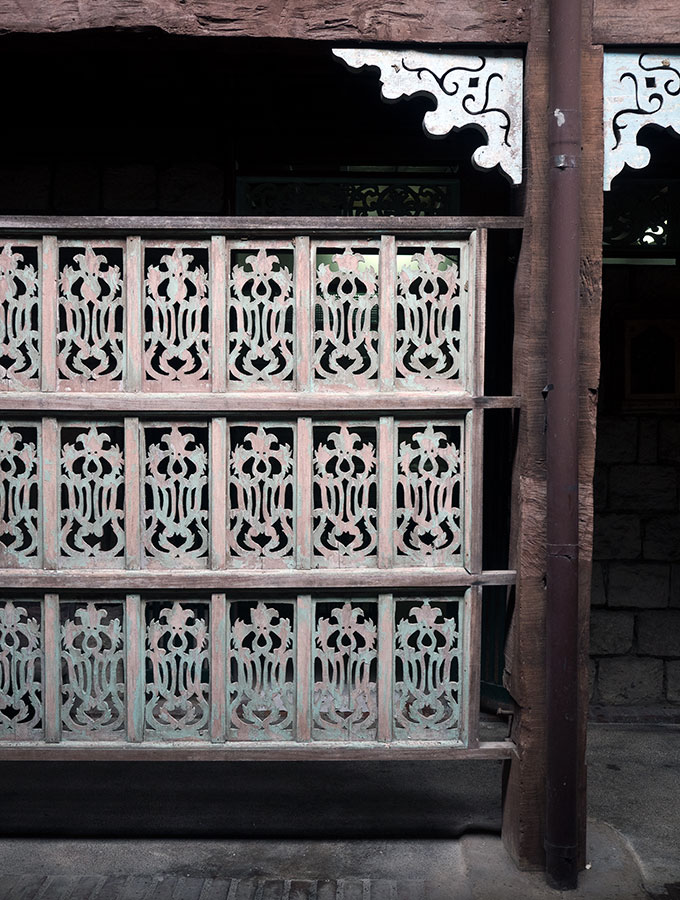 The building is a 1900's open silong, packed to the rafters with all sorts of antique cooking utensils, kitchen equipment with the odd farming relic thrown in for good measure.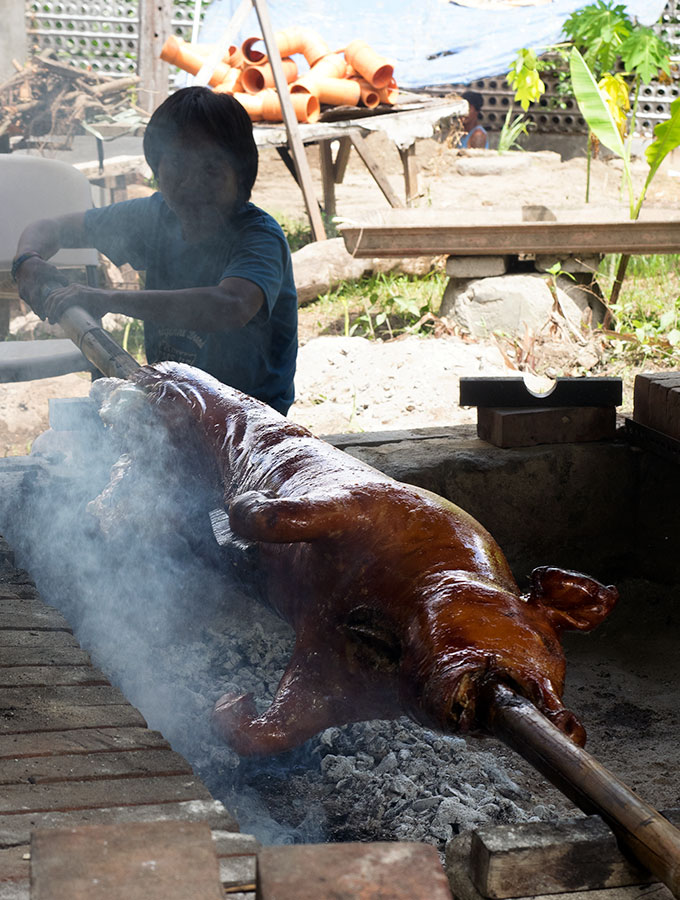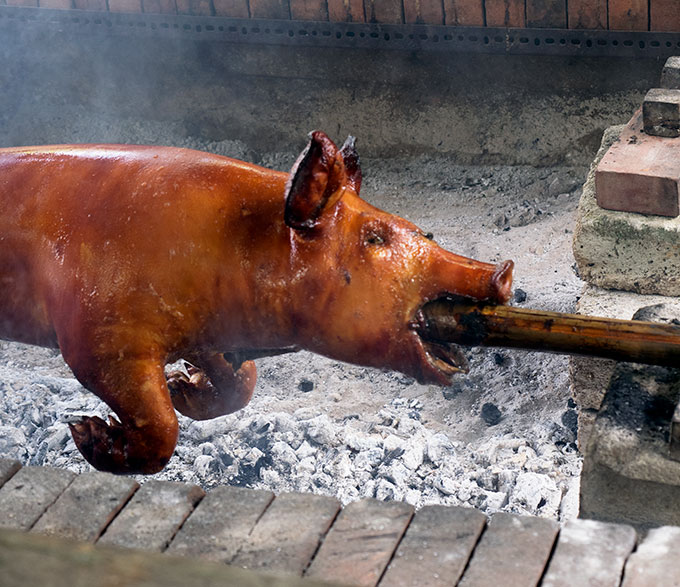 The first thing that hits you when you arrive Bale Dutung isn't the silong, it's the sweet smell of pork being cooked over charcoal. And after a few hours in a bus from Manila, I tell can you, there is no sweeter smell.
The pork I am referring to is lechon, the national dish of the Philippines. A whole pig cooked over charcoal for several hours, in this case, hand turned in a rotisserie action. The lengthy cooking and basting results in shatteringly crisp skin and juicy tender pork.
Planning a trip to Manila? Why not eat your way around the oldest China town in the world like we did.
It's fitting that Bale Dutung is situated in Angeles City, Pampanga. Pampanga is known as the culinary capital of the Philippines. We are here to experience Chef Claude Tayag's lechon nose to tail dining experience. Where he showcases lechon in six ways as part of 10 course degustation.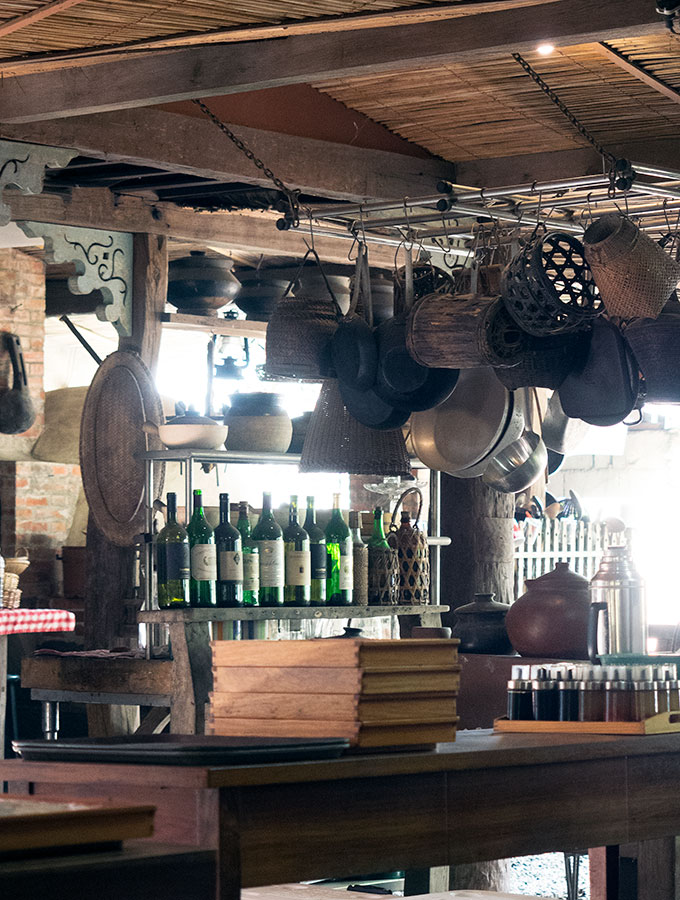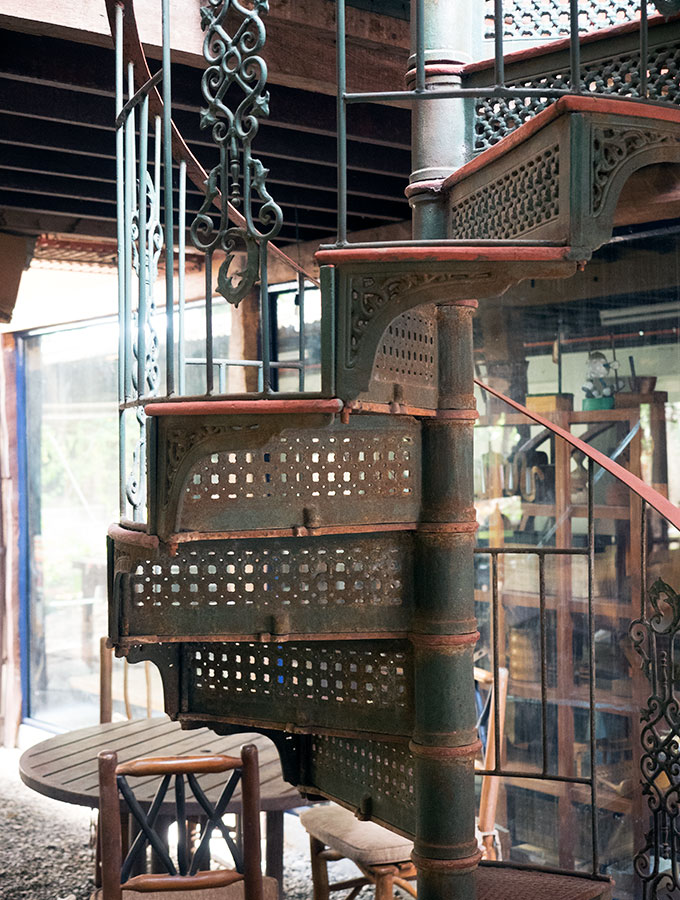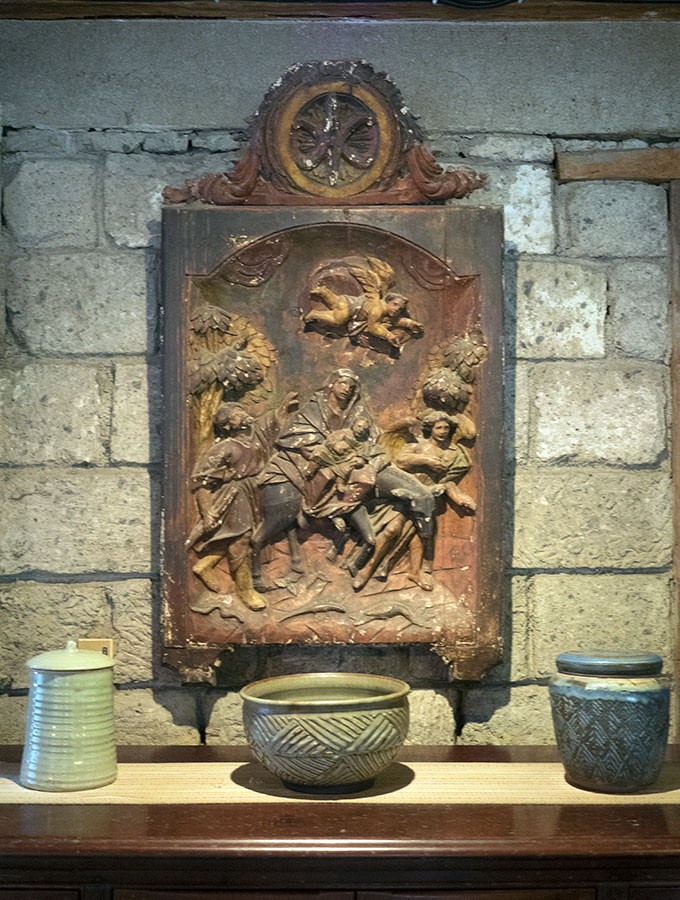 Chef Claude Tayag isn't just a chef. Number nine in a family of 12 children he is also an accomplished painter, sculptor, furniture designer, food historian and author of two Filipino cuisine books. The foundation for his love of food was watching his mother not only prepare meals for himself and his siblings, but also numerous cousins and friends. His passion for the cuisine of Pampanga and the Philippines is obvious when he gives us a 20 minute synopsis.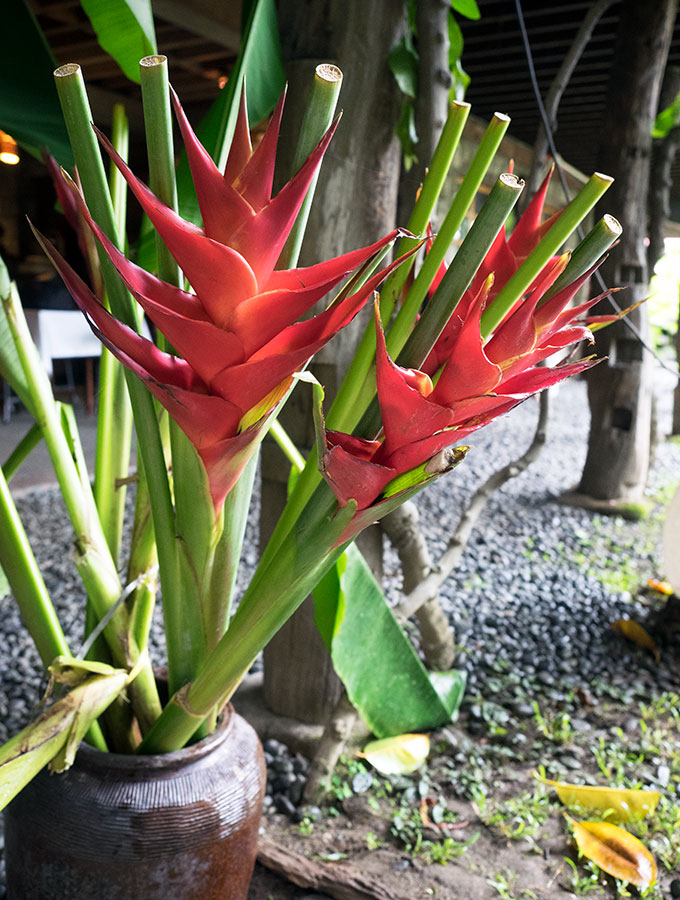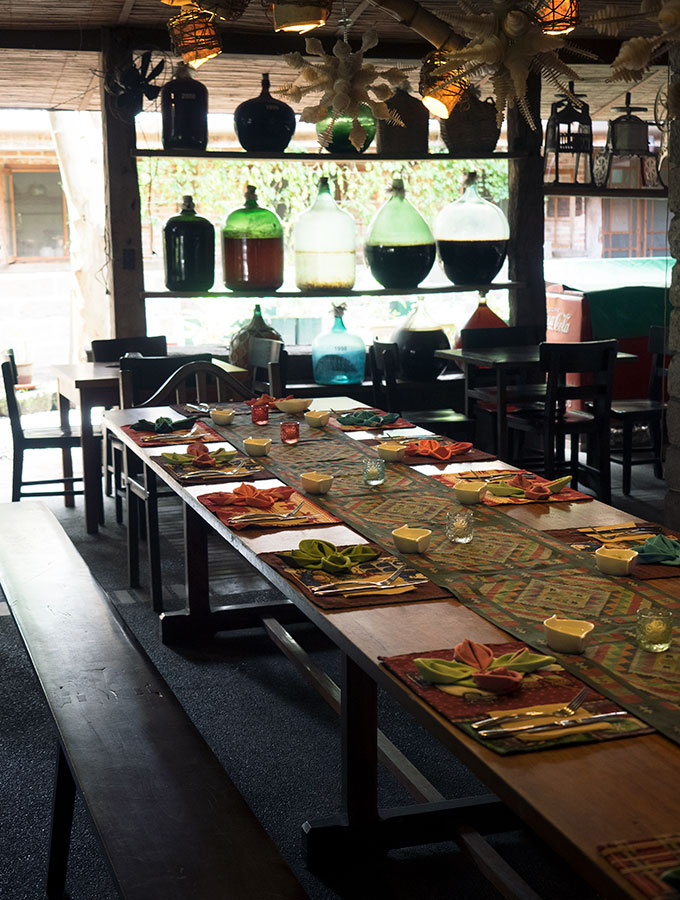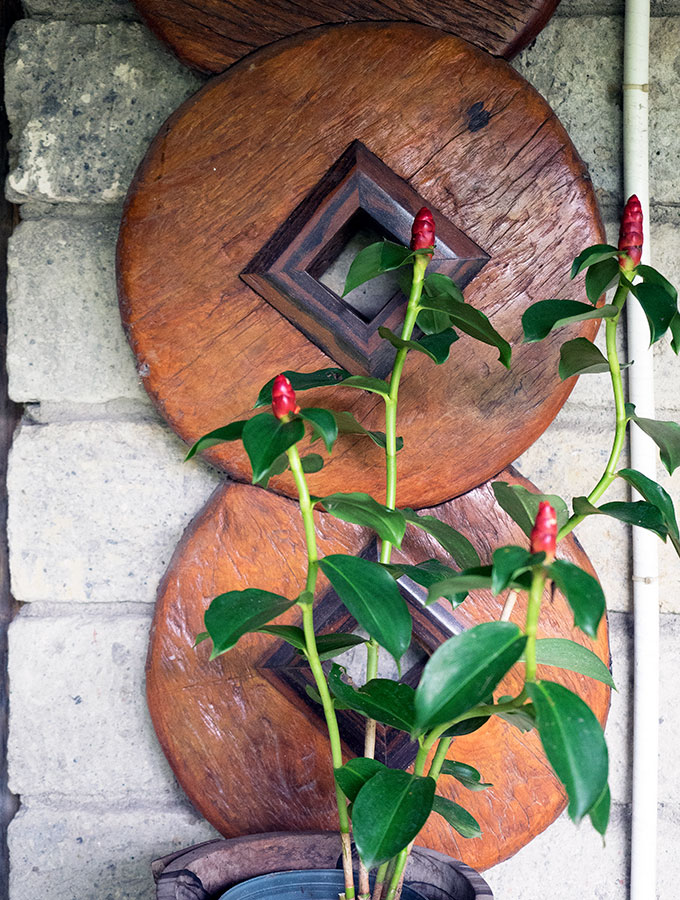 Bale Dutung became known outside of the Philippines with Anthony Bourdain paid Claude and his wife, Mary. In 2008 they featured in the Philippines episode of Bourdain's series No Reservations.
Lunch at Bale Dutung is not a hurried affair. In fact, we were there for a few hours. With the Filipino humidity it probably isn't a healthy idea to try and rush 10 courses in any case.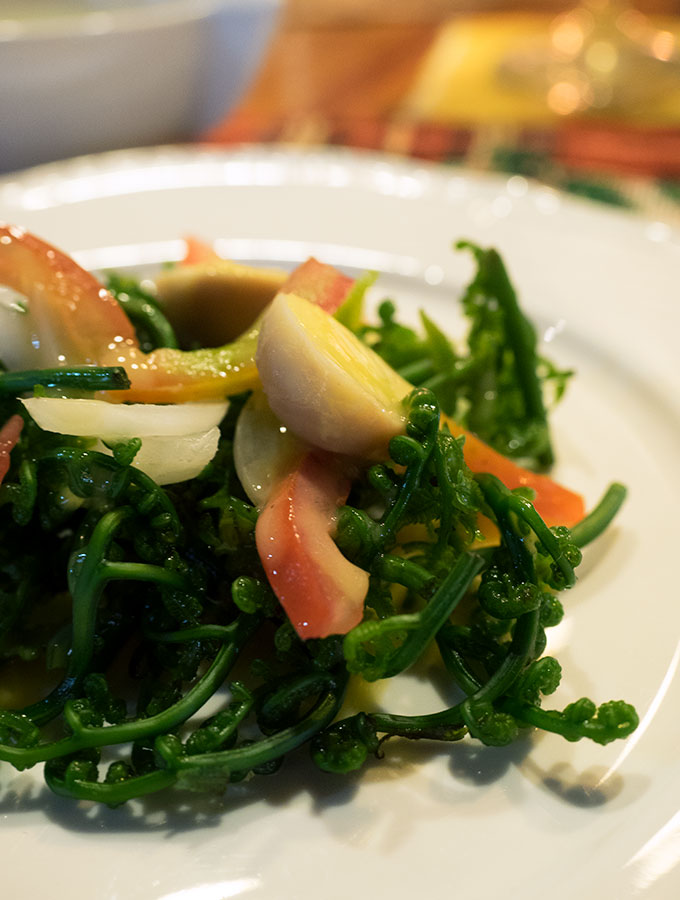 Ensaladang Pako
We start with a dish I remember from watching No Reservations. It is the exact same dish that Claude prepared for Anthony Bourdain, Ensaladang Pako. A salad made from fiddlehead fern (grown out the back) with tomatoes, onions and pickled quail eggs. It's drizzled with sweet tangy mango and dalandan vinaigrette. The onion is mellow and sweet and the fiddle head fern reminds me of sea succulents. A refreshing way to start a multi course meal.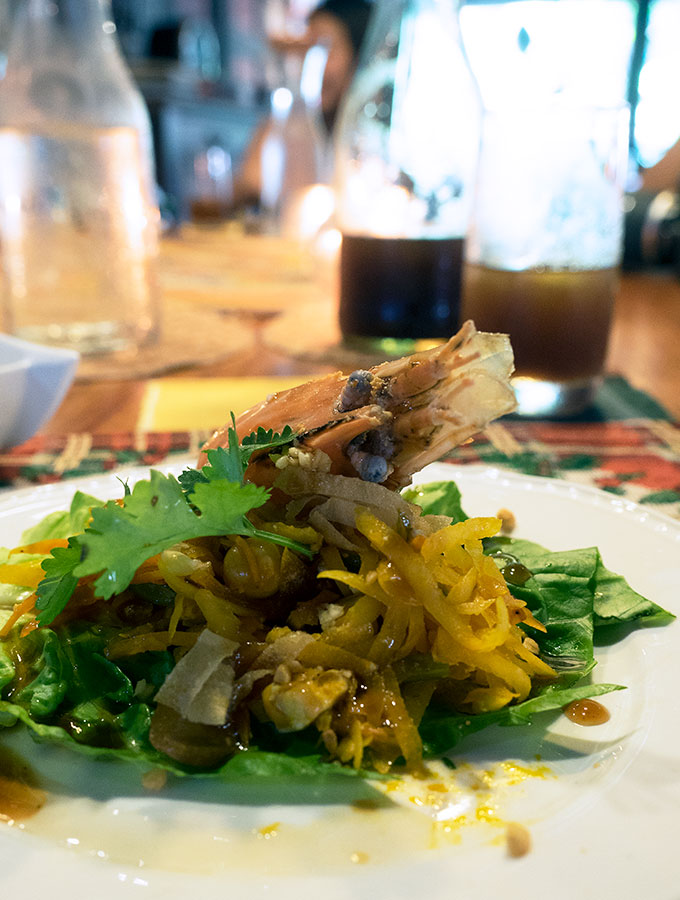 Lumpiang Hubad
A big fat prawn (or shrimp) served with fresh green papaya strips sautéed in achuette oil. A modern take on traditional lumpia?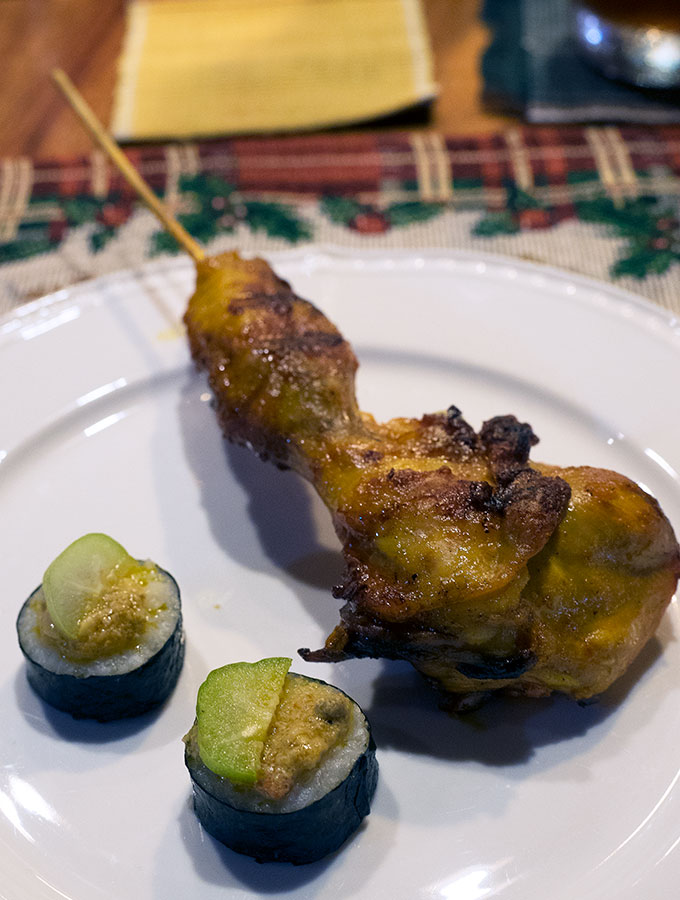 Inasai na Manok at talangka sushi
BBQ chicken wing that has been marinated with spices and lemongrass. A very fusion dish as it is served with crab fat (taba ng talangka) on top of sushi with a wedge of Kamias (bilimbi fruit). A mix of Pampanga, Japan, sour and salty, it's interesting.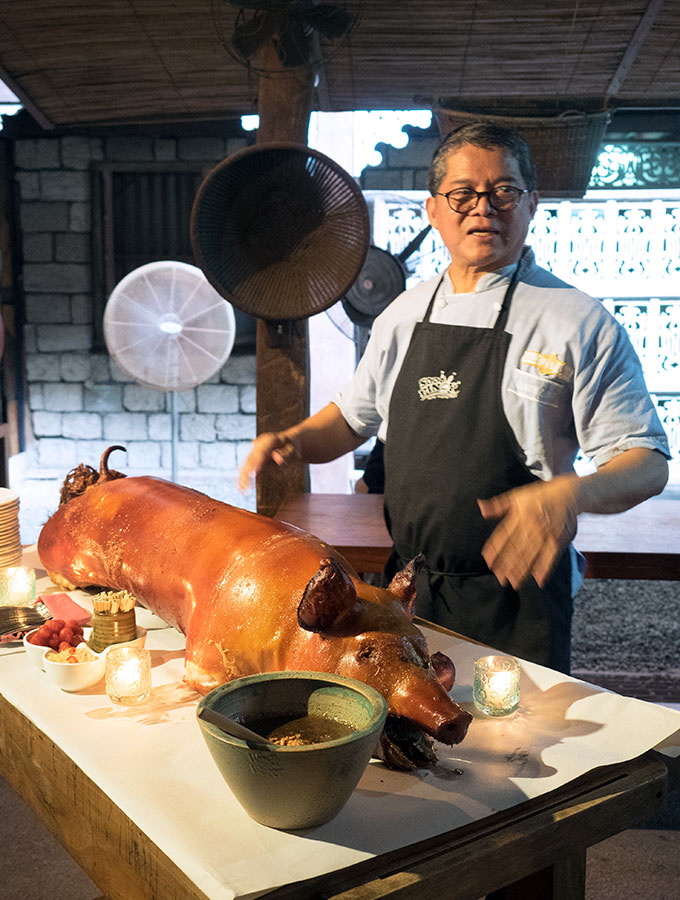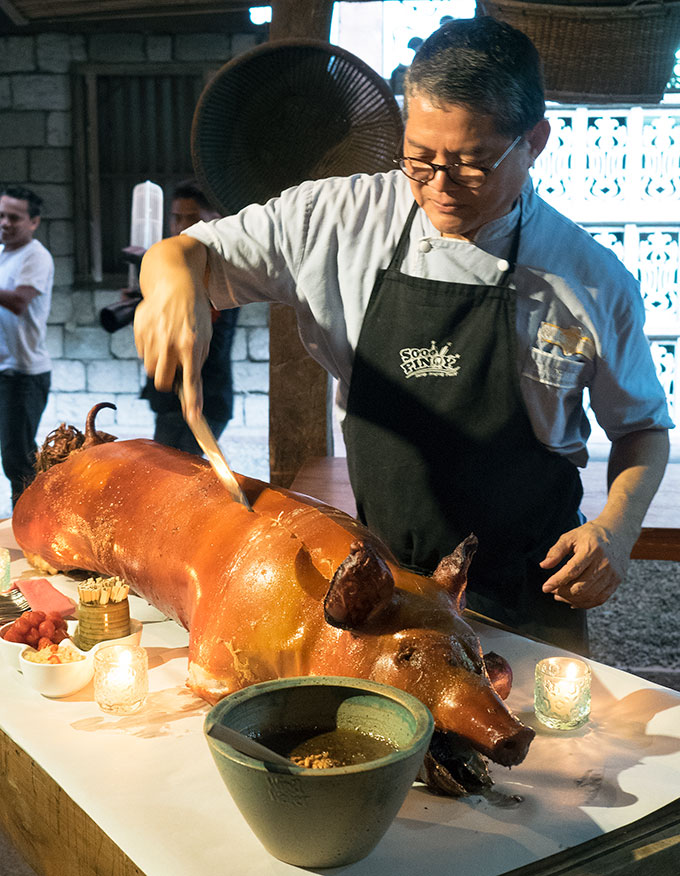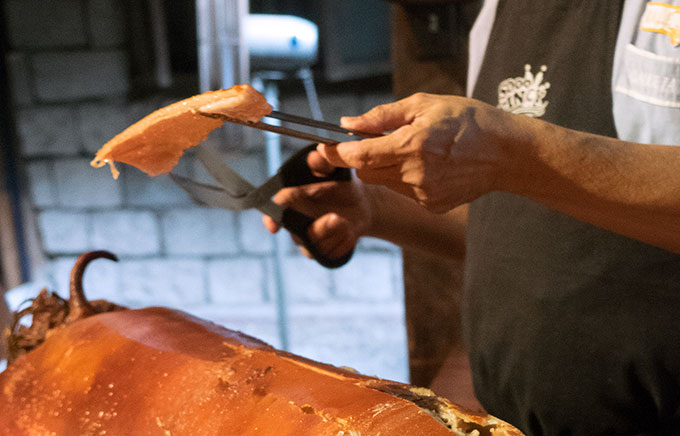 Baiat ng lLechon at sarsa
The first of the lechon dishes, crispy roast pork skin and homemade liver sauce. The sarsa sauce (liver sauce) is sweet and savoury, and don't be put off by what it is called as it is really tasty. The lechon is Luzon style, keeping the flavours true and simple. The pig is simply rubbed with salt and pepper for roasting.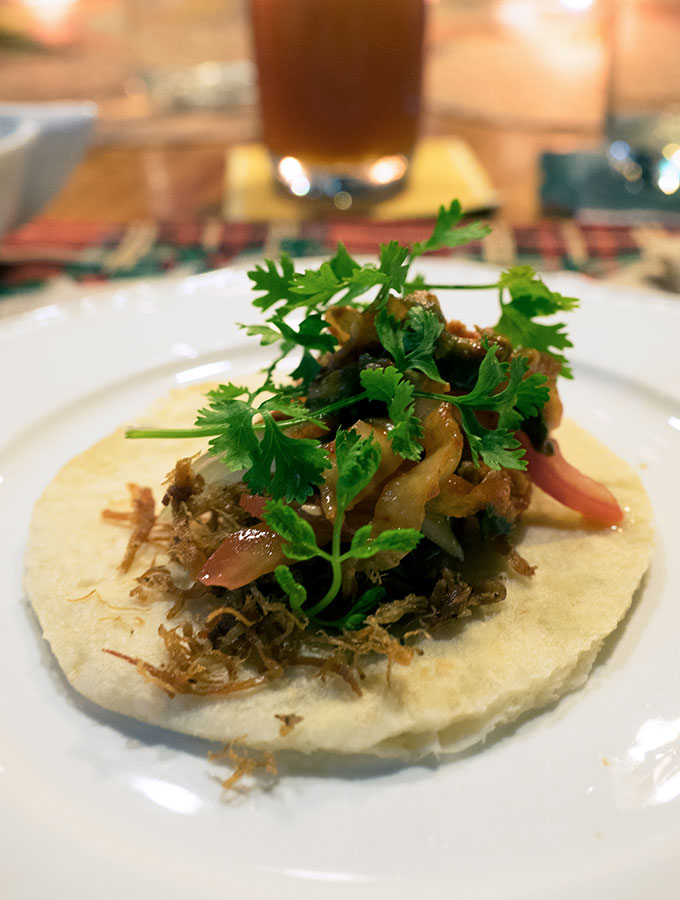 Lechon tortilla
Crisp Lechon belly flakes, which remind me of Chinese pork floss, are served on a soft tortilla. This is topped with a tangy aromatic green chilli sauce.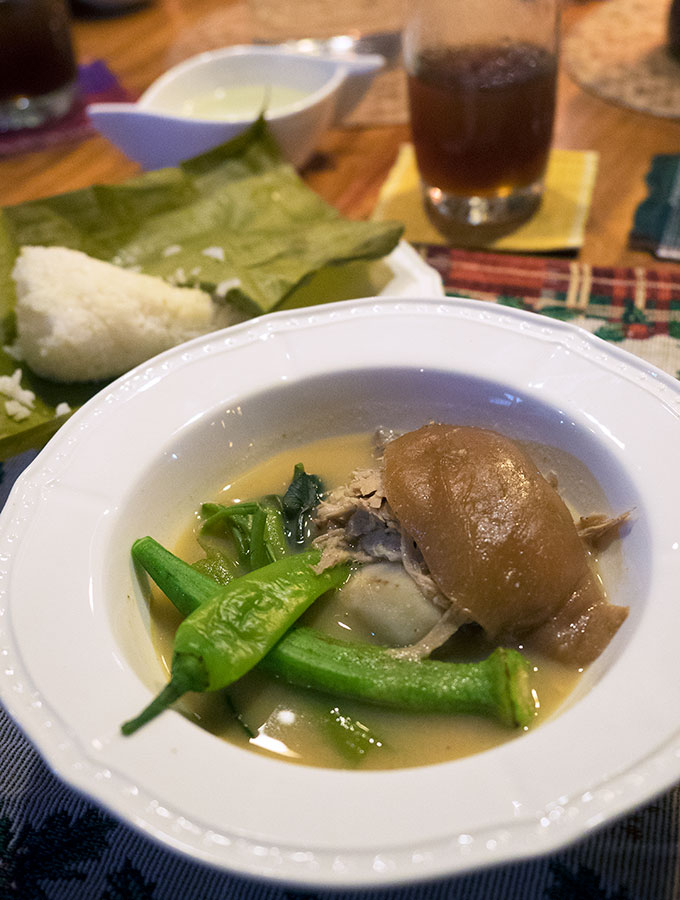 Sinigang na lechon
A soup course of lechon meat and trotters in a kalamansi lemongrass broth, rich pork flavours mixed with sour.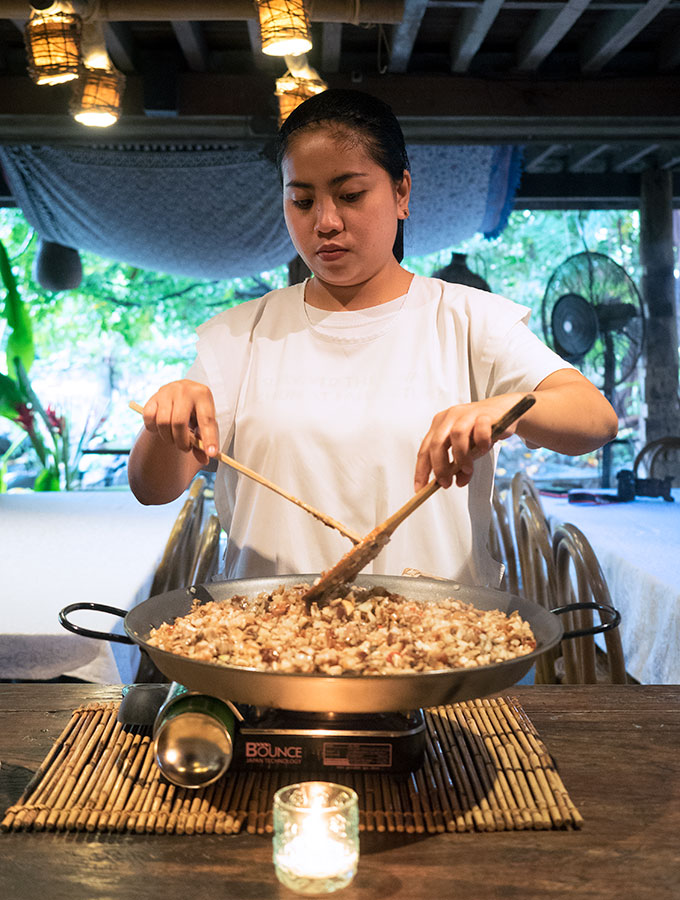 Sisig ulo ng lechon
Sisig is a very popular Filipino dish made with pig cheeks and brains. Then it is given a sort of "stir-fry" treatment. Look it's not my thing taste wise, I can't go all gaga over it, but it is definitely worth a try to say you have.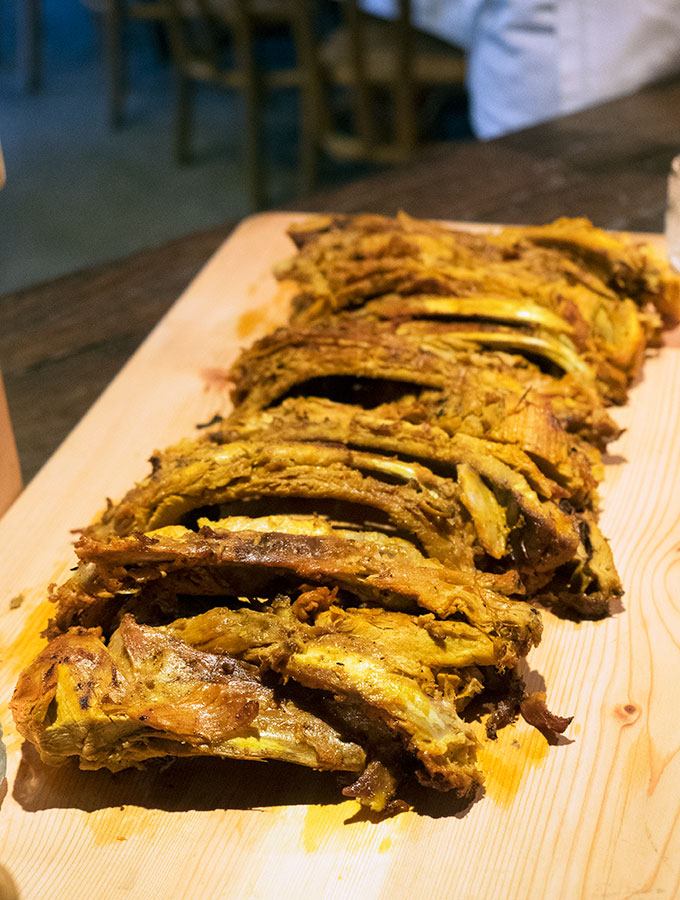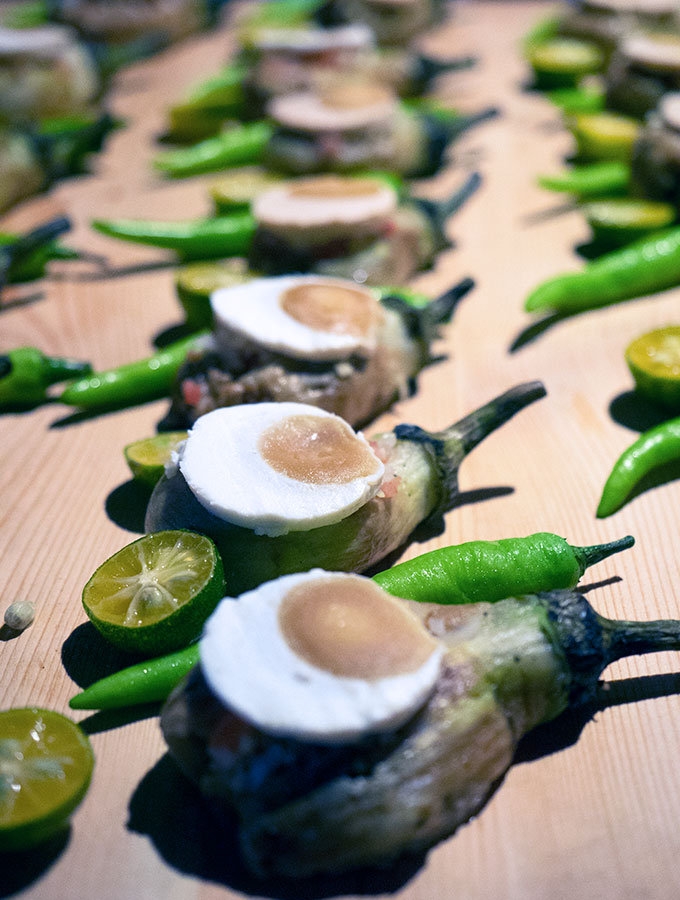 Inihaw na tadyang na lechon
Nothing goes to waste, this is true nose to tail. The pork ribs are grilled and served with an eggplant salad topped with binagoon tenga ng baboy.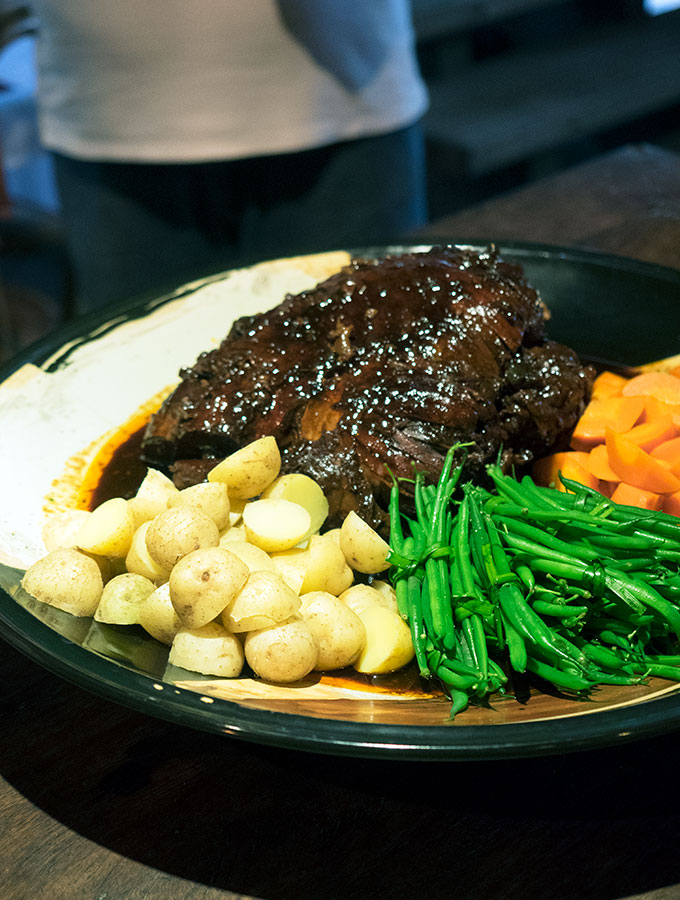 Asadong lechon
Pure glossy goodness, pork leg that has been roasted in a sweet tomato sauce. This is then served with new potatoes, carrots and French beans.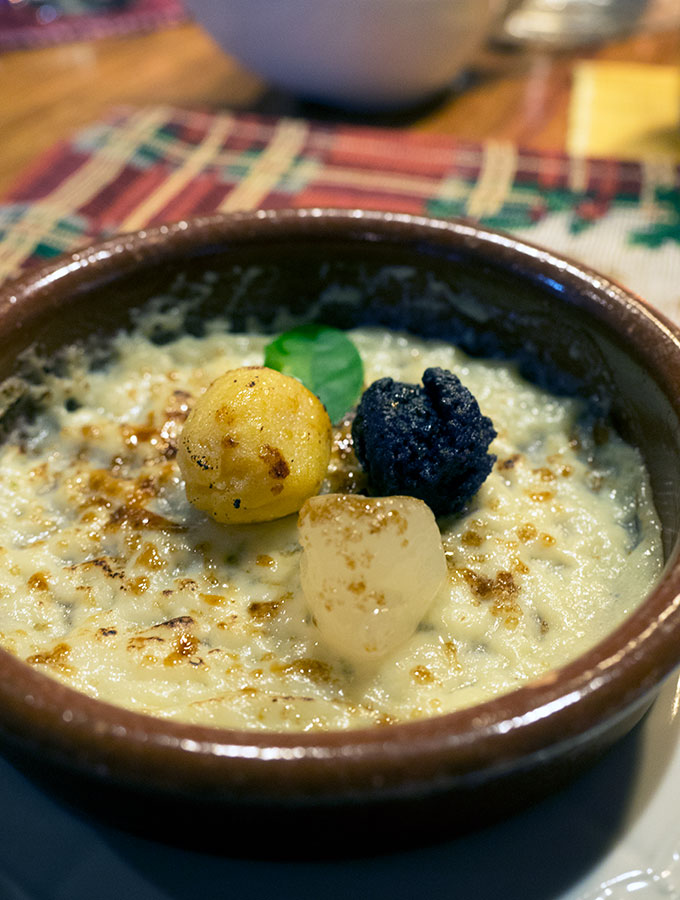 Paradiso
Dessert time using carabao milk, which is the buffalo milk the area is known for. A pastillas de leche made with the buffalo milk, which is then topped with balls of egg yolk custard, coconut and ube (purple yam). By this time I am incredibly full and only manage to eat half, but it is the perfect way to finish the meal.
To say we were full by the end of this 10 course feast would be an understatement. I waddled all the way back to the bus and happily fell in to a food coma for the return trip to Manila.
If you would like to pay Bale Dutung a visit and experience Claude's cooking for yourself you will need to make a reservation. By rule of thumb that reservation will need to be for a group of 12. If you happen to be a party of less don't panic, get in touch with them. They are open certain days to the general public (you still need to book) and I believe if they are already open hosting a group, you are more than welcome to make a booking for the same day.
Sara xxx
Belly Rumbles dined at Bale Dutung with much thanks to the Philippines Tourism Board and TBEX Asia 2016.
Must try dish: Put yourself in Claude's hands, but lechon all the way
Who should dine here: Groups or anyone wanting to experience Pampanga hospitality and cuisine
Who shouldn't dine here: Those that can't eat pork
What else you should know: Go with an empty stomach and open mind
Price: Lechon Six Ways (Head to Tail Degustation of a Roast Pig), 10 Course, minimum 12 Adults P1,850++
BYO: No
Bookings: A must! [email protected]
Opening hours: By reservation
Contact details: Villa Gloria Subdivision, Angeles City, Pampanga, The Philippines +63 91 6390 0779
Stuck at home? Why not make two of my favourite Filipino treats Lumpia and Empanada.