Wild scampi caviar, gorgeous sapphires of the ocean. I probably wouldn't go asking for wild scampi caviar as "sapphires of the ocean" as nobody will know what on earth you are talking about. But how else would you describe these little glistening bubbles of various shades of blue? Reflecting light just like sapphires, with the same incredible depth of colour.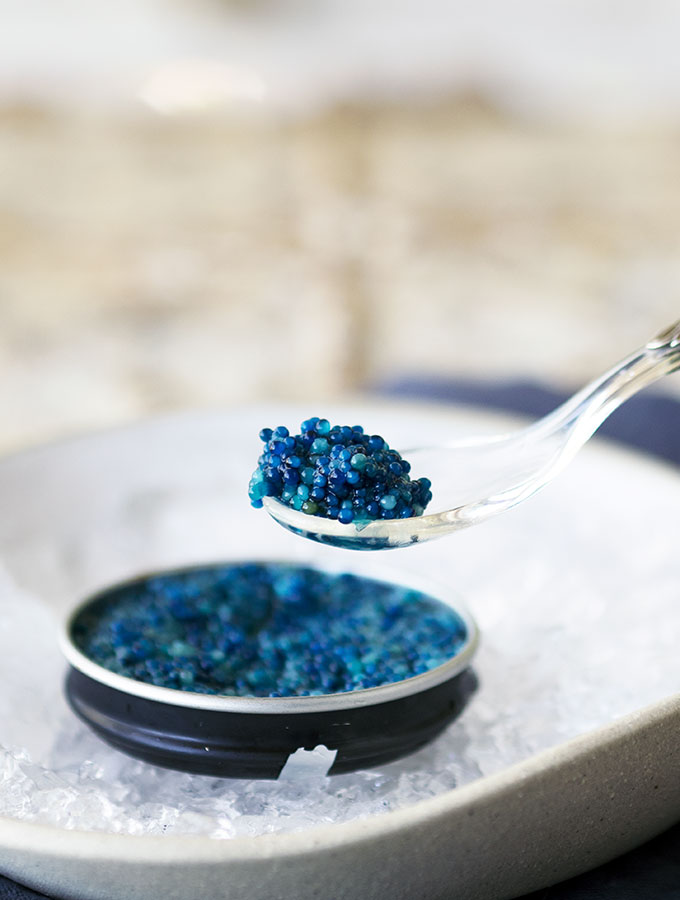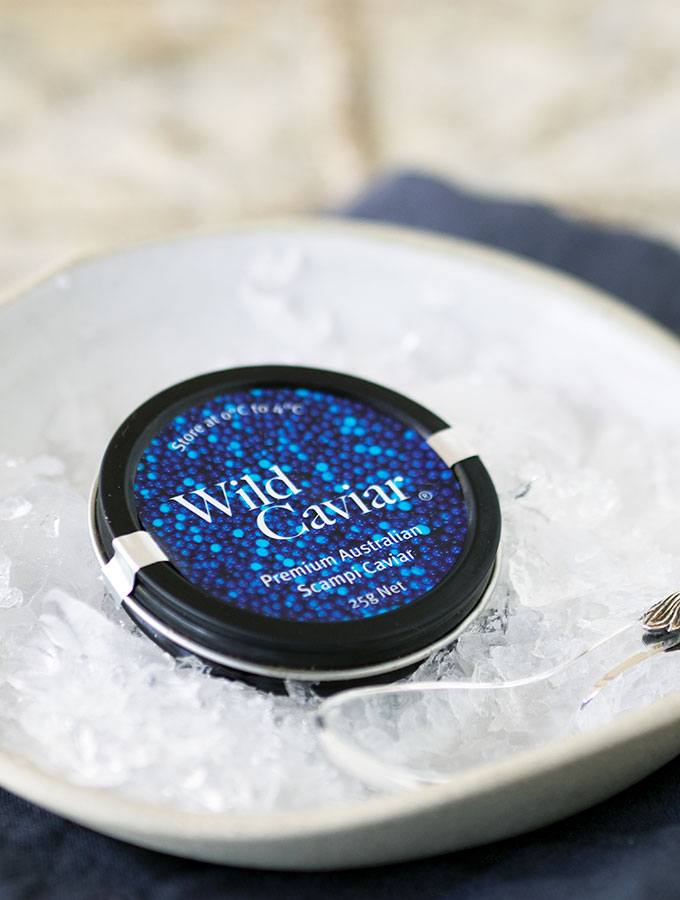 The moment I saw a dollop of blue scampi caviar staring back at me from the pages of Gourmet Traveller, I knew I had to get my hands on some. Those blue baubles of salty goodness were calling me like a bowerbird.
What is Wild Scampi Caviar?
As the name suggests it is Scampi roe. Scampi always remind me of prawns (shrimp) with attitude. They are a crustacean from the Nephropidae family, and look very similar to a prawn that has been crossed with a crayfish. Think of a prawn with teeny pincers.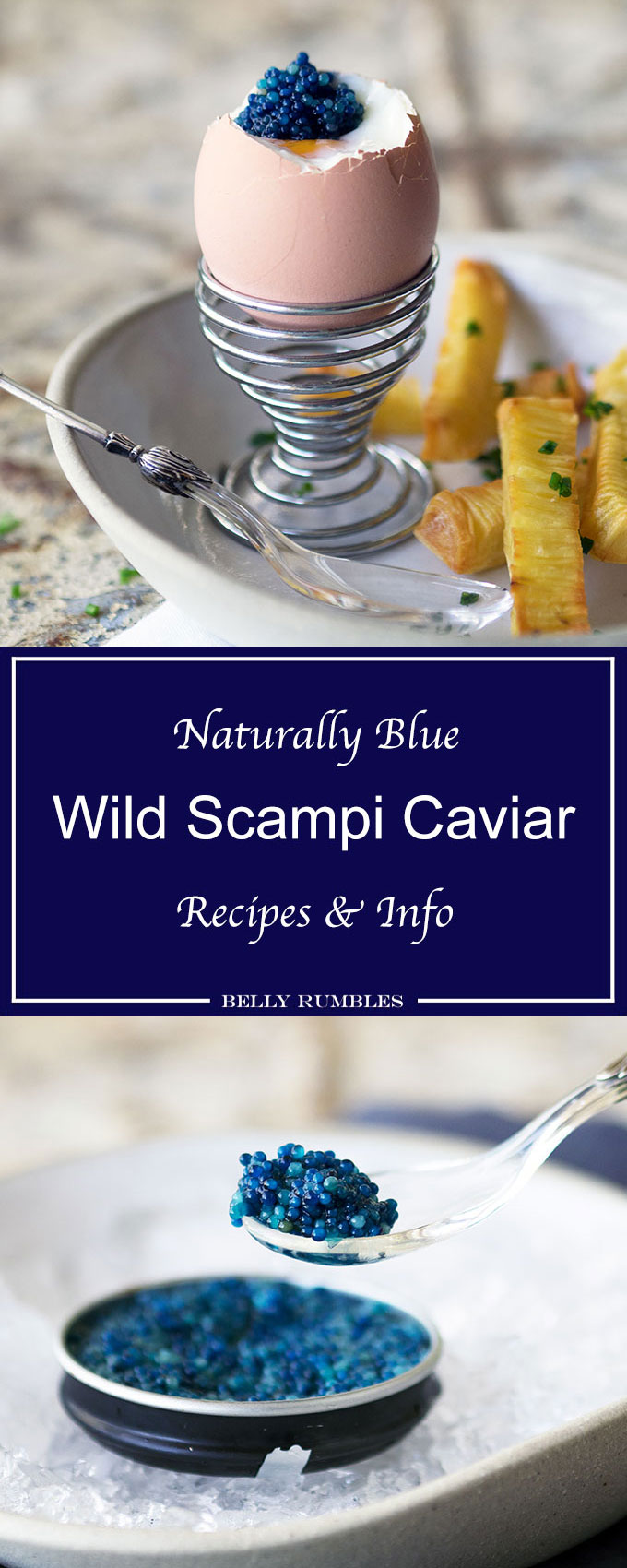 In Australia scampi are fished for in the waters off the Western Australian Coast. This is also where scampi roe is harvested. Scampi are harvested from waters 420-500 metres in depth, mainly around Port Headland.
I was amazed to find out that scampi roe is kept on the outside of the scampi's body. The roe is found behind the legs on the underside of the scampi's tail.
The season for scampi caviar is November until March. The roe is hand harvested, sorted and tinned. Nothing else is added to the wild scampi caviar except salt. That beautiful blue colour is all natural. Once tinned it has a shelf life of 10 weeks.
What does Wild Scampi Caviar taste like?
The eggs are firm, but readily pop in your mouth. There isn't the "crunch" that comes with lumpfish caviar, but it also doesn't melt on your tongue like sturgeon. I find the wild scampi caviar comes somewhere in between.
It has a fresh rich salty flavour. Not as creamy as sturgeon, but still with a lovely depth of flavour. A light fishy taste, more like ocean with a waft of fish swimming past. Which is understandable as the roe is kept outside of the body and is surrounded by sea water.
How to eat Wild Scampi Caviar?
I would be quite happy to just spoon it out of the tin and into my mouth. But when a tiny 25g is a whopping $124, it is in your best interest to make the scampi caviar spread a little further. Scampi caviar can be served like traditional caviar.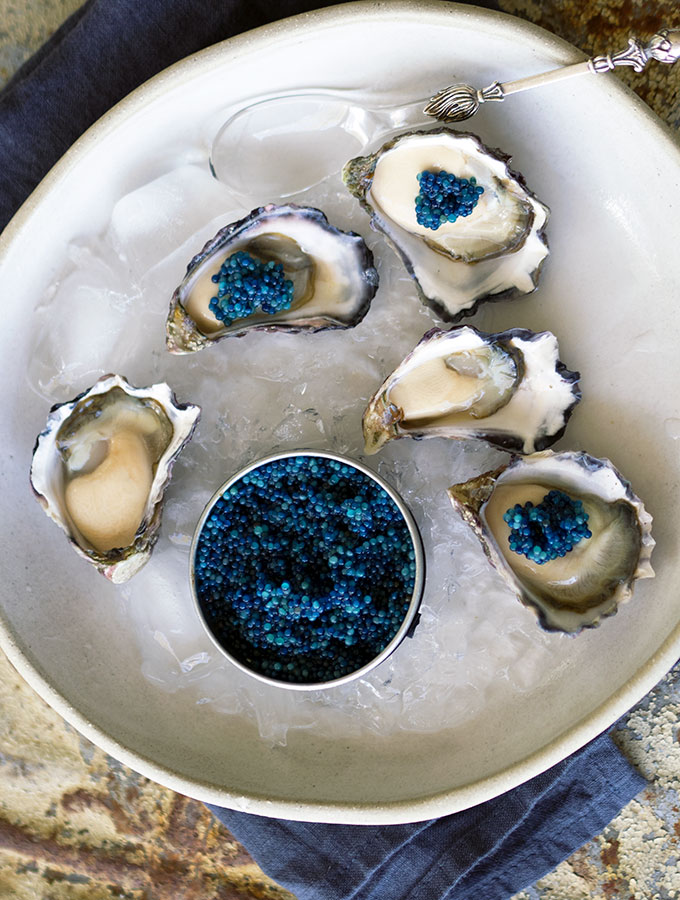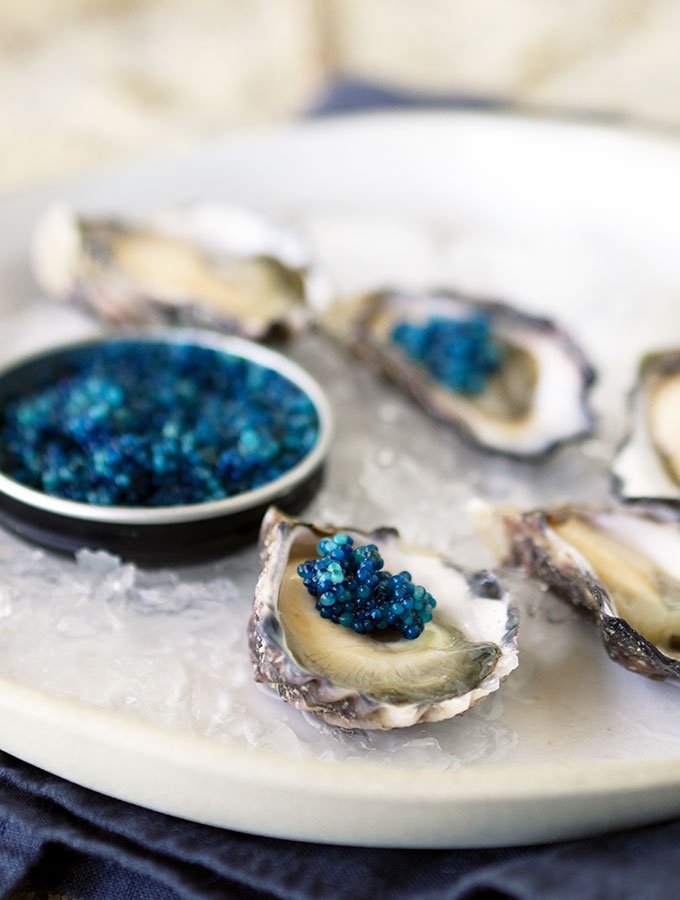 I chose to serve it two ways, as well as just spooning it into my mouth. Firstly with some natural Sydney rock oysters as I wanted to keep the flavours simple and natural. The oysters were sweet, plump and creamy, and were the perfect match to the scampi caviar.
The second way, again rather simple, was with a soft boiled egg and hasselback oven baked fries. The creamy soft egg yolk was simply perfect with the salty scampi caviar, a match made in heaven.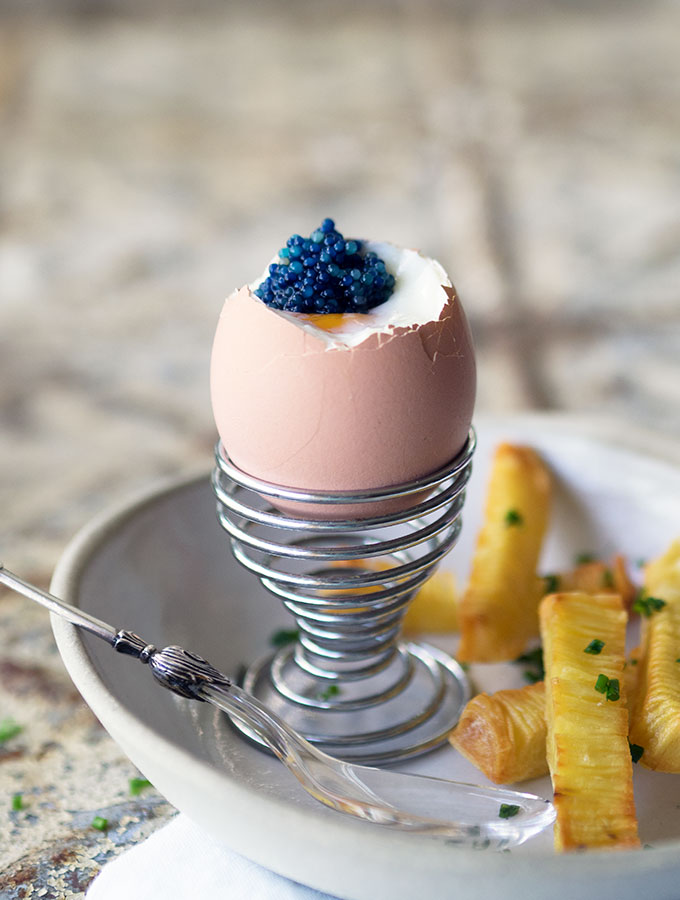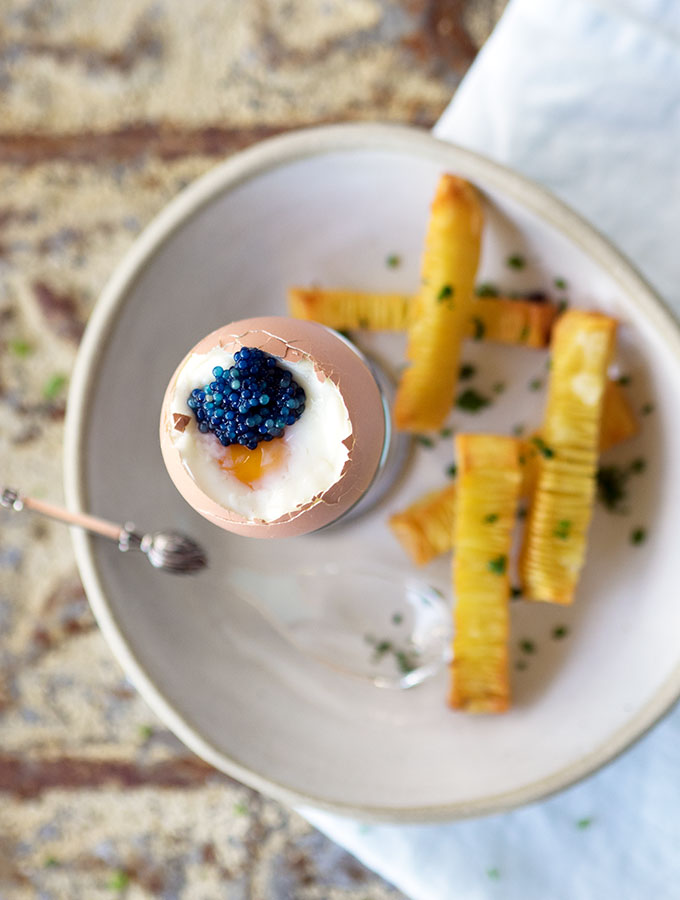 The hasselback oven baked fries were a bit of a fun, an alternative to toast. A great dipping option, plus potato also goes rather well with caviar.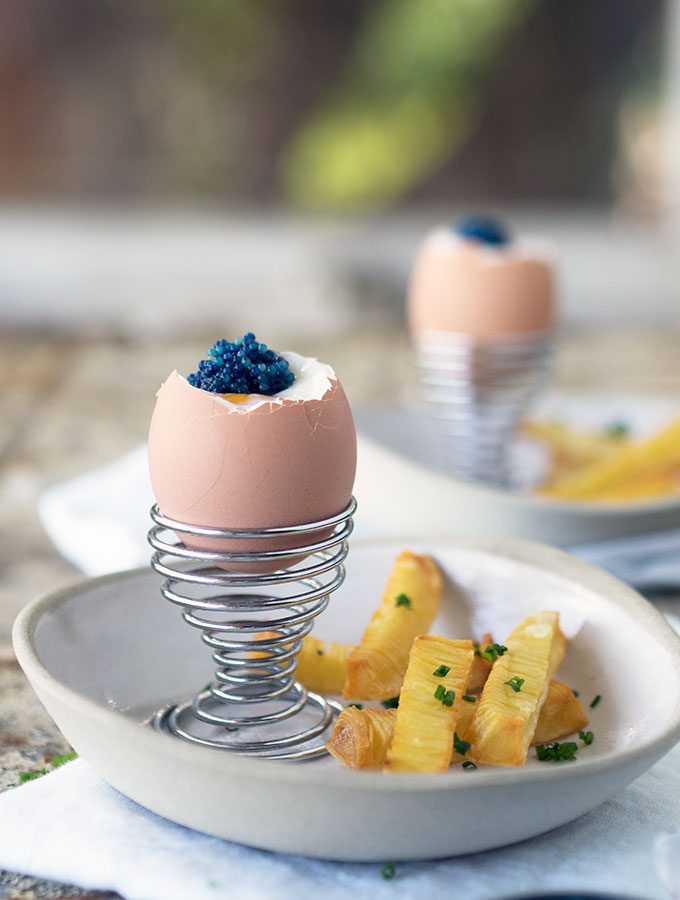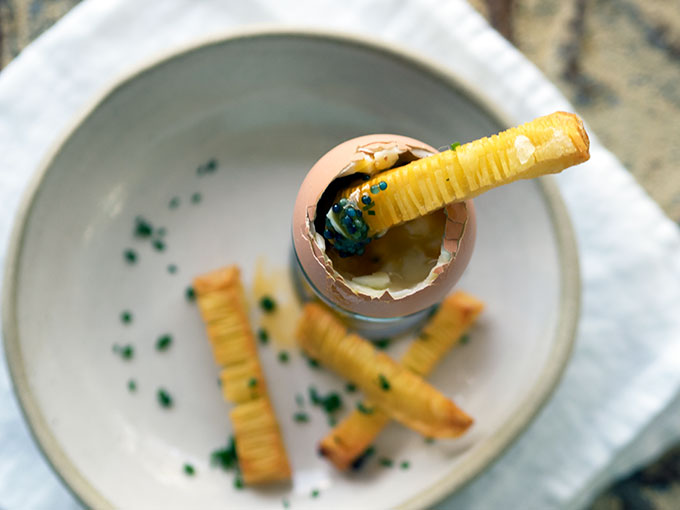 Do let your scampi caviar come to room temperature before serving. Unless of course it is a soaring hot summers day! It is best not eaten icy cold.
The question you probably want to ask me is, "would I buy a tin of wild scampi caviar again"? Yes, it is expensive, but yes I would. Of course thoughts of scampi caviar becoming a staple in my fridge are far from my mind, wish I had that kind of money. For a special occasion item, it will be on the list.
Imagine celebrating a special anniversary with oysters, wild scampi caviar and a bottle of French Champagne. A simple and easy way to celebrate, but ever so luxurious and special.
Sara xxx
You may also enjoy our article on how to serve caviar.