Filipino empanadas, full of flavour with flaky light pastry using a secret ingredient. These Filipino empanadas are the perfect snack food.
Filipino empanadas, another snack food I fell in love with when visiting The Philippines last year. I shared a recipe for Filipino lumpia a little while back, another favourite from our food tour of Manila's Chinatown. On this tour is where we also tasted delicious Filipino empanadas.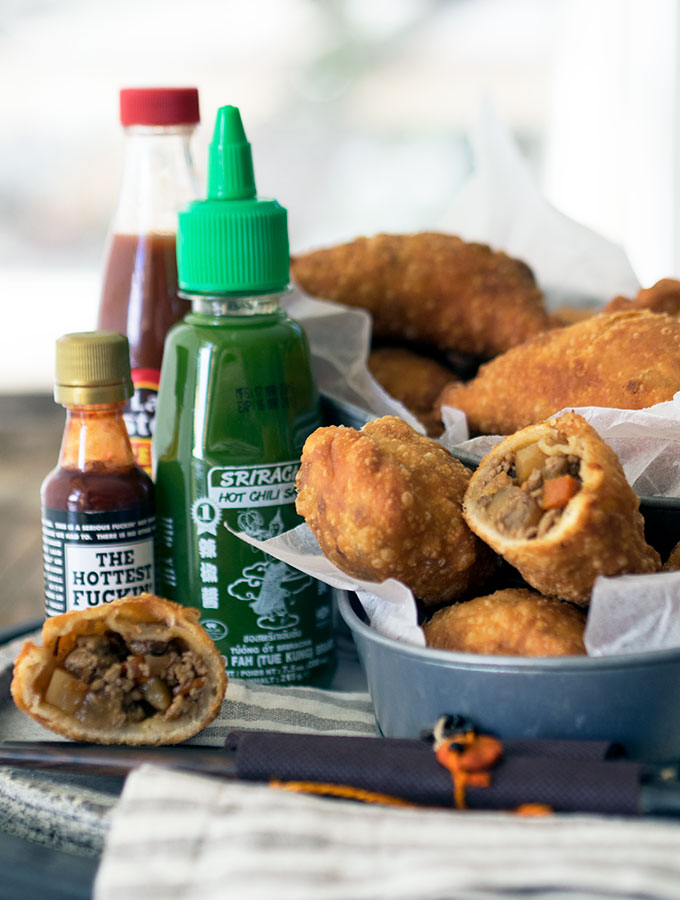 As with the lumpia, I researched to find an empanada recipe that was close to what was tried. And like the lumpia recipe, I ended up taking bits from one recipe and bits from another. Trial and error until I finally came up with something close to what we tried.
These empanadas have a slight sweetness as Filipinos do love that a little added sweetness in their food, including savoury. The filling of these Filipino empanadas is fantastic, but I am extremely impressed with the pastry.
Most of the recipes I can across used butter or oil in their pastry. Due to the fine little fried air bubbles that were on the surface of the empanada I tried in Manila, I had a very strong feeling they used lard. After playing around with pastry recipes, I am pretty sure I was right.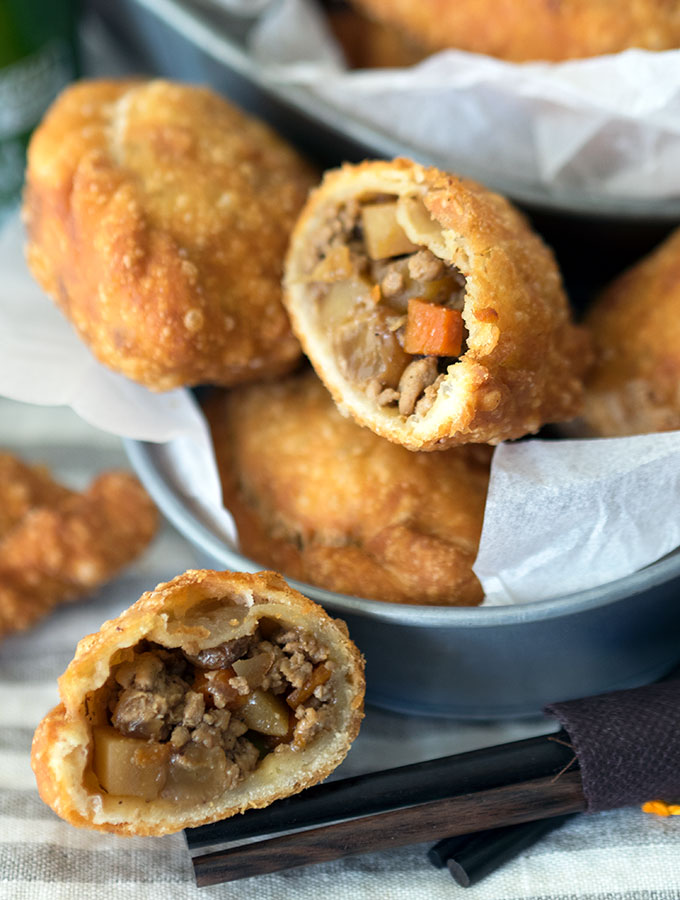 I say "secret ingredient" in the title above, but "forgotten" would be more accurate. It's no secret lard is magical in pastry recipes. It makes for a flaky and light pastry. Due to not being a healthy fat, it has lost favour with home cooks. I know I rarely use it.
Don't be put off by the smell of lard, it's not that appealing (to me anyway). But it is worth using for the final result. It also loses all trace of smell and taste on cooking.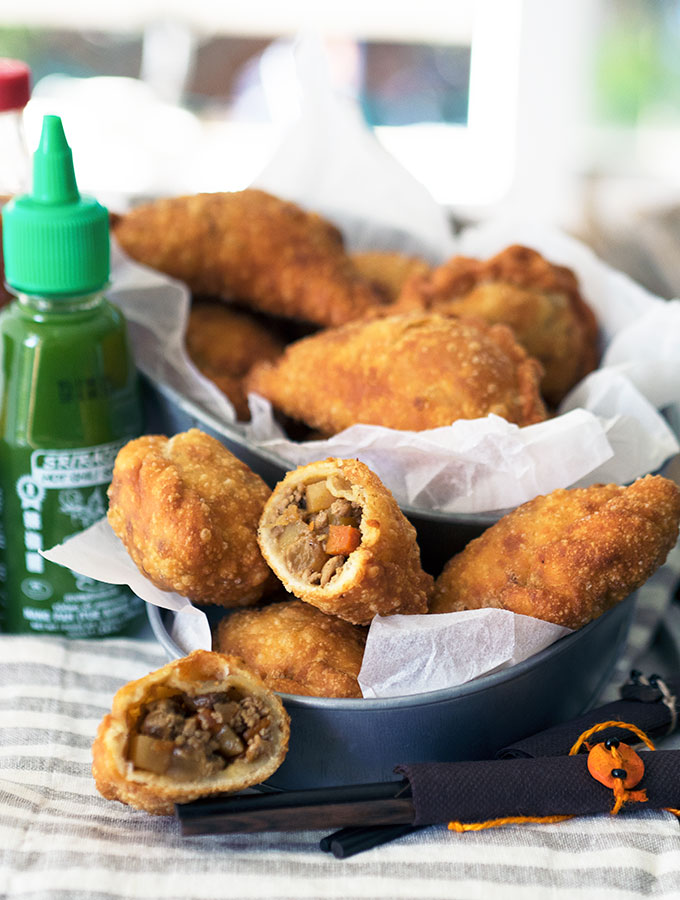 That's the beauty of using lard. Unless you have made pastry with it, you are none the wiser as to why the pastry is so good.
I highly recommend you don't make this recipe with butter. Because if you are going to the trouble of making these Filipino empanadas, use lard for a fantastic result. Plus I want to challenge you a little.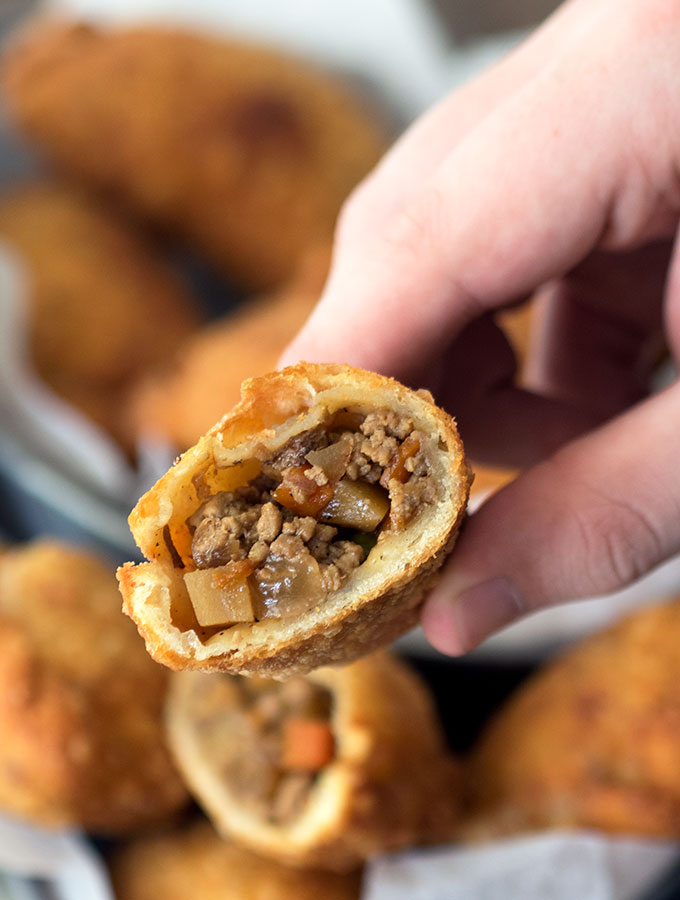 As mentioned in the notes in the recipe, the cooked empanadas can be frozen. Makes sure they have completely cooled before freezing. I simply put some in a ziplock bag and froze them. To reheat them, it was a case of straight from the freezer to a lined tray and the oven (medium heat). Until heated all the way through and crisp.
You can also check out my folding technique on Instagram, for a bit of guidance.
Don't forget to have a look at my Filipino lumpia recipe, and also our exploration of the tasty treats we experienced in Binondo, Manila's Chinatown.
If you make and enjoy this recipe, or any of our others, tag us in the photo on social media. Would love to see what you have made!
Sara xxx
Printable Recipe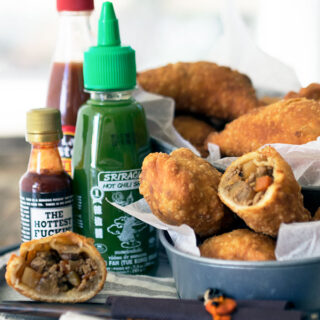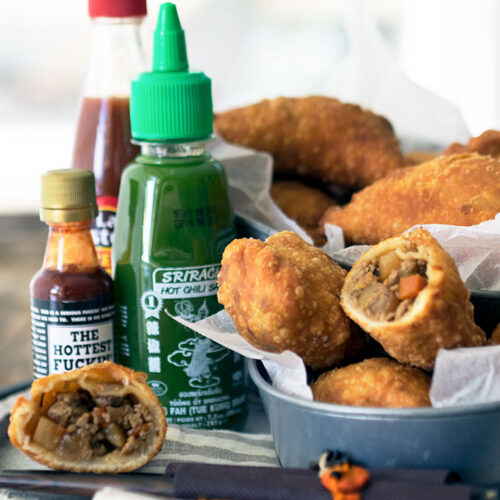 Filipino Empanadas
Filipino empanadas, full of flavour with flaky light pastry using a secret ingredient. Perfect Filipino snack food and you can freeze the leftovers for another day.
Ingredients
Filling
20

ml

(1 tablespoon) oil

1

white onion

finely chopped

2

cloves

garlic

minced

500

grams

pork mince

lean

1

carrot

finely diced

1

small potato

finely diced

45

grams

(¼ cup) sultanas

75

grams

(½ cup) frozen baby peas

40

mls

(2 tablespoons) soy sauce

40

mls

(2 tablespoons) oyster sauce

2

teaspoons

sugar

½

teaspoon

white pepper

65

mls

(¼ cup) water
Pastry
450

grams

(3 cups) flour

2

tablespoons

sugar

½

teaspoon

baking powder

½

teaspoon

salt

50

grams

(¼ cup) lard

cold and chopped into small pieces

125

mls

(½ cup) cold water

1

egg

1

teaspoon

white vinegar

vegetable oil

for frying
Instructions
Filling
In a large non stick pan, over a medium heat, heat oil and sautee onions and garlic until soft.

Add pork mince and cook for a few minutes until it starts to brown.

Stir in carrot and potato and continue cooking for a few more minutes.

Add peas, sultanas, soy sauce, oyster sauce, sugar, white pepper and water. Stir well.

Continue to cook the mixture over a low heat, stirring so the mixture does not burn, until liquid has evaporated.

Cover and place empanada filling to the side to cool while making the pastry. If it is a hot day, I suggest you put the filling in the fridge once it has cooled slightly.
Pastry
Place flour, sugar, baking powder and salt in a large bowl, whisk together.

Add lard to the flour mixture. With the tips of your fingers rub (see notes) the lard into the flour mixture.

Whisk water, egg and vinegar together and add to flour mixture.

Mix until combined and then turn out on to a lightly floured bench.

Knead until mixture forms a smooth dough. Adding a little more flour if too sticky to handle.

Shape into a flatish ball and wrap in plastic. Place in the fridge for 20 minutes to rest.
Assembly and Cooking
Divide dough into 18 round balls, and cover with some plastic wrap to avoid them drying out while assembling.

On a floured bench, roll out a dough ball with a rolling pin, until around ½ centimetre thick.

Place 2 tablespoons of empanada filling in the centre of the rolled out dough.

Fold the dough in half over the filling, then seal the empanada but pleating* the edges and crimping as you go.

You can see how I do it on Instagram here.

Continue with the remainder of the dough and filling. Keeping the empanadas covered as you go so they don't dry out.

Place enough vegetable oil in a wok, which would be high enough to cover the empanadas. Heat oil until it reaches 180°C (350°F). Cook a few empanada at a time (don't crowd the wok) until they are golden brown.

Once golden remove from the wok and drain on kitchen paper towel.

Serve immediately.
Measurement Notes
All measurements are Australian metric standard. All measures are level, and cups are lightly packed unless specified. 1 teaspoon = 5ml / 1 tablespoon = 20mls / 1 cup = 250ml /4 teaspoons = 1 tablespoon.
Recipe Notes
Rubbing the lard into the dough
Take pieces of lard between your finger tips and then rub the lard together with the flour. Lift the mixture up as you rub it to keep it as cool as possible. Do not use the palms of your hands, as you don't want the lard to melt. Shake the bowl now and again to bring the larger lumps of lard to the surface. Continue until all the large lumps have been incorporated into the flour and the mixture resembles fine breadcrumbs.
Sealing Empanadas
If you don't want to fold and crimp them you can just use the prongs of a fork to seal the empanadas. Push the fork prongs down on the edges of the empanada to seal.
Yes, you can freeze these!
Empanada can be frozen once they have been cooked and cooled. Warm them up in the over from frozen.
NUTRITIONAL INFORMATION
The recipe's nutritional information is an approximation based on an online calculator. It is meant solely for reference purposes. If you're looking for precise details, be sure to double-check with your own research.
Calories:
215
kcal
Carbohydrates:
23
g
Protein:
8
g
Fat:
10
g
Saturated Fat:
5
g
Cholesterol:
29
mg
Sodium:
255
mg
Potassium:
214
mg
Fiber:
1
g
Sugar:
4
g
Vitamin A:
610
IU
Vitamin C:
4
mg
Calcium:
23
mg
Iron:
2
mg
Did You Make This Recipe?
I do a happy dance when people share how they went. Tag me on Instagram or Twitter @bellyrumbles & #bellyrumbles