The cold hard reality of life is, I'm not a morning person.  Never have been, never will be, end of story.  I know I'm not alone, there are others out there just like me.  Those of us that for one minute can't comprehend how somebody can bounce out of bed in the morning with a smile on their face.
My fellow non morning people, these for funfetti pancakes are especially for you.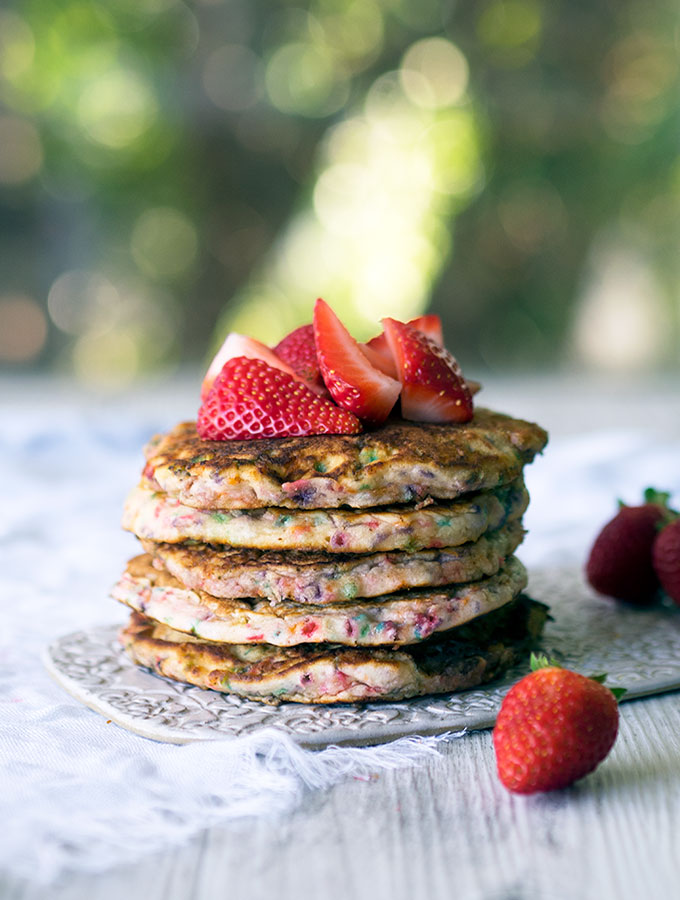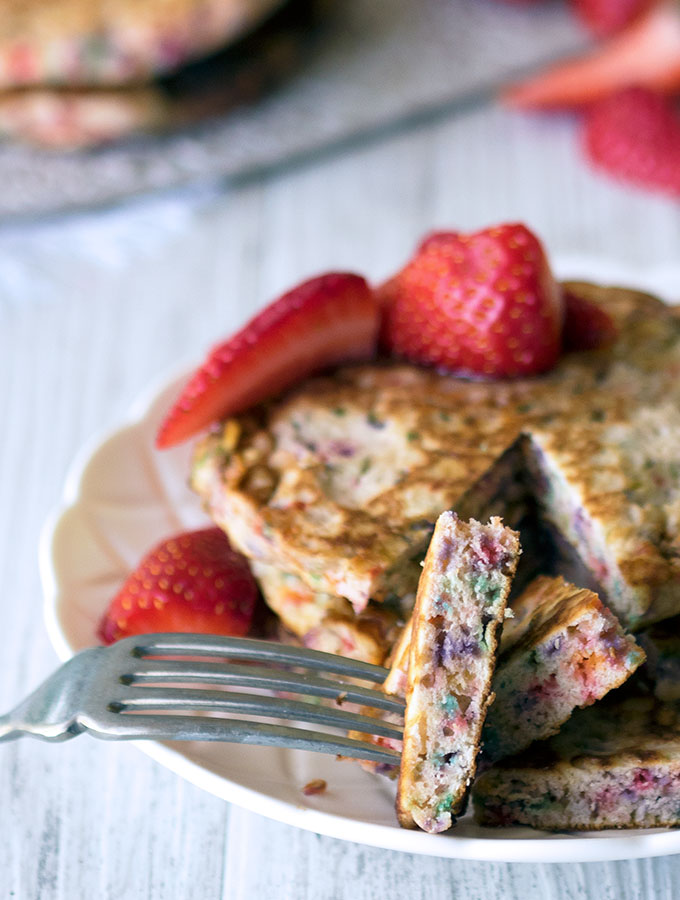 Before you know it you will be greeting the day like Snow White.  Jumping out of bed, throwing open those windows and singing to the neighbouring wildlife.  Birdies will come fly down and perch on your finger, tweeting in response to your "la la la la la la's" in perfect pitch.
Okay….. maybe not, but these  funfetti pancakes are filled with rainbow love, and one thing is certain, these are happy pancakes.  Easy to make and they are going to make you smile when you sit down to eat them.  Best of all the kids will love making and eating these too.  Sure they aren't an everyday breakfast food, sprinkles are made of sugar, but for a special occasional treat why not whip up some funfetti pancakes.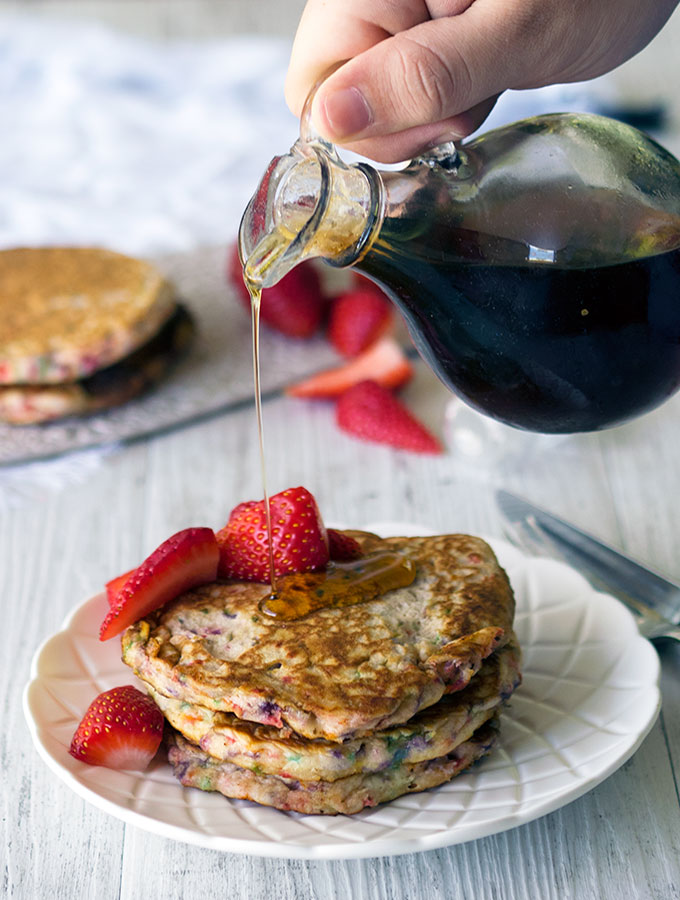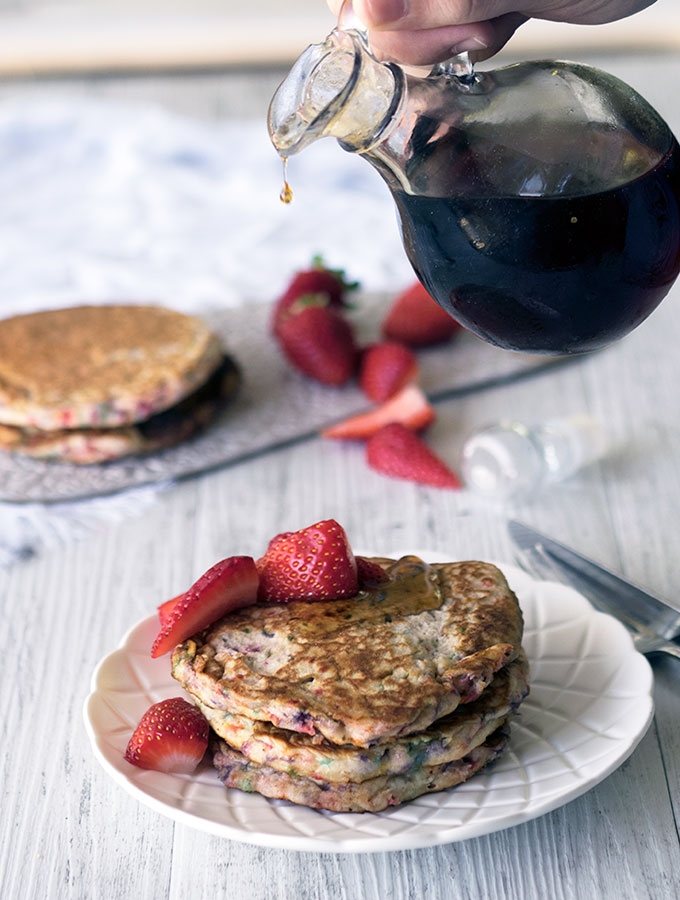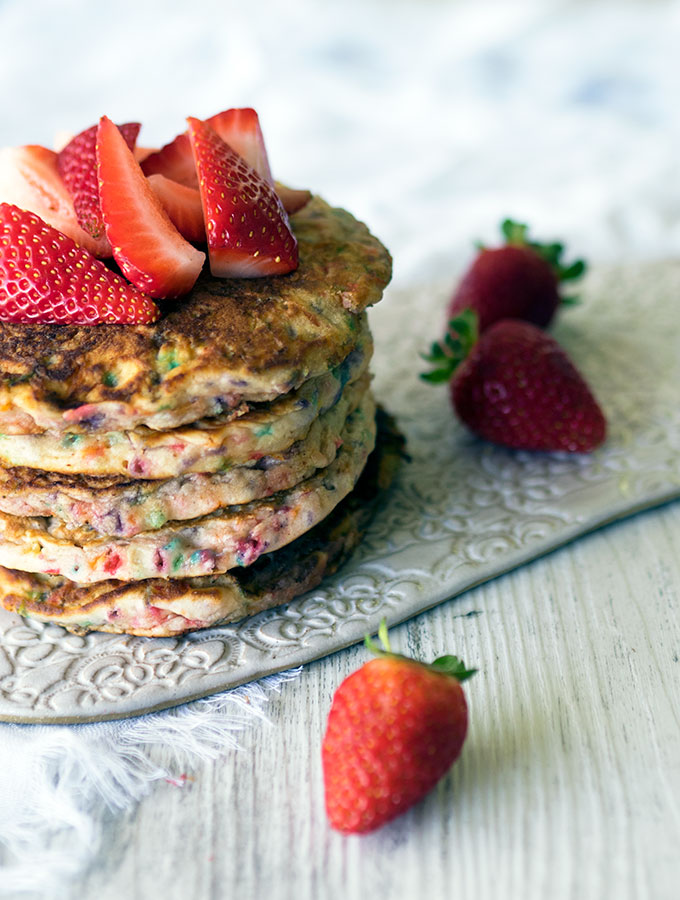 Funfetti Pancakes add some rainbow colours to your morning
Funfetti Pancakes are a fun start to your day. Add some brights or sprinkles to your pancake batter and let the rainbow eating begin.
Print
Ingredients
310

grams

(2 cups) self raising flour

1/4

teaspoon

baking soda

40

grams

(1/4 cup) caster sugar

375

ml

(1 1/2 cups) full cream milk

2

eggs

140

grams

(1 cup) brights or sprinkles

Strawberries and maple syrup to serve
Instructions
In a large bowl sift flour and baking soda. Add sugar and mix.

Mix in eggs and milk. Leave batter to rest for 10 minutes.

Heat a large non stick pan to a medium heat. Add a dollop of butter.

Mix brights or sprinkles into batter, do this just before cooking as they will start to bleed their colour into your batter mixture.

Once butter has melted, spoon around 1/4 cup of batter on to pan, cook 2 or 3 pancakes at a time, depending on pan size.

When pancakes are browned and bubbles appear on surface, flip them over and cook on the other side.

Repeat with remaining batter, making sure to add some butter for each new batch being cooked.

Top with fresh strawberries and whipped cream or ricotta.
To balance the sweetness of the funfetti pancakes I suggest serving with luscious ripe strawberries or other seasonal fruit, and maybe a little non sweetened whipped ricotta.  I realise we have maple syrup dribbling all over them in the photos.  Looks awesome doesn't it!  Yah, well, leave it in the cupboard.  They don't need maple syrup unless you really have a sweet tooth.  But if you do, dribble away with the maple syrup.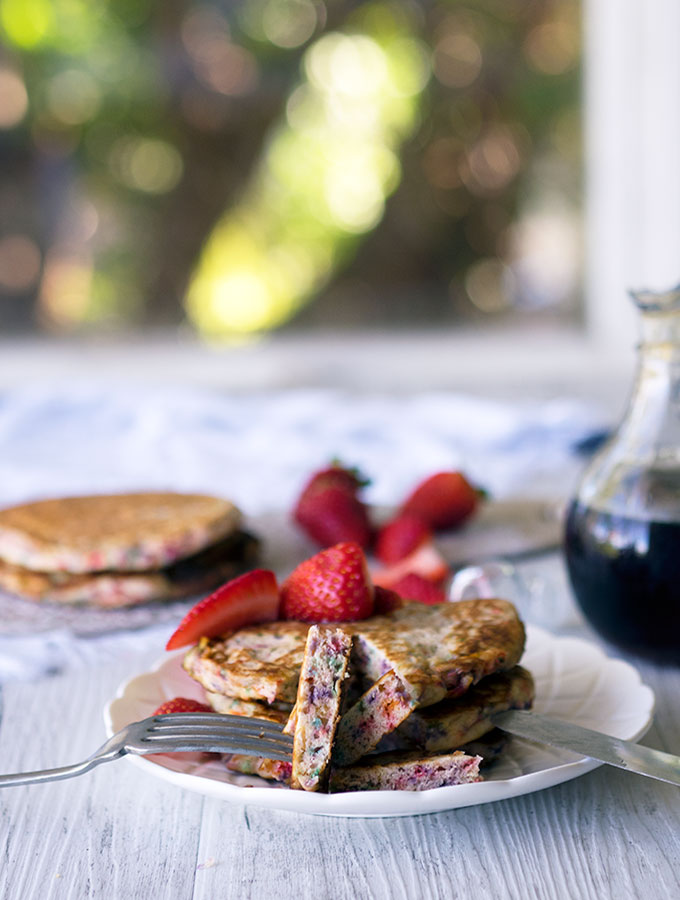 Something to note is that the funfetti/sprinkles' colour will start to run once in the batter.  The more you stir your batter the more they will run.  The trick is to add them last moment and cook your pancakes quickly.  A large pan where you can cook a few at a time is perfect.  If you only have a small fry pan, then may I suggest you split your mixture in two.  Work with one lot adding the funfetti/sprinkles and then when that is cooked start on the next batch.  Only add the funfetti/sprinkles to that second batch when you are about to cook pancakes from it.
Hope you enjoy these funfetti pancakes.  Are you are morning person?  If not what is your secret to dragging yourself from bed every morning?
Sara xxx
Become a subscriber and don't miss a single delicious recipe, restaurant review or travel adventure.