The Peninsula Manila is five star luxury accommodation located in Makati City, Metro Manila. Plus claim to have the best halo halo in Manila!
Ever since the age of 12 I have wanted to stay at a Peninsula hotel. It's my mother's fault. We were walking in Kowloon and she casually mentioned, "now that is THE place to stay in Hong Kong".
We were walking past Hong Kong's oldest hotel, The Peninsula. An impressive and luxurious looking hotel from the outside, but it was the doormen that won me over. Their white uniforms with matching white gloves and pillbox hats. I had never seen anything like it before and I was captivated.
Fast forward a few decades and finally my wish came true, a stay at The Peninsula Hotel. Not the one I walked passed all those years ago with my parents, instead it was The Peninsula Manila.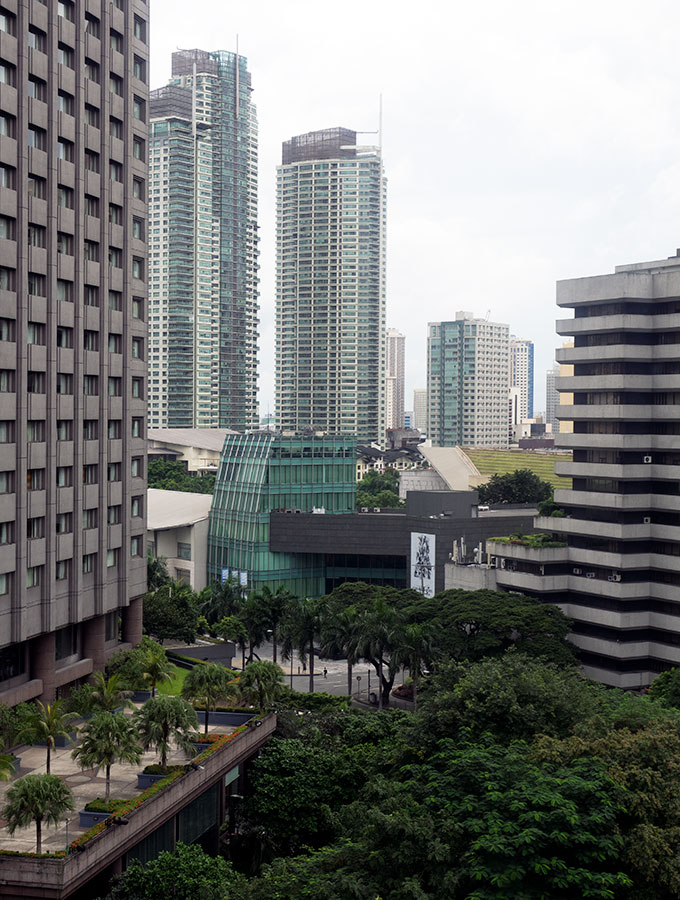 Josh and I arrive at The Peninsula Manila after a grueling two hour drive, only nine kilometres in distance, from the airport on a Friday night. This is my first trip to The Philippines and I am surprised that before we are allowed to enter the grounds of the hotel, the boot is searched, and a mirror is run under the car by security guards. Once we are given the all clear the boom gate is opened for us to enter.
As would be expected of a five star hotel as soon as our car pulls up at the hotel entrance friendly porters met us. They help us with our bags, which are then given the once over by a sniffer dog. It's late, I'm tired from a long flight from Sydney, and thinking to myself should we have come to The Philippines?
Our hand luggage is then searched by more security staff as we walk through a metal detector, airport security style, to reach the front doors to the lobby of the hotel. Once we reached this point I had to smile. A staff member dressed in a white uniform, with white gloves and pillbox hat, opened the doors for us. We had arrived in earnest.
Before I continue I should state that the security is normal for any quality hotel in Manila. You will even go through this when you visit the shopping malls. There are security guards in restaurants and convenience stores, it's just a way of life. After a few days, you hardly even notice it anymore.
The Peninsula Manila Deluxe Club Room
We check in with ease, and Josh and I are in our room in no time. Our room for the next few nights is a twin Club Deluxe. The room is very spacious with the normal mod cons of a five star hotel.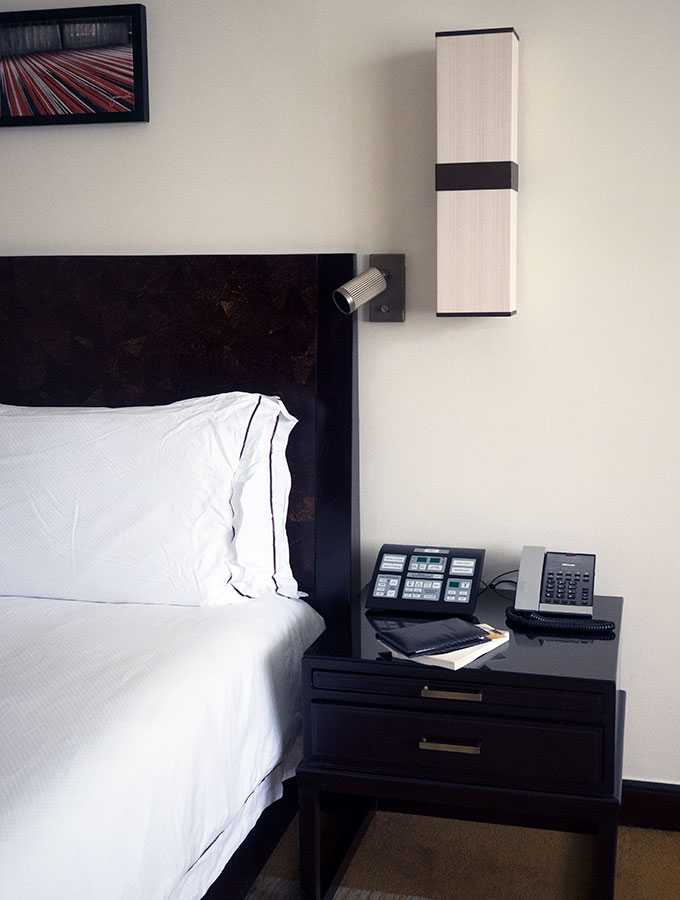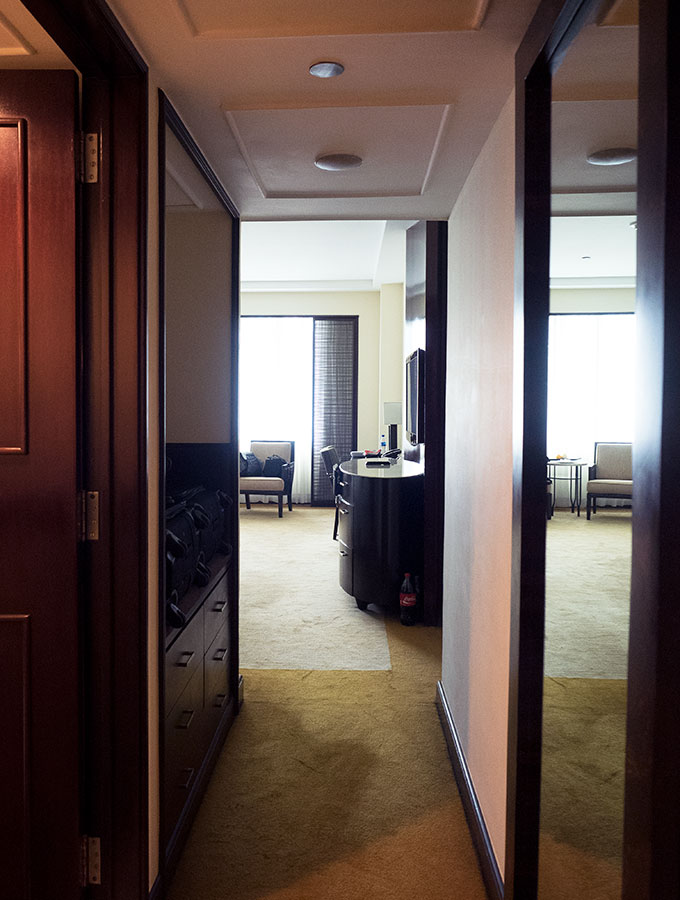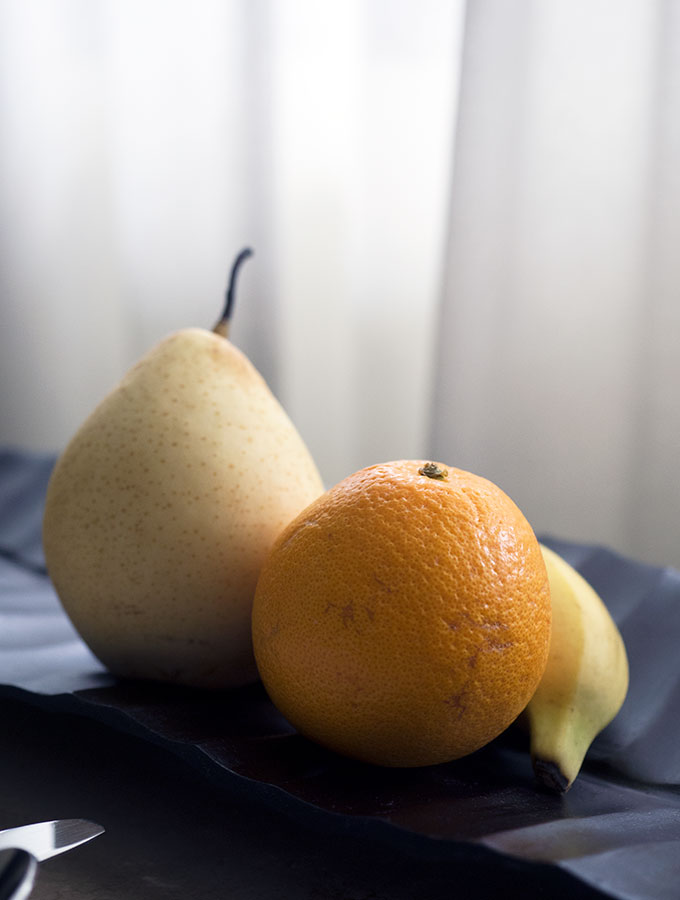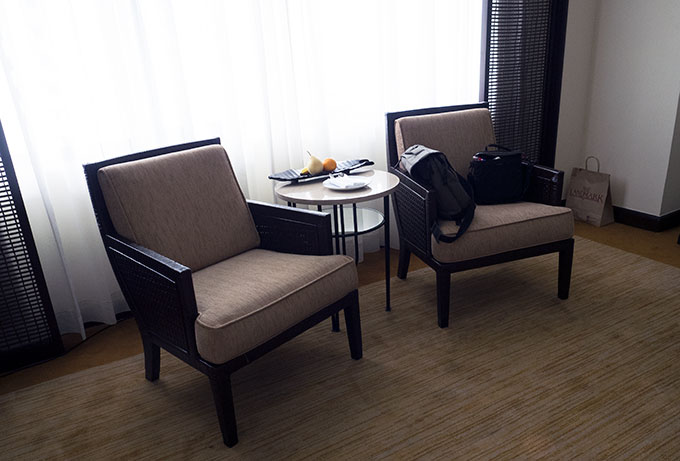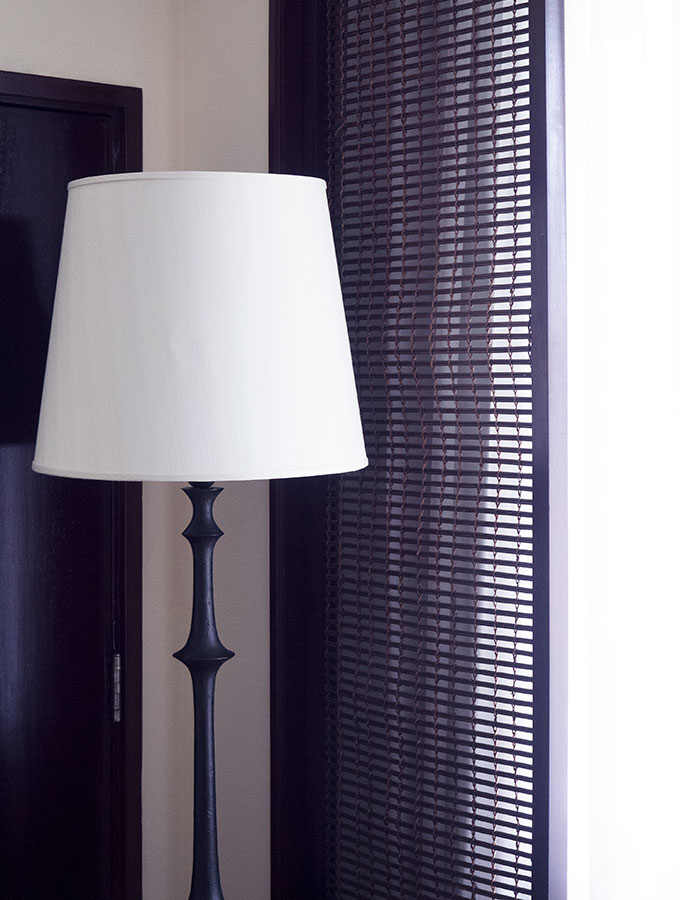 The beds are singles and comfortable enough. The only down side is Josh finds them a little too short, but being 6"3" this is a common problem for him. When Josh and I traveling together, to save the expense of two single rooms, I will generally book a twin. Small price to pay, but I do miss sprawling around in a king bed all to myself! There are two chairs and a small table with some fresh fruit. A large television takes
There are two chairs and a small table with some fresh fruit. A large television takes centre stage of one wall, plus there is a mini bar, safe, robes, slippers, iron and board, etc. The desk is well stocked with stationery items, including rubber bands. It even has a fax machine.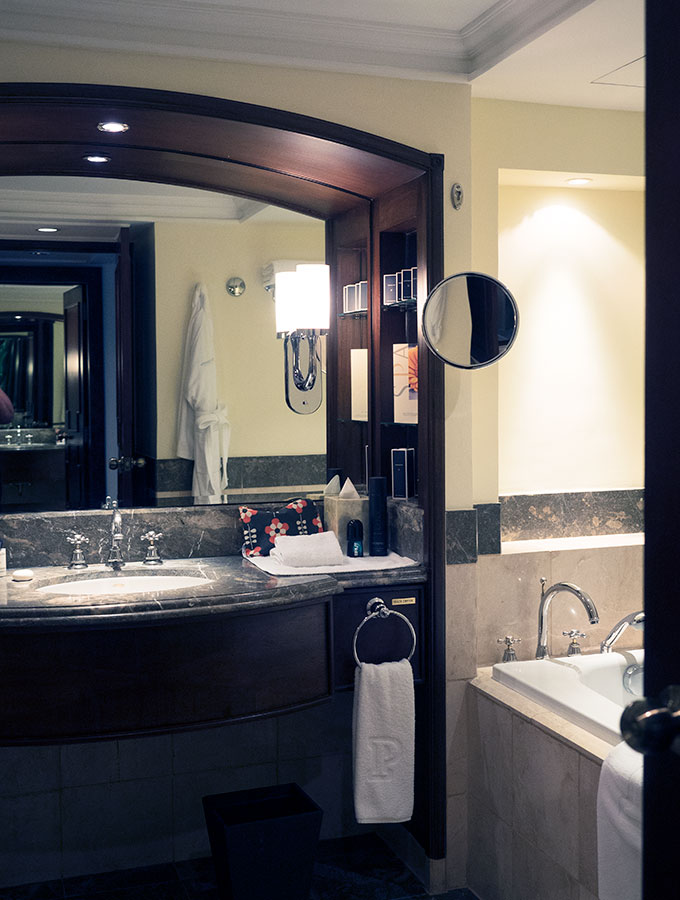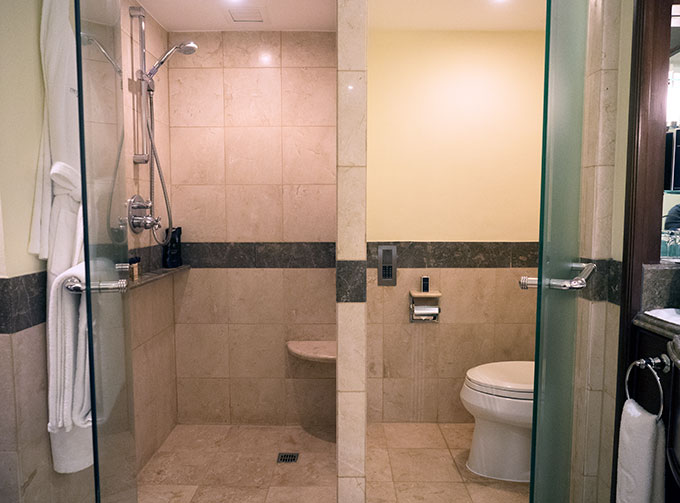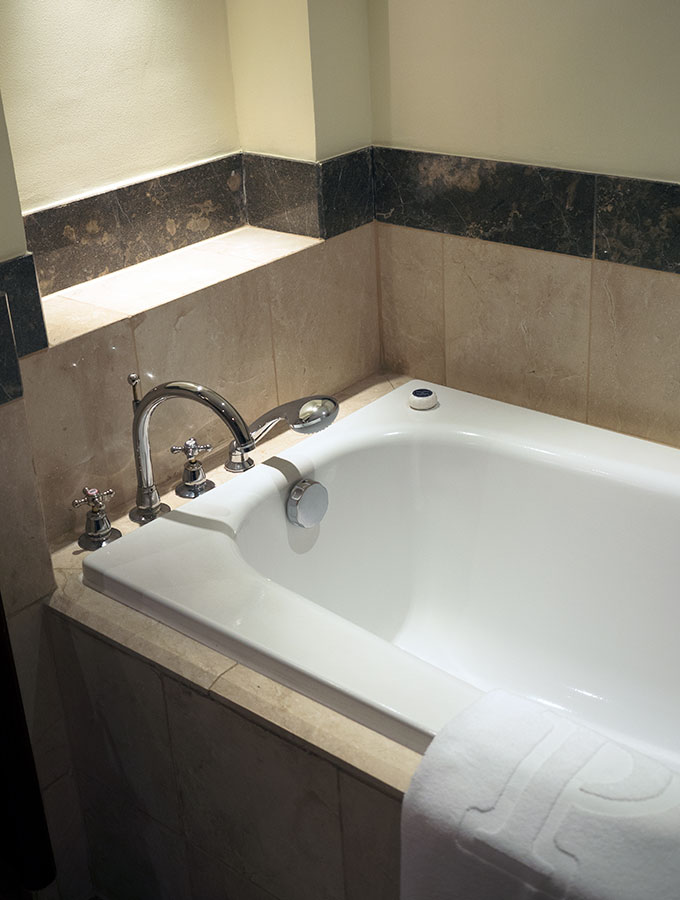 The bathroom is the size of a few small hotel rooms I have stayed in, for a bathroom it's large. A separate shower and bath, plus there is added privacy for the toilet, it has a door.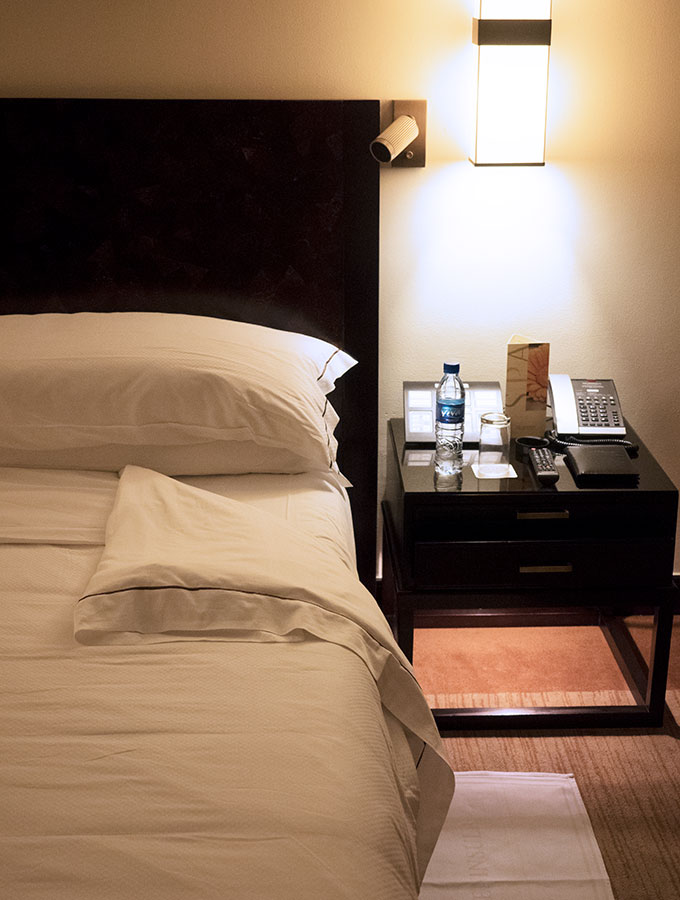 Turn down service is a nice touch. I always get a pleasant surprise when I return to my room to find my bed ready for me to crash. Sheets are turned down, a bottle of water and glass at the ready on the side table and a mat laid out. They will also replace towels if needed, and of course, a chocolate was left.
The Peninsula Manila Room Service
Our first night at the hotel we were pretty tired from eight hours of flying and a two hour car ride from the airport to the hotel. It was late and we were tired.
Room service was quite quick which was greatly appreciated. Too often have I ordered room service and had it delivered uncovered on a tray. I was impressed with the way it was delivered, The Peninsula do it brilliantly. All the food is wheeled up in a contained trolley which then converts into your dining table.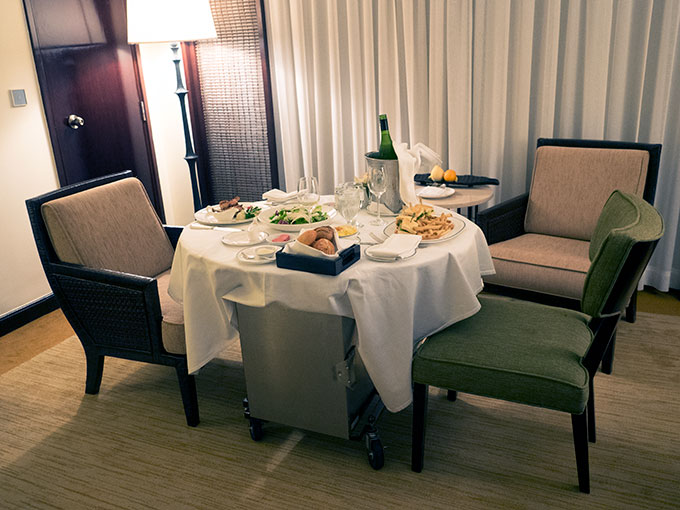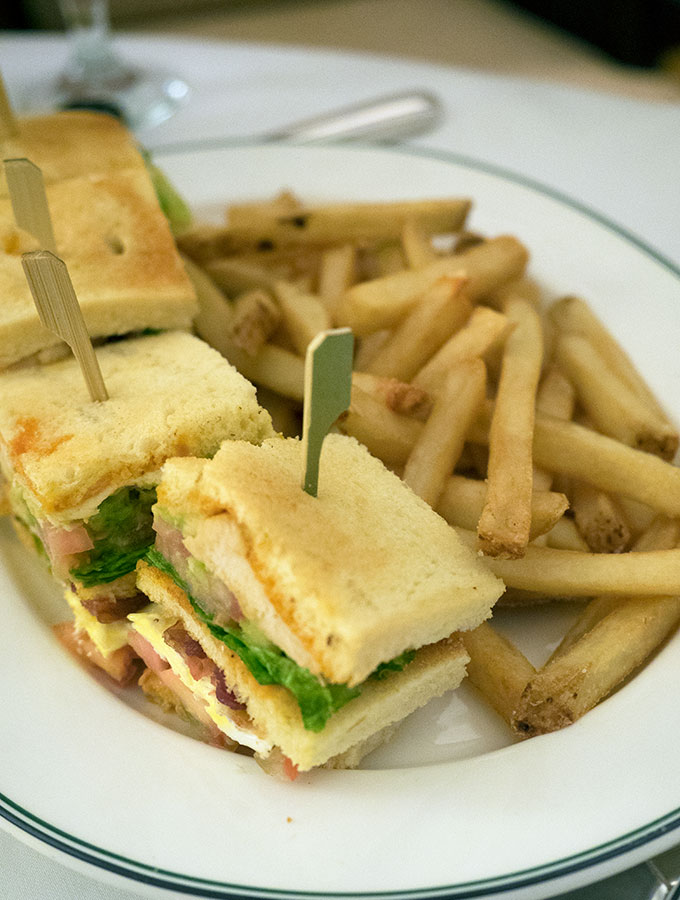 Once the trolley has been transformed into a table, it is set with a white linen tablecloth and dinner (in our case) is laid out for you. In addition to our order, there are condiments and a complimentary assortment of freshly baked bread and butter.
I decided on the grilled chicken and Josh went for the club sandwich. You will be happy to know the chips were still hot and crunchy with the club sandwich. I also ordered a Caeser salad as that is my control dish when it comes to room service meals, they passed with flying colours. Plus we ordered a mac and cheese which was comfortingly quite good.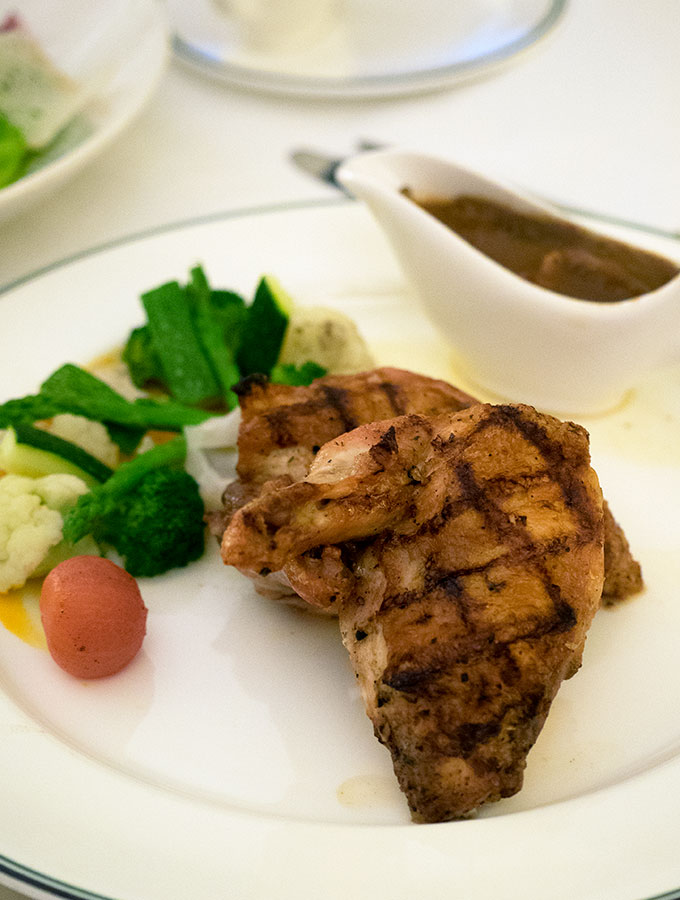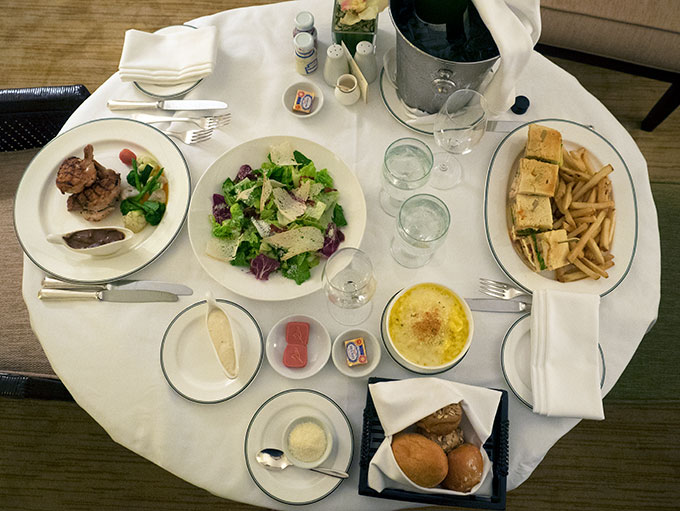 The Peninsula Manila Club Lounge
Our Club Room provided us complimentary access to the Club Lounge. The lounge gives Club Room guests a little bit extra by the way of complimentary breakfast buffet, afternoon tea and evening cocktails and canapés. There is even a boardroom in the lounge for that important business meeting, as well as computer stations, and loan laptops.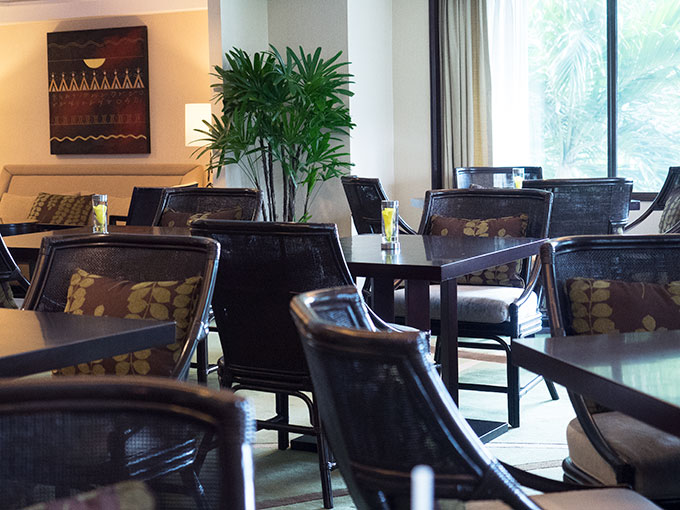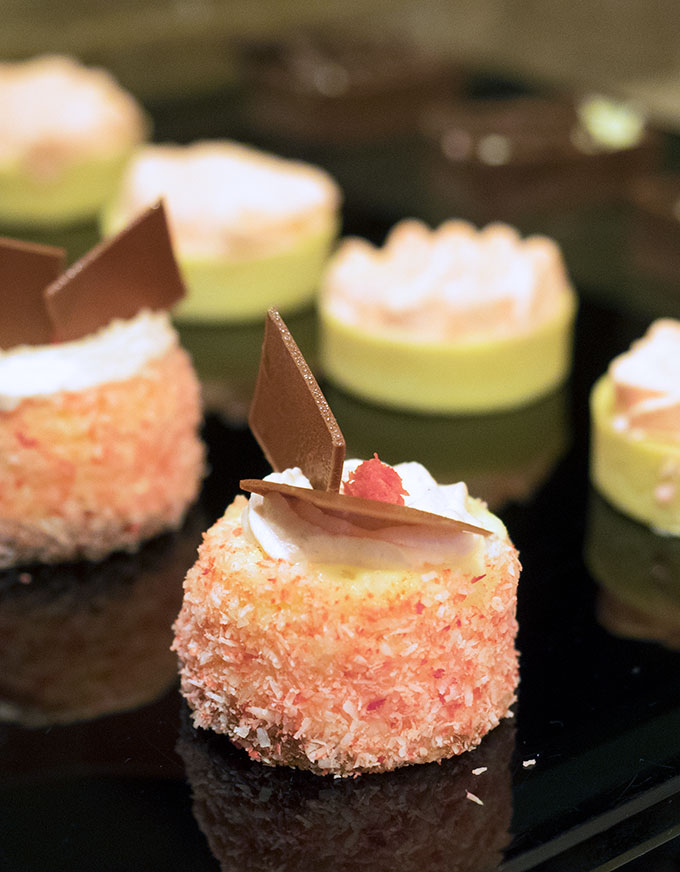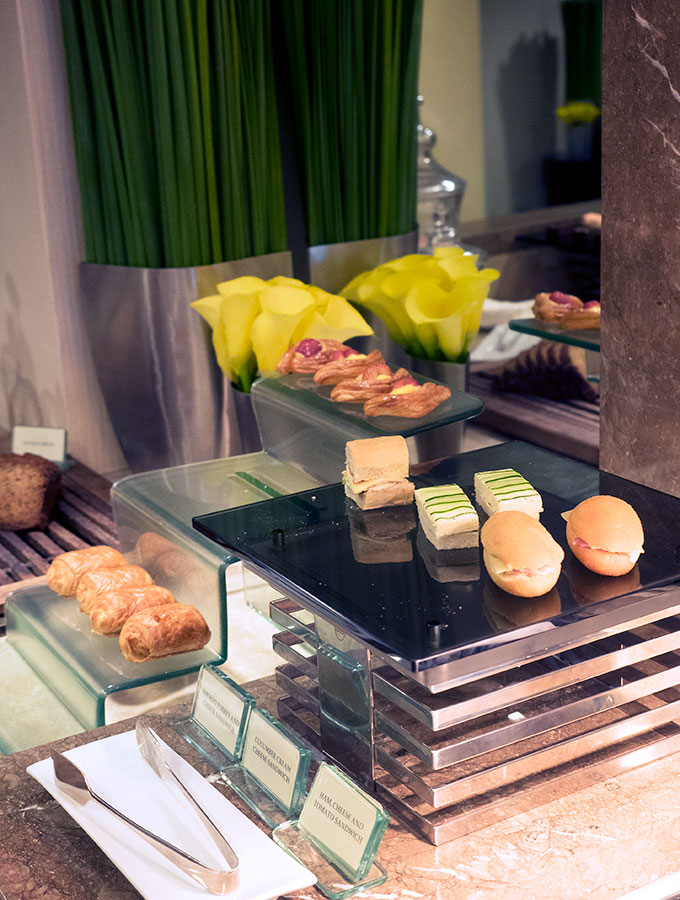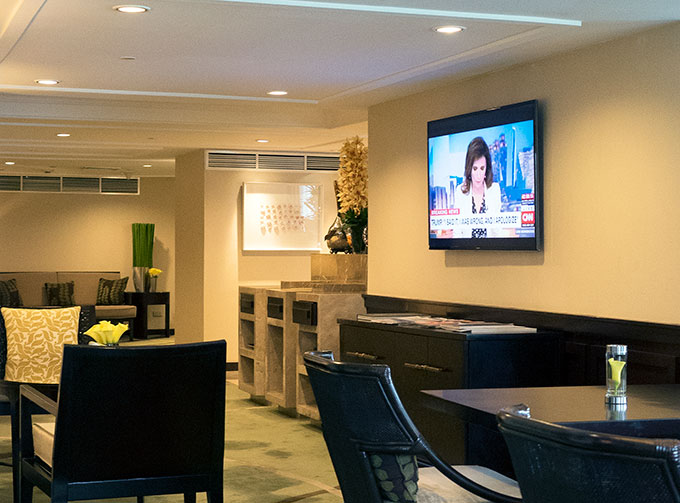 We made use of the evening cocktails and canapés but didn't partake in the breakfast buffet in the lounge. Instead, we headed to Escolta for breakfast. It was a useful space to grab a cold drink and do some work out of the room.
The Peninsula Manila Escolta Restaurant
Escolta is The Peninsula Manila's buffet restaurant. They offer a breakfast, lunch and dinner buffet which features live cooking stations, home baked breads, fresh pastas, sushi, charcuterie, Chinese noodles, carving stations, artisanal ice creams plus a 'farm-to-table' concept that highlights fresh produce and favourite Filipino dishes.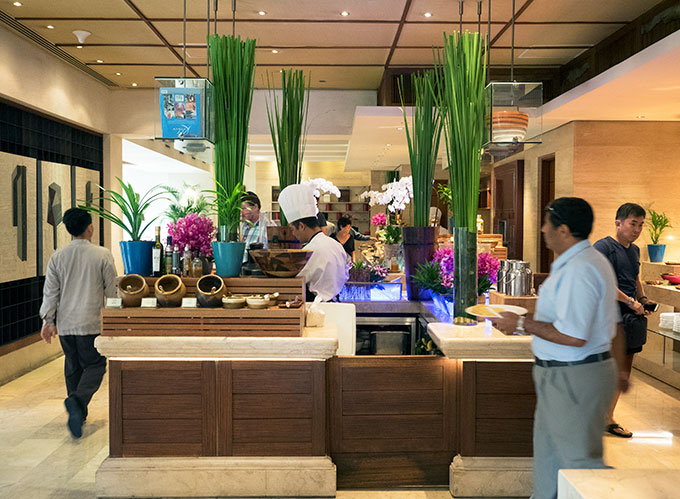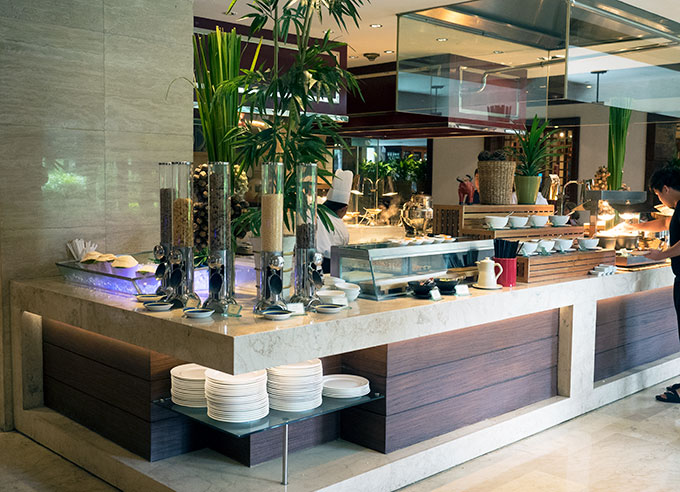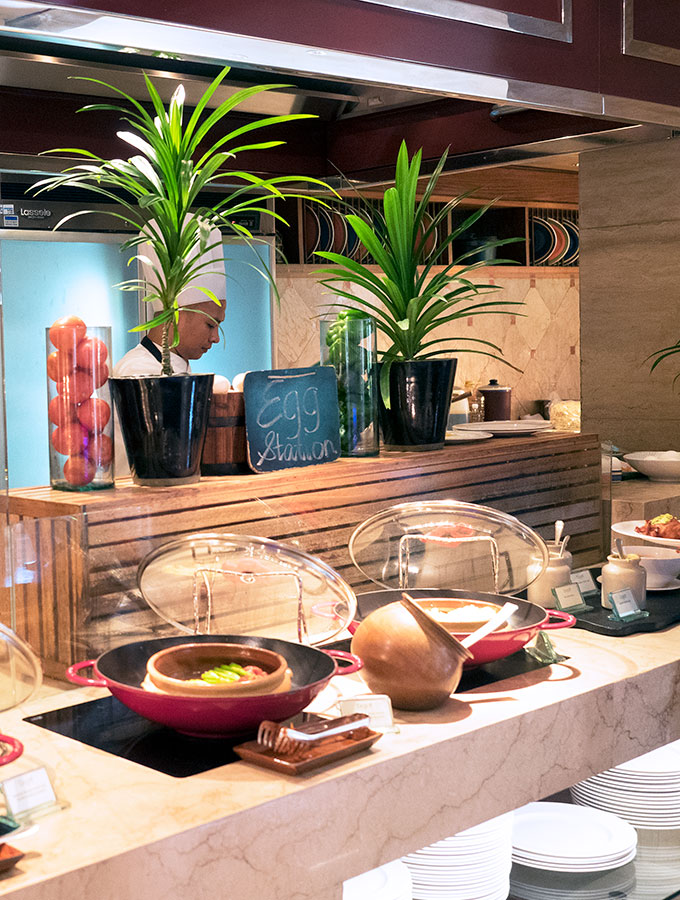 We only partook in breakfast and Escolta's breakfast buffet has something for everyone. A chef will cook you eggs they way you like them, as well as omelettes. There are juice stations, fruit stations, cereal stations, pastries galore, western style hot breakfast items, Asian style hot items like dumplings and congee. If you can't find something you like you have a serious problem.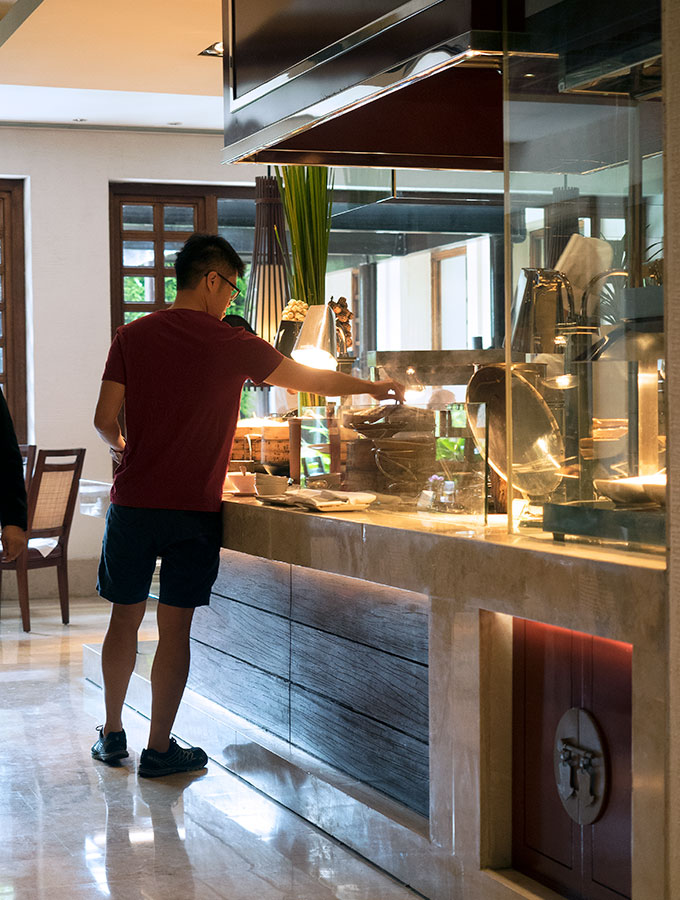 The Peninsual Manila Pool & Bar
The Peninsula Manila has a large outdoor pool with plenty of lounge chairs. Surrounded by lush gardens, it provides a nice place to escape from bustling Manila.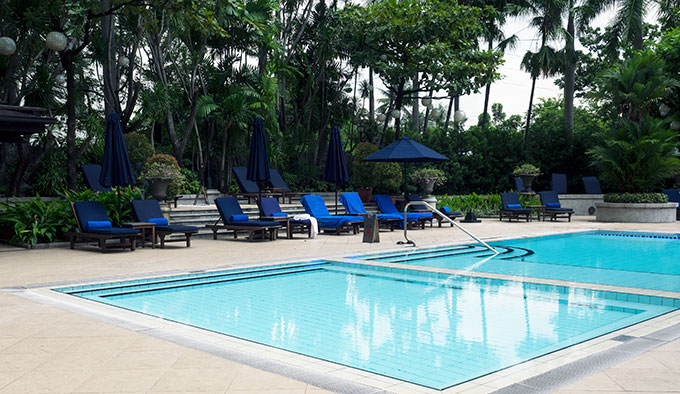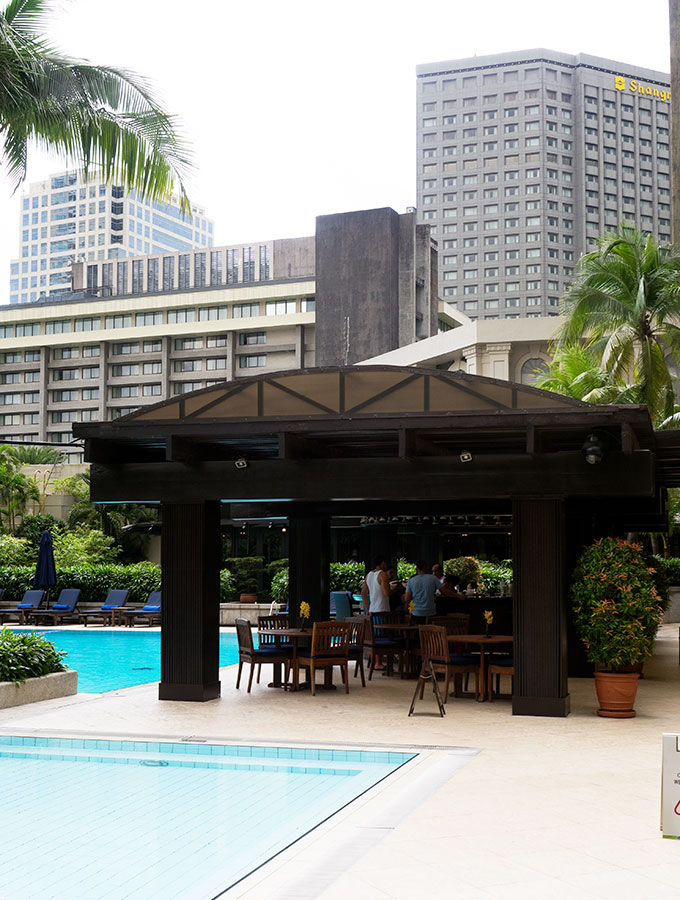 There is also a pool side bar where you can have a cocktail, or order something to eat. Not a bad place for a lazy lunch by the pool.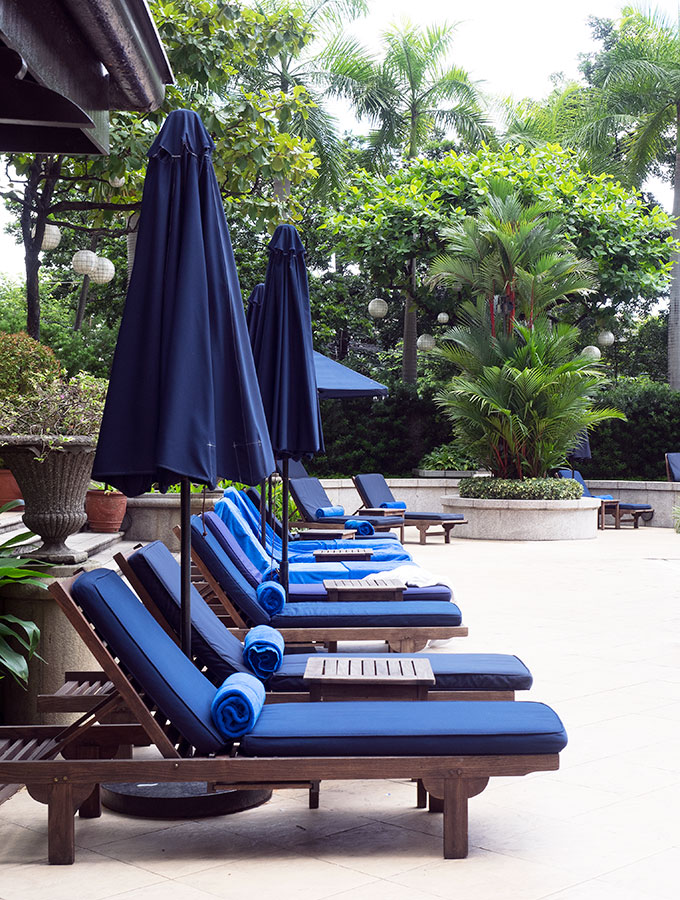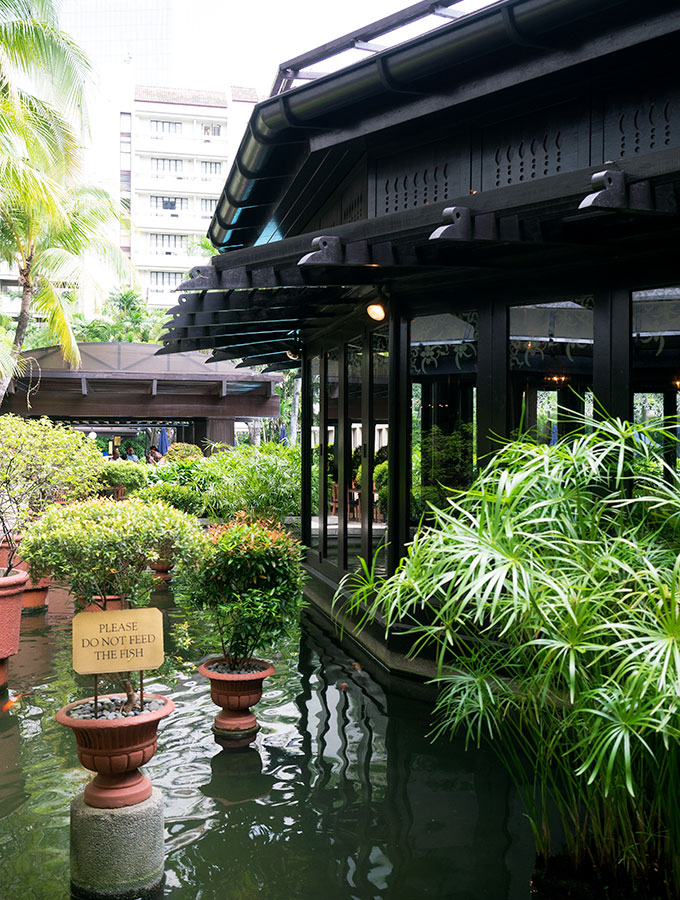 The Peninsula Manila Wellness Centre
Roight next to the pool is the spa and wellness centre. This is home to the fitness centre where you can get a good work out on state of the artcardiovascular and strength-training machines, as well as a full range of free weight-training equipment by world-renowned lifestyle brand Life Fitness.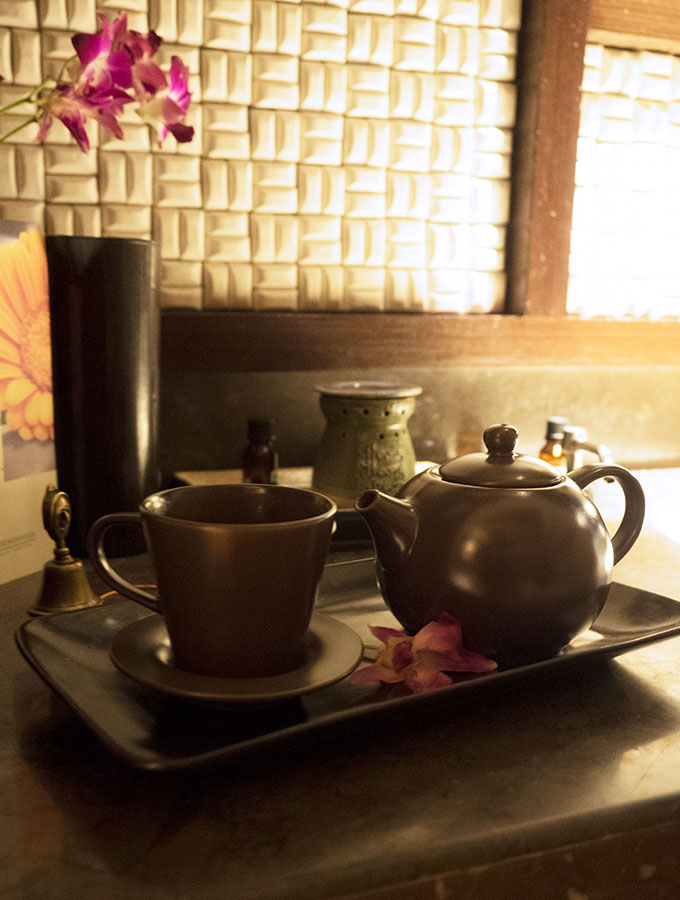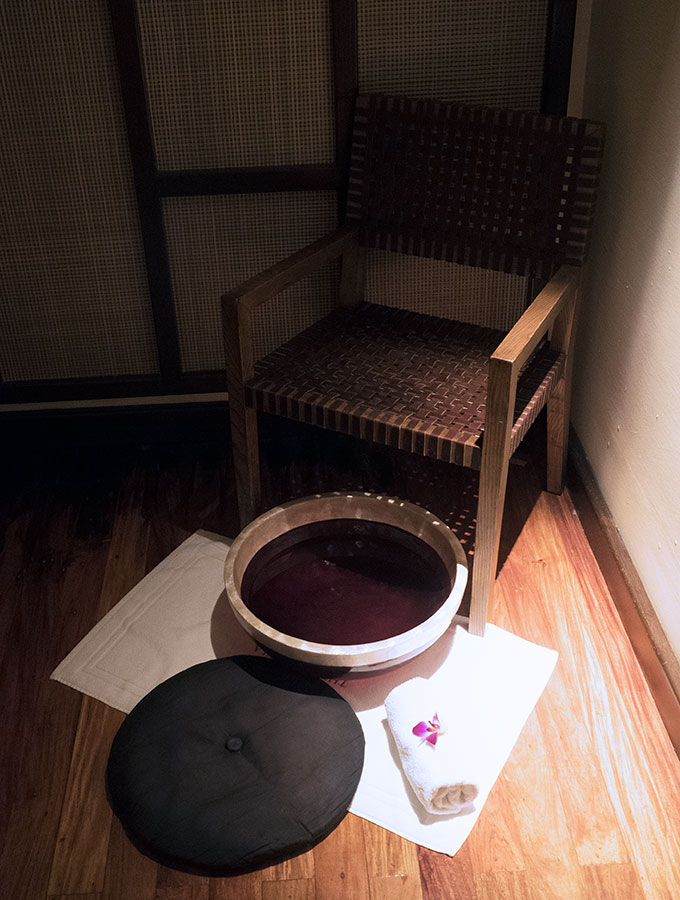 I avoided the gym, but happily had a Filipino style massage and an hour of reflexology. If you haven't had a hilot massage before, then you are in for a treat. I don't treat myself that often and it was a glorious two hours of me time.
The Peninsula Manila The Bar
There are a couple of bars at The Peninsula Manila, Salon De Ning and The Bar. Whilst Salon De Ning was rather cool with it's glamorous 1930's Shanghai feel, excellent cocktails and live music, we preferred The Bar.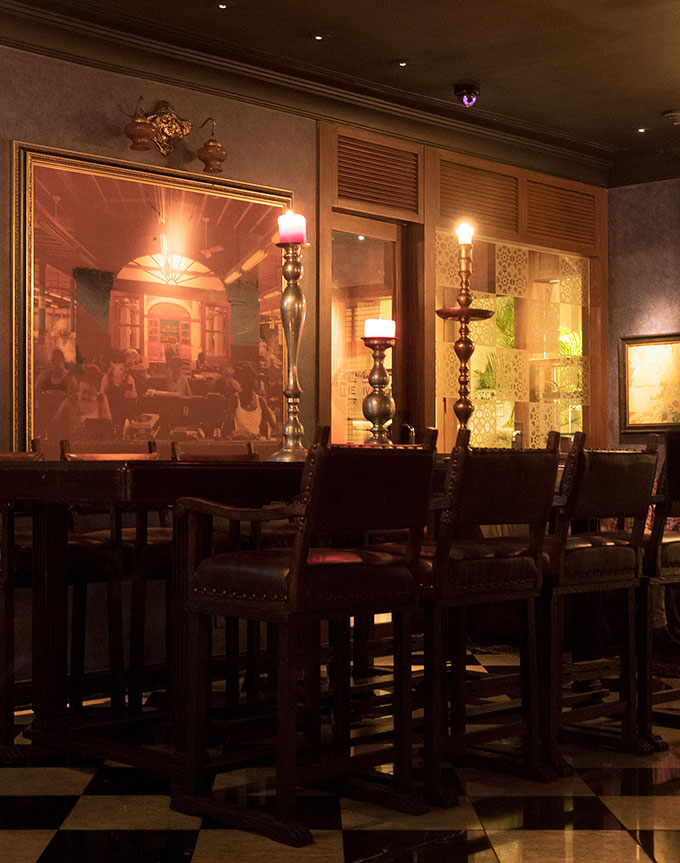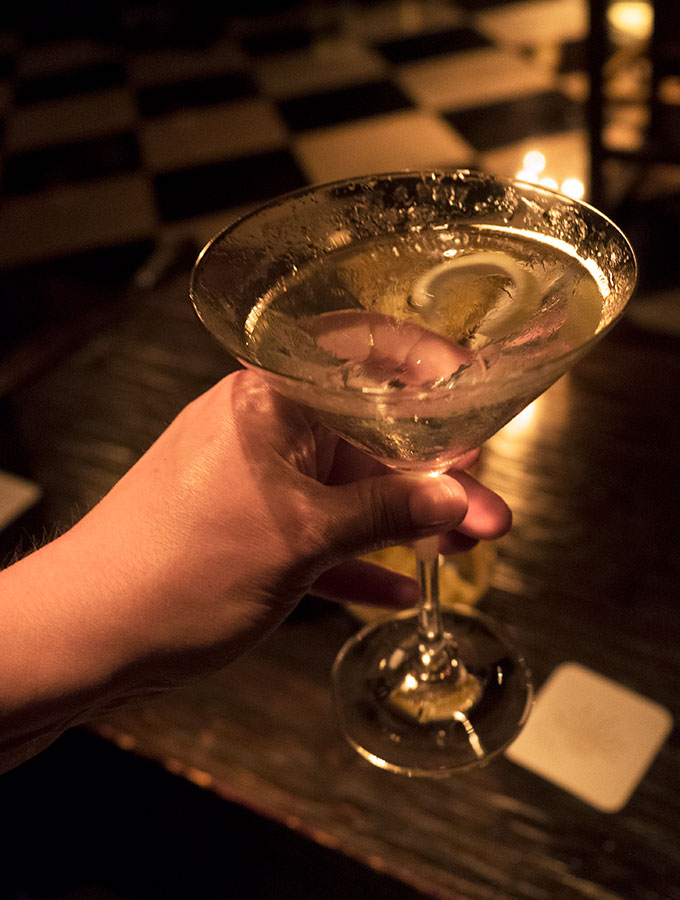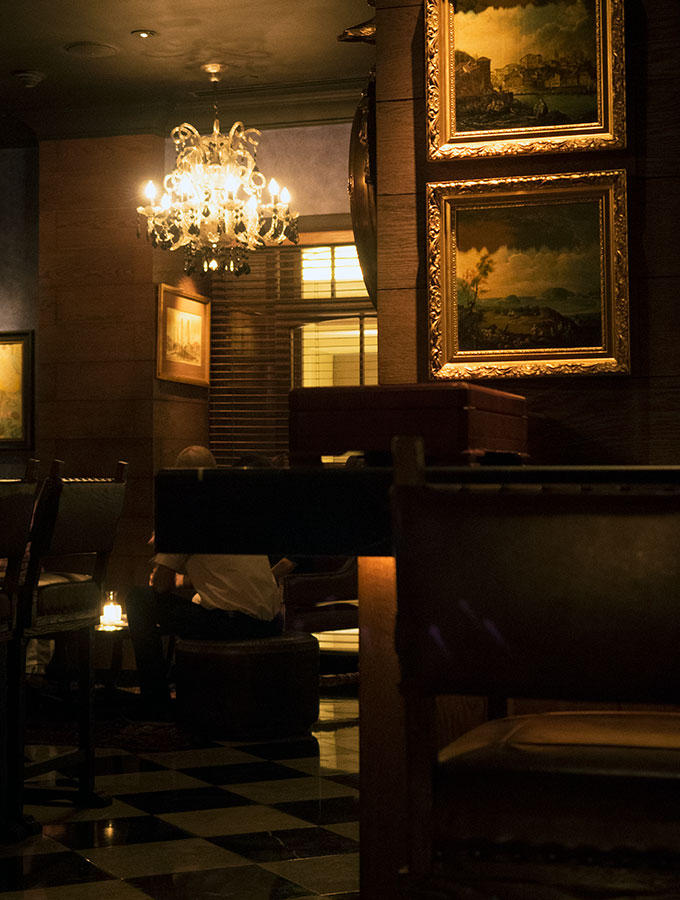 The Bar is the quieter of the two bars at the hotel. You have a choice of sitting around the large wooden bar, grabbing one of the various tables, and there are small booths with padded bench style seats and stools. Complimentary snacks are brought out with your drink order. I might add they happily keep refilling them for you too. After a hard day of playing tourist, it quite hits the spot.
The Peninsula Manila Spices Restaurant
During our week stay at the hotel we had dinner there a couple of times. Once for room service and the other Spices. Spices restaurant offers South East Asian cuisine from countries such as Indonesia, Malaysia, Thailand, Vietnam, Singapore, Sri Lanka and India.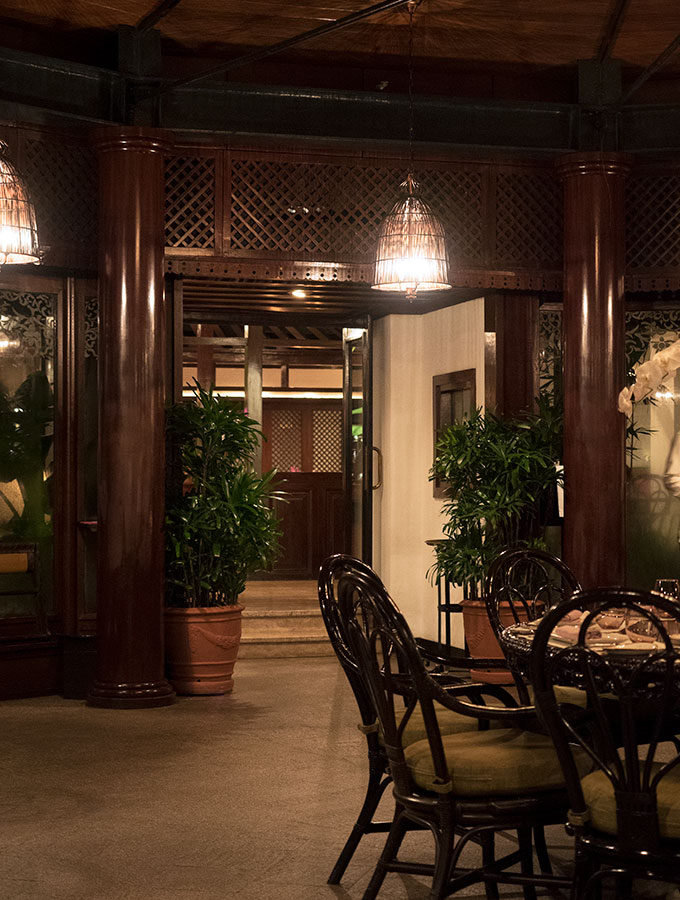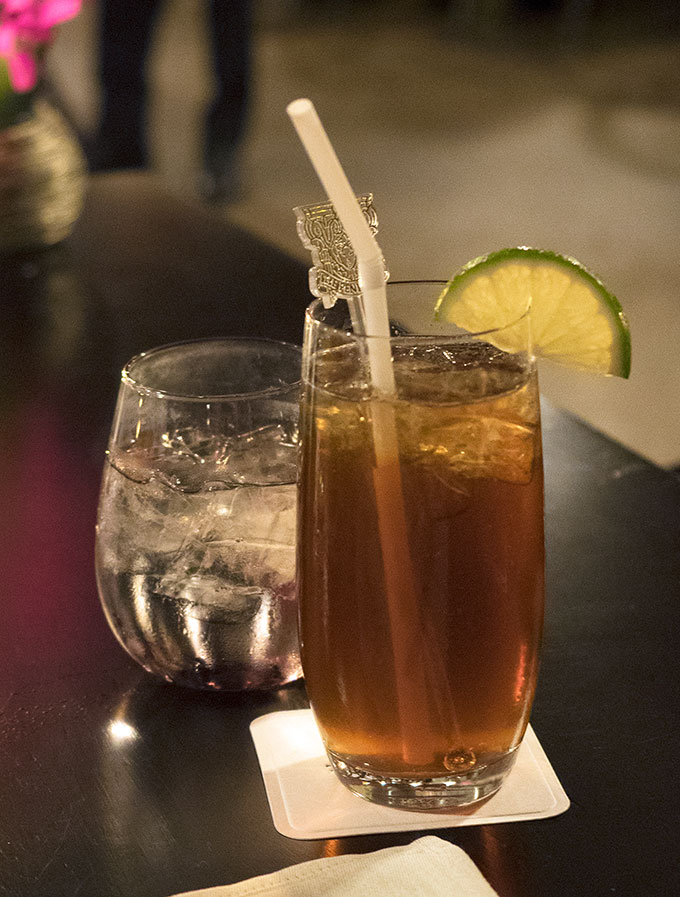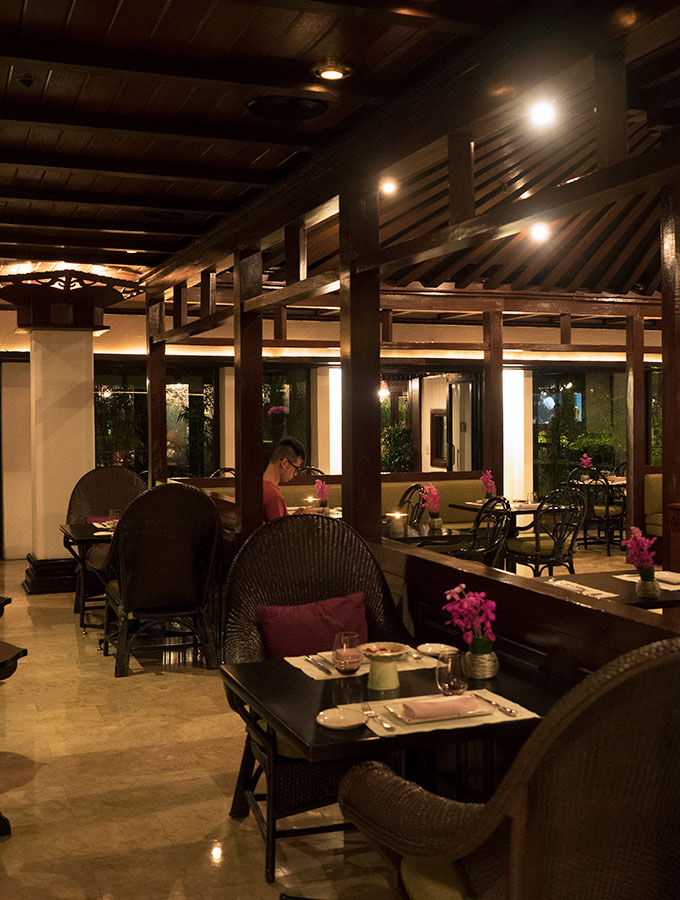 Spices kitchen is headed by Chef Phaithoon Atthasarn, who's specialty is Thai food. Atthasarn comes from Northern Thailand and his love for his homeland is showcased on Spices menu.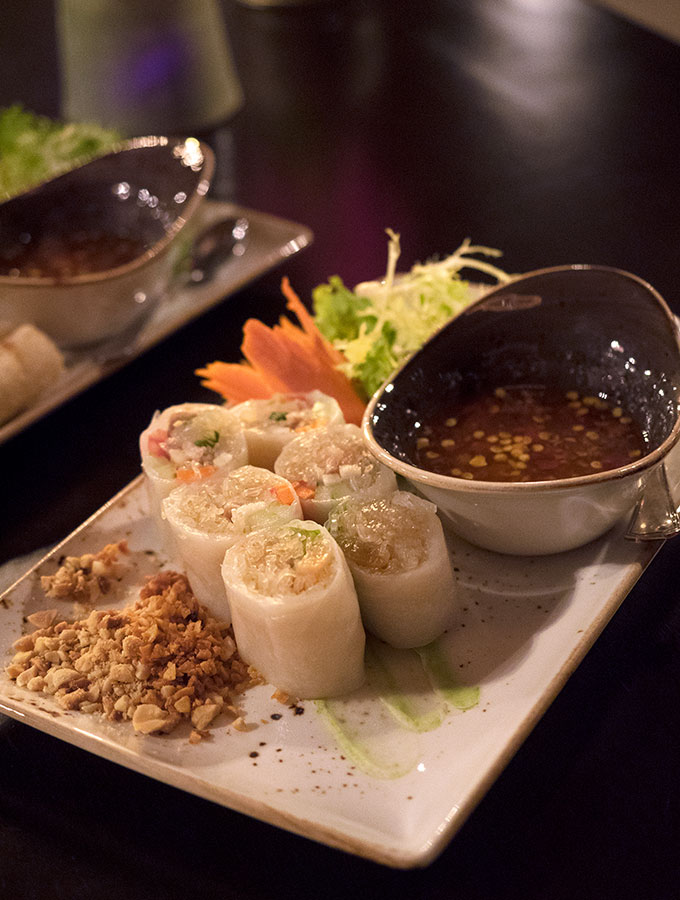 Goi Cuon, fresh rice paper summer rolls with shrimp, pork and coriander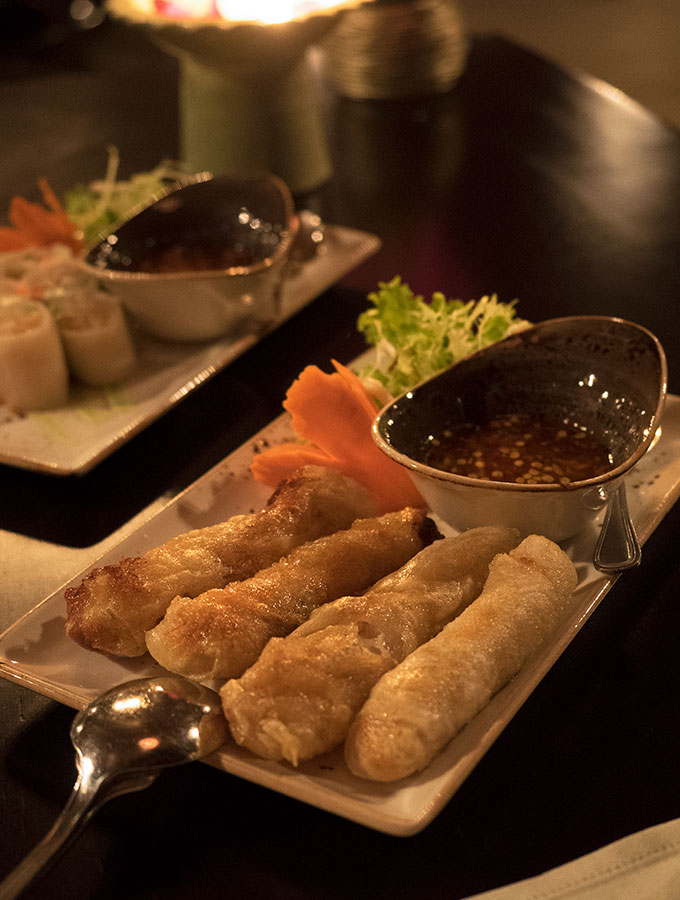 Cha Gio and Nuoc Cham, deep fried Imperial spring rolls with shrimps, minced pork Water chestnuts, shiitake mushrooms and glass noodles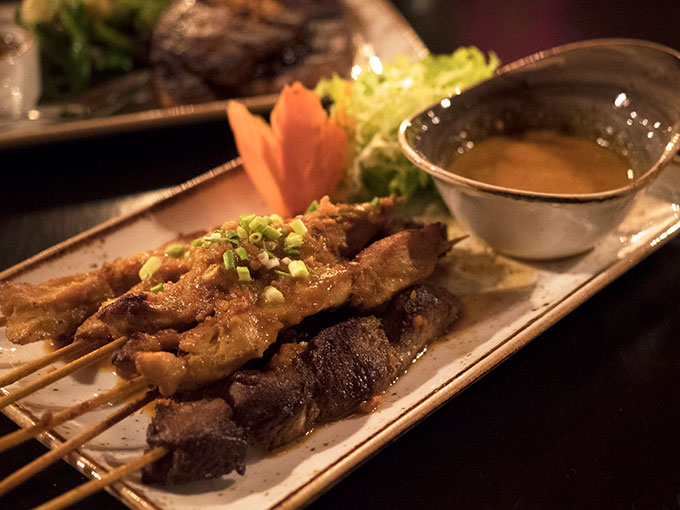 Traditional satay originating from Java, 3 pcs chicken & 3 pcs beef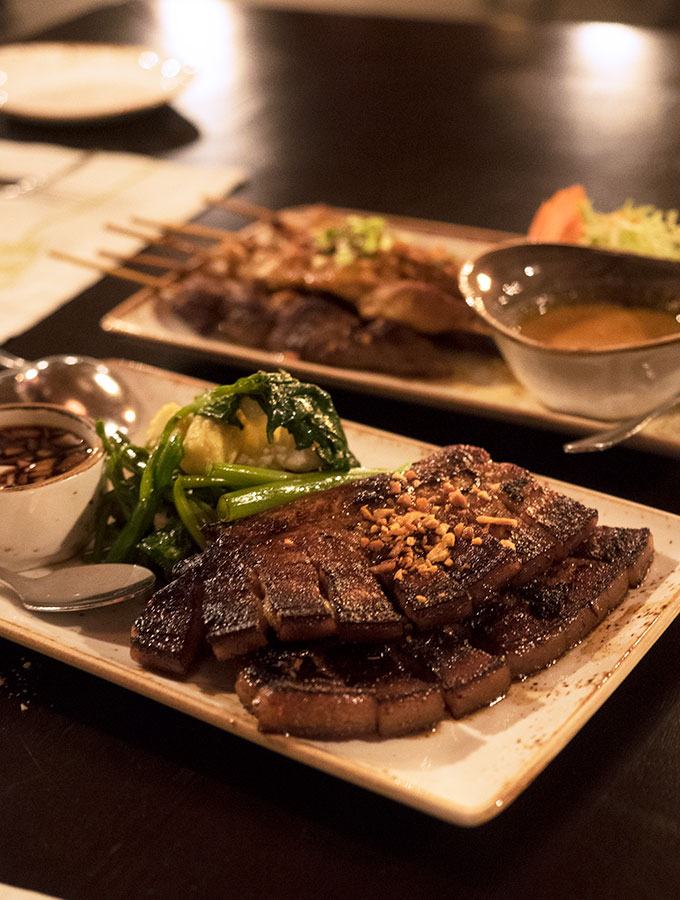 Inihaw na Baboy, spicy barbecued pork with chili vinegar dip
The Peninsula Manila The Lobby
The Lobby is a stunning space. The ceiling is adorned with a giant sunburst sculpture created by Filipino artist Napoleon Abueva. The ceiling is an impressive four storeys high. There are also two massive tapestries hung on the front walls of the Makati and Ayala lobbies.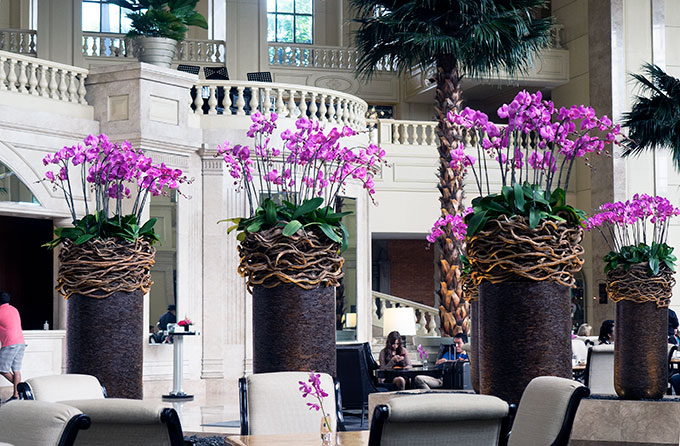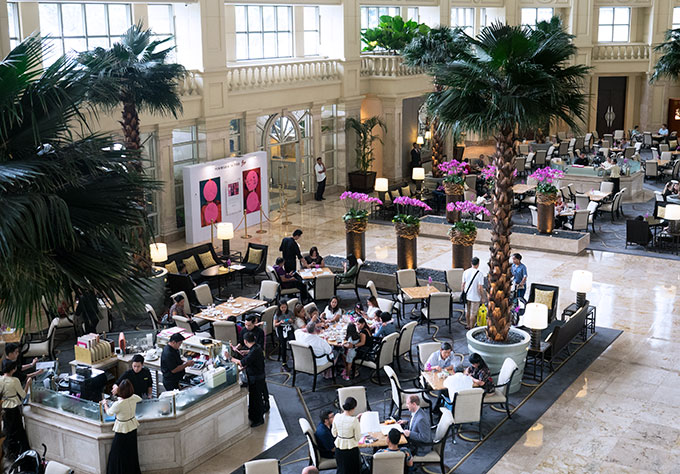 The lobby acts as another dining area which seems to attract a lot of locals for afternoon tea. It is a vast area with ample places to sit and enjoy a meal, but it is the halo halo that The Peninsula Manila is known for. It is probably the most expensive (PHP 690) halo halo in Manila as well.
Halo halo means "mix mix" and is an iconic Filipino dessert. The Peninsula's halo halo is massive, big enough for two. They call it the Halo-Halo Harana, and it is made up of the following; leche flan (egg yolk custard), chickpeas, sweetened kidney beans, jelly, kaong (sugar palm), nata de coco (coconut gel), ube (purple yam), sago in syrup, langka (jackfruit) and makapuno (a rare variety of creamy coconut).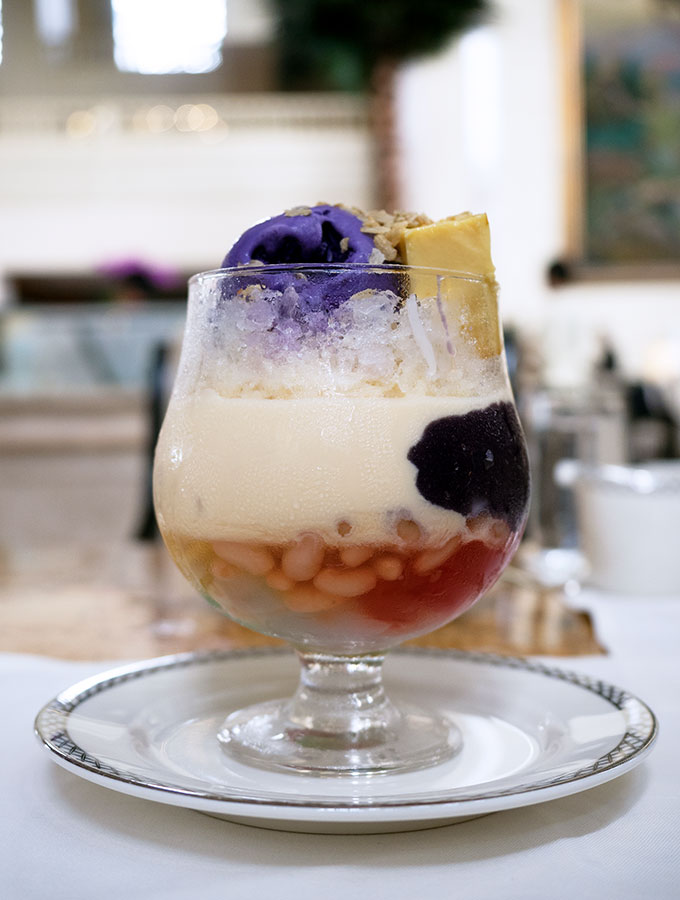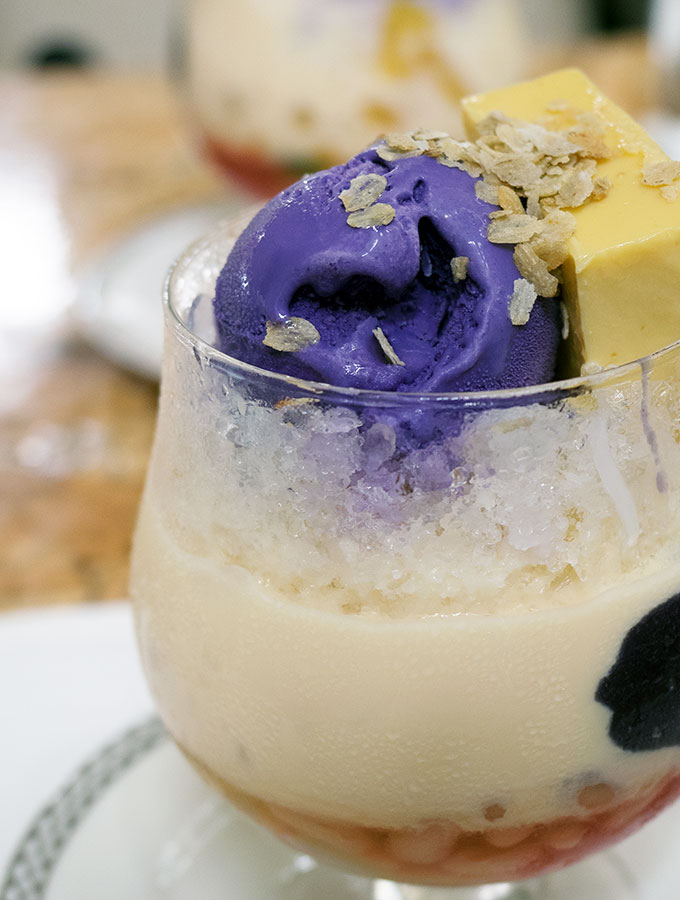 This is then topped with a scoop of ube ice cream and sprinkled with toasted pinipig (rice crisps). If this wasn't enough it is then topped with around an inch of evaporated milk. All served in a very balloon glass. Trust me when I say order one between two!
Even though The Peninsula Manila is a large luxury hotel, we were made to feel very at home. Always greeted with a smile and asked how our day was on return from our adventures. Even if we looked like something the cat had dragged in after facing a day of Manila traffic humidity and heat.
The hotel is in a good location in Makati, which is the central business district. We found it a great base to discover and see what we wanted to.
Did The Peninsula Manila live up to my 12 year old self's dream of staying at a Peninsula hotel? Yes, yes it did.
You may also enjoy reading about our food tour of Manila's Chinatown and our nose to tail degustation in Pampanga. After other accommodation in Manila? Have a read of my review of Sofitel Philippine Plaza.
Sara xxx
The Peninsula Manila
Cnr Ayala & Makati Avenues
1226 Makati City
Metro Manila
Republic of the Philippines
Tel +63 2 887 2888