Sofitel Philippine Plaza Manila is a five star resort located by the water of Manila Bay. The sprawling grounds create a serene location in bustling Manila.
We stayed in Manila for two weeks in two locations. The first hotel was the Peninsula in Makati. A great location close to bars, shopping and restaurants.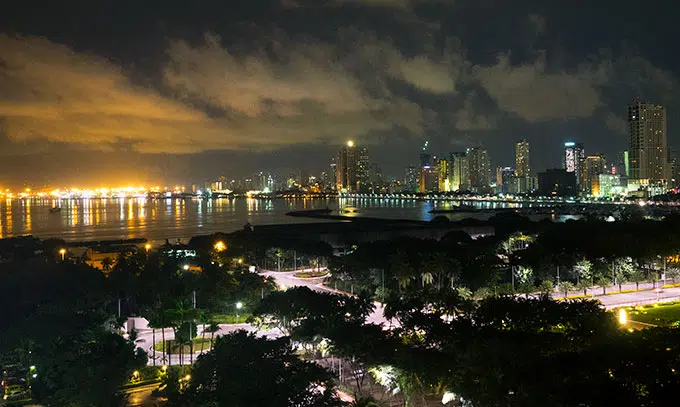 For the last part of our stay we moved to the Sofitel Philippine Plaza. Reason for the move was that we were attending a conference and this was the dedicated conference hotel. Location wise you can't beat this Manila hotel in regards to the location to the Philippine International Conference Center. It's directly opposite, a five minute walk navigating traffic.
Read more reviews for Sofitel Philippine Plaza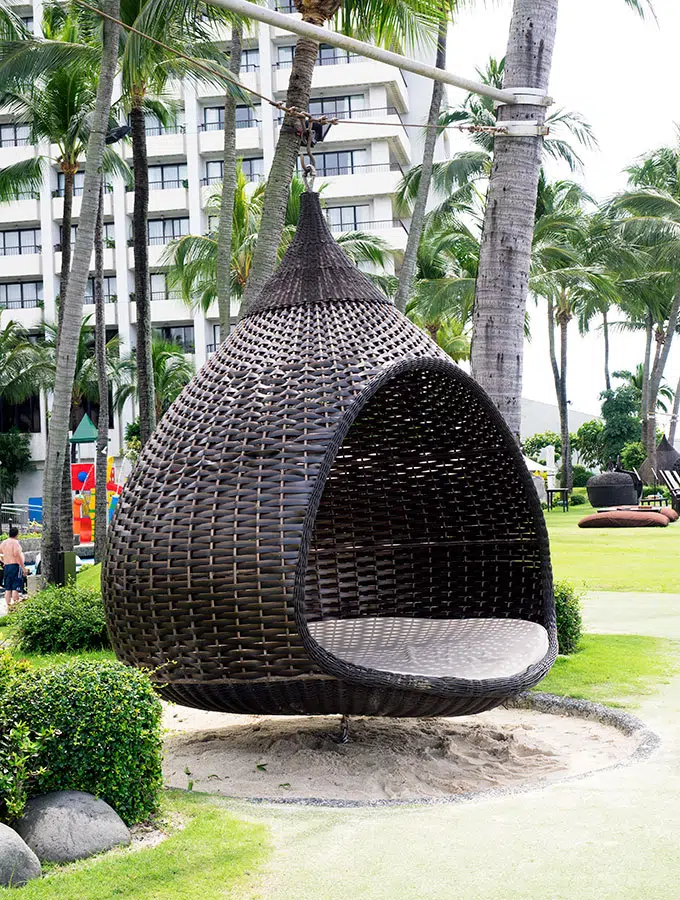 Unlike our stay at the Peninsula, the Sofitel Philippine Plaza isn't in a great location to easily walk to restaurants, shops etc. It is close to the gigantic SM Mall of Asia. It will take you a 30 minute walk to get there. With Manila's humidity, an eight minute cab ride is recommended.
What this hotel does have going for it is the luscious sprawling grounds, it's location on the bay and a variety of in house dining options. If you are travelling with children, they are going to love the pool! It is a great escape from bustling Manila.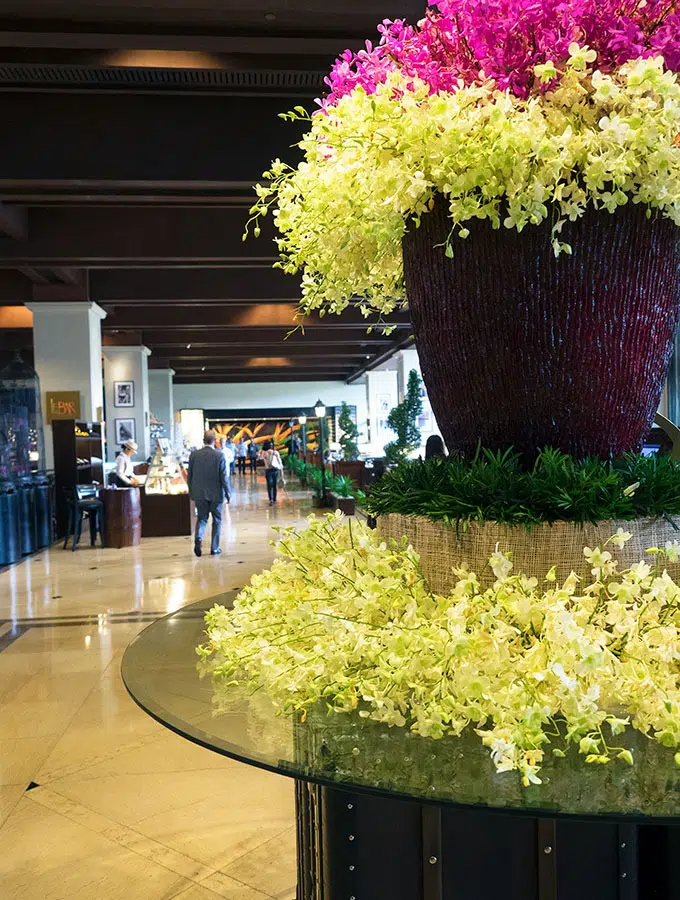 Luxury Club Twin Room
As Josh and I were Travelling together and sharing a room, we went for a twin club room. When checking in at the Millsime Club lounge staff were excited to tell us we had been upgraded/allocated one of the newly renovated luxe club rooms.
Our excitement wore off as soon as we sore the gorgeous room, it really was lovely, but had a double bed. Back to the lounge and were sadly advised or upgrade was short lived. No twin rooms in that category available.
The room allocated was nice enough and quite spacious. The only problem was it wasn't anything like the luxe room first offered.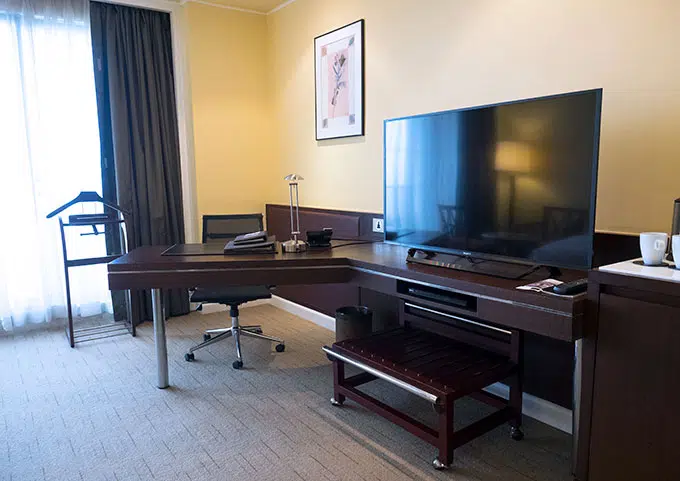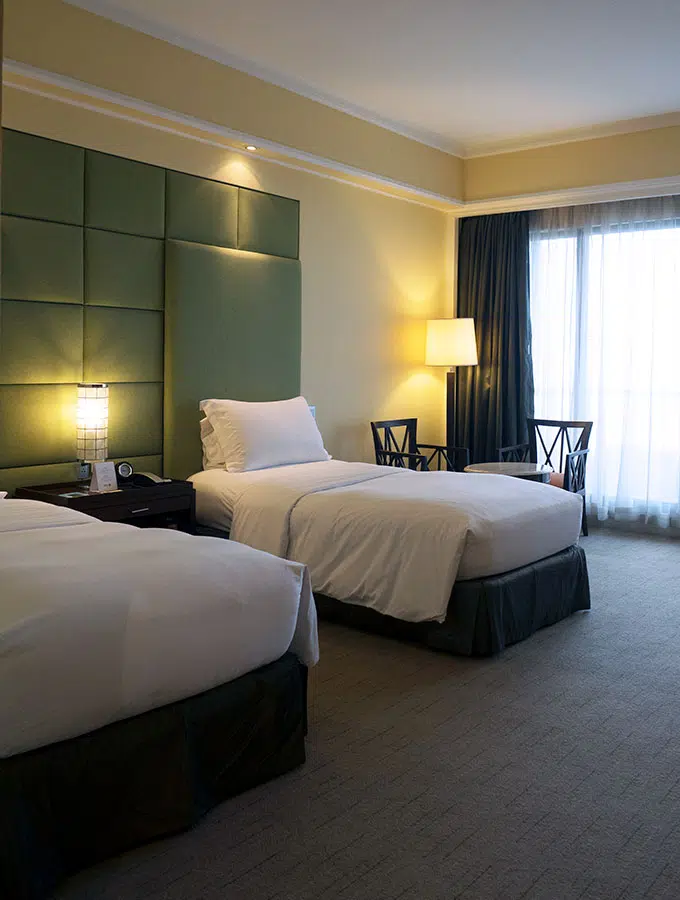 Insult to injury after our first night sleep. The twin beds were atrocious. Both of them were lop sided and it was like sleeping on a hill. I had visions of finding myself on the floor in the morning. The fear of rolling out was real.
The location of our room was also next to the Millesime Club. We were woken early each morning to the sounds of breakfast being noisily prepared. It also meant that our room was filled with the smells of breakfast.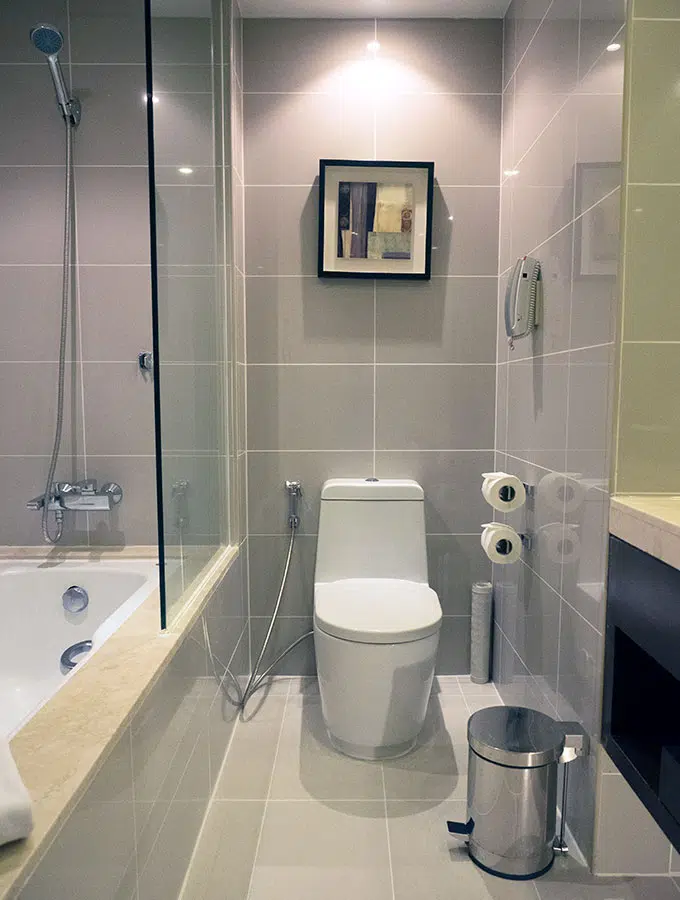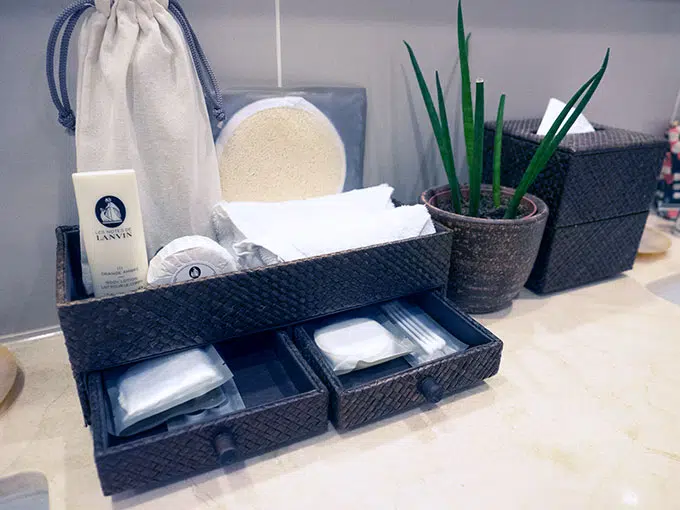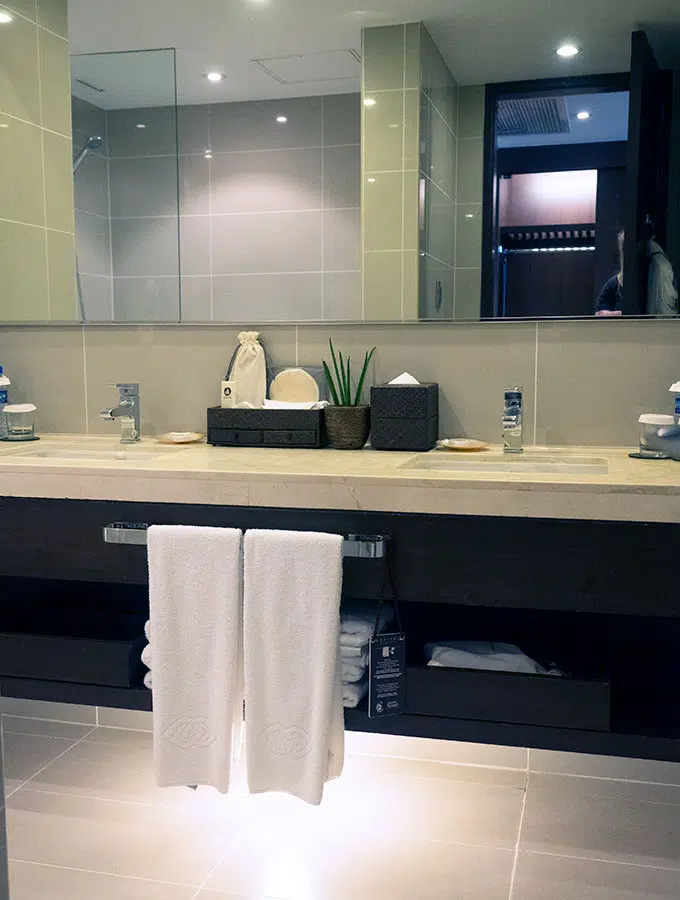 The bathroom was on the small side with a shower bath combo. Personally, I hate having the shower in the bath, and if there isn't room for both I would rather just a shower.
Ladies be warned the bathroom has extremely poor lighting to apply makeup. There isn't a mirror anywhere else to use either, you are stuck with the bathroom. If you have long thick hair, the hairdryer is also useless.
Club Millesime
Club Millesime is the private club lounge dedicated to those staying in club rooms or higher. As far a club lounges go this one isn't too shabby. There is a dedicated check in, to avoid lengthy queues at the main reception. Breakfast is offered in the morning, along with afternoon tea and cocktails in the early evening. Soft beverages, coffee and tea are available while the lounge is open between 6am and 10pm, all part of your accommodation fee.
Out of food service times it is a quiet spot to work with Wi-Fi available. There is also a printing service and computers if needed. I found the food offerings quite extensive for afternoon tea and cocktails. Teh better breakfast option is to head to Spirals, which has an incredible buffet, also included with your accommodation.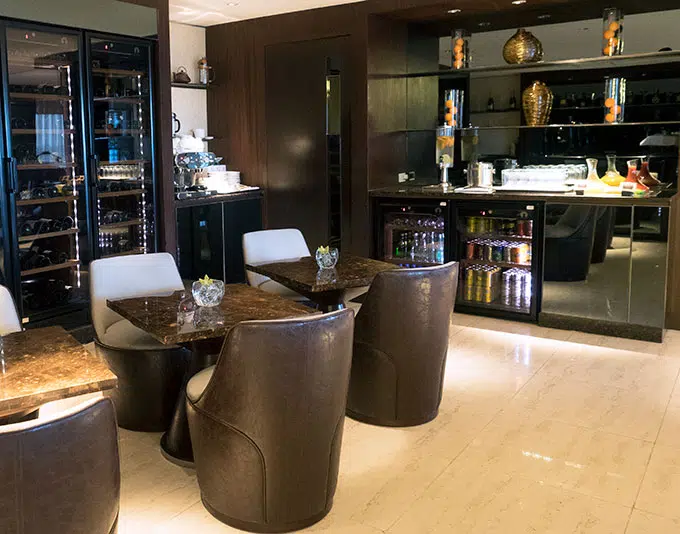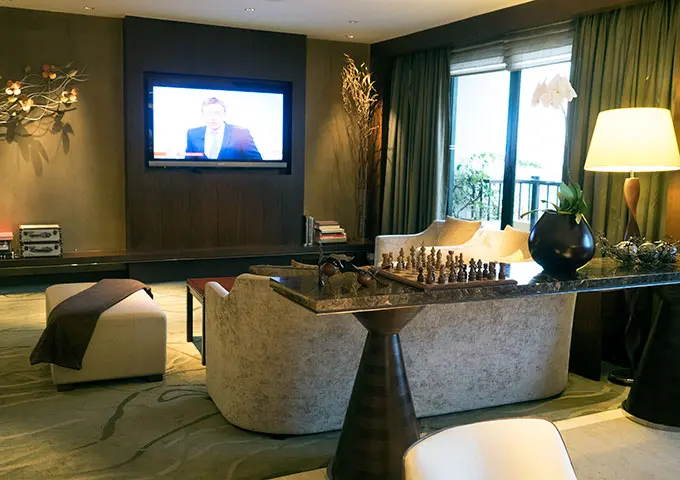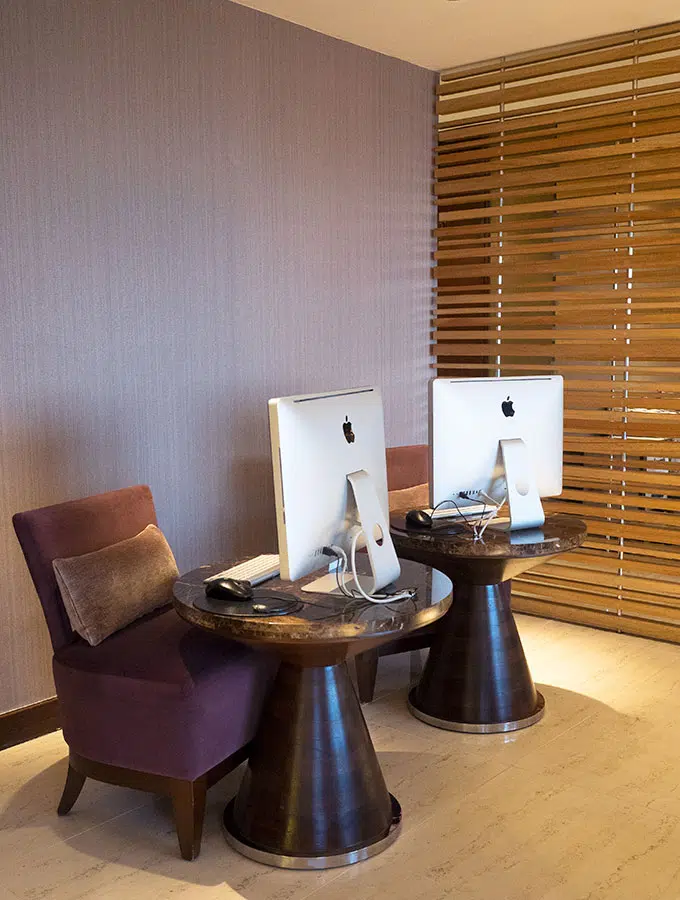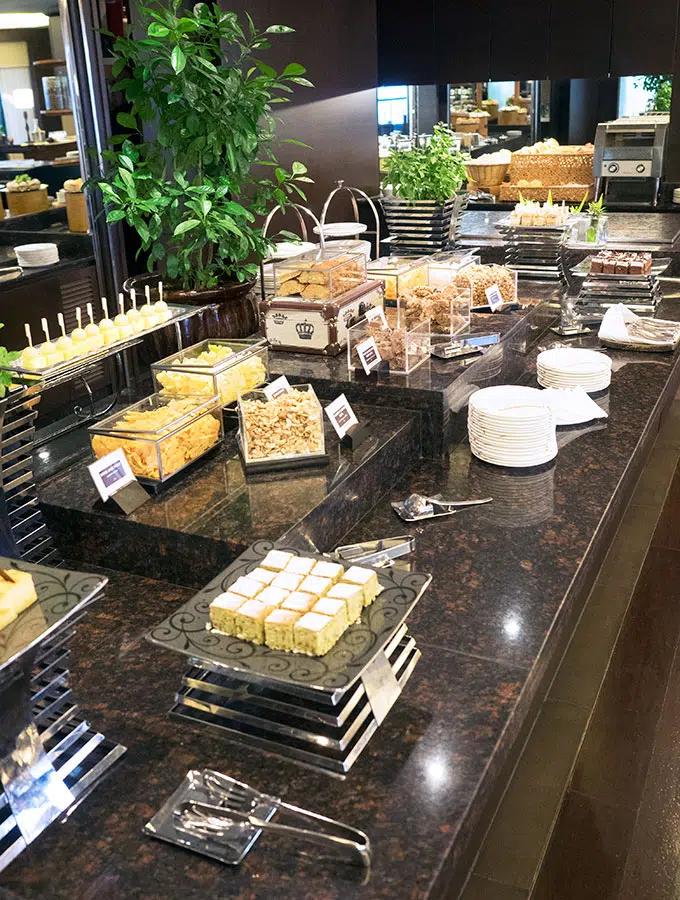 In Room Dining Sofitel Philippine Plaza Manila
There is a fair bit of variety on the in room dining menu. We opted for bento boxes which weren't too bad, not the best we have ever eaten. Items that needed to be crunchy were, hot items were hot, cold items were cold. Ordering wasn't too painful and service was rather quick.
Flying to Manila? Compare flight pirces at Skyscanner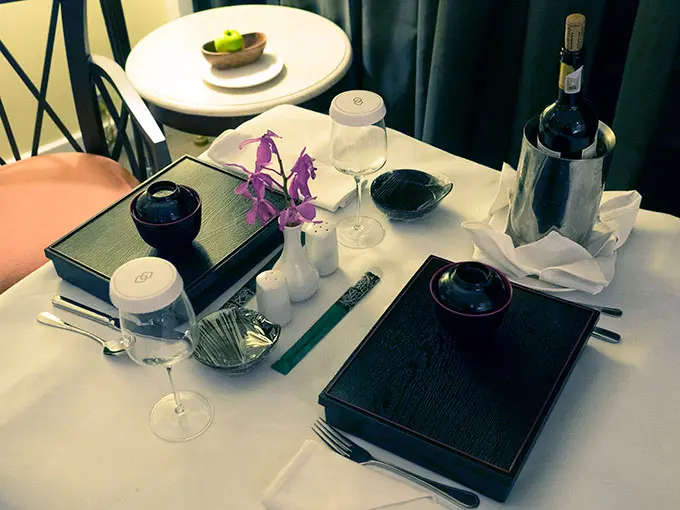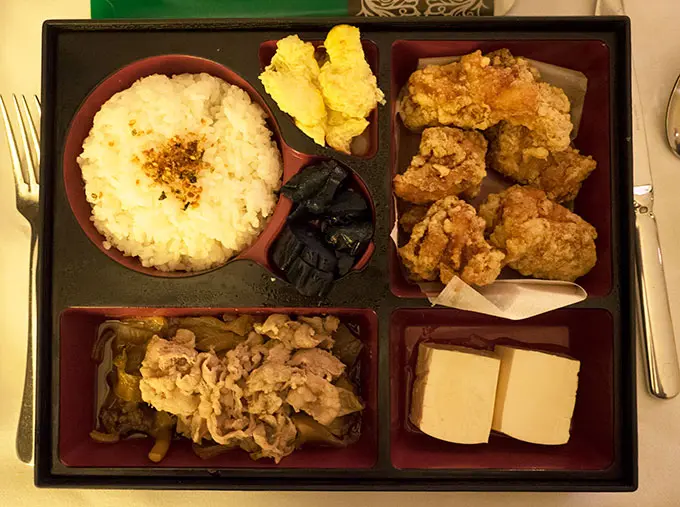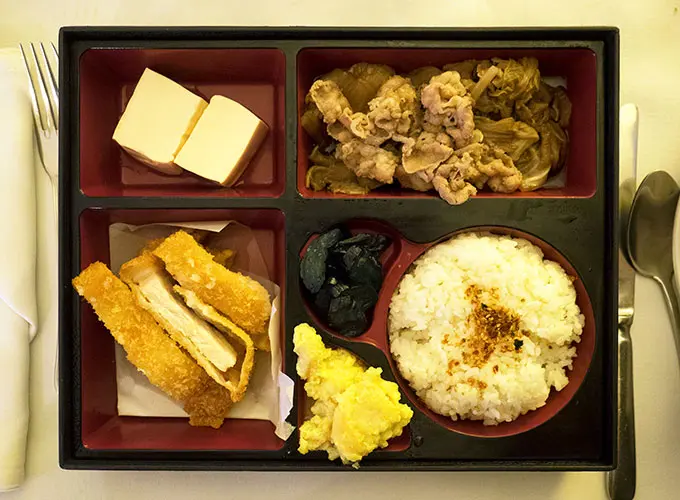 Snaps Sports Bar
There are quite a few dining options at Sofitel Philippine Plaza. Sadly we found the food as a whole a let down. Plus no matter where I ordered it, they can't seem to make a decent martini.
Snaps sports bar was a hit and miss combination as far as food is concerned. We received chips and nuts with our drink order. The martini was a bit of a disaster with both olives and a wedge of lemon. Considering a martini is a very simple cocktail to make, it amazes me how many bartenders stuff it up.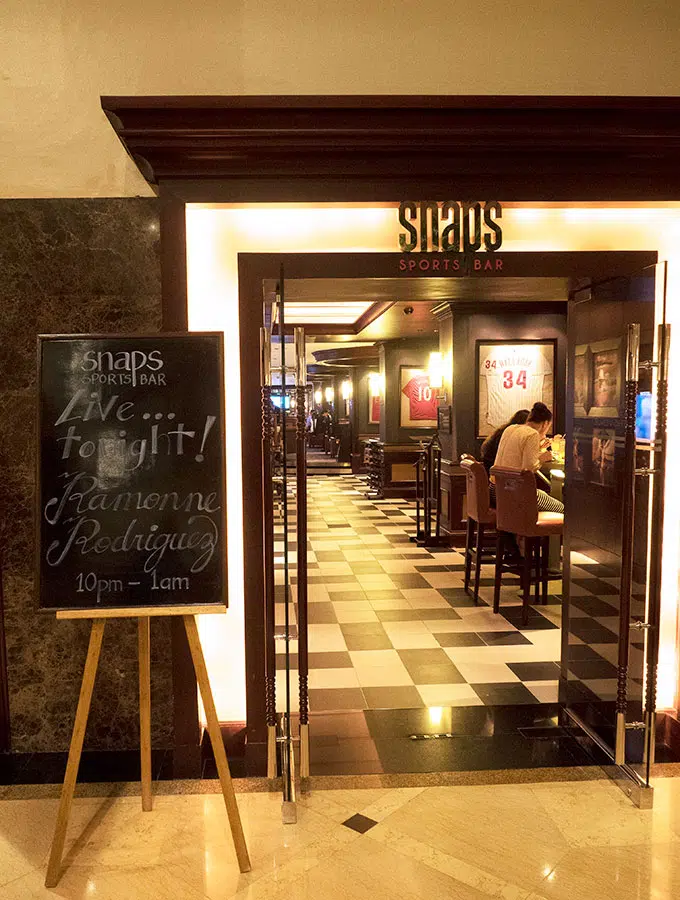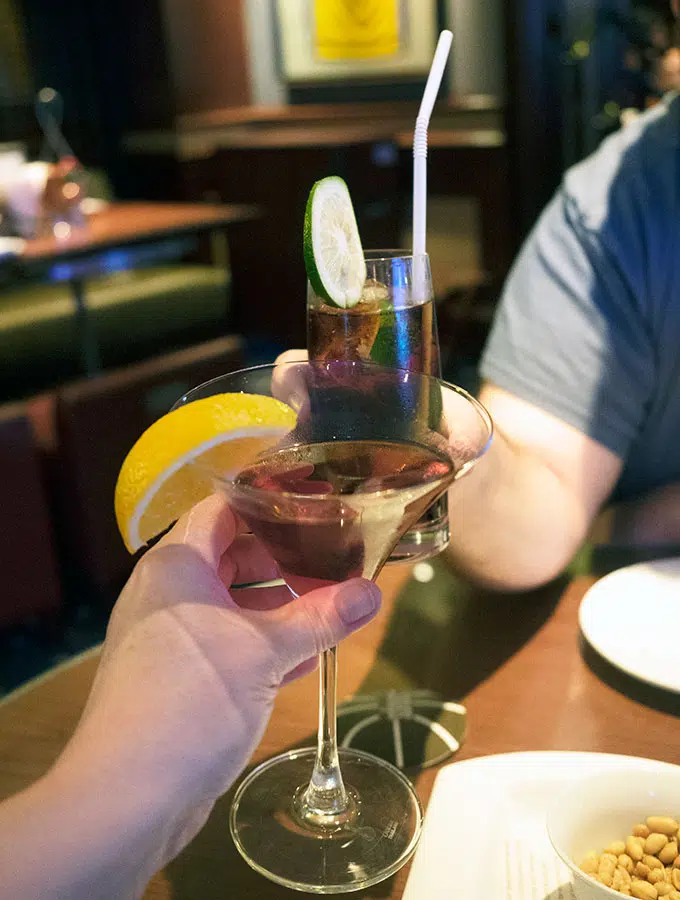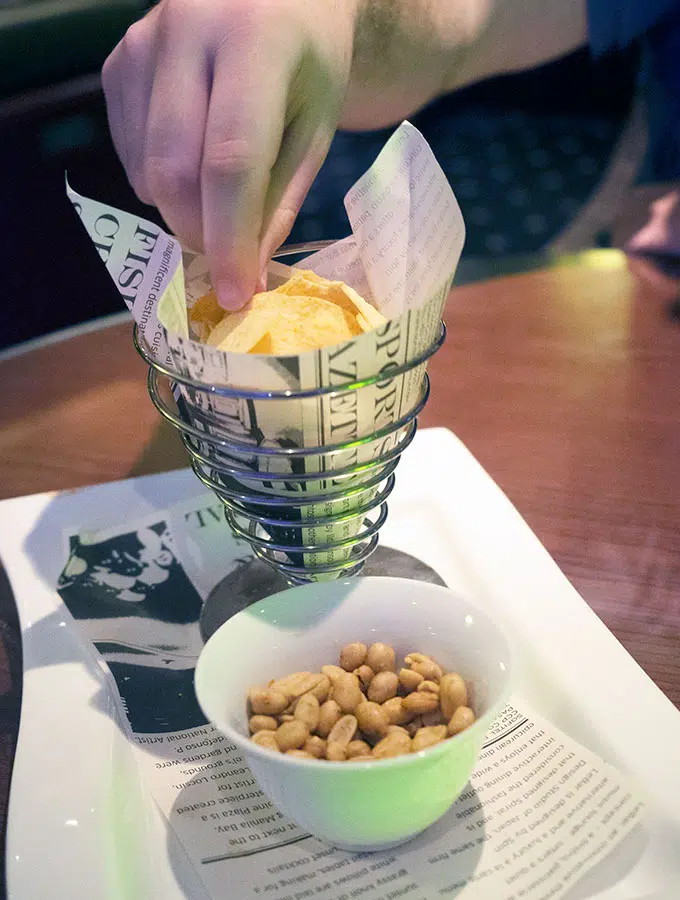 We ordered a couple of dishes to share to star. The nachos were an epic fail. The corn chips burnt and the ground beef so overcooked it resembled hard little rocks. The onion rings were a win. Crunchy, hot and not oily.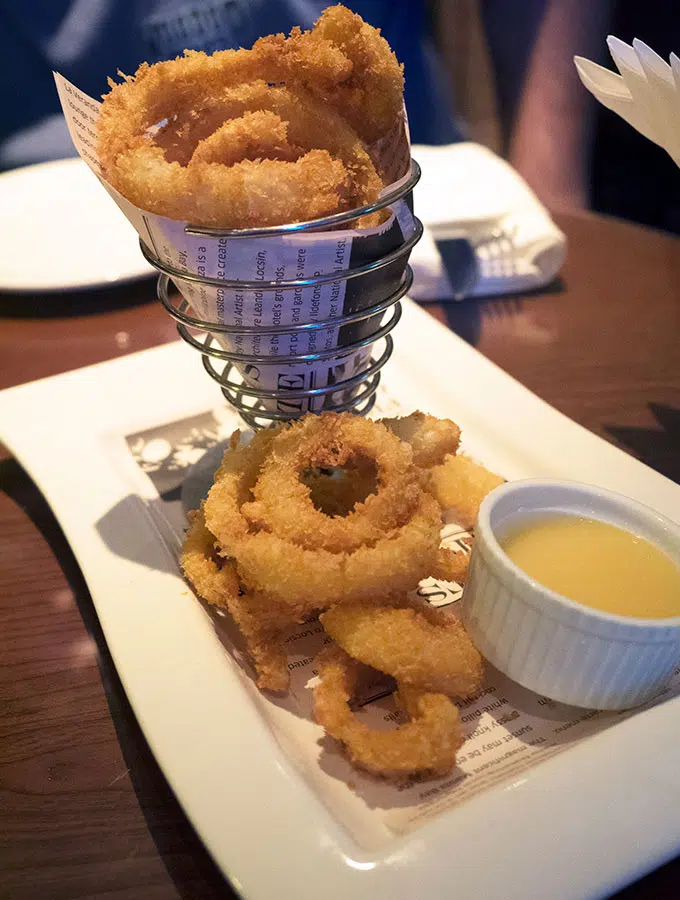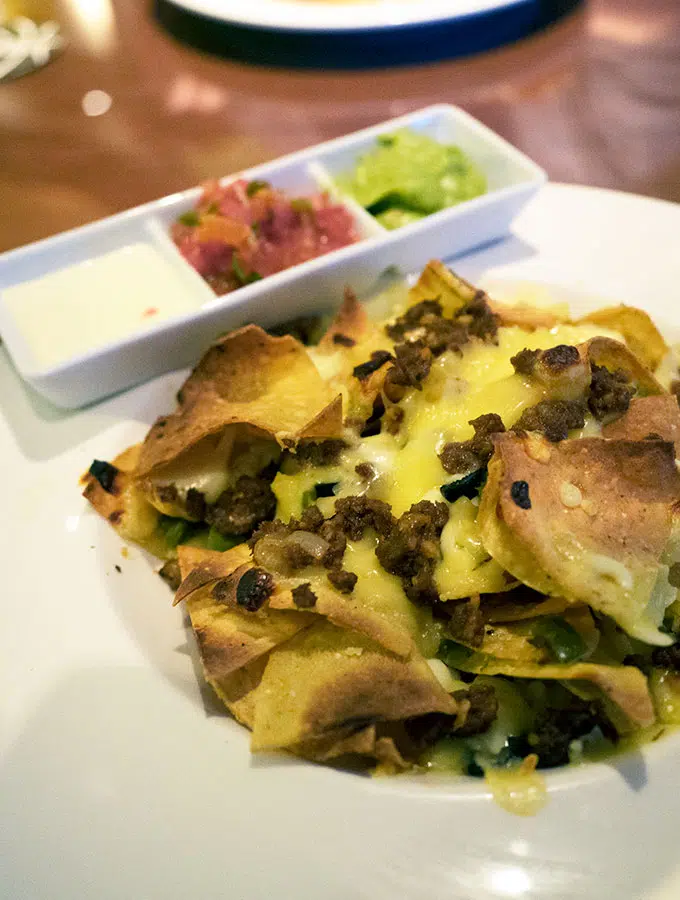 Loved how the menu was presented on a skate board deck. Josh ordered a burger and that was okay. I ordered some kind of Asian beef concoction that was....... interesting.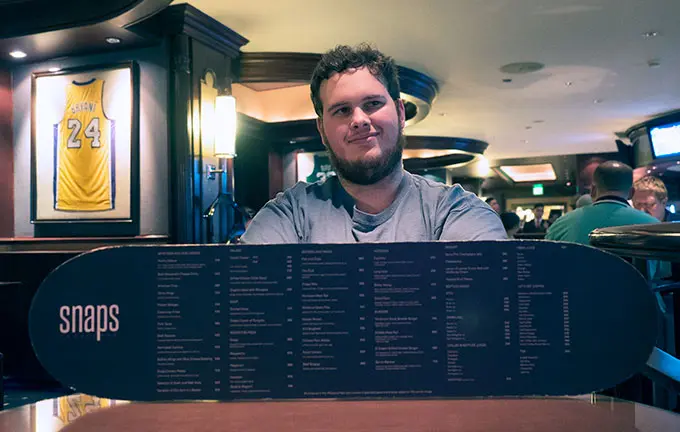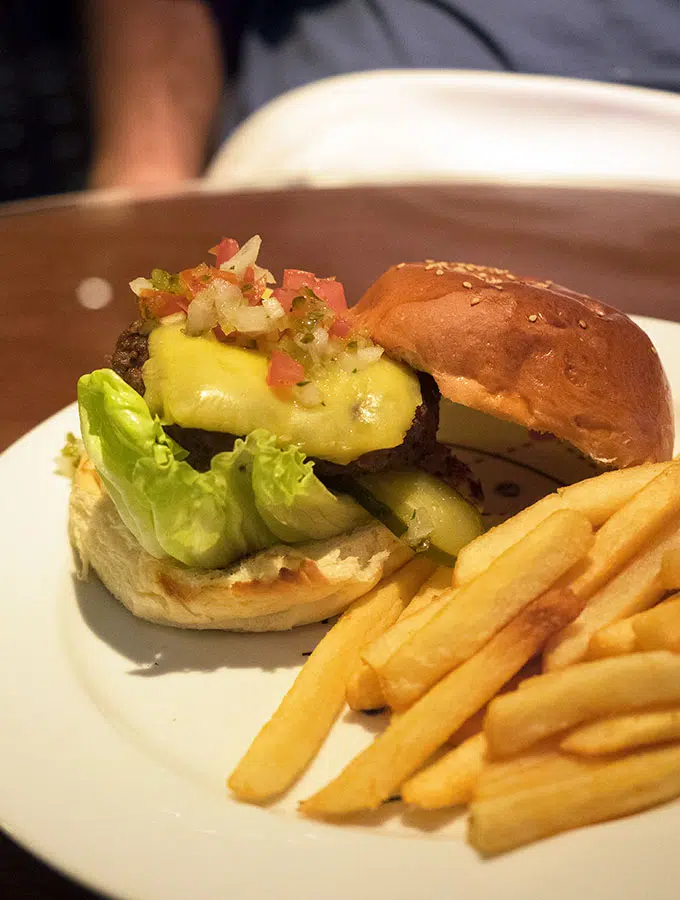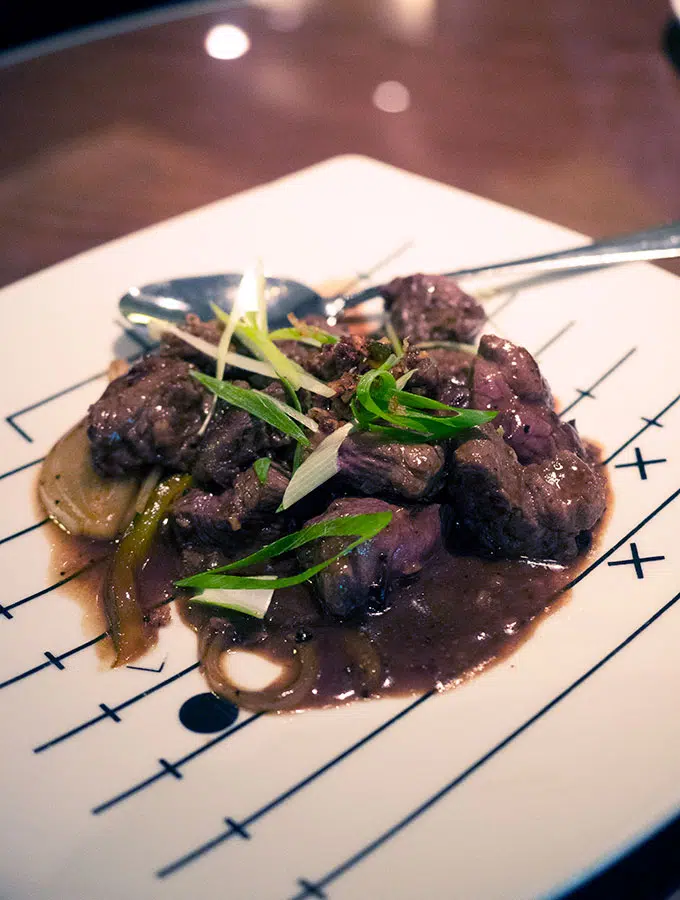 La Veranda
As La Veranda is right next door to the popular Spiral buffet restaurant it also accommodates their overflow. There is a combination of diners heading back and forth from the buffet next door and those ordering from the menu.
As we were one table of only a couple ordering from the menu, service was pretty non existant. We spent a lot of time trying to catch somebody's eye when wanting to order or order more drinks.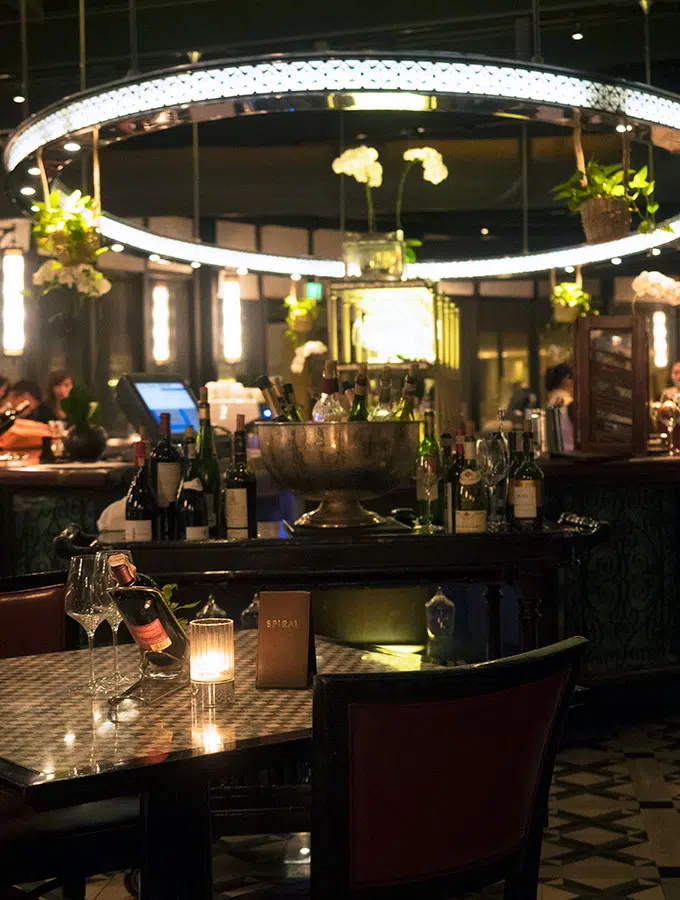 The food wasn't too bad, far superior to Snaps. We went for the Japanese options and ordered sushi, mixed tempura, karaage chicken and tuna tartare.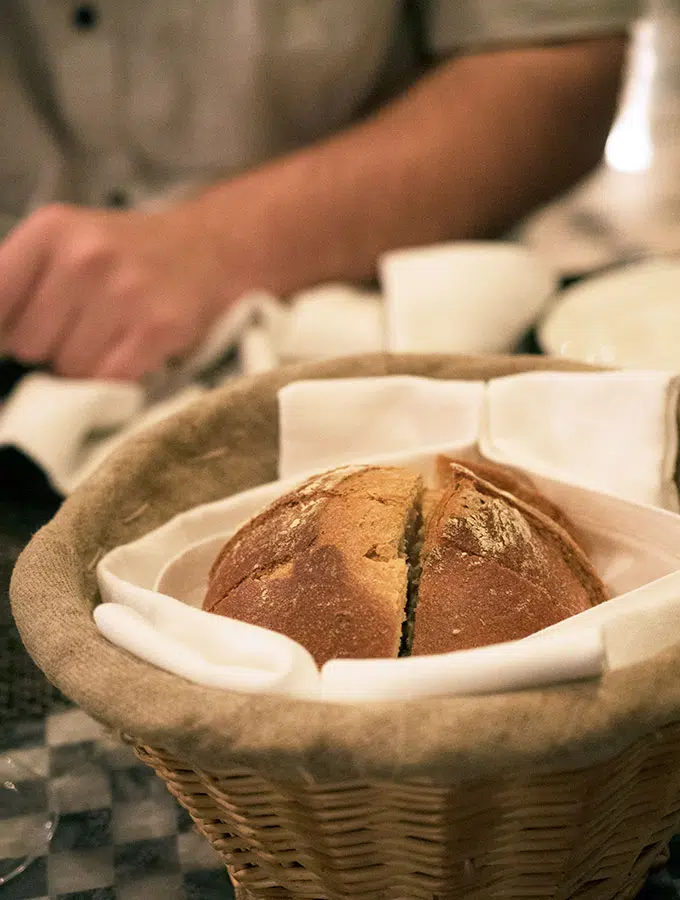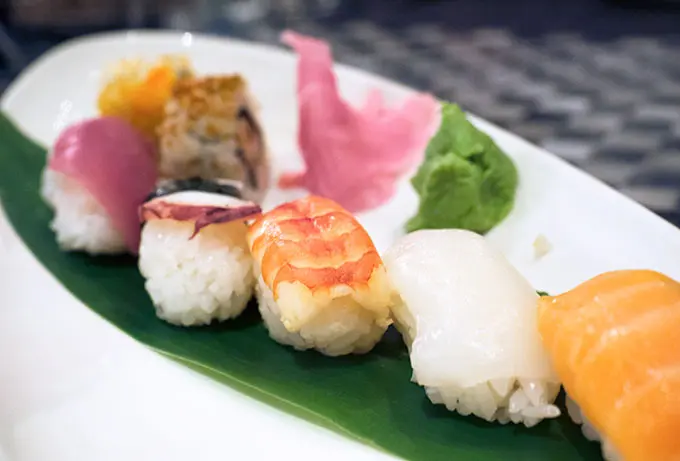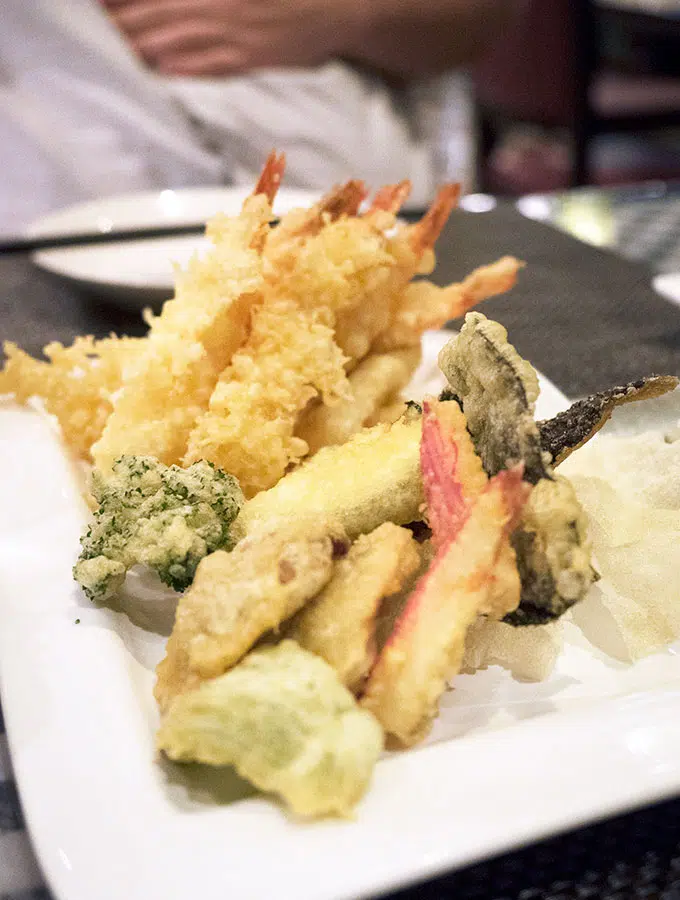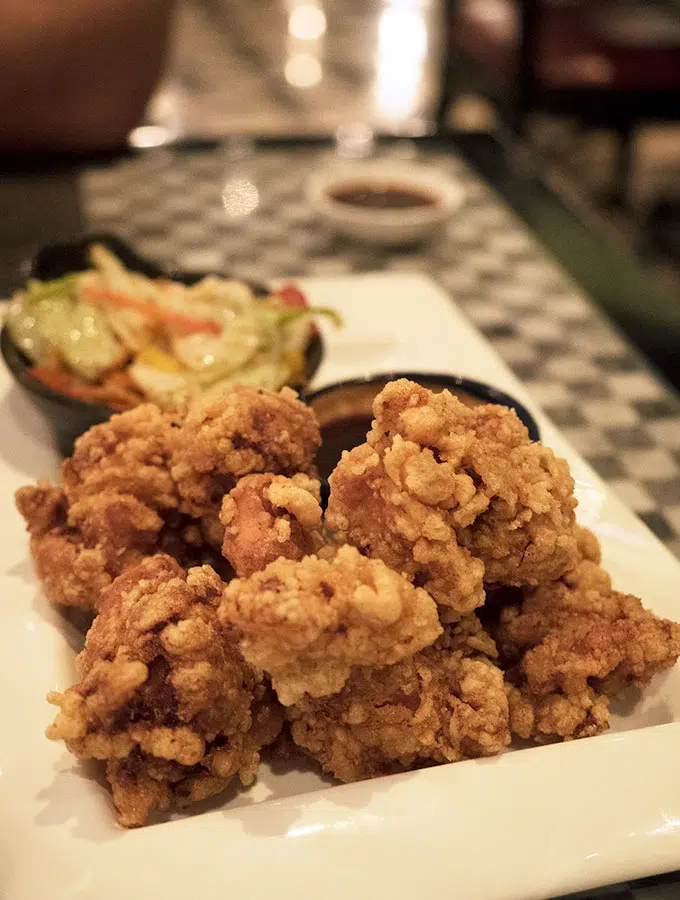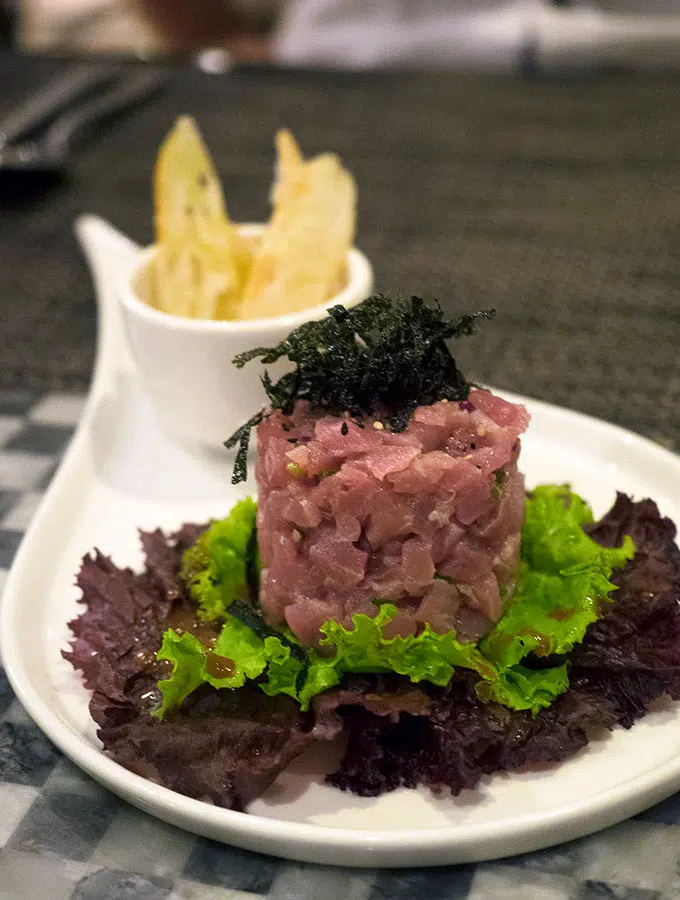 Le Bar
Le bar is the main bar of the hotel. You can't miss it as it is located opposite the entrance. Le Bar also allows you to le eat with a French bistro a la carte menu. They also offer high tea in the afternoon.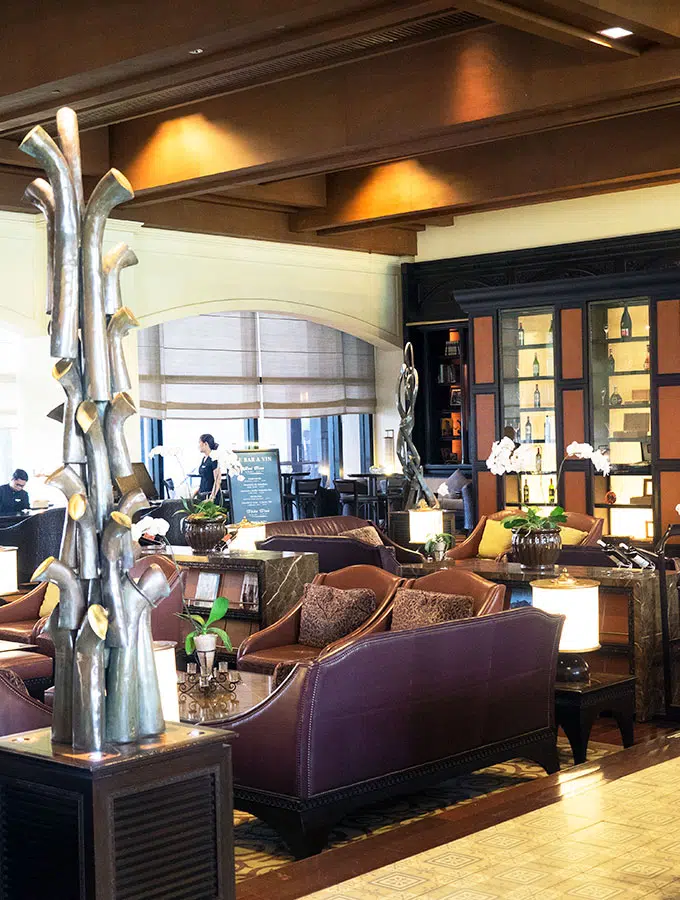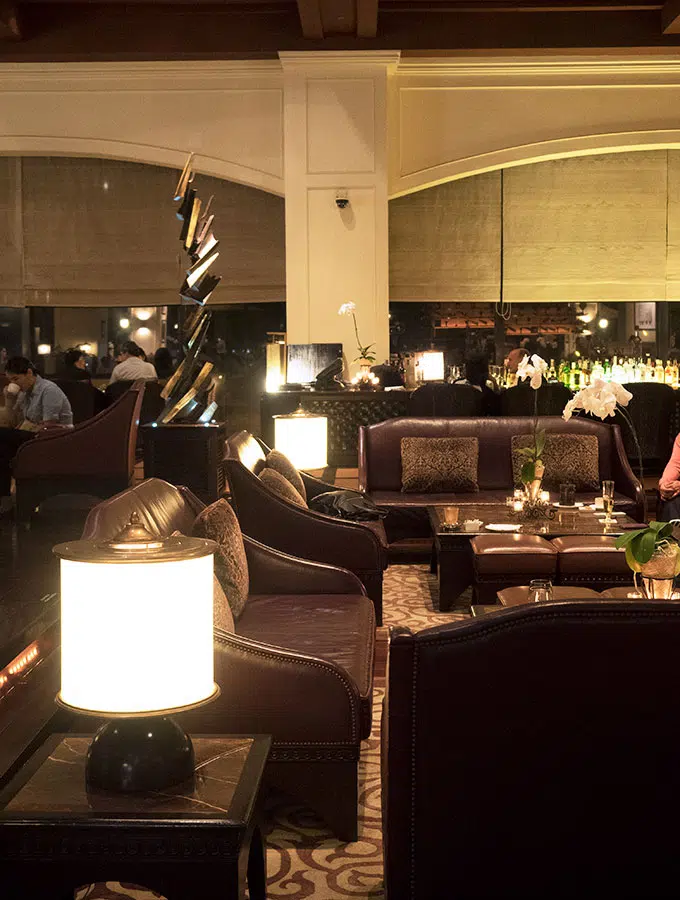 The food again wasn't all that exceptional. Josh ordered a Ceaser salad and a bacon, lettuce and tomato sandwich which did the job with some wedges on the side. I ordered the steak frittes. Sadly the steak came already cut up. What is going on with that? The fries were wedges and not crunchy french fries as expected.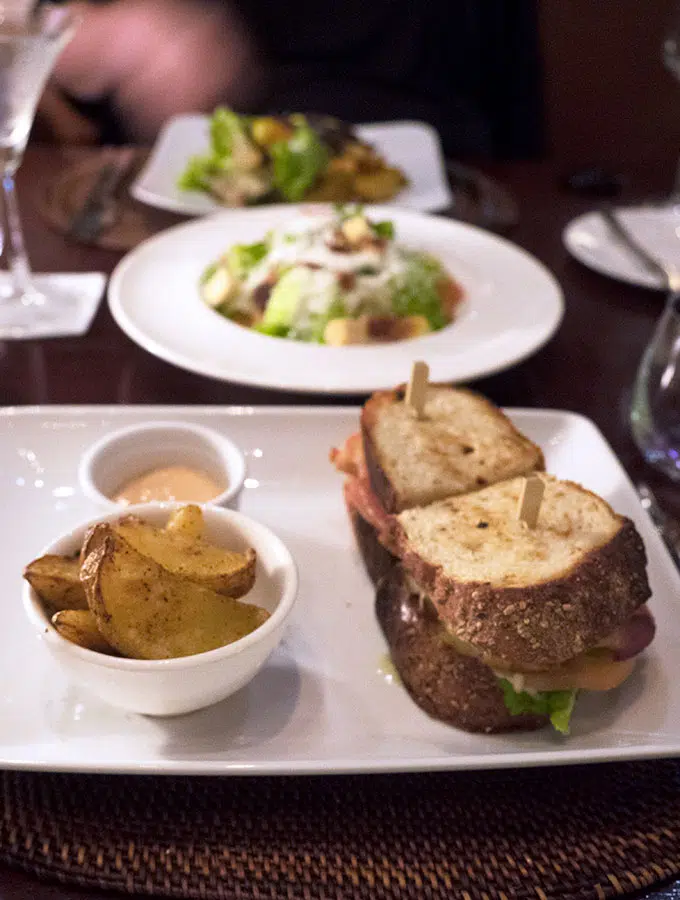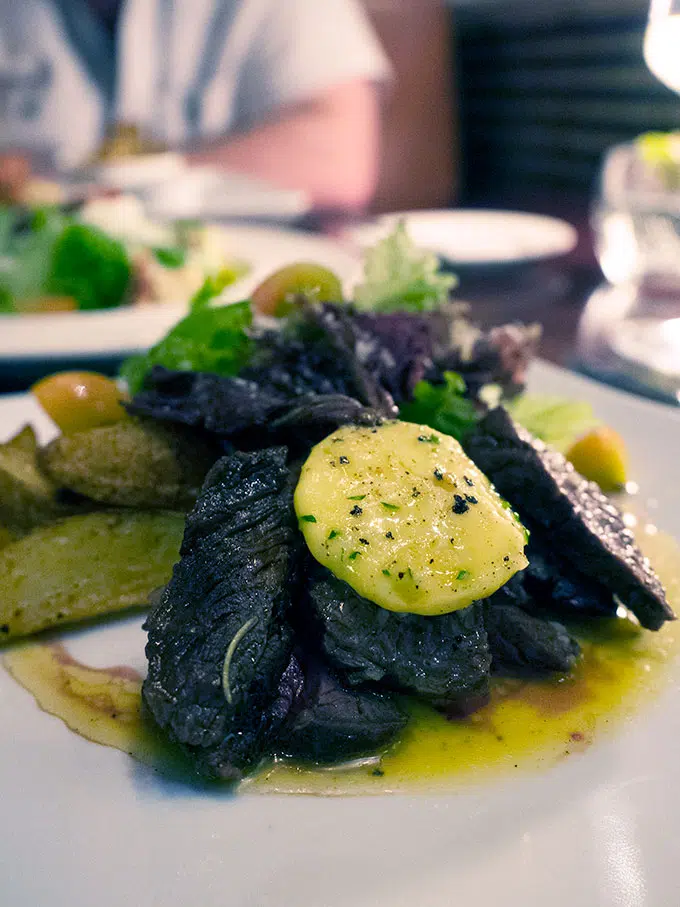 Spiral Restaurnat Sofitel Philippine Plaza Manila
The Spiral is a massive buffet restaurant open for breakfast, lunch, and dinner. I highly suggest you make a booking for lunch or dinner.
We enjoyed breakfast there one morning, and the offerings are extensive. You are spoilt for choice.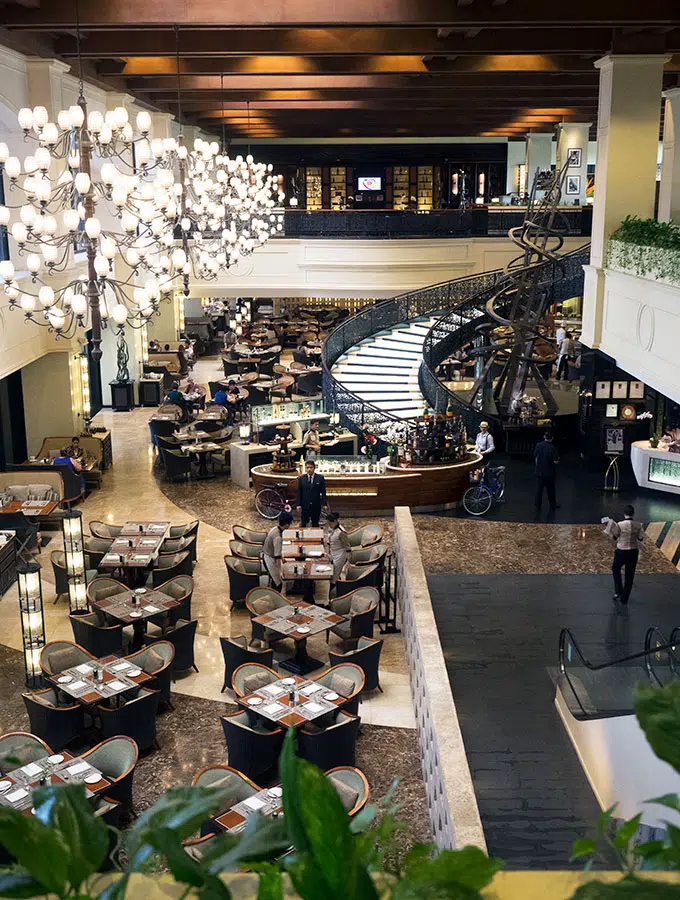 The Candy
In front of Le Bar you will find the cutest candy bar. Offering all sorts of sweet treats. Down the other end from all the candy are a bakery and deli.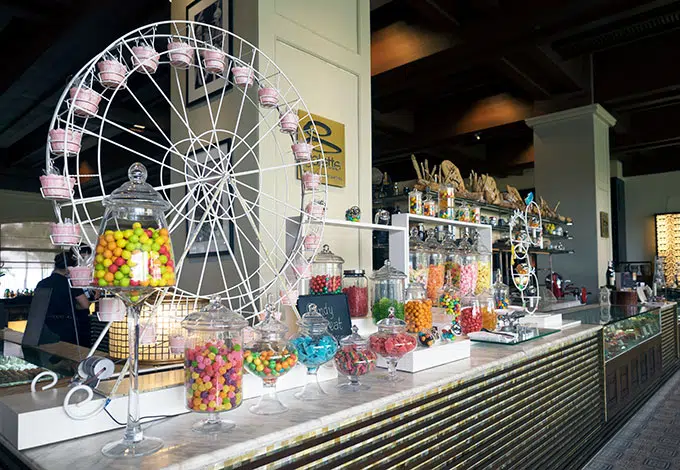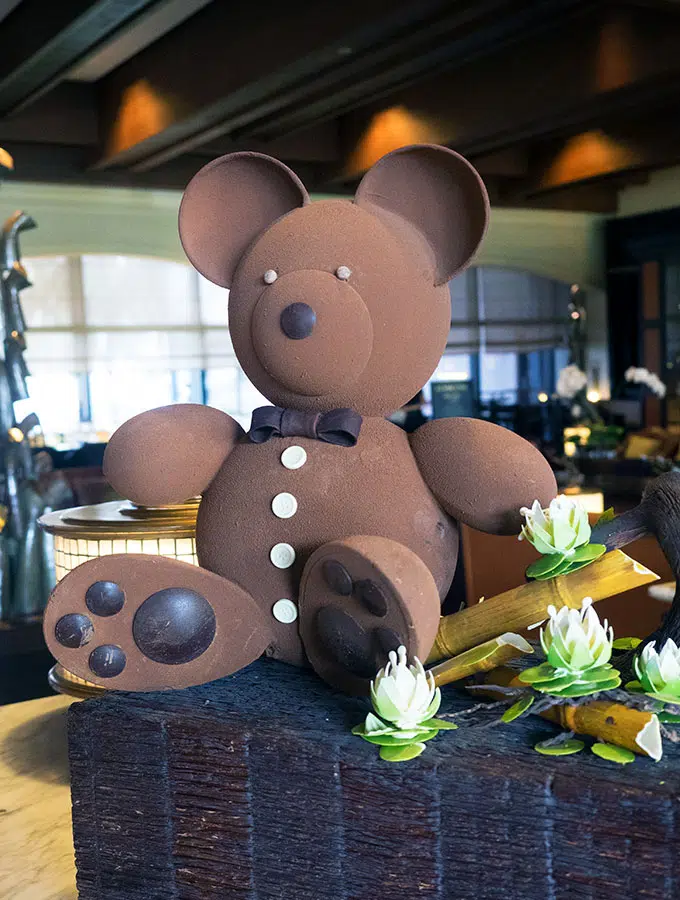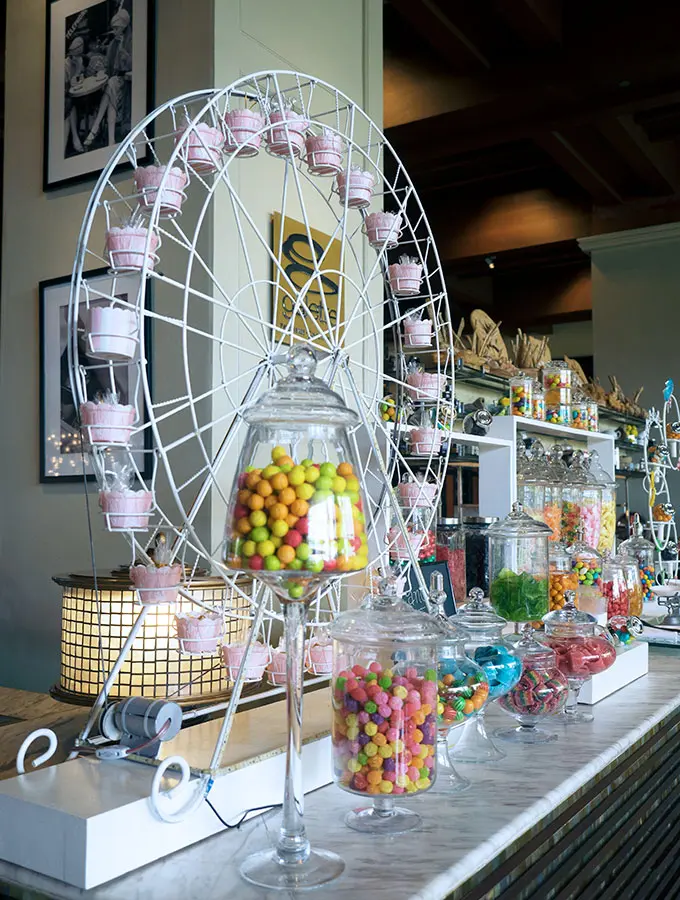 The Pool Area of the Sofitel Philippine Plaza Manila
As far as Manila hotels go, the grounds of this resort are expansive. You really do feel a million miles away from the hustle and bustle of Manila. The pool area faces the bay and it is a very relaxed space to spend some time. They cater for the kids too with play equipment and a slippery slide.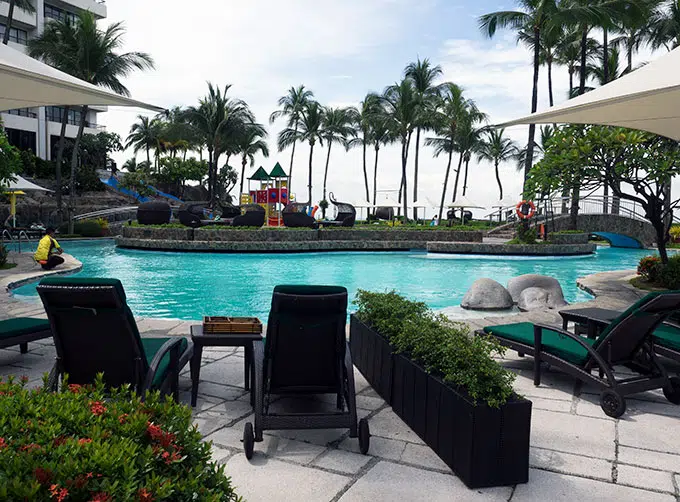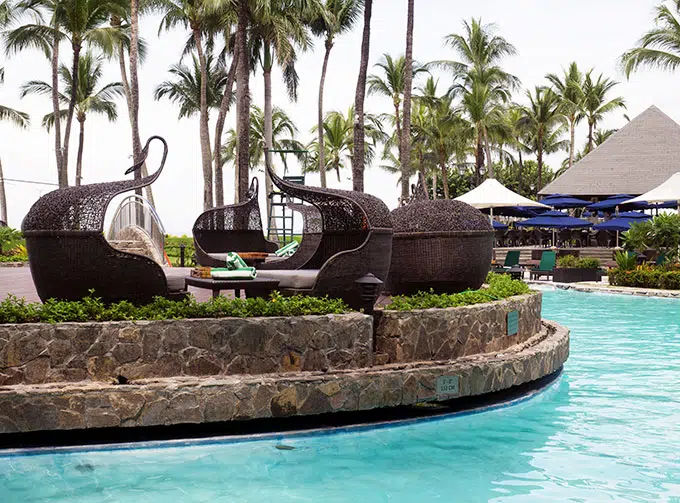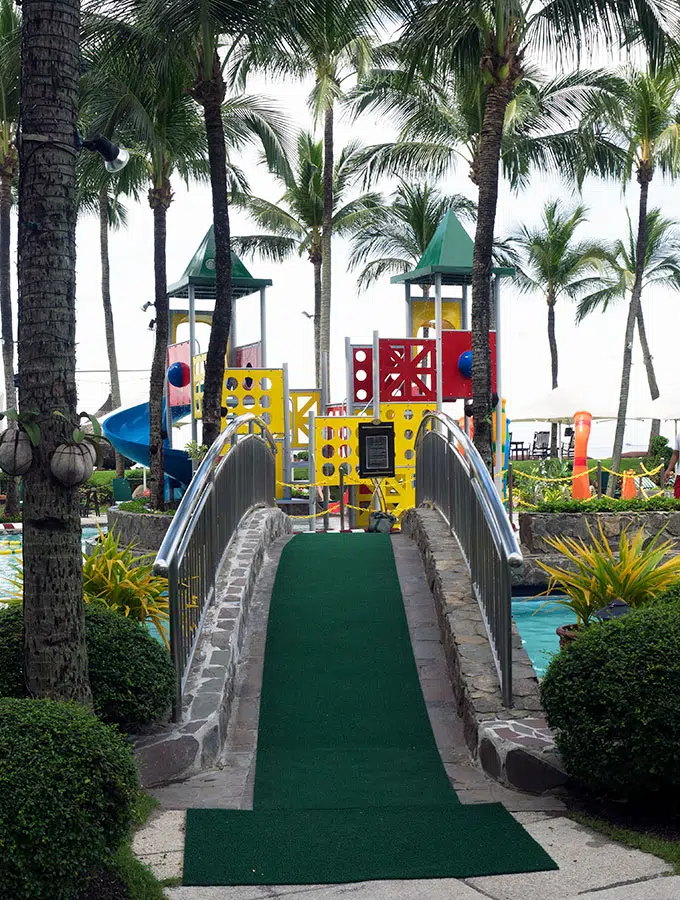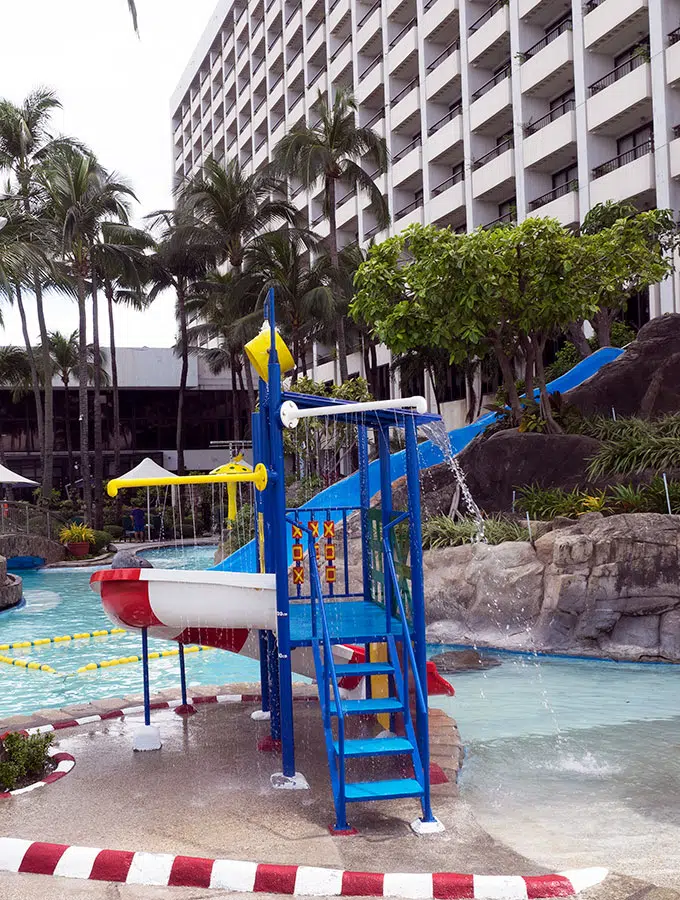 The Grounds
There are plenty of places to chill out in the grounds of Sofitel Philippine Plaza. Grab a spot at one of the oversized outdoor cushions, lay on a lounge, take a seat on the wooden boardwalk or laze away in one of the swish hanging chairs. You can even let your inner granny out and sit in one of the many rocking chairs.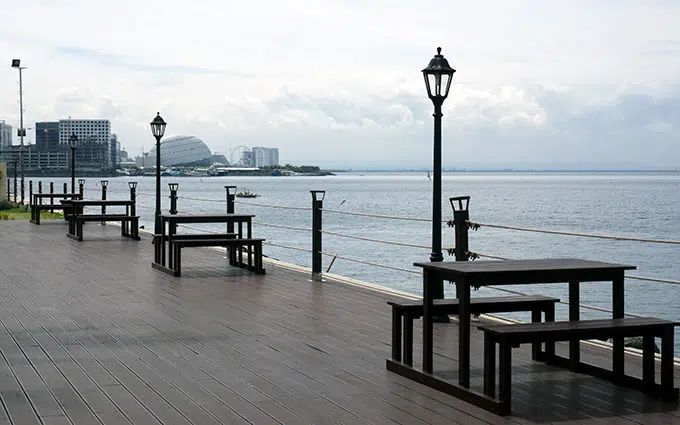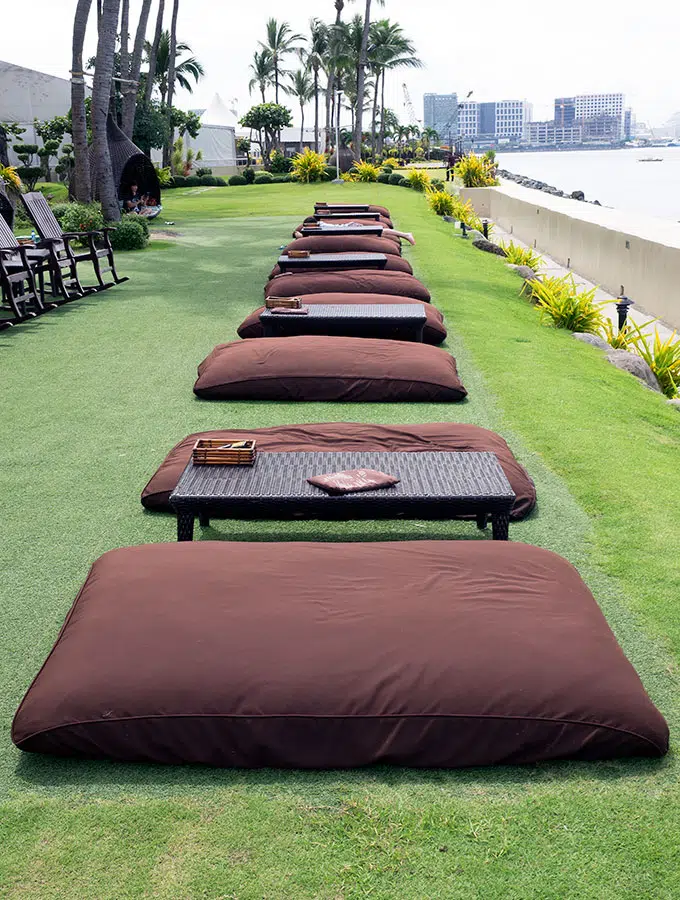 All in all the Sofitel Philippine Plaza resort is a reasonable Manila hotel. It is quiet but at the expense of being a distance from anything else. It's definitely a great spot for families to stay in Manila. With the lush grounds for kids to run around, great pool and there is a kids club too.
It is my pick of hotel if you are attending a conference at the conference center across the road. Super handy as it's within walking distance.
Personally, I preferred The Peninsula for location, variety of dining options, and shopping within walking distance.
Sara xxx
Become a subscriber and don't miss a single delicious recipe, restaurant review or travel adventure.
PIN ME TO SAVE THE REVIEW