This is an easy passionfruit curd recipe that will have you licking the saucepan. The perfect way to use up excess passionfruit when they are in season.
As much as I love lemon curd, and my ginger lime curd, passionfruit curd is my ultimate love. When passionfruit is cheap and in abundance, I always make a batch or two of passionfruit curd.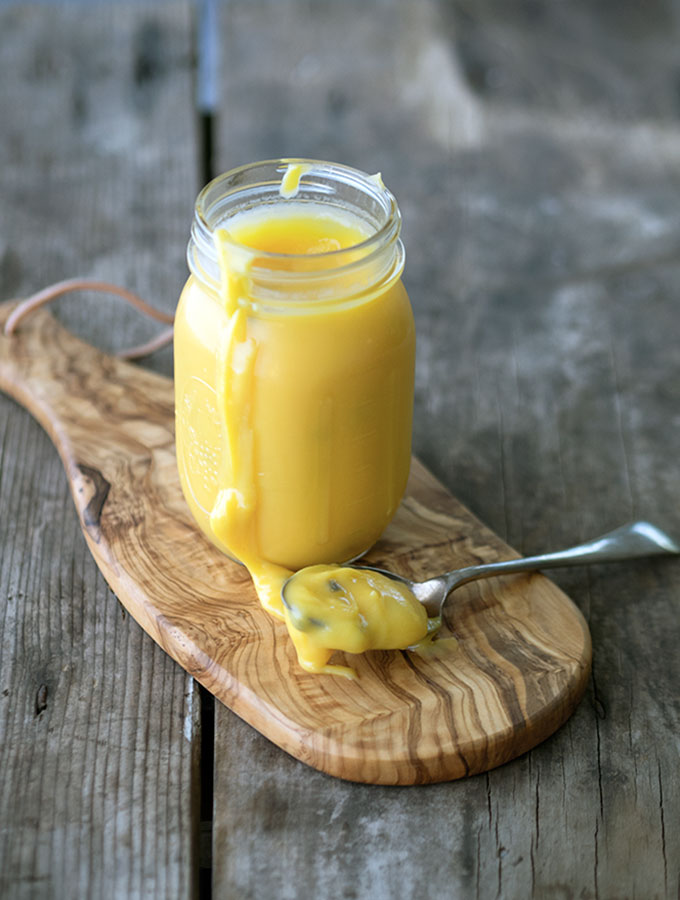 A simple recipe with only five ingredients, passionfruit, lemon juice, sugar, butter and eggs. Simple but ever so salivatingly good.
A silky concoction, which is sweet, buttery and has an exotic tang. The hardest part of this recipe is pushing the passionfruit pulp through a sieve. Removing all of the seeds. Though I do put two tablespoons of seeds back into the curd so there is no doubt the flavour.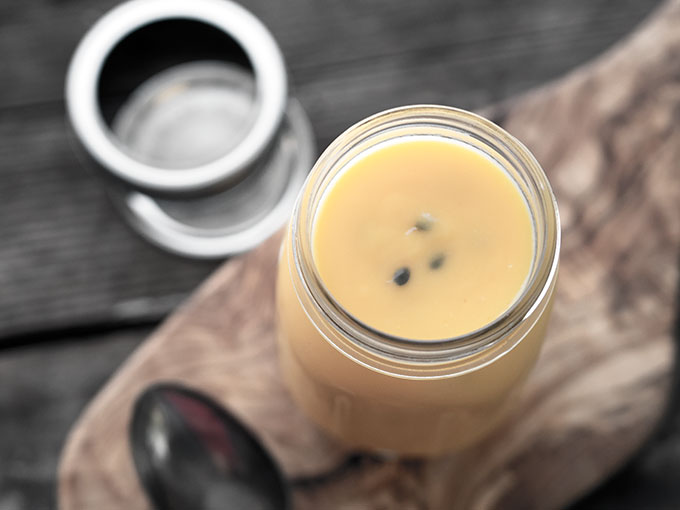 Recipe hazard zones
This really is an easy passionfruit curd recipe, but the major hazard with this recipe is not scrambling your eggs when adding the hot passionfruit, sugar, butter mixture. As you pour the mixture into the beaten eggs, keep whisking, don't stop. Pour the mixture in slowly and whisk whisk whisk.
Equipment for this recipe
Equipment needed for this recipe are all kitchen basics. Medium size pot, medium size bowl, a whisk and something to store your finished product in. A sterilised glass jar will do the trick.
Ingredients
Passionfruit is the key ingredient. You must use fresh, you cannot substitute canned. Also, use good quality and tasting butter, no substituting margarine.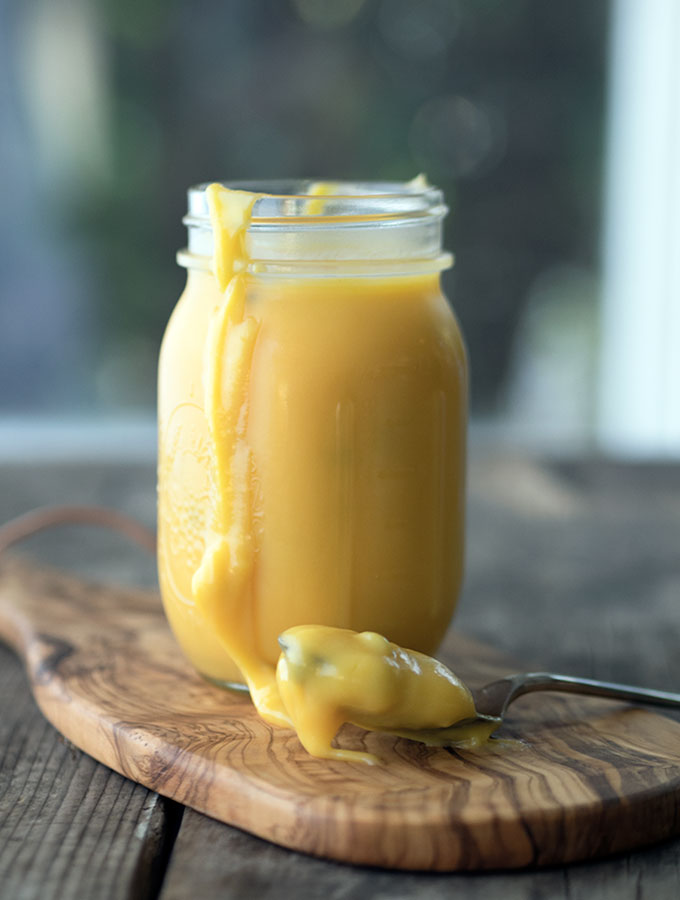 I love passionfruit, and when they are in season really do try to make the most of them. Did you know you can freeze passionfruit pulp?
I didn't until just recently. Just scoop the pulp into ice cube trays and freeze. Then once frozen remove from the trays and store in a ziplock bag in the freezer. I have frozen a nice supply for when summer comes.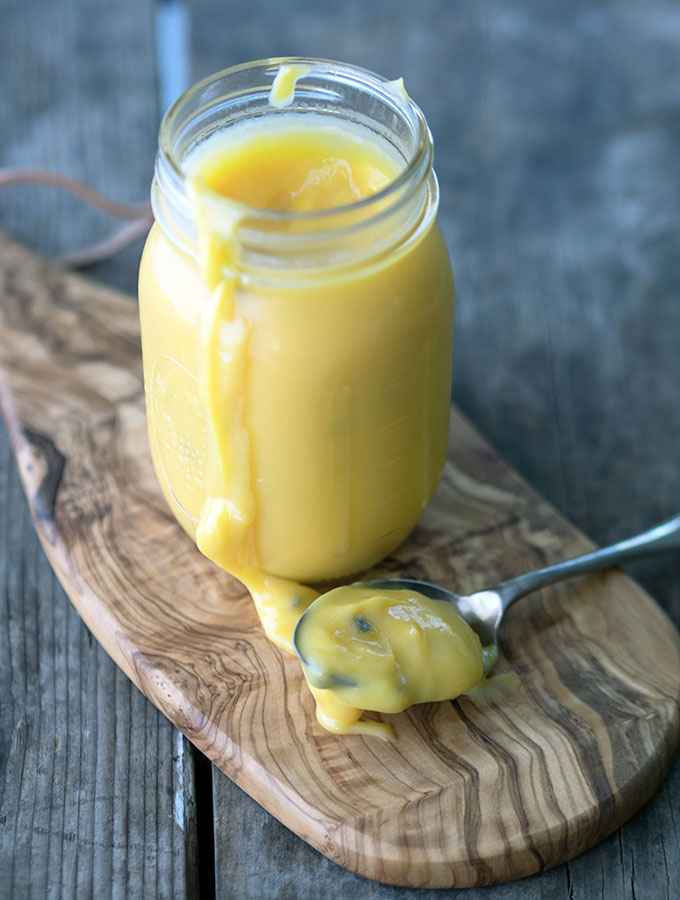 As you can see this is a very easy passionfruit curd recipe. It's damn tasty too. I was caught eating what was left in the saucepan with my finger. Running a finger around the sides and across the base to scoop up what was left.
Perfect to eat as it is on scones, bread, toast, pancakes, French toast, the list goes on and on. It also makes a great filling for tarts, cakes, and these delicious passionfruit curd fairy cakes.
Sara xxx
Printable Recipe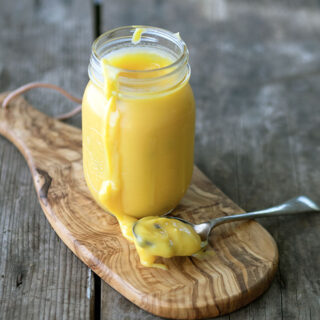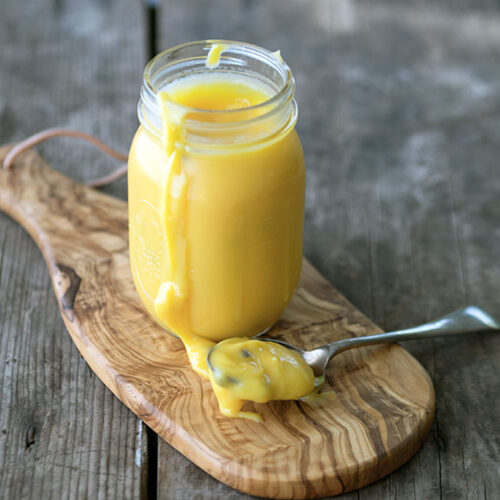 Easy Passionfruit Curd Recipe
This is an easy passionfruit curd recipe that will have you licking the saucepan. The perfect way to use up excess passionfruit when they are in season.
Special Equipment
medium pot

medium bowl

whisk
Ingredients
150

ml

strained passionfruit pulp + 2 Tablespoons of seeds

1

tablespoon

lemon juice

170

grams

butter

chopped

200

grams

caster sugar

3

eggs

2

egg yolks
Instructions
In a medium size pot place passionfruit pulp, passionfruit seeds, lemon juice, butter, and sugar. Cook over a medium heat until the butter has melted and the sugar has dissolved.

In a large bowl place eggs, and additional egg yolks. Whisk eggs until combined.

Continue whisking the egg mixture and slowly pour in the passionfruit mixture. It is important to keep whisking while you do this.

Return passionfruit curd mixture to the saucepan and continue to cook over a low heat until the mixture has thickened and coats the back of a spoon. Stir continuously. This will take around 6 minutes.

Once mixture has cooled place in a sterilised jar and store in the fridge. Passionfruit curd will last for a couple of weeks in the fridge.
Measurement Notes
All measurements are Australian metric standard. All measures are level, and cups are lightly packed unless specified. 1 teaspoon = 5ml / 1 tablespoon = 20mls / 1 cup = 250ml /4 teaspoons = 1 tablespoon.
Recipe Notes
This recipe makes 2 ½ cups of passionfruit curd.
NUTRITIONAL INFORMATION
The recipe's nutritional information is an approximation based on an online calculator. It is meant solely for reference purposes. If you're looking for precise details, be sure to double-check with your own research.
Calories:
61
kcal
Carbohydrates:
6
g
Protein:
1
g
Fat:
4
g
Saturated Fat:
2
g
Cholesterol:
31
mg
Sodium:
37
mg
Potassium:
20
mg
Fiber:
1
g
Sugar:
5
g
Vitamin A:
185
IU
Vitamin C:
1
mg
Calcium:
4
mg
Iron:
1
mg
Did You Make This Recipe?
I do a happy dance when people share how they went. Tag me on Instagram or Twitter @bellyrumbles & #bellyrumbles
Other Passionfruit Recipes You'll Love
Passionfruit Curd Fairy Cakes Recipe - pretty curd filled fairy cakes dusted with snowy icing sugar
Passionfruit Curd Brulee Tart Recipe - this passionfruit tart has a gorgeous brulee top worth cracking
Passionfruit & Peanut Dipping Sauce Recipe - a versatile dipping sauce that goes great with fresh spring rolls