I adore curd.  I grew up knowing this type of spread as 'butter', but these days I call it curd.  My most favourite curd would have to be lemon.
Curd of any kind is extremely versatile.  It can do so much more than be a spread for your fresh bread or toast.  You can use it to fill sponge cakes with some fresh cream, use in cup cakes, with pancakes or crepes, fillings for doughnuts, the list of its use really does go on and on.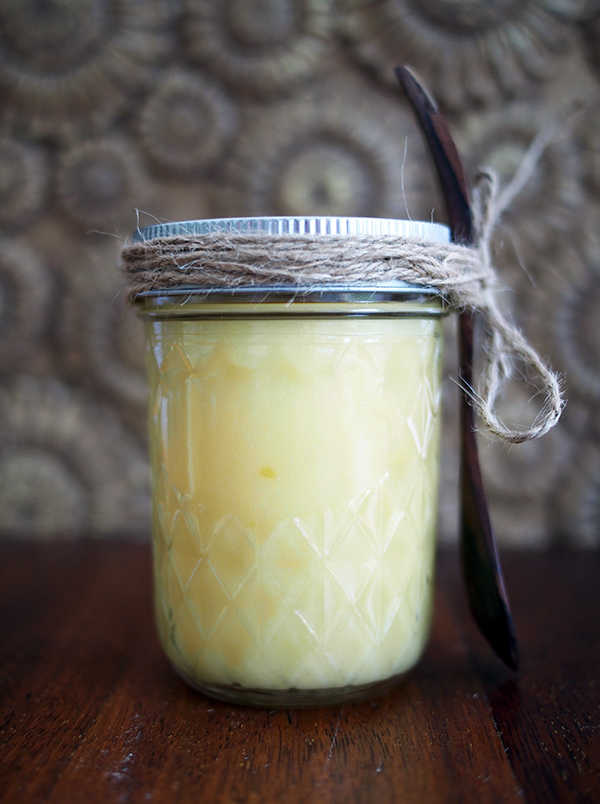 The inspiration for my ginger and lime curd came to me on a visit to my local deli.  For the first time every, I spied a jar of ginger curd.  The jar stopped me in my tracks, between dashing from the melon section to the onions.  I came to a complete halt, stood there looking at the jar, eventually picking it up and mentally said to myself "I like ginger".  May have even of said this out loud.
I do like ginger, but I also like limes, which happened to be on sale at the time.  At that moment my ginger and lime curd was born.  Sadly the ginger wasn't on special and as expensive as ever.
The recipe follows a typical curd recipe.  The only real difference, and unusual part of the recipe, is obtaining your ginger juice.  All in all this recipe is quite simple to make, and tastes fantastic.  You have the zing of the limes, which are grounded slightly by the subtle earthiness of the ginger.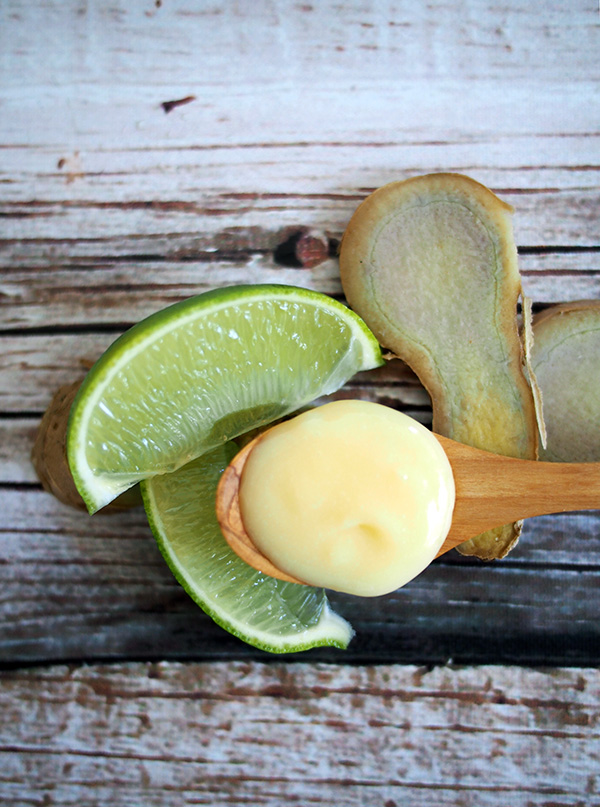 Interesting to note, a bit of chemistry 101, your ginger juice will turn a slightly pink colour when added to the lime juice and zest.  Don't panic, like I did, it won't effect the curd colour or react with your eggs and butter in any strange way.
Also don't panic about how thick the curd is when you take it off the heat, again like I did.  I panic easily.  It will continue to thicken as it cools, and thicken up even more once it has been in the fridge to chill completely.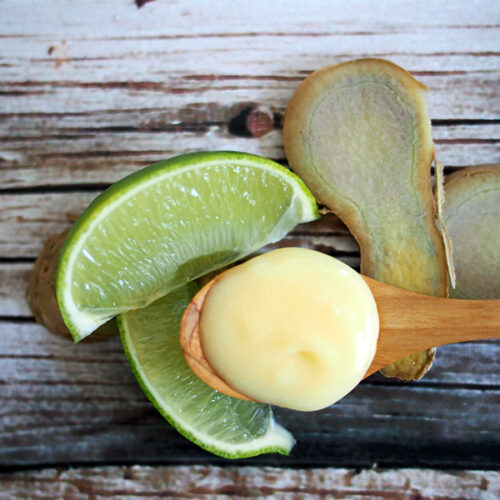 A lovely alternative to lemon curd. Zing of limes and spice from the ginger.
Ingredients
130

grams

ginger

1/8

cup

water

2

limes

-

zest & juice

4

large eggs

1

cup

caster sugar

250

grams

butter

-

diced
Instructions
Wash a 130 gram piece of ginger and cut into pieces. There is no need to peel. Place in a small blender with water. Blitz until liquidized. Using a fine strainer, strain the liquid from the ginger fibers into a small bowl. Be sure to press down firmly to extract as much liquid as possible. You will end up with approximately ½ cup of ginger juice.

Add you lime zest and juice to your ginger juice, set aside.

Fill a medium pot with water, to the half way mark. Place on stove, leave to come to a simmer.

While your water is coming to a simmer, in a large glass or ceramic bowl, place your eggs and sugar. Whisk until combined. Then whisk in the ginger juice and lime zest and juice.

Place bowl on top of the slow simmering pot. Whisk slowly until the mixture starts to warm, then add butter.

Continue to whisk until all the butter has melted and combined with the egg and juice mixture. Stop using the whisk at this point and start using a large wooden spoon.

Mix the mixture over the simmering water until it thickens. When the mixture coats the back of your wooden spoon, and you can draw your finger across it with the mark staying, the curd is ready.

Remove bowl from the pot, and set bowl aside for the mixture to cool completely. Give the mixture a stir every so often while it cools. The mixture will continue to thicken as it cools.

Once cool place your curd is clean glass jars and store in the fridge. This recipe will keep in the fridge for a couple of weeks and a couple of months if stored in the freezer.

Makes 3 cups.
Nutrition
Calories:
246
kcal
|
Carbohydrates:
19
g
|
Protein:
2
g
|
Fat:
18
g
|
Saturated Fat:
11
g
|
Cholesterol:
99
mg
|
Sodium:
171
mg
|
Potassium:
81
mg
|
Sugar:
17
g
|
Vitamin A:
605
IU
|
Vitamin C:
3.8
mg
|
Calcium:
19
mg
|
Iron:
0.4
mg
DID YOU MAKE THIS RECIPE?
I do a happy dance when people let me know, tag me on Insgragram @bellyrumbles #bellyrumbles
Sara xxx