Long Va Tea House in the Red Market District of Macao offers a traditional Chinese breakfast. You can partake in yum cha and dim sum while looking out over the bustling Red Market.
There are a lot of yum cha offerings in Macao. But if you are after an experience sans of trolley ladies with attitude, then Long Va Tea House may be the perfect experience for you.
Across a lane from the Red Market on Avenida Almirante Lacerda you will spot a three storey olive green and cream building. Head up a set of white tiled stairs at the side of the building to the second floor.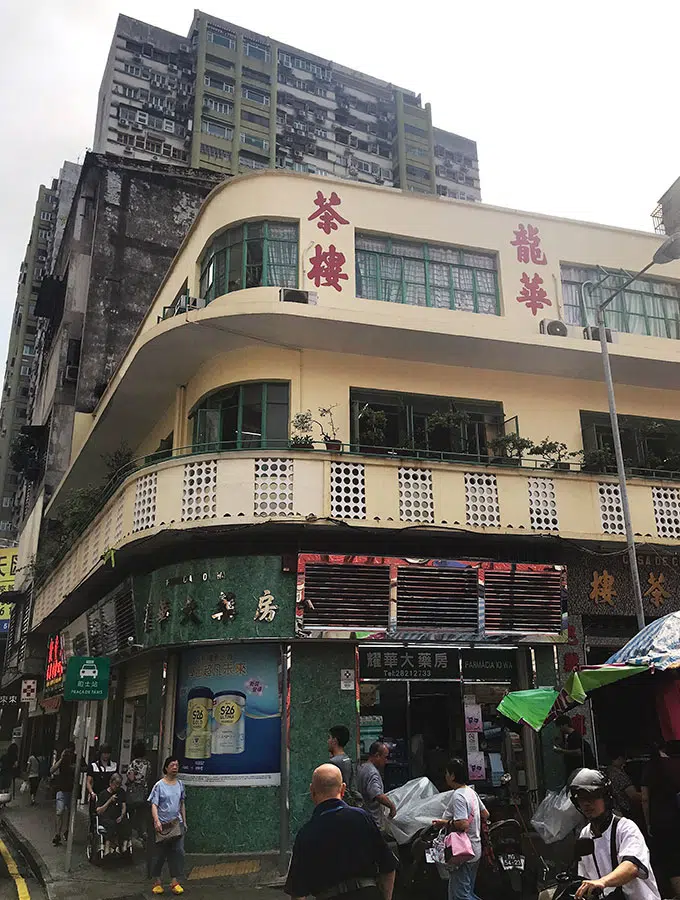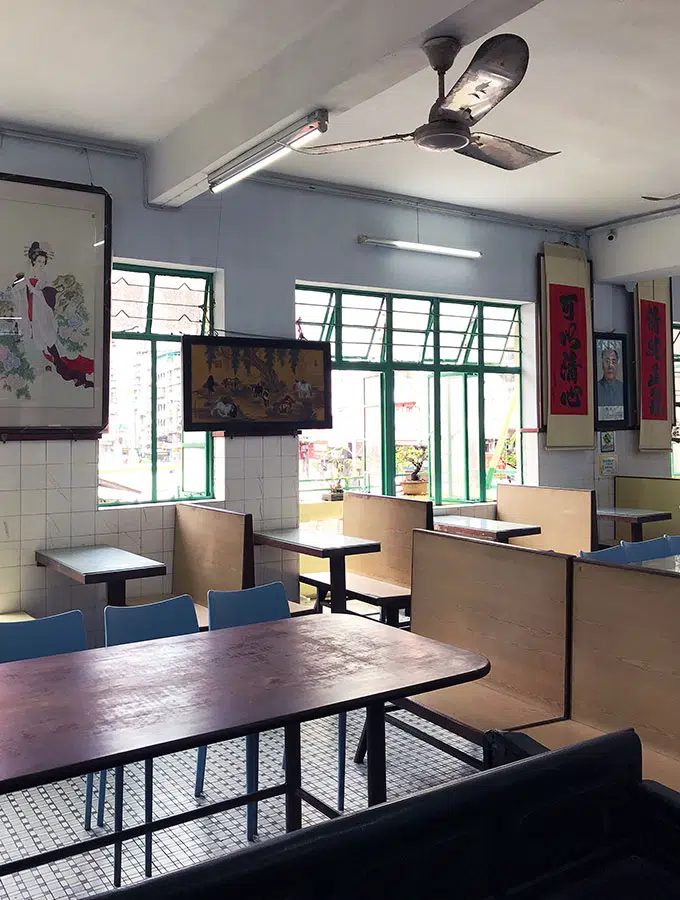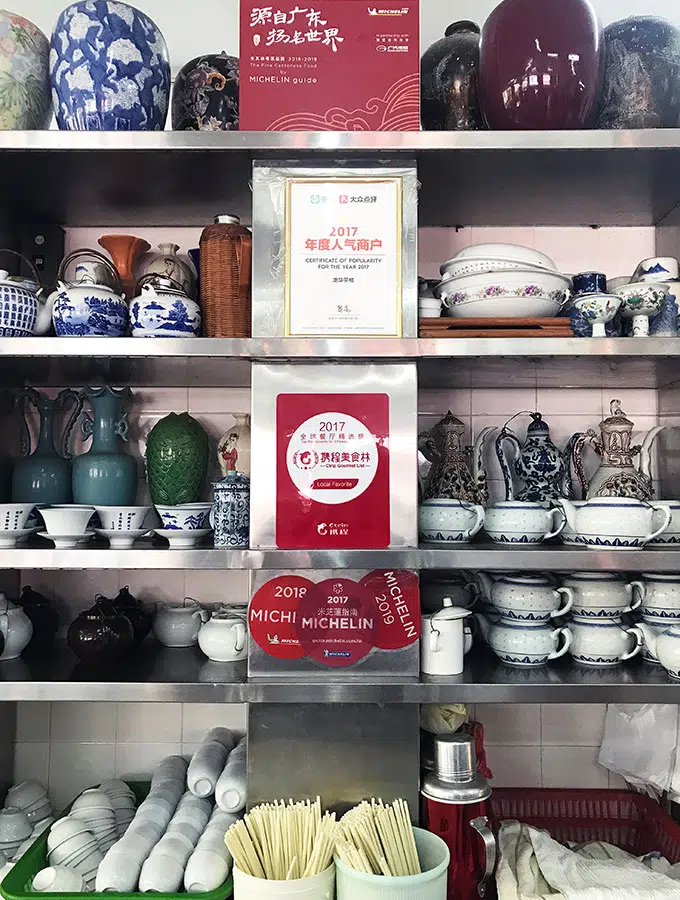 The tea house is light and airy. Surrounded on two sides by large olive green framed windows, the floor covered in small white and black tiles. Fans lazily turn overhead offering a respite from the humidity and heat outside. Seating is a mix of booths and wooden tables, some antique, some just old.
Mr Atak, the owner of Long Va Tea House, is an avid collector. At first glance you aren't quite sure if you are in a tea house or an antique store. It's an eclectic mix of antiques, collectables and food.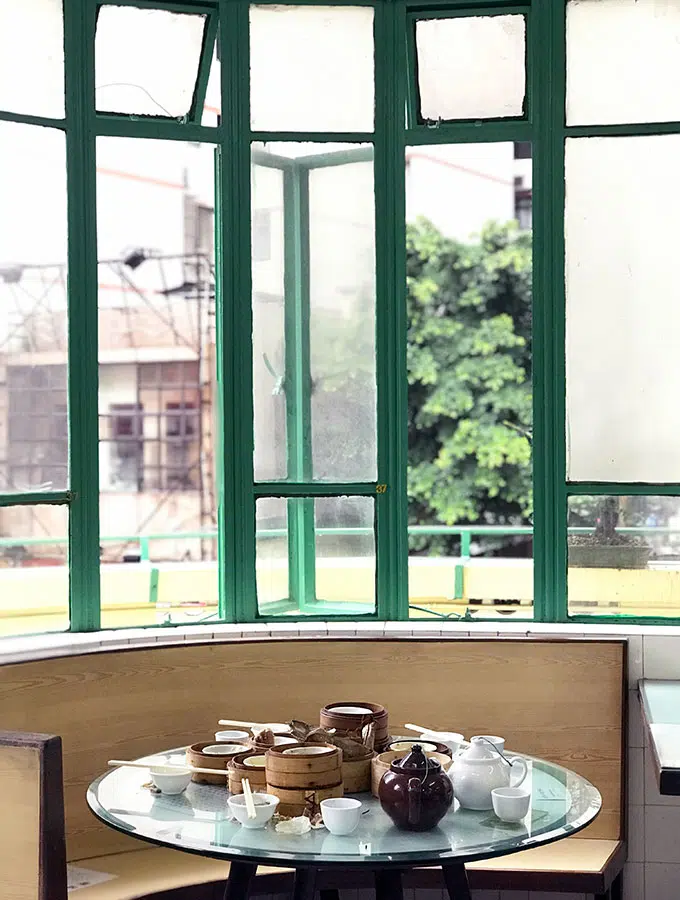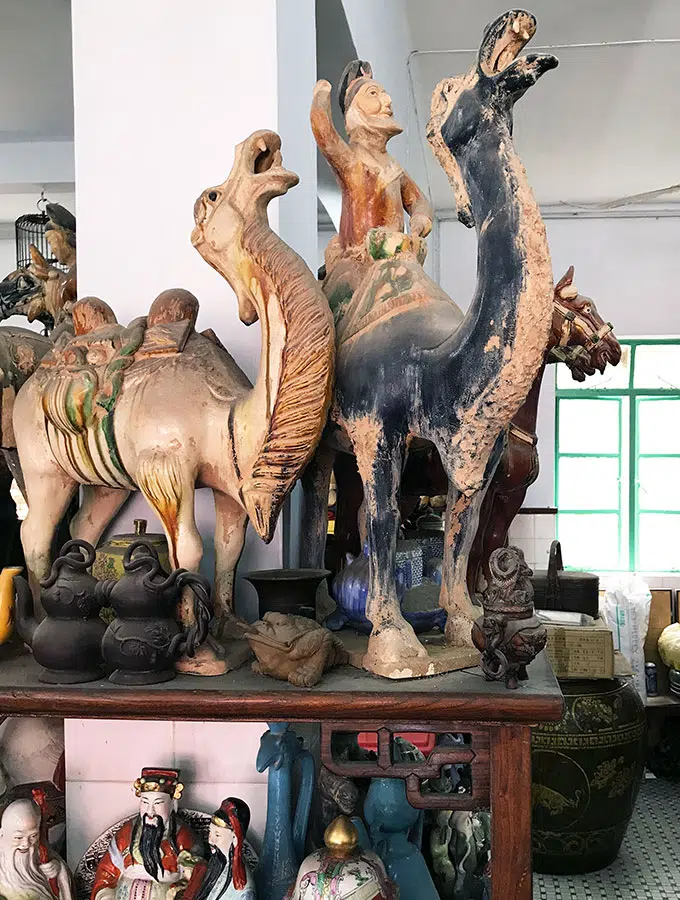 We are here early, it's around 8.30am on a weekday. Though we are not the first ones here. It's quiet but there is a group enjoying breakfast and an elderly man dining on his own. The quietness is a comforting change to the bustle of the Red Market opposite and the surrounding streets.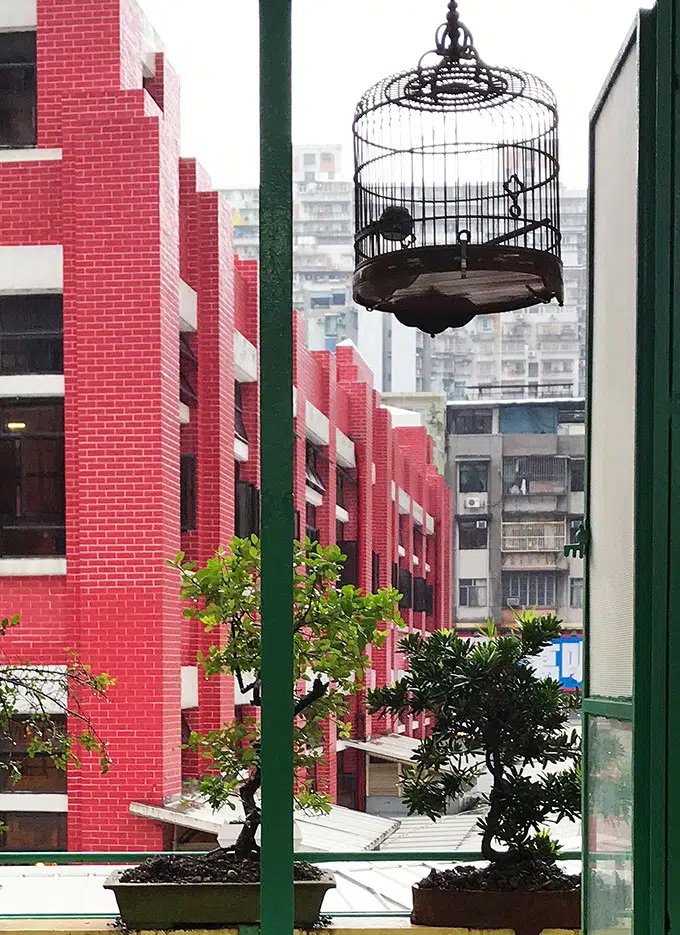 Birds and the Tea House
In the days before SARRS men would bring their beloved birds with them to the tea house. It was a place to socialise. They would walk their birds in cages twice a day. After tea they would take their feathered friends to the nearby garden so they could socialise and sing with other birds.
The tea house also acted as a bird hotel of sorts. When a regular customer would go away on holiday their bird would be left with the tea house to be looked after.
Sadly, those days are gone, and birds are no longer allowed in the tea house. Empty birdcages line the windows as a reminder. Though you will still find men with their birds in the nearby garden.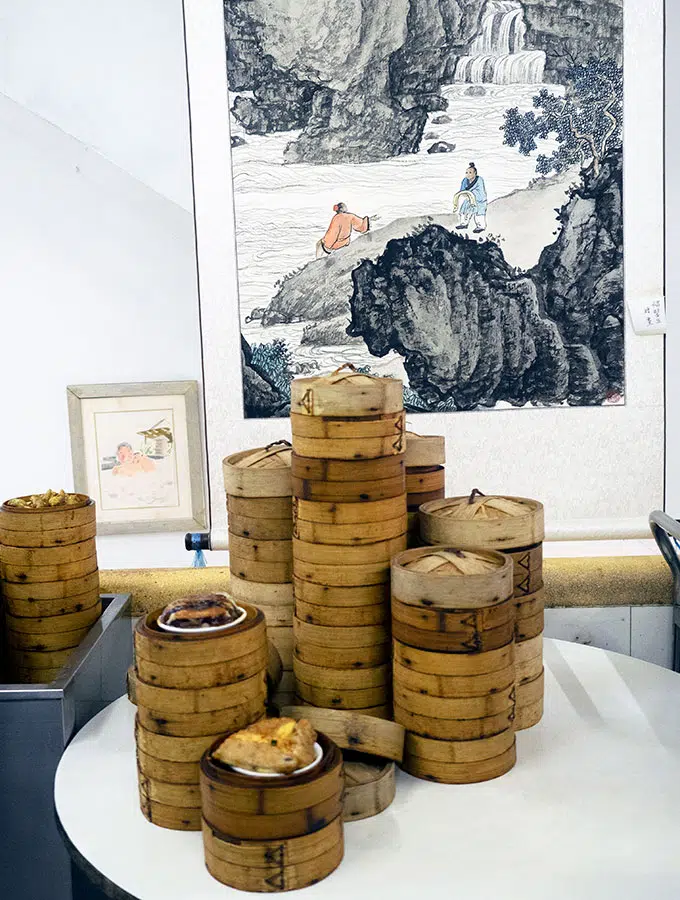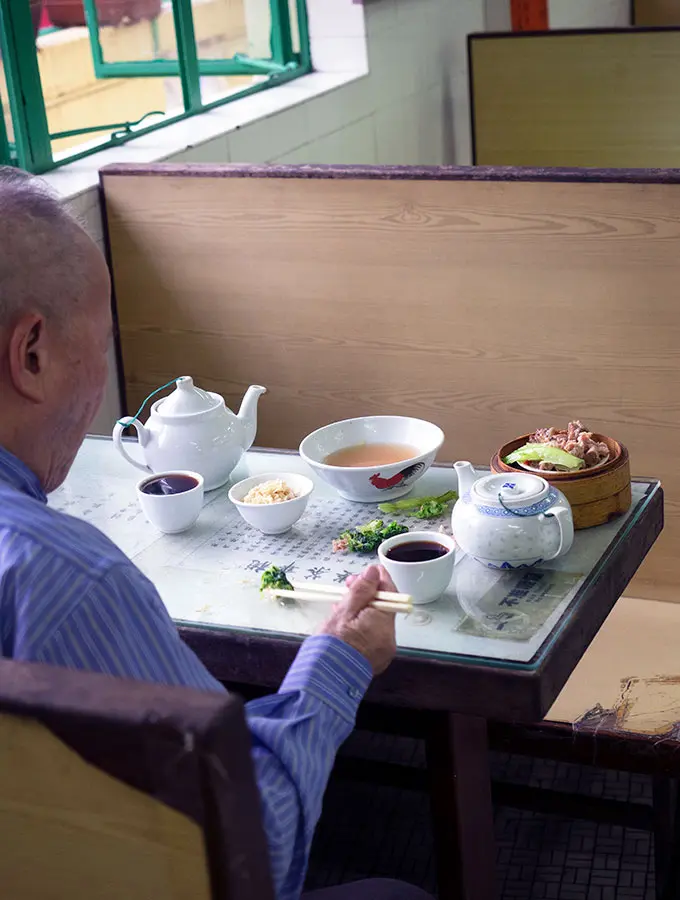 Yum cha vs dim sum
Yum cha means drinking tea and dim sum refers to the small dishes that accompany the tea. Often the term yum cha refers to the entire meal of tea and snacks.
In regard to tea houses the tea was what was originally on offer. As time passed dumplings and small plates of snacks were introduced to accompany the tea.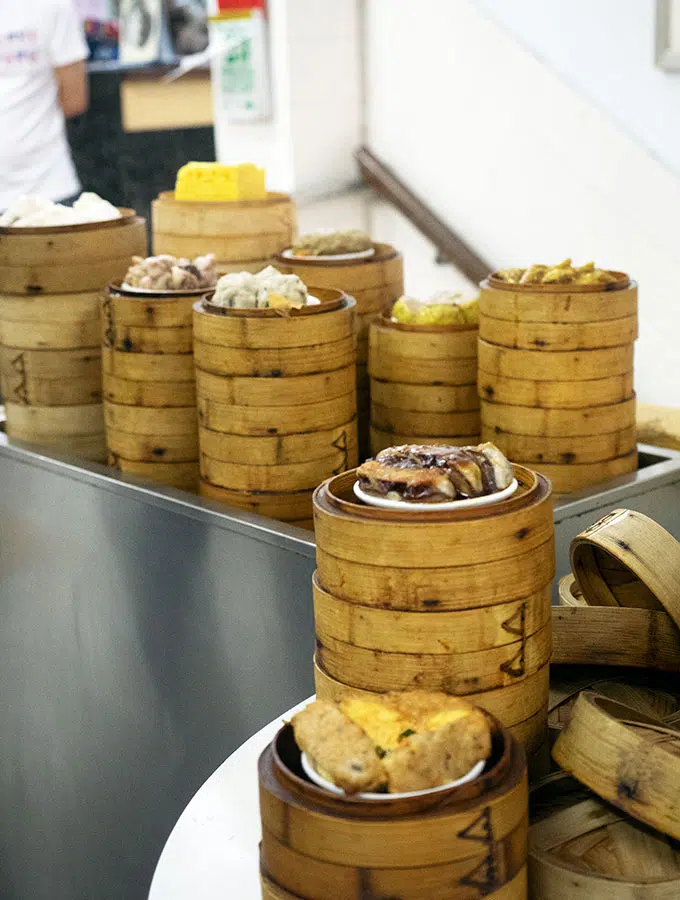 The food at Long Va Tea House
As mentioned earlier you won't find any trolleys being wheeled around. Instead make your way over to a collection of bamboo baskets and help yourself. As well as the baskets you can order dishes. Of course, there is plenty of tea on offer too.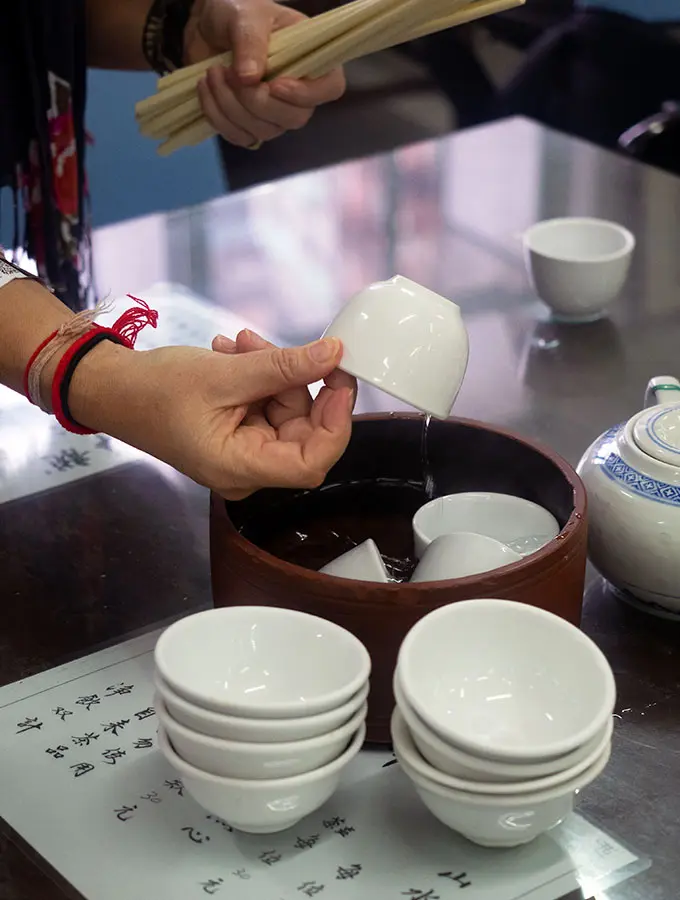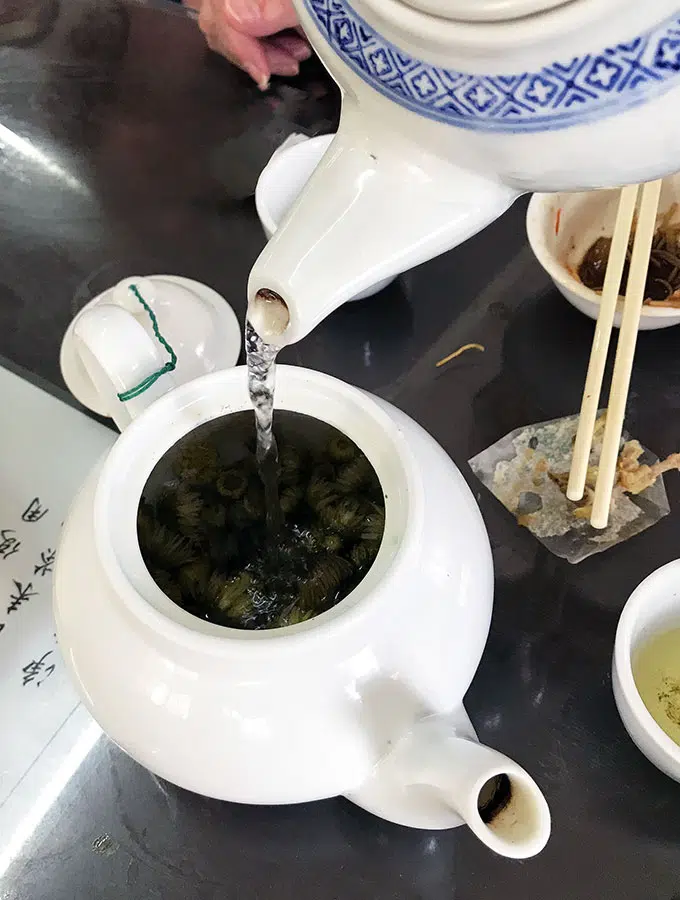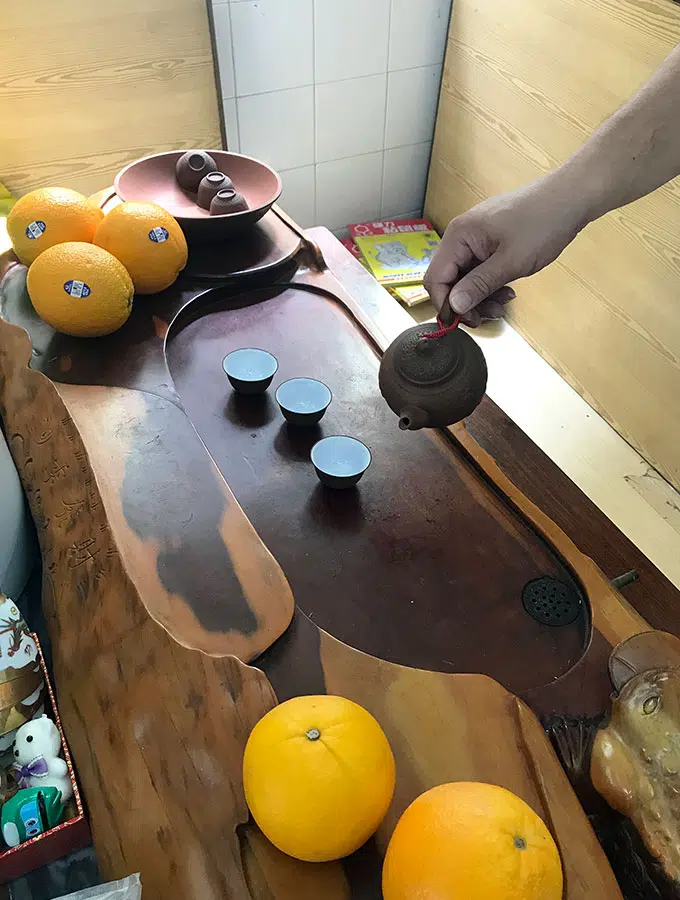 There are various choices of tea and we start with chrysanthemum tea. The teacups are put through the ritual of rinsing in hot water at the table before tea is served. Later on Mt Atak shows us an antique tea table (pictured above), where tea is poured in one flowing motion and spills on to the table are drained away and collected.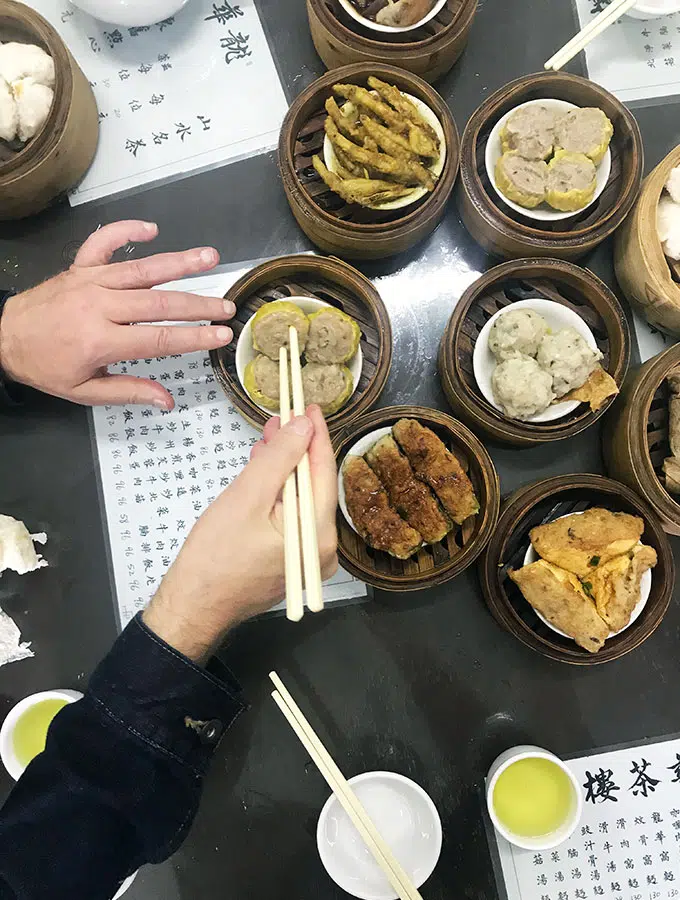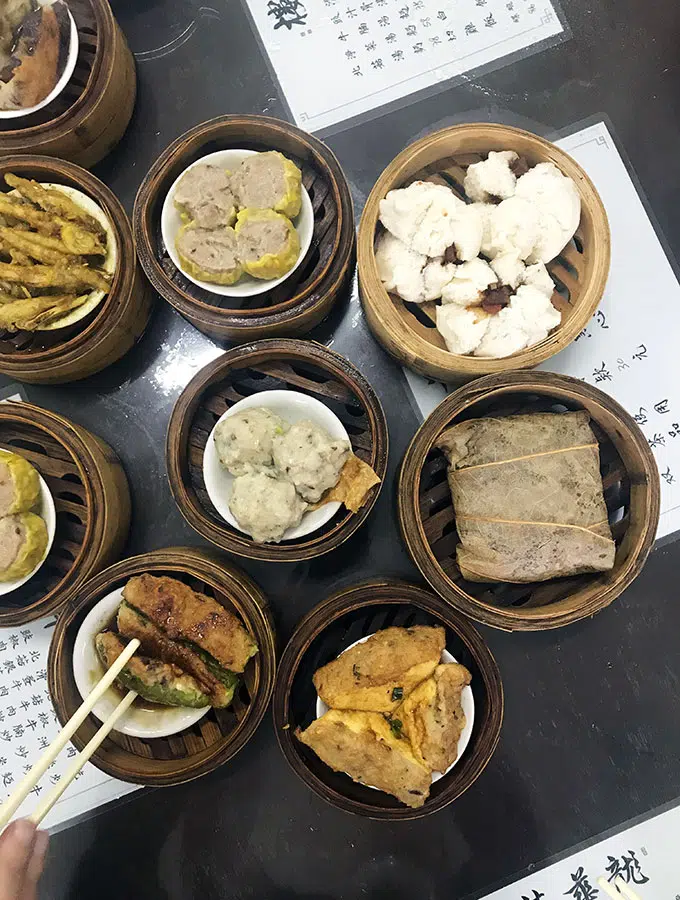 We choose a variety of dim sum from the stacks of bamboo baskets. There is quite a variety including, tofu, chicken feet, sticky rice, pork siu mai, peppers stuffed with pork, and an all time favourite, steamed BBQ pork buns.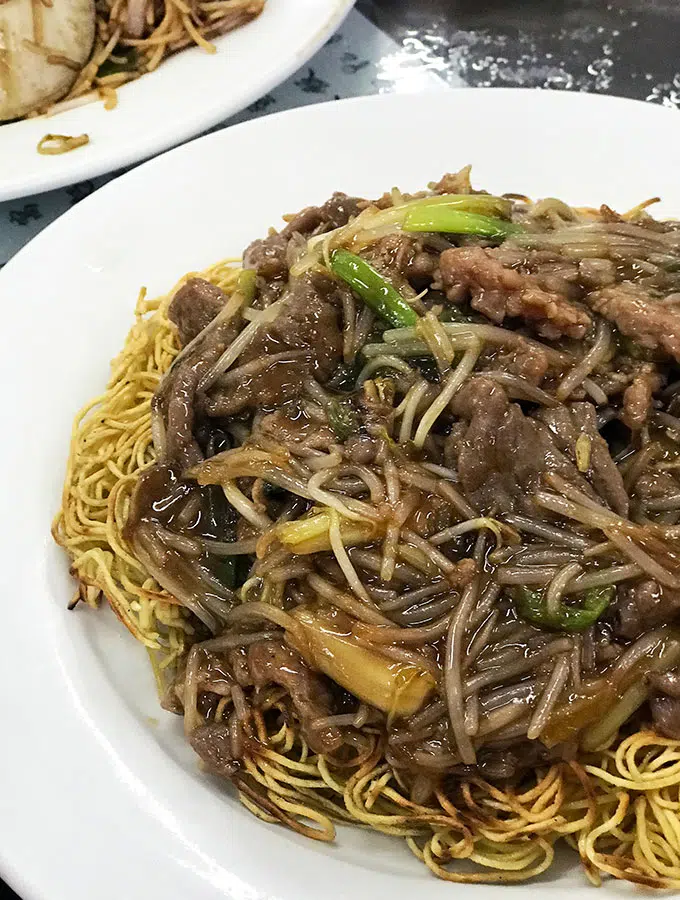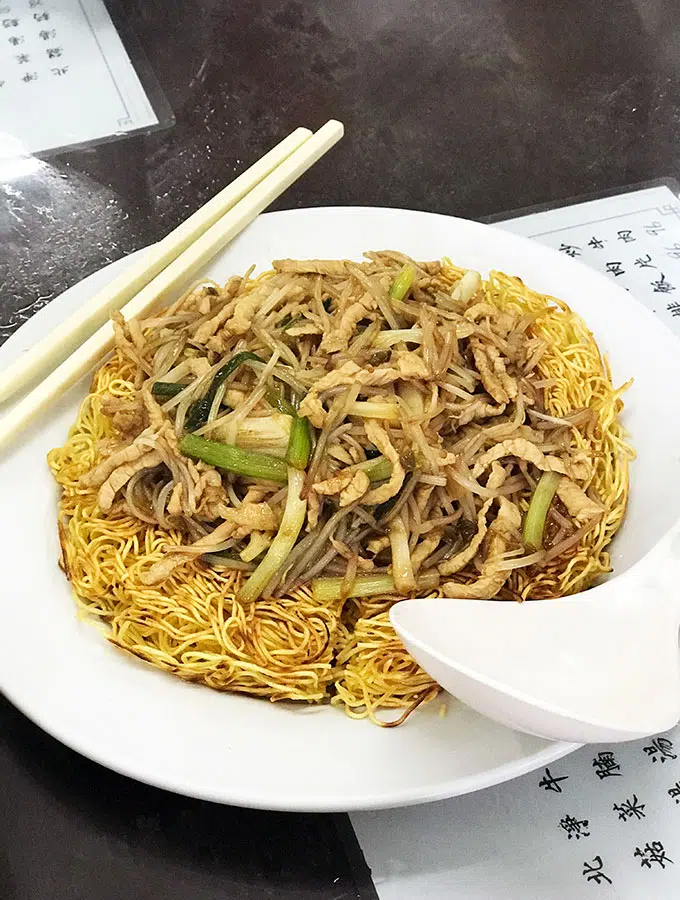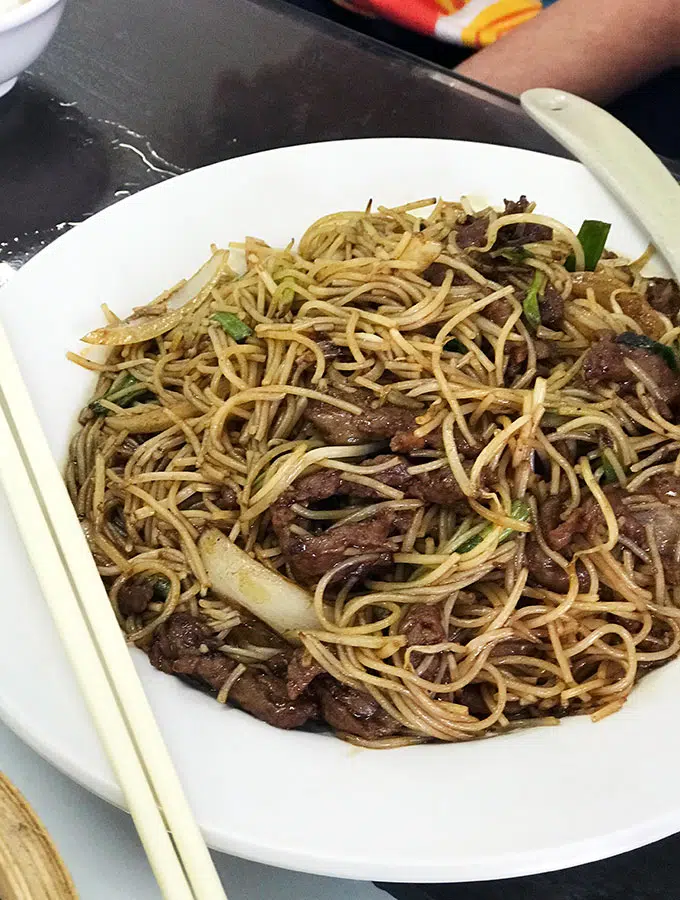 To add to our bounty of dim sum, noodles are ordered. Glossy bird's nest and beef noodles, pork noodles and another beef noodle dish. The noodles of bird's nest with beef and pork are fried, golden and in some places slightly charred. The other beef noodle dish is a typical wok fried noodle dish.
After having your fill of tea, noodles and dumplings I highly recommend making your way over to the Red Market and explore. If time allows it is well worth exploring the lanes around the market. From the Red Market district, it is an easy 25 minute stroll back to Senado Square.
Sara xxx
OTHER STORIES ON MACAO
Are Macau and Macao the same place? - What is correct? We explain which one and why to unconfuse you.
Lord Stow's Bakery - The original and the best Macanese tarts in Macao.
Red Market - The largest wet market in Macao, let me show you around.
Become a subscriber and don't miss a single delicious recipe, restaurant review or travel adventure.
PIN ME TO SAVE ME