The Red Market Macao (Macau), located near the Three Lamps District, is the largest wet market in Macao. The unmissable red, three level building, is packed with seafood, meat, vegetables and dry goods.
The smell, it hits your nostrils with a whack as soon as you enter the red market. Not a foreign smell and one I expect after visiting numerous markets. But it does take my traveling companion by surprise. I hear her quiet verbal reaction as soon as she smells it.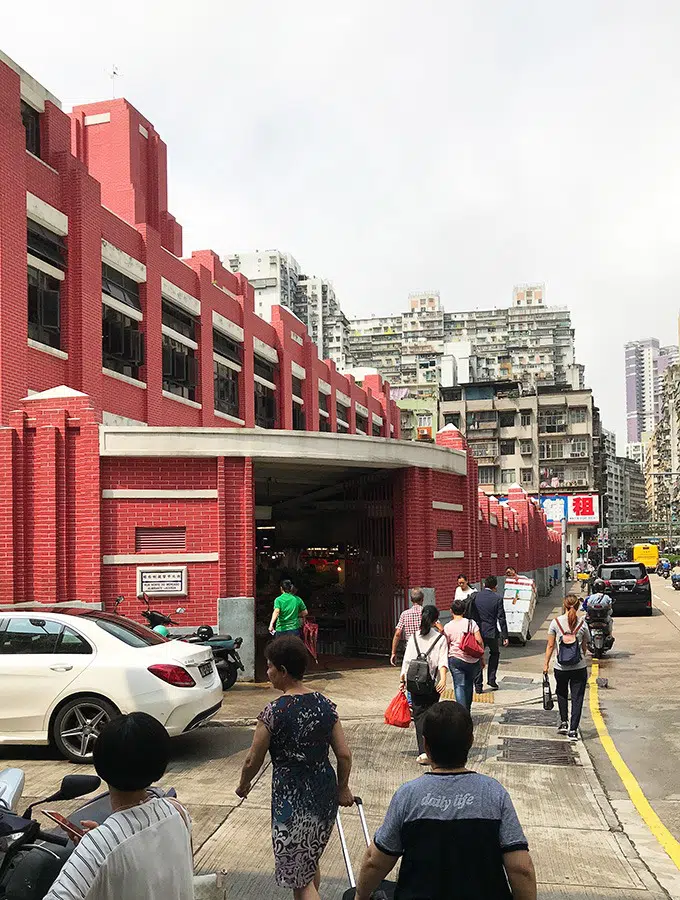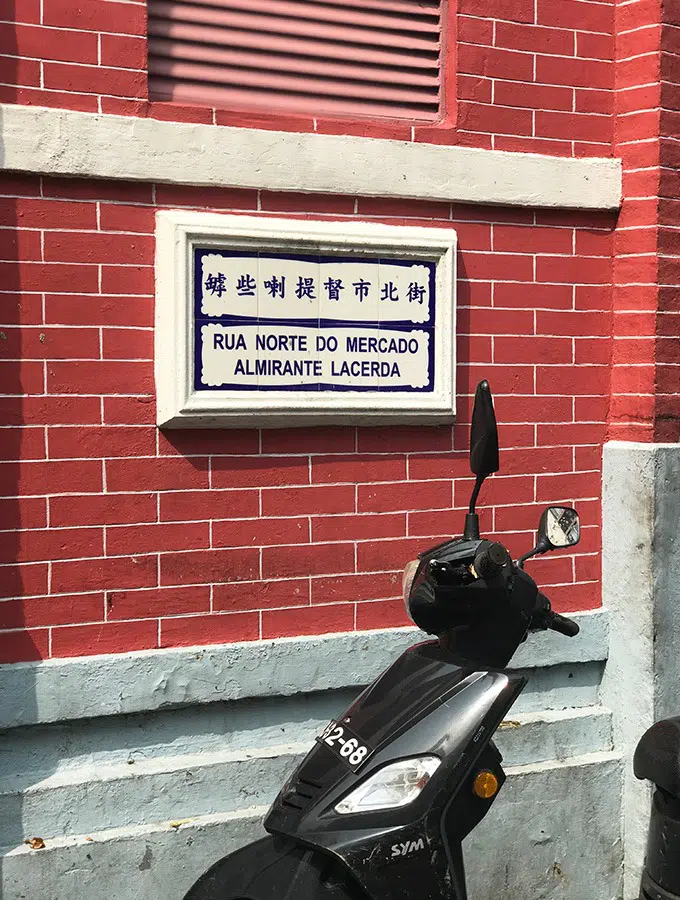 An unmistakable heady mix of dried seafood, dried herbs, earthy fresh vegetables, vegetables long forgotten somewhere and bustling humans. People like me, that have entered the market and escaped the heat and humidity of Macao. Don't worry your nostrils will acclimatise quickly.
There's no chance of accidentally walking past the Red Market. The building is red. Red bricks were used in the construction of the building and how it gets the name, Red Market. The art deco building was built in 1936 and designed by local architect Julio Alberto Basto. The Red Market Macao is heritage listed.
The outside of the building gives the impression that there are two levels. The tall glass windows give a deceiving illusion, there are three levels inside Macao's most popular wet market. Ground level is for dried goods, fresh fruit, vegetables, eggs, and poultry. Level one is solely for produce that comes from the water. Level three is the meat section.
Sadly I only had a brief 15 minutes to look around. Which didn't give me the chance to chat to vendors and delve deeper into possible discoveries of the wet market. It did give me a taste of what was there. In turn, this allows me to give you a taste of what to expect.
Red Market - Ground Level
The ground level isn't as large as the two levels above, but it is packed with produce. Essential pantry items such as dried pulses, herbs, sauces, condiments and dried noodles. The more you look the more you see crammed into these individual stores.
Keep looking and you will find a variety of dried fish including small dried shrimp and whole fish hanging alongside dried Chinese sausages.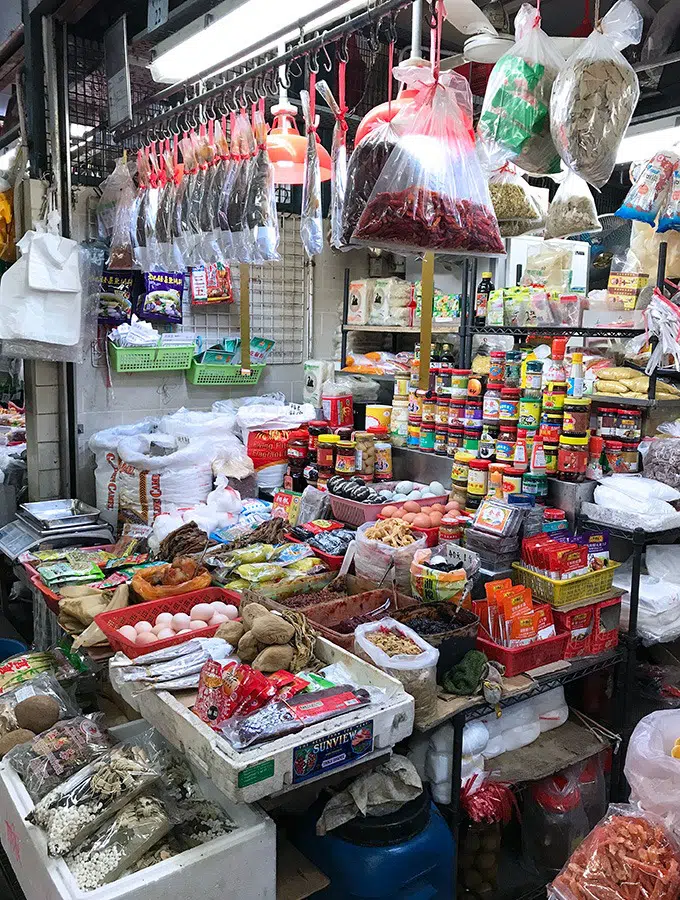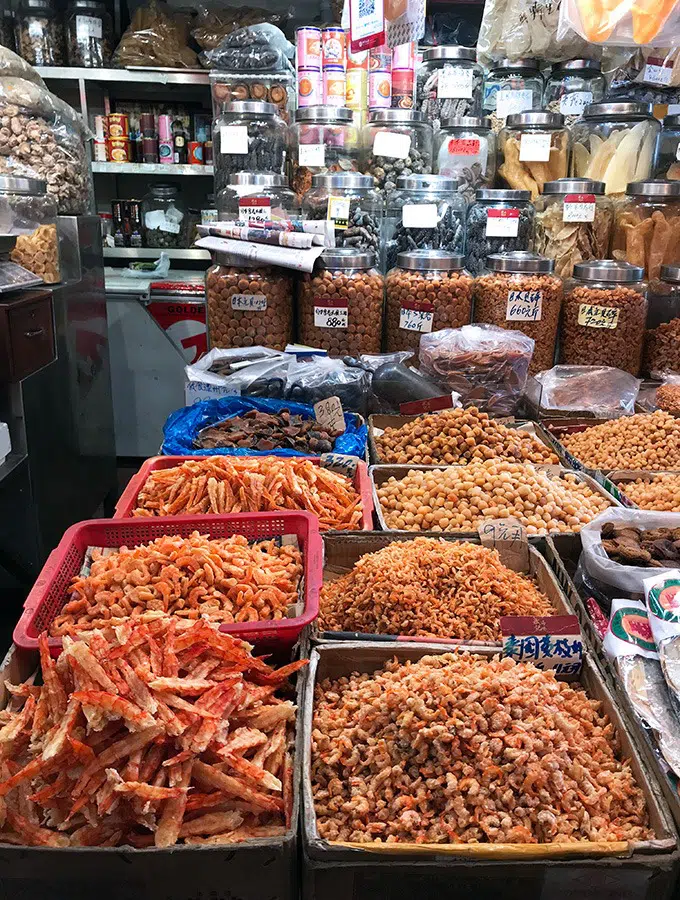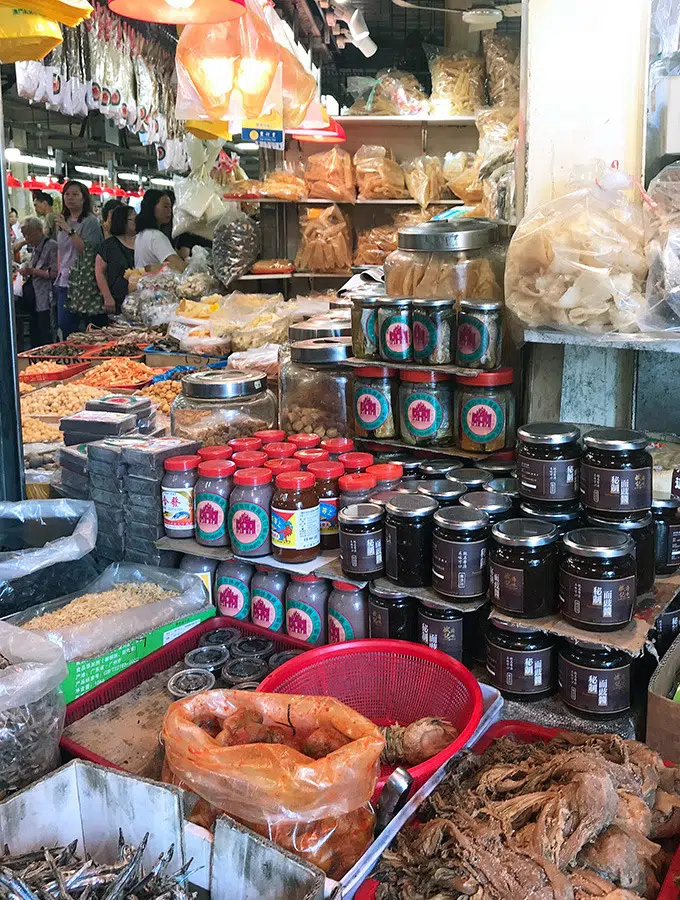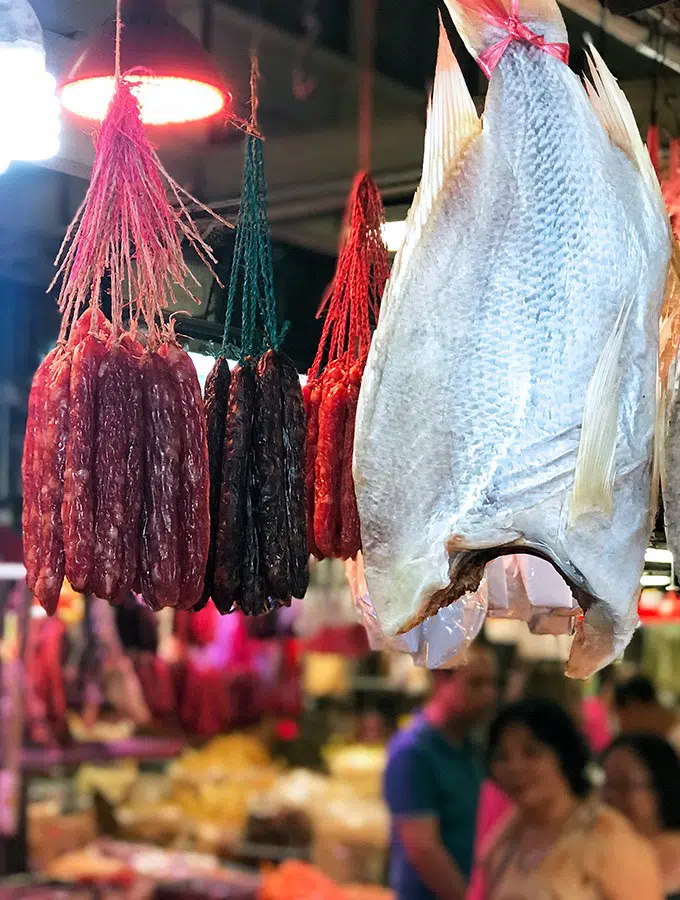 Stalls laden with fresh fruit, fresh vegetables and fresh herbs. Everything from oranges to bitter melon, and some things I've never seen before.
Fresh and some not so fresh eggs from quail, duck and chicken. Keep walking, turn the corner and you will find the poultry section. No longer will you find live chicken at the market due to the bird flu outbreak a few years ago.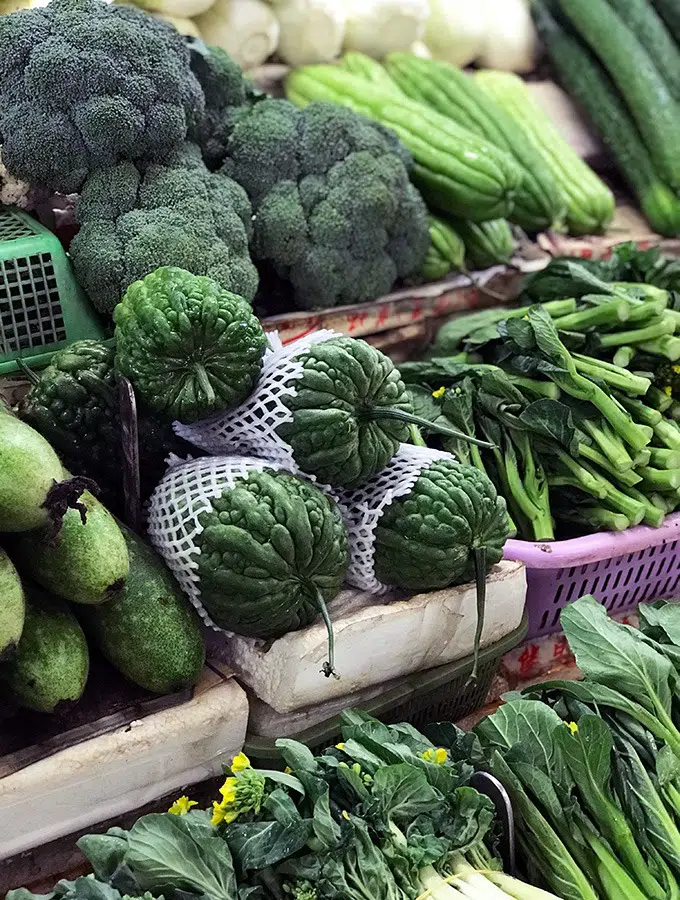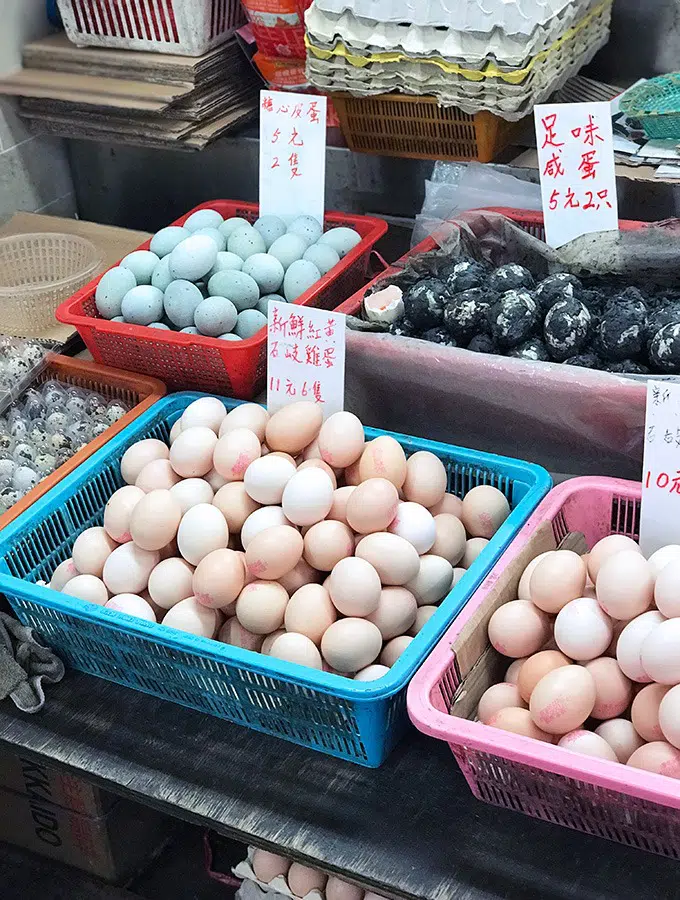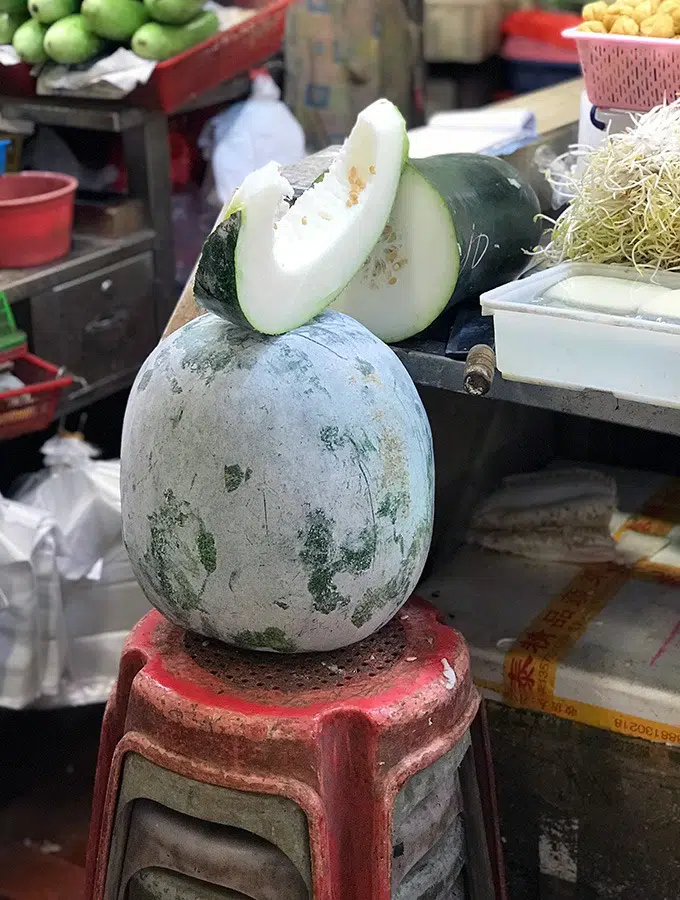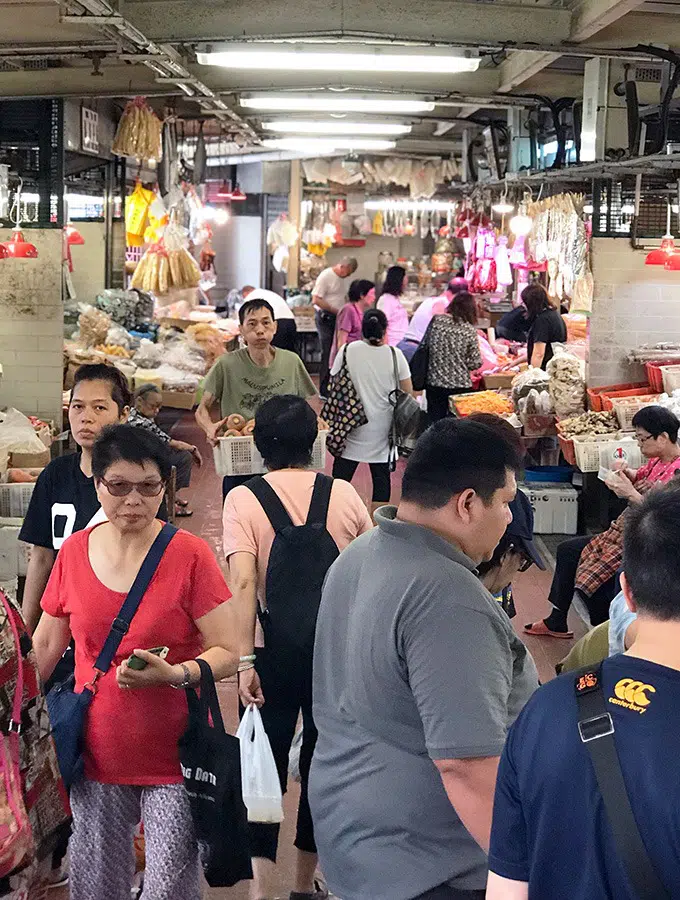 Red Market Macao - Level 2 fish and friends
Head up to level two and this is where this wet market gets very wet. This level is dedicated to all things that live in the water. You may no longer be able to see live poultry, but level two will make it up to you.
Expect to see lots of fish splashing around in shallow water baths. They are the lucky ones, others are left to gasp their final breaths on styrofoam boxes and metal trays.
I have no problem at all with live fish for sale. It's a good reminder that it doesn't naturally come on a plastic wrapped tray or in a cardboard box. Plus it is super fresh. I buy my crabs and yabbies live at home, live fish are harder to come by.
What did make me feel sad was the unnecessary gasping of live fish out of water waiting to be purchased. Firstly not a great way to end your life, secondly it stresses the flesh of the fish for eating purposes.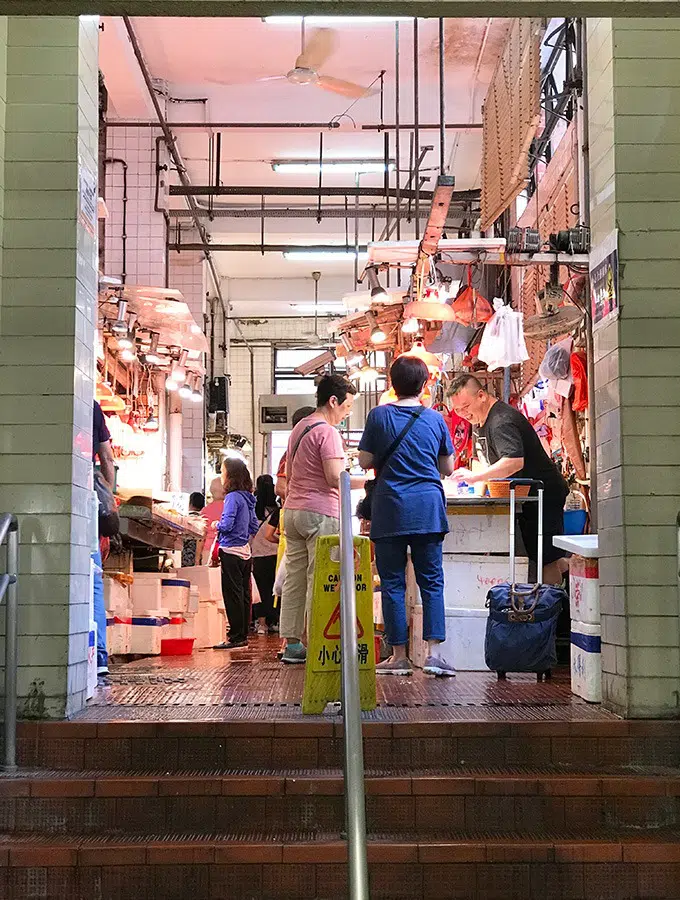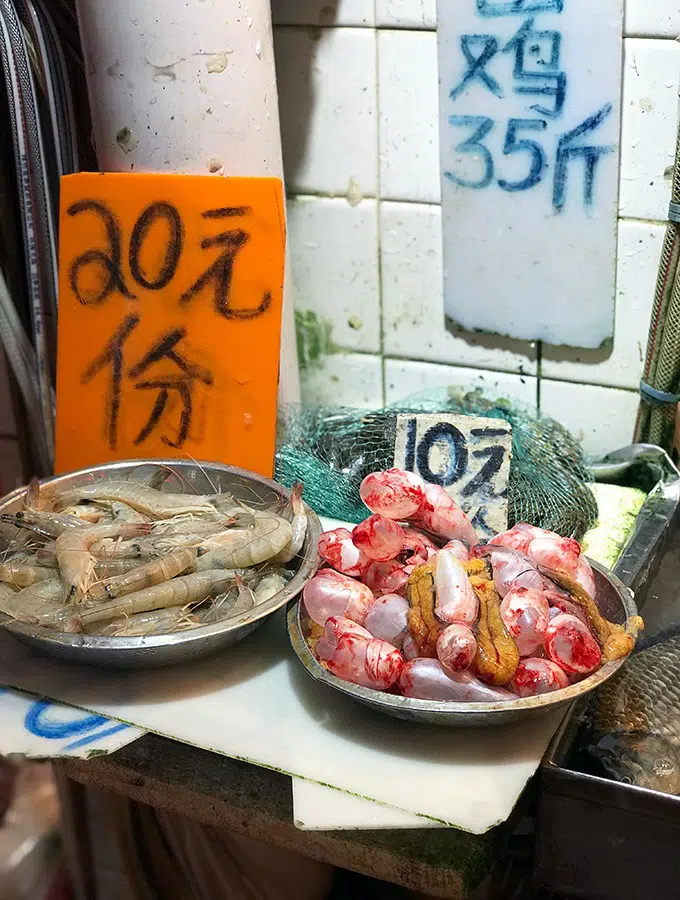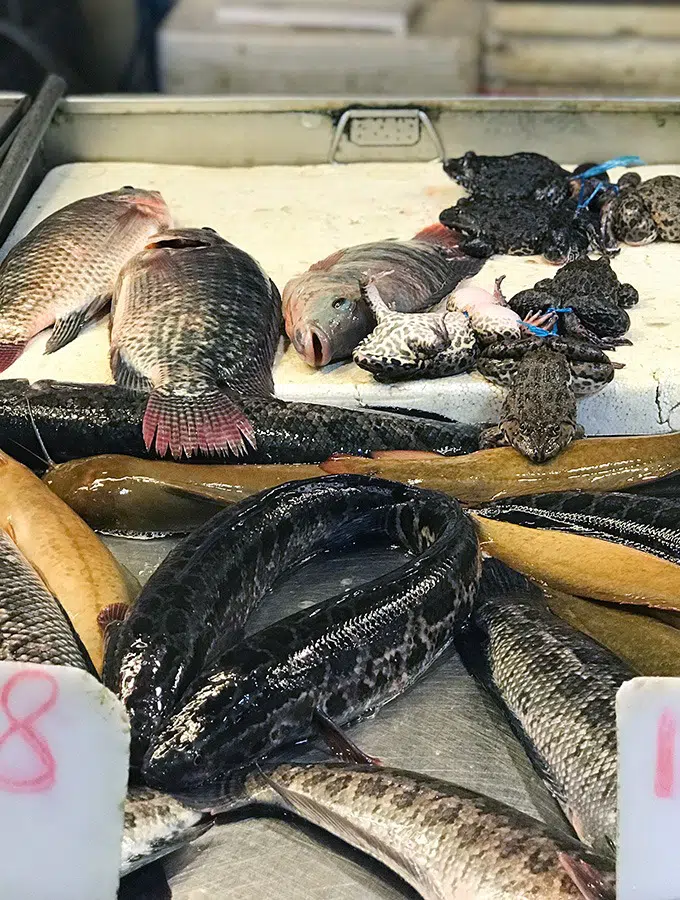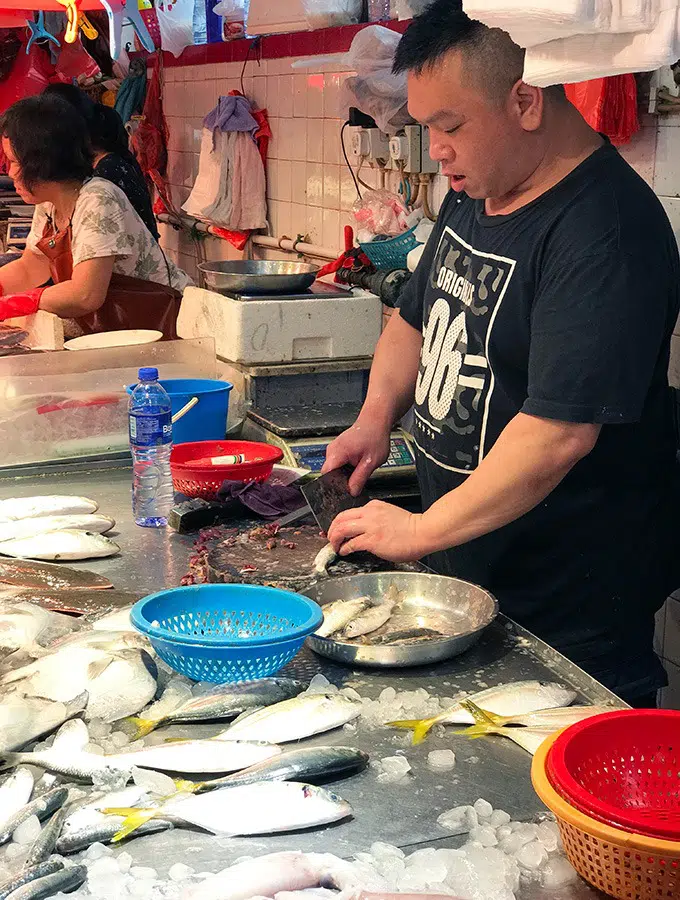 Red Market Macao - Level 3 Meat
You could think that the Red Market got its name from level three, not the bricks that it was built from. The mix of red lamps and red meat gives this area a red glow.
Unfortunately by the time I made it to the top level my time at the wet market was running out. I wasn't able to explore as much as I wanted to.
There is pork, lots and lots of pork. Nothing goes to waste, it is nose to tail all the way. The way it should be.
Individual butchers breaking down cuts of meat. Again a good reminder where your pork chop comes from. I often think we are very desensitised as consumers in Australia, and other western nations, as to where our meat comes from. No doubt about it here.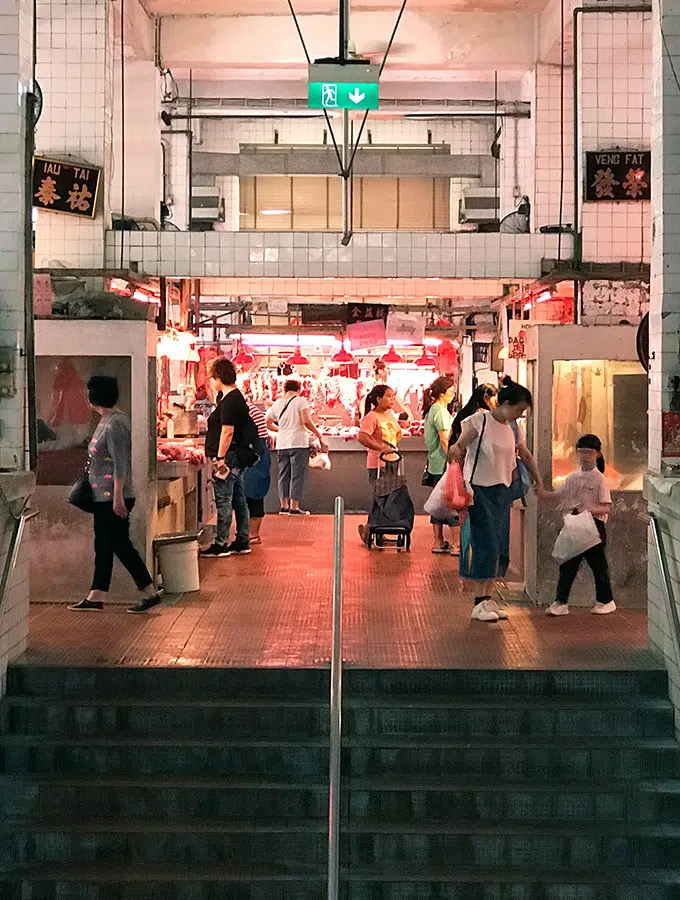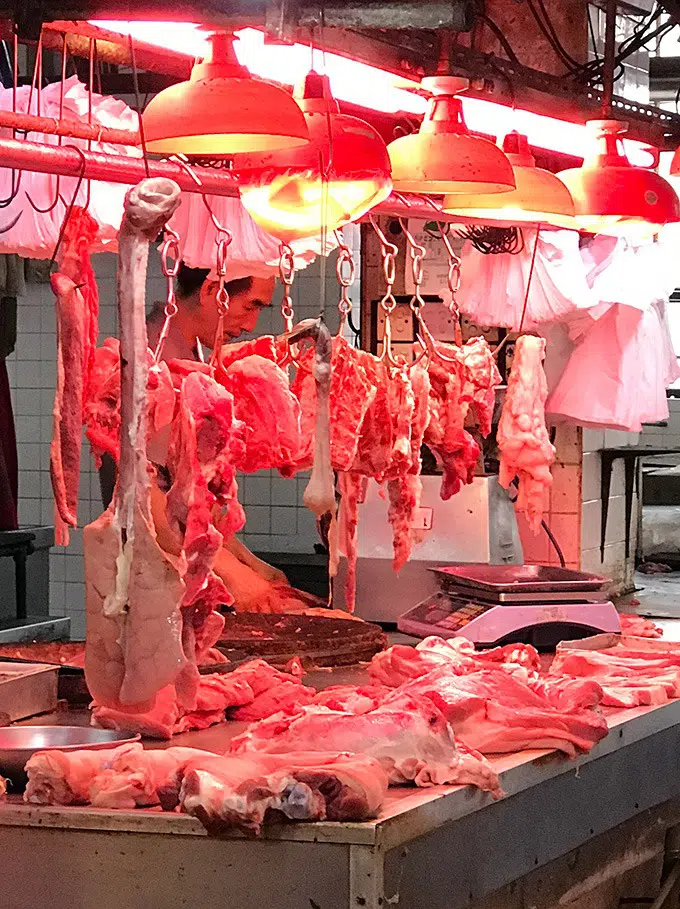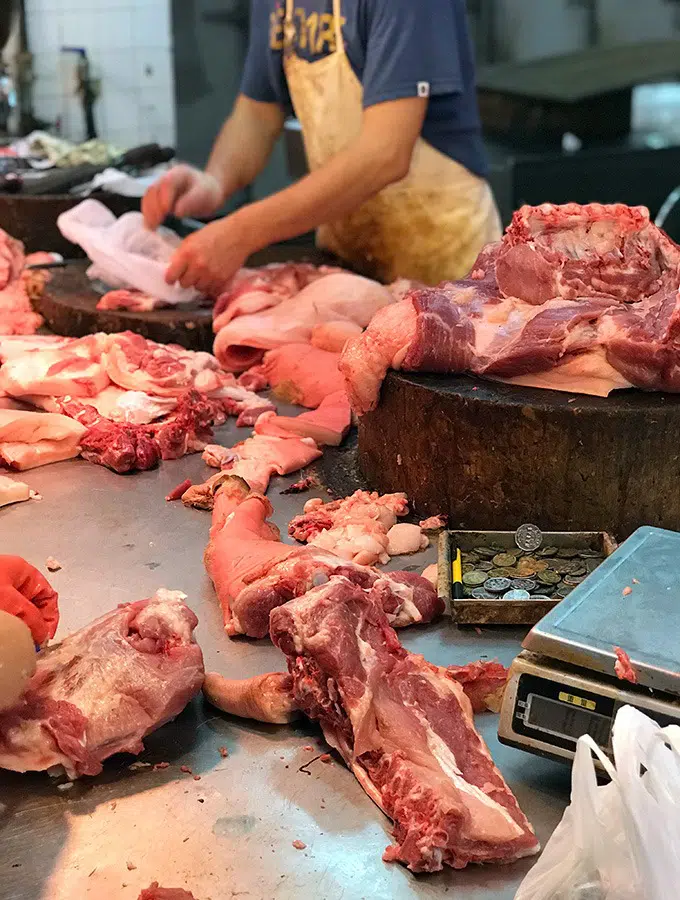 Red Market Macao - The outside markets
The Red Market is also surrounded by market stalls. Here you will find more fresh fruit, fresh vegetables, and flowers. Also people selling clothing, tee shirts, and other nonedible items.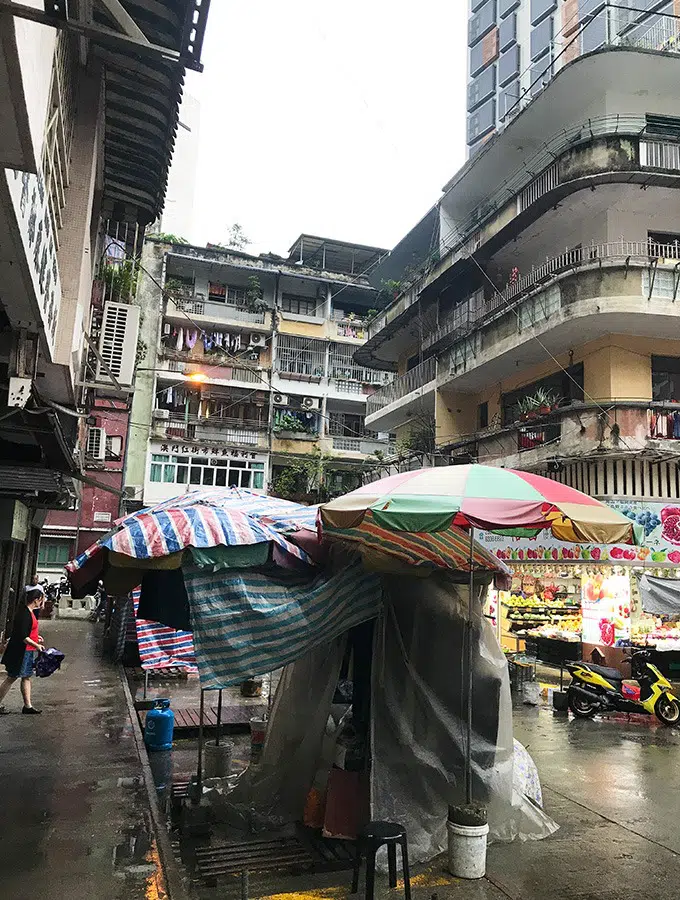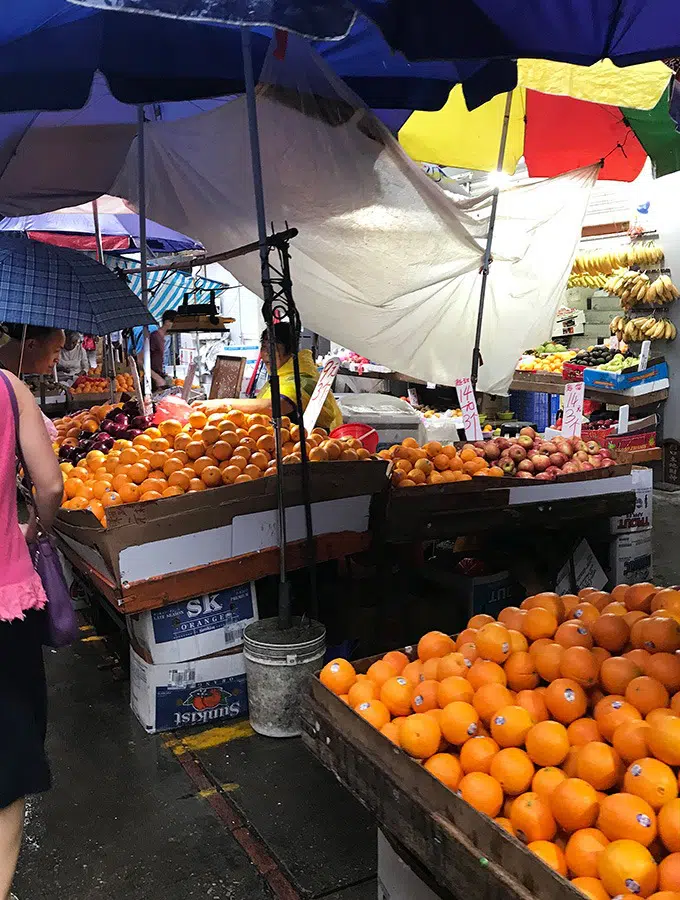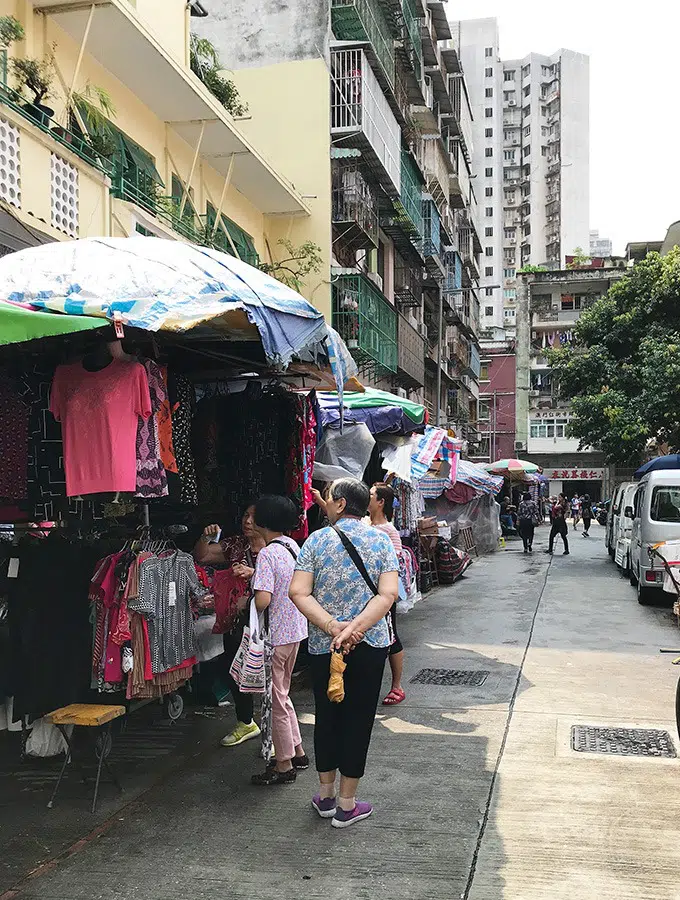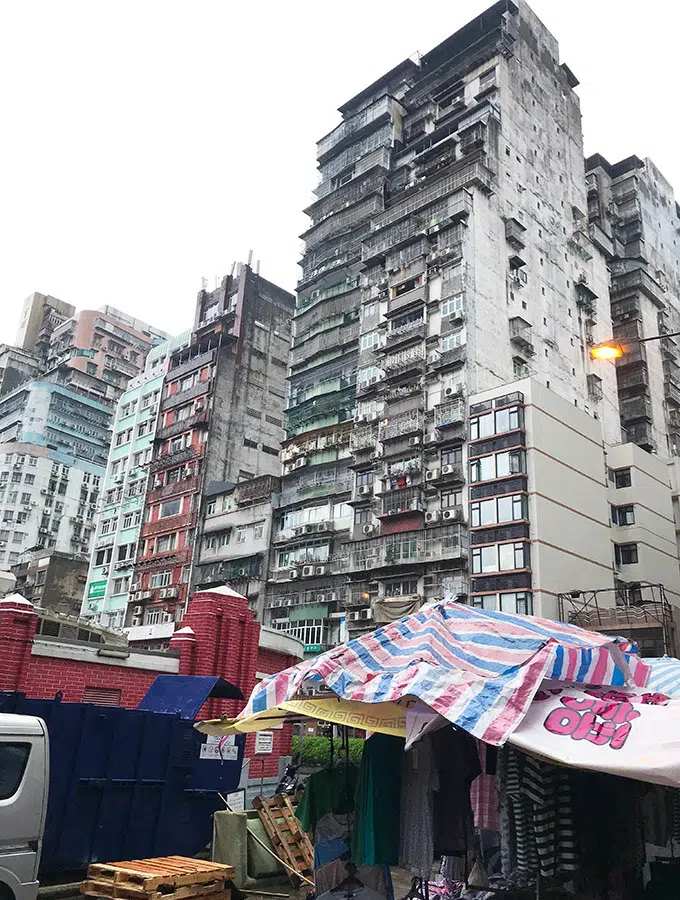 When in Macao the Red Market is a must visit. Also take time to walk around and explore the surrounding area of the Three Lamps District. You are sure to pick up a bargain or two in this less touristy part of Macao.
If you are wanting to have a bite to eat when you visit, Long Va Tea House is directly opposite. A quaint and traditional tea house where you can watch the bustle of people coming and going to the Red Market.
Sara xxx
Red Market
Corner of Avenida Almirante Lacerda and Avenida Horta e Costa Macau
An easy and relatively flat 18 minute walk from the Ruins of St Paul's
OTHER STORIES ON MACAO
Are Macau and Macao the same place? - What is correct? We explain which one and why to unconfuse you.
Lord Stow's Bakery - The original and the best Macanese tarts in Macao.
Long Va Tea House - Tea and dumpling perfection
Belly Rumbles visited the Red Market in Macao with thanks to Macao Government Tourism Office, but all opinions remain her own.

Become a subscriber and don't miss a single delicious recipe, restaurant review or travel adventure.