Review of Emirates first class on EK045 Dubai to Frankfurt. Sadly they dropped the ball a little on this flight. I share everything Emirates has to offer their first class passengers, dining, champagne, entertainment, in flight bar, and the shower!
I have written a previously of my experience on EK149 from Sydney to Dubai. As you can imagine many things are standard across the A380 fleet. Therefore I haven't gone in depth for some aspects of this flight that are the same for all flights. Please do have a read of my previous Emirates first class experience.Sadly Emirates dropped the ball a little on this flight. Really not big issues at all, but just a little unexpected when you are paying the big bucks to fly first class.
I didn't pay big bucks, like my previous Emirates first class flights, I used points. There is no way this blogger would be able to afford to pay hard cold cash.
How much does Emirates first class cost? I had a look at Emirates to check the cost of Dubai to Frankfurt one way and it was AUD$6,303.19. That is around $1,000 an hour for this six plus hour flight.
You may also be interested in detailed write up of the Emirates first class showers as well as the Emirates A380 inflight bar.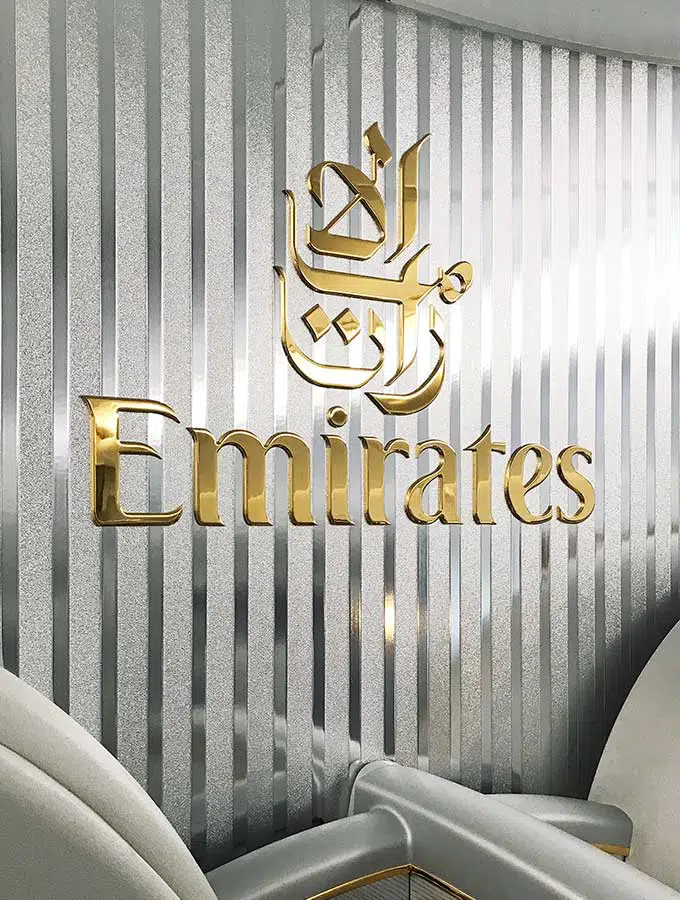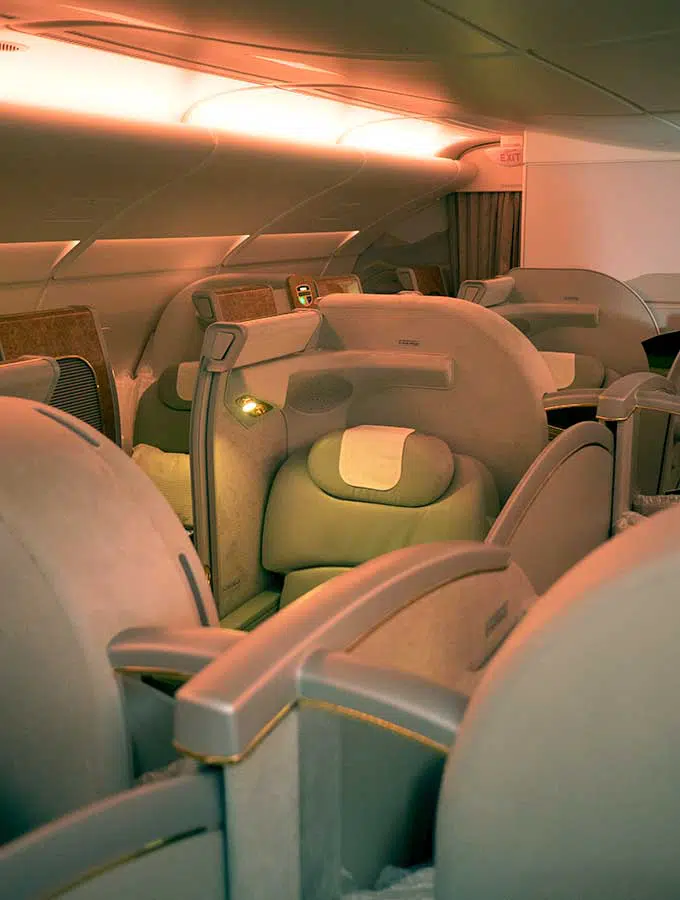 Flight: EK045
Loyalty Scheme: Emirates Skywards
Flight Duration: 6 hours 50 minutes
Aircraft: A380
Cabin: First (F)
Seat: 2A
Emirates first Class EK045 - before take off
After spending a little time at the Emirates first class lounge it was time to board. Being an A380 first and business class passengers are quite segregated from economy class. You have a dedicated separate entrance to the top level of the plane.
Boarding is very smooth and relaxed. Once I arrive at the plane door the excitement of turning left, instead of right to business class, is still a buzz. I am shown my suite and helped with my bag. I also discover that I am the only passenger in first class for the flight.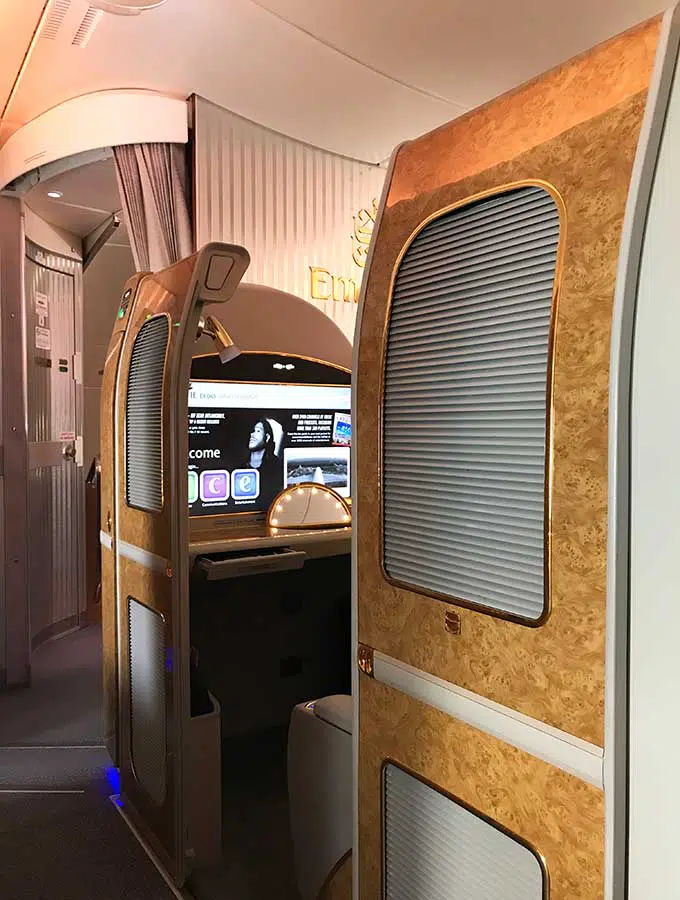 If you haven't traveled in first class before you will be shown all the features of your suite. Dining and showers are also explained. Dining is when you would like it and if you would like to shower it is a good idea to book it if first is full. As I am the only passenger, I don't bother booking shower time.
I had booked seat 1A, but decided to move behind to 2A. 2A seems a little roomier without the bulkhead in front of you. As there are no overhead storage bins in first, my cabin bag takes up the suite next to me. It gives me more room in my suite and is close at hand if I need it.
Before takeoff I indulge in a couple of stuffed dates and a glass of Champagne. My first class "swag" is offered to me. I decline the pajamas as it is a day flight, but happily accept the amenities kit.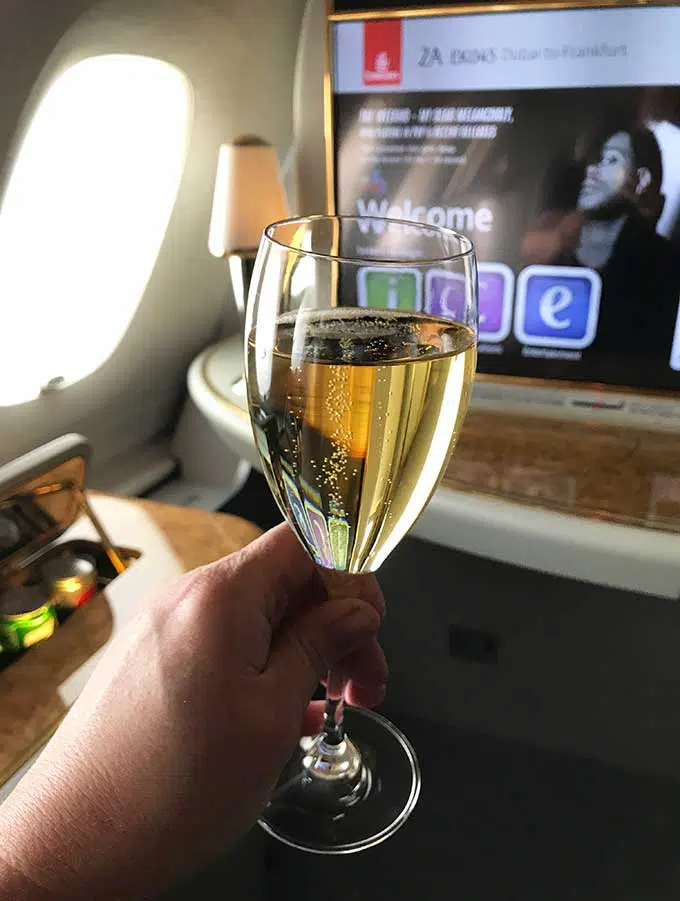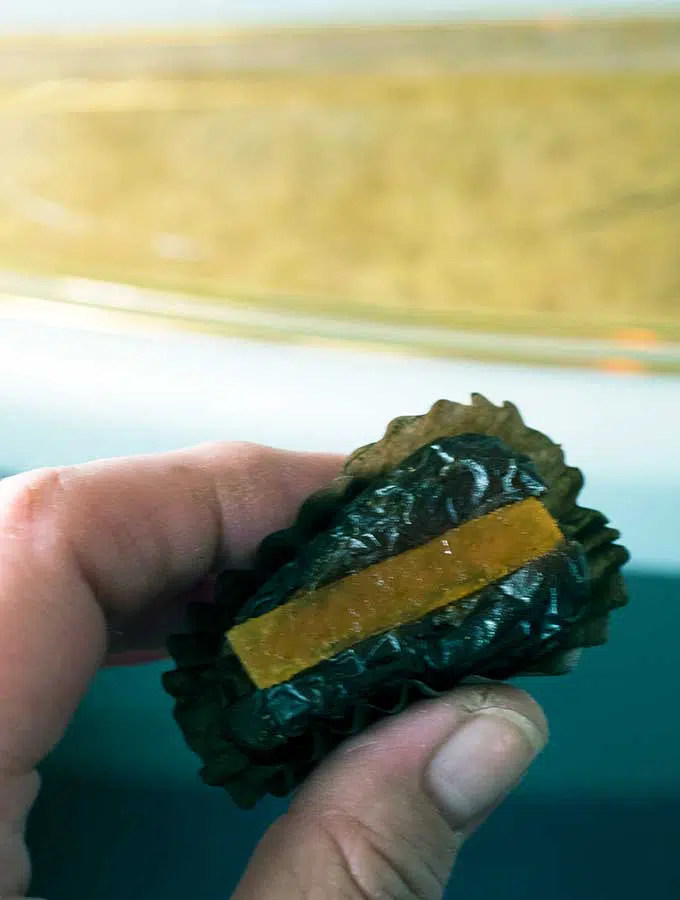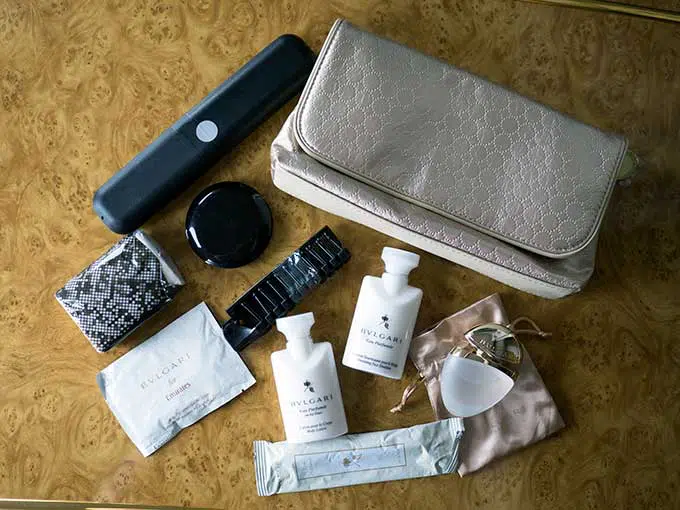 EK045 Dubai to Frankfurt - An unexpected surprise
I was a little shocked and taken back to find garbage left in my suite. I made the discovery when opening the small storage compartment in the armrest of my chair. This is no big deal, but a very unexpected one. Airplanes can be rather grotty at the best of times, but when flying first class you expect your seat or suite to have the same feel as a hotel room. In that nobody has been there before you, it is all fresh and clean.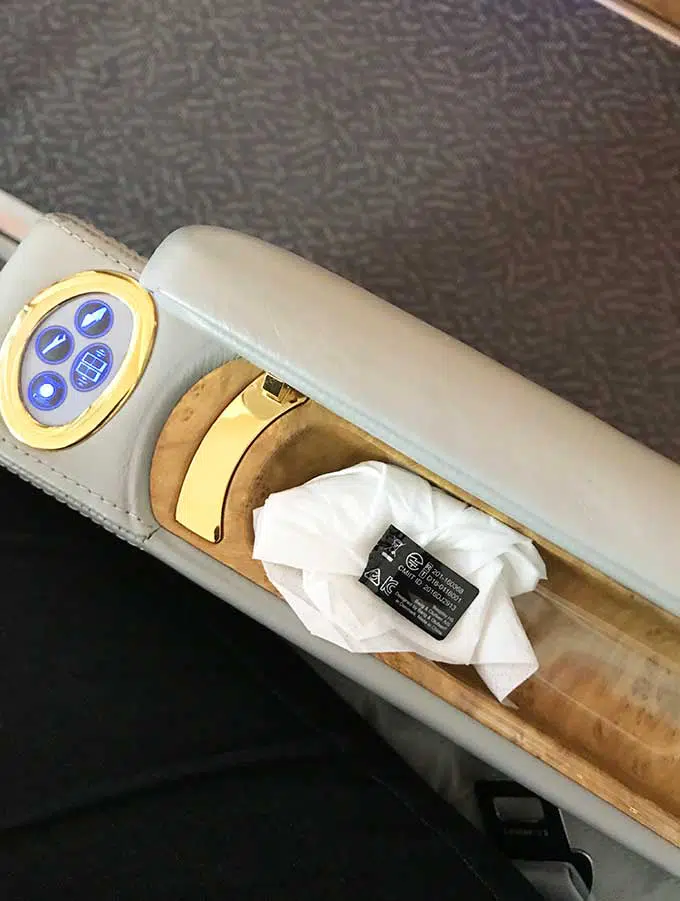 The garbage discovery was a used tissue (yuck) and another small piece of plastic. I buzzed the steward to show them the garbage and have it removed. She advised me that it wasn't her fault as she doesn't clean the planes. My response was that I know she doesn't clean the planes but maybe she would like to know of the bad cleaning job, and please take the garbage away. She wasn't too thrilled.
EK045 Dubai to Frankfurt - first class suite
The seats in the suites spacious are very comfortable. There is a nice amount of leg room. But as you can see, if you have a regulation carry on bag the room you do have is radically reduced.
There are other little areas of storage in the suite suitable for smaller items to keep close at hand. This includes snotty tissues apparently.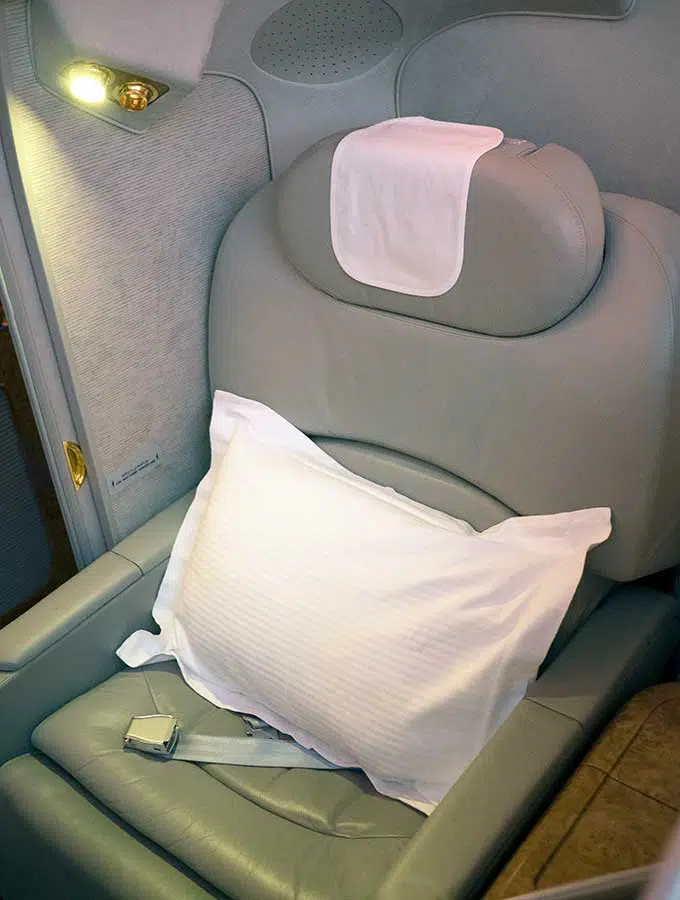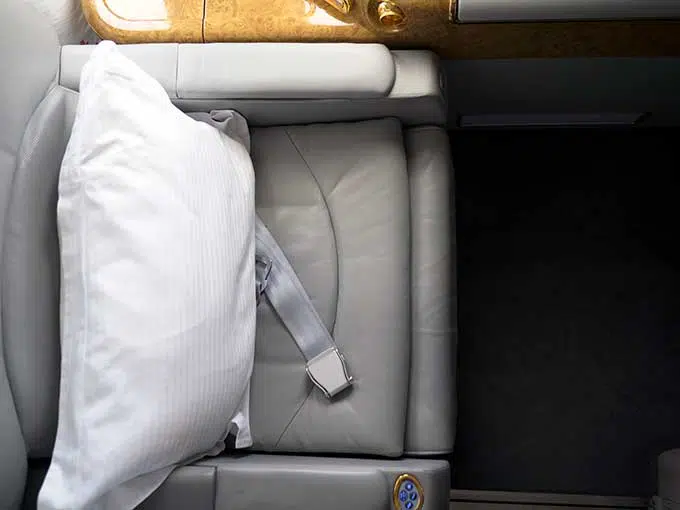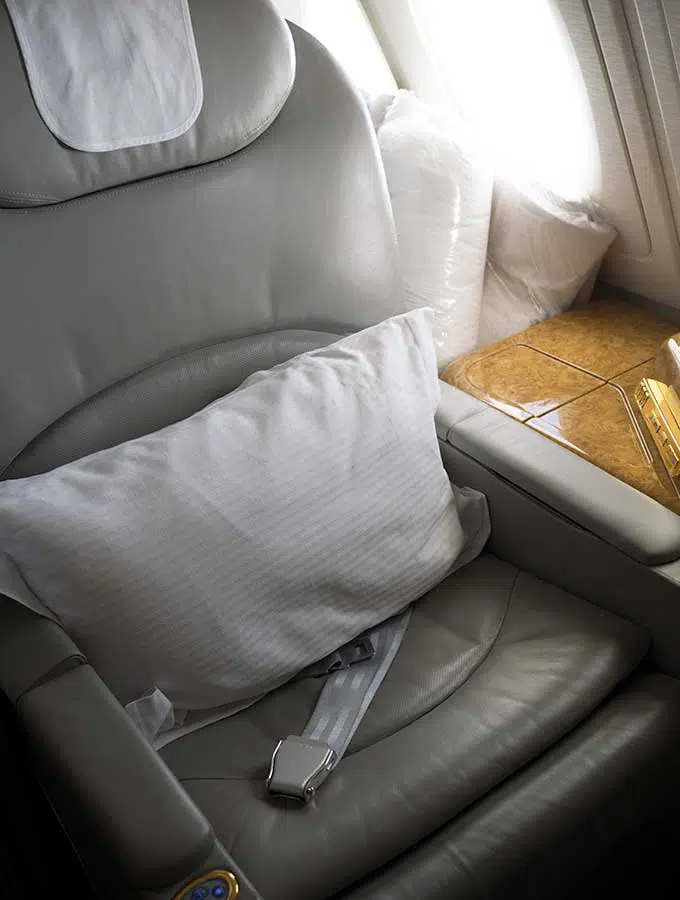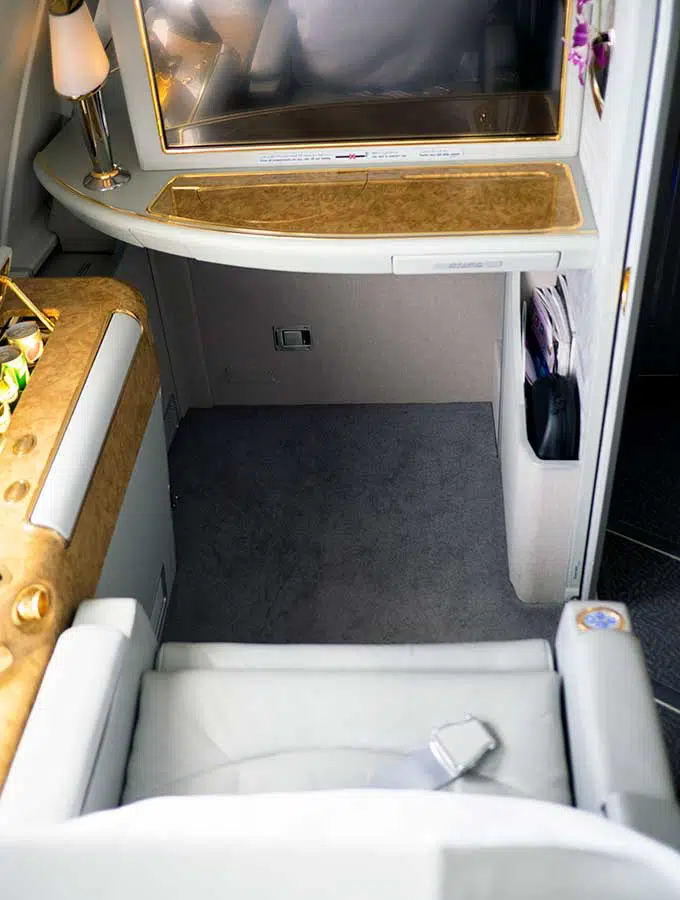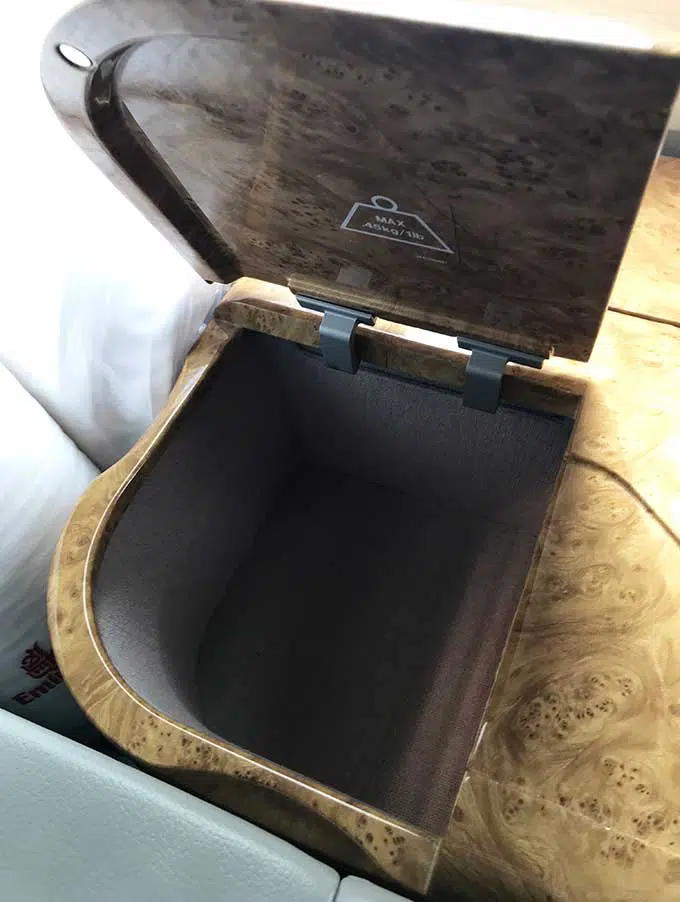 You have your own mini bar with water (sparkling and still), soft drink and juice. It is a shame that the bar isn't refrigerated and that the drinks are cabin temperature. The still water is fine to drink at this temperature, but you will still need to call a steward for ice to chill the other drinks.
There is also a basket of goodies, chips, nuts, chocolate, and mints. What is in the basket varies from flight to flight. Don't panic when they take the basket away from you before take off, they will bring it back. Again the ball dropped a little on this flight and I had to ask for my basket back halfway through the flight as I had a craving for some chocolate.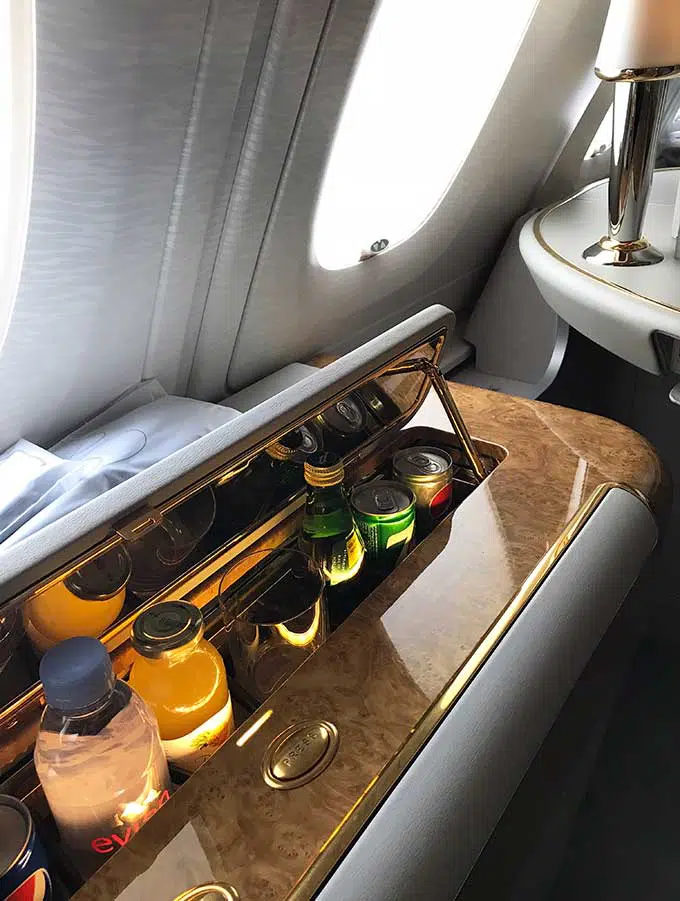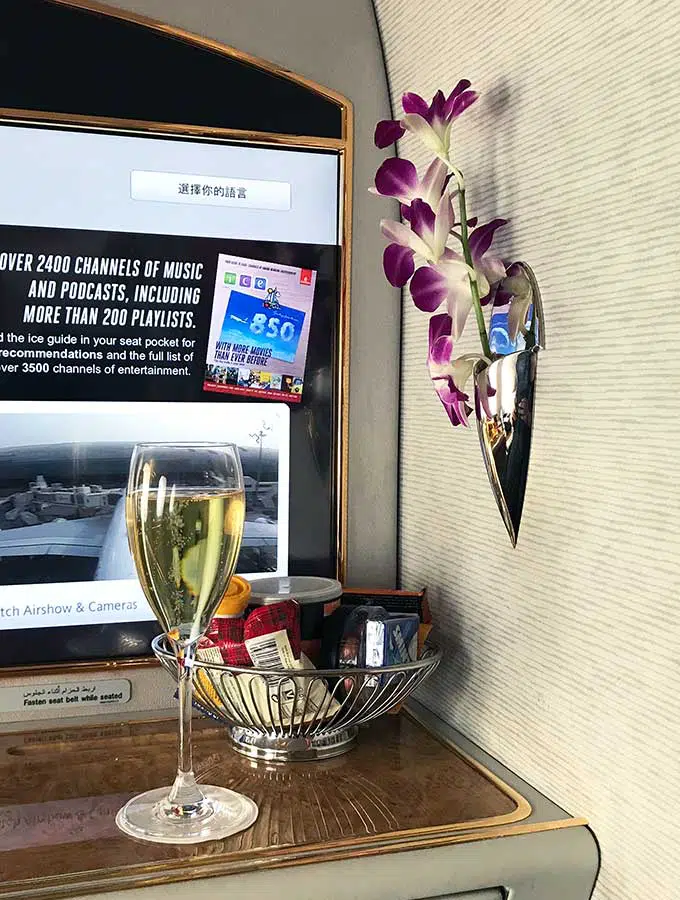 After take off you are able to close the doors to your suite for privacy. As I was the only one in first, and it was a morning flight, I left them open.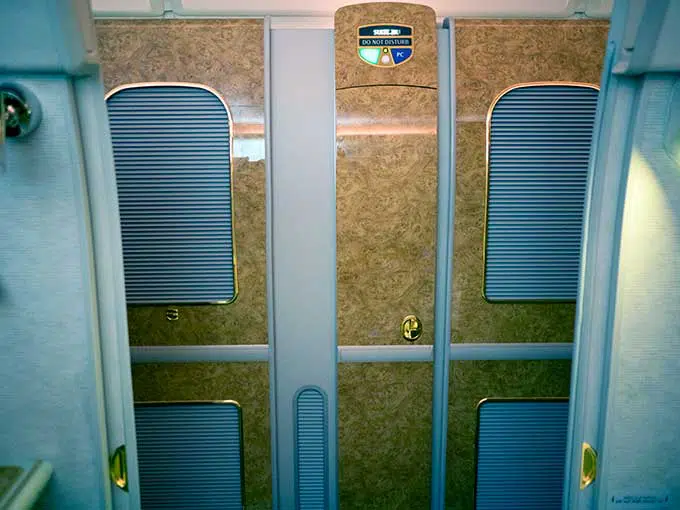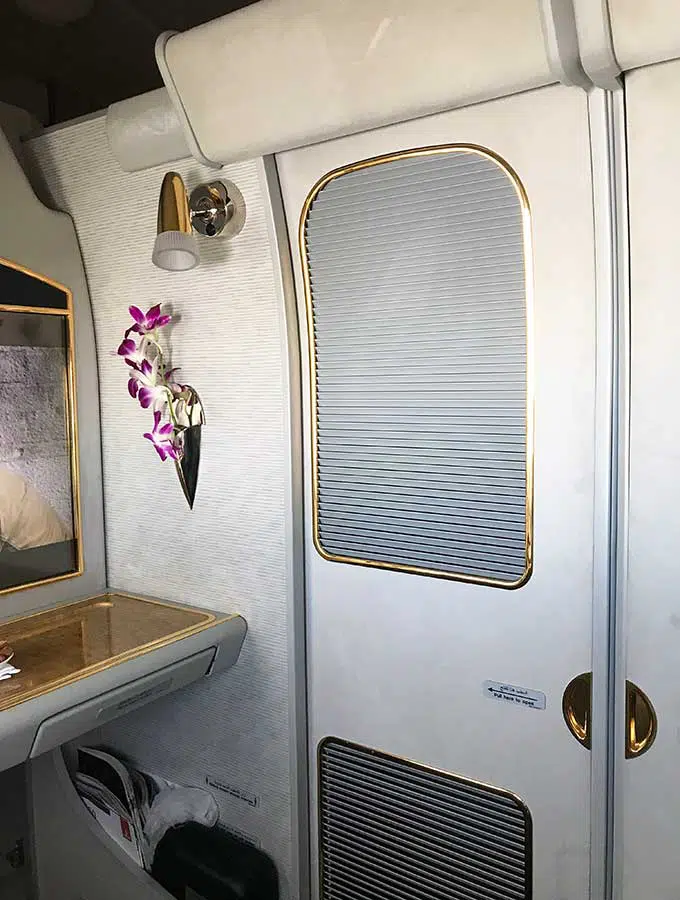 You have a large screen to watch all sorts of movies etc in your suite. You can control the Emirates inflight entertainment, ICE, a few ways. The screen is touch if you can reach it, you won't be able to from your seat if your seatbelt is on or have short arms. There are also a handheld controller and an iPad style screen.
The "iPad" will also control your seat and window shades.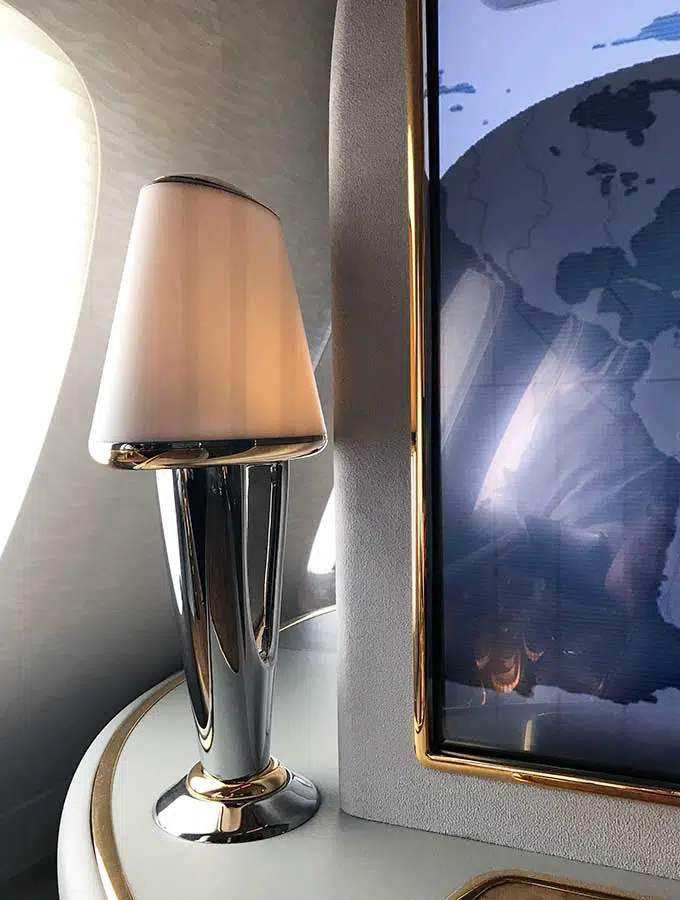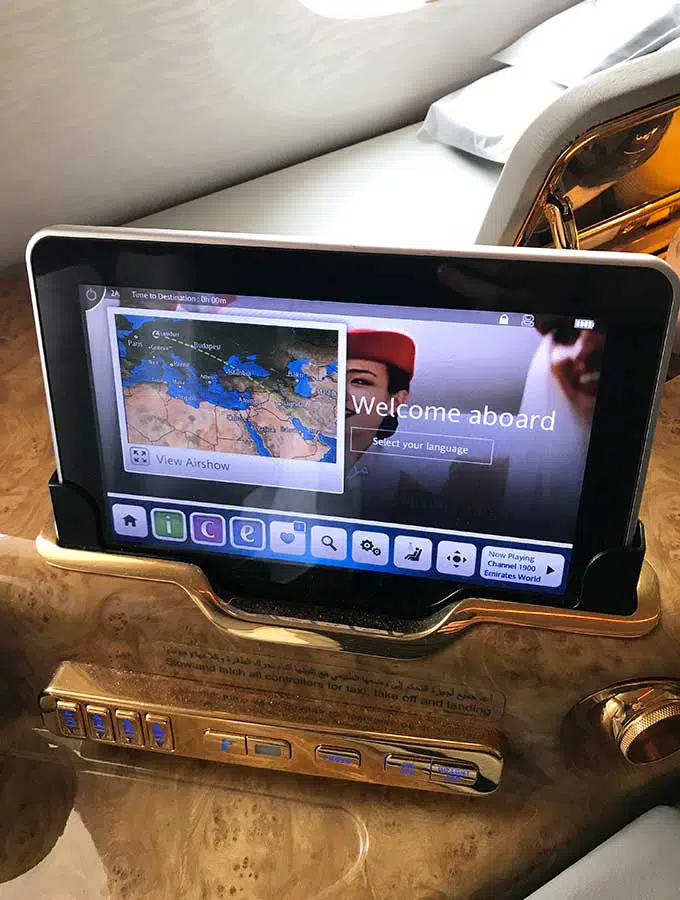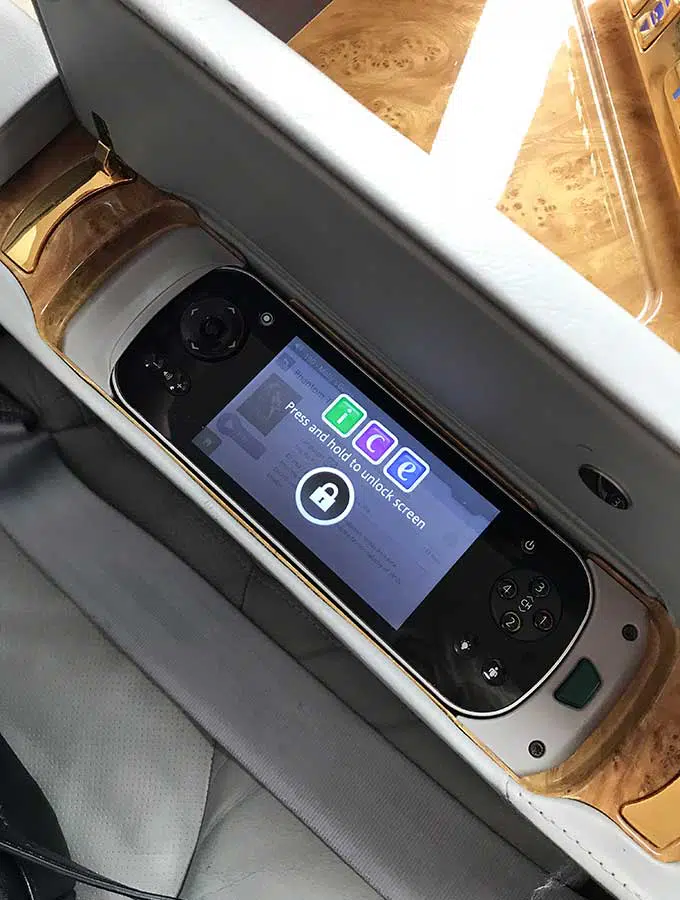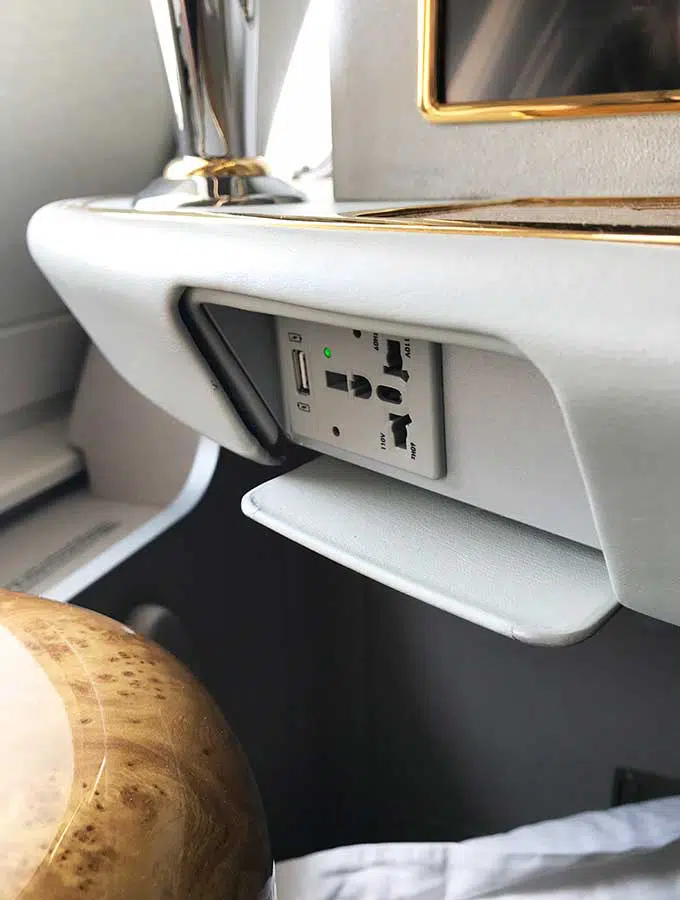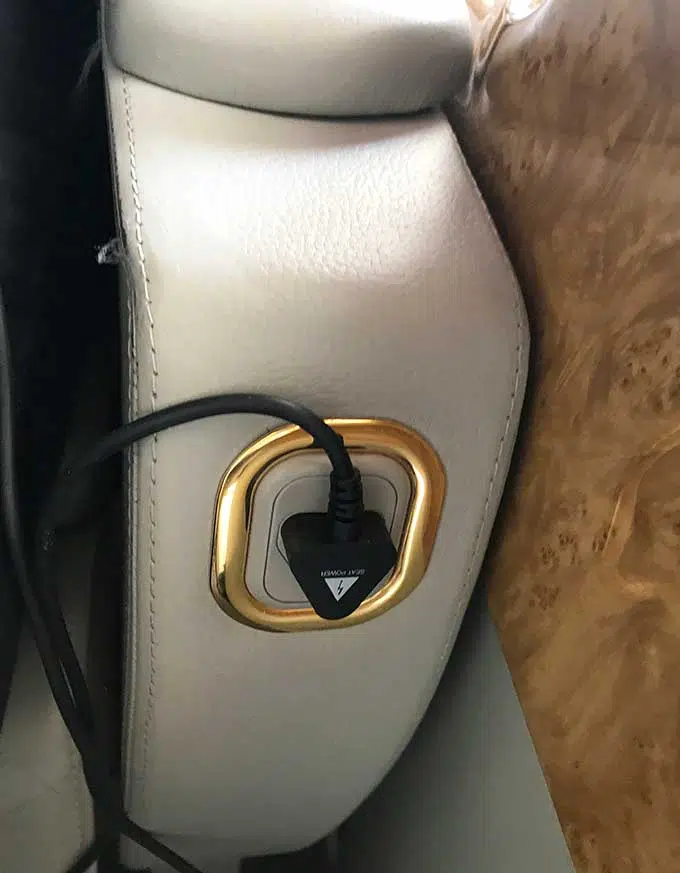 EK045 Dubai to Frankfurt - The Full Menu
The Emirates first class menu is extensive and is presented in a leather bound folder. Below you can read all the food and beverages that were on offer. You are able to choose as little or as much as you want from the menu. They will happily keep pouring the champagne for you too.
When you think about it, all this was available for just me. Whatever I wanted would be prepared.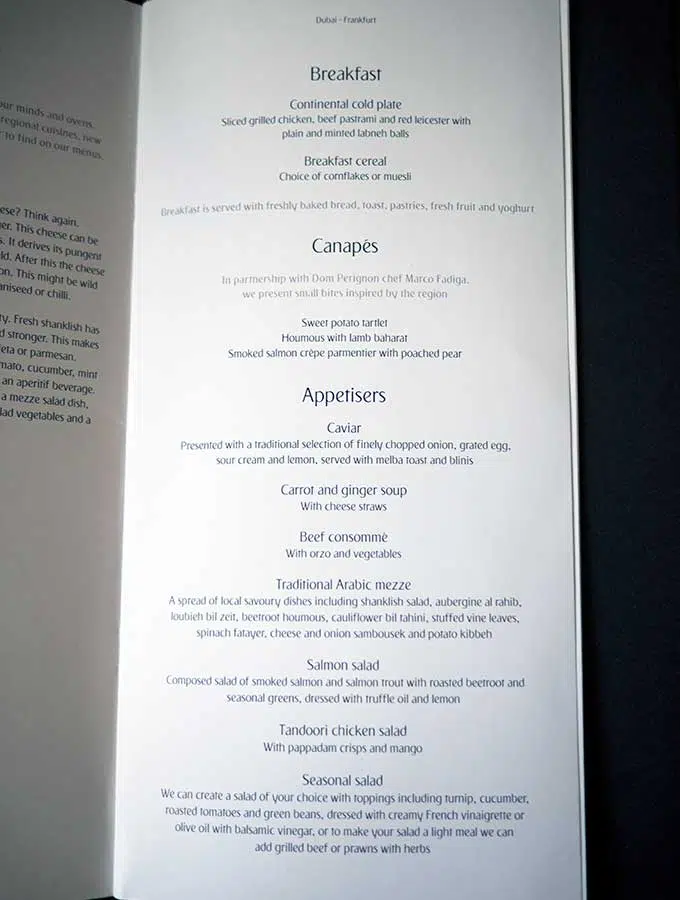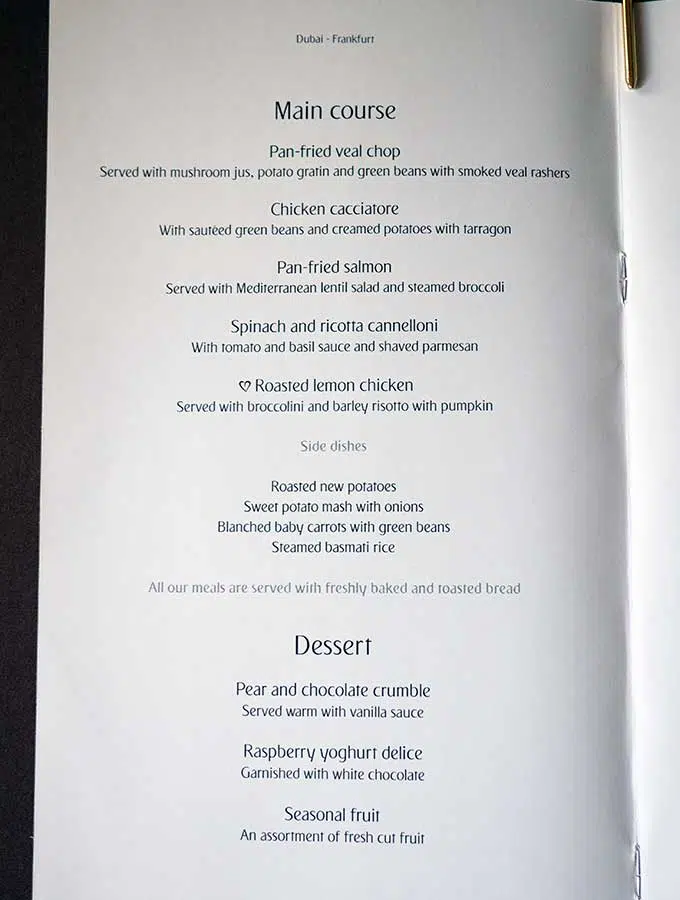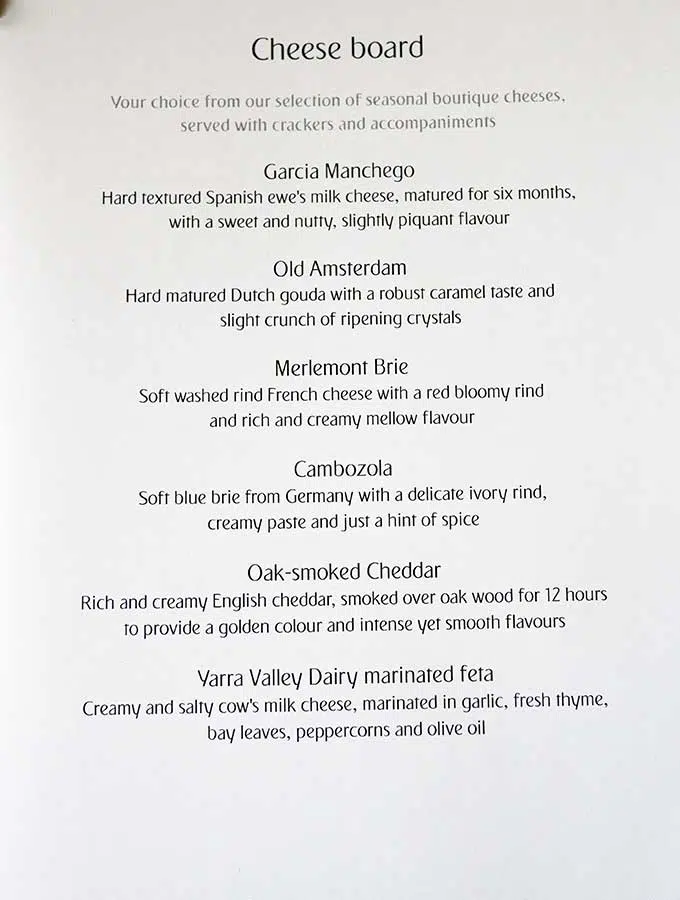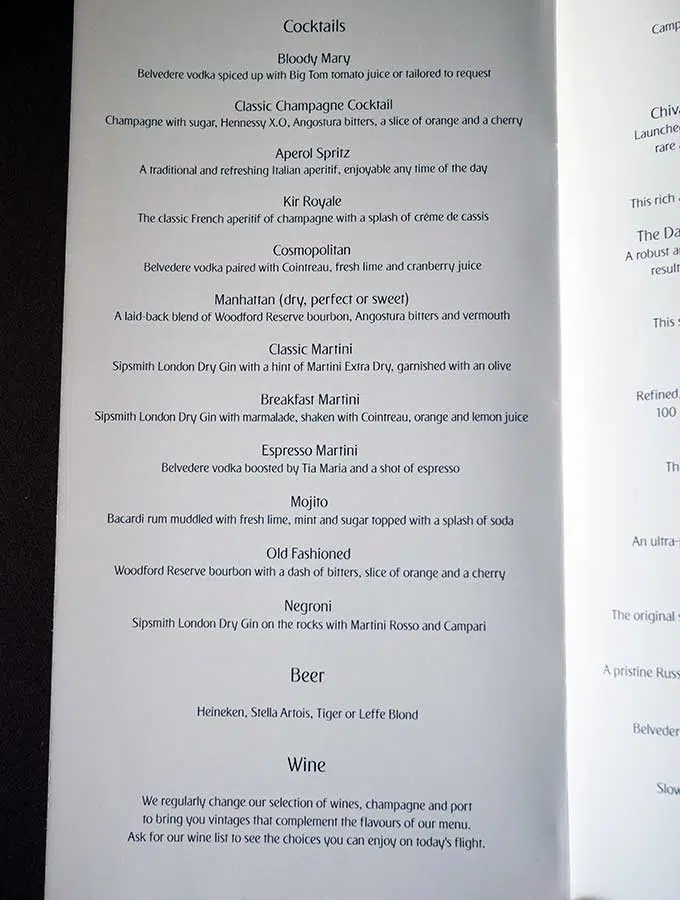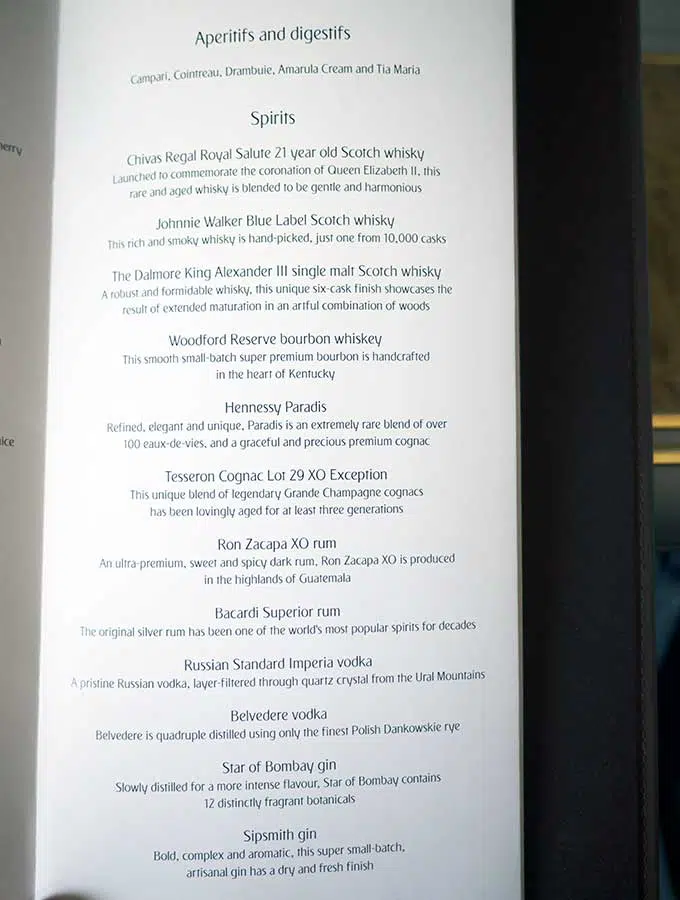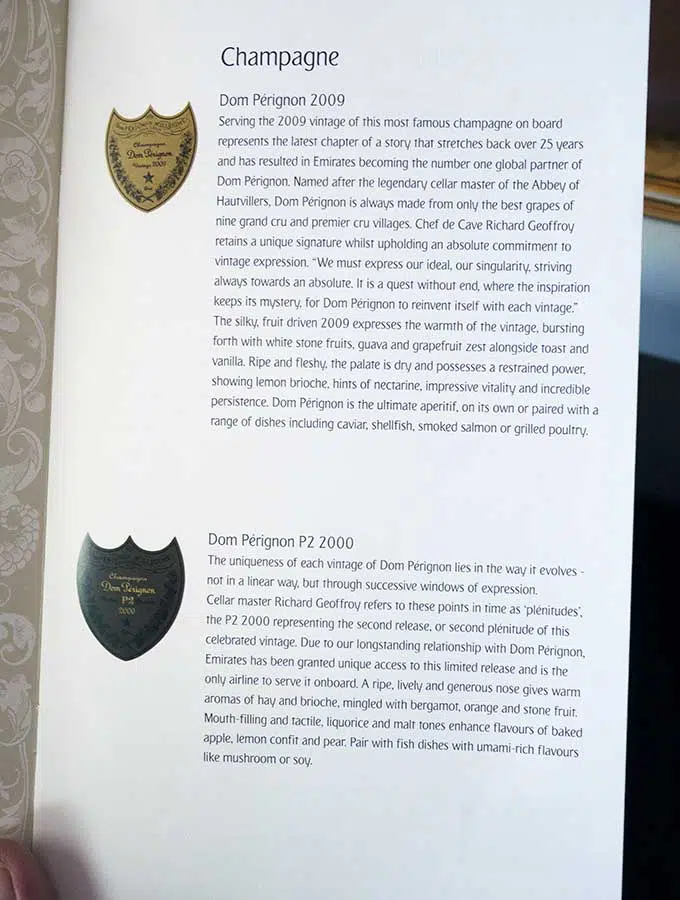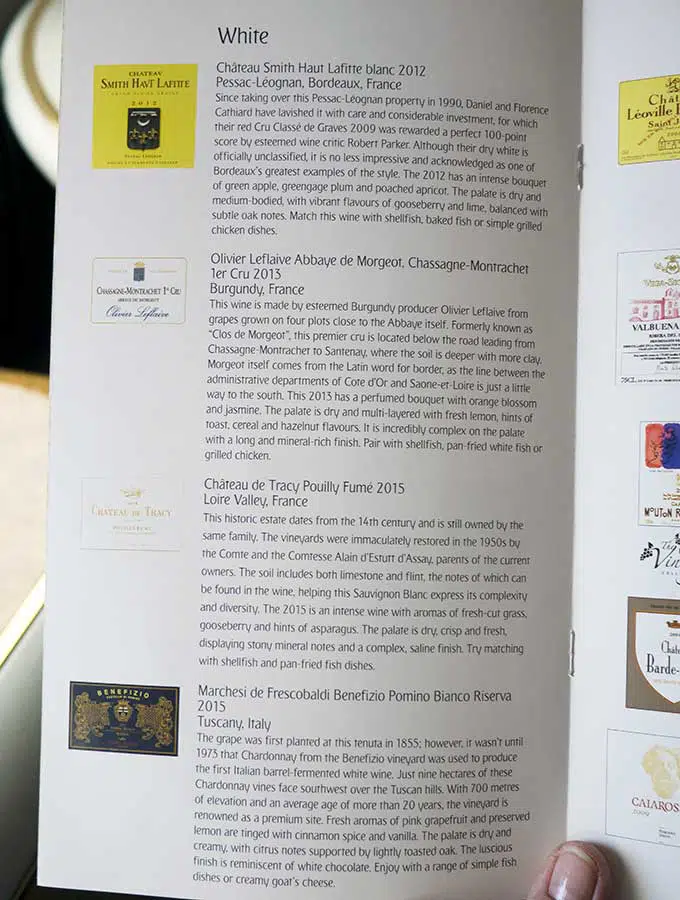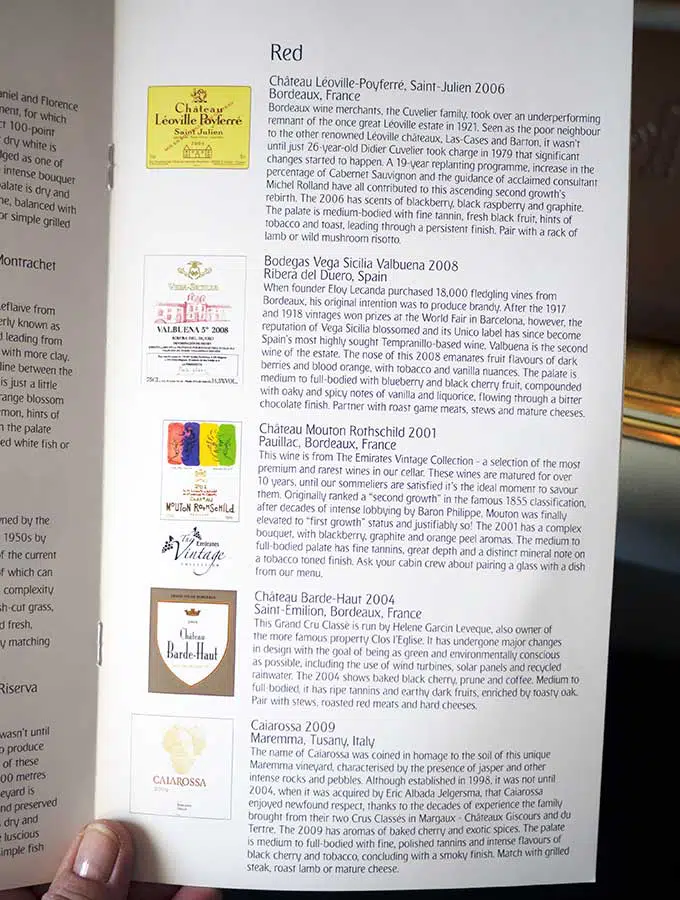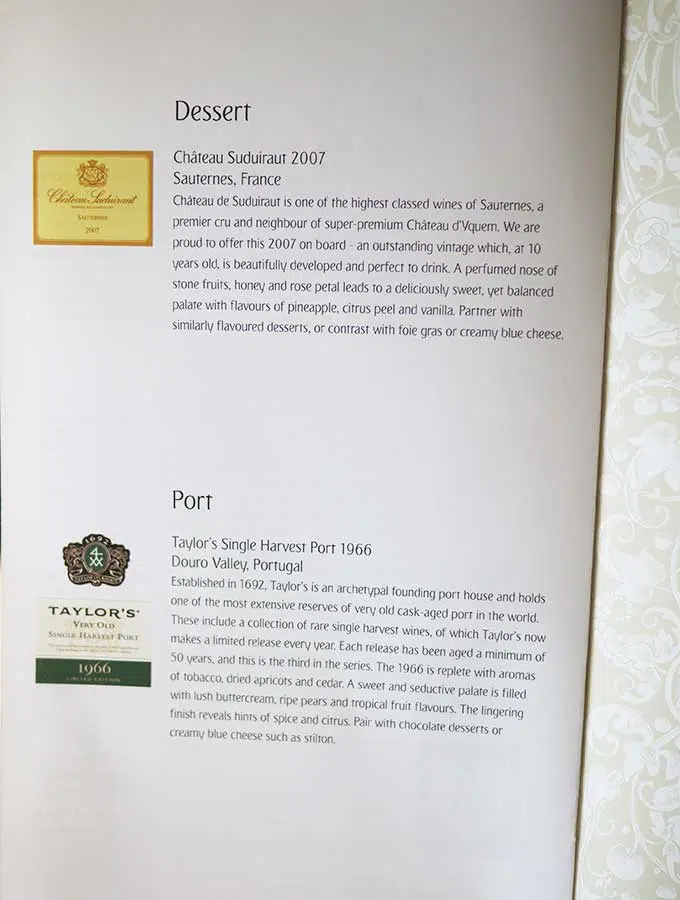 EK045 Dubai to Frankfurt - My Dining Experience
There were two Champagnes on offer for the flight. The usually available Dom Perignon 2009 and Dom Perignon P2 2000. The Dom Perignon P2 200 has been introduced for a limited time to Emirates first class passengers. Of course, that is the Champagne I chose.
Can Sara drink a whole bottle of Champagne by herself? Yes she can. Well, I couldn't let it go to waste and there were no other passengers to share it with. I should also add that I probably will never ever again have the chance to drink a whole bottle of champagne worth AUD$550. The Dom Perignon 2009 retails for AUD$250.
In partnership with Dom Perignon, Chef Marco Fadiga created a trio of canapes to accompany the champagne. Sweet potato tart, houmous with lamb baharat, and smoked salmon crepe parmentier with poached pear.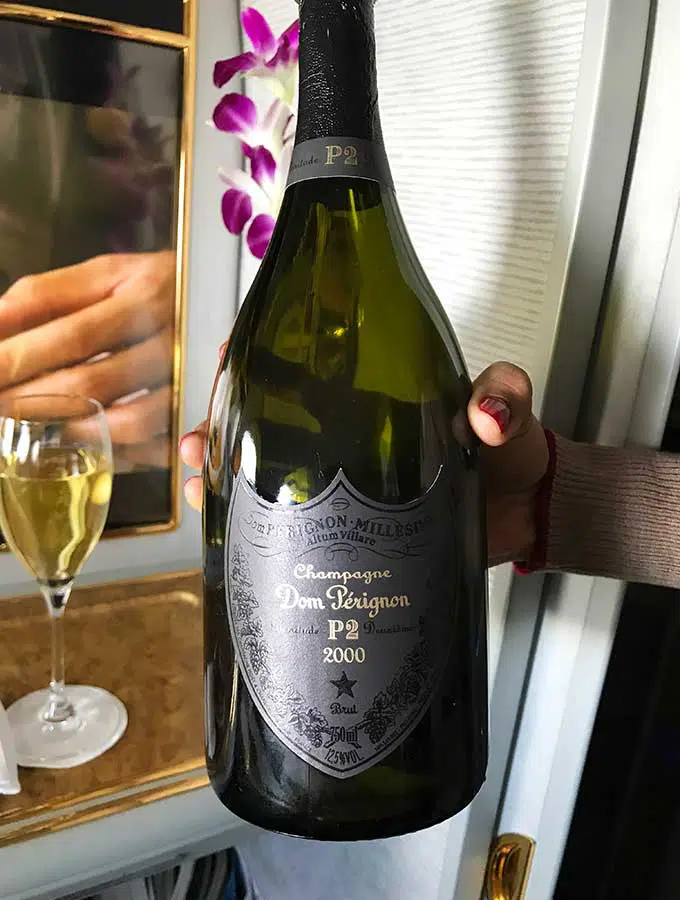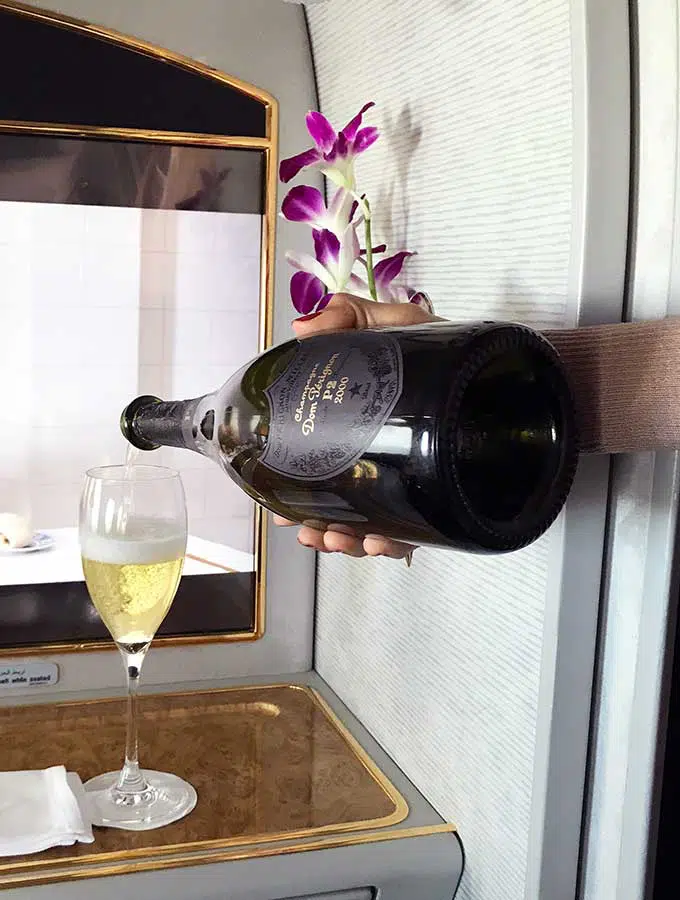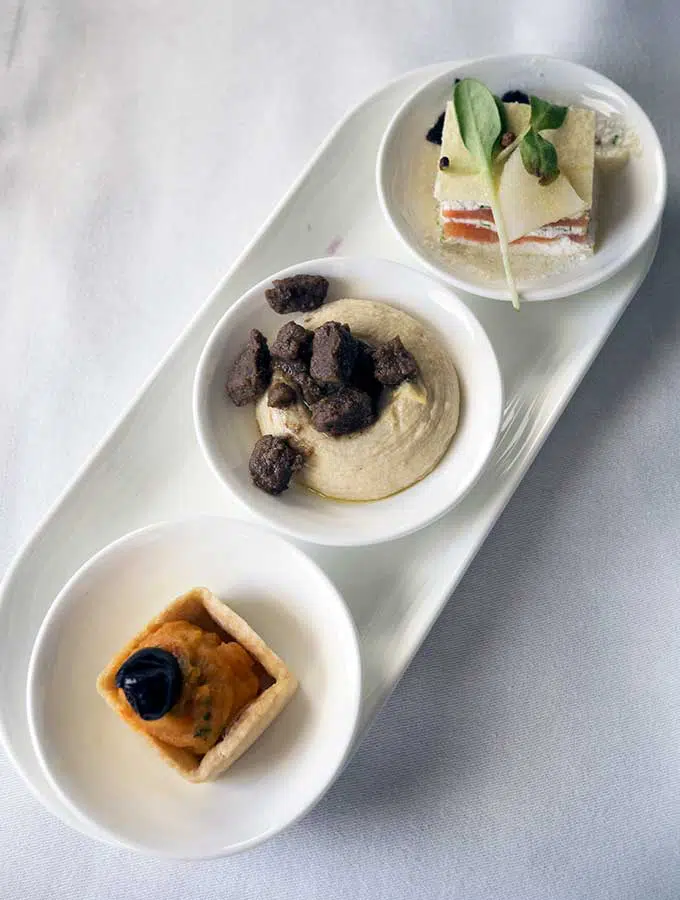 Even though it is a morning flight, I have already been traveling for around 18 hours. My body is out of whack and breakfast doesn't really compute. The obvious alternative is caviar. How do you serve caviar? Traditionally of course with chopped egg white, chopped egg yolk, chopped onion, sour cream, lemon, melba toast, and blinis.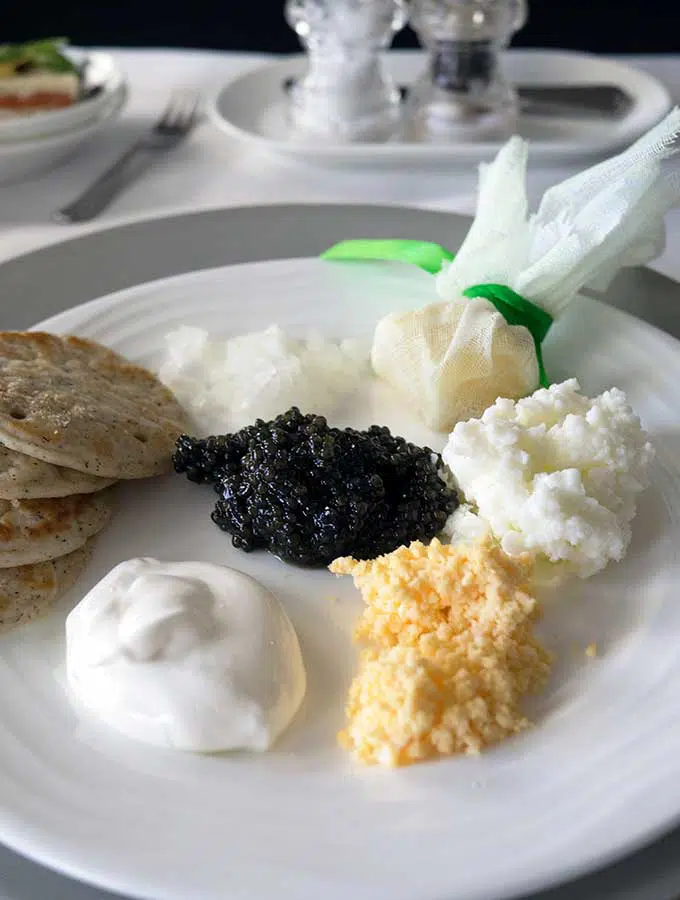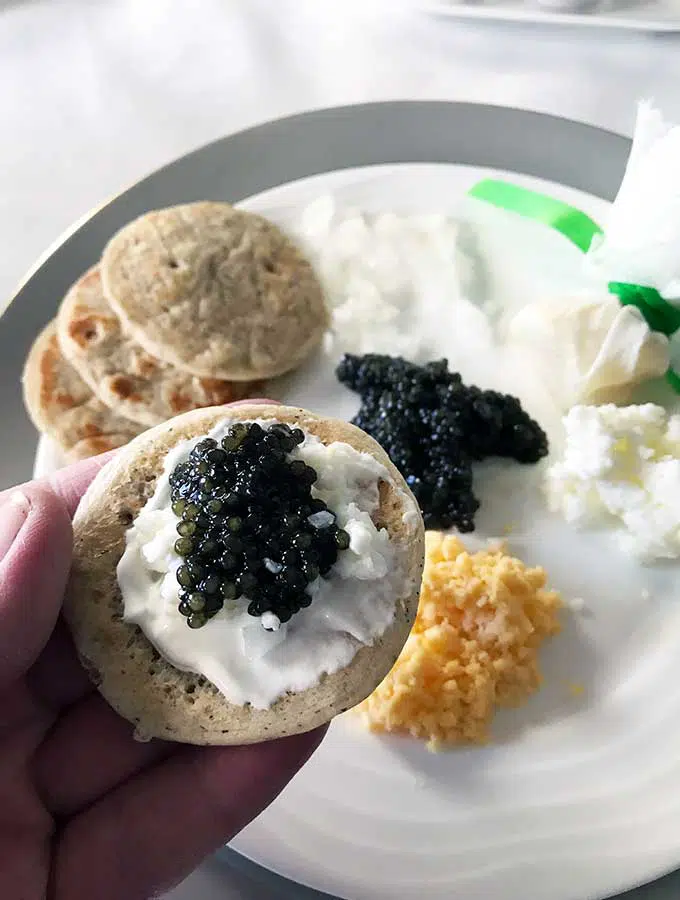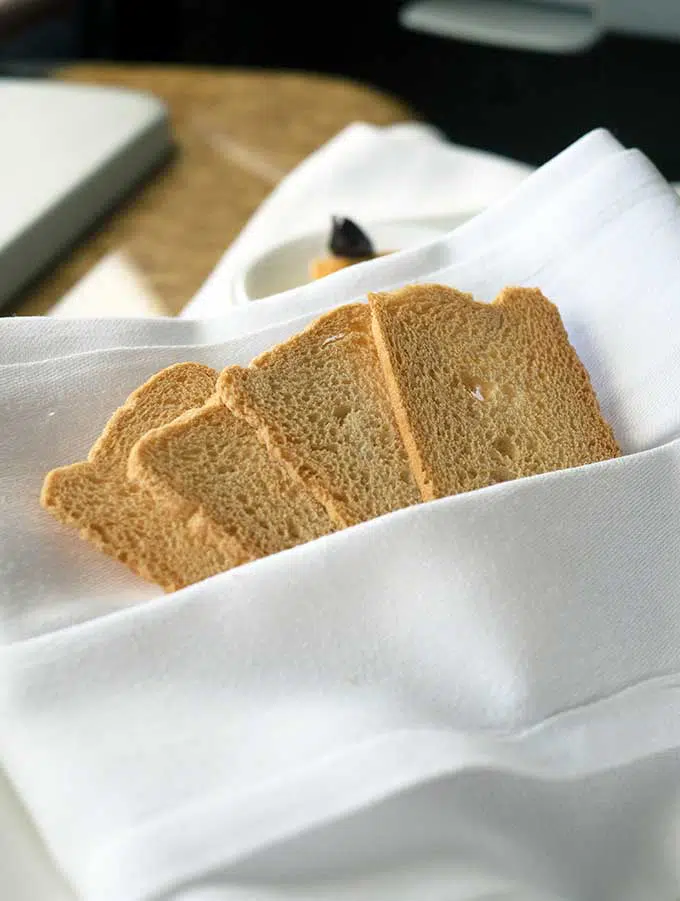 I then choose another dish from their appetisers, the traditional Arabic mezze. As we are flying from Dubai to Frankfurt I felt this would be a sure thing. I was right.
As far as appetisers go, this was a feast of various savoury dishes. Shanklish salad, eggplant and rahib, loubieh bil zeit, beetroot houmous, cauliflower bil tahini, stuffed vine leaves, spinach fatayer, cheese and onion sambousek, and potato kibbeh.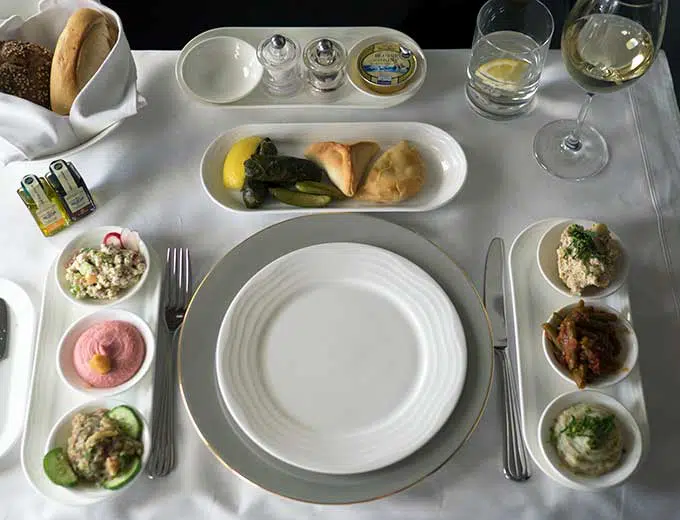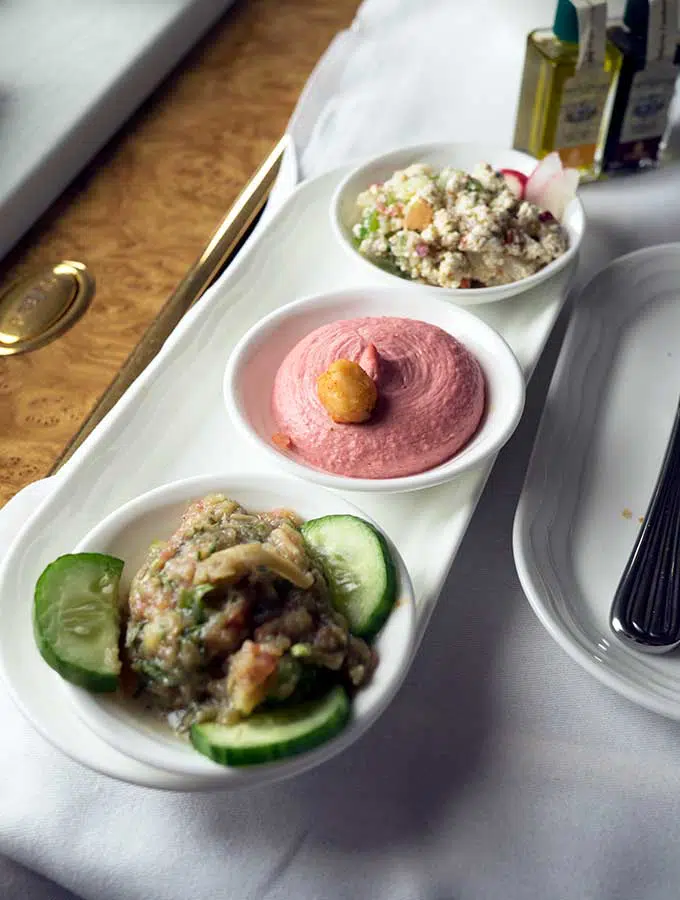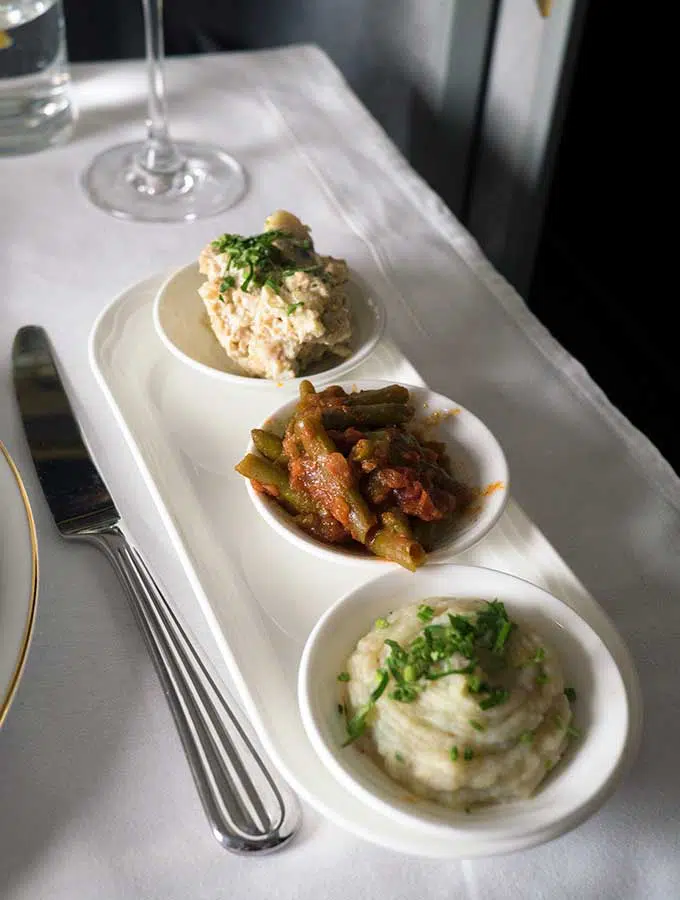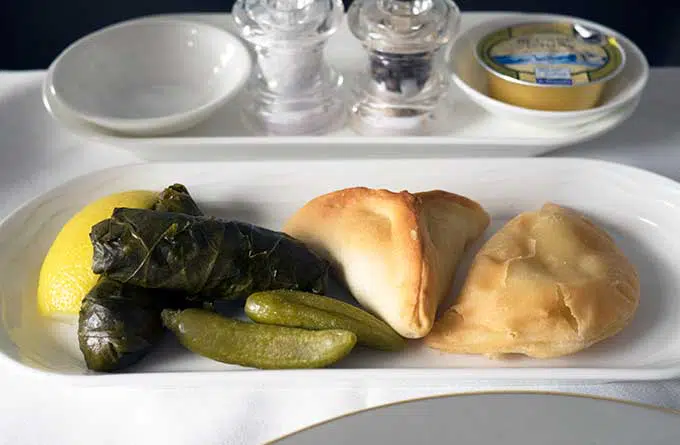 I have another meal towards the end of the flight. Once again from the appetiser section of the menu, salmon salad. The salad is a mix of smoked salmon and beetroot cured salmon. Served with roasted beetroot, spring peas, truffle oil, and lemon.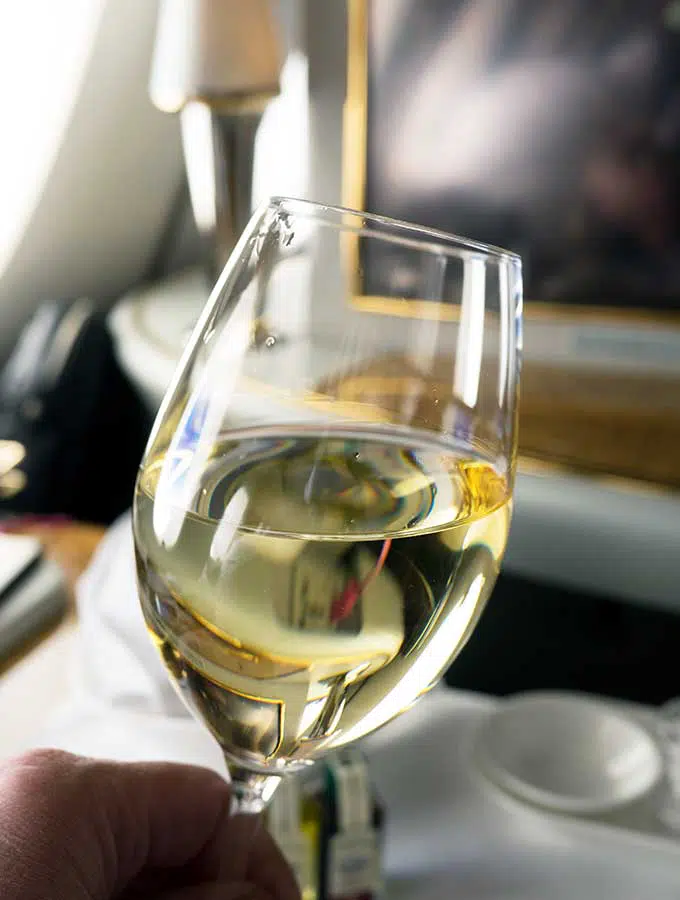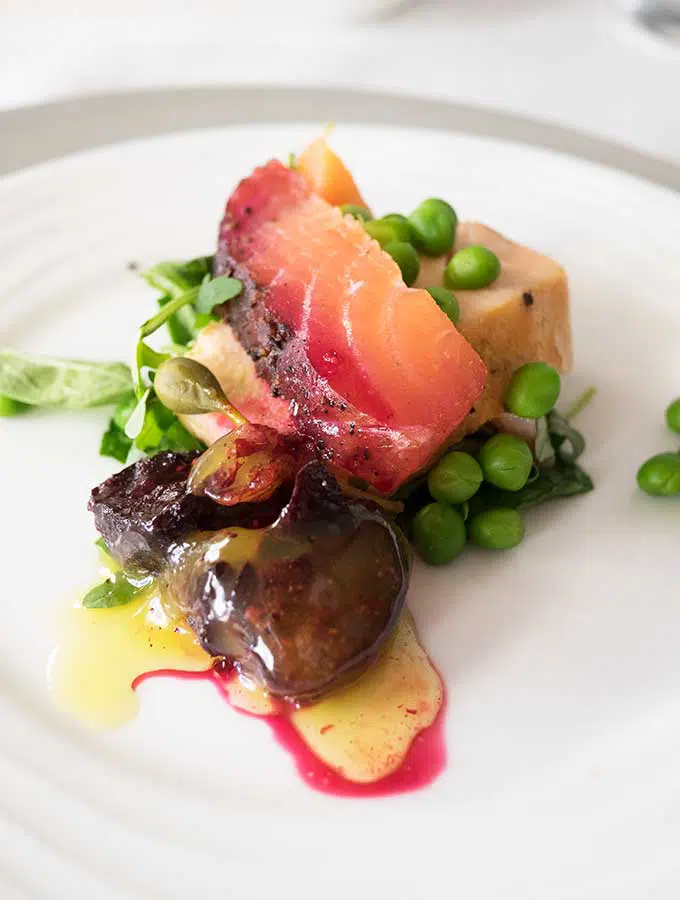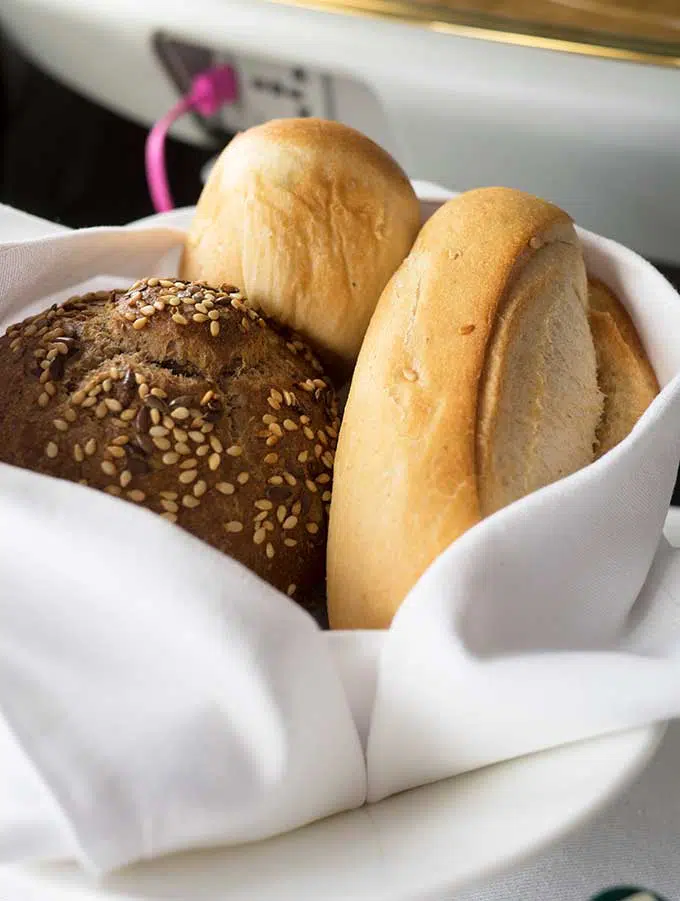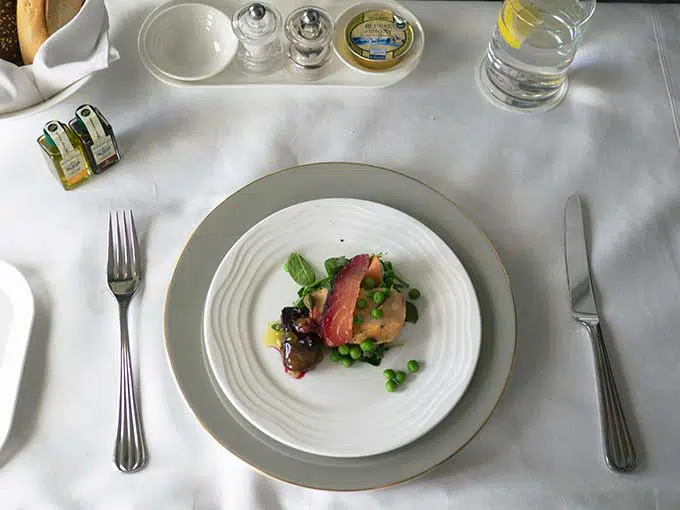 EK045 Dubai to Frankfurt - First Class Bar
First class passengers do have their own small bar area at the front of the first class cabin. It doesn't compare by a long shot to the main inflight bar at the back of business class, but it is handy.
Here you can grab a pre-made sandwich, crisps or some fruit. As well as help yourself to a drink.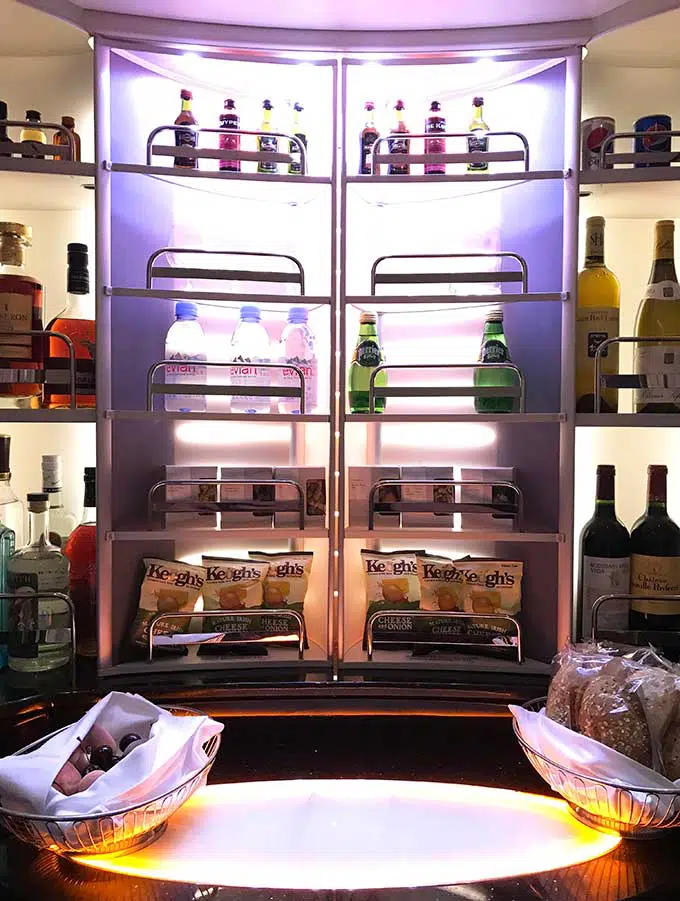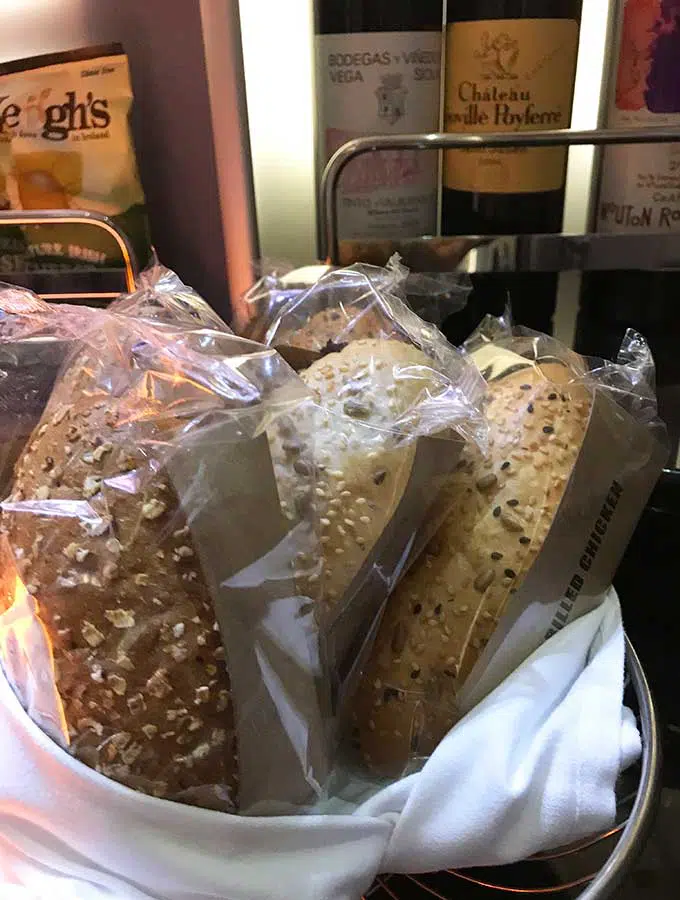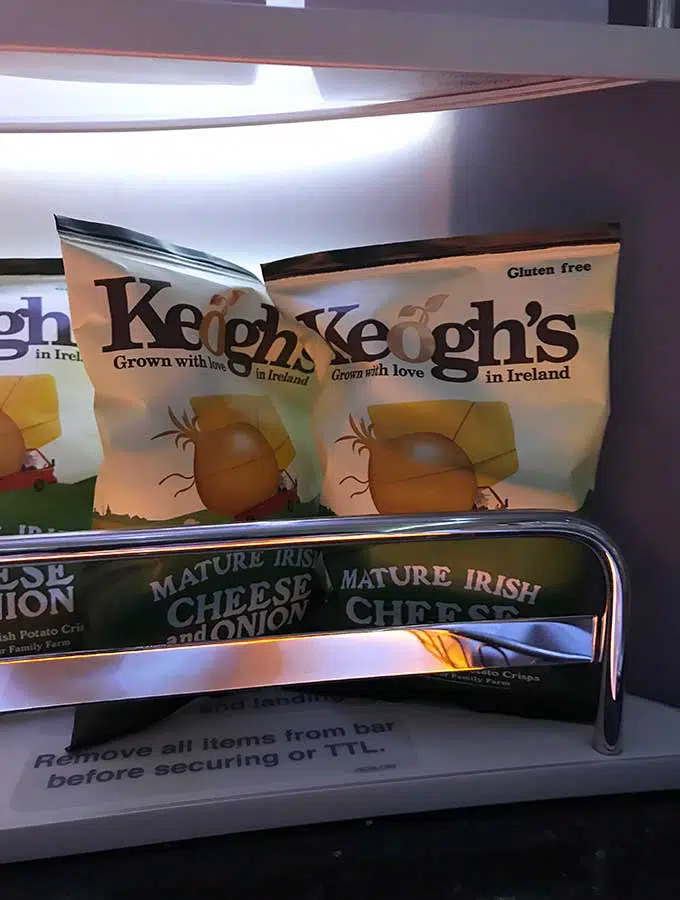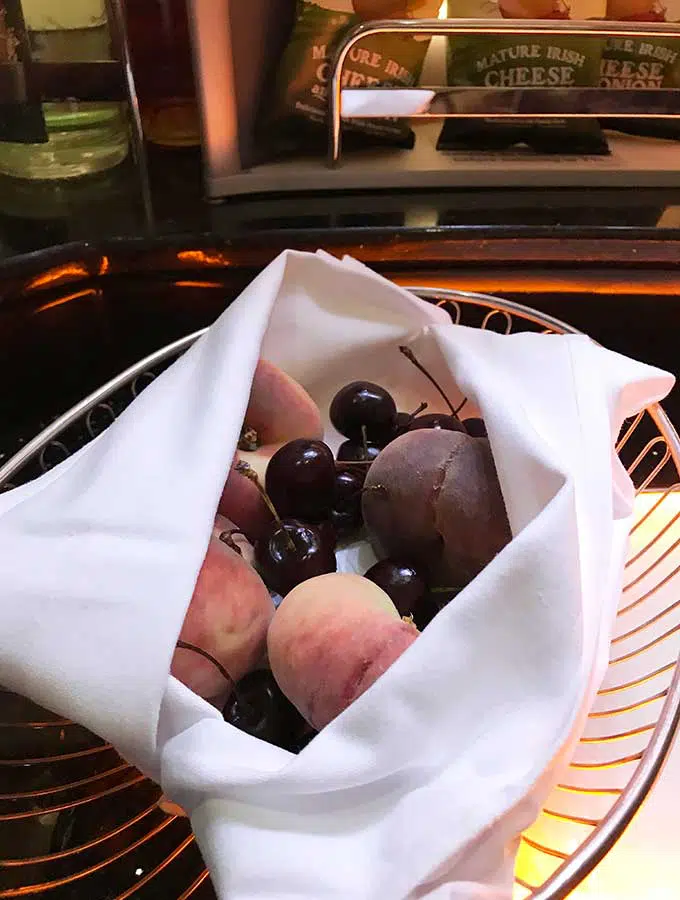 EK045 Dubai to Frankfurt - Inflight shower
I don't end up visiting the Emirates inflight bar during this trip, but I do make sure to have a shower. There is something magical about having a shower, miles above the ground, hurtling along in a metal tube.
Another slight disappointment is that they prepare the smaller shower suite for me and not the larger one on the right hand side of the plane. Okay, major first world problem. As I am the only passenger, I'm not quite sure why they did that. The right hand shower suite is roomier than the one on the left hand side of the plane.
After my shower there is a plate of fresh fruit waiting for me in my suite.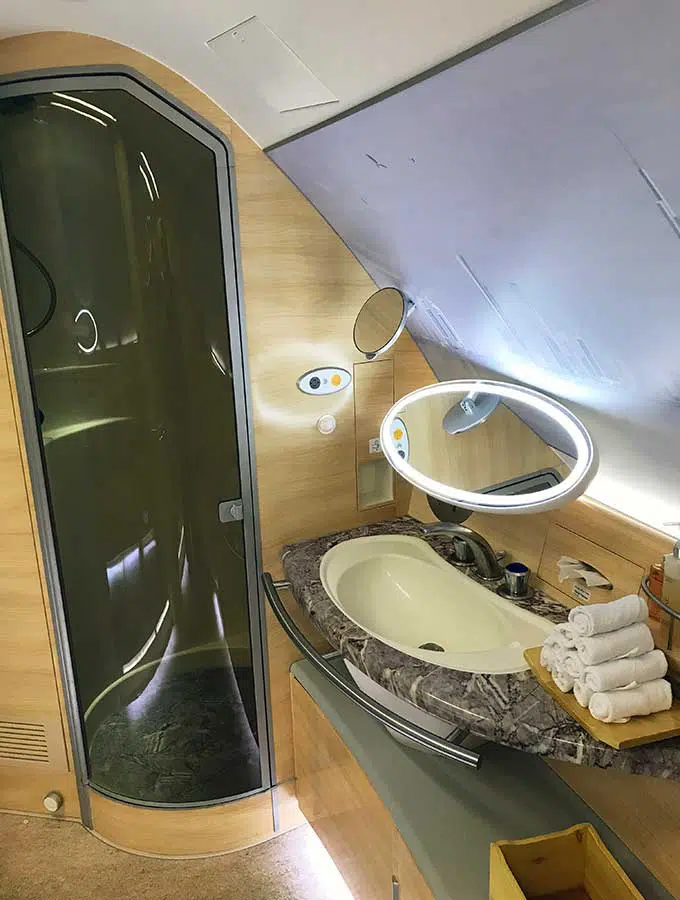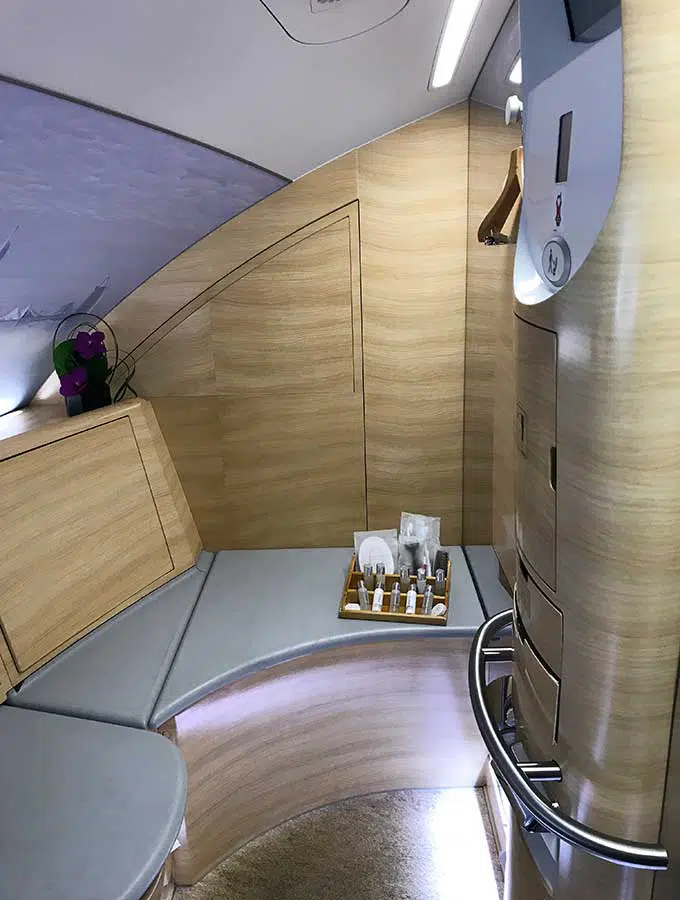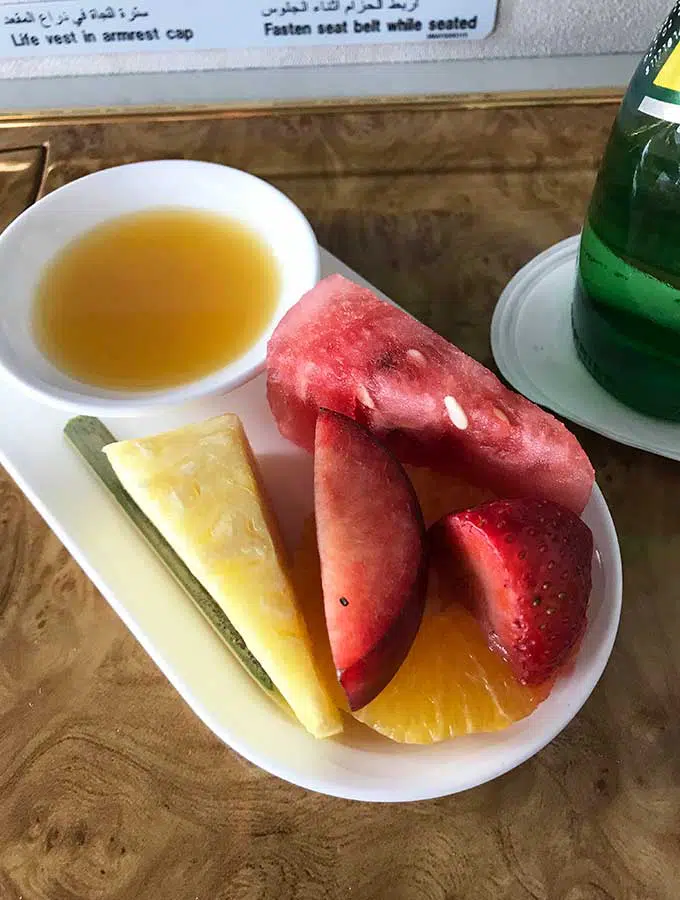 EK045 Dubai to Frankfurt - my final thoughts
This wasn't my first time flying first class with Emirates and I do feel the ball was dropped a little on this particular leg. Nothing terrible, simply a few things that weren't expected.
As mentioned the snotty tissue in the armrest of my seat. Not a fun find at all. Not the flight crews' fault, but a ball dropped by ground crew at Dubai airport, Emirates home base.
Staff were pleasant enough for the flight, but I couldn't help but feel that I was putting them out with the minimal requests that I did have. Simple things like some ice for my water, asking for my snack basket back. There were none of the normal checks to see if I wanted a top up of champagne etc, it all had to be asked for. Since I was the sole passenger in first, I have no idea what I was keeping them from.
There was also a rogue passenger wandering through the first class cabin at one point during the flight. It was a little uncomfortable not knowing what they were doing there. I find out later they were from economy heading up to business class to see a friend.
Finally left hand shower not right hand shower. I know, feel free to smack me, but it was probably my last ever shower experience on Emirates. Had blown hard earned points on this trip and I doubt I will do it again. It would have been amazing to experience the bigger shower suite for one last time.
Sara xxx
Belly Rumbles traveled first class with Emirates on her own time and dime.
Become a subscriber and don't miss a single delicious recipe, restaurant review or travel adventure.