An in depth Emirates First Class Sydney to Bangkok Review. Taking a look at the Emirates A380 first class suite, food and the luxury on board shower.
You are probably all wondering how on earth I ended up flying Emirates first class Sydney to Bangkok? The flight was a Qantas reward flight I booked myself using very hard earned frequent flyer points. This review is part of a three part review of my flight with Emirates in first from Sydney to Frankfurt.
Also read my Emirates first class Dubai to Frankfurt review.
It's important to note that Emirates will stop flying their A380 Airbus aircraft to and from Sydney. Some legs have already been replaced with Boeing 777-300ER aircraft. The A380 will cease to operate on the Sydney – Bangkok route mid-January 2019.
It is a shame to see the Emirates A380 no longer fly to Australia. The Boeing 777-300ER does not have an inflight bar, nor does it have showers for first class passengers. Plus, they won't be the new first class suites.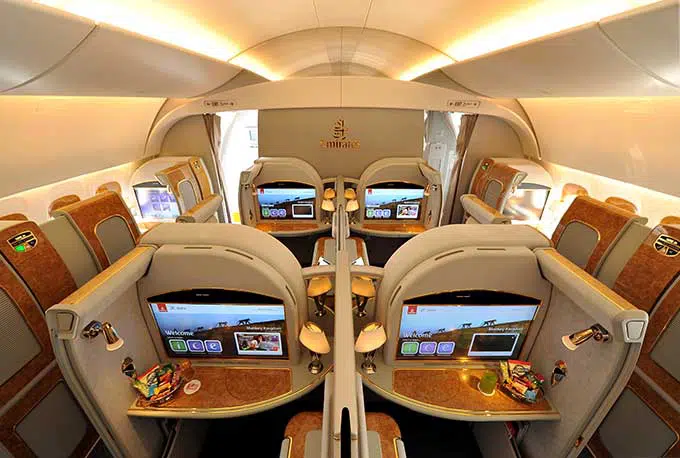 Flight: EK419
Loyalty Scheme: Emirates Skywards
Flight Duration: 9 hours 25 minutes
Aircraft: A380
Cabin: First (F)
Seat: 2K
Emriates First CLASS SYDNEY TO Bangkok CHECK-IN
There was no need to order a cab to get me at the airport. Part of the first class service is a limousine transfer from your pick up point of choice. This is easily arranged via your online booking.
I'm not a car person, don't ask me what it was. I know it was black, immaculate and arrived spot on time.
The check in at Sydney Kingsford Smith Airport is quick and easy. There is a dedicated first class check in to ensure it is quick and smooth. Express lane card is provided to help get me through security and immigration.
Emirates Business/First Class Lounge Sydney
Due to my status and joint agreement between Emirates and Qantas, I head to the Qantas first class lounge. I arrive a little earlier than needed at the airport to make the most of the first class lounge. You can read more about the Qantas first class lounge here.
I have something to eat a couple of glasses of champagne and then make my way to the Emirates lounge. The Emirates lounge is a combination first/business class lounge and is close to the departure gate.
The Emirates lounge is great and superior to the Qantas business class lounge, but does not come anywhere near Qantas' first class lounge offering.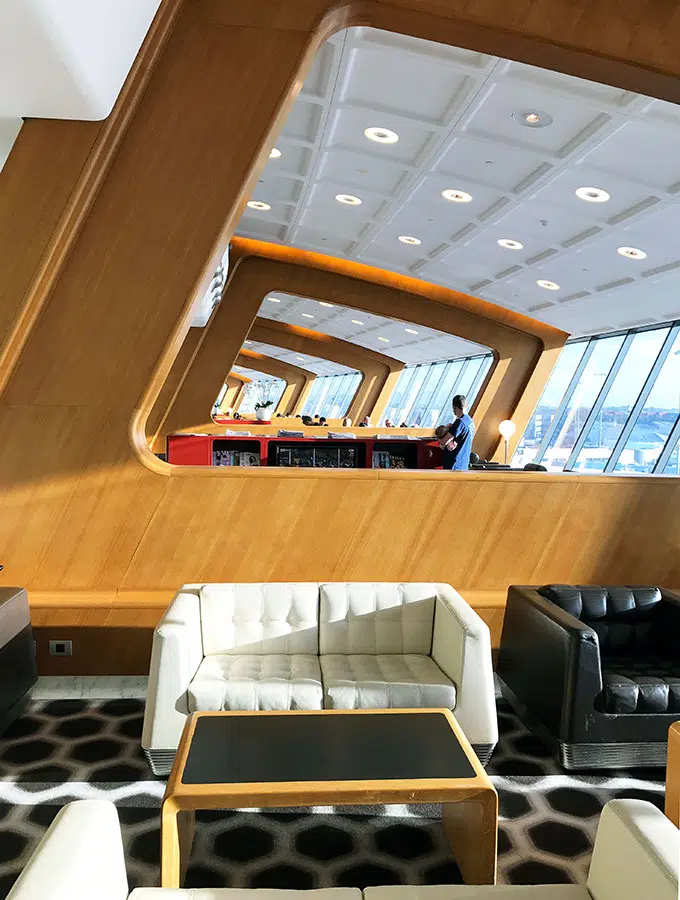 Qantas First Class Lounge Sydney Airport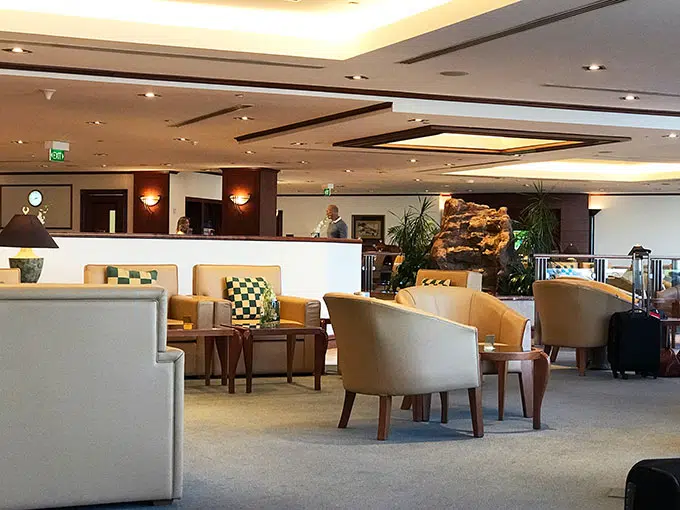 Emirates First/Business Class Lounge Sydney Airport
Boarding Emirates First Class Sydney to Bangkok EK419
Emirates has a dedicated First/business class boarding lane, which they monitor well. If you try and sneak through without the right credentials they will send you back to where you should be.
When you board the plane, it is an exciting left turn instead of a right hand turn to business class. Unlike business class where you are waved to your seat, in first class you are shown to your suite.
There are introductions and if you haven't travelled with them in first class before you are shown the features of the suite. Dining is explained as well as the on board showers.
You are offered a choice of stuffed dates and glass of champagne, or something softer if you desire.. There is Arabic tea too. I decided on a glass of champers. It is at this point I am given all my first class swag, tote bag, pyjamas, amenities kit, slippers and eye mask. I'm asked if I would like to book in a time slot to use the shower spa. I do, for one hour before arrival in Bangkok. There probably isn't a need to book it in as there are only three of us in first class.
I'm offered a top up of champagne while we wait for all other passengers to board and the plane to be loaded.
Emirates A380 First Class Suite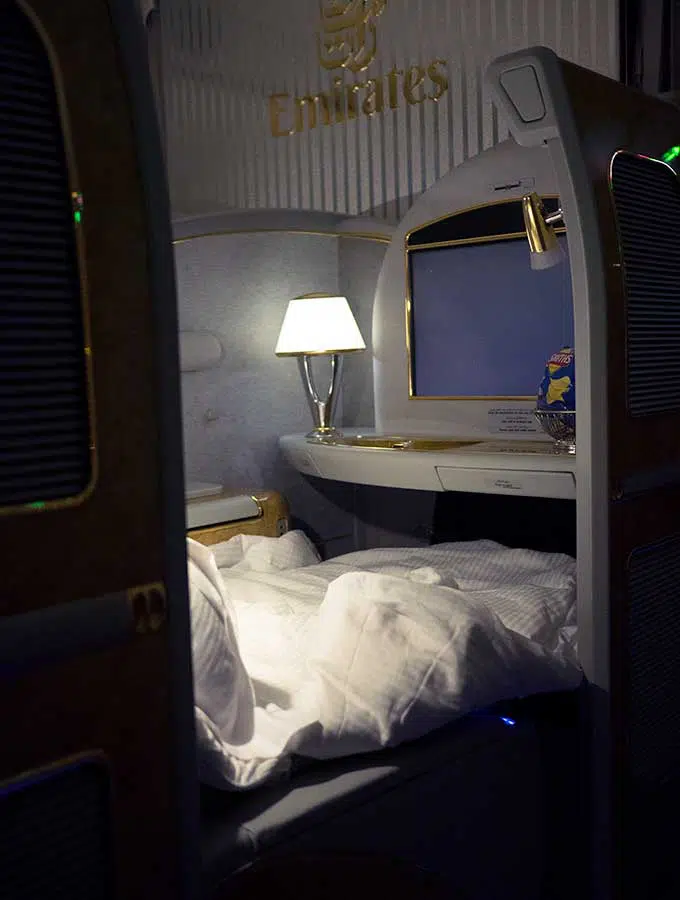 I have chosen 2K over 1A or 1K. I had heard that the row 2 suites were actually better than the often coveted row one. I had booked myself into 1A for the final leg of my trip to Frankfurt, to compare the suites.
The first class suite is your own private sanctuary. There is your own personal mini bar filled with mineral water and soft drinks. It isn't chilled and if you like your drinks cold you will need to request some ice.
There is a desk in front of your chair, with a little pop up vanity mirror with "Hollywood" style lights around it. Push another section of the desk and out pops a writing pad and pencil The desk has a lamp, which is firmly secured for extra lighting. You are given a personal basket of snacks. This is taken away for take off and landing And there are fresh flowers in every first class suite.
The suites are staggered, to stop you looking directly into the one opposite, this adds to the privacy feeling with the doors of your suite open. Close those doors and you are in your own little world.
You can see by my outstretched foot (thank goodness I got a pedicure) how much leg room there is!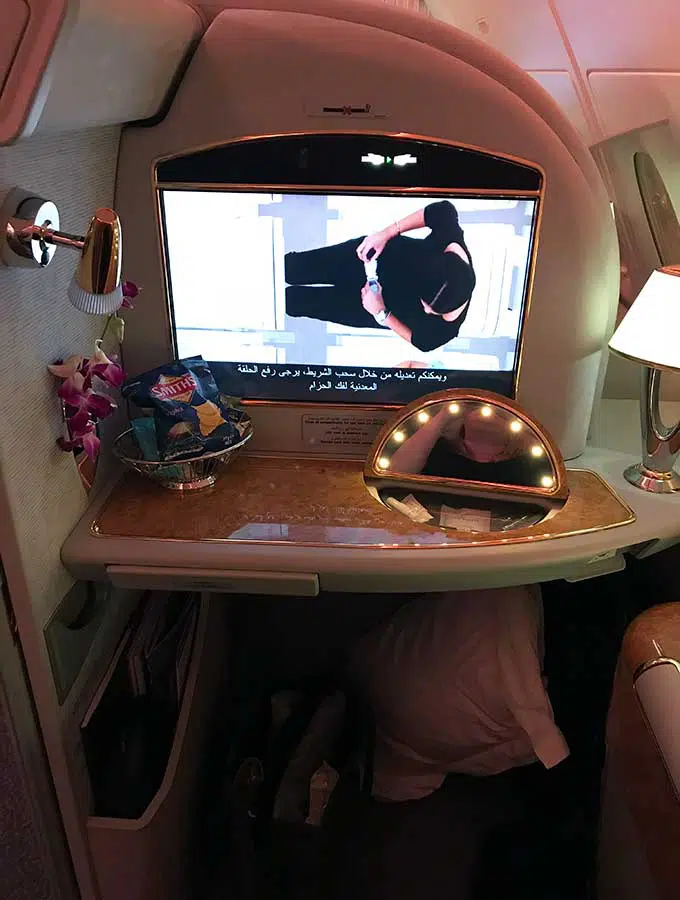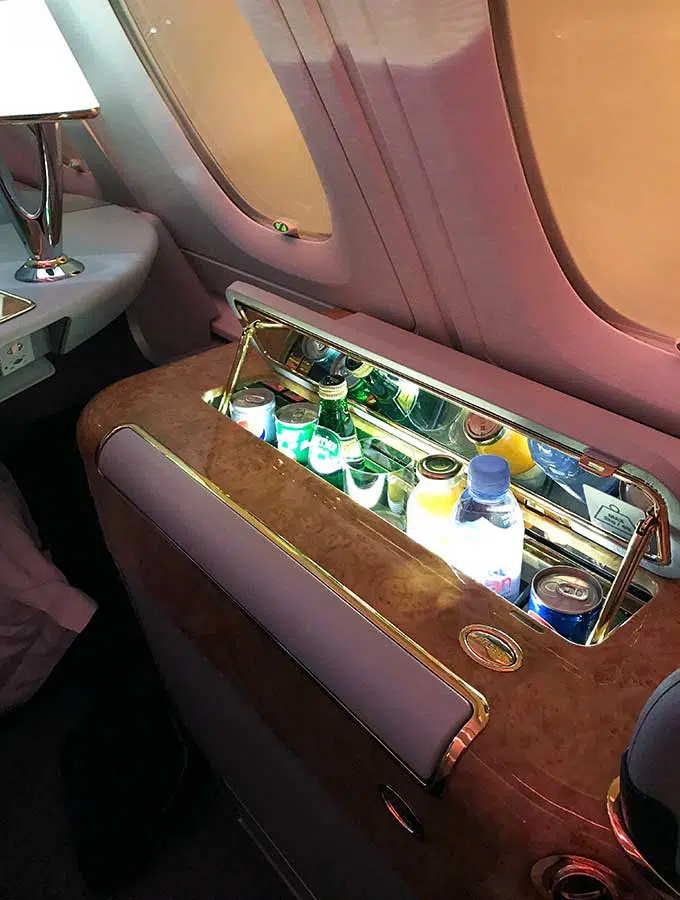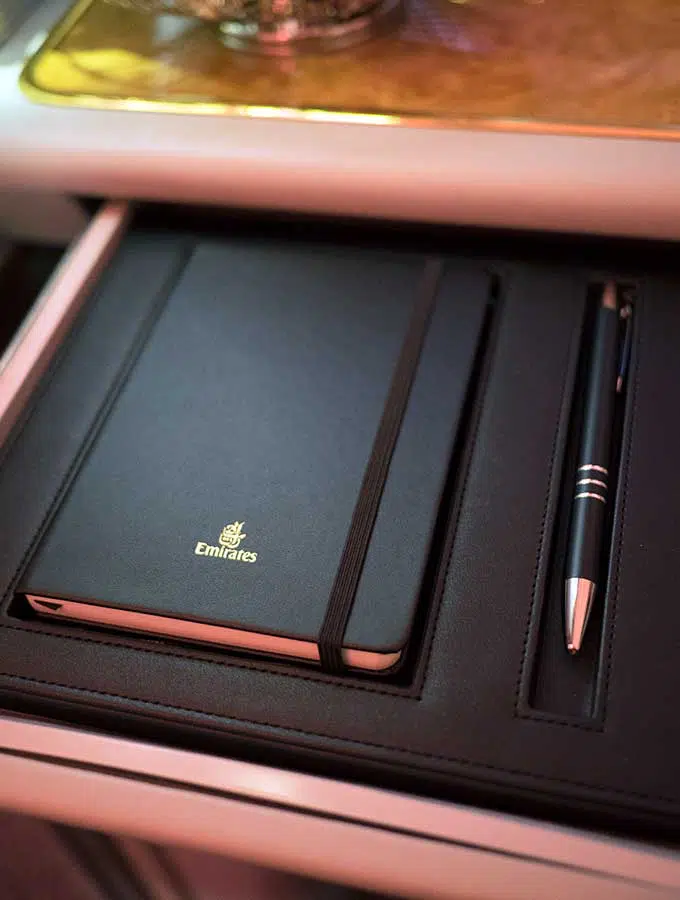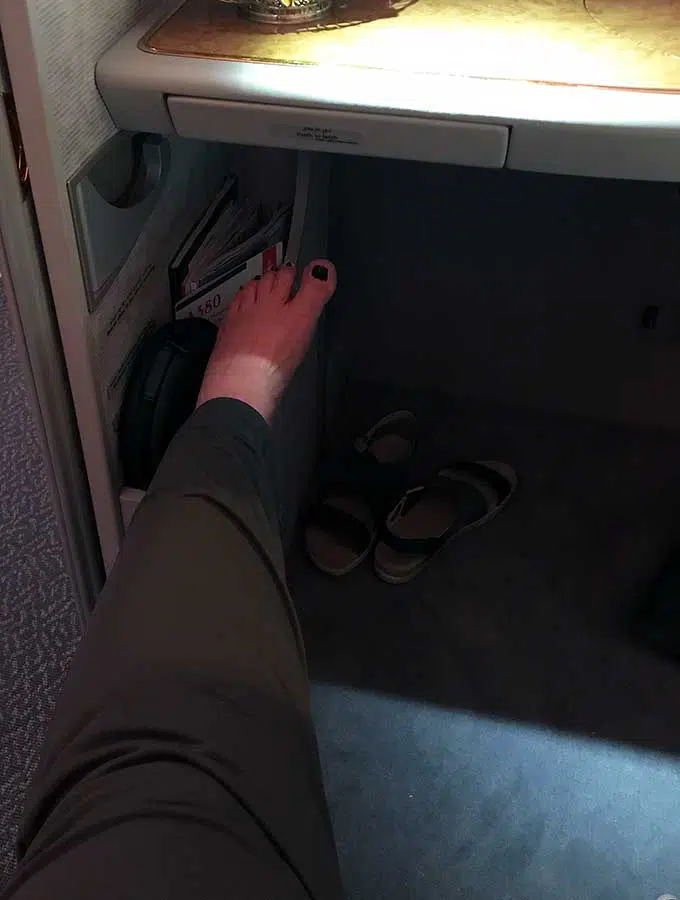 There are no over head storage bins in the first class cabin. With the wall height of the suites it just isn't possible.
This does cause a little issue with storage for you carry on luggage. If you are traveling light it's fine to shove the handbag under the desk. But if you are traveling with a roll on or other bag that fit the carry on size, it is going to take up a bit of room of the suite. It may also get in the way when you put your seat in the fully flat position to sleep.
I stowed my roll on bag in the unoccupied suite next to me and kept my handbag and items I needed in my suite. I already had thought about my bag storage game plan, and the crew also recommended I do this. Seems it is the norm, obviously if it was a full flight that storage option isn't available. My roll on has it's own first class suite!
There are lots of storage pockets in your suite. Small nooks for glasses, phones and other smaller items. Then larger storage areas for laptops, handbags etc.
From the outside of your suite you can access a small cupboard where you can hang you jacket. There is also a hook inside the suite to hang whatever it is that you want to hang.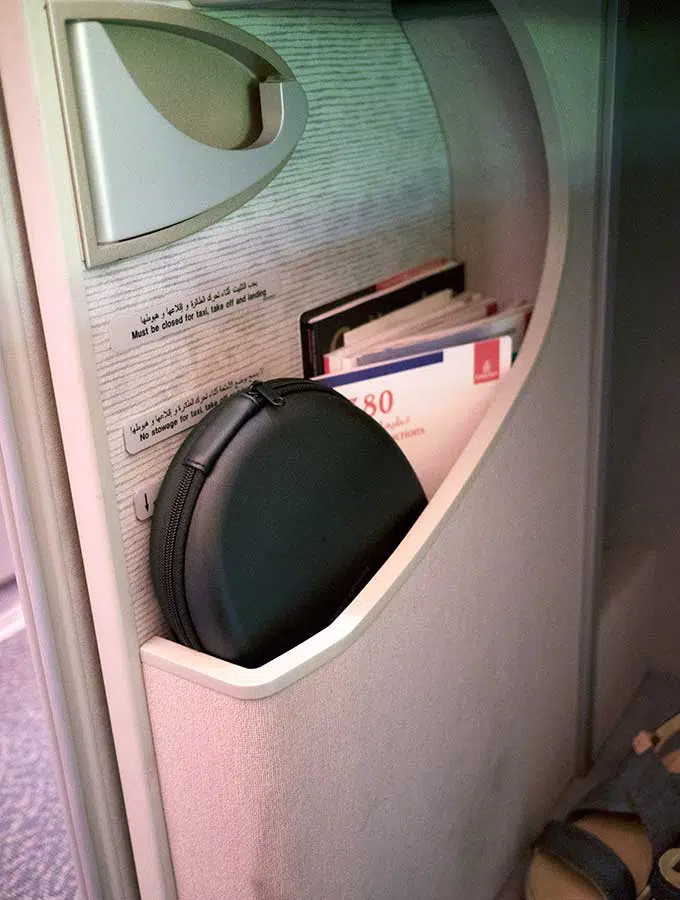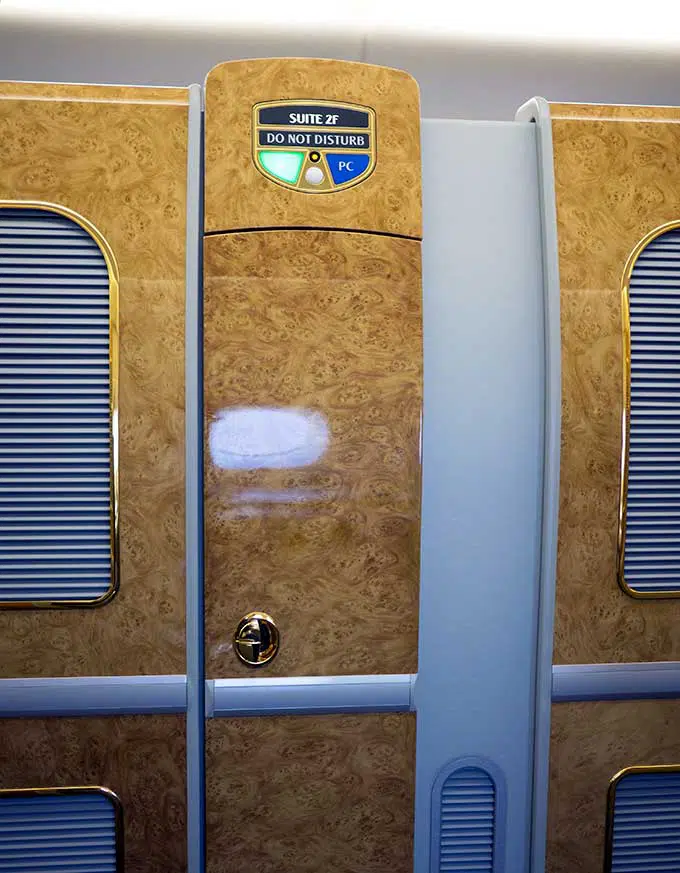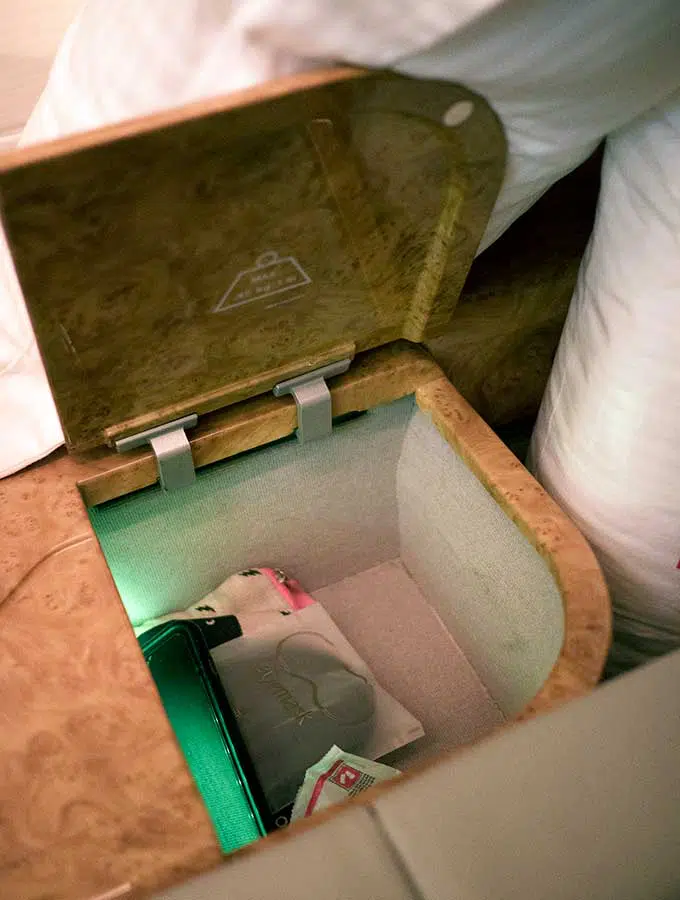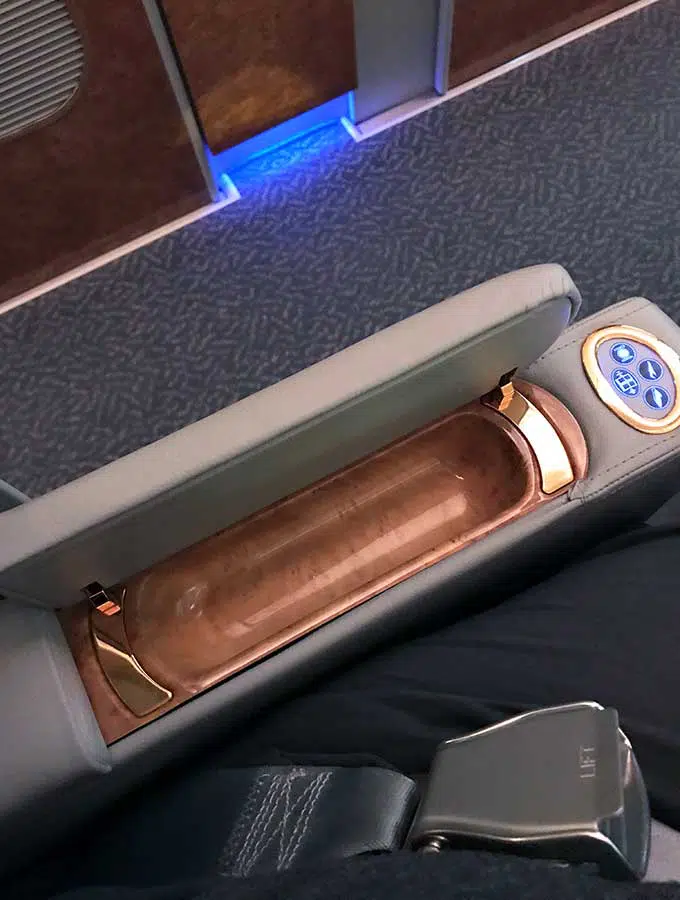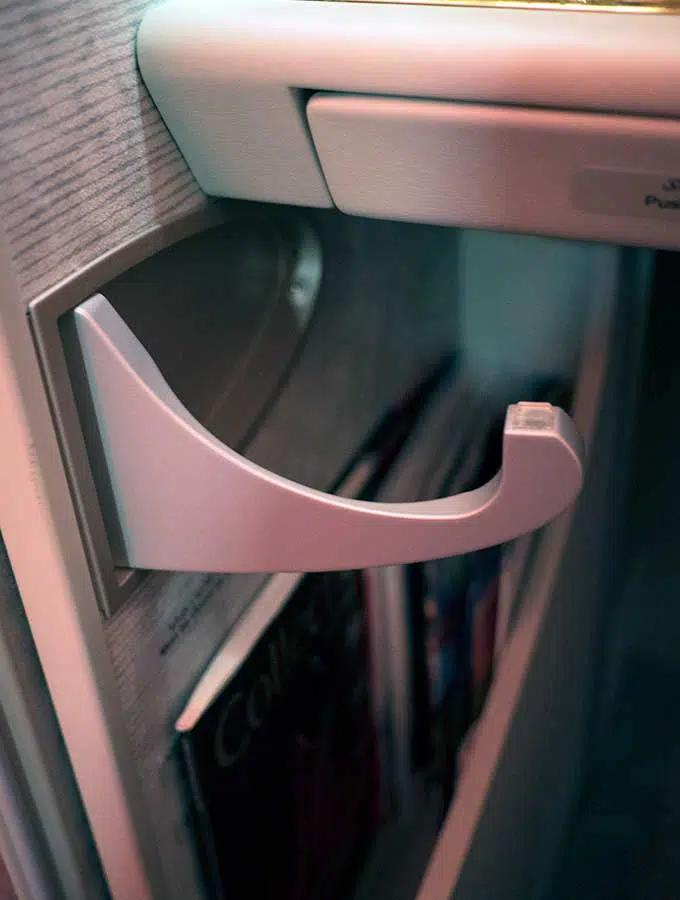 Emirates First Class Entertainment Unit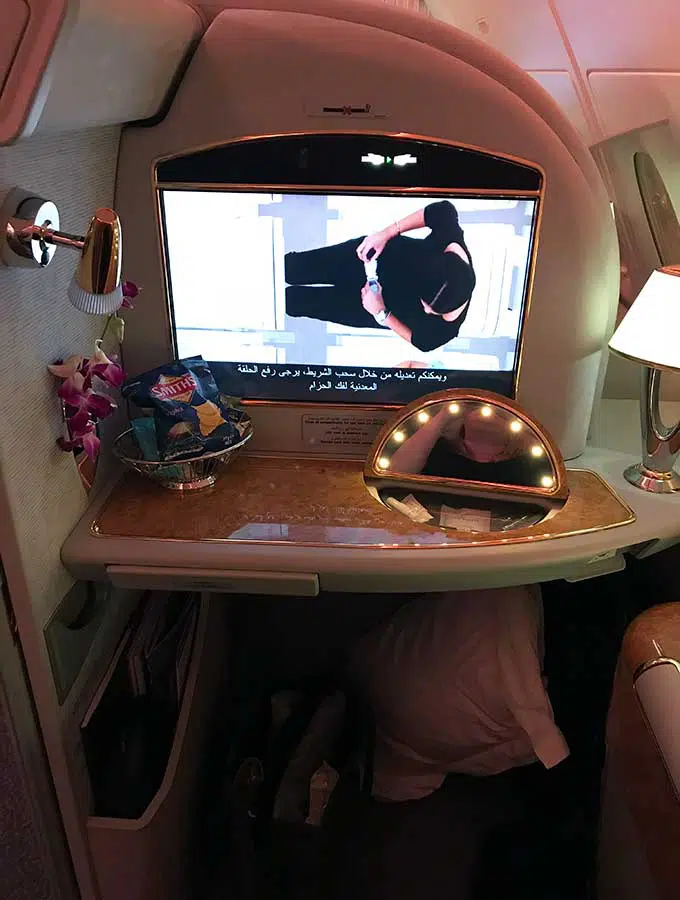 The entertainment screen is large and takes up nearly the width of the suite. There is a remote control similar to business class, but there is also a tablet on the table next to your seat. This can be used to control the main screen or you can watch what is playing on the tablet.
Emirates entertainment system is called ICE, which offers an extensive range of movies, TV shows, music, radio and live TV.
The dock for the tablet also houses the attendant call button and the the controller for your window blinds.
Emirates offers their first class passengers Bowers & Wilkins noise cancelling over ear headphones.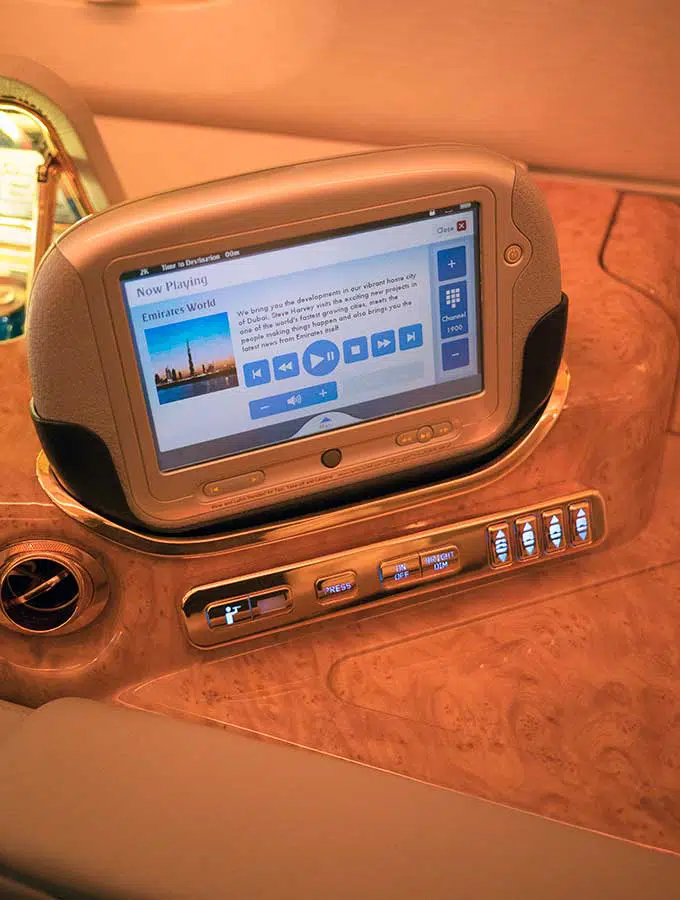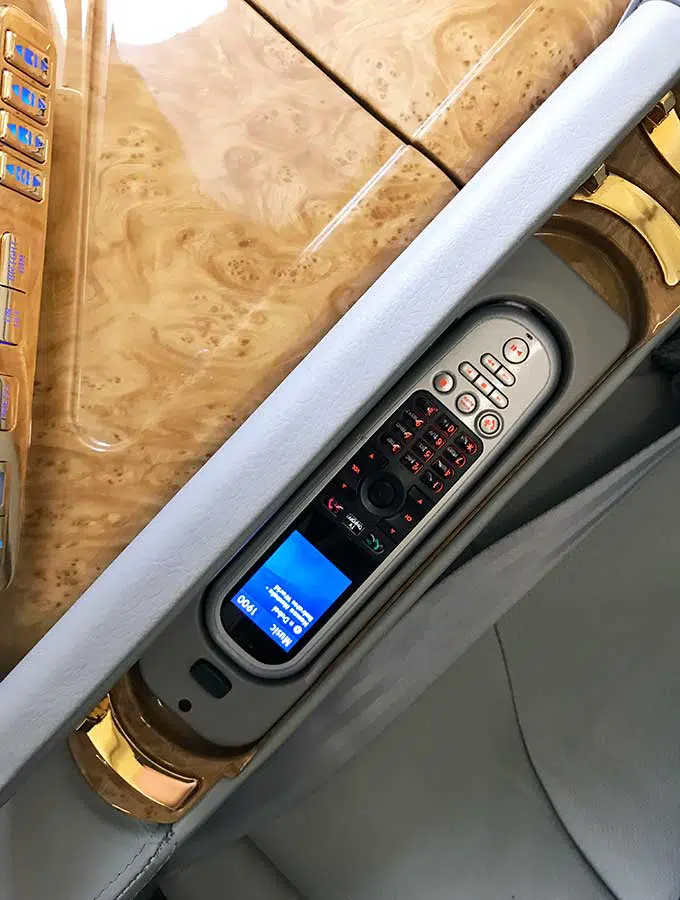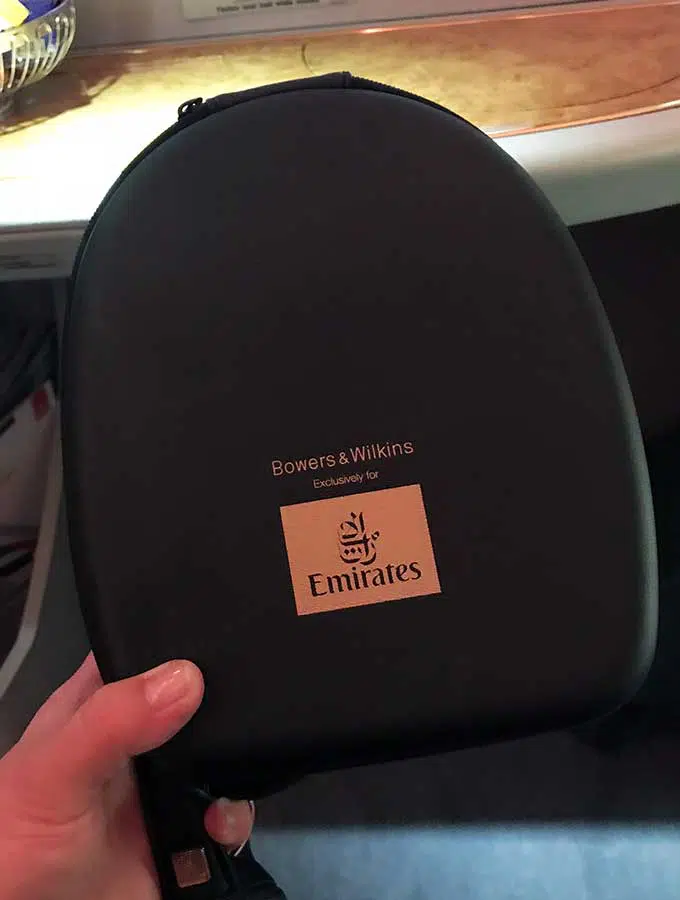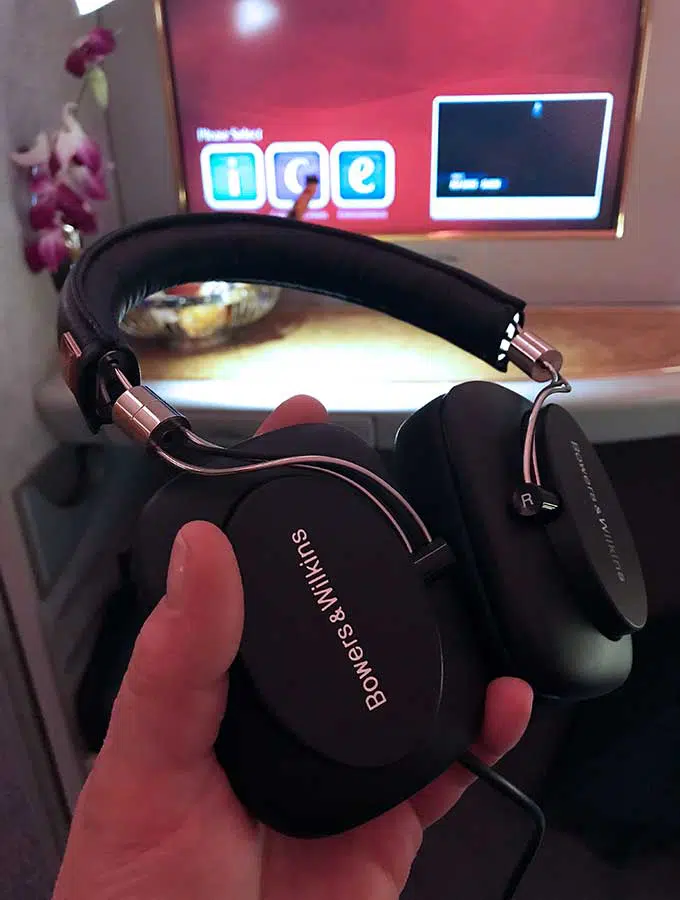 Emirates First Class Sydney to Bangkok Amenity Kits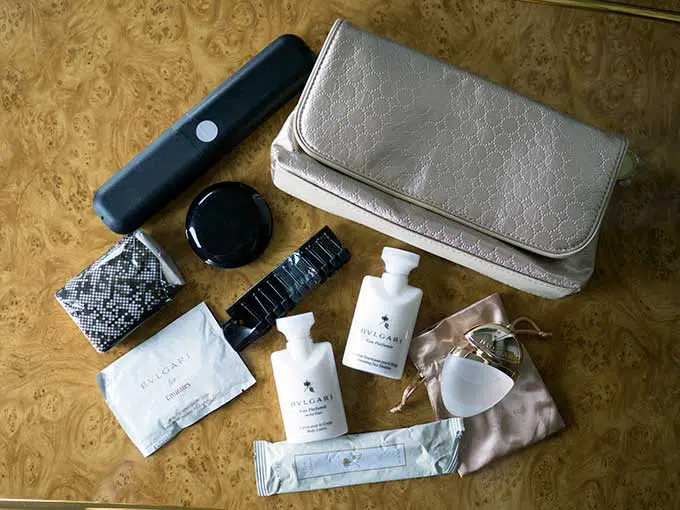 The amenities kit offered is from Bvlgari, it's packed with goodies, even a small bottle of perfume.
You are also presented with pyjamas, which are the best inflight pjs I have tried to date. They are super comfortable and are getting a good work out now I am back home.
There is another smaller amenities offering under the vanity mirror in your desk. There is eye cream, pillow spray, moisturising mist and a towelette freshener.
Slippers, eye mask and a tote bag are also given to you. The tote bag is for your convenience to transport what you need to and from the shower spa.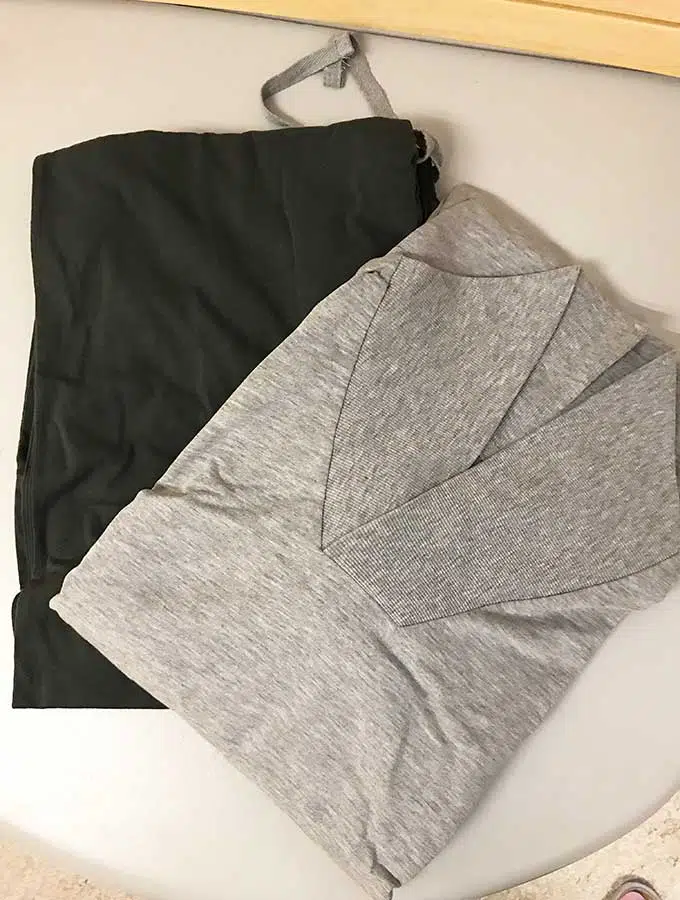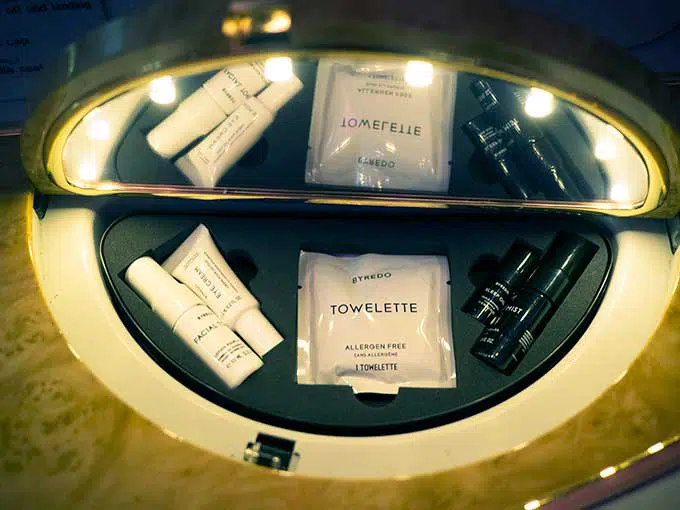 Emirates First Class Sydney to Bangkok Meals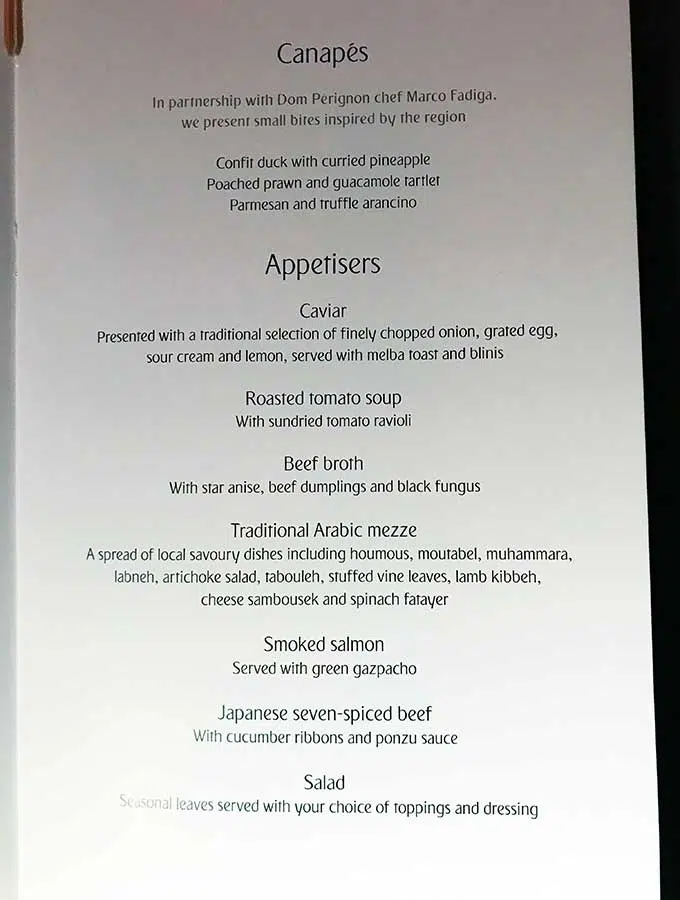 It is explained to me that dining in first class is on demand. Whatever you want, when ever you want it. The menu is rather extensive and there is also a generous offering of champagnes, wines and spirits.
As dining is on demand I decide to break my eating into two sessions. Why not I have nine and a half hours to kill.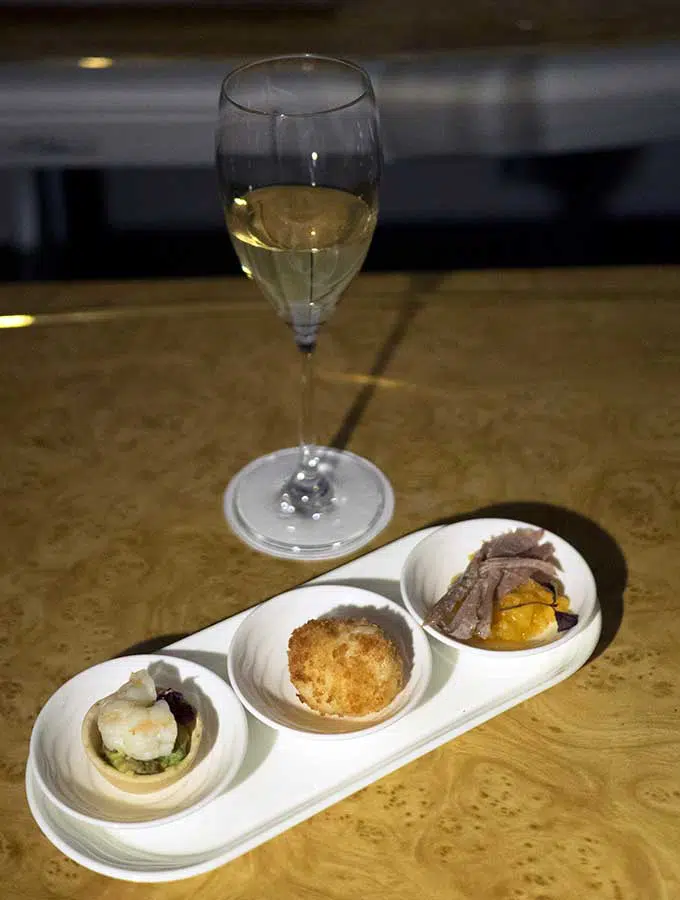 To start I order a glass of Dom Perignon P2 2000 (approximately A$600 a bottle) and the canapés which have been specially designed to accompany it. A trio of mouthfuls, confit duck with curried pineapple, poached prawn with guacamole tartlet and parmesan & truffle arancino.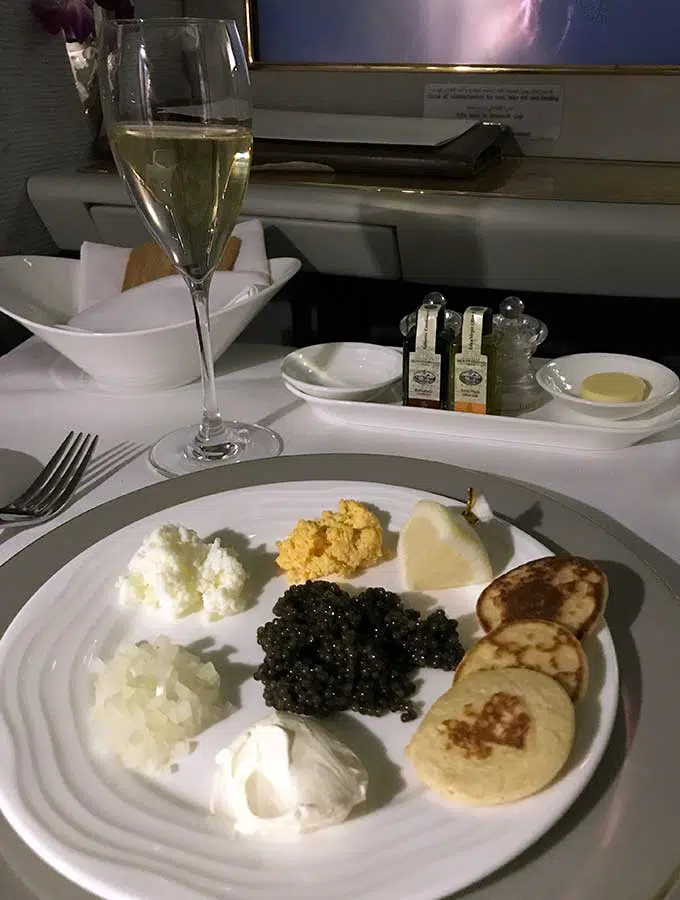 I follow my canapés with the caviar course and more Dom Perignon. The caviar is served traditionally with finely chopped onion, grated egg, sour cream and lemon. There are crisp thin melba toast slices and blinis to accompany the caviar.
Then to the Emirates A380 Bar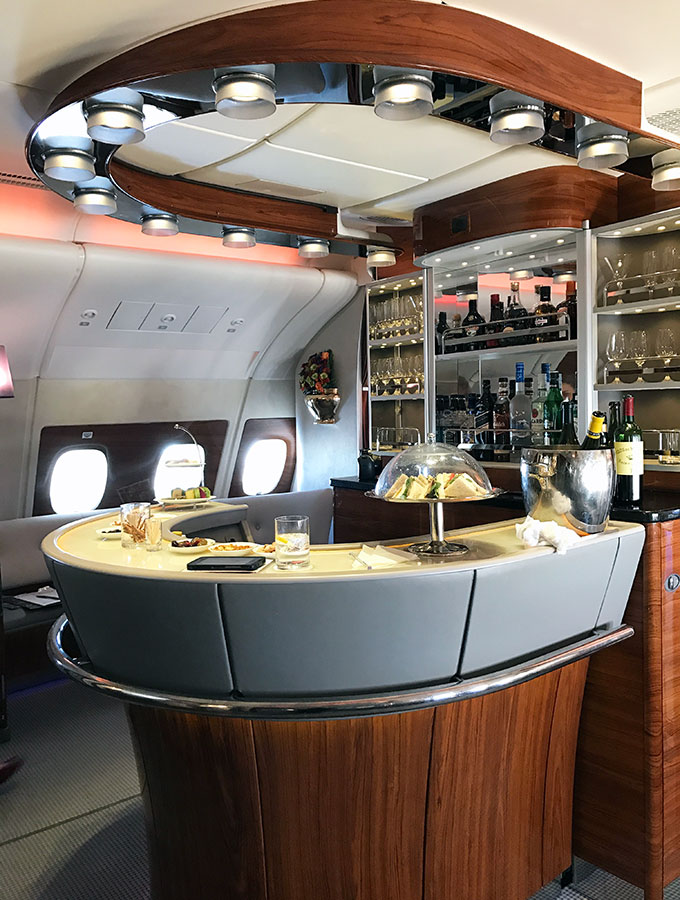 After this I decide to give food a little break and head to the bar. The bar is located at the back of the top deck of the A380. Accessible for first and business class guests.
It is a little funny. I ask for a glass of champagne and the attendant goes to pour a glass of Moet. I point out that I would like a glass of the Dom. To which she replies, "I'm sorry that is for first class passengers only". "I know I have been drinking it for the past couple of hours!" I am then promptly poured a glass of Dom.
My full A380 bar review can be found here.
It really is such a great feature of the A380. You realise how great it is on long haul flights. A place to stretch you legs and mingle.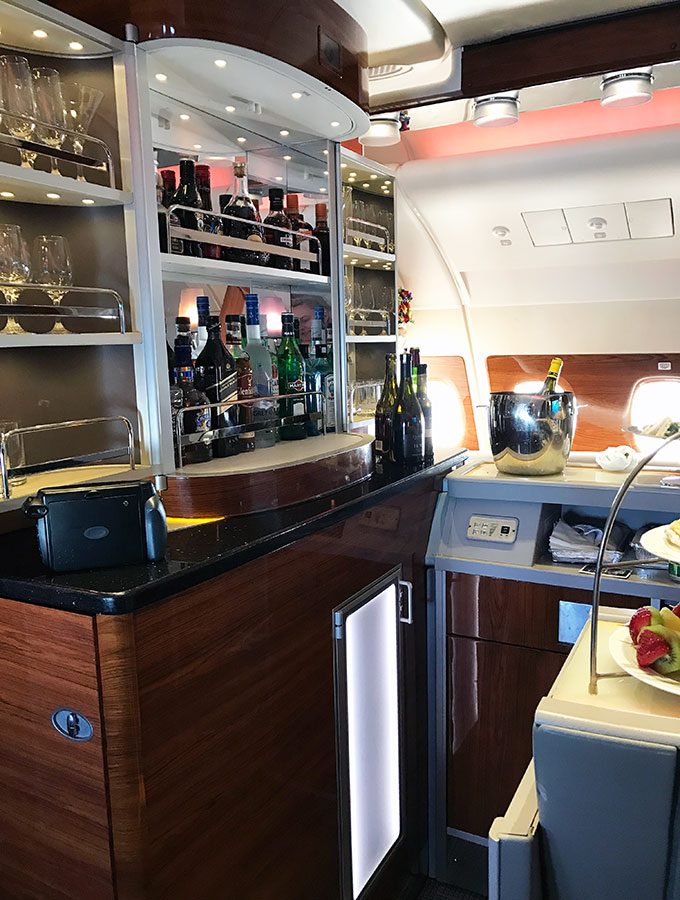 There is also a small self serve bar in the first class cabin. It is located at the top of the stairs near the two shower spa bathrooms at the front of the plane. Here you will be able to find a variety of snacks, top shelf liquors and wine.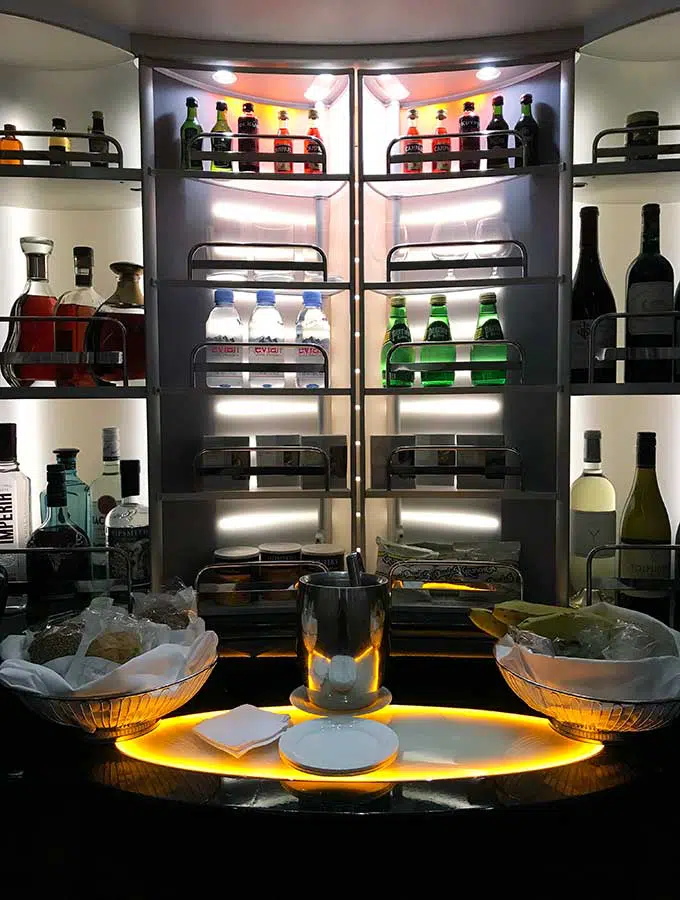 Emirates First Class More Eating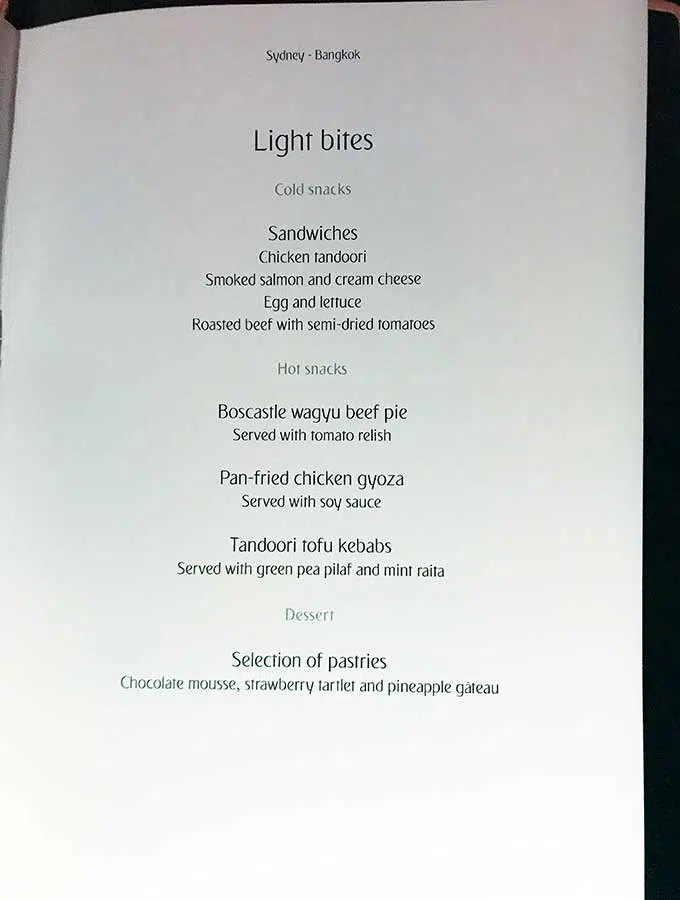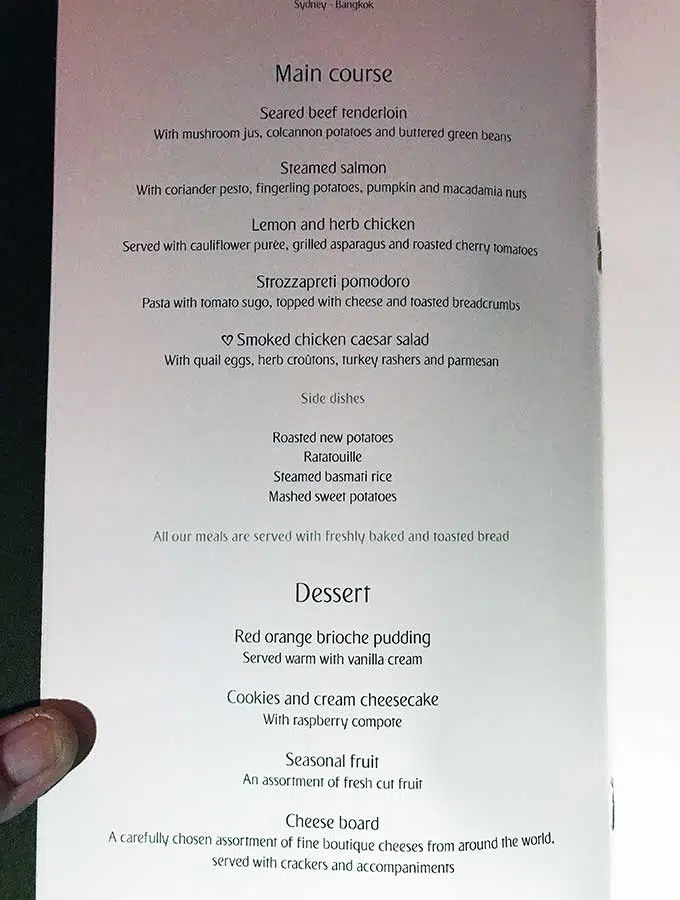 After socialising in the bar and comfortably back in my suite my second appetiser of the flight arrives. Smoked salmon served with dollops of green gazpacho.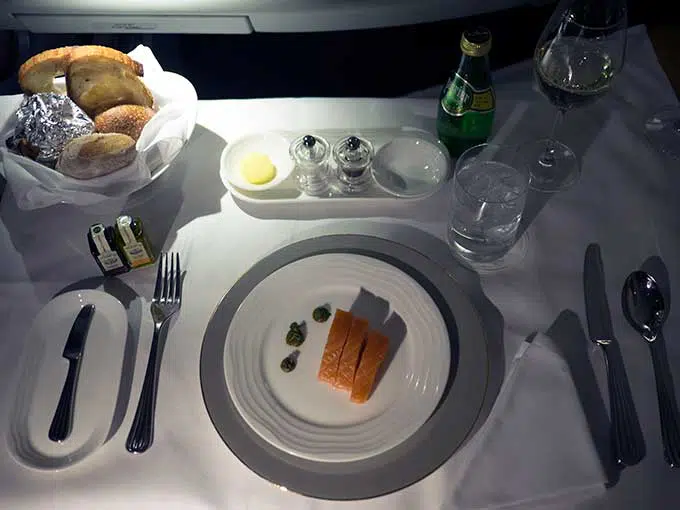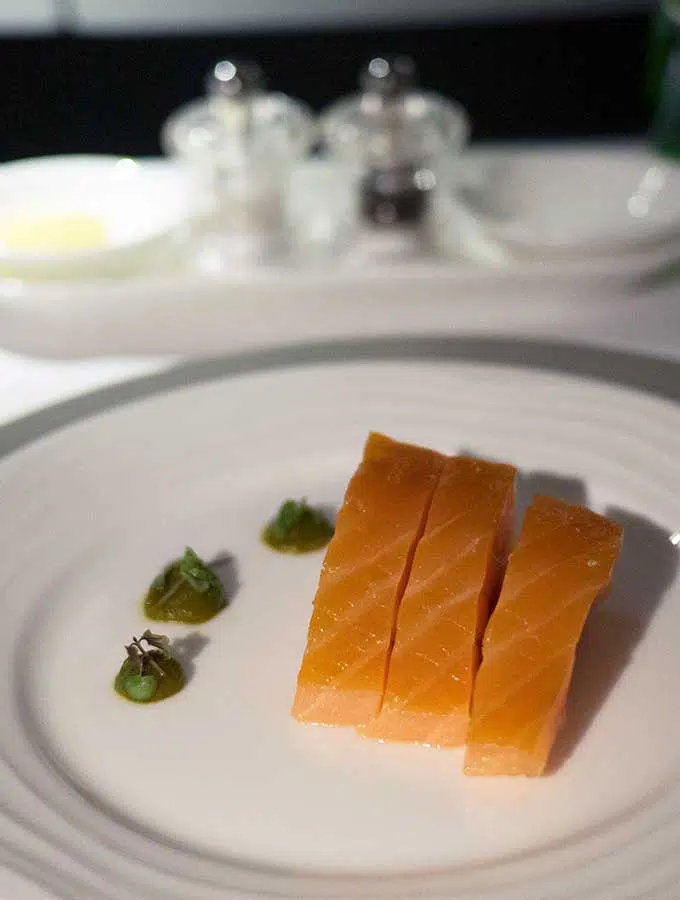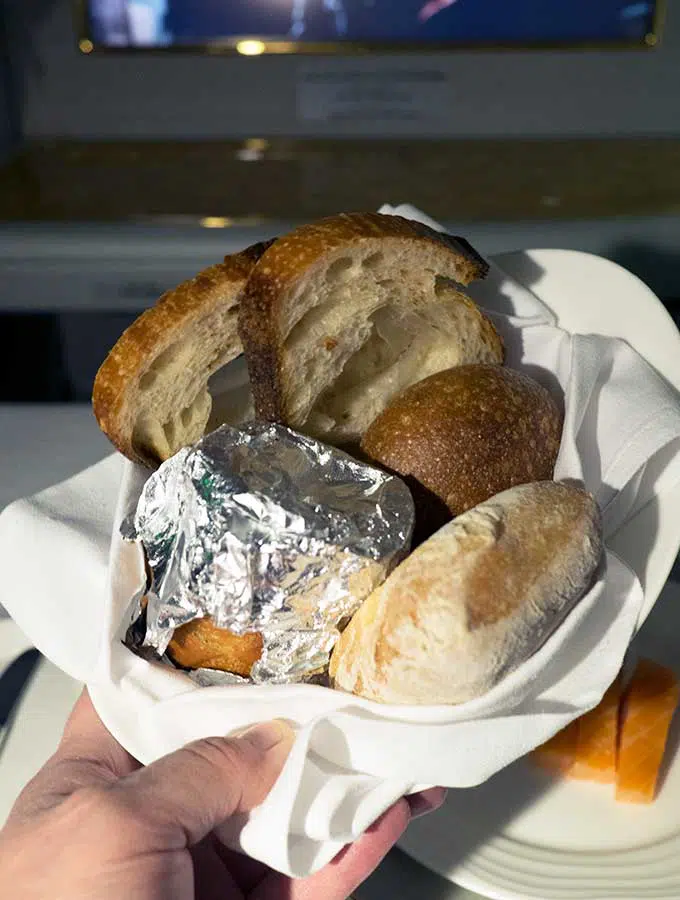 The salmon is cut thickly and is tasty and tender. A large basket of bread is served with it. The bread basket has a variety of bread types including garlic bread wrapped in foil.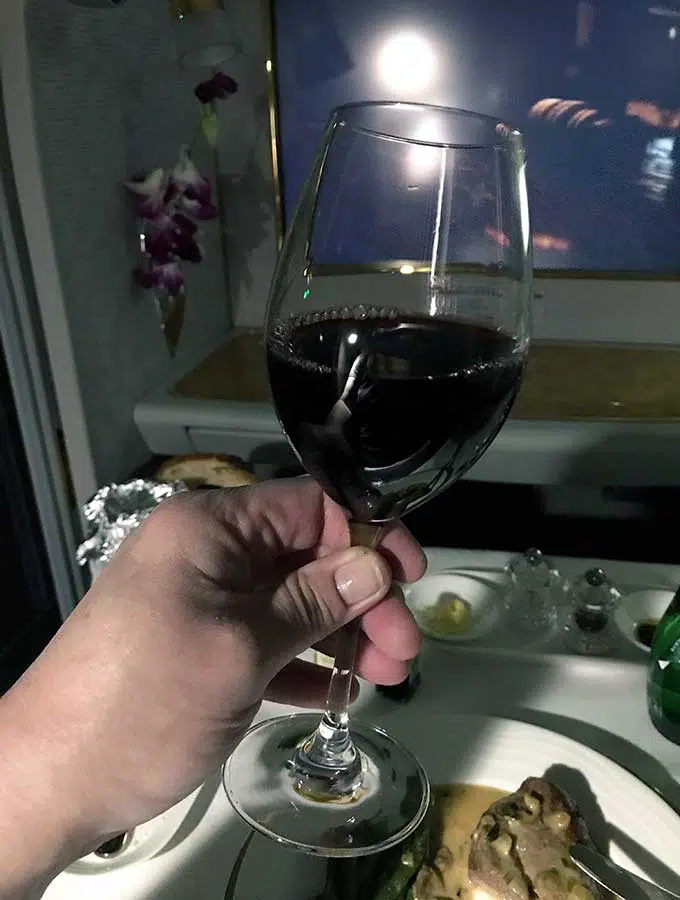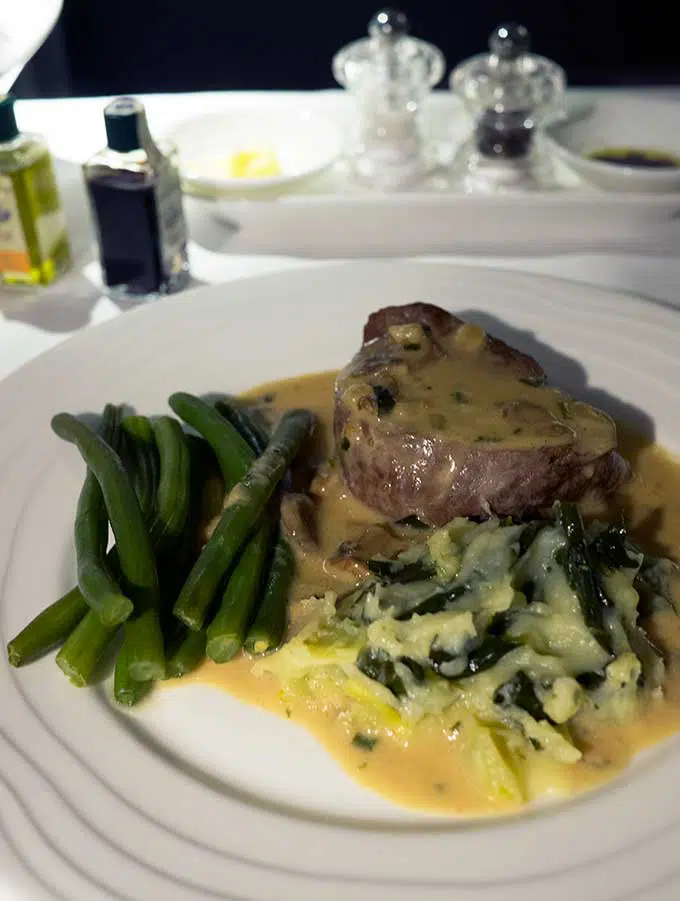 For my main I choose the seared beef tenderloin. This is served with mushroom jus, calcannon potatoes and buttered greens. I pass on ordering any of the available side dishes. I also forgo dessert.
It's time to move my seat into flat bed mode and get some rest.
Emirates A380 First Class Sleeping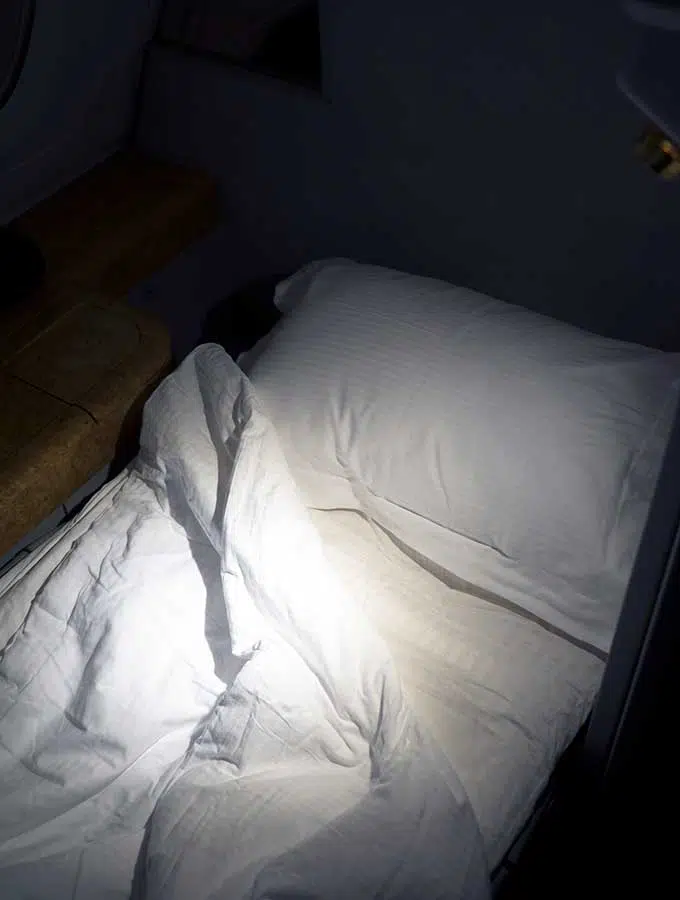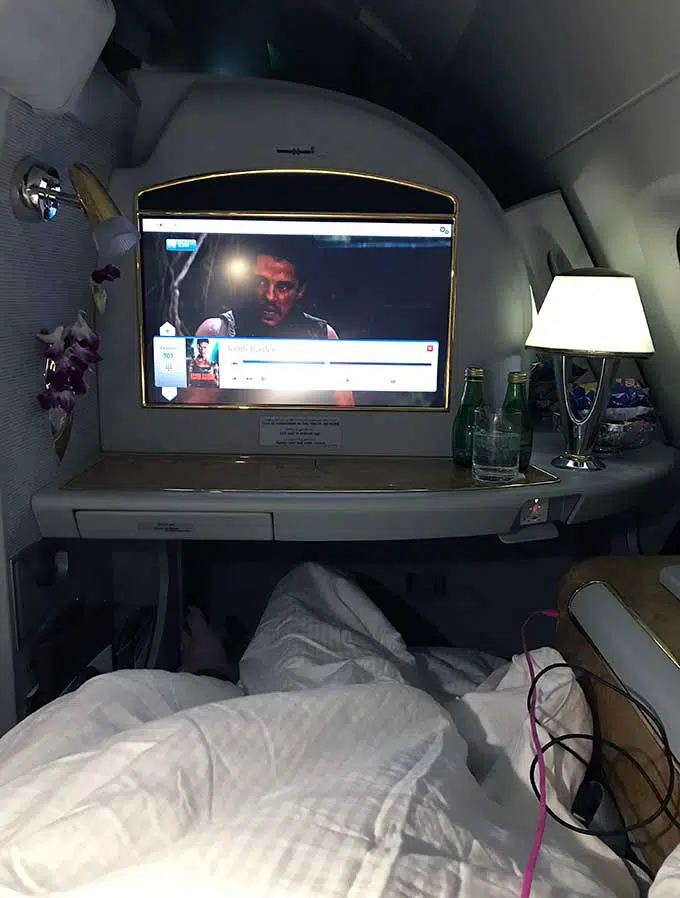 A mattress is laid, the pillow is big and fluffy and the doona is soft and snuggly. What else do you want to sleep 40 odd thousand feet in the air?
The seat reclines to a fully flat position, is long and wide. With the doors shut to the suite it is private, quiet and comfortable.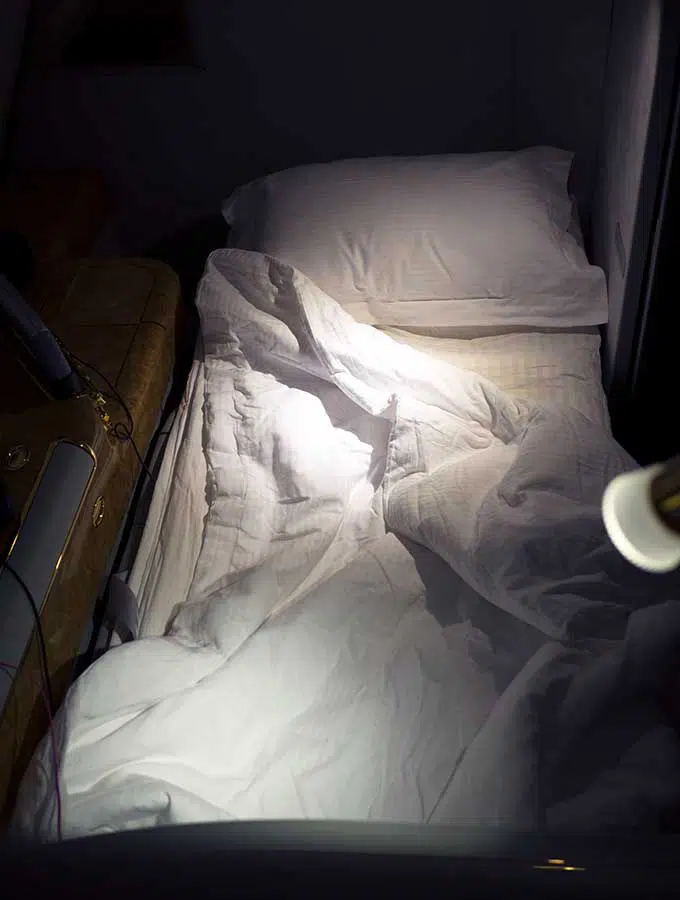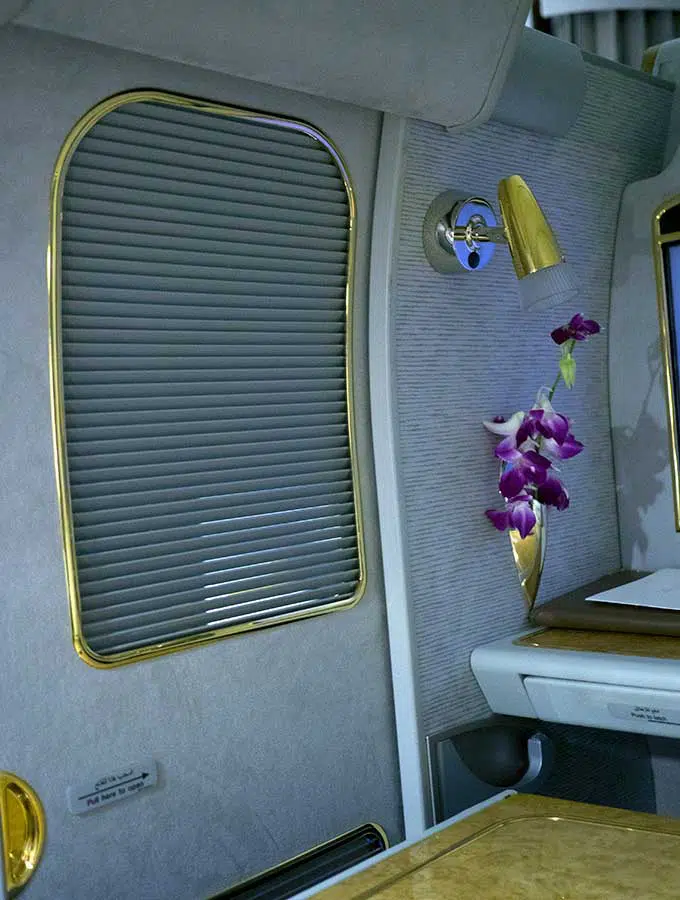 Emirates A380 First Class Bathroom/Shower Spa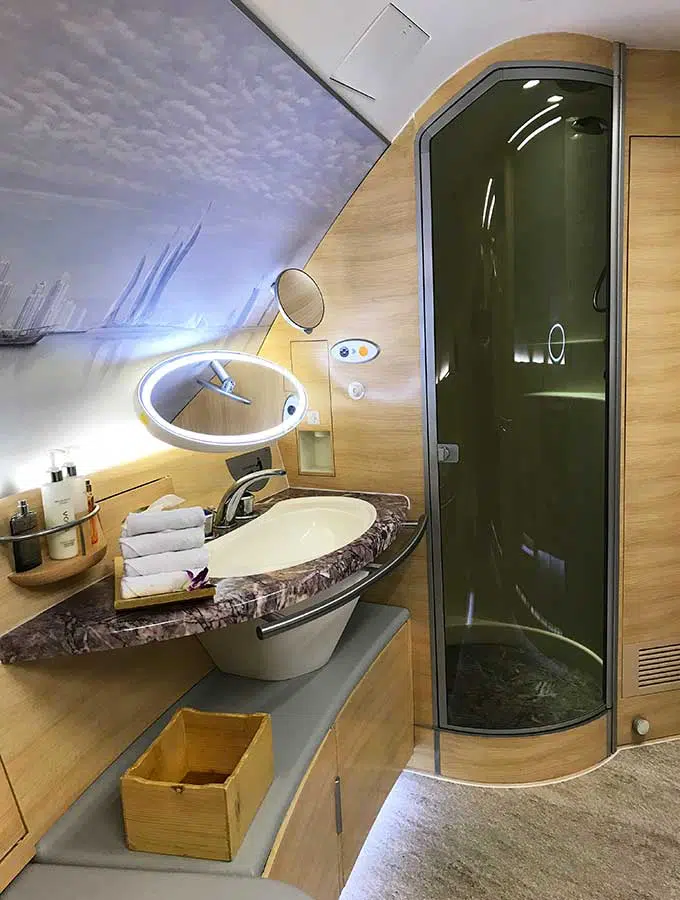 You can read the full shower experience here.
After a restful few hours snooze it is time for my shower which was booked for one hour before landing. This is the last time slot that you can book before landing.
As you can see with the offering in the bathroom, plus the amenities kits, you are not lacking in items to clean and condition yourself with.
At this point I am not sure if I am allowed to stay on the plane when we land at Bangkok or if I do need to disembark. The crew are clueless and advise they will know once we land.
Therefore I enjoy the shower, get change from pyjamas to my normal clothes and put some make up on.
On returning to my suite there is a fruit plate waiting for me with a honey dipping sauce.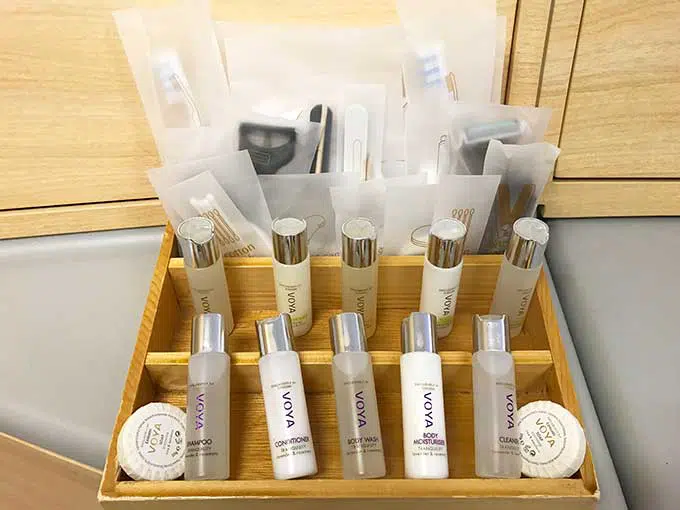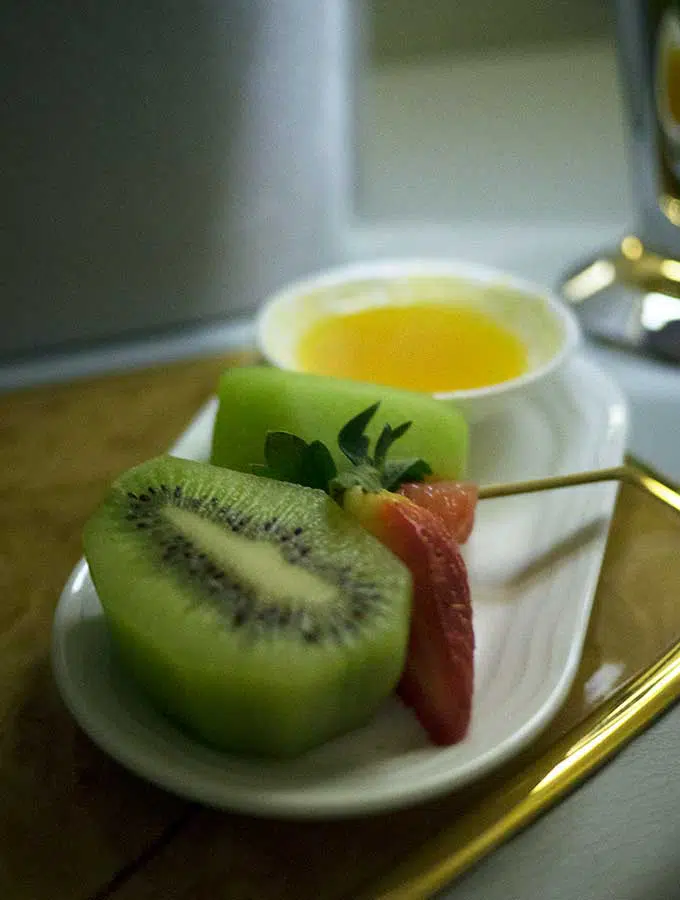 Arriving in Bangkok
When we arrive in Bangkok I am given the option to stay on board or leave the plane and head to the Emirates lounge. This was my first leg of my flight to Dubai, and then on to Frankfurt.
I stupidly made the decision to leave the plane…..
If I knew then what I know now I would have stayed put. A long walk, which was then followed by a laborious screening ended up with me being told the Emirates lounge was too far away for me to get there and back in time.
To add insult to injury I dropped my laptop bag down the escalators. Luckily all was fine.
My disembarking from the plane resulted in me sitting at the gate for an hour waiting to get back on. I wish I had never disembarked!
I was left not impressed and feeling like another shower due to the Bangkok heat.
Sara xxx
Become a subscriber and don't miss a single delicious recipe, restaurant review or travel adventure.
PIN ME TO YOUR TRAVEL BUCKET LIST