Lord Stow's Bakery, the Macanese tarts are not only the best Macanese tarts in Macao, but they are also the original Macanese egg tart. What makes these Macanese egg tarts so special? What is the difference between a Macanese egg tart and Portuguese egg tart?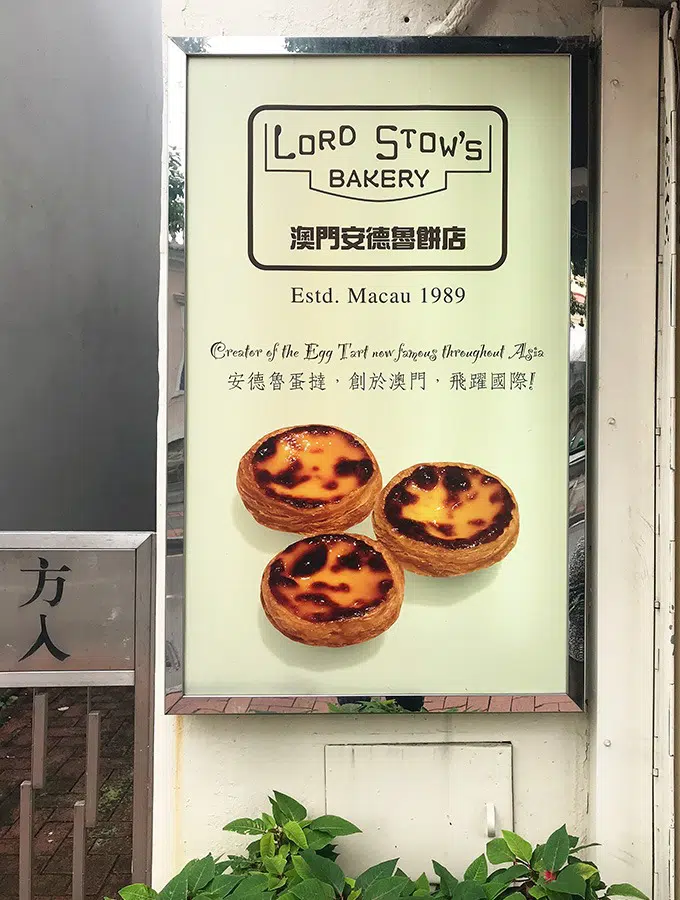 There is a reason why Lord Stow's egg tarts are in such hot demand. People travel from far and wide to get their hands on a couple of six packs of tarts. But it wasn't always the case. Rewind to 30 years ago and "Lord" Andrew Stow had trouble selling a single tart and had to give them away.
Who was Lord Stow?
Andrew Stow was a pharmacist who hailed from the UK and decided to make Macao his home. The pharmaceutical industry couldn't keep a grip on Andrew, and he decided to set up a health food business. It seemed the locals weren't ready to embrace the health food industry and Andrew's business venture failed.
Not to be defeated by failure Andrew then moved on to bread and opened up a bakery. That too wasn't a great success. From the bakery he moved on to egg tarts and the birth of Lord Stow's Bakery.
The egg tarts weren't a big hit with locals at the beginning. The Portuguese felt they were an inferior tart to the Portuguese egg tart or pasteis de nata. The local Chinese thought the dark brown tops were burnt and would make them sick.
Andrew's wife told him to give the tarts away, and he did. Locals found out that they really enjoyed the freebies, so much so that Andrew was then able to start charging for his tasty creations. The rest is history.
Why Lord Stow? Andrew was called Lord Stow by the locals as he was English, and they assumed that therefore he must be a Lord.
Sadly, Andrew passed away in 2006.
Audrey and Eileen Stow
After the sudden death of Andrew, his young daughter Audrey and his sister Eileen took over the running of the business. These two women are a delightful and dynamic duo. I am lucky to meet them both on my visit to the bakery and café.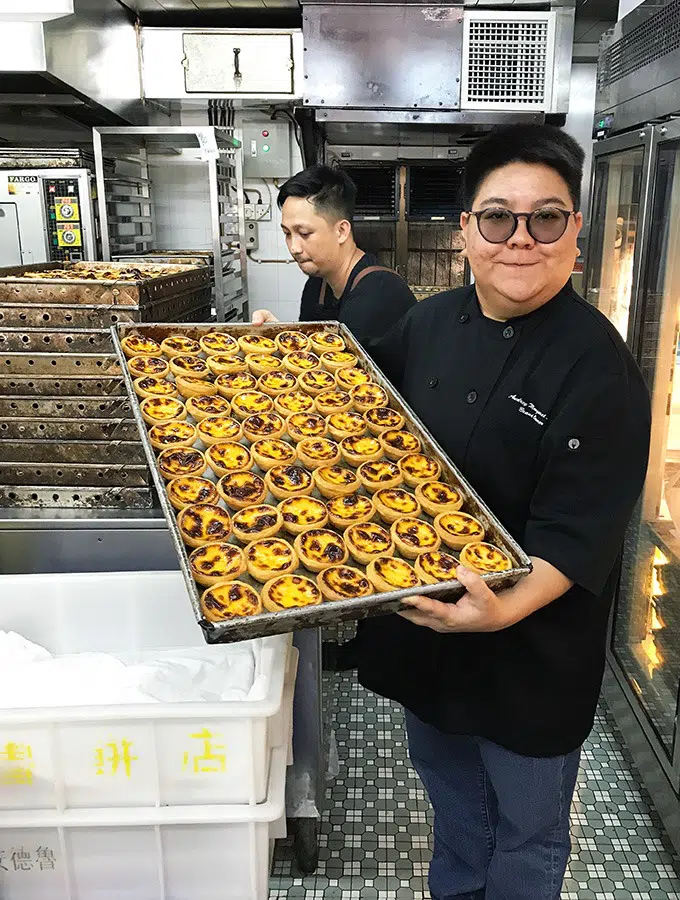 Audrey is a passionate baker with a larger than life smile. Her love of her product oozes from every pore. She is proud, proud of the legacy her father left and proud of her achievements as a young woman who is yet to turn 30. She has kept the memory of her father alive, through the daily baking of the tarts and his portrait that hangs in the bakery.
Eileen is Andrew's effervescent sister who took up the reigns of running the business side of the bakery. She is also a dog lover
and wins me over instantly. She has a few fur babies she has rescued from the streets of Macao. Business head and a heart of gold, my kind of lady.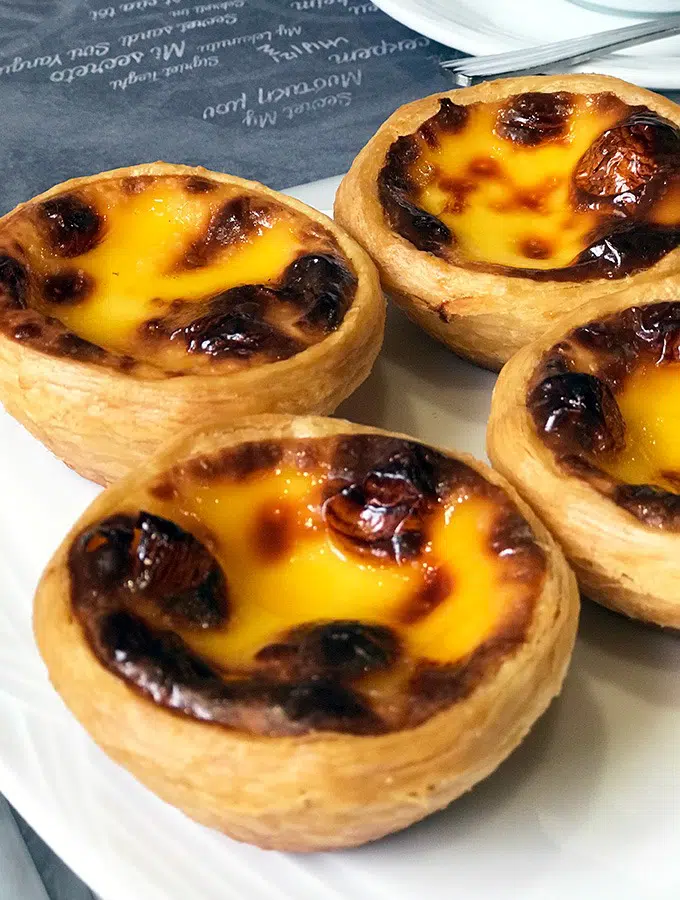 Both Audrey and Eileen have a genuine love and passion for what they do. I truly believe that this love and passion is passed on to every single Macanese egg tart that is baked.
What is a Macanese egg Tart?
The Macanese egg tart is a cross between an English custard tart and Portuguese egg tart. Crunchy flakey pastry and soft delicate custard filling. They are best eaten fresh and warm from the oven.
In 1999 the egg tarts became so popular that others started making Macanese style egg tarts. They tried to replicate Andrew's original recipe, but nothing compares to Lord Stow's original tarts.
Lord Stow's egg tart recipe is a guarded secret, but I can tell you that they use an English style custard. The custard isn't as sweet as the custard in Portuguese egg tarts. The tarts have no additives or cornflour, and Audrey is very proud that they are all still hand made.
The pastry is a puff style pastry, not shortcrust. Pastry is rolled out and then made into logs. This is then hand cut and pressed. Audrey has a team of ladies that press the pastry into their aluminium pie cases.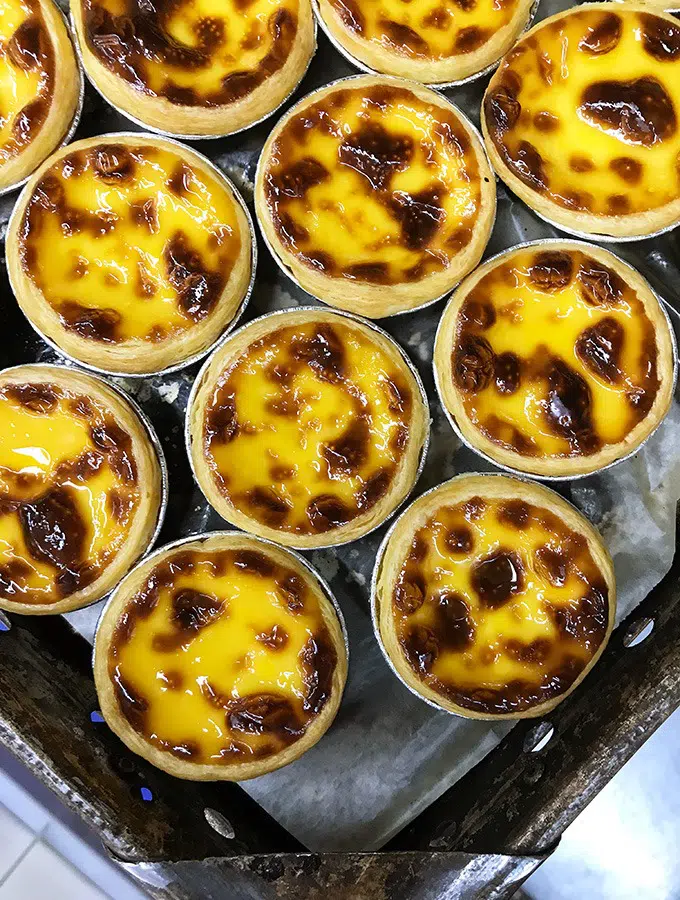 They are paid by the piece and also paid to take a 30 minute lunch break. By paying them by the piece it allows the workers to leave earlier to attend children's school functions, doctor appointments etc. It gives them flexibility, and a life/work balance.
Lord Stow's Bakery Coloane
Today Lord Stow's Bakery and their Macanese egg tarts are a Macao icon. There are even jokes that if the flag of Macao was to be redesigned it may well have an egg tart on it.
The bakery in Coloane is a modest affair. A small shop front that sees an endless flow of patrons popping in to buy tarts. There is also a selection of butter cookies and other bakery items on sale. But there is no missing the continuous baking of the most popular item, Macanese egg tarts.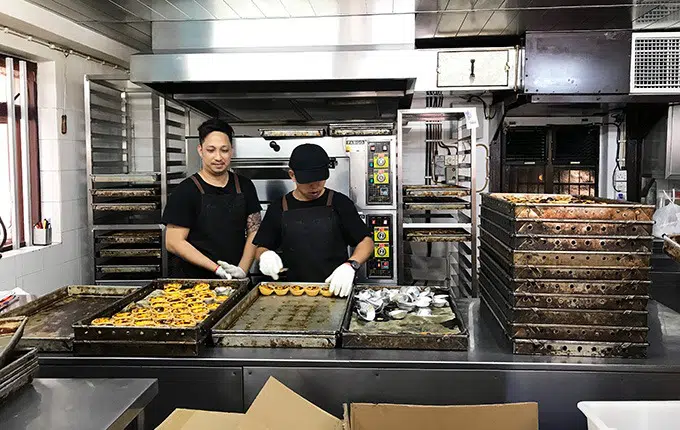 Lord Stow's sell 20,000 Macanese tarts a day from their seven outlets. They are all handmade. There is a factory in Macao that prepares the pastry and all the filling and baking of the tarts is done in Coloane.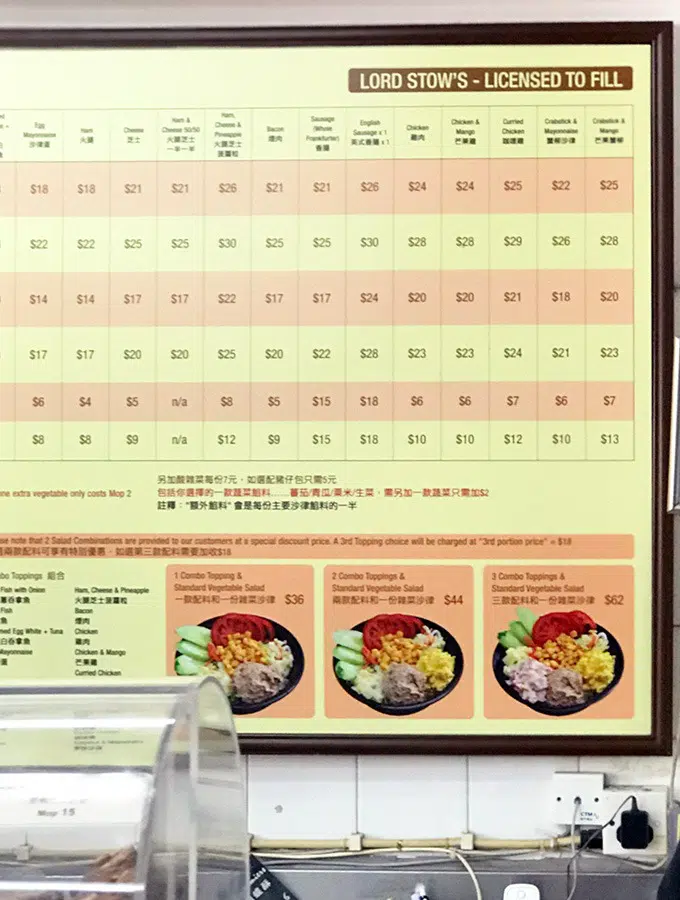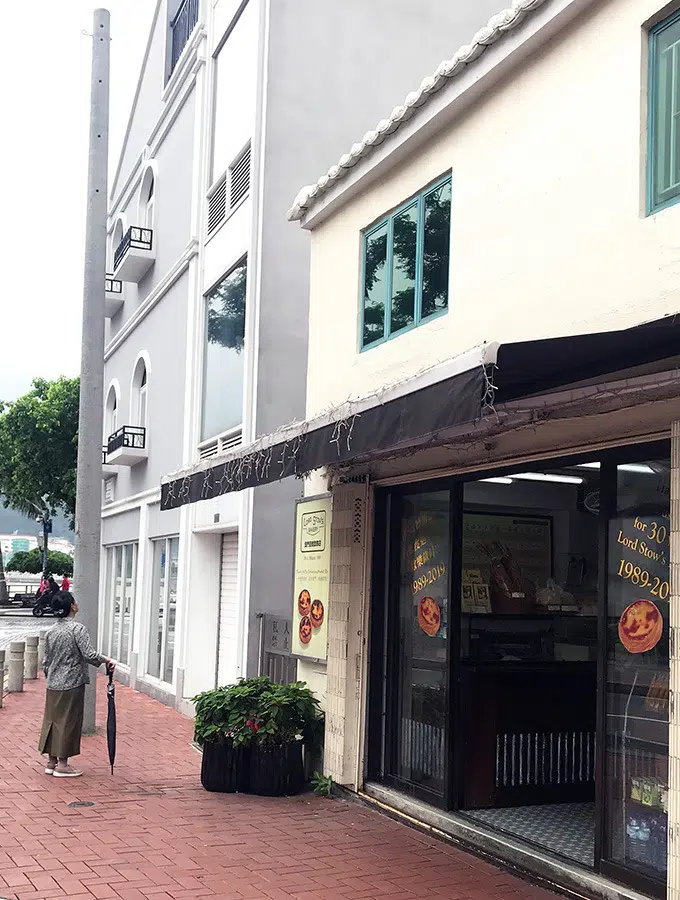 Tarts are never kept for the next day. Any leftovers are given to staff, local nursing home and neighbours. But there isn't a great deal of excess as Audrey and her team have the daily manufacturing to a fine art and numbers.
Lord Stow's Garden Cafe Coloane
Around the corner from the bakery is Lord Stow's Garden Café. You can't miss the blue and white building. Blue is Audrey's favourite colour.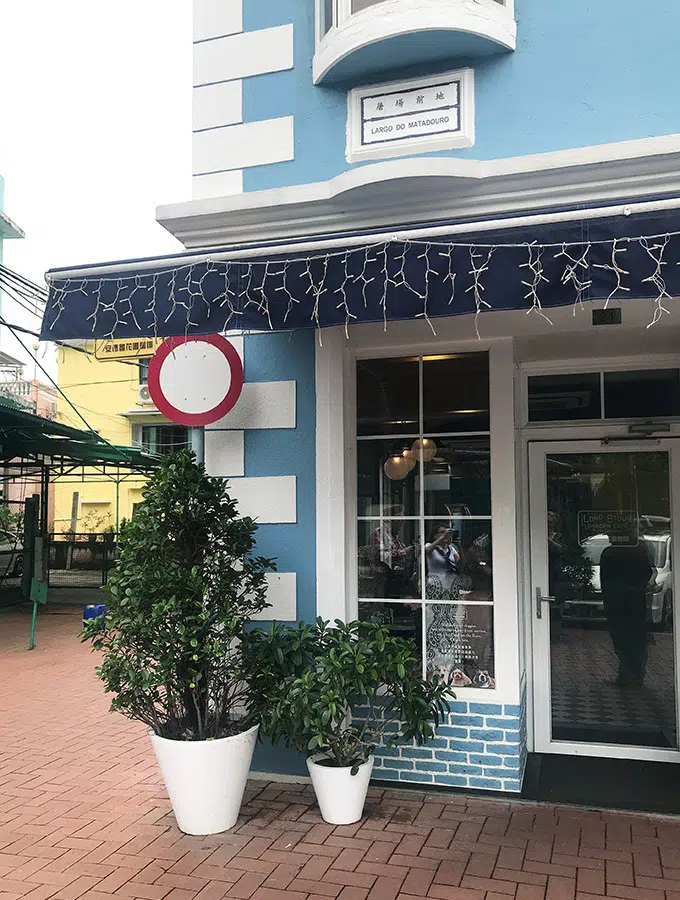 I'm also happy to learn that the Café is dog friendly. Well behaved pups are welcome in the front section of the café as long as they are on the floor and on lead. I know Harley would have loved to have visited here with me.
Over breakfast I get to chat to Audrey and Eileen a little more. Like any business nothing runs smoothly, but they change and adapt when needed.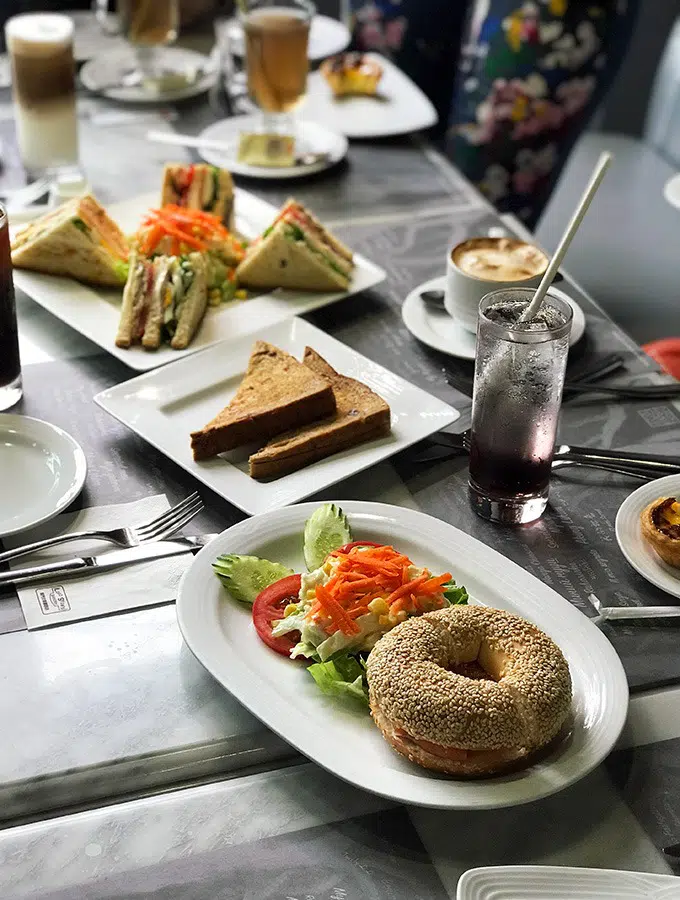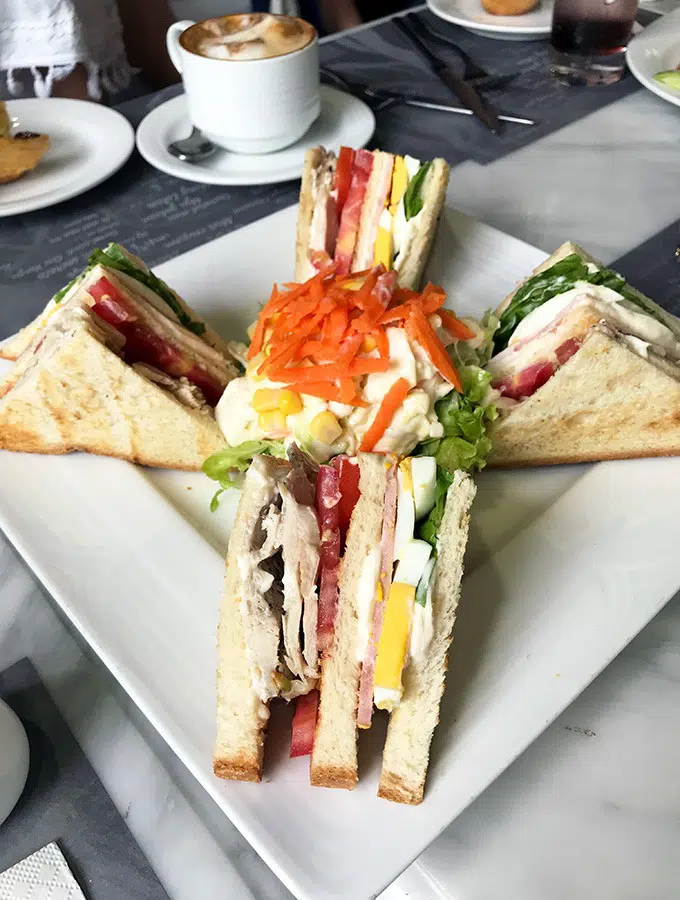 One such instance was when Typhoon Hato hit in 2017. To keep up production they were scrambling to get their hands on raw materials which caused a problem with the manufacture of the egg tarts. It was near impossible to acquire flour and cream, which saw them grabbing it from wherever they could.
As mentioned, they have a few outlets, one of those is in the Venetian Hotel. It took Eileen four years of negotiations to open an outlet there. The Venetian is the only other establishment where the tarts are baked on site. Otherwise they are all baked in the Coloane bakery.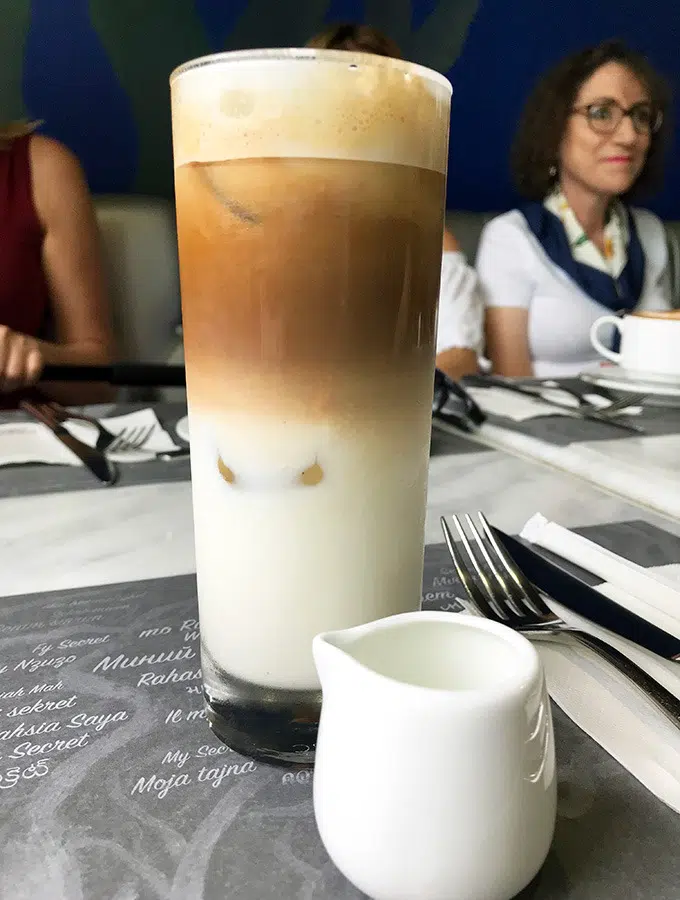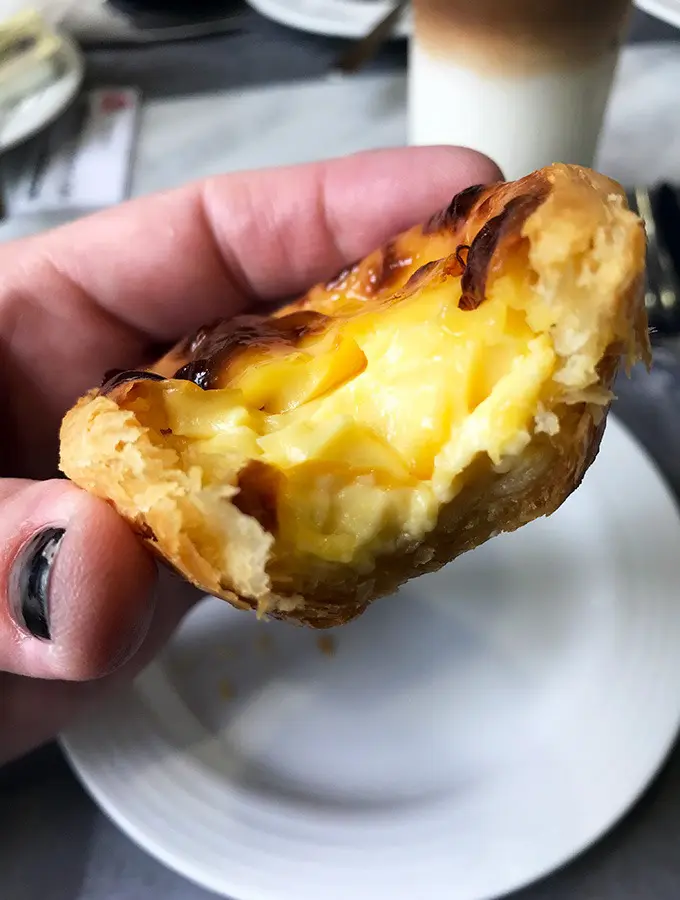 I also learn that Audrey is very environmentally conscious and has agonised over the use of one off foil cases over reusable metal tart tins. Due to the volume of tarts being hand made every day the metal tart tins are not practical and can't keep up with production needs. Therefore, she has to use aluminium foil tart cases.
Everywhere else she is as environmental as she can be, use of paper straws in the café etc.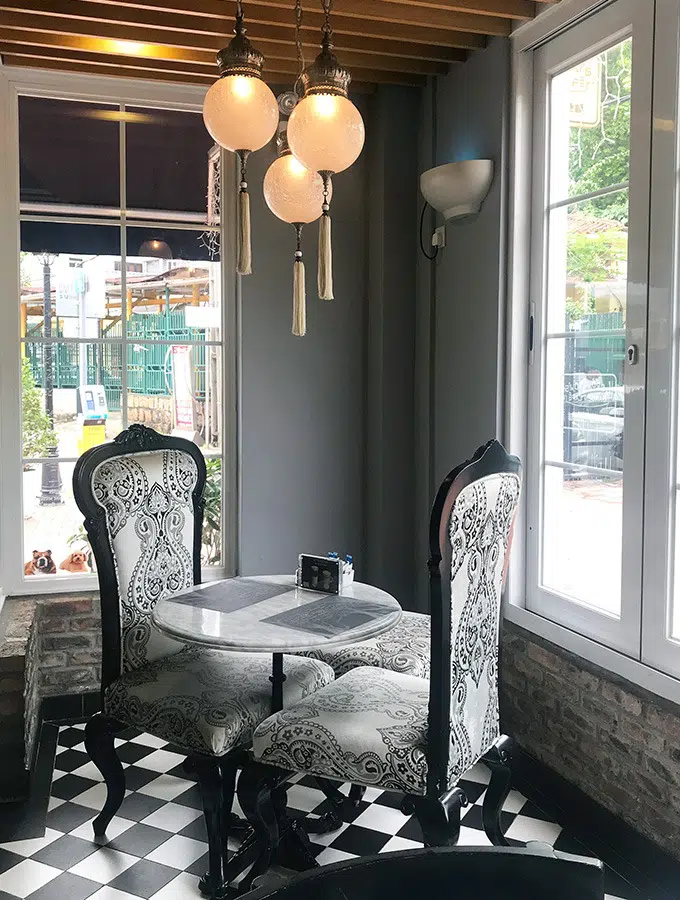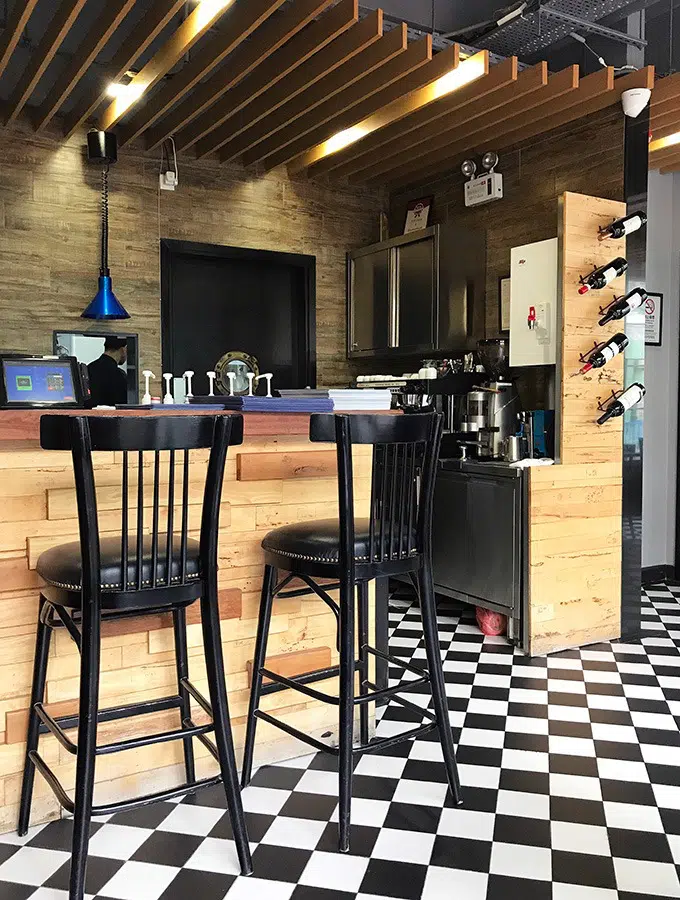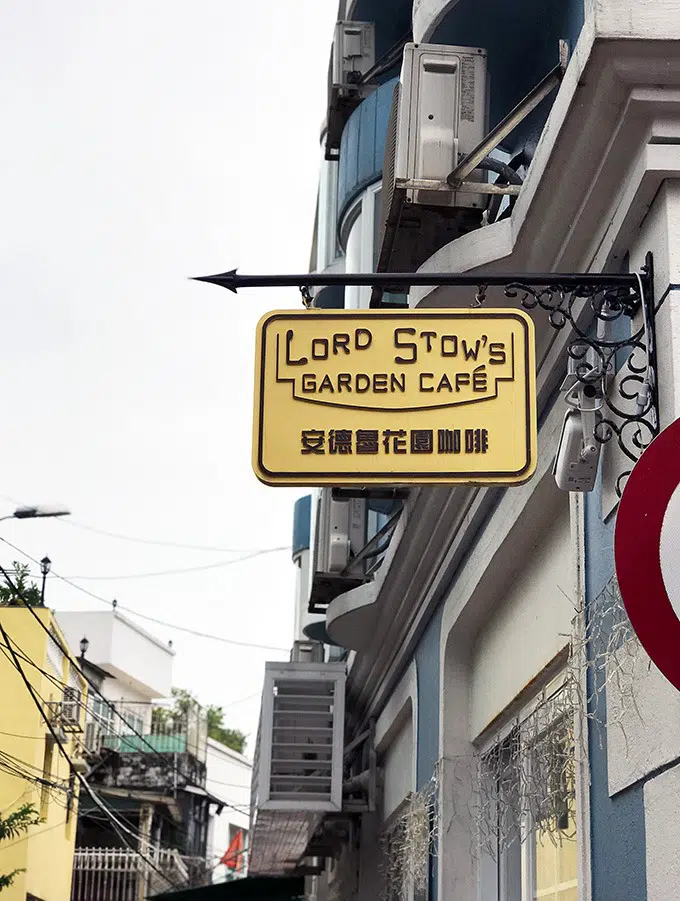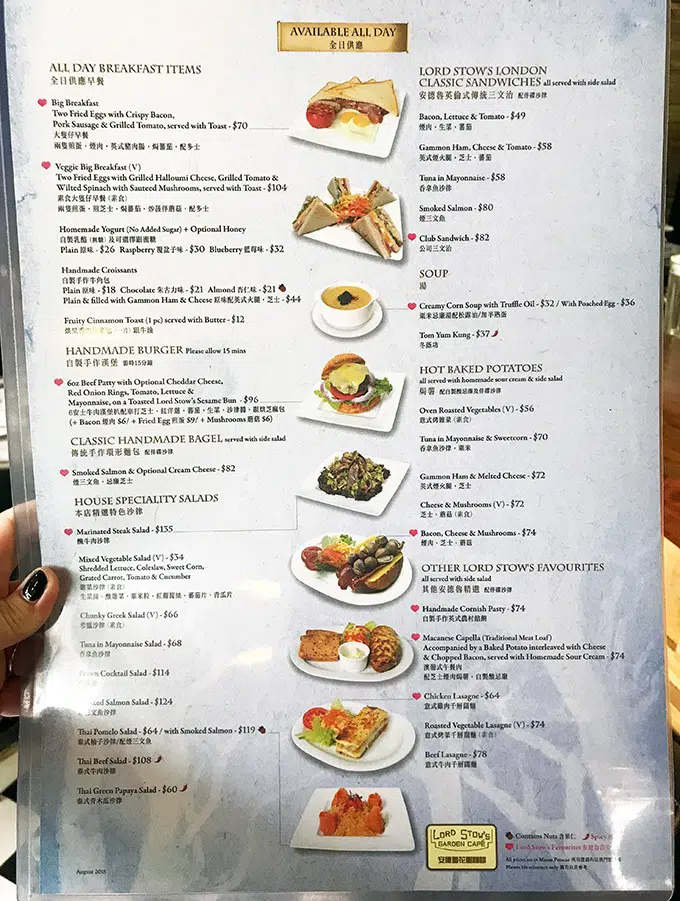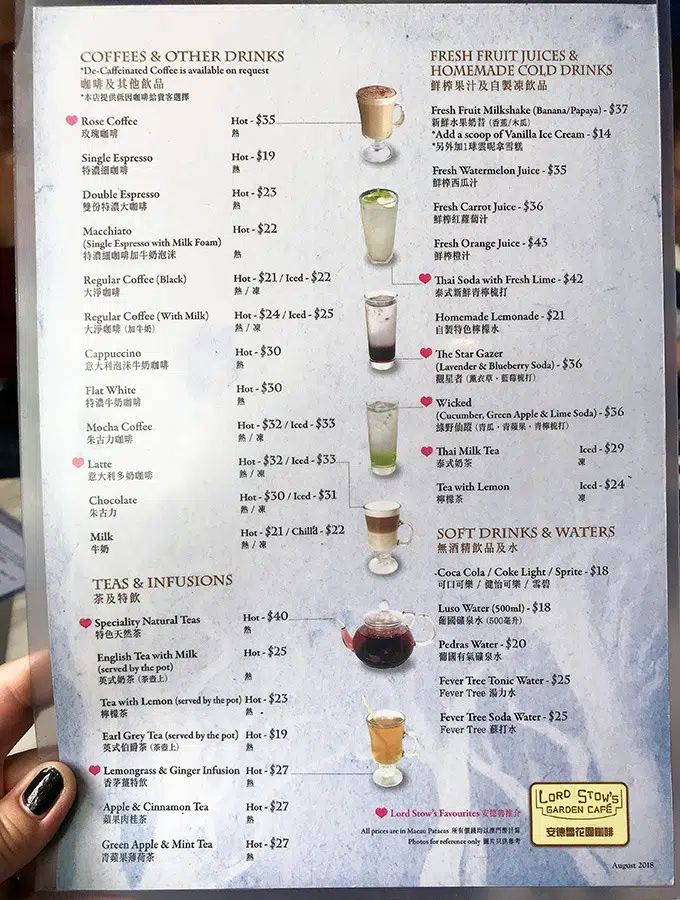 The opening of the Hong Kong-Zhuhai-Macao Bridge has had a huge effect on the bakery. Last December sales went through the roof. Her customers' purchasing methods have changed. They come back more often and buy a couple of tarts, instead of less often and purchasing multi boxes.
Lord Stow's Bakery Outlets
It is worth making the trip to Coloane Island to visit Lord Stow's Bakery, the Garden Café or one of their other establishments. Coloane is regarded as the lungs of Macao. It is a pretty and quiet village, and the island boasts two of Macao's best beaches.
If you can't make your way to Coloane there are a few other places around town to get your hands on one of these iconic tarts.
Lord Stow's Café
9 Largo do Matadouro, Coloane Village, Macau
Lord Stow's Express
Largo do Matadouro, No. 17E & 19D, Houston Court, Coloane Village, Macau
Lord Stow's Bakery and Café
Shop 870, Mask Street, The Grand Canal Shoppes Venetian, Macau
Lord Stow's Bakery
Rua do Cunha, 9-E, Pak Hung, G/F, Taipa, Macau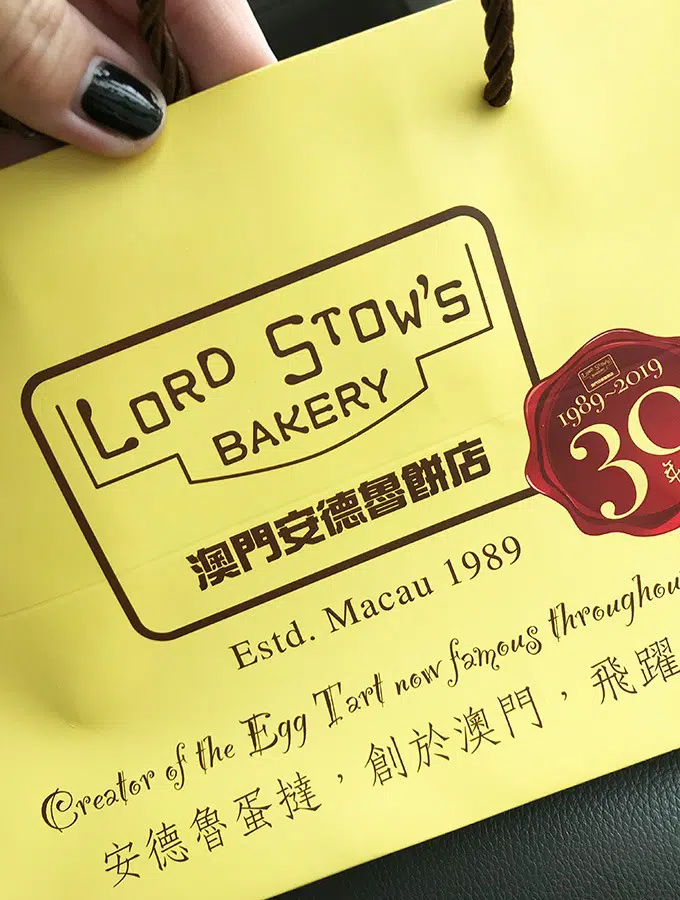 The Centre Café
The Centre Cafe, LG2, Taipa Campus of Institue for Tourism Studies
Av. Padre Tomás Pereira Taipa
Where to find Lord Stow's Egg Tarts outside of Macao
Hong Kong
Mandarin Oriental – 3 month pop up
5 Connaught Road, Central, Hong Kong
Japan
Ken's Pass Co
1-10-6 Dotonbori, Chuo, Osaka, Japan
Philippines
Just Simple Bakehouse
847 Banawe St. Corner Linao St. Quezon City, Metro-Manila, Philippines
Sara xxx

OTHER STORIES ON MACAO
Are Macau and Macao the same place? - What is correct? We explain which one and why to unconfuse you.
Long Va Tea House - Tea and dumpling perfection
Red Market - The largest wet market in Macao, let me show you around.
Become a subscriber and don't miss a single delicious recipe, restaurant review or travel adventure.