An easy asparagus frittata recipe that is spruced up with the addition of cheese and decadent black truffle. The perfect indulgent mid week dinner or weekend brunch with a side serving of salad and crusty bread.
A simple egg frittata has saved my bacon many times when it comes to feeding the family. If you have eggs in the fridge there is a safe bet that you will find a handful of other ingredients to whip up a frittata. Actually, bacon works wonderfully in a frittata.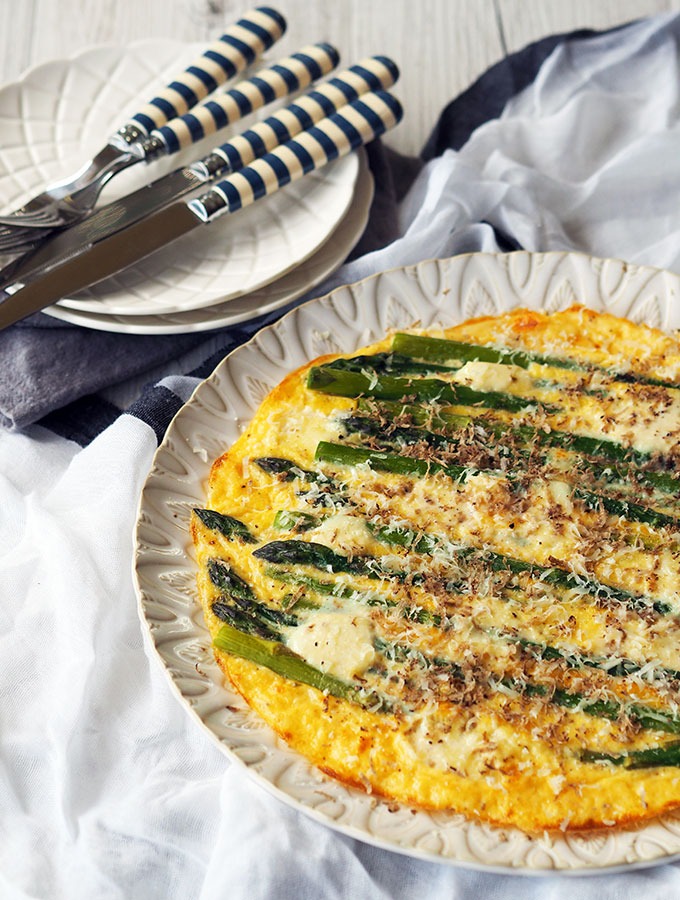 Frittatas are a great way to use those about to die vegetables in the crisper. The forgotten mushrooms or the zucchini that has seen better days.
I always have bacon and grated cheese in my freezer, which are perfect ingredients to use. Also check out what tinned or frozen vegetables you have, a can of corn can work miracles.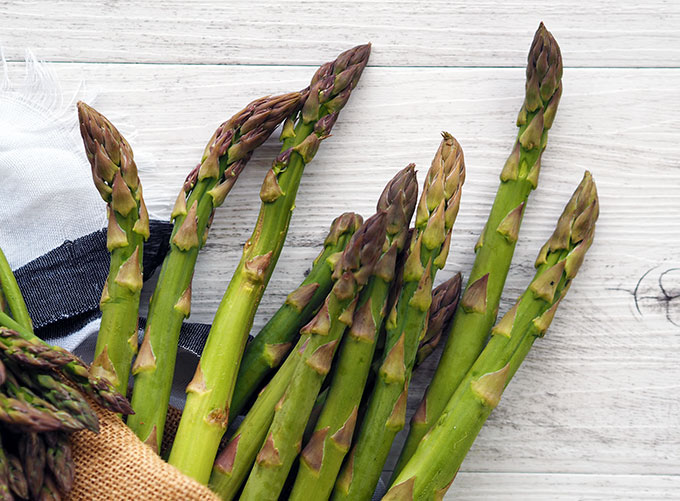 My easy cheesy asparagus frittata recipe is one I have whipped up many times when it is truffle season. I love grated fresh black truffle with eggs, asparagus, and parmesan cheese.
I don't bake my frittatas, instead I like to start cooking them on the stove, then move them under a hot grill to finish. By starting them on the stove you end up with a lovely brown and slightly crisp bottom. Grilling also gives them that final dose of colour. I also find it quicker than oven baking.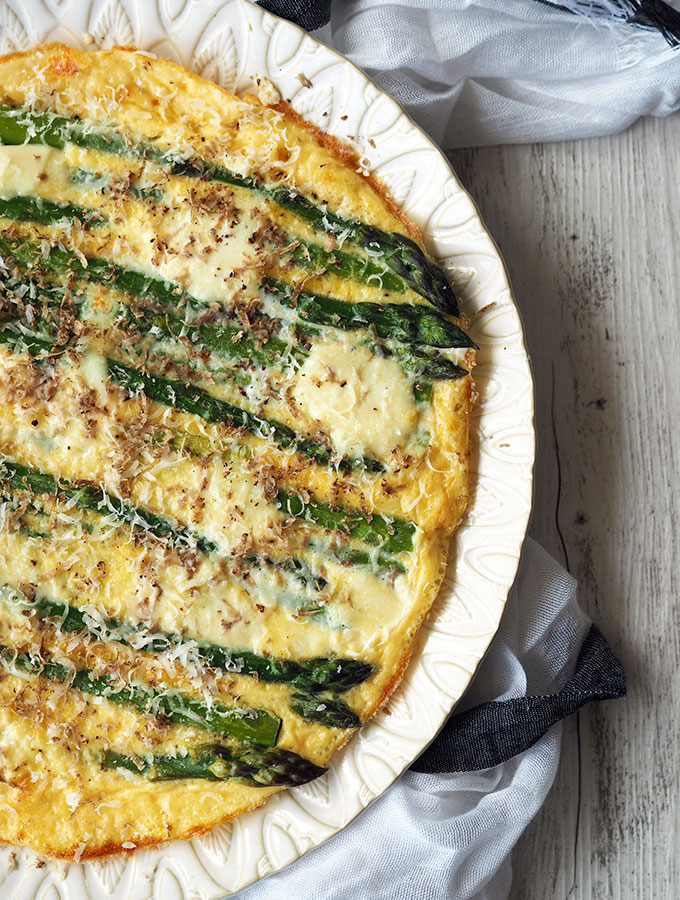 Frittata vs Quiche
Frittata vs quiche. What is the difference between Quiche and Frittata? I like to think of a frittata as the lazy man's quiche.
There are two main differences between a quiche and a frittata. The most obvious one is that quiche is made in a shortcrust pastry shell. The other is that a quiche's filling is lighter due to the use of more cream or milk in the recipe.
You could say that the filling of a quiche is like a set savoury custard. If quiche is like a set savoury custard in a pie shell, then what is a frittata? A frittata is like a dense thick omelette.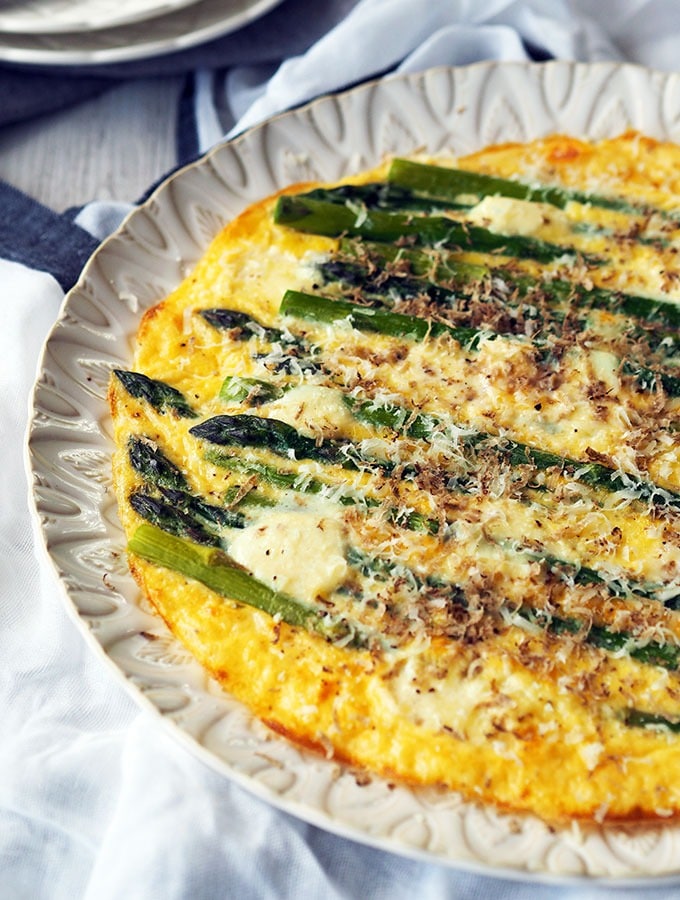 How to make a frittata?
How to make a frittata? As I said it is like a lazy man's quiche. Translation, it is dead easy to make a frittata. The ingredients go into an ovenproof pan. After some time on the stove it is then under the grill to finish. I did say it was dead easy.
What I love about finishing the frittata under the grill is the end result with the asparagus. The asparagus gets a slightly charred finish. Oven roasted asparagus for the win. Also, the bocconcini get a little meltier and more toasted as well.
To serve I grate fresh parmesan cheese over the top. I don't bake or melt the cheese, as it gives the frittata a fresher finish. The black truffle is also grated over the top, be as generous or as scant with the truffle as you wish. If you are like me, you are probably an expert at how to make black truffles stretch further.
This really is an easy asparagus frittata recipe. I hope you love it as much as I do.
Sara xxx
Become a subscriber and don't miss a single delicious recipe, restaurant review or travel adventure.
Other Recipes Using Black Truffle
Black truffle chicken breast baked in milk – moist juicy chicken breast with a killer sauce
Baked Brie with black truffles – perfect for entertaining, easy to make and serve with crusty baguette
Black truffle and parmesan souffles – light as air individual souffles
Poulet en demi deuil (Chicken in half mourning) – a whole oven roasted chook with black truffle
How to make fesah black truffles stretch further – truffle honey, truffle polenta, truffle rice, truffle salt etc
My favourite egg recipes
Cloud eggs – perfect fluffy eggs on toast
Quail eggs with oolong tea salt – the sophisticated entertainer
Ham and egg hash brown nests – crunchy potato hash brown nests filled with ham and egg
How to perfectly fry an egg – a unique technique
Chinese tea eggs – tasty and pretty
Farmers' breakfast – the Latvian way to start your day
Two ingredient banana pancakes – egg and banana, they are that simple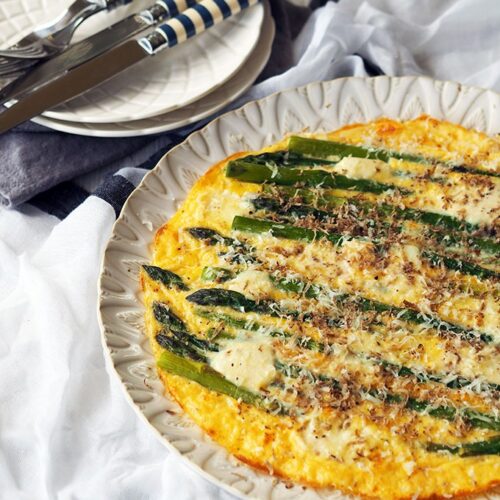 Asparagus Frittata
An easy asparagus frittata recipe that is spruced up with the addition of cheese and decadent black truffle. The perfect indulgent mid week dinner or weekend brunch with a side serving of salad and crusty bread.
Print
Pin
Rate
Ingredients
6

eggs

¼

cup

milk

1

tablespoon

olive oil

1

bunch asparagus

6-8

bocconcini balls

¼

cup

parmesan

finely grated

½

black truffle

grated
Instructions
n a large bowl whisk eggs and milk until well combined.

Rinse asparagus well and remove hard woody ends if necessary.

Turn on grill in oven.

Place a 19cm (7.5 incoven proof frying pan/skillet over a medium heat on the stove top. Add olive oil and coat the surface of the pan.

Pour in egg mixture and start to cook over a low/medium heat.

After a few minutes place asparagus evenly over the top of the egg mixture, and place balls of bocconcini over the top.

Continue to cook until the egg mixture becomes firm, be careful not to burn the bottom of the frittata.

Once the egg mixture has firmed up remove the pan from the stove top and place under the grill in your oven. Grill until the asparagus starts to char, the bocconcini melts and the top of the frittata browns slightly.

Once cooked serve immediately with grated parmesan cheese and grated black truffle. Crusty bread and a green salad make great side dishes to this frittata.
Nutrition
Calories:
265
kcal
|
Carbohydrates:
2
g
|
Protein:
19
g
|
Fat:
21
g
|
Saturated Fat:
7
g
|
Cholesterol:
266
mg
|
Sodium:
233
mg
|
Potassium:
130
mg
|
Fiber:
1
g
|
Sugar:
1
g
|
Vitamin A:
460
IU
|
Vitamin C:
0.2
mg
|
Calcium:
278
mg
|
Iron:
1.4
mg
DID YOU MAKE THIS RECIPE?
I love knowing when readers make my recipes, tag me on Insgragram @bellyrumbles