Ce La Vi Singapore is perched on top of Marina Bay Sands. Sky bar and restaurant on the 57th floor with outstanding views of Singapore. Ce La Via would have to be the number one rooftop bar in Singapore.
Just between you and I, I had no steadfast plans on visiting Ce La Vi for dinner when I was in Singapore. It was on my list of possibilities. I always travel with a list of possible dining and drinking venues. Doesn't everyone?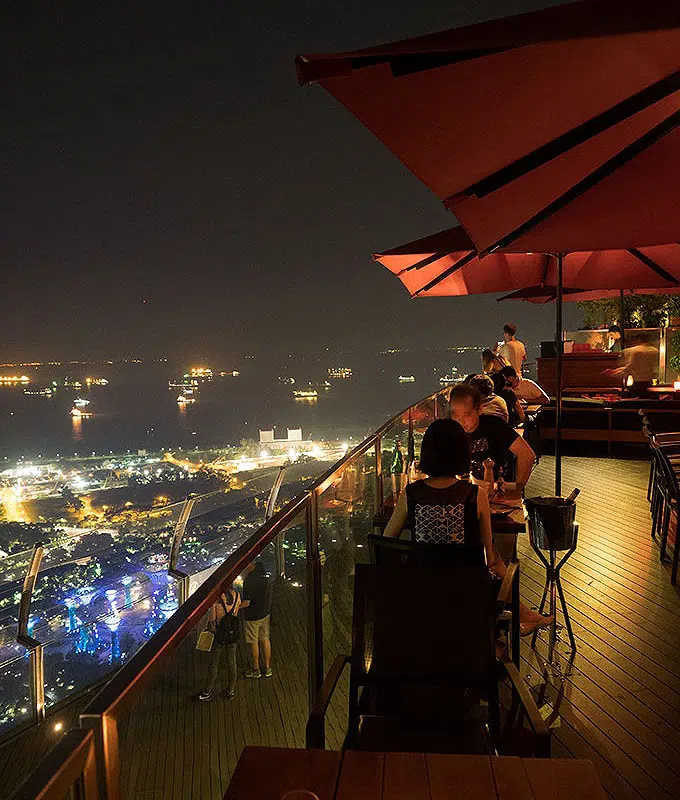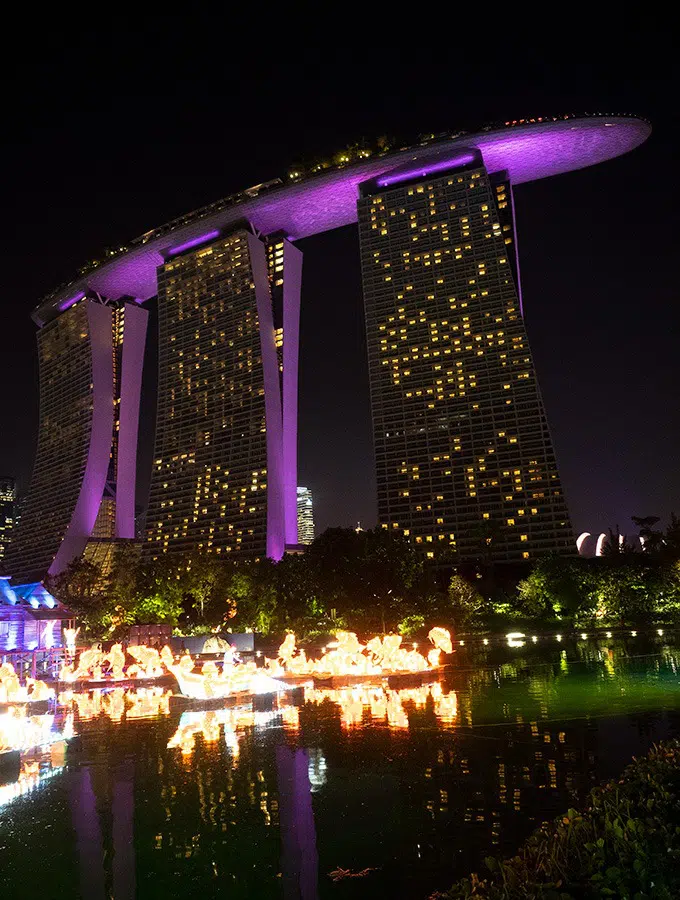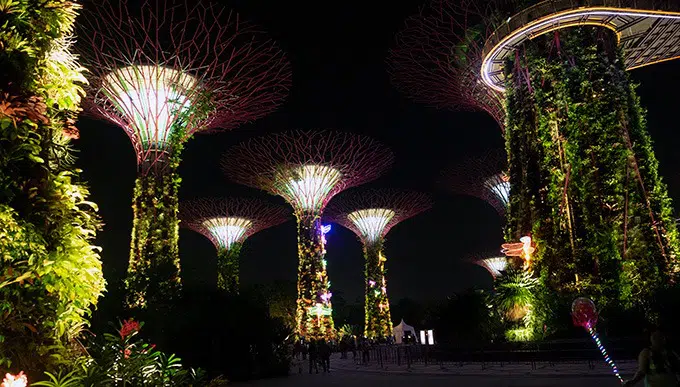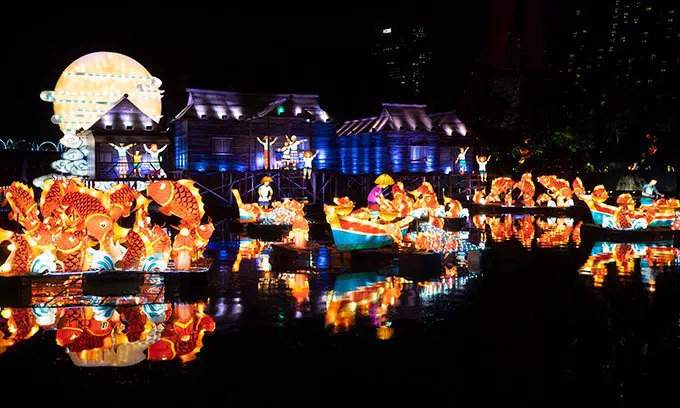 Ce La Vi made the list for a possible cocktail or two with a view. After spending a good part of the evening walking around the Mid Autumn Festival at Gardens by the Bay, I was tired, hot and hungry. Marina Bay Sands glowed in purple glory on the edge of the Gardens. The three unmistakeable buildings, that look like they have a long sleek cruise liner stranded on top, called to us like a siren.
After finding our way into Marina Bay Sands. Trust me it was harder than anticipated. We seemed to be on a path that had us scenically walking through the complex but not into it. After walking down a few flights, of what seemed like a fire escape, and stumbling through some gardens, we finally made our way to the main hotel entrance.
I am sure there was an easier way of getting in, but hey who doesn't like a little pre cocktail adventure?
Once safely inside and sans twigs in my hair, we went in search of Tower Three. This, of course, was at the opposite end to where we came in. Once at the right tower and at the right elevator it was smooth sailing.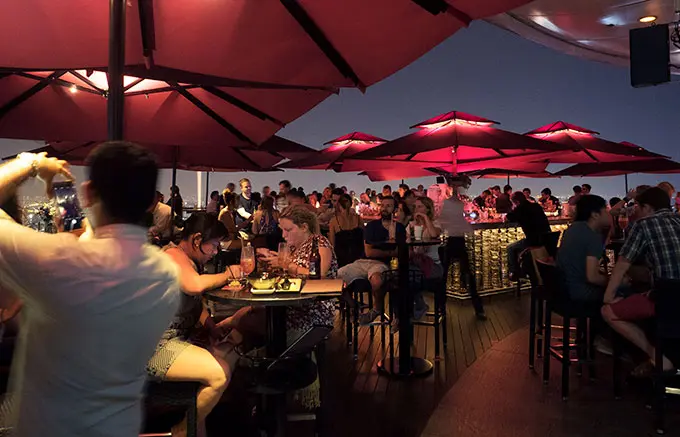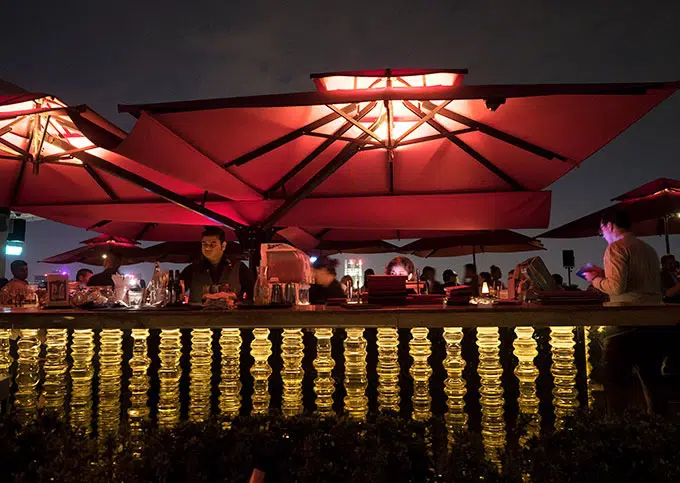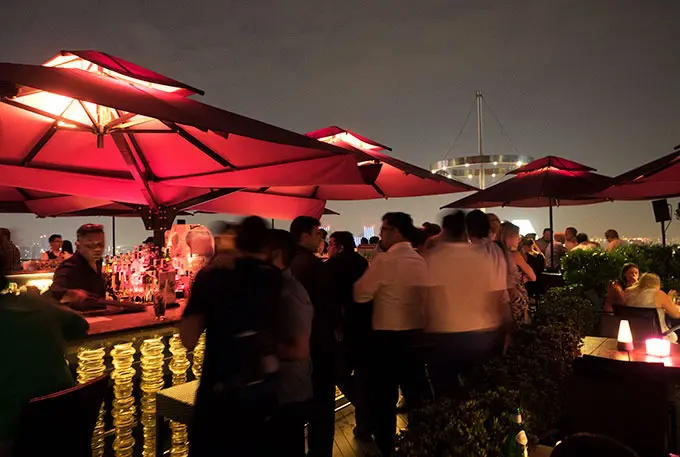 Mac and I arrived somewhere between 9.30 – 10.00pm and were blessed with no queues for the elevator. The elevator sped us up to Level 57, and the doors opened to the sounds of a very buzzing bar. Somehow, we also avoided having to pay a cover charge to get in.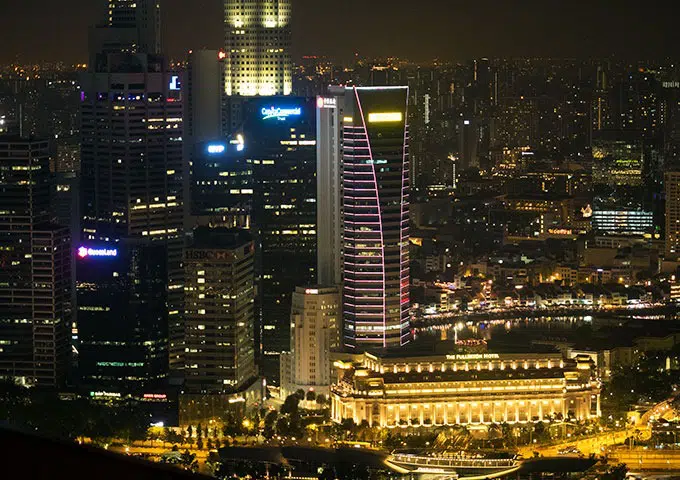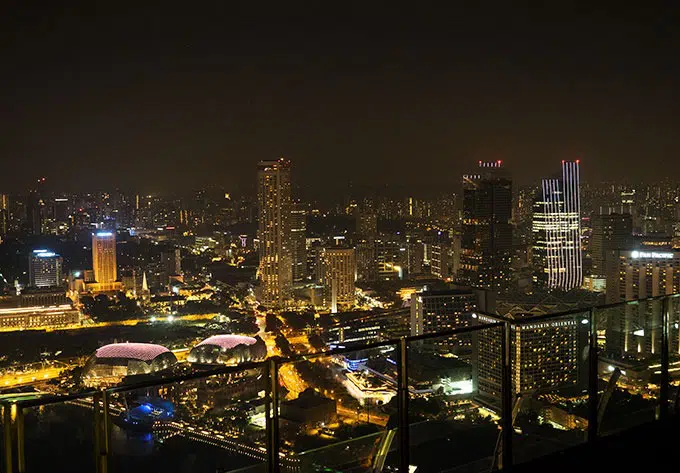 It was like the Gods were looking down on us. As we walked through the rather crowded bar, a couple left, and we nabbed their table and stools.
With cocktails purchased we were hungry, there didn't seem to be a bar menu. We resorted to asking a staff member about bar food. "Do you want to dine at the restaurant?" they asked.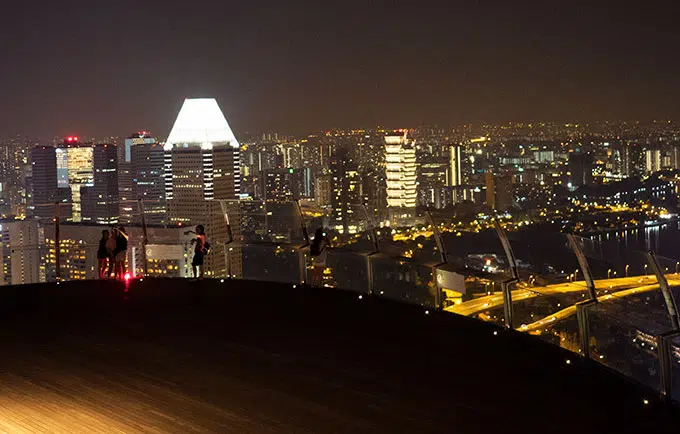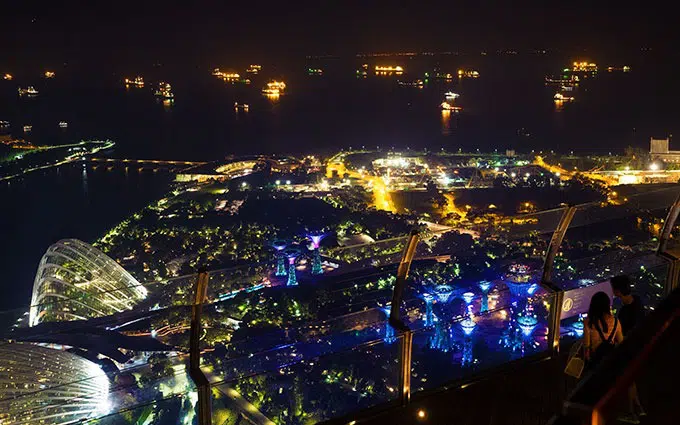 It hadn't really crossed our minds as we had no reservation and the restaurant is very popular. Plus I looked like I had been walking for hours in the humid Singaporean weather finishing up with a roll around a garden bed. Oh wait, I had been.
"We can have a table ready in a few minutes, but you will need to order soon as the kitchen will close shortly." Who are we to smack fate in the face? Yes please, show us to that table.
We are shown to our table on the "other side" of the rope and the outdoor dining area of the restaurant. All of a sudden it wasn't as noisy and the atmosphere calmer. Even though we had only walked a few meters, the ambiance is like chalk and cheese.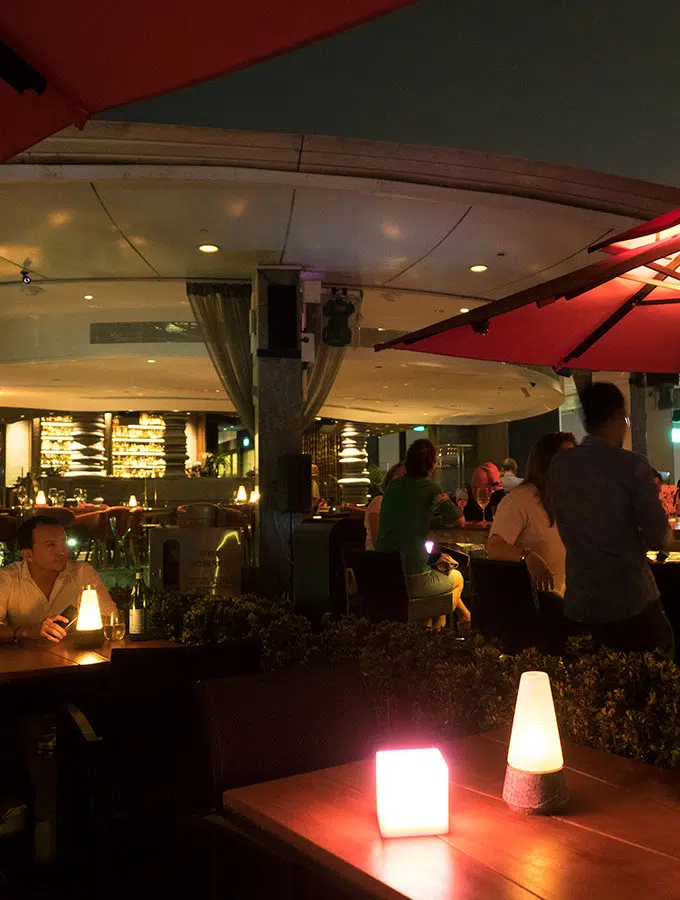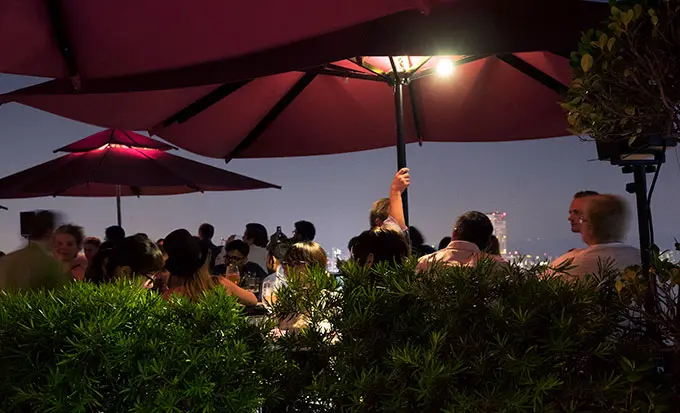 Why eating at Ce La Vi hadn't really made the list of things to do, is that from past experience, restaurants which are known for their amazing views aren't known for amazing food. Was I about to be proven wrong with my theory?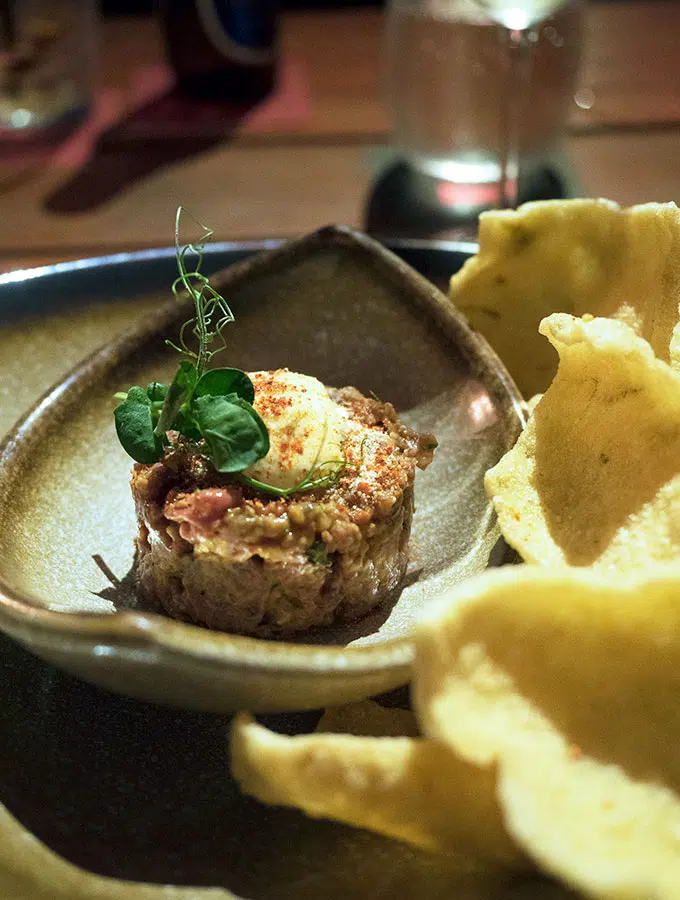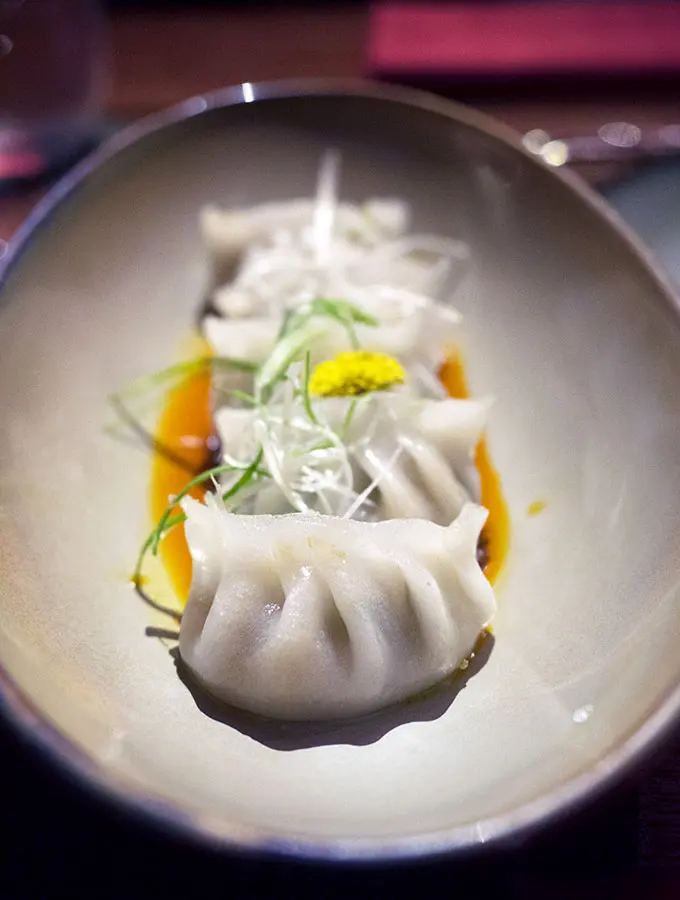 Yes, the food is expensive at Ce La Vi. It is to be expected. Prime location with stellar views. You are going to get hit in the hip pocket. Wine will set you back a pretty penny too. We purchased a bottle of Cloudy Bay, the cheapest Sauvignon Blanc on the menu for SGD133 (A$150 approximately). It retails in Sydney for around A$35.
The food surpassed my expectations. Admittedly my expectations were pretty low. We started with beef wagyu tartare and dumplings to share. The tartare was balanced with plenty of crunchy chips to accompany.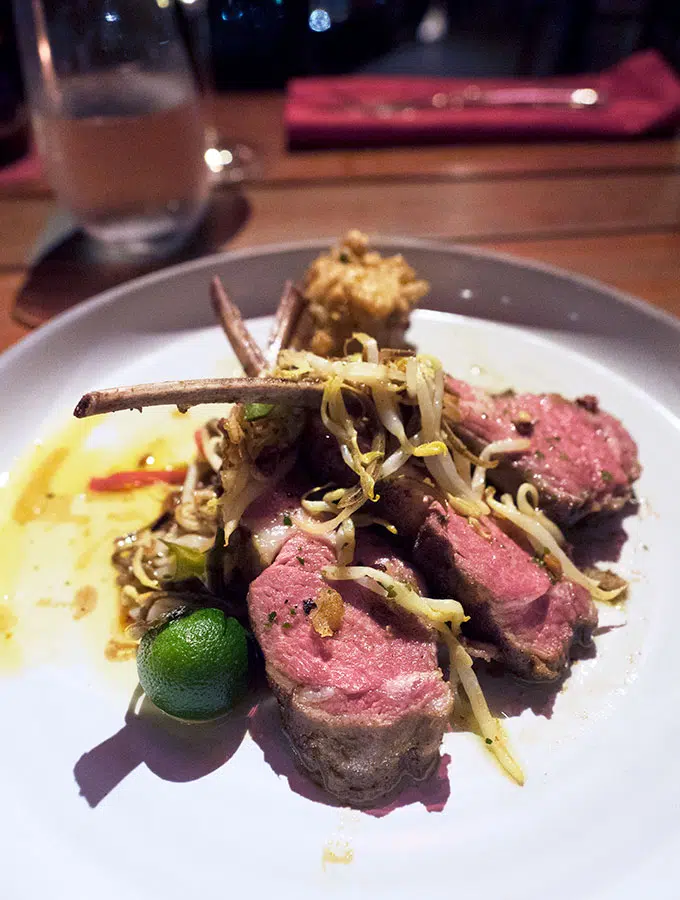 The vegetarian dumplings were okay. That's all I can really say about them. Nothing really jumped out at me about this dish. Though it was plated nicely, does that count?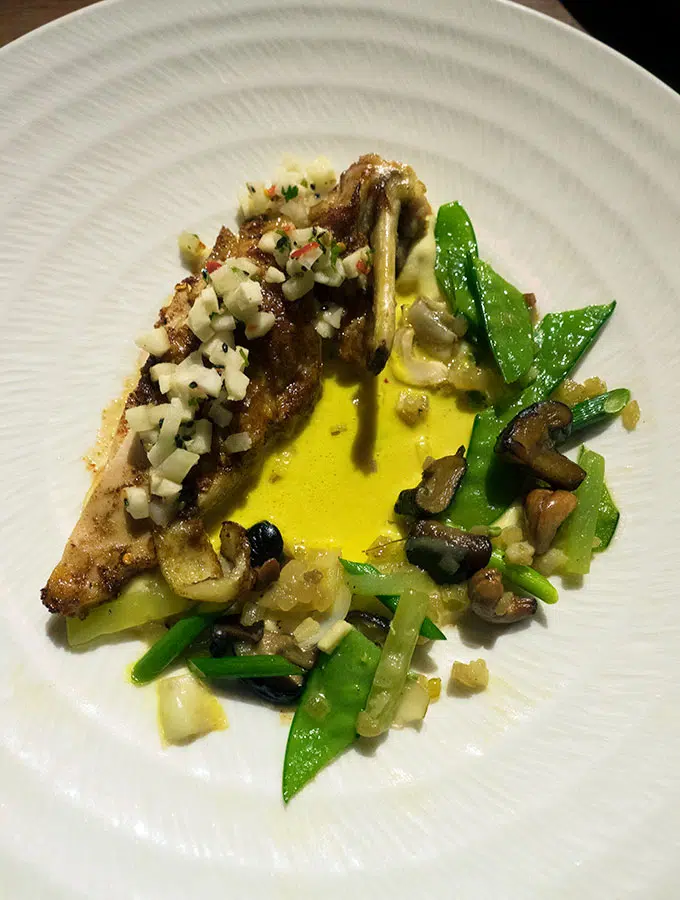 Choice of main for Mac was the Nonya lamb chops. As you can see from the photo it was a rack which had been cooked and then cut into chops post cooking. It was cooked well, but maybe a little on the too pink (read that as raw) side for some. The Nonya slant gave the chops a nice Singaporean twist.
I chose the roasted chicken for my main. Raosted skin on and on the bone, the chicken was flavourful and moist. Served with a pool of lightly curried cream and some stir fried vegetables.
I can't say that the food at Ce La Vi blew me away as much as the view did. The view really is spectacular. We spent SGD$340 (A$380) on dinner which really is overpriced for what you get. The food is tasty enough but really not worth the price tag.
You are paying fine dining prices but eating in a pub setting. The tables are bare slatted wood, just like a pub. No linen on the tables, not even a placemat to place your plate on. It's super casual dining, while the bill's bottom line screams fine dining.
My suggestion is to go, but don't bother with dinner. Instead have a couple of dishes from the bar menu if hungry and a few drinks of choice while enjoying the stunning view. Make a reservation for dinner elsewhere. With so many amazing places to eat in Singapore, it would be a shame to waste a meal opportunity at Ce La Vi.
Sara xxx
Other Dining Options for Singapore
Mitzo Restaurant & Bar - Coffee BBQ Pork anyone?
Nami Restaurant & Bar - Teapot Soup with a View.
Best Buffet Breakfast in Singapore - Live stations and food galore, you will be waddling out.