Nami Resturant and Bar, the art of Japanese fine dining with a view from the 24th floor of Shangri-la Hotel Singapore.
Nami Restaurant and Bar isn't even six months old yet, but it is already making gastronomic waves through Singapore's dining scene. Located on the 24th floor of Shangri-La Hotel Singapore's newly renovated Tower Wing, the views of Singapore are extensive and stunning.
Though the view is impressive, it is Chef Shigeo Akiba that is the true draw card to Nami Restaurant and Bar.
Originally from Yokohama Japan, Akiba is a highly regarded Chef with over 30 years of culinary experience under his belt. And there are some very big notches in his belt indeed!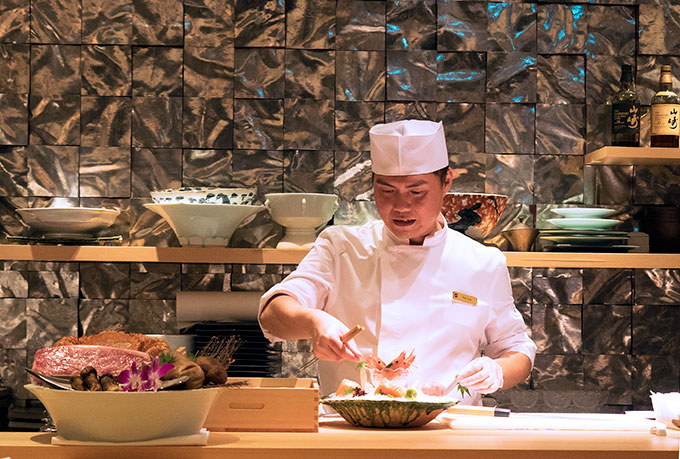 How many of you can say that you have eaten food by a chef who prepared the wedding banquet of Japan's Prince Akishinomiya and Princess Kiko? Or served Emperor Akihito?
Chef Akiba also worked under Iron Chef Koumei Nakamura for five years as his executive chef, managing the menus of Nakamura's five restaurants. A bit of trivia, it was Chef Akiba who developed many of the recipes that Chef Nakamura presented on Iron Chef.
But it is Nami Restaurant and Bar that Chef Akiba now calls home.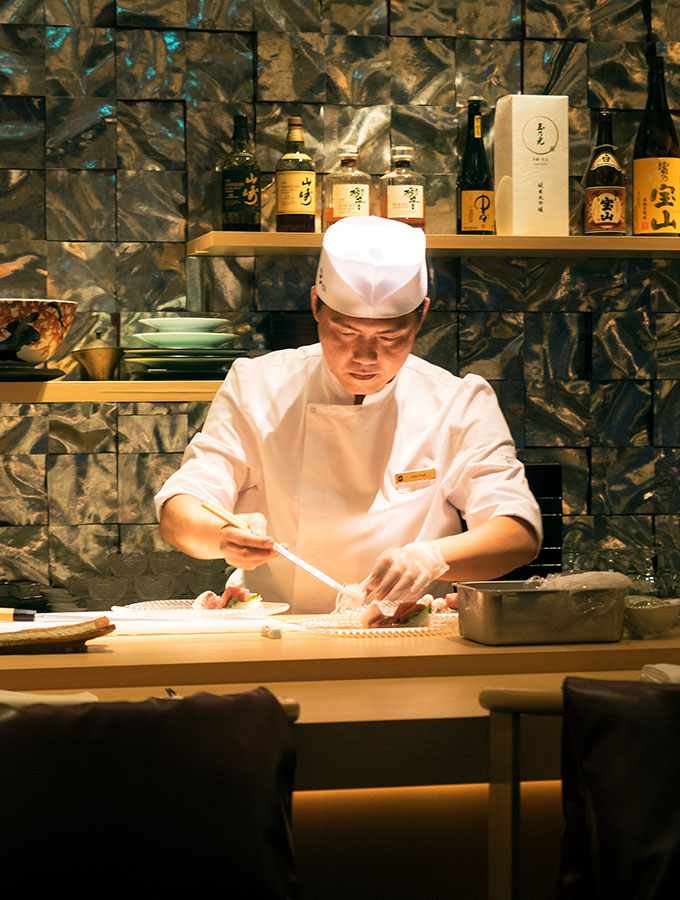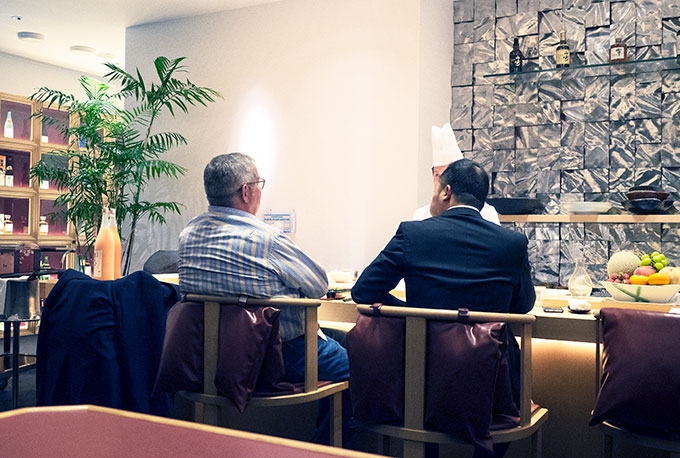 Anybody that is familiar with Japanese cuisine knows that dashi is the base of many of the dishes. Dashi is often called "Both of Life", and Chef Akiba takes his dashi stock very seriously.
Chef Akiba makes his stock using the superior kombu and katsuobushi. Kombu is sourced from the sea off Northern Hokkaido, which is known for it's sweet, deep, rich and savoury flavour, yet produces a clear dashi. The katsuobushi is sourced from Kyushu.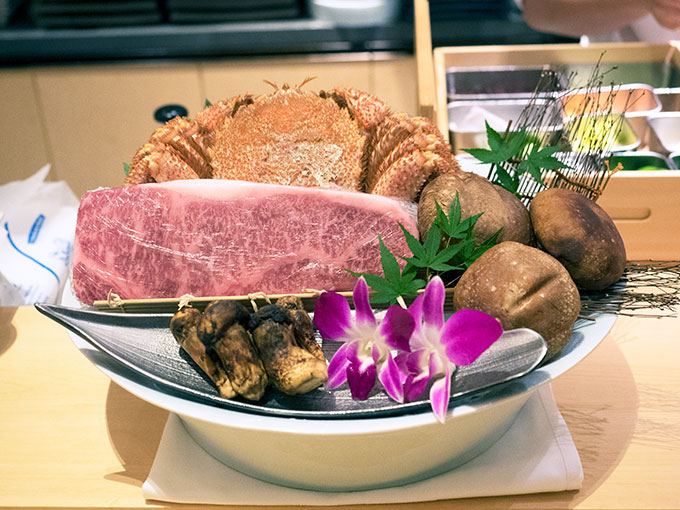 Seasonal regional dishes grace Nami's menu with produce being flown in from the famous Tsukiji market in Tokyo. Along with produce from Kyushu and Hokkaido.
Chef Akiba has a minimalist approach to cooking, preferring to let seasonal produce shine.
Unfortunately Chef Akiba wasn't in house when we dined at Nami Restaurant and Bar. Instead we were left in the more than capable hands of his Assistant Chef Akira Sano and Sushi Chef Hiroyuki Ono.
As we were staying at the Shangri-La it was only a few second lift ride up to the 24th floor for dinner. I do love an easy commute don't you?
Our choice for dinner that evening was the seven course Omakase menu. The menu is seasonal and showcases some of the Chef's favourite dishes.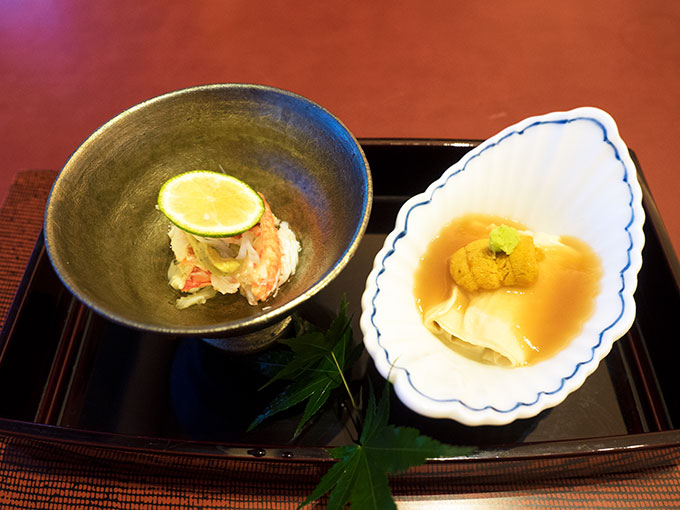 Omakase Course 1: Two perfectly plated small bowls make up course one. On the left, Kegani and Sea Urchin in Umadashi Jelly topped with Vegetable Caviar, Wasabi and Chervil. On the right, Steamed Crab with Shiitake Mushroom mixed with Anchovies and Peanut Sauce.
The first course is all about crab. Kegani is Japanese hairy crab or horsehair crab, not to be mistaken with the popular, and smaller, Singapore hairy crab. It is served two ways, one is served with the crab's mustard and wrapped in delicate tofu lees topped with plump and creamy uni (sea urchin). The other is delicately steamed crab that is given a subtle elevation with shitake mushroom, anchovies and peanuts.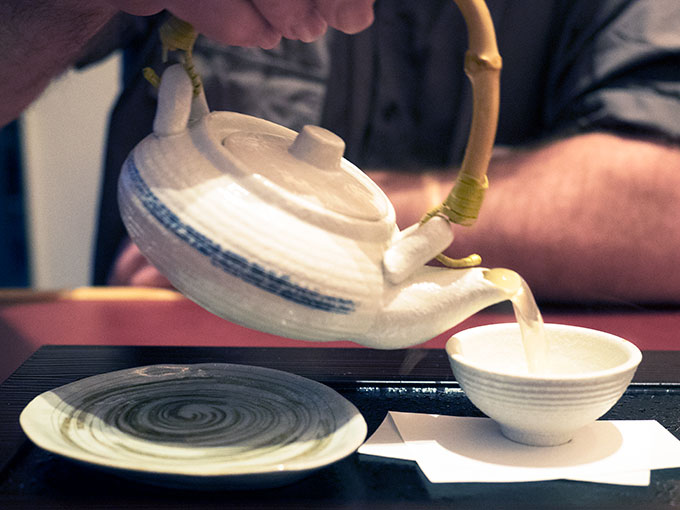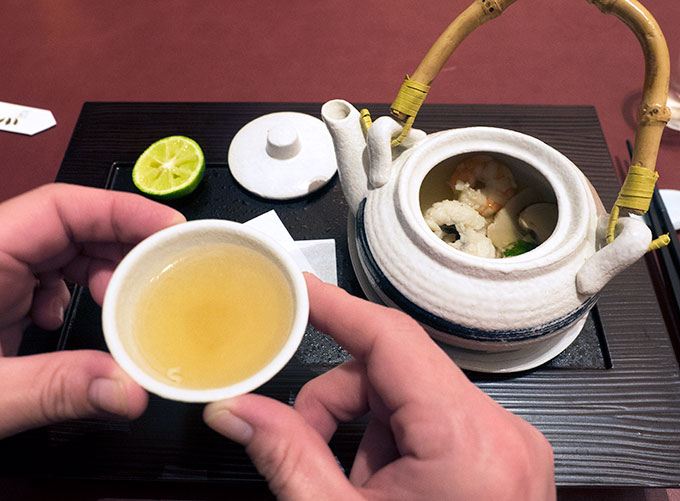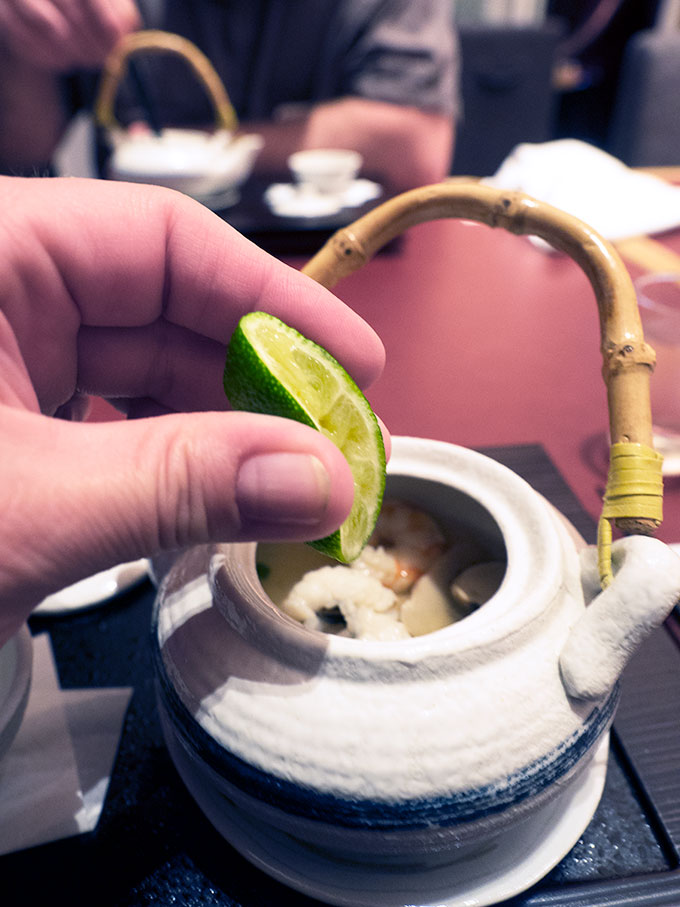 Omakase Course 2: The Teapot Soup is a whole lot of self theatrical fun. Hidden in the tea pot are Matsutake Mushroom, Prawn, Conger Pike Eel, Gingko Nut and Chicken with Chef Akiba's dashi being used as a soup base.
The idea is to pour the soup as you would tea and drink that as is. Once you have finished the "tea" open the teapot lid and give the ingredients a squeeze of sudachi and eat.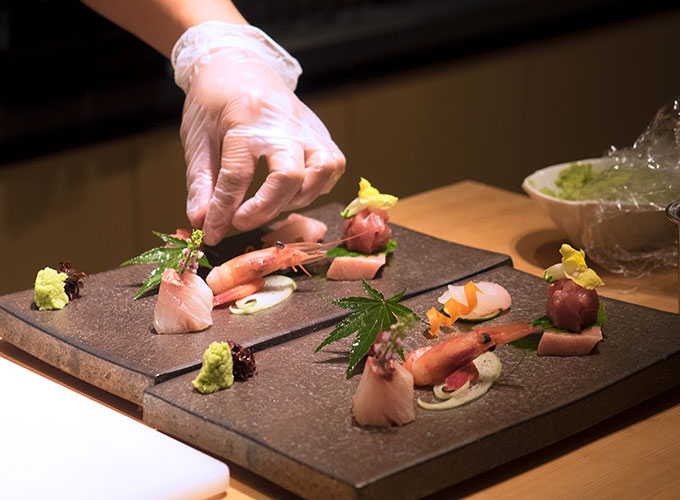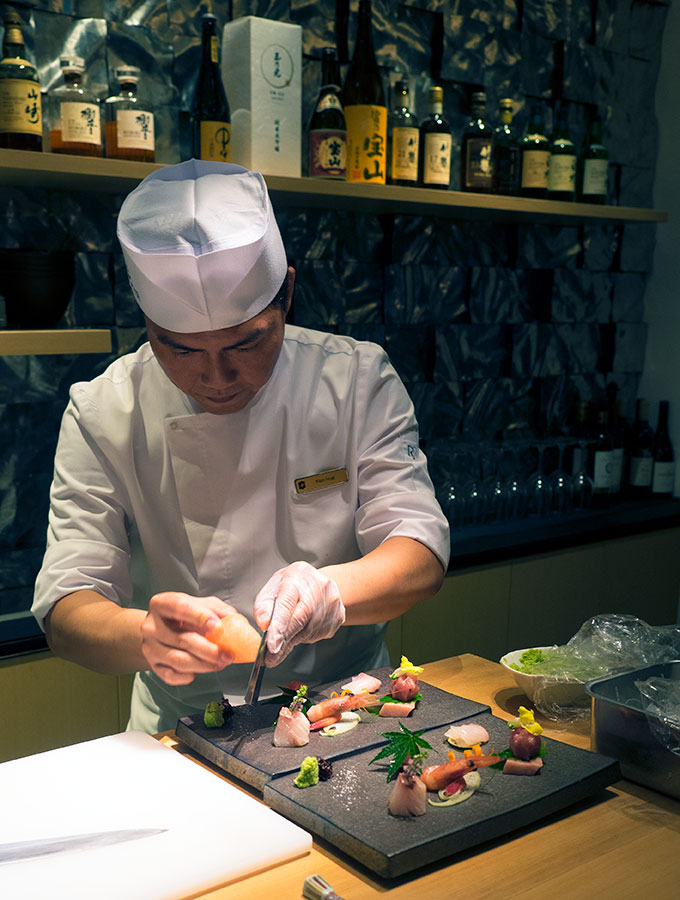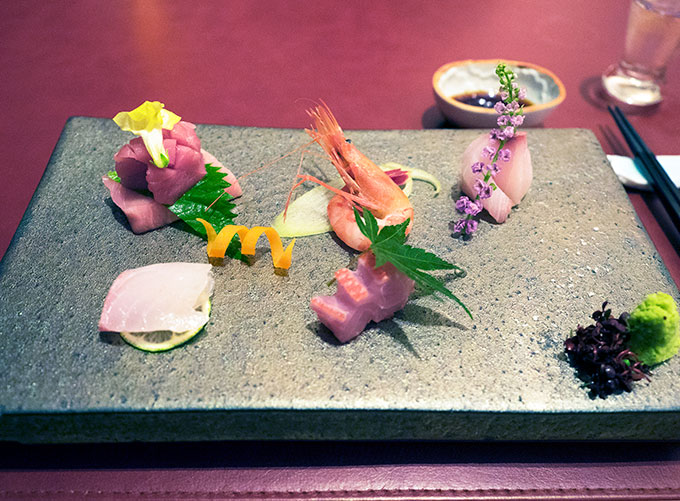 Omakase Course 3: Chef's selection of five kinds of sashimi. When we visited it was Thai breem, Amber Jack, Ebi (prawn), tuna belly and Emperor fish. It is served very simply with a sprinkling of Himalayan salt, some wasabi and soy on the side.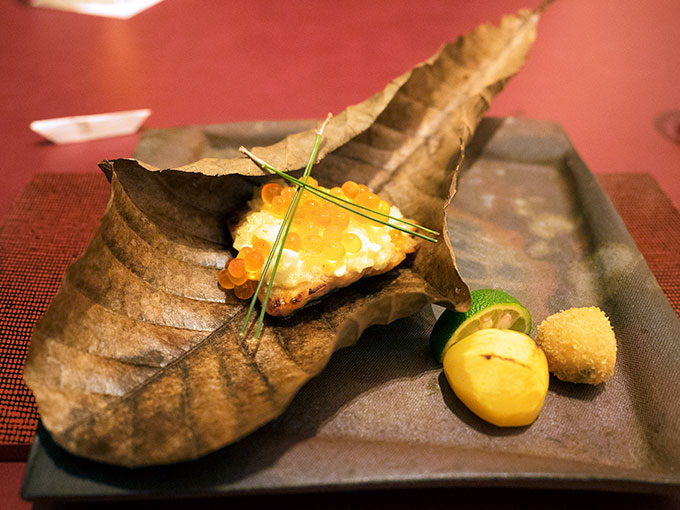 Omakase Course 4: Grilled Red Snapper is served on an autumnal Magnolia Leaf. Topped with Potato Salad with truffle, salmon roe and a couple of pine needles. On the side is salted yam and calamansi.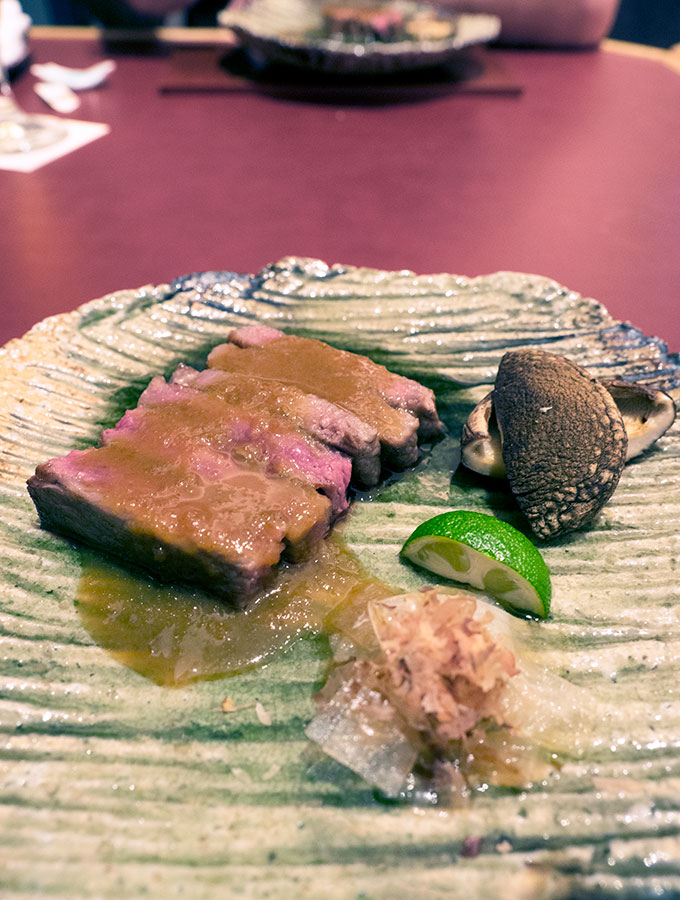 Omakase Course 5: There is a choice of two dishes for the fifth course, your main course. We decide on the Saga Steak. The steak is grilled medium rare and is served with a homemade steak sauce, grilled shitake mushrooms and Daikon topped with Bonito Flakes. The steak is tender with a delicious char from the grill.
Alternatively, you could have ordered Saga Beef in milk soup hot pot with Tofu, Japanese Mint Leaves, Shimeji Mushrooms and Yuzu.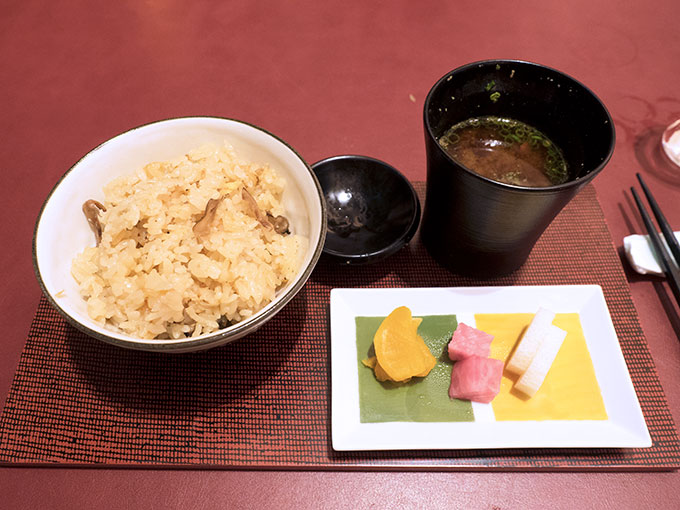 Omakase Course 6: Again there is a choice between two dishes for this course. We could have chosen the Himi Udon (cold udon noodles) instead we decided on the Matsutake Rice. Steamed rice with Matsutake mushrooms, and on the side Japanese pickles and miso soup.
The rice is flavourful with a lovely hit of umami from both the mushrooms and the dashi. The umami factor is give a plus one with the miso soup.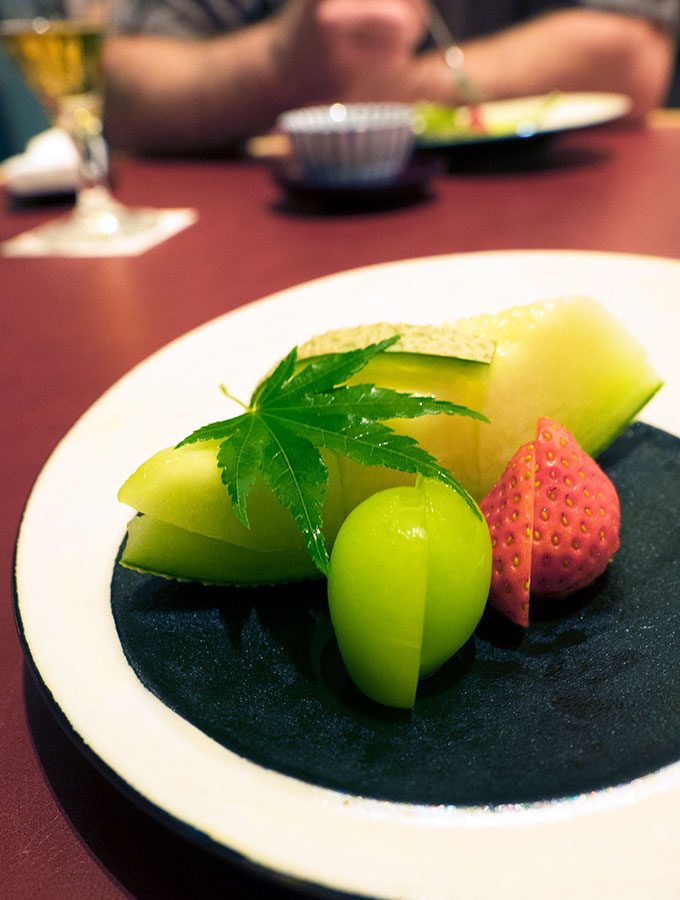 Omakase Course 7: Our final course and dessert. It is a simple affair of assorted Japanese fruits; Musk Melon (Shizuoka), Ichigo /Strawberries (Aomori) and Muscat/Grapes (Nagano). All the fruit was currently in season in Japan and flown in. The musk melon is very similar to a honeydew melon and the grape is sweet and seedless.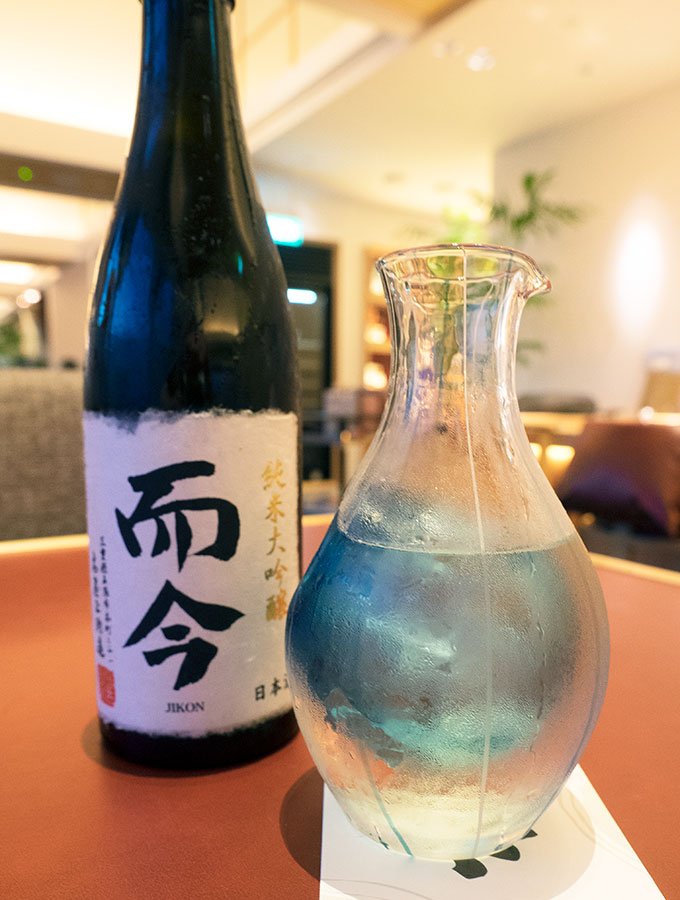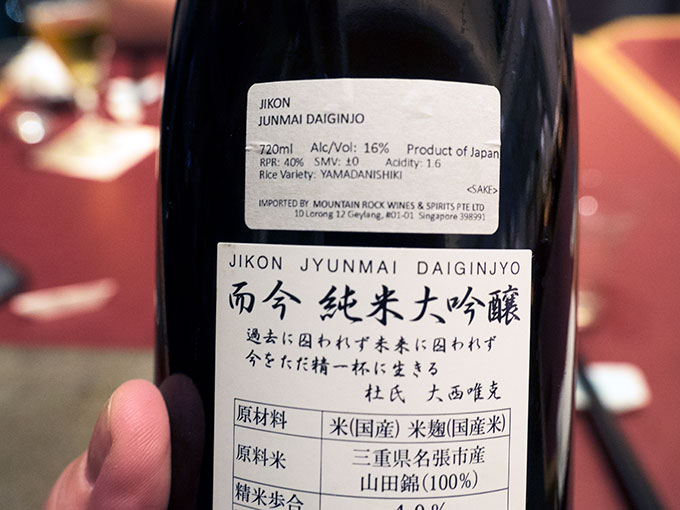 Along with our meal we enjoyed a divine bottle of Jikon Daiginjo sake (S$198/360ml) from the Mei prefecture in Japan.
There are a few places that you can sit to enjoy your meal at Nami Restaurant and Bar. We sat in the elevated section near the sushi counter. The sushi counter is the perfect place to sit and watch Sushi Chef Hiroyuki Ono expertly slice and create his sushi and sashimi delights. There is also the main part of the restaurant which runs along the floor to ceiling windows, amazing view. In addition to this, there is a small outside terrace where they are serving Japanese style tapas.
A delightful and relaxed space to enjoy a Japanese meal in Singapore with amazing views. It really was a delightful start to our stay in Singapore.
Sara xxx
We dined as a guest of Shangri-La Hotels with much thanks.
Who should dine here: Perfect for couples, business colleagues, or those after a sophisticated place to celebrate.
Who shouldn't dine here: I would leave the kids at home and make a night of it.
What else you should know: Book your reservation to coincide with sunset.
Price: 7-course Omakase S$190/person
BYO: No
Bookings: Yes and highly recommended
Opening hours: 12 - 2.30pm & 6 - 10.30pm (restaurant) 6 - 12 midnight (terrace)
Contact details: Shangri-La Hotel, Level 24 Tower Wing, 22 Orange Grove Road, Singapore Tel + (65) 6213 4398
Other Dining Options for Singapore
Mitzo Restaurant & Bar - Coffee BBQ Pork anyone?
Ce la vi - the best rooftop views in Singapore
Best Buffet Breakfast in Singapore - Live stations and food galore, you will be waddling out.