Turkey Roulade using turkey mince and a couple of select ingredients is the perfect budget Christmas recipe for those watching their wallets.
Christmas can cause a hell of a lot of stress for many of us. I'm lucky that my family is grown and with it the stress of Christmas has eased. But for many years I struggled to make Christmas "perfect" on zero budget. This resulted in tears and anxiety attacks.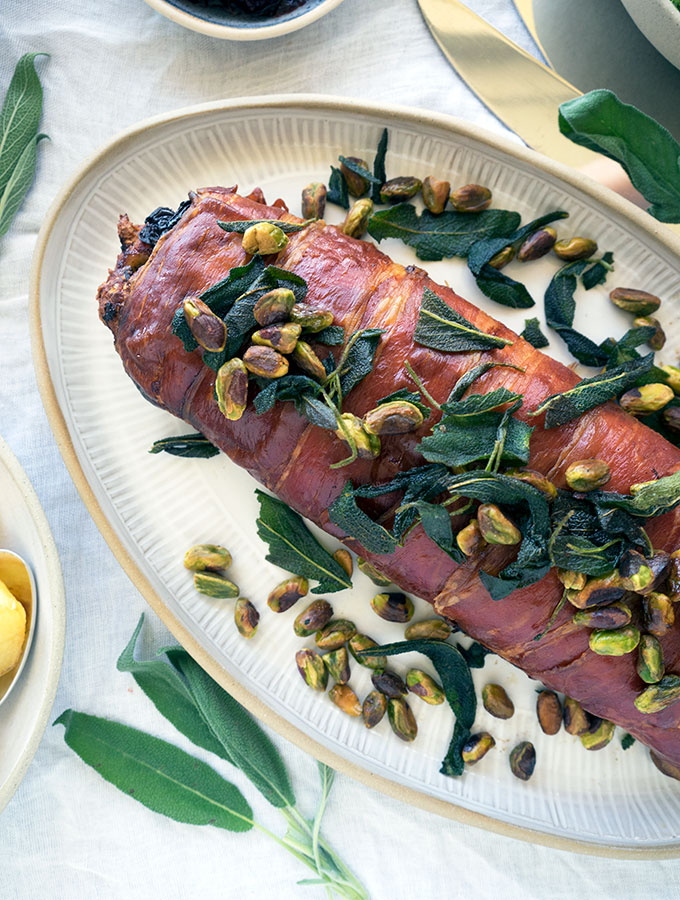 After presents the other main expense is Christmas dinner. Over the years I became creative and savvy with preparing the Christmas feast. We all want to do something special for our family. A Christmas dinner, which is both special and delicious. On a budget this can be very stressful. We are inundated with ads on TV showing the perfect turkey bigger than a small dog, the Christmas ham that looks like it could feed a tiny nation. To top this all off in Australia expensive seafood is everywhere we look. It can be damn depressing with a budget of only a few dollars.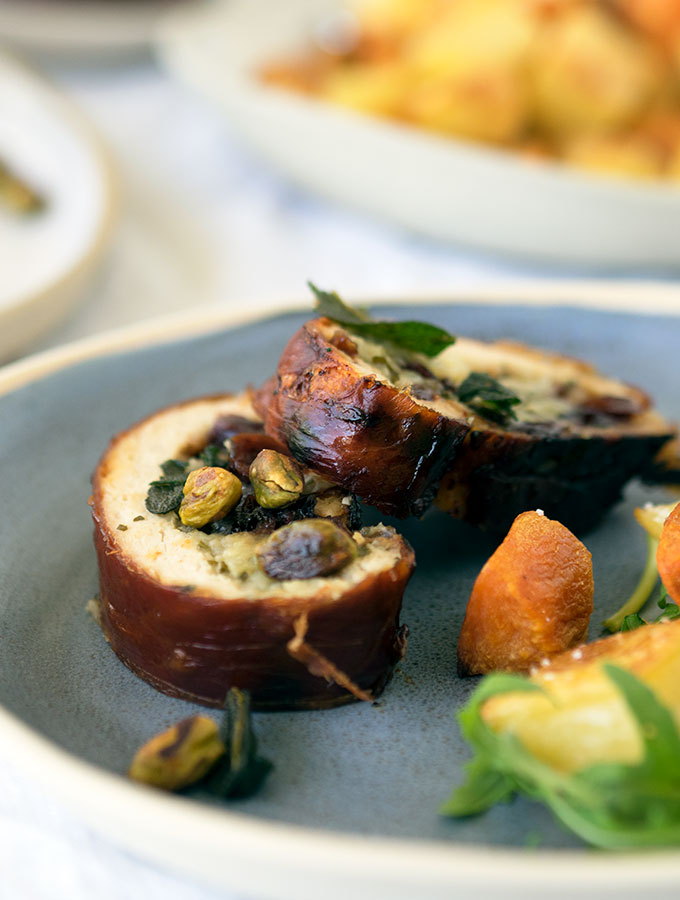 To help with your hip pocket I give you my Turkey Roulade recipe.
As people reach for turkey buffs and whole turkeys, why not reach for a packet of minced turkey breast (ground turkey). Doesn't sound all that glamorous I know, but it is the perfect base to create something pretty special on a budget.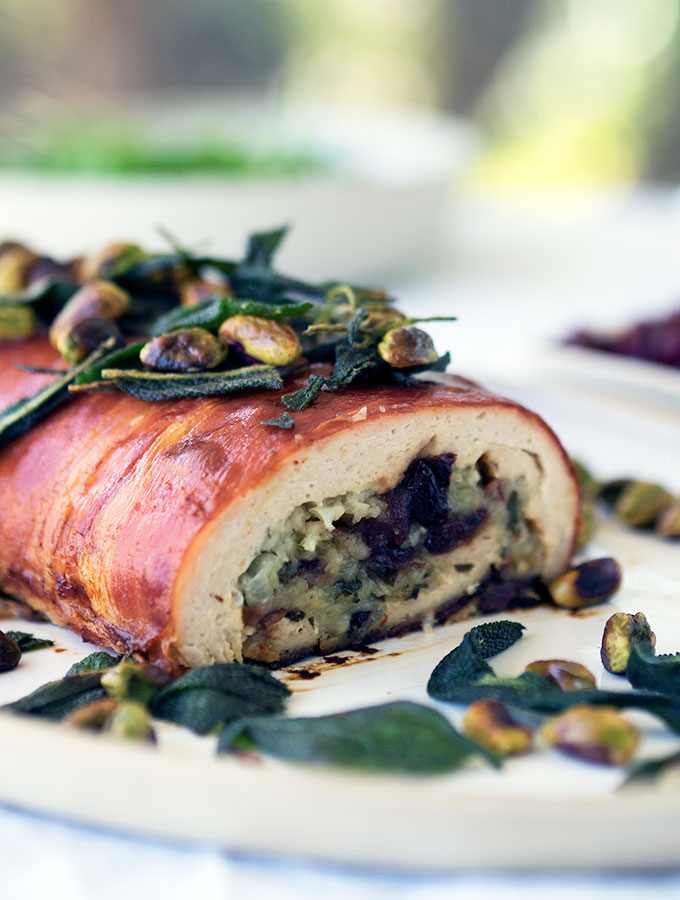 The stuffing of turkey roulade is a simple one with the addition of dried cranberries. If you don't want to spend a few dollars more for cranberries, they can be expensive, why not swap them out with humble sultanas. They will do exactly the same job, add a little sweetness and texture to the stuffing.
Wrapping the turkey roulade in prosciutto may sound fancy, but prosciutto isn't that expensive. My trick is to purchase it from the deli counter of your local supermarket or from a deli (it costs more pre-sliced in a packet). Ask for eight thinly slice pieces and you are getting a bargain flavour enhancing ingredient. Plus it looks pretty nifty wrapped around the roulade.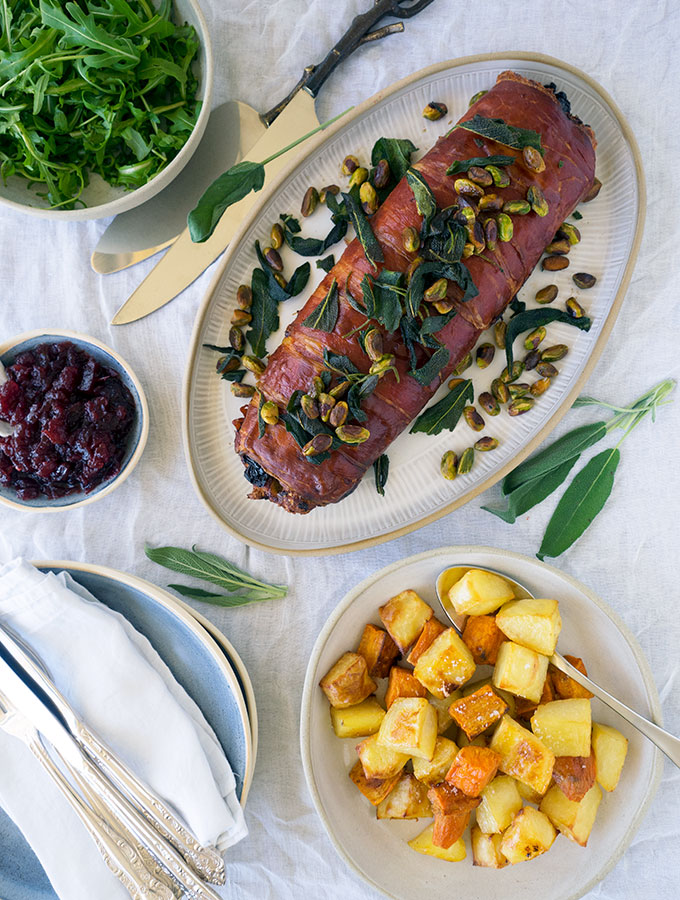 Sage isn't a herb we use everyday, therefore it's special and adds a lovely touch. Pistachios can be expensive, but you don't need many for this dish. If you happen to have walnuts or sliced/flaked almonds in the pantry why not use those, flavour wise they work well.
By adding fresh bread soaked in stock to your minced turkey, you get a flavour injection and some needed moisture. It will also make the turkey roulade a little tenderer once cooked.
Serve it up with some baked vegetables, a green salad and some cranberry sauce on the side. A feast that your family and your hip pocket will love.
Sara xxx
Printable Recipe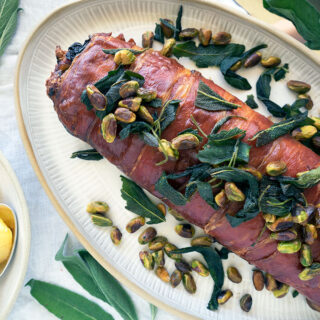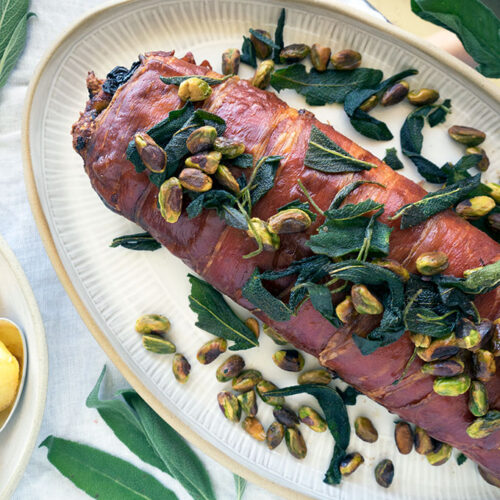 Turkey Roulade
A budget friendly turkey dish for Christmas
Ingredients
500

grams

turkey mince

2

slices

white bread, torn into small pieces (crusts removes)

½

cup

chicken stock

6-8

slices

prosciutto

1

tablespoon

olive oil

½

tablespoon

butter

1

small

onion, finely chopped

1

clove

garlic, crushed

1

granny smith apple, grated

(or another tart apple variety)

½

cup

bread crumbs (dry)

2

tablespoons

parsley, finely chopped

2

tablespoons

sage, finely chopped

½

cup

dried cranberries, chopped

1

orange, zest only
To Serve
1

tablespoon

butter

1

bunch

sage leaves

¼

cup

pistachio nuts
Instructions
Preheat oven 180 deg C (360 deg F)

In a medium bowl place bread and chicken stock. Mix well and place the bowl to the side. Leave the bread to soak up the stock and become soft.

Place a medium sized frying pan on the stove, medium heat.

Place oil and butter in pan, heat and melt butter.

Add onion to the pan and fry until soft and translucent (not browned). Then add garlic and fry over low heat for one minute.

Remove from heat and place in a large bowl, leave to cool while preparing the turkey mix.

Add turkey mince (ground turkey) to the panko crumb mixture. With your hands (use gloves if you wish) mix the panko crumb mixture thoroughly through the turkey. Place in fridge until ready to use.

In the large bowl containing your onion mixture add, apple, panko crumbs, parsley, sage, cranberries and orange zest. Mix well until combined.

On a piece of baking paper place your prosciutto slices side by side and slightly overlapping.

Remove turkey mixture from the fridge. Place mixture on a piece of plastic wrap on top of some baking paper (the baking paper adds support when rolling), flatten out into a rectangle around 2-3 cm thick. You want to make the turkey mince rectangle slightly smaller than your prosciutto slices.

Place stuffing mixture on top of turkey mixture. Carefully roll the turkey mixure and stuffing up into a sausage shape. Maxing sure the turkey completely surrounds the stuffing.

Unwrap the turkey "sausage" on top of your prosciutto. Place the "sausage" on one edge. Roll the turkey "sausage" up in the prosciutto.

Place turkey roulade on a baking tray lined with baking paper. Place in the oven and cook for around 45 minutes.

Place turkey roulade on a serving tray, loosely covered with foil while making the pistachio and sage topping.

In a non stick fry pan melt butter over a medium heat. When butter starts to foam add pistachios and sage leaves. Fry until sage leaves are crisp. Spoon mixture over turkey roulade and serve.
Measurement Notes
All measurements are Australian metric standard. All measures are level, and cups are lightly packed unless specified. 1 teaspoon = 5ml / 1 tablespoon = 20mls / 1 cup = 250ml /4 teaspoons = 1 tablespoon.
NUTRITIONAL INFORMATION
The recipe's nutritional information is an approximation based on an online calculator. It is meant solely for reference purposes. If you're looking for precise details, be sure to double-check with your own research.
Calories:
551
kcal
Carbohydrates:
45
g
Protein:
31
g
Fat:
29
g
Saturated Fat:
8
g
Cholesterol:
112
mg
Sodium:
410
mg
Potassium:
604
mg
Fiber:
7
g
Sugar:
18
g
Vitamin A:
890
IU
Vitamin C:
13.1
mg
Calcium:
226
mg
Iron:
5.3
mg
Did You Make This Recipe?
I do a happy dance when people share how they went. Tag me on Instagram or Twitter @bellyrumbles & #bellyrumbles