My black truffle chicken breast baked in milk recipe is an easy one to prepare with extremely tasty results. It is a simpler version of the Poulet en Demi Deuil, (chicken in half mourning) recipe I shared a few years ago.
Instead of wrestling with a whole chicken, chicken breasts still on the bone, with the skin on, are used. For those that have an aversion to meat on the bone, or that still has its skin on, unfortunately it is needed for this dish.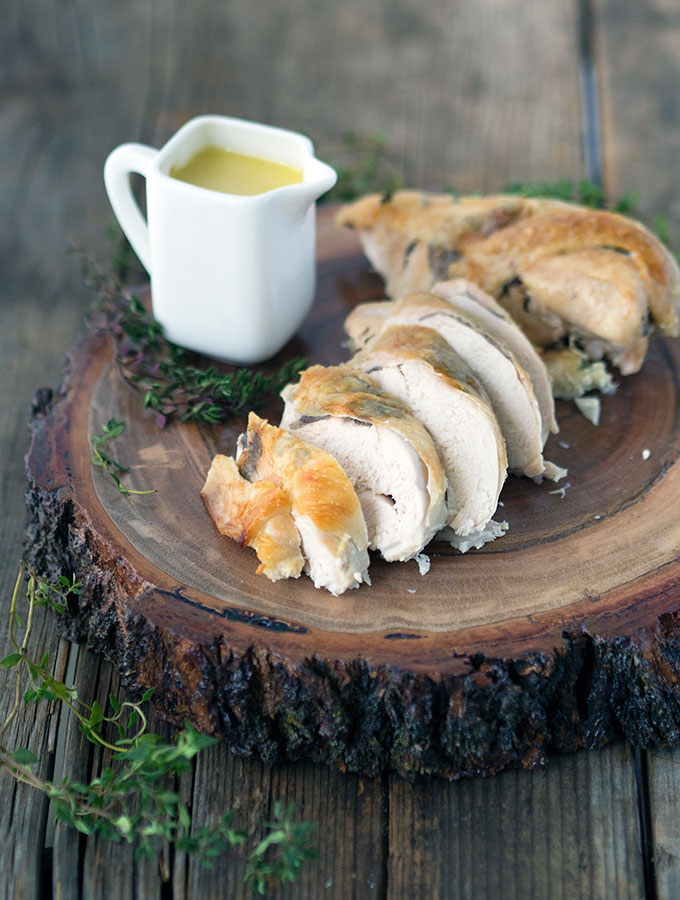 Firstly the black truffle for this black truffle chicken breast baked in milk needs to go somewhere. Just as with the Poulet en Demi Deuil recipe, slices of fresh black truffle are placed under the skin. This not only protects the truffle from drying out from baking, but the fat from under the chicken skin renders and bastes the chicken breast with the truffle flavour as it cooks.
Secondly, just like with fat, bone means flavour. As mentioned this recipe is a simple one, with only a handful of ingredients, therefore we need to add a depth of flavour from somewhere. This is where the bone of the chicken breast comes in to play.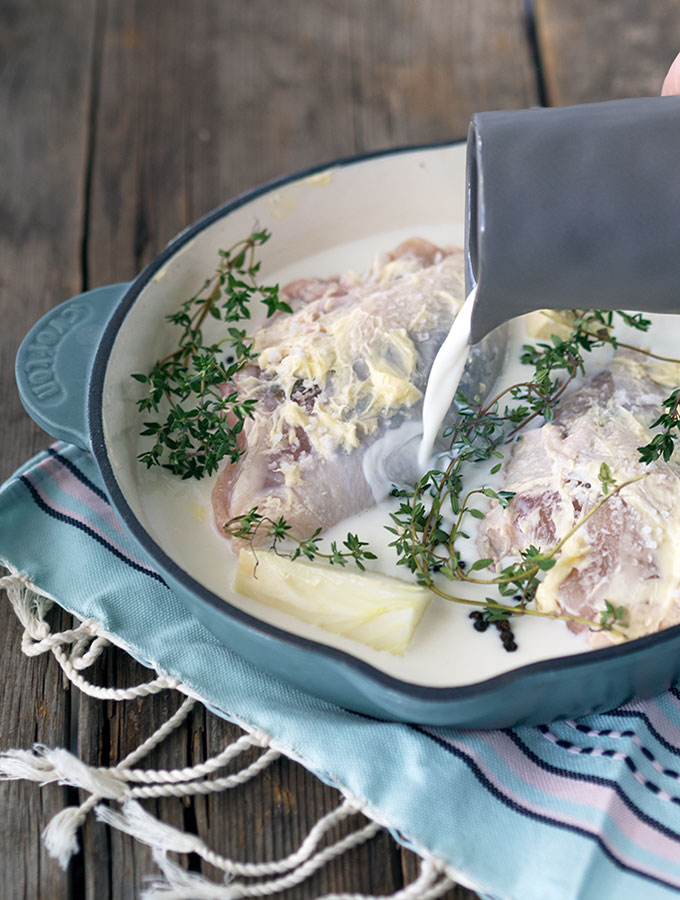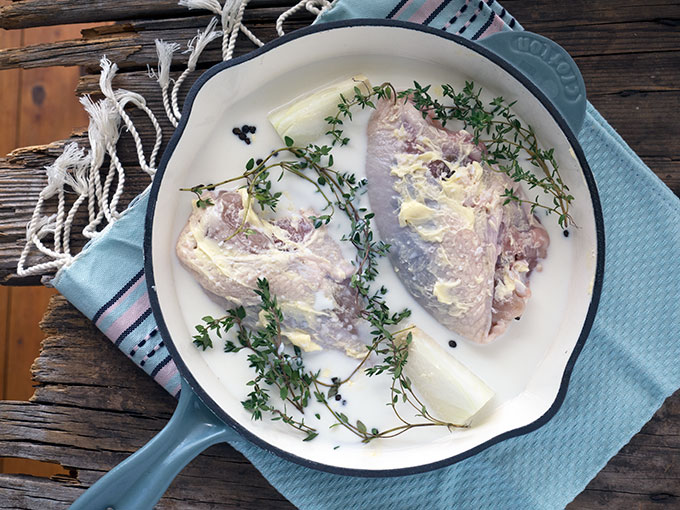 As the chicken cooks in the milk, the bone is submerged. The bone adds a richer chicken flavour to the milk, which could never be achieved by chicken breast alone. Think of it like making a milk stock. As this cooking liquid is then turned into a simple sauce for the finished dish, I am afraid bone on it is kiddies.
The bone °also gives the chicken breast more flavour during the cooking process, as well as protecting it from drying out. It really is a win win situation having the bone on. Of course you can make the decision to remove the breastbone from the chicken breast before serving, as I have done for the photos, but it really isn't necessary.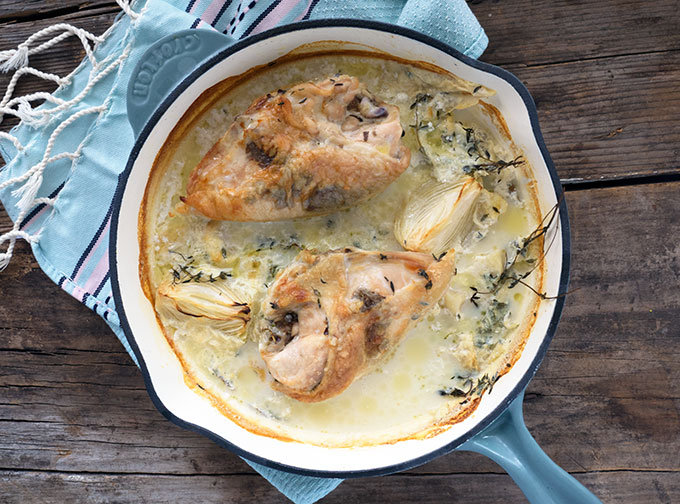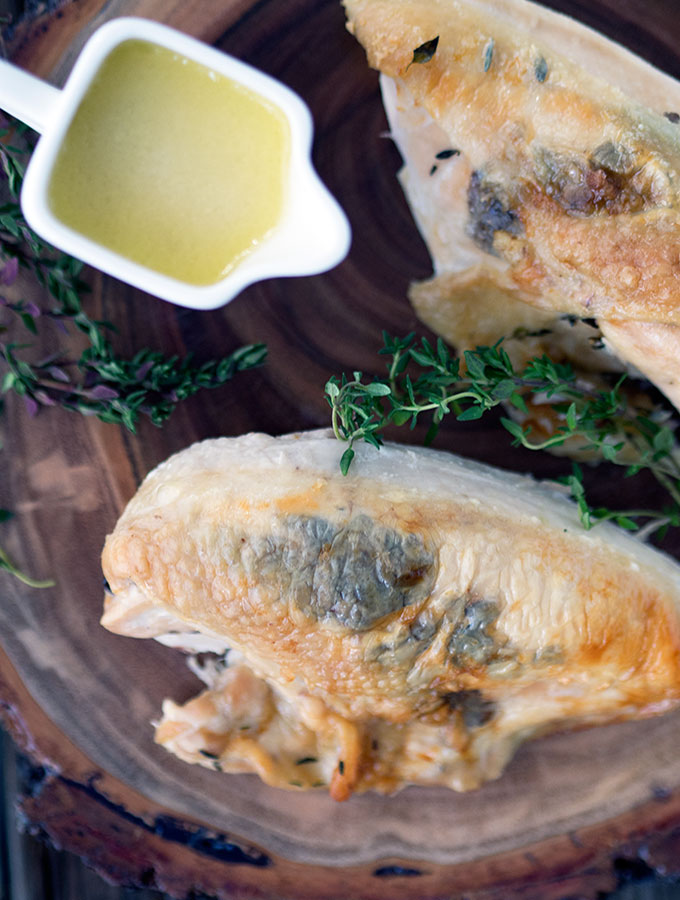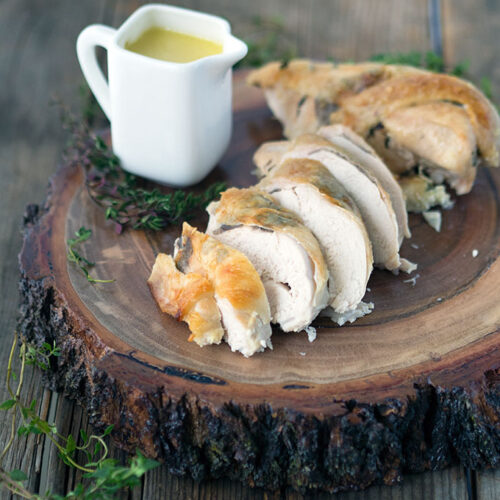 Cook Time
1
hour
10
minutes
Total Time
1
hour
20
minutes
Black Truffle Chicken Breast baked in Milk is a simple and easy version of poulet en demi deuil (chicken in half mourning). Super tender and juicy chicken with a simple but flavour packed sauce.
Ingredients
2

chicken breasts

-

bone and skin on

1

small perigord black truffle

1

tablespoon

butter

-

room temperature

1

small or ½ brown onion

2

cloves

garlic

-

bruised

2

dried bay leaves

½

bunch fresh thyme

1

teaspoon

of whole black peppercorns

500

ml

full cream milk

-

you may need more depending on the size of your baking dish

sea salt flakes for seasoning
Instructions
Preheat oven 160°C (320°F)

With your fingers carefully loosen the skin from the chicken breast by sliding your fingers under the skin from the top and thickest part of the breast. You will see that the skin is not connected here from the butchering process of the chicken. Be careful not poke a whole through the breast while you loosen the skin from the flesh.

Using a mandoline slice 3 or 4 slices per breast (depending on the size of your slices), and carefully place under the skin of the chicken breast. Gently rub the chicken breast with butter.

Place chicken breast (skin side up) in an adequate baking dish, one that is deep enough that the milk can come half way up the chicken breast. Then scatter onion, garlic, bay leaves, thyme and peppercorns around the chicken (not on top or underneath). Sprinkle chicken breast with sea salt to season.

Carefully pour milk into the baking dish, not over the chicken, but around it. Do not let the milk splash on to the chicken skin if it can be avoided.

Place chicken in the oven, uncovered, and bake for 1 hour, or until golden and cooked through.

Remove chicken from baking dish, place on a plate to rest while you make the sauce. Cover loosely to keep warm.

Strain the cooking liquid through a fine sieve into a saucepan. Over a medium heat reduce the cooking liquid by half. Stain the liquid again and place back on the heat with some extra grating of black truffle. Simmer for a further few minutes until it has reduced some more. Taste the sauce and season if necessary.

Serve chicken with the sauce immediately.
DID YOU MAKE THIS RECIPE?
I do a happy dance when people let me know, tag me on Insgragram @bellyrumbles #bellyrumbles
It is black truffle season on Australia at the moment. The reason for this easy black truffle chicken breast baked in milk recipe is due to being sent some lovely French Winter Black Truffles, also known as Perigord Truffles, from the team at Red Earth Truffles in the Southern Highlands of NSW.
You may remember that I created some recipes last year using Perigord Truffles from Red Earth Truffles. It has been a slow start to the season due to the truffle unfriendly weather we have had leading up to the normal start of harvest time which is June. But the truffles are starting to make a strong appearance on menus around town and are available to purchase from trufferies such as Red Earth Truffles.
If you get your hands on a Perigord Truffle do have a go at making my black truffle chicken breast baked in milk recipe, you won't be disappointed.
Sara xxx
More Black Truffle Recipes
Black Truffle & Parmesan Soufflés
Baked Brie with Black Truffles
Poulet en Demi Deuil (Chicken in Half Mourning)
Become a subscriber and don't miss a single delicious recipe, restaurant review or travel adventure.