What do you do when you have four egg whites left over from a scientific egg yolk experiment? You make chocolate swirl meringues with sea salt of course.
I am busily curing some egg yolks at present. Well actually I'm not doing a thing, the egg yolks are happily doing their own thing covered in a curing mixture in my fridge, and over the next few days they need absolutely zero attention from moi.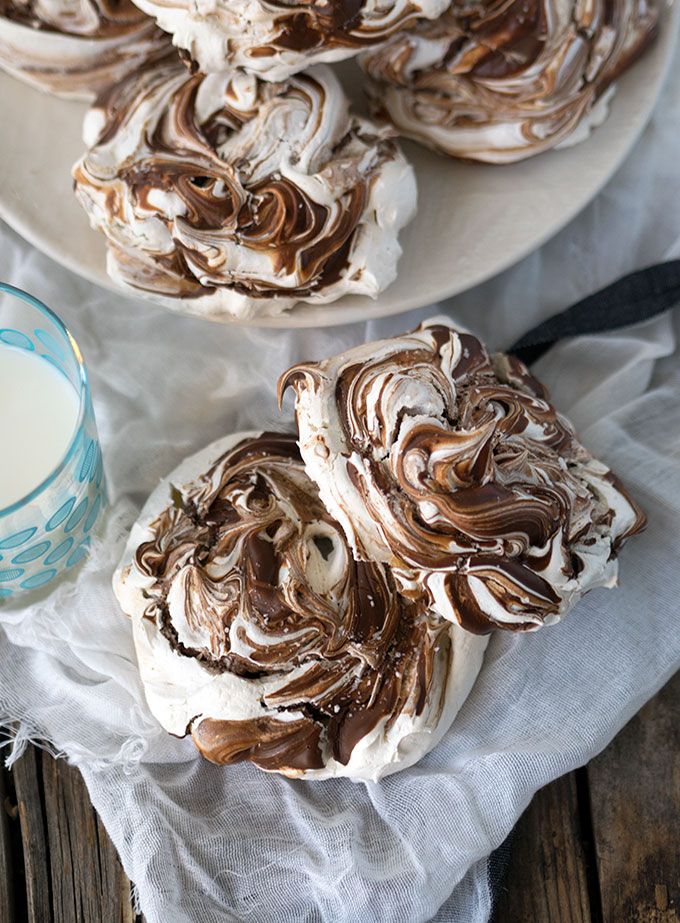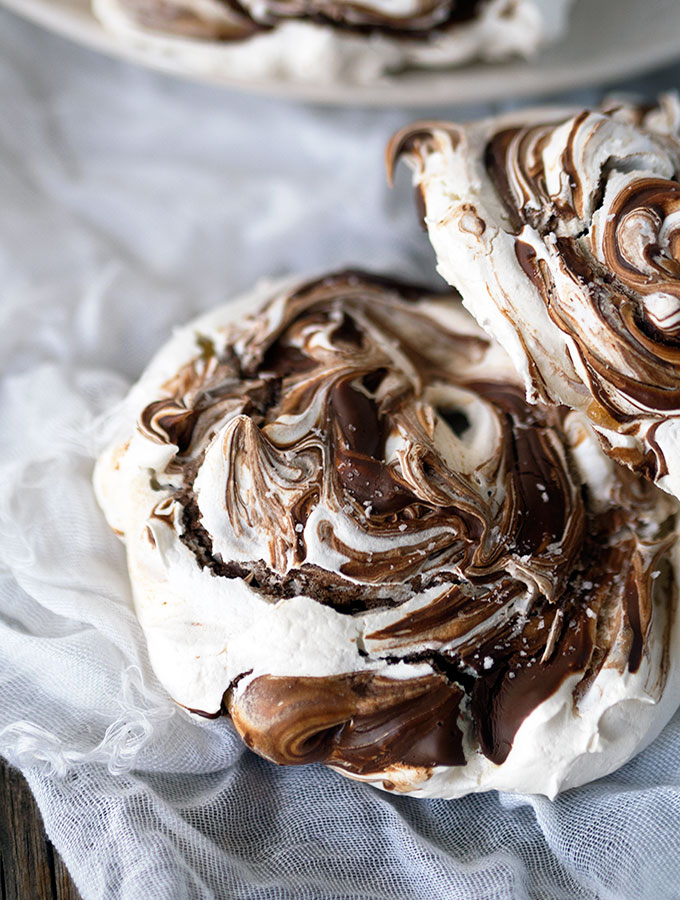 But this little culinary experiment over the weekend left me with four unloved egg whites. They could have found their way to the freezer to be used later down the track. Sadly that generally results in the egg whites making their way to the garbage many months later when they have over stayed their welcome.
As these were egg whites from beautiful free range eggs I had picked up from the local framers markets that very day, I really didn't want to see them turn into land fill in 12 months time. With chocolate on hand, these chocolate swirl meringues with sea salt were born.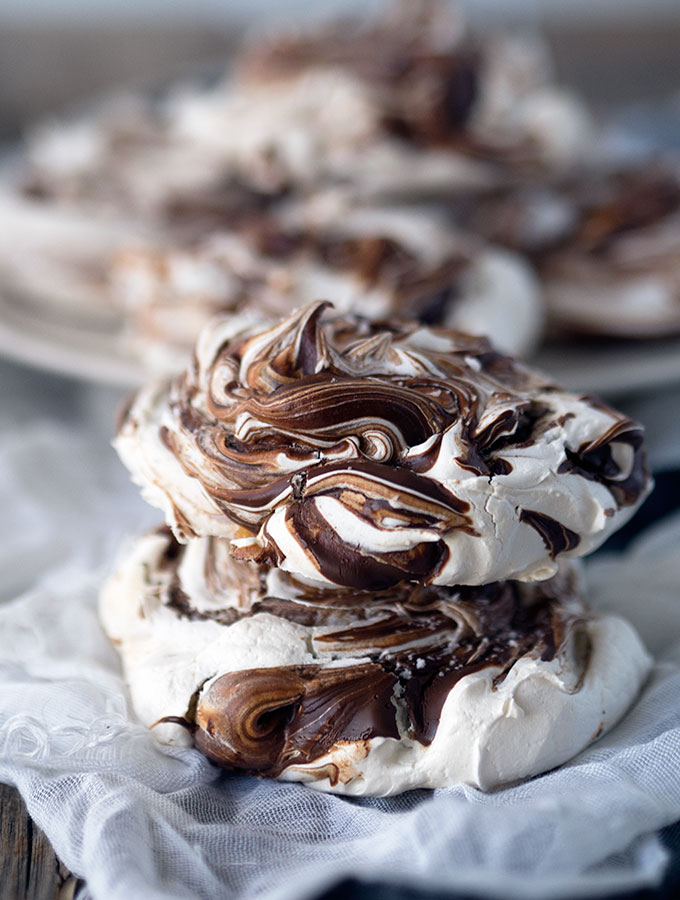 I have to give credit where credit is due, they are based on Donna Hay's Salted Caramel Swirl Meringues. As I feel Donna is a bit of a meringue queen, I generally find here meringue recipes are pretty fail proof.
I wasn't sure how successful they would be, but swapping the dulce de leche for dark chocolate worked perfectly. The meringue stayed stable while cooking and so did the chocolate.
Once out of the oven I had gorgeous white meringues with luscious dark chocolate swirled through. Crisp meringue shell with soft gooey meringue chocolate centres. The sprinkle of sea salt before baking provides a salivating contrast against the sweetness of the meringue.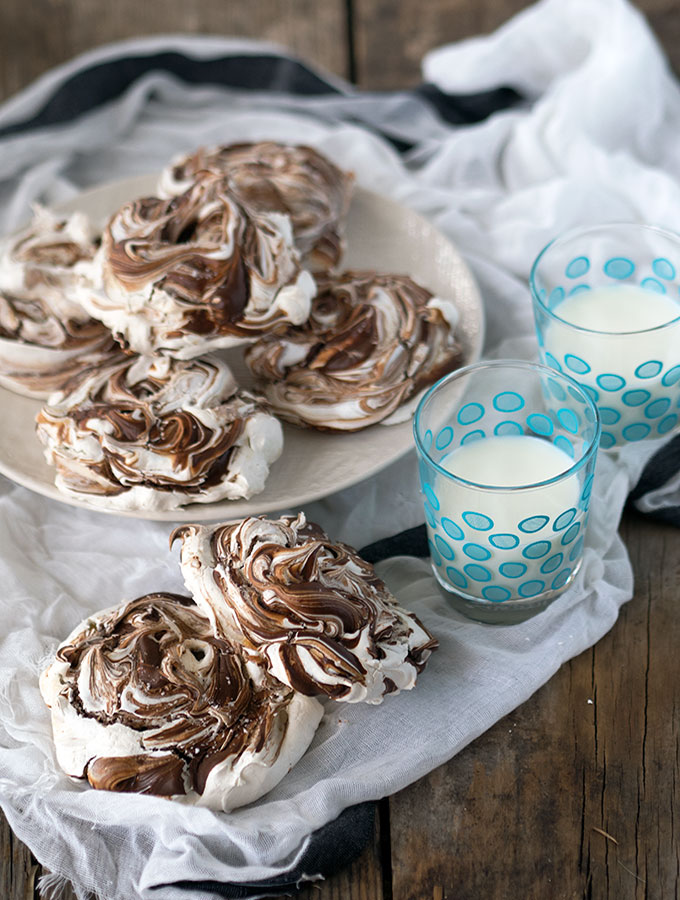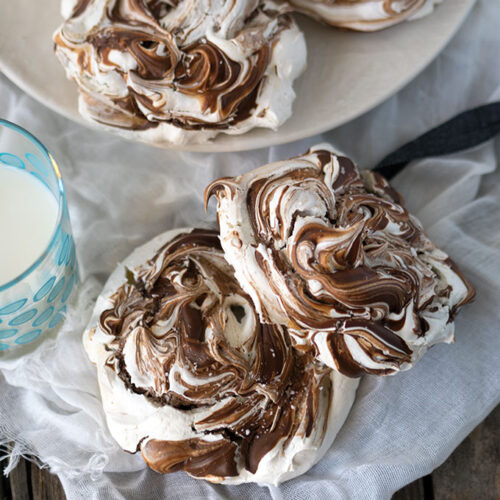 Total Time:
1
hour
20
minutes
4 egg whites (from large eggs) 220g (1cup) caster sugar (superfine sugar) 1 teaspoon white vinegar 100g dark chocolate sea salt flakes
Ingredients
4

egg whites

-

from large eggs

220

grams

(1 cup) caster sugar (superfine sugar)

1

teaspoon

white vinegar

100

grams

dark chocolate

sea salt flakes
Instructions
Preheat oven to 150°C (300°F).

Line two baking trays with baking paper which has 4 10cm circles drawn on each. Space the circles well apart.

Make sure the egg whites have come to room temperature.

If using a stand mixer place egg whites in stand mixer bowl, alternatively if using hand beaters place egg whites in a large bowl.

Using the whisk attachment, whisk egg whites on a high speed until stiff peaks form. Gradually add sugar, one tablespoon at a time, leaving around 1 minute before adding more. Once all the sugar has been added scrape down sides of bowl with a spatula and then continue whisking for a further 5 minutes or until the mixture is stiff and glossy.

Add vinegar and continue whisking for a further 2 minutes or until the mixture is glossy and vinegar has been thoroughly incorporated.

Melt chocolate in a microwave safe container, check and stir as you go.

Dollop mounds of meringue on the baking trays, divide the mixture evenly between the 8 circles. Flatten the tops of your meringue mounds slightly. Working with one meringue at a time, place 1 teaspoon of melted chocolate on top, then using a butter knife swirl the chocolate through and spread the mixture to the edges of the drawn circle. Continue with the remaining meringue mounds.

Sprinkle with sea salt flakes.

Reduce oven temperature to 120°C (250°F) and place trays in the oven. Bake meringues for 30 minutes, or until they are crisp on the outside when touched.

Turn the oven off and leave the meringues in there to cool for a further 30 minutes with the oven door closed. Then take out of the oven, remove from baking paper and leave on a cake rack to finish cooling. Store in an airtight container once completely cooled.
DID YOU MAKE THIS RECIPE?
I do a happy dance when people let me know, tag me on Insgragram @bellyrumbles #bellyrumbles
You will be surprised at how easy these chocolate swirl meringues with sea salt are to make, especially with such a visually stunning result. Plus they taste might good too.
We ate them just as they were, but they would make a great dessert topped with fresh whipped cream, some fresh berries and a few chocolate swirls.
Sara xxx
Become a subscriber and don't miss a single delicious recipe, restaurant review or travel adventure.