These black sesame doughnuts taste wonderful but it's the caramel miso glaze that makes them shine. A bit like the Nutella cream in the hazelnut sponge I posted a little while ago, I couldn't seem to keep my fingers out of the bowl, once glazing had finished, to scoop up the remaining drips and dribbles.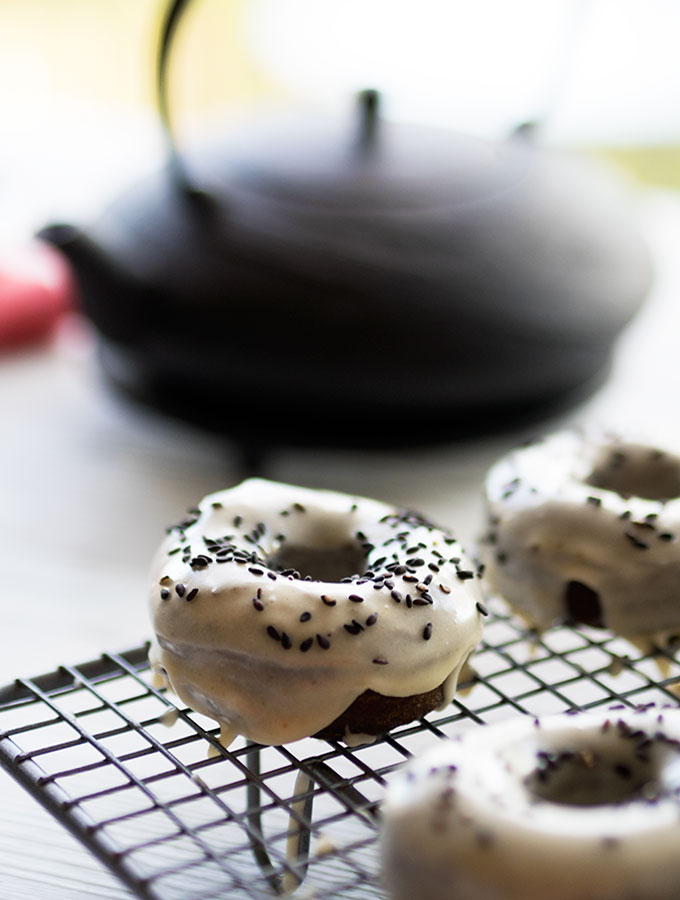 I use black sesame paste in these black sesame doughnuts, also known as Nuri Goma in Japanese. You will be able to find it in Japanese or Asian grocery stores. It is one of those staple items I keep in my fridge. I use it in baking quite a bit, but it is just as nice spread on toast or fresh bread.
Please note that Nuri Goma is not the same as black tahini. Nuri Goma is made using roasted black sesame seeds and is sweetened with sugar or honey. Black tahini is made with oil, the sesame seeds aren't roasted, and it has a completely different taste and texture.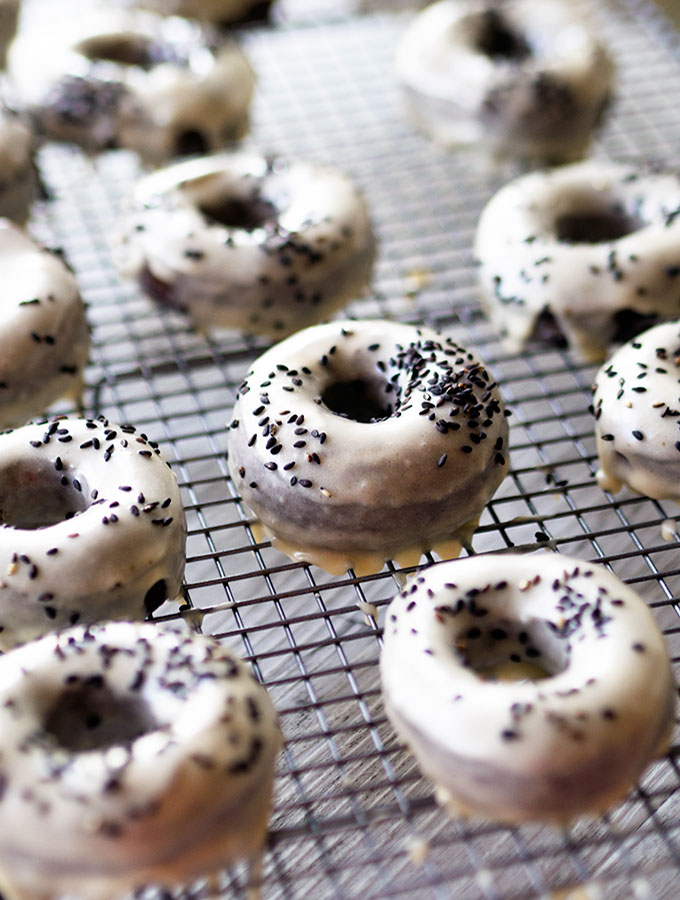 If you can't find Nuri Goma or are slightly turned off this recipe by having to purchase a special item, don't be. You can easily make Nuri Goma at home. Roast ½ cup of black sesame seeds, then blitz in a mini processor with 4 tablespoons of honey. This will yield you around 6 tablespoons of Nuri Goma and just enough for this recipe. Now how easy was that!
Actually why I buy it I'm not quite sure, it really is simple to make. Oh hang on, I forgot, I'm lazy!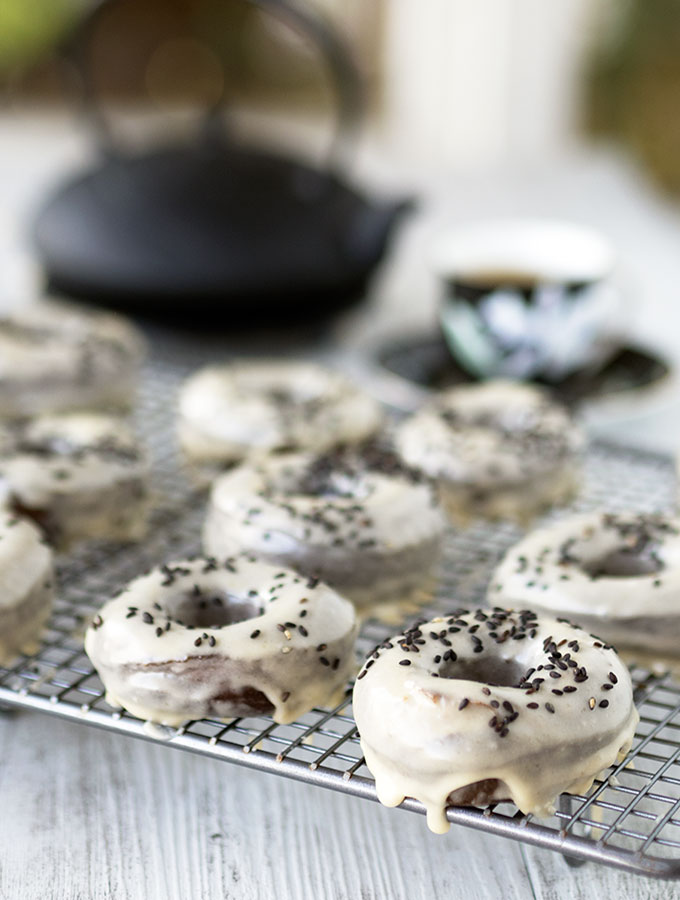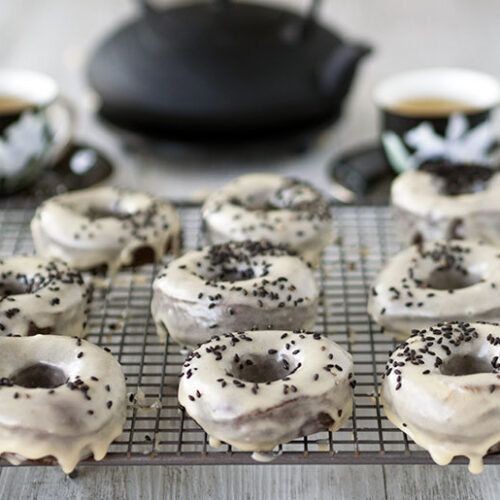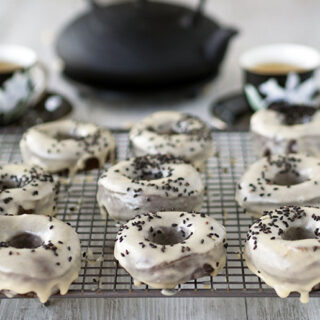 Black Sesame Doughnuts
Black Sesame Doughnuts made with black sesame paste (nuri goma). Dunked in moreish caramel miso glaze. A very tasty fusion recipe.
Ingredients
180

ml

(¾ cup) milk, lukewarm

3

teaspoons

dry yeast

55

grams

(¼ cup) caster sugar (superfine sugar)

300

grams

(2 cups) plain flour, plus extra for kneading & dusting

1

egg yolk

1

whole egg

60

grams

(¼ cup) black sesame paste

canola oil for deep frying
Instructions
In a small bowl place lukewarm milk, yeast and 1 tablespoon of caster sugar. Mix the ingredients until combined and leave in a warm place for 10 minutes or until the surface of the mixture foams.

If you have a stand mixer with a dough hook attachment, then use it.

In bowl of your electric stand mixer place the remaining caster sugar, flour, egg yolk, whole egg, black sesame paste and yeast mixture. Using your dough hook attachment beat on a low speed for 5 minutes or until the dough is smooth and elastic.

If you don't have a mixer with a dough hook, then unfortunately you are going to have to knead the dough the old fashioned way. Bring ingredients together in a bowl until a rough dough has formed. Then on a lightly floured surface knead dough until it becomes smooth and elastic.

Place dough in a lightly greased bow and cover with plastic wrap. Set aside in a warm location for around an hour or until the dough has doubled in size.

Once dough has risen turn it out on to a lightly floured surface and knead for 5 minutes or until dough is once again smooth and elastic.

Roll dough out until it is 1cm thick. Using an 8cm (3 inch) doughnut cutter, cut out doughnuts from the dough.

Re-roll left over dough and cut out more doughnuts.

Place cut doughnuts on non stick baking paper on a tray and cover loosely with plastic wrap. Place in a warm area and leave to rise for around 30 minutes or until doubled in size.

Fill a large saucepan half way with oil and place over a medium heat until the temperature reaches 180°C (350°F). Fry the doughnuts a few at a time, 30 seconds on one side and then 30 seconds on the other side until brown and cooked through. Placed cooked doughnut on a cake rack lined with absorbent paper (kitchen towel) to cool.

Once cool dip doughnuts in caramel miso glaze, sprinkle with sesame seeds if you desire, and leave on a cake rack to set.
Did You Make This Recipe?
I do a happy dance when people share how they went. Tag me on Instagram or Twitter @bellyrumbles & #bellyrumbles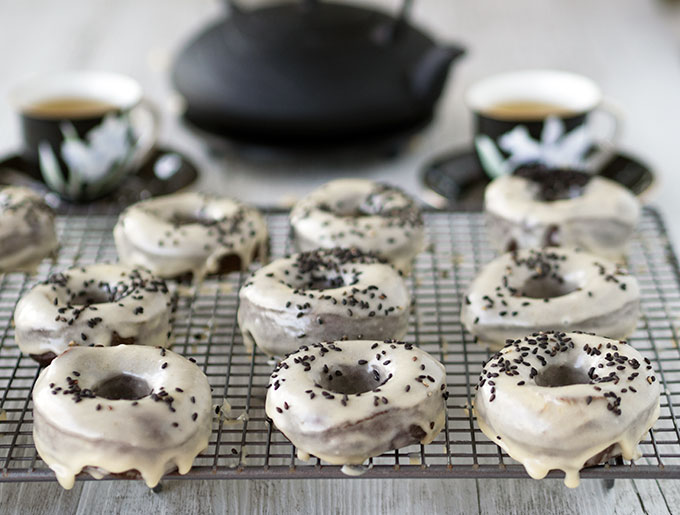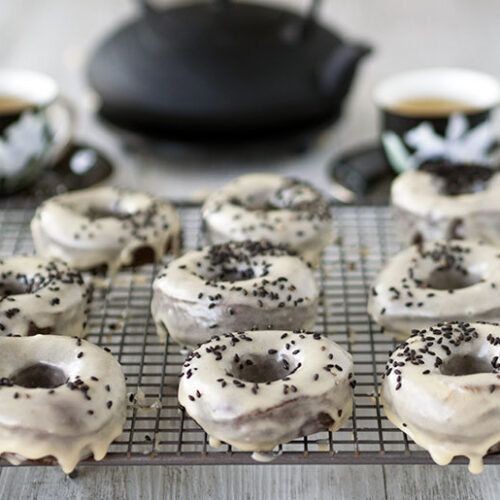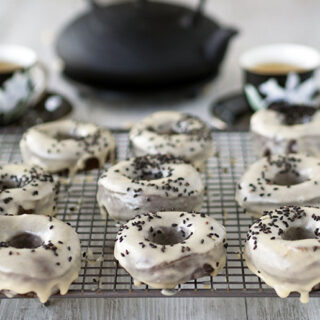 Caramel Miso Glaze
Caramel Miso Glaze for my Black Sesame Doughnuts. Super easy to make and can be used with a variety of baked goodies, not just the doughnuts.
Ingredients
30

grams

(2 tablespoons) butter

8

teaspoons

(2 tablespoons) brown sugar

4

teaspoon

(1 tablespoon) shiro miso paste

320

grams

(2 cups) icing sugar (confectioners sugar) sifted

60

ml

(¼ cup) boiling water
Instructions
Place icing sugar in a medium bowl.

In a small saucepan melt butter. Add brown sugar and miso, stir until completely combined and sugar has dissolved. Add boiling water and mix.

Pour miso butter mixture into your icing sugar and mix thoroughly. Use immediately.
Nutrition
Calories:
105
kcal
Carbohydrates:
23
g
Fat:
1
g
Saturated Fat:
1
g
Cholesterol:
4
mg
Sodium:
57
mg
Potassium:
2
mg
Sugar:
22
g
Vitamin A:
50
IU
Calcium:
1
mg
Did You Make This Recipe?
I do a happy dance when people share how they went. Tag me on Instagram or Twitter @bellyrumbles & #bellyrumbles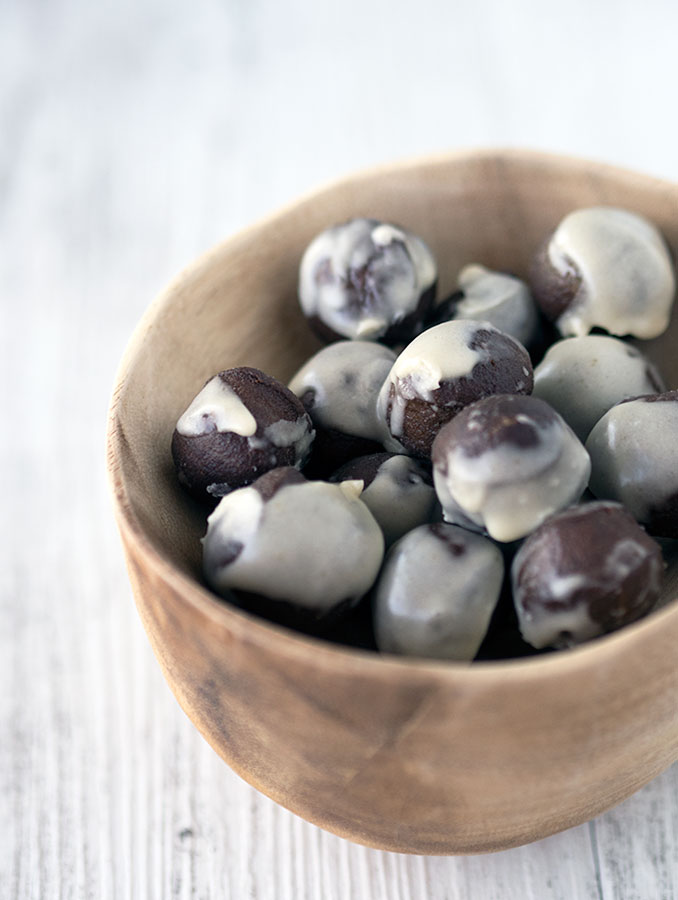 I also fried up the doughnut holes and the scrappy pieces of left over dough. The scrappy pieces were eaten non iced and as soon as they were cool enough to handle. I decided to dunk the black sesame doughnut holes also in the glaze, but Josh came up with a great idea after I had dunked the lot. Why not toss them in some matcha sugar? This would have been not as messy and quite tasty. Actually that almost sounds like another recipe post doesn't it!
Sara xxx
Become a subscriber and don't miss a single delicious recipe, restaurant review or travel adventure.