This is the best matcha white chocolate cheesecake recipe that you will come across. Smooth, creamy, baked perfection with an Oreo base. All topped with decadent dark chocolate ganache.
I find that people either love matcha or really don't think that much of it at all. You may also know matcha as Japanese green tea. Don't mistake matcha with loose leaf or green tea in teabags. It is finely ground powder from specially grown green tea leaves, and is used in traditional Japanese tea ceremonies called chanoyu or sado.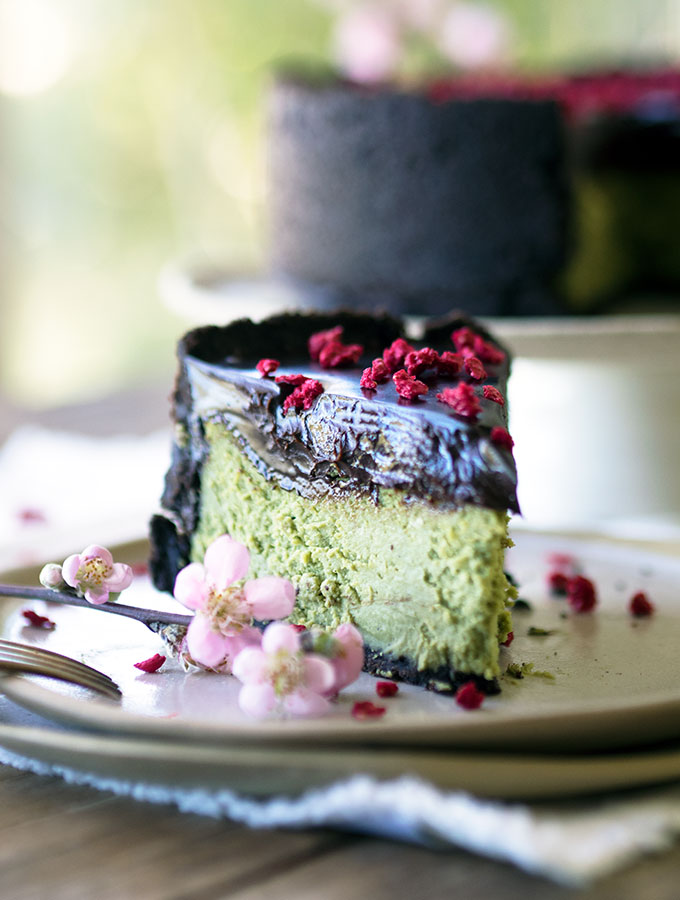 Matcha can be fickle to use as an ingredient. Too much will make your dish bitter. Too little and you lose that recognisable green colour.
It is a fine balance between taste and looks, but I've found the perfect balance. Not too much, but you still have that distinctive matcha colour. Enough for the matcha and white chocolate to harmonise and create something quite delicious.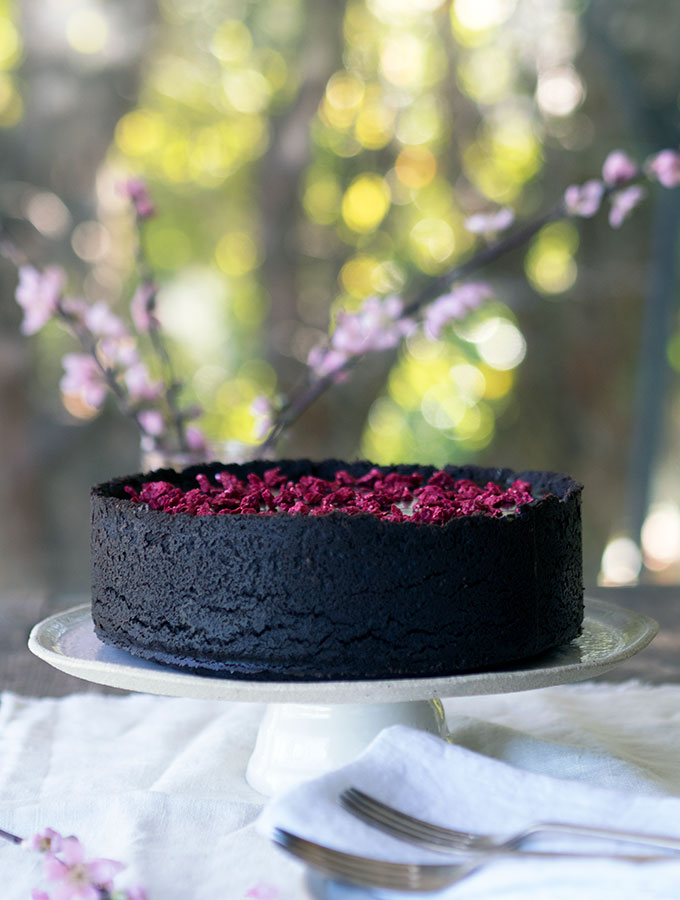 This matcha white chocolate cheesecake is baked. There are quite a few non baked cheesecake recipes on Belly Rumbles, Cheeselova, Strawberry Cheesecake, Lemon Myrtle Cheesecake. We were rather lacking in the baked department. This recipe is for those of you that hate using gelatine but still love a smooth and creamy cheesecake.
The trick to the smooth and creamy texture of this baked matcha white chocolate cheesecake is baking at a low temperature and then leaving it to cool in the oven.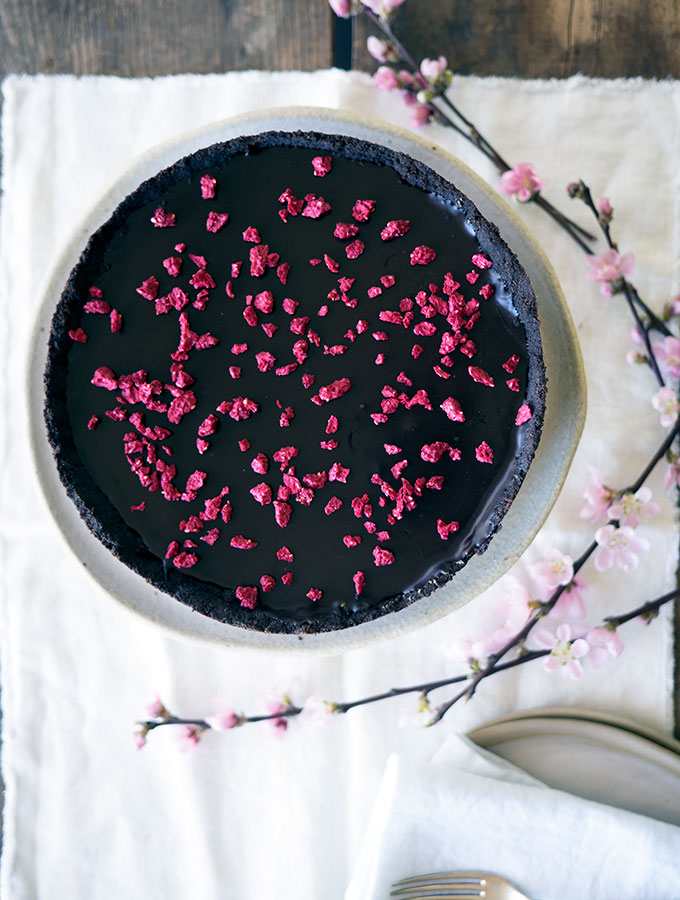 I use salted butter in the crunchy Oreo base, as I wanted to add a slight saltiness to those sweet dark Oreo biscuits. It really rounds out the flavours when you take into consideration the decadent dark chocolate ganache topping.
The cheesecake is simply decorated with freeze dried strawberry granules. Please do not go running out to buy the granules unless you really really want to.
I'm sure you have a friend that goes gaga over stationery and tends to purchase bits and pieces all the time. That's me but with ingredients. I just happened to have some freeze dried strawberries in the cupboard (as you do……). If using freeze dried strawberries, place them on the cheesecake when serving. Otherwise, they will go soggy after some time.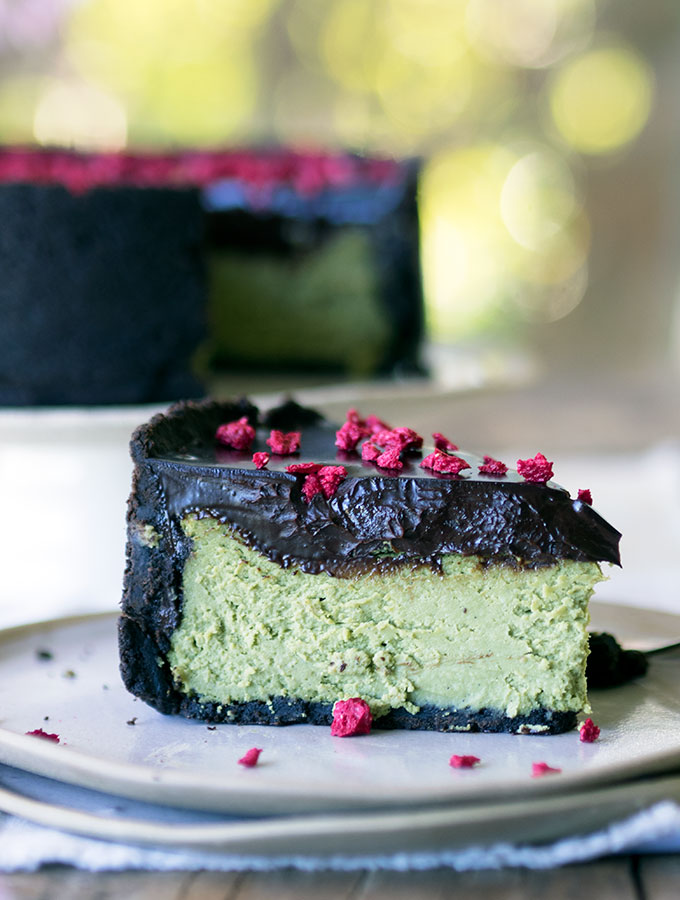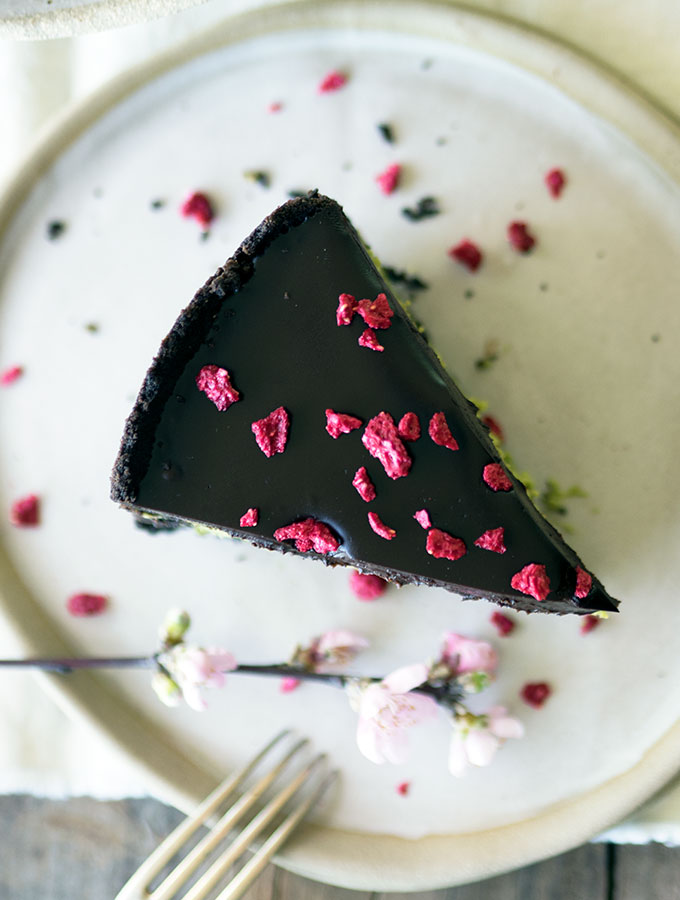 I suggest fresh strawberries as the perfect alternative to top your cheesecake. You could also use grated white chocolate or shards/curls.
We have some other delicious matcha recipes you will love; Matcha Financier Hearts, Green Tea & Lemon Myrtle Crème Brulee and Beer Battered Mushrooms with Green Tea Salt & Yuzu Mayonnaise.
I am sure you are going to love my matcha white chocolate cheesecake. Visually a bit of a showstopper, which makes it the perfect cheesecake for those special occasions.
Sara xxx
Become a subscriber and don't miss a single delicious recipe, restaurant review or travel adventure.
Other Cheesecake Recipes
Basque Burnt Cheesecake - four ingredient cheesecake sensation
Cheeselova - the love child of cheesecake and pavlova
Baked White Chocolate and Mango Cheesecake - creamy cheesecake topped with summery mangoes
Chocolate Cheesecake Crackle Pie - chocolate crackle shell with chocolate cheesecake filling
Strawberry Cheesecake Sponge Cake - when light and airy sponge and strawberry cheesecake collide
Lemon Myrtle Cheesecake - A creamy taste of Australia with a macadamia base
Baked Anzac Cheesecake - All the flavours of an Aussie ANZAC biscuit in cheesecake form