Light as air Blood Orange Chiffon Cake decorated with blood orange icing, Persian fairy floss and pretty edible flowers.
My popular Vanilla Rose Chiffon Cake is my go to when making a chiffon cake. A faultless recipe that produces a tall and light as air cake every time. Being a vanilla cake it's the perfect base for other flavours and different toppings.
I tweaked this recipe to come up with a Blood Orange Chiffon Cake. I haven't detoured too far from the original recipe. By simply adding zest from the blood oranges the cake takes on a subtle orange flavour.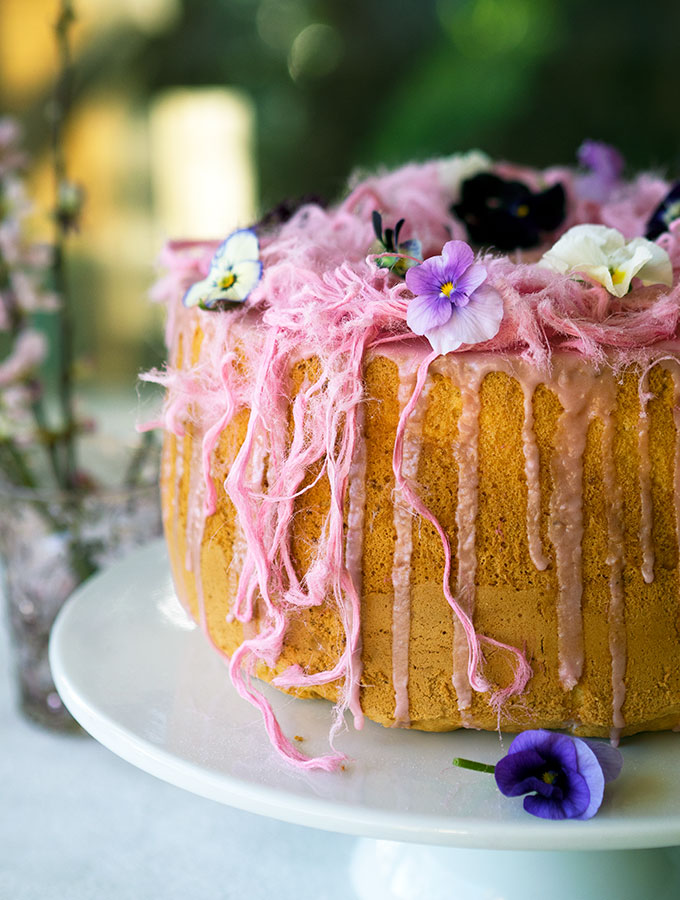 What appeals to me most about blood oranges is their colour. Sure I love their taste, but it's so much fun playing artist by colouring creations with blood orange juice. Icing ends up a gorgeous natural pink colour. Of course, the intensity and hue depend on how red the blood oranges are.
Have you ever purchased blood oranges and been disappointed with the flesh colour when you got home? I know I have. It's such an anticlimax.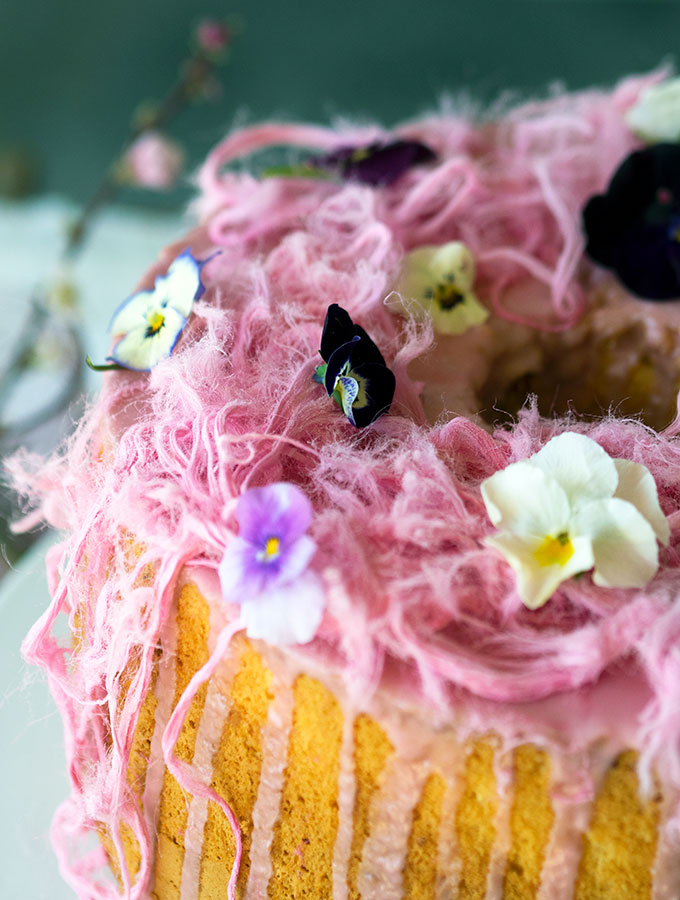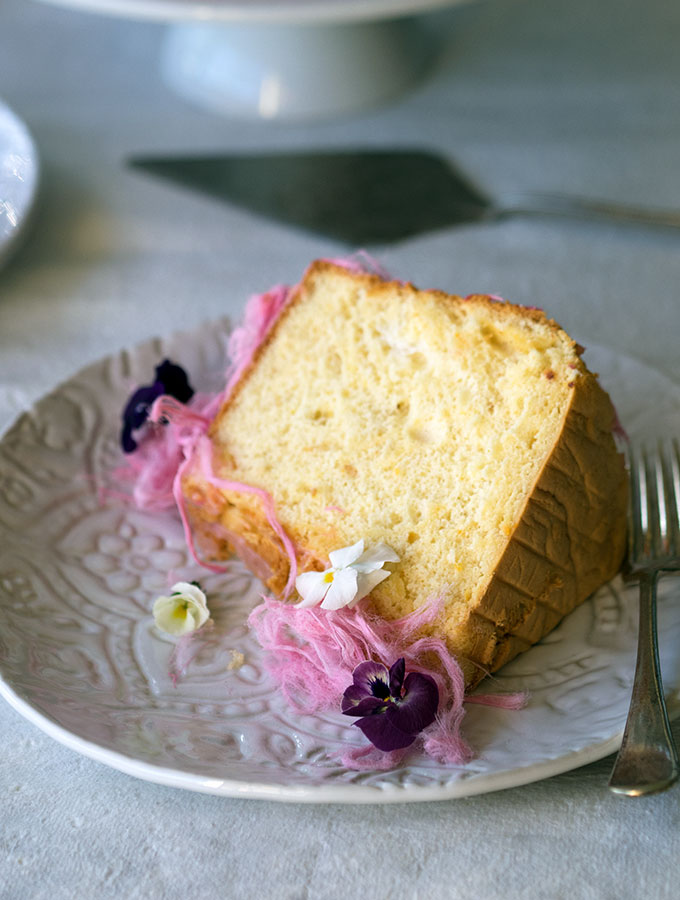 How I pick blood oranges, which I'm not sure is a proven method or just pure luck, is via the colour of their peel. If the blood orange peel has a ruby blush then (for me) it's a good indication the flesh be gorgeously red.
Blood oranges with a ruby blush to the peel have a more intense red flesh.
When reading the recipe you may question why I place the blood orange zest in the oil at the start of the recipe. I've mentioned this before and I will again. Oil and butter are fantastic flavour carriers. When creaming butter add your citrus zest at this time as the butter will hold the oils the zest releases and evenly distribute the flavour through your cake.

As we are using oil in this case, it is a similar concept. The zest will infuse into the oil, and in theory spreading the flavour love that little bit further.
There was a moment of regret when I was decorating. I'm still debating if I went overboard with the pink Persian fairy floss. I had the perfectly baked blood orange chiffon cake drizzled with blood orange icing. The problem was the floss was making it look like a shaggy pink Jim Henson Muppet.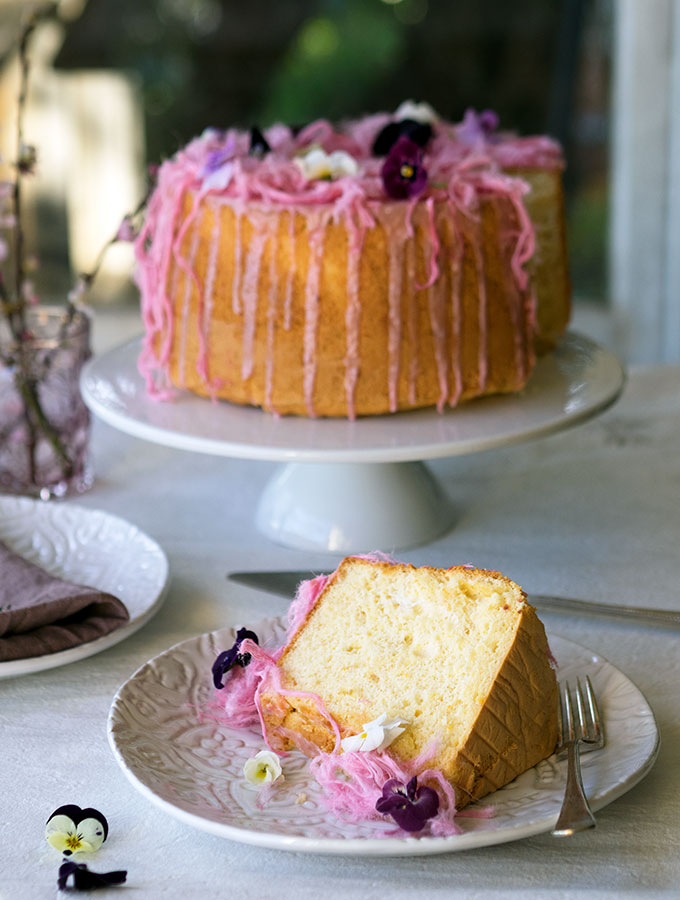 A set of googly eyes instead of some edible flowers would have transformed the cake into something completely different! Mental note to self, make chiffon cake with googly eyes for Halloween.
I carefully removed some of the floss. Not as easy as it sounds as this stuff just falls apart in your fingers. Once flowers were added the cake's dynamic changed completely. The result was something quite pretty, not pink Muppet like at all.
Don't forget to check out our other chiffon cake recipes, Vanilla Rose Chiffon Cake and Coffee Marble Chiffon Cake.
Sara xxx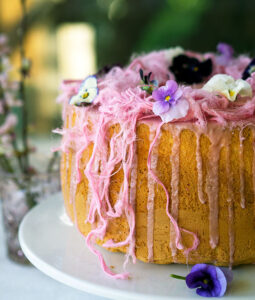 Print
Blood Orange Chiffon Cake
Light as air Blood Orange Chiffon Cake decorated with blood orange icing, Persian fairy floss and pretty edible flowers.
Ingredients
½ cup vegetable oil
zest of 2 blood oranges
7 eggs, separated
½ teaspoon cream of tartar
1 cup caster sugar
2 cups plain flour
2 ½ teaspoons baking powder
½ teaspoon salt
¾ cup milk
2 tablespoons blood orange juice
Icing
¼ cup blood orange juice, strained (approx. 1 ½ blood oranges)
2 cups icing sugar, sifted
pink Persian fairy floss
edible flowers
Instructions
Preheat oven 160°C (325°F). 21cm 8.5inches
Mix oil and zest together in a small bowl and set aside.
Using a stand mixer whisk egg whites and cream of tartar in a large bowl until stiff peaks form. Gradually add ½ cup of the caster sugar, continue to whisk until mixture is stiff and glossy.   Set bowl aside.
In a separate bowl beat egg yolks and oil & zest mixture until pale yellow. Then mix in milk and juice.
Sift in flour and baking powder, and then add sugar and salt. Continue beating until well combined at a medium speed.
Remove bowl from stand mixer and fold through 1/3 egg white mixture. Once incorporated gently fold through remaining egg white mixture until just combined. Don't over mix.
Pour batter into an ungreased angel food cake pan. Place in the oven and bake for 50 minutes.
After 50 minutes turn up the heat of the oven to 180°C (350°F) for an additional 15 minutes. The cake is cooked when you gently press it in the middle with a finger and it springs back.
Once out of the oven turn cake tin over and allow to cool completely upside down.
Once cool turn cake pan back over and run a sharp thin knife around the outside edges of the tin and then around the central tube. From underneath gently push the cake out from the bottom, it will still be attached to the removable base. Once removed from the tin, gently remove cake from the base again using the sharp knife.
The top of the cake when cooking becomes the base of your cake for decorating and serving. This is how you get that perfectly flat top. If your cake hasn't risen evenly, you may wish to trim it slightly so it sits level.
Drizzle icing over the top of the cake and decorate with fairy floss and flowers.
To make icing: Sift icing sugar into a medium bowl and add blood orange juice a bit at a time, mixing as you go until the icing reaches the consistency of runny honey.
Cooking Tip: Don't open the oven door for the first 45 minutes of cooking to ensure the cake rises.
Notes
You will need at 23 cm (9 ¼ inch) angel food cake tin with extended feet and a removable base for this recipe.
If you don't have a chiffon tin/angel food tin with extended legs, don't panic. Place the tin upside down over a bottle. You stick the neck of the bottle in the hole in the centre of the cake tin.
Do not grease or line your tin
Courses Dessert
Cuisine Belly Rumbles Original