Tim Tam Slam Cake created in the honour of the Tim Tam Slam. Coffee sponge cake filled and topped with Tim Tam spread. Decorated with more of those biscuits you love, Tim Tams!
Every Aussie knows how to do the Tim Tam Slam. Unlike doing the mashed potato, it's not a dance.
With Tim Tam and a hot beverage in hand is how you do the Tim Tam Slam. For me it is generally coffee, but you may prefer a hot chocolate or warm malted milk.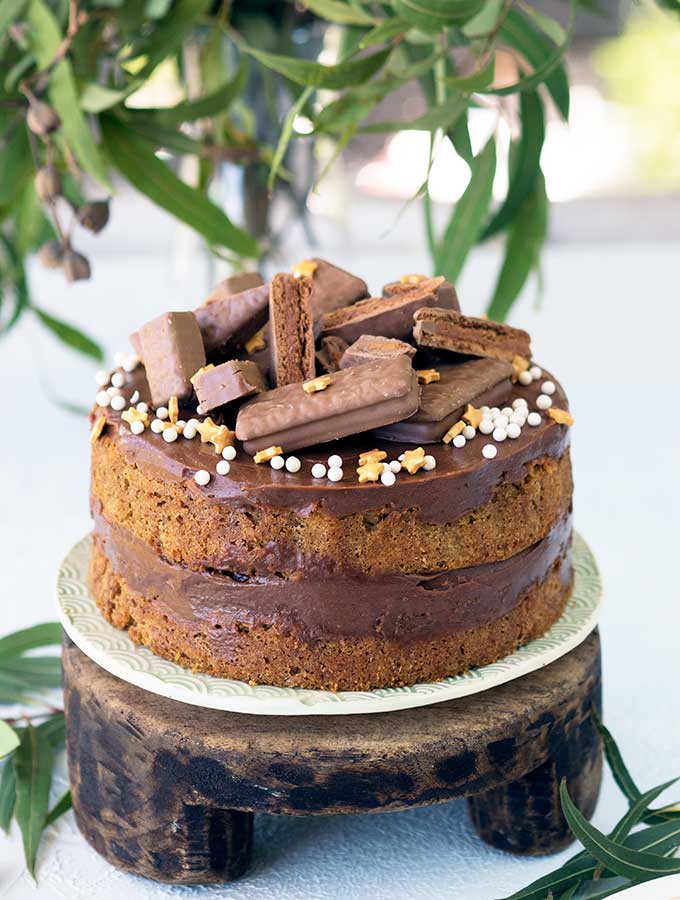 Bite one end off of your Tim Tam, then bite the other end off. Place one bitten end of your Tim Tam in your drink and suck like it's a straw.
The about to fall apart Tim Tam is then stuffed in your gob and devoured with glee. Warm coffee soaked chocolate biscuit with a melting chocolate butter cream centre. Who doesn't love a coffee and chocolate combination?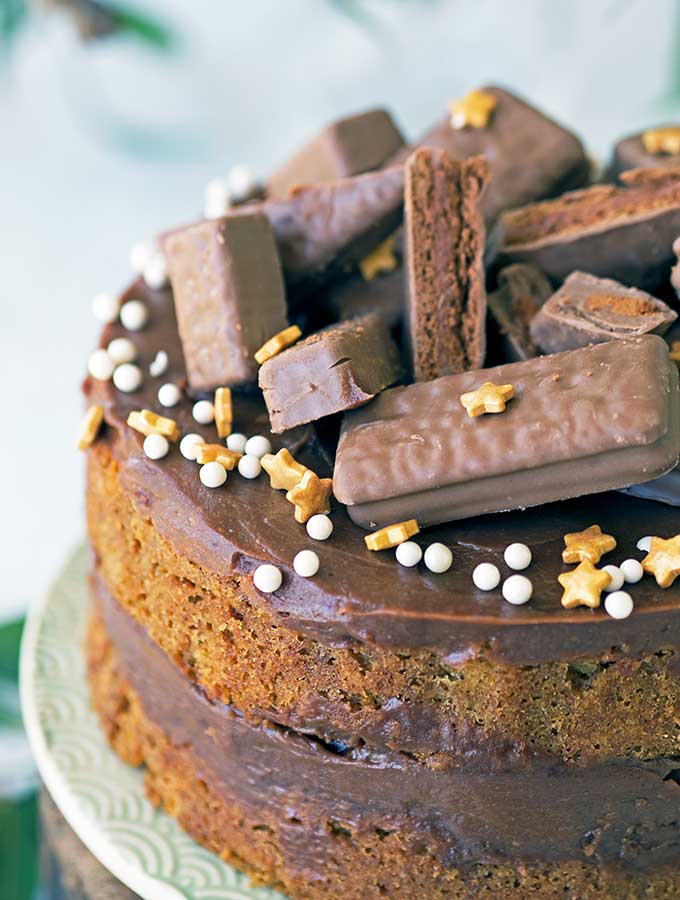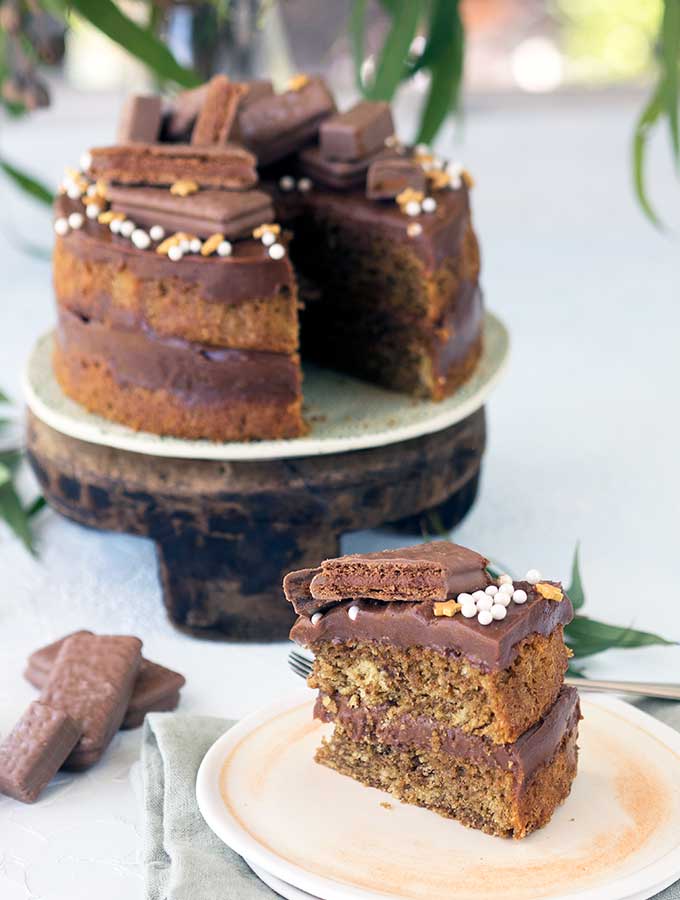 Those flavours are the base of the cake. Coffee sponge is filled with Tim Tam spread (Tim Tam butter), which I shared on Belly Rumbles earlier this week. The Tim Tam Spread has a chocolate ganache quality, which makes it perfect for cakes.
This cake is the reason to make a batch of Tim Tam spread this Australia Day long weekend. My Cheeselova and White Chocolate Mango Cheesecake are perfect desserts when entertaining, but the Tim Tam Slam Cake would have to be the "Aussiest" of my dessert recipes. Of course, there is the Vegemite Ice Cream recipe …
Recipe Pressure Points
Don't overcook your coffee sponge cakes. They will take 20 minutes in the oven max. Test with a skewer at the 15 minute mark. Bake them on the same shelf, the tin size you use will allow this in a standard oven.
If you have made the Tim Tam Spread for your filling the day before. Take it out of the fridge at least 20 minutes before filling the cake.
Use a piping bag to squeeze the filling on to the coffee sponge, it will make your life so much easier. Use an offset spatula that has been dipped in boiling and dried well to smooth the filling out evenly.
Special equipment for this recipe
You will need two 18cm (7 inch) round sandwich tins with loose bases.
Special Ingredients for this Recipe
You will need to make a batch of my Tim Tam Spread (Tim Tam Butter). One batch will be enough to fill and ice the cake, with a little left over to enjoy other ways.
What to do with any leftovers
Wrap any leftover cake well in cling wrap and store in the fridge. The cake will last a couple of days but is best to eat on the day (or the day after) of making.
As you can see from the photos I added a smattering of white pearl sugar balls and edible stars. I felt the chocolate on chocolate needed lifting a little.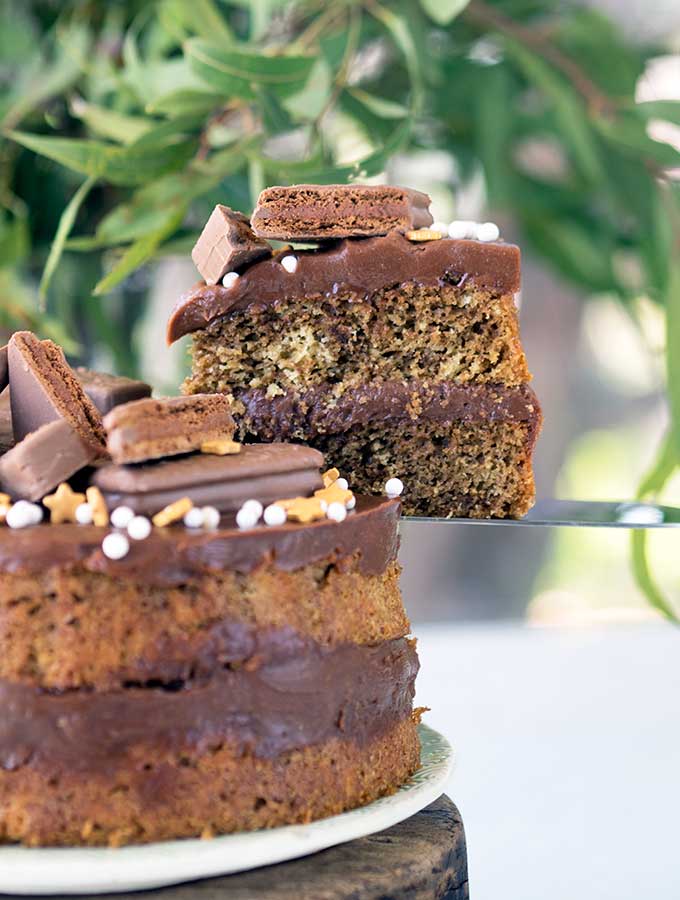 If you do happen to make my Tim Tam Spread or Tim Tam Slam Cake, please tag me in on social media!
Instagram: @bellyrumbles #bellyrumbles
Twitter: @bellyrumbles
I would love to see and share your creations.
Important to note that this recipe and the Tim Tam Spread have not been made in conjunction with Arnott's Biscuits (the manufacturers of Tim Tams). I simply had a Tim Tam recipe development fetish last week, which timed perfectly for Australia day.
Sara xxx
Become a subscriber and don't miss a single delicious recipe, restaurant review or travel adventure.