Serradura (Sawdust Pudding) is a Macanese dessert originating in Portugal. An easy to make dessert with sweetened condensed milk, cream and Marie biscuits given a rainbow twist.
Everybody needs an easy dessert recipe in their repertoire. The Portuguese were on to something when they invented this simple recipe. But it was the Macanese that made this dessert hugely popular. Serradura is also known as Sawdust Pudding or Macau Pudding (Macao Pudding).
Serradura is one of the must try foods when visiting Macao (Macau)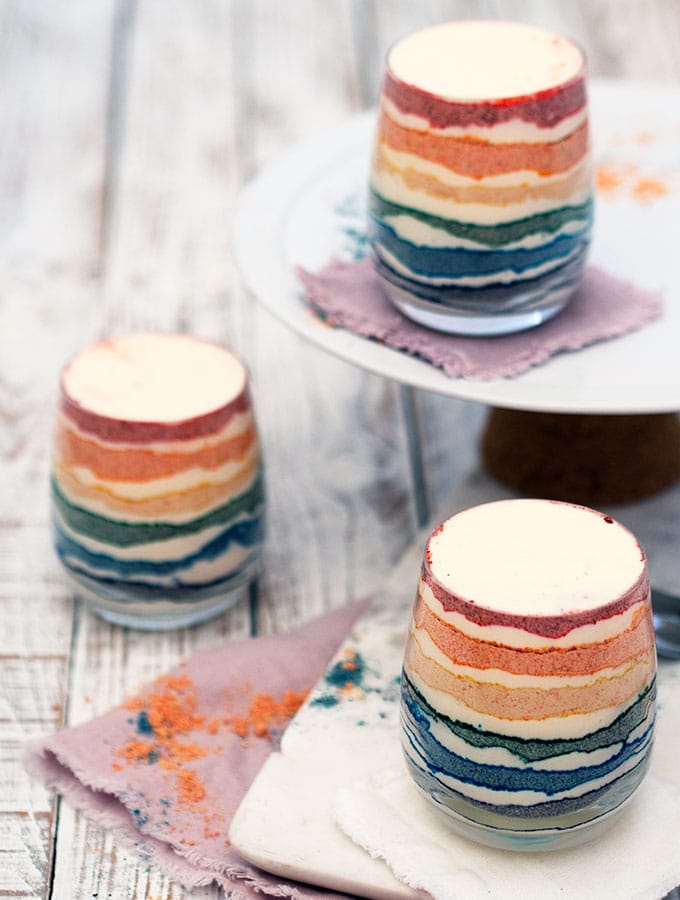 I will admit I have added a complexity factor to the dessert by making it rainbow. Trust me the extra effort is worth it.
The dessert in its original form is simple to make, simple in taste, but simply satisfying. Layer upon layer of crushed Marie biscuits and sweet rich creamy mixture.
I haven't met one person that does not love this Macanese dessert!
The dessert is then placed in the fridge or freezer to chill. From the fridge it is nicely chilled, but from the freezer the creamy portion of the dessert takes on an ice cream slant.
I have tried this dessert multiple times now. The Taste of Macao event gave me the chance to try Macanese Cuisine in Sydney. Then multiple times during my visit to Macao.
It was during my visit to Macao that I met the very delightful Chef Anna Manhao. Anna invited me to her restaurant Belos Tempos for a hands on lesson on how to make Serradura.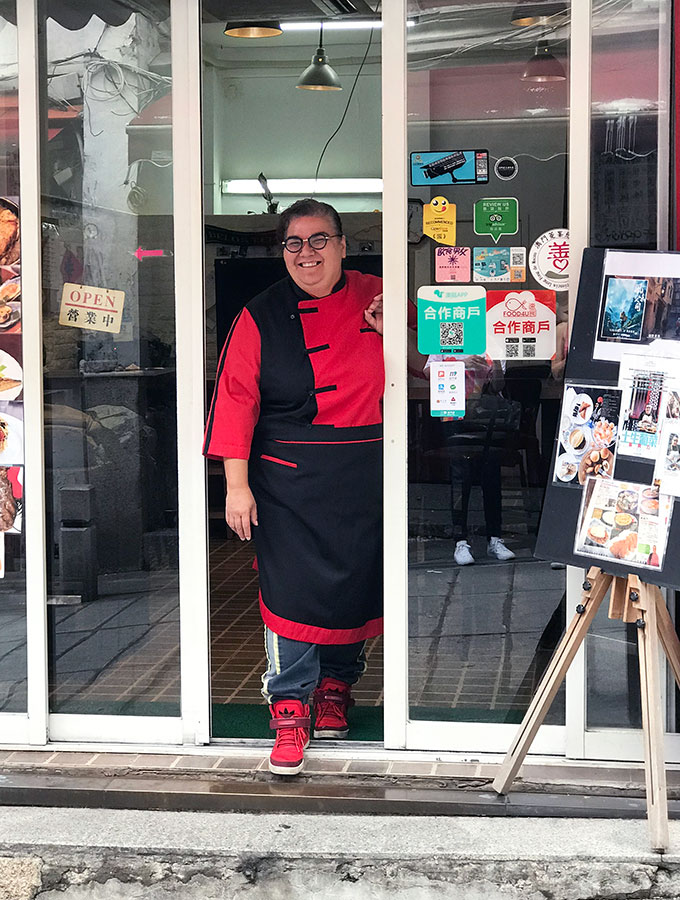 Chef Anna Manhao of Belos Tempos Restaurant in Macao.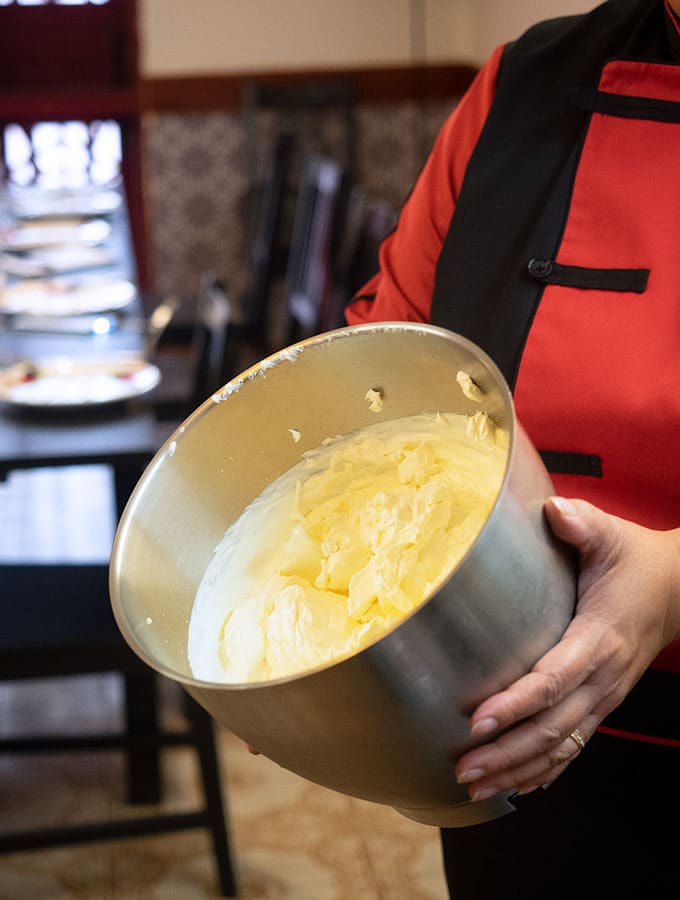 Whipped cream for the Serradura recipe.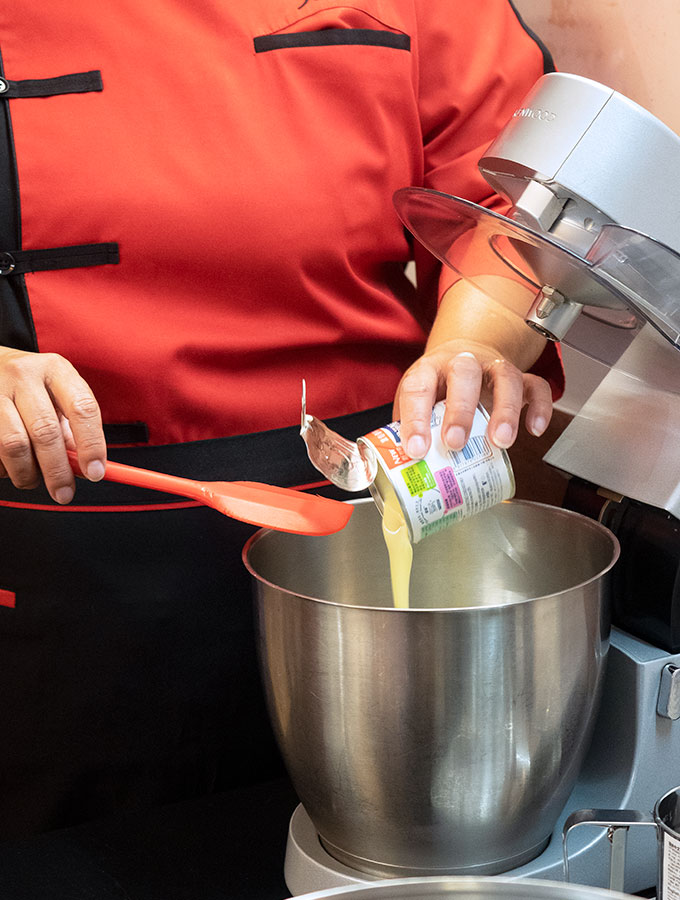 Sweetened condensed milk being added to whipped cream to make Serradura.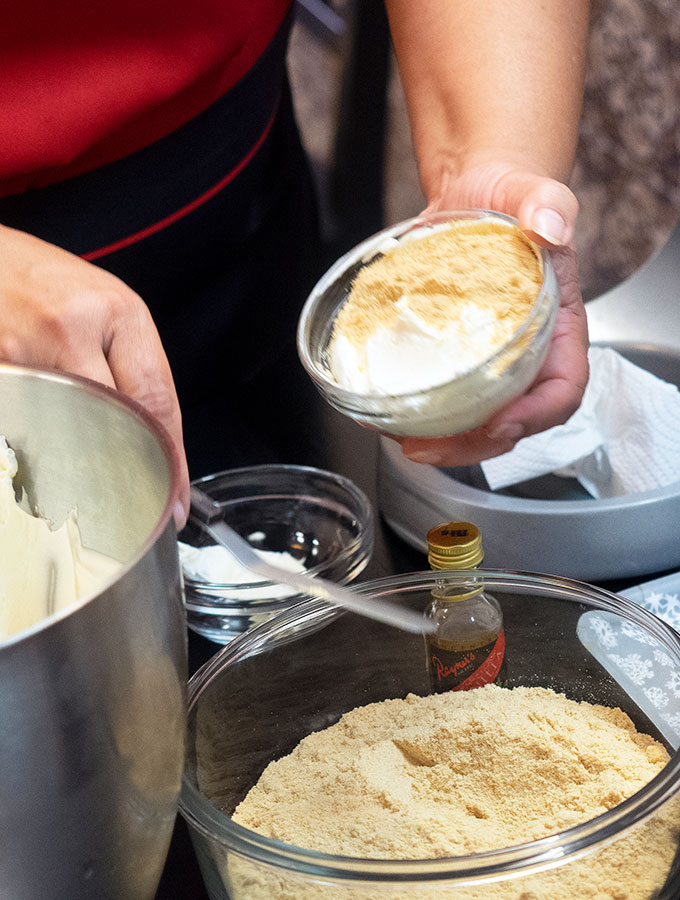 Chef Manhao adding layers of crushed Marie biscuits and cream mixture in a dessert bowl for Serradura.
I knew I wanted to share the Serradura recipe with you all when I returned. Typically me, of course I had to jazz up the traditional, tried and tested recipe.
There is a saying, "if it ain't broke don't fix it". You don't have to join the rainbow foods parade, omit colouring your Marie biscuits. The dessert will taste exactly the same, with less work.
To achieve the rainbow colours, I spent a good 30 minutes rubbing food colouring into the crushed biscuits. Trust me after colour number two the novelty wore off. This is where you get the kids involved on a rainy day during the school holidays. Thank me later.
For those paying attention, you will notice there are only six colours in these rainbow serraduras. Rainbows have seven colours. I omitted the indigo layer, it was too similar to blue and violet.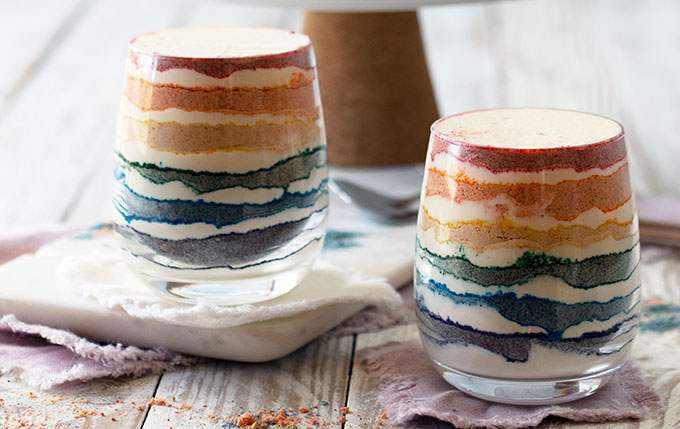 Recipe Hazard Zones
Try to not go overboard on the food colouring. It is easy to keep adding colour to achieve brighter colours. If you are heavy handed you may end up with funky green coloured poop. So I've heard…………
Special equipment for this recipe
Rolling pin or food processor will be needed to crush your biscuits. A piping bag comes in handy to add your cream layers. If you don't have a piping bag use a spoon.
Special Ingredients for this Recipe
Marie biscuits or tea biscuits are found in most countries. They are a plain biscuit that isn't too sweet. Perfect for dunking in tea!
What to do with any leftovers
The Serradura will keep well in the fridge for a few days. Or make them in small plastic containers and freeze. When ready to consume take them out and let them defrost or eat frozen like ice cream.
I will be adding more Macanese recipes to Belly Rumbles in due course as the food really is wonderful. No wonder UNESCO has recognised Macao as a Creative City of Gastronomy. One of only 26 cities around the world to be awarded this recognition.
If there are any Macanese recipes you would like to see featured, please email me or drop me a message in the comments.
Sara xxx
Become a subscriber and don't miss a single delicious recipe, restaurant review or travel adventure.
PIN ME TO SAVE THE RECIPE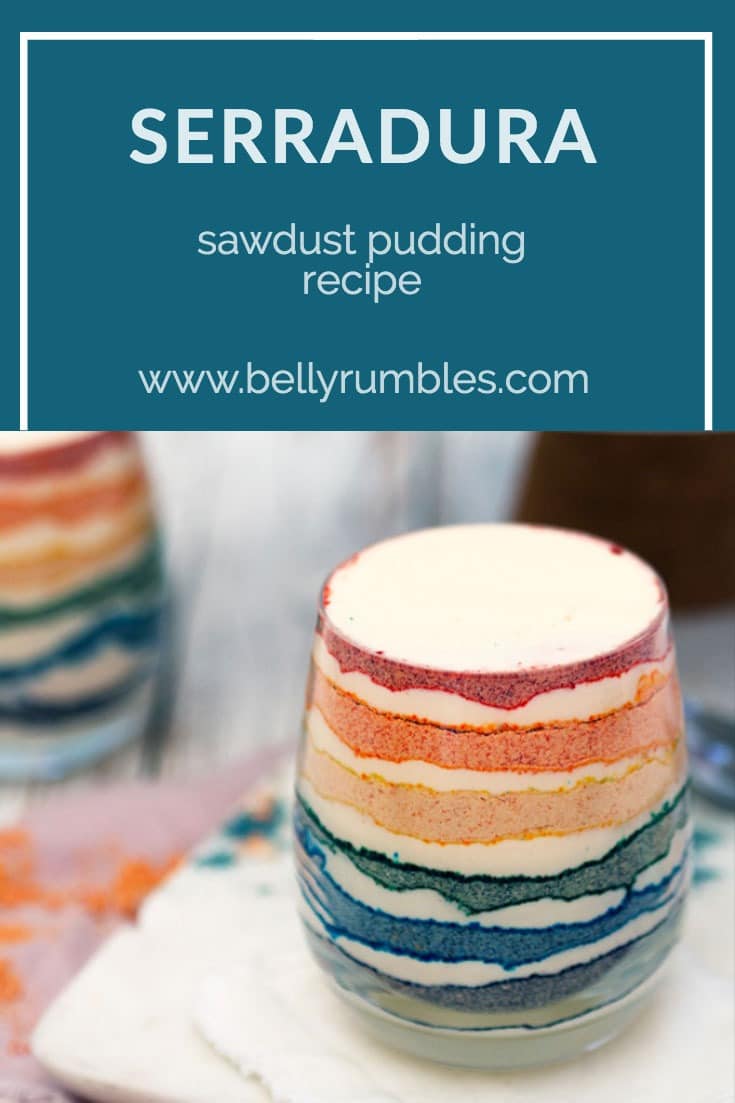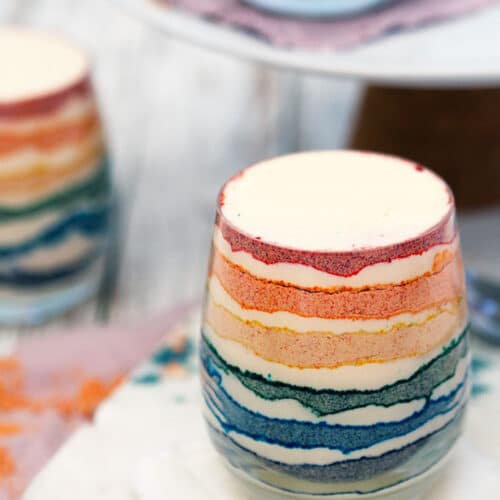 Rainbow Serradura Recipe
Serradura (Sawdust Pudding) is a Macanese dessert originating in Portugal. An easy to make dessert with sweetened condensed milk, cream and Marie biscuits given a rainbow twist.
Print
Pin
Rate
Ingredients
1

packet

250g Marie Biscuits

600

ml

thick cream

170

ml

2/3 cup sweetened condensed milk

1

teaspoon

vanilla extract

Gel food colouring

red, orange, yellow, green, blue, violet
Instructions
Place Marie biscuits in a plastic bag and crush with a rolling pin, or alternatively place in a food processor and crush this way. You want a fine sawdust texture to the crushed biscuits. This is how the dessert got its name.

Evenly distribute crushed Marie biscuits between 6 bowls. Colour one bowl of crushed biscuits at a time.

We will start with red. Use disposable gloves and add a couple of drops of red colouring to the crushed biscuits. Using your fingers rub the colour through the crushed biscuits. This is not a quick process and takes time. Add more red colour as needed to get the desired intensity.

Once finished with the red biscuit crumbs wash your gloved hands and dry them. Move on to the next bowl and next colour. Repeat until all 6 bowls of biscuit crumb have been coloured.

Place cream in the bowl of your stand mixer, or a large bowl is using electric beaters. Whip cream until stiff, be careful not to over whip and head down the butter road.

Add condensed milk and vanilla extract. Whip until combined.

Place cream mixture in a large piping bag if you are using one.

The assembly process is the same if you are using individual glasses or one large glass serving dish.

Pipe or spoon a layer of cream on the bottom of the glass/dish. Smooth and flatten the layer of cream.

Cover the cream with a spoonful of violet coloured biscuit crumbs. Smooth the crumbs down to create a flat and even surface (or at least the best you can).

Repeat with a layer of cream and then more biscuit crumb. Continue doing this until you have 6 layers of biscuit crumb and finish off with a seventh layer of cream on top.

The biscuit crumb should be added in this order, violet, blue, green, yellow, orange and finally red.

Place serradura in the fridge to chill for a few hours before serving.
DID YOU MAKE THIS RECIPE?
I love knowing when readers make my recipes, tag me on Insgragram @bellyrumbles