Tokyo has a hidden sake bar, Sake Bar O, a sake speakeasy so to speak. One of the well hidden bars in Tokyo where you will have a unique sake experience.
I'm faced with a construction site. A building being refurbished, debris and rubble surrounded by a high steel mesh fence to keep people out.
Surely this can't be the place? Looking at the photos provided to aid me find this secret bar in Tokyo, they don't add up. Then I notice that the windows on the second storey are the same as the clues sent.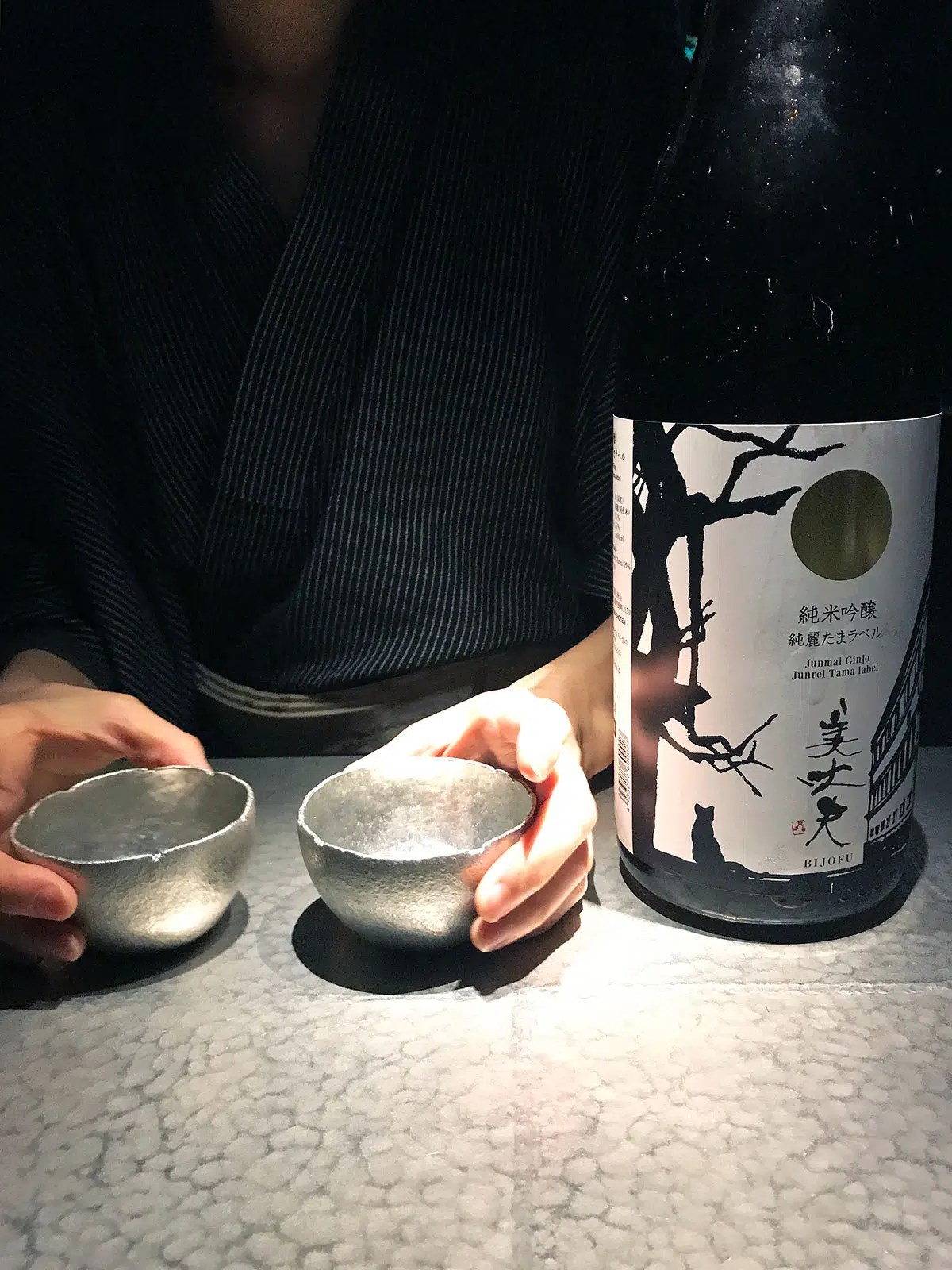 How on earth do we get in? We walk around the corner to see if entry is from another way, but there are only other eateries and businesses. Then we notice a door next to the construction fencing. Itself looks in the process of demolition.
Traipsing across some rubble, and feeling like a trespasser, we head for the worse for wear door. It opens with no effort at all.
Still not sure we were in the right place we continue on the adventure. Around corners, along halls, up a few flights of stairs, to the final door. We open it to darkness and our destination, Sake Bar O.
It takes a few moments for eyes to adjust. Whilst they do we are greeted and ushered to our seats. With adjusting eyes we are trying to focus on our surroundings.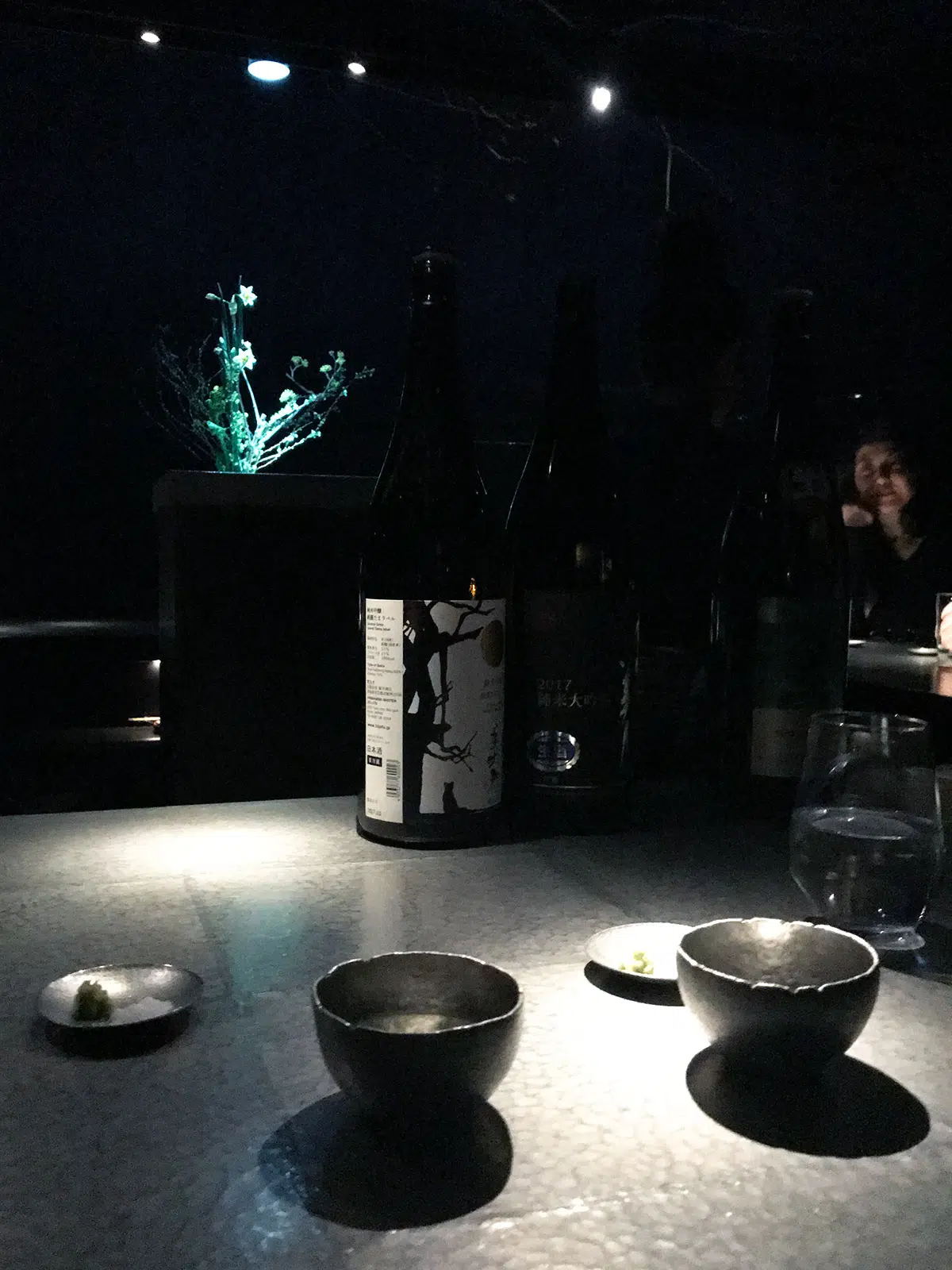 The room is dark and minimalistic. In the middle is a large square bar with seating around all four sides. The surface of the counter is made of beautifully hand-hammered tin.
Running a few feet above the bar counters are bright spotlights aiming directly down on the hammered tin. They are precisely spaced to create what feels like a curtain of light. You can't really see the middle of the bar, the bartender, or across the bar to other patrons. If offers a sense of privacy.
You can see the soft glow of a fridge under one of the counters. Plus the floral arrangement in the centre of the bar. Lit by a sole light to give the impression of moonlight.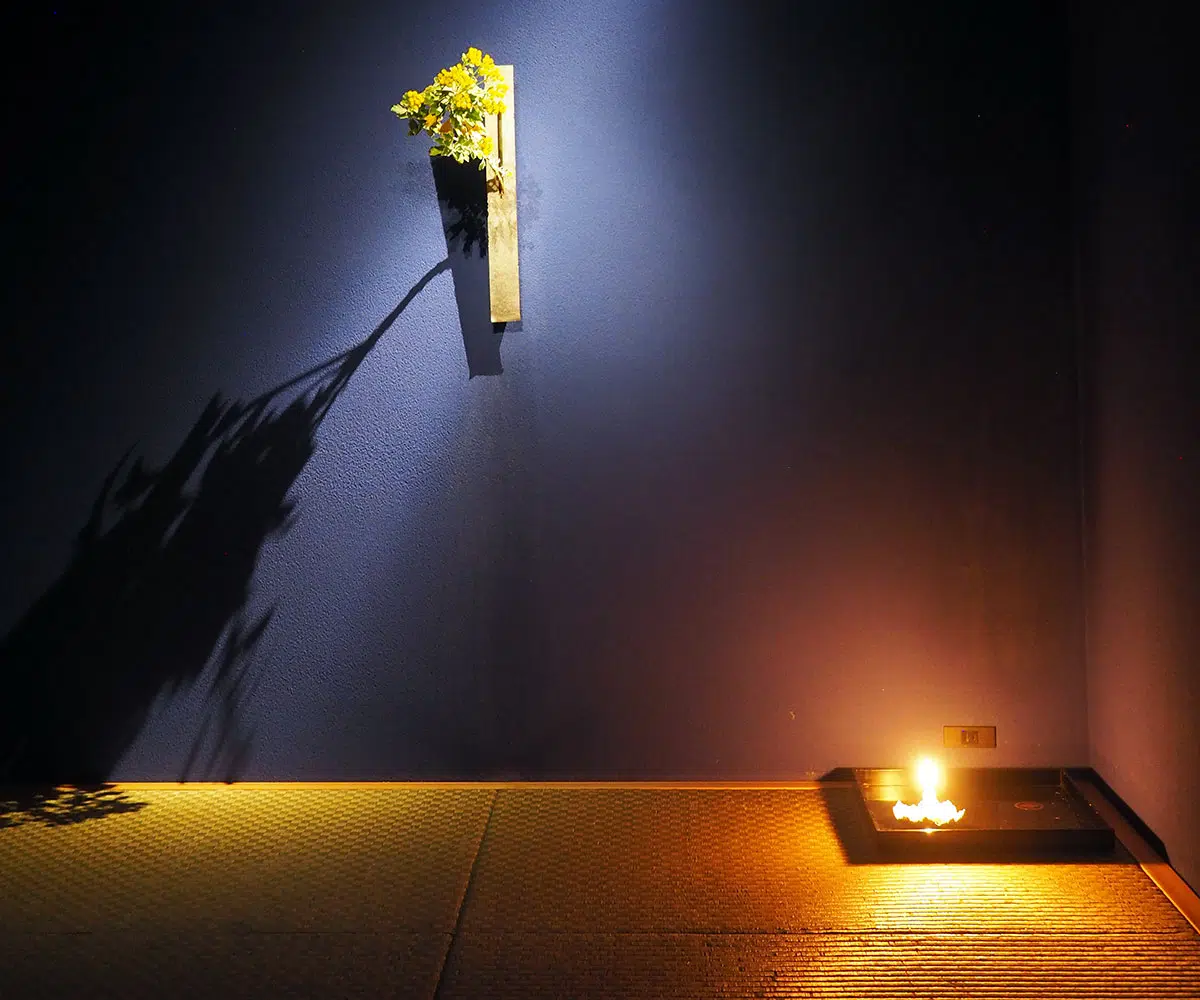 Once settled you notice a tatami mat area where patrons can sit. This too is dimly lit with a floral arrangement.
All the flora on display is seasonal and foraged. This sake speakeasy makes quite a first impression.
My first visit was a lot of fun, but a little confusing. With my extremely limited Japanese and our bartender's non-existent English, I left with more questions than answers.
This meant a return visit to Sake Bar O, what I regard as one of the best hidden bars in Tokyo. I'll be honest. I'm told there are a handful of secret Tokyo bars, but this is the only secret sake speakeasy I know.
My visit 18 months later I am prepared, armed with Japanese colleagues. They are amazed I know of this hidden Tokyo gem. None of them have heard of it before.
Sake Bar O does not have a website. Initially, I was channelling Inspector Clouseau to find this sake speakeasy or any other hidden bar in Tokyo. I fell down the rabbit hole of Instagram hashtags and was rewarded with this find.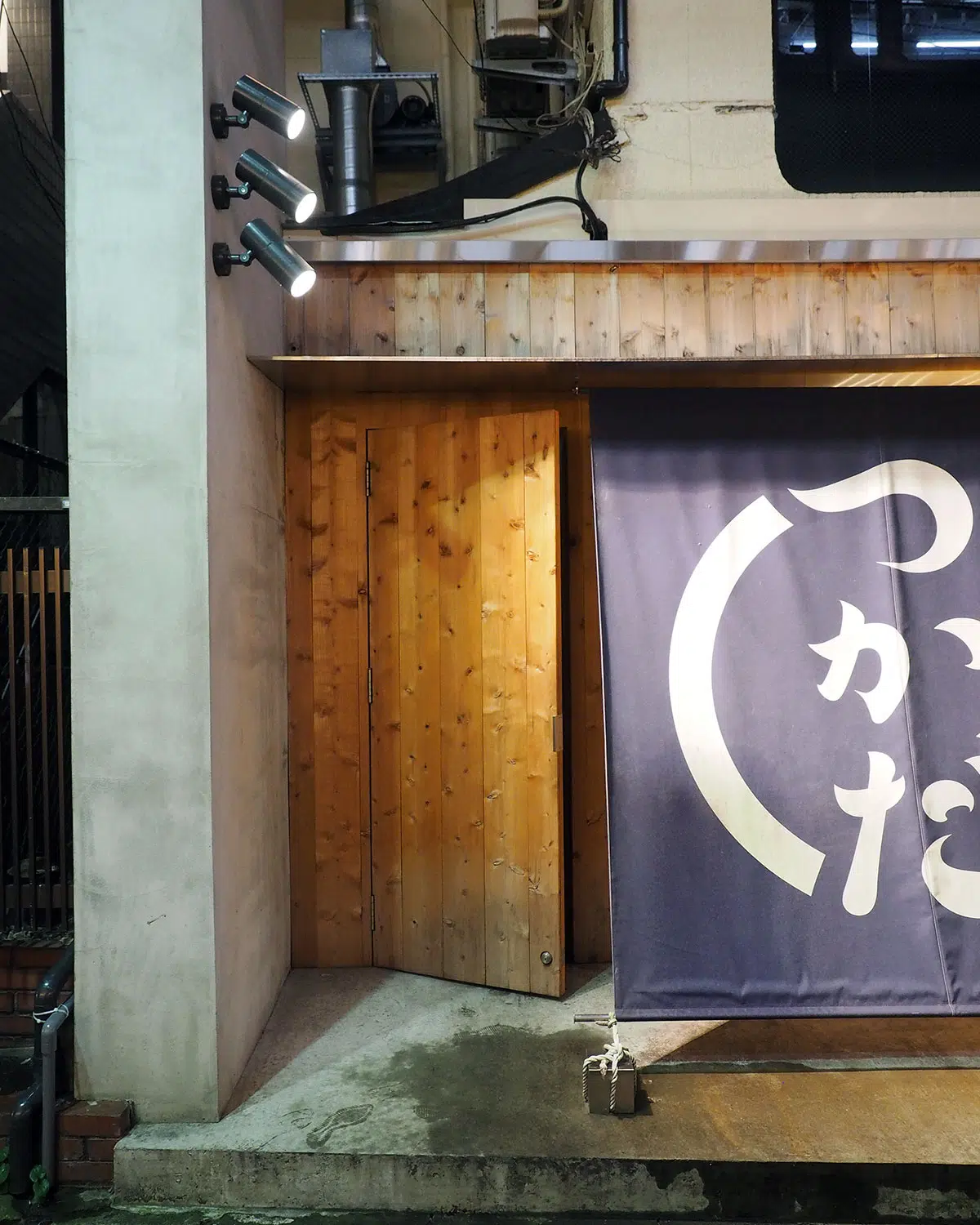 It was a lot of fun watching everyone's reactions. This time the construction site was gone and in its place yakitori joint. The door camouflaged next to the wood panelling and sign of the restaurant. With full gusto, we went in with me in the lead. There were giggles and doubt from my companions that we were in the right place.
The stairs leading up to the top level, once unhindered are now crowded with boxes. We squeeze and navigate past the obstacles. Even I was starting to question if I was in the right place. Once at the top, we squeezed past a commercial refrigerator, also new since the last visit, and reach our final destination.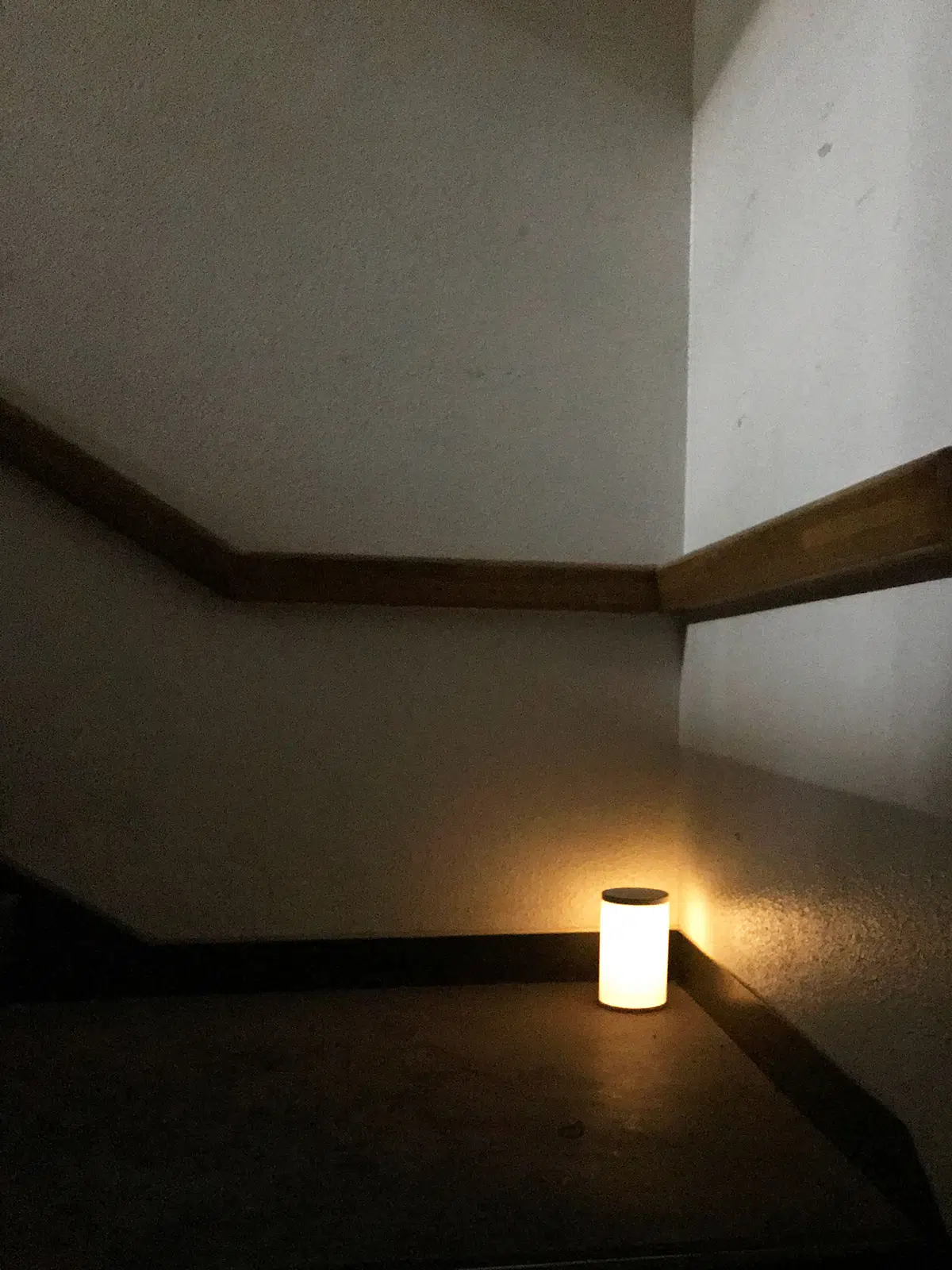 On entering my unsure companions all gasped in amazement and awe. The adventure of finding Sake Bar O and the initial impression of this Meguro bar really does blow you away.
With a reservation made there are ready for us, six sake glasses are sitting around the bar waiting for our arrival. With my colleague and translator sitting next to me I learn more about this secret Tokyo bar.
As with my first visit the bartender pulls out a bottle of sake to commence pouring. I found it confusing and interesting the first time around. Now I am able to ask why? Why that bottle? How does this work? How do they know I want that sake?
The sake that Sake Bar O have on hand is seasonal. There are roughly 10 different types of sake at one time. These are curated by sommelier Kumi Hitomi. I believe there is even one sake that is exclusively bottled for them.
As our bartender pours our first sake from the Mie Prefecture. I ask, "why this sake to start"? It's a simple answer, because it is the one she recommends starting with.
She also goes on to explain why the room is so dark. The darkness is to focus your attention on the sake and enjoy the experience. The spotlights for the same reason. The effect really does highlight the bottles and gorgeous sake cups.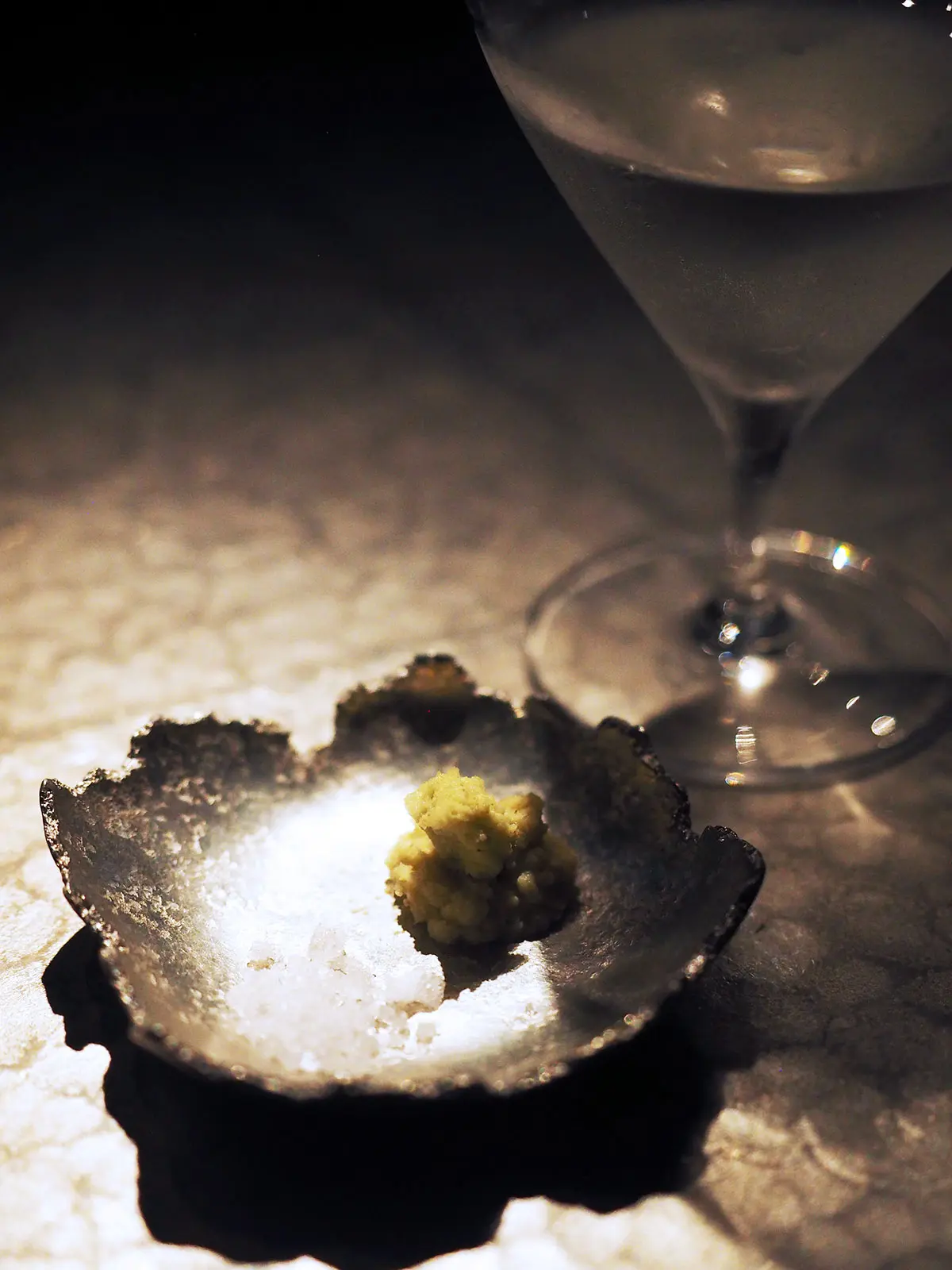 A small dish with freshly ground wasabi, and the best sea salt owner Jun Onishi can source, is served with our first sake. We are invited to try the sake and then try it again after tasting some wasabi and salt. It reminds me of tequila shots. Though we are sipping the sake not shooting it. It is interesting how the wasabi and salt change the flavour profile of the sake.
Two other sakes are tried that evening, one from the Chiba Prefecture and the other from Nigatta.
Sake Bar O also serves food. A mystery I was trying to solve on my first visit as some people were eating but we were never offered a menu. This time I understand why as it's all in Japanese.
I discover, just like the sake, the menu is seasonal. Small snacks like oysters in oil, bottarga, fish paste with sauce, kamaboko, and cheese. There are also a couple of more substantial offerings like fried chips with truffle, and ramen.
A visit to the bathroom is a must, even if you don't really need to go. I love Japanese toilets. I would outfit my house with Toto toilets if I could. On entering the bathroom, it's almost as dark as the bar, but don't panic. The toilet will automatically lift its lid and light shines out like the sun. Who knew loos could be so much fun?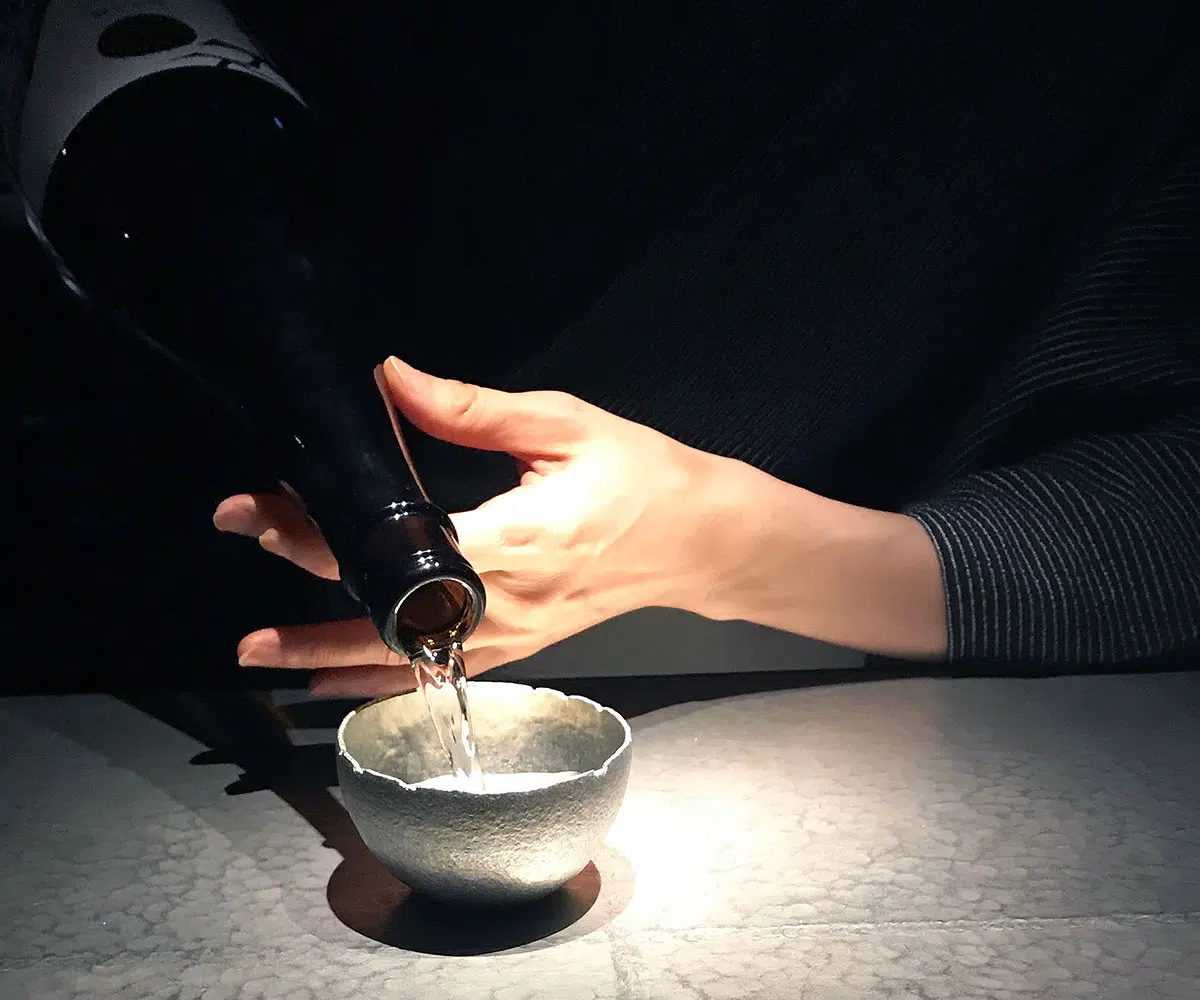 How to find Sake Bar O
I'm not going to make this too easy for you. Like me, you are going to have to work to visit, but not as hard.
Firstly contact them on Instagram, and message them to make a reservation. Reservations are a must as it's a members-only bar. Typically Japanese, it is also a small bar, seating maybe 20 people including the tatami mats?
If your reservation is accepted, then follow their directions to get to the best Tokyo speakeasy around.
For planning purposes, I will share that Sake Bar O is located a one minute walk from Naka-Meguro Station.
Important Note about Sake Bar O
Sake Bar O is a place to sit and quietly enjoy sake. This is not a bar where you yahoo and carry on. It is a calming space. There is soothing music at a volume allowing you to have a conversation while enjoying your sake experience. Sake Bar O has to be the best experience for sake tasting in Tokyo.
It looks like they are also expanding. I was advised that Sake Bar O will be opening an establishment in Kyoto next year.
Do you have a favourite secret bar or speakeasy in Tokyo? Would love you to share it with me.
Sara xxx
Become a subscriber and don't miss a single delicious recipe, restaurant review or travel adventure.
PIN ME TO YOUR TRAVEL BOARD