Villa Amore is a blissful Airbnb Bali. Located in Seminyak this private villa offers luxe accommodation in a quiet and secluded setting. Perfect for families and friends looking for a relaxed, carefree Bali vacation.
Bali has never been high on my travel list. There was a curiosity of course. I had heard the Balinese are lovely people, the rich culture and history, great food. Plus those that visit Bali often are raving fans.
What has deterred me for many years is the perceived tourist that vacations in Bali. Louts, hooligans and yobbos. Generally Australians, giving travelling Australians a bad reputation. Recently two naked male Australian idiots rode a scooter into a pool in Bali. I rest my case.
A combination of budget, a Qantas double status credit deal, and an upcoming major birthday saw me book a Bali holiday for the family.
What's in this post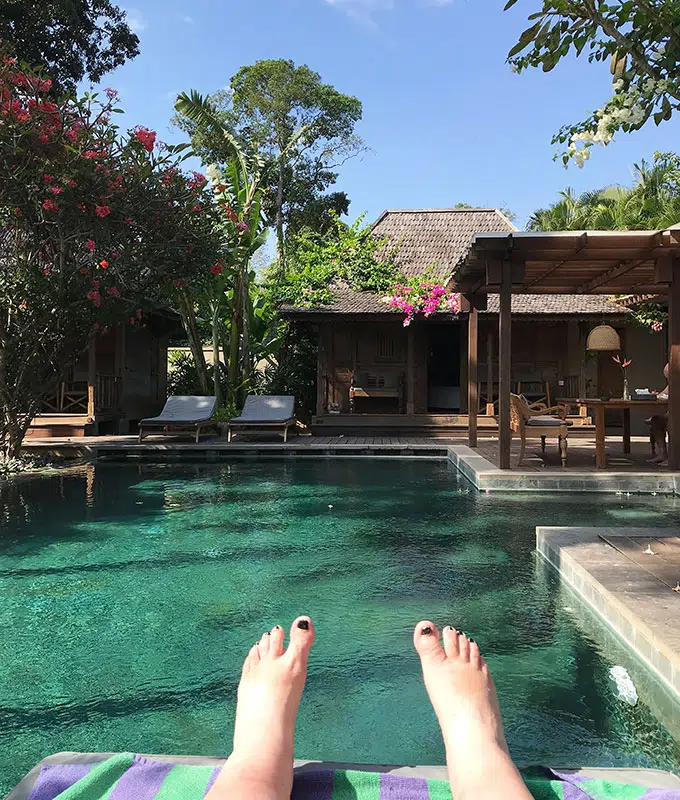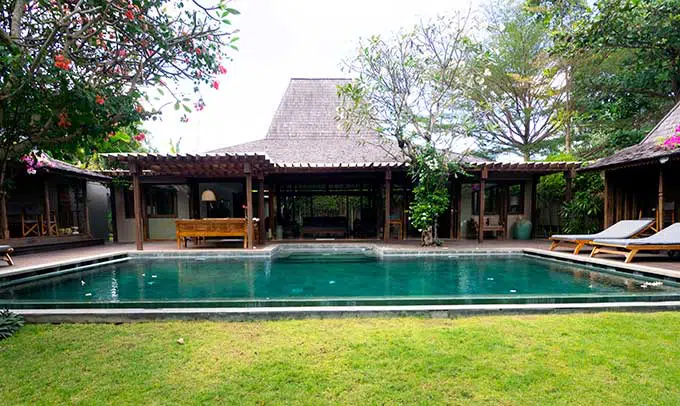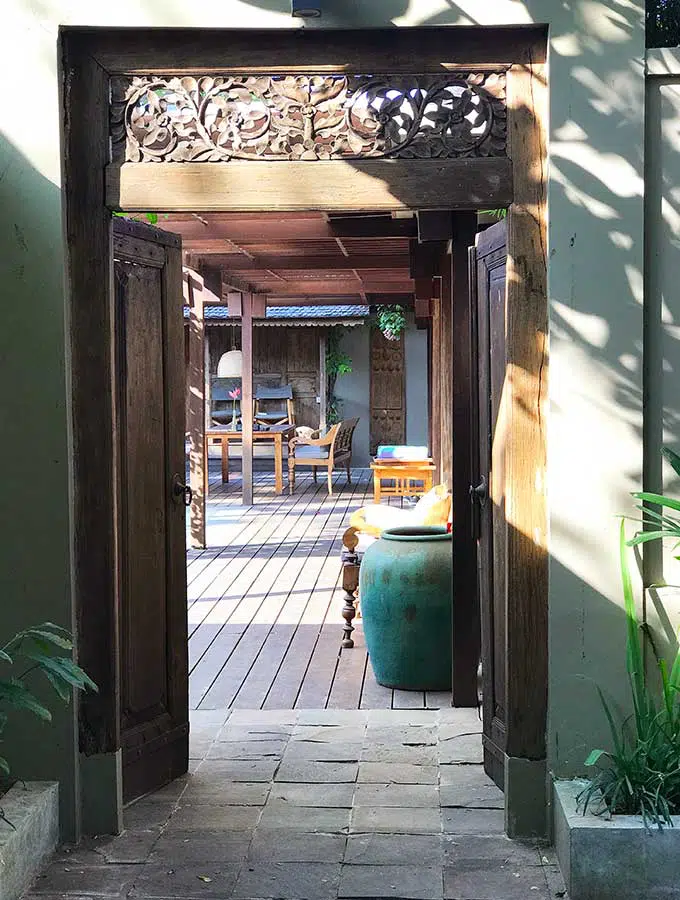 The holiday's main focus was rest and relaxation. Experiencing what Bali had to offer. A cooking class maybe. An hour here and there reading by the pool. Good food and good company.
The brief, a villa with a pool, and three separate bedrooms with ensuites. A serviced villa, I had no plans to make beds and clean up. Plus having somebody on hand to make bookings etc. The perks of a hotel, but in private villa form.
Villa Amore Quick Facts
Villa Amore comprises of one main building which houses the open plan lounge and dining area, kitchen and a powder room (loo and hand basin).
The master bedroom (with ensuite) is behind and separate to the main villa.
There are three cabins around the pool. Each cabin has a queen bed and an ensuite bathroom.
A stunning large pool is the focus of the outdoor area.
Chilled drinking water is provided via a large dispenser in the kitchen. Top tip, take refillable bottles with you to use at the villa and when you are out and about.
There are three staff members on hand to help you. Two in the morning to make you breakfast, make beds, clean bathrooms etc. One comes in the afternoon to assist you in any way you need.
In the evenings after 10pm there is a security guard stationed outside and will assist you if needed.
The villa is quiet and very private.
Located in Seminyak, it is the Northern side of central Seminyak. It will take you a minimum of 20 minutes via taxi to reach the main shopping and restaurant hub in Seminyak. It all depends on the crazy traffic, but taxis are dirt cheap.
A minimum of 40 minutes from Bali Ngurah Rai International Airport. I would allow at least an hour, if not slightly more.
They have a great driver you are able to book. Some stays offer a complimentary pick up from the airport. If it's not included, I suggest you contact the hosts and book an airport pick up, it will make your life a lot easier.
Lounge Area
Villa Amore's large lounge area is in the main building. High Balinese style ceilings, and glass sliding doors make the space light and airy. The lounges are large and comfy. I partook in a few afternoon naps during my stay on them.
A ceiling fan will keep you cool while the large glass doors are open. Or close the doors and turn on the airconditioning. We found using the fan with the doors open kept us cool and comfortable.
Yes, there is a television if you wish to watch it.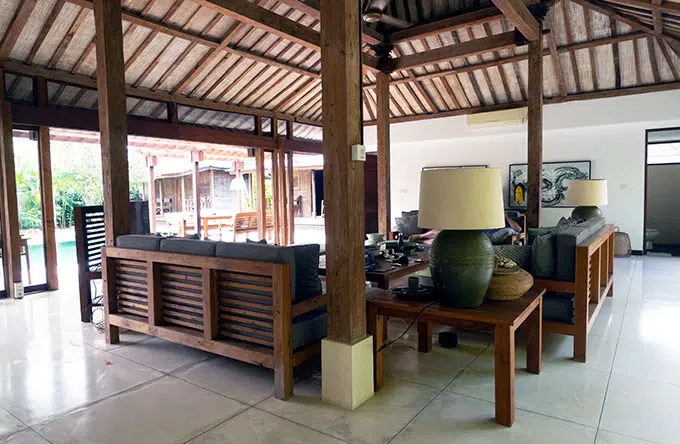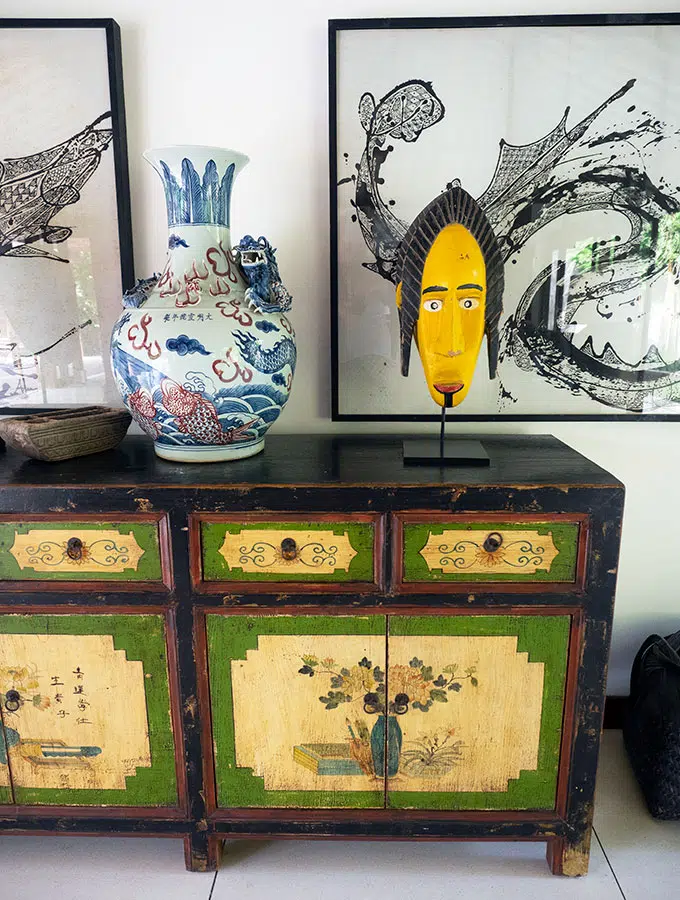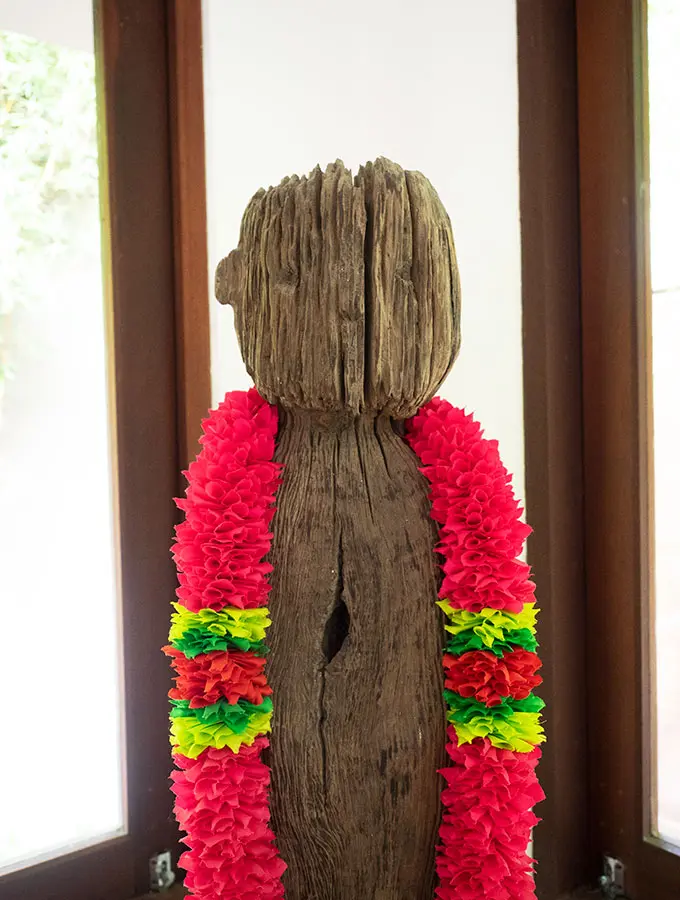 Dining Area
The formal dining area didn't get a lot of use during our 10 night stay at Villa Amore. We opted to eat outside by the pool most of the time. The large rustic wooden table seats 10 with plenty of space. I think you could squeeze 14 around it if needed.
The dining area is part of the open plan joined with the lounge in the main villa.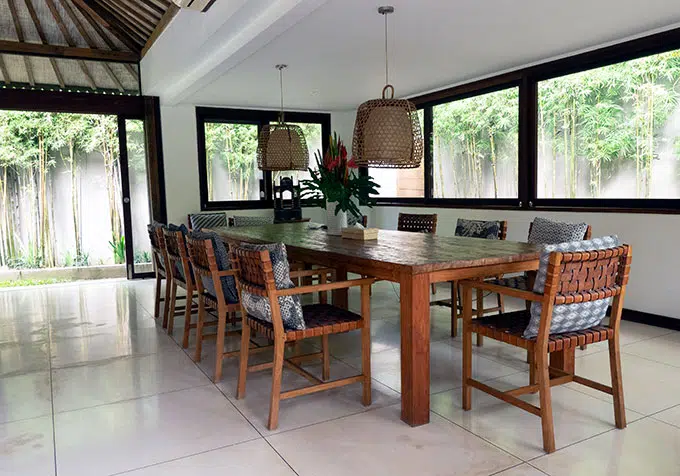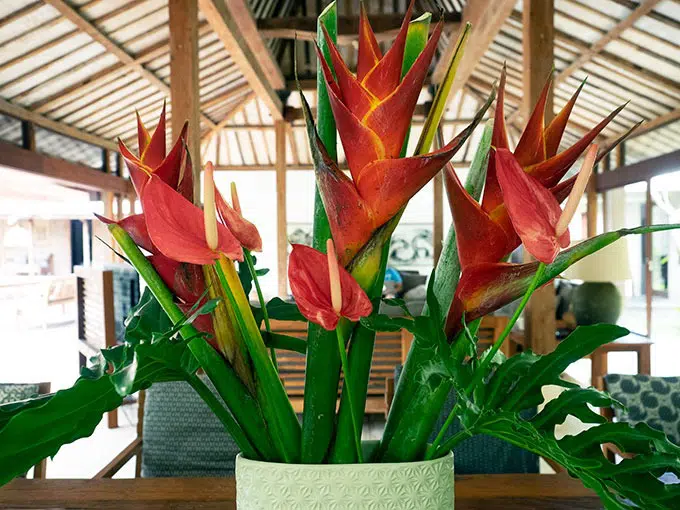 The Kitchen
The kitchen has everything that you could possibly need. Large fridge, oven with cooktop, microwave, toasters, kettles etc. Not that you will be using it. There is also the very important drinking water dispenser, supplying chilled and hot water.
This is where staff will prepare your breakfast every morning of fresh local fruit, juice, toast with jam and butter. Enjoy breakfast outside by the pool or in the formal dining area. We also hired a chef during our stay. Organised by the villa staff, he came in one evening to prepare an amazing feast including whole suckling pig.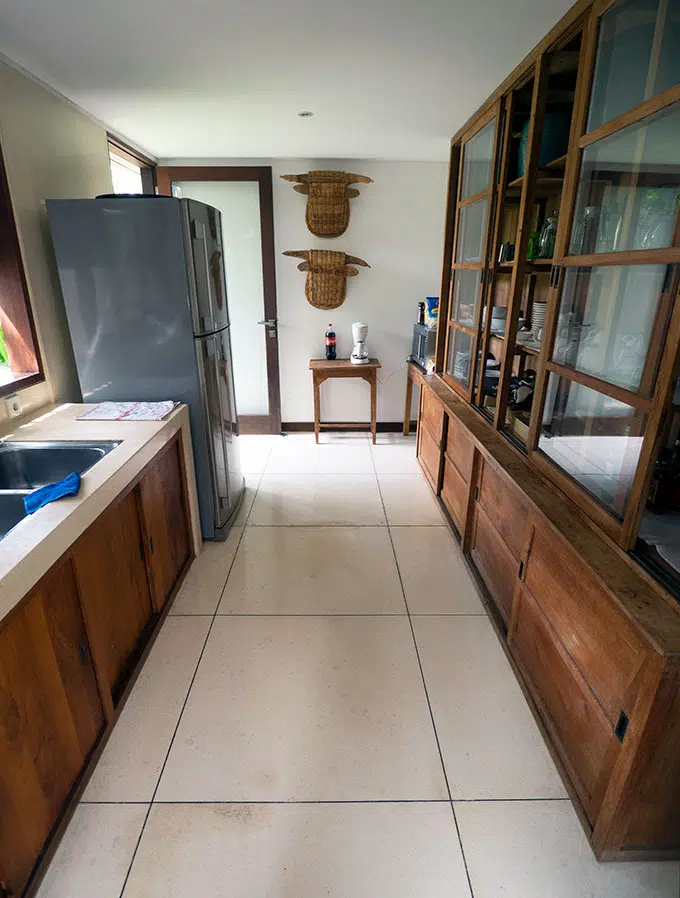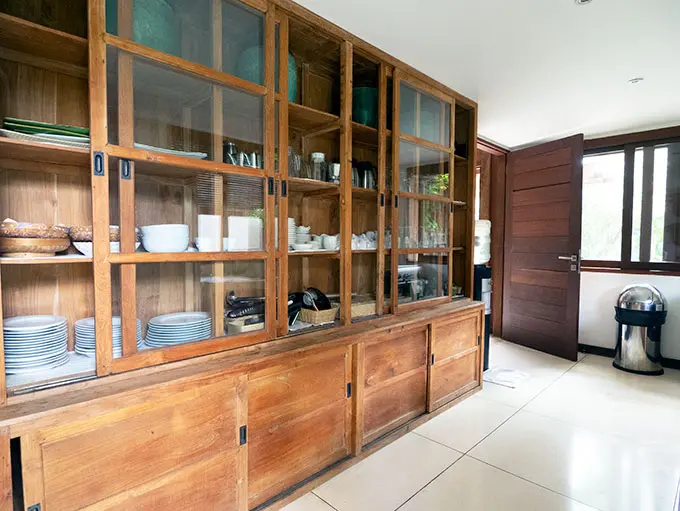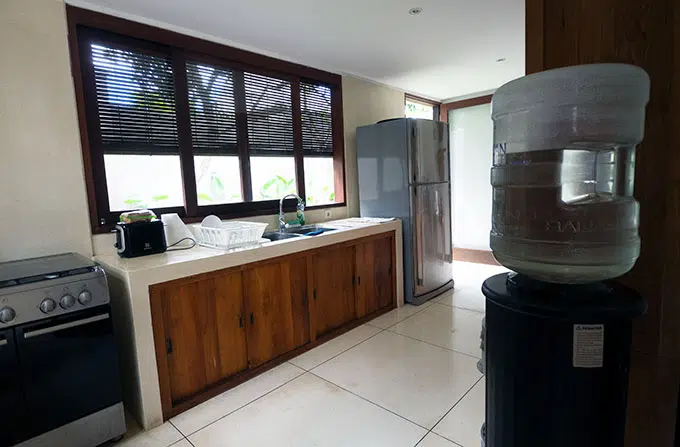 Pool and Garden
The pool area of Villa Amore is stunning. When I was looking at all the Seminyak villas for the duration of our stay, the pool and garden area here won hands down.
There are fragrant frangipani trees around the pool that are entwined with colourful bougainvillea. The frangipanis drop into the pool and look gorgeous.
What is unique about Villa Amore compared to many other Seminyak villas is the grassed area where the kids can run around. Or you could run around if you so desire. It adds to the lush greenness of the space.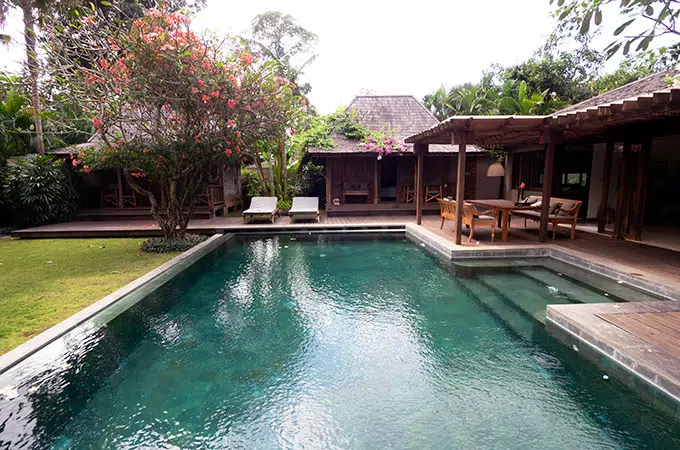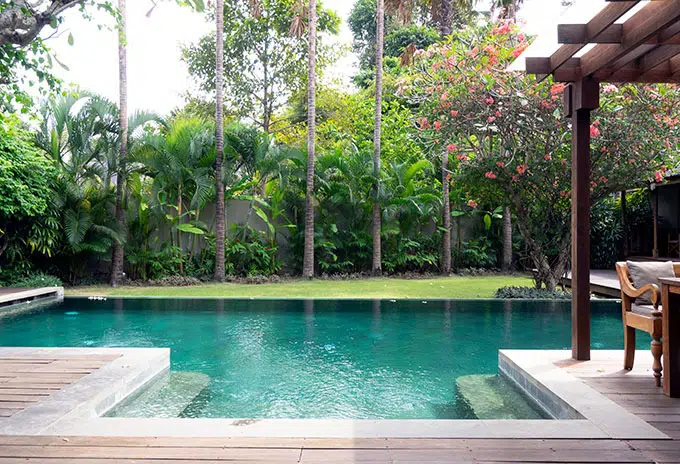 There is an outdoor dining table with chairs, where we spent most of our time. Well, the time when we weren't lazing on one of the sun lounges or swimming in the pool. If you're nosey like me, you will also find an outdoor shower hidden next to one of the cabins. It is discretely out of the way behind some plants.
At night the garden is illuminated to perfection. It's hard not to want to spend time out there. We had many late night swims when returning from dinner adventures.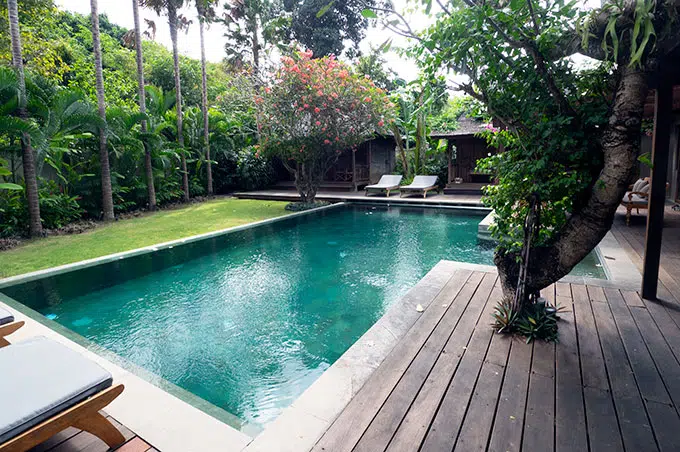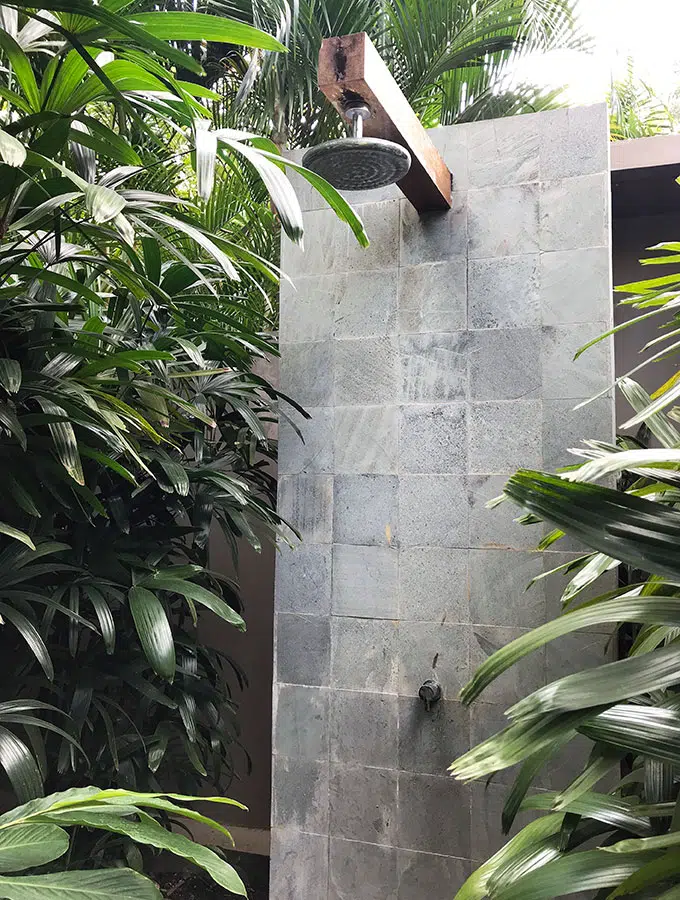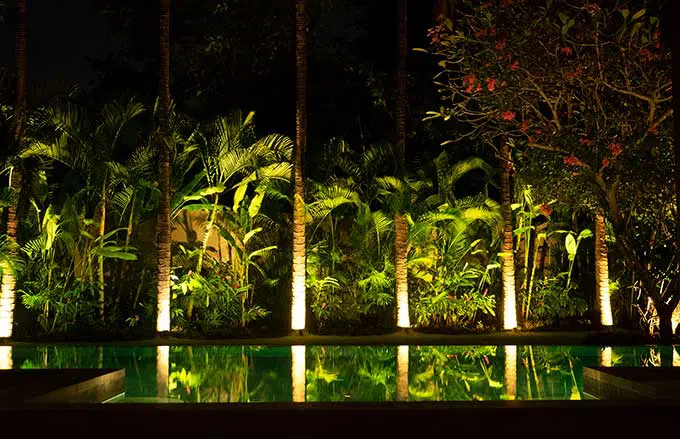 Master Bedroom
The air conditioned master bedroom is separated from the main villa by a small path. This gives the master suite privacy from the rest of the house. Actually all the sleeping areas have amazing privacy.
It consists of a king size bed, separate bathroom, and a separate study area which also includes built in wardrobes. All the bedrooms have safes and can be locked.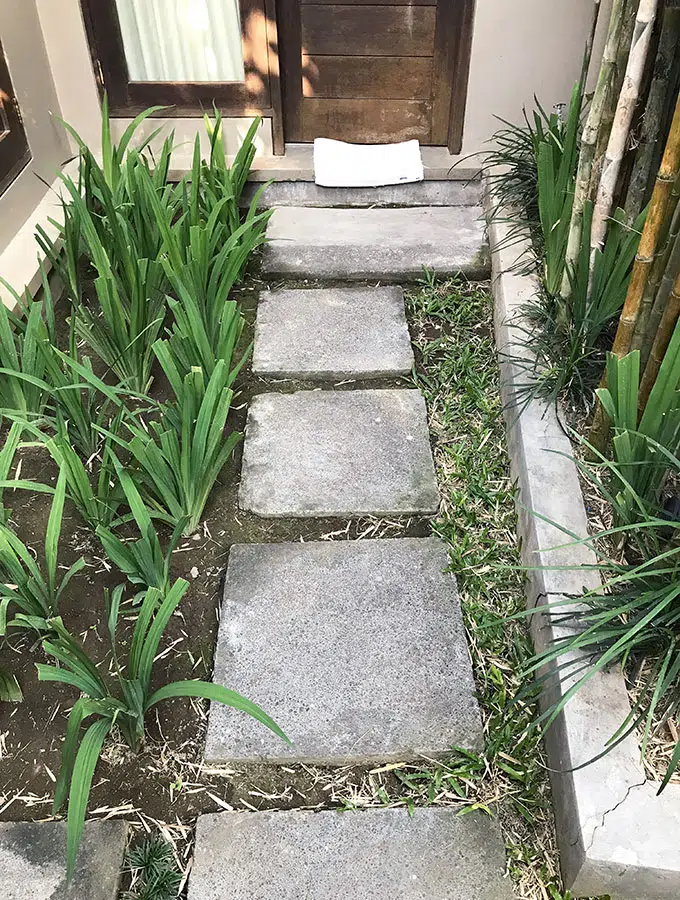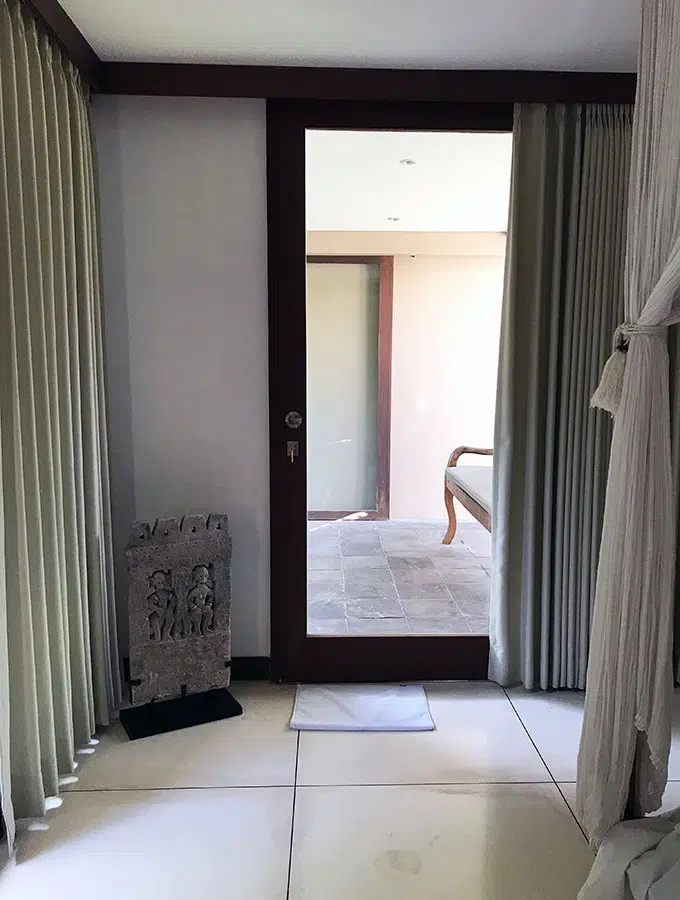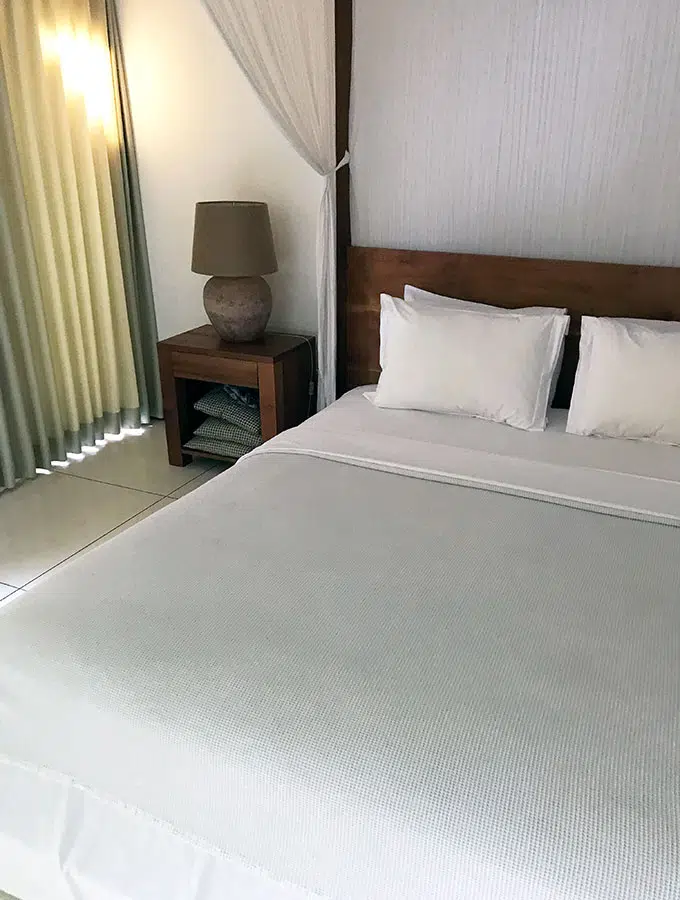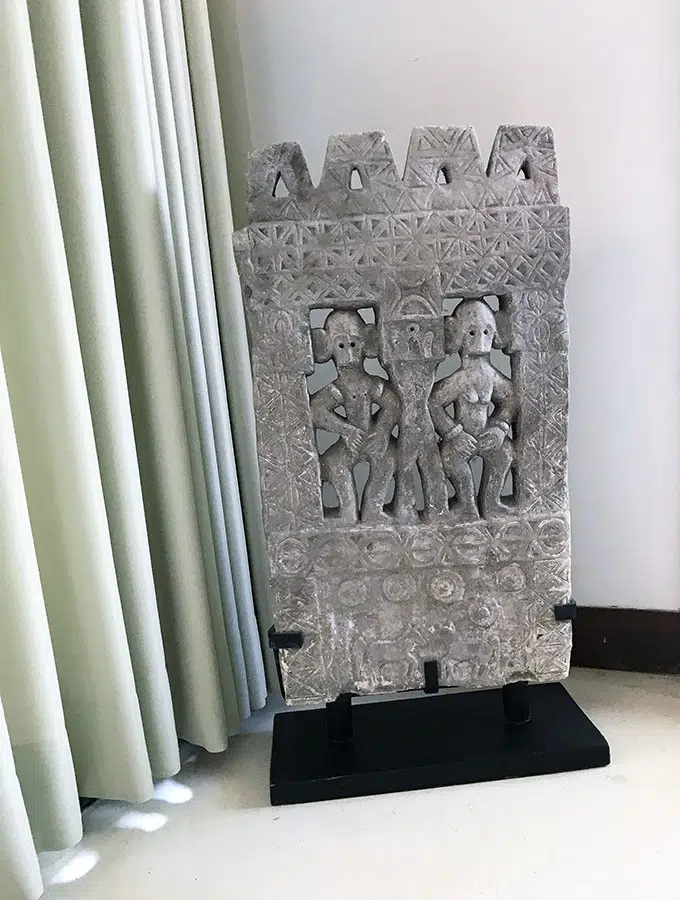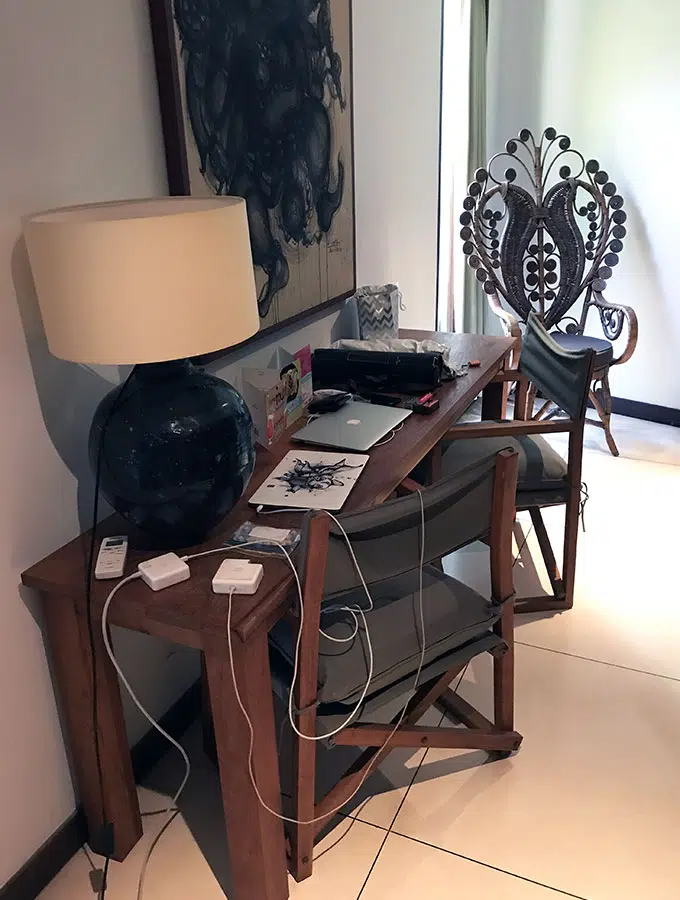 Three Separate Cabins
Other sleeping quarters are in the form of three cabins around the grounds of Villa Amore. They are so charismatic. Each has a queen bed with a separate modern bathroom. They are also airconditioned.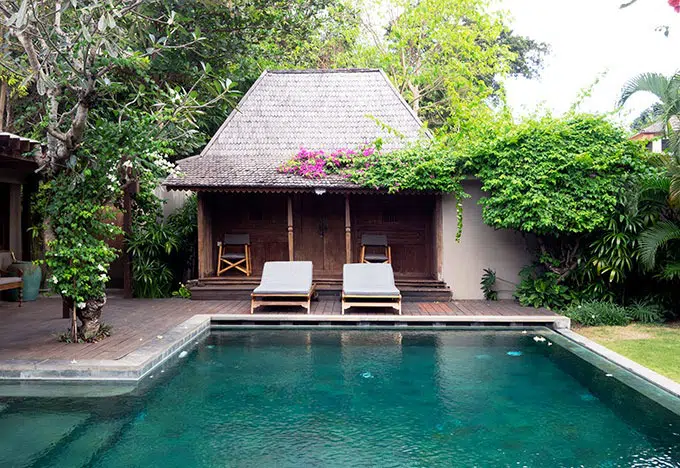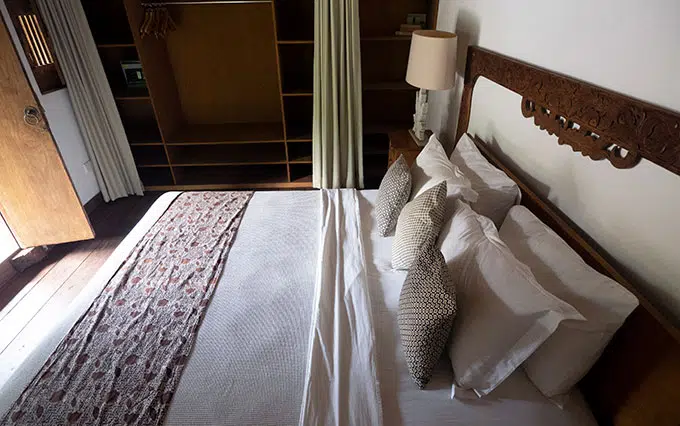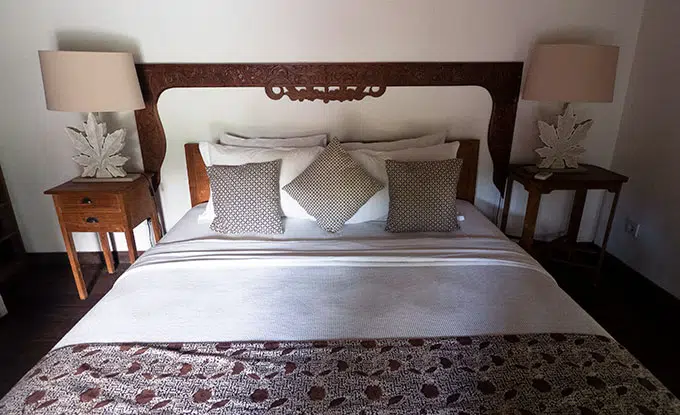 Each cabin has its own porch with seating. They are all individual in look and style.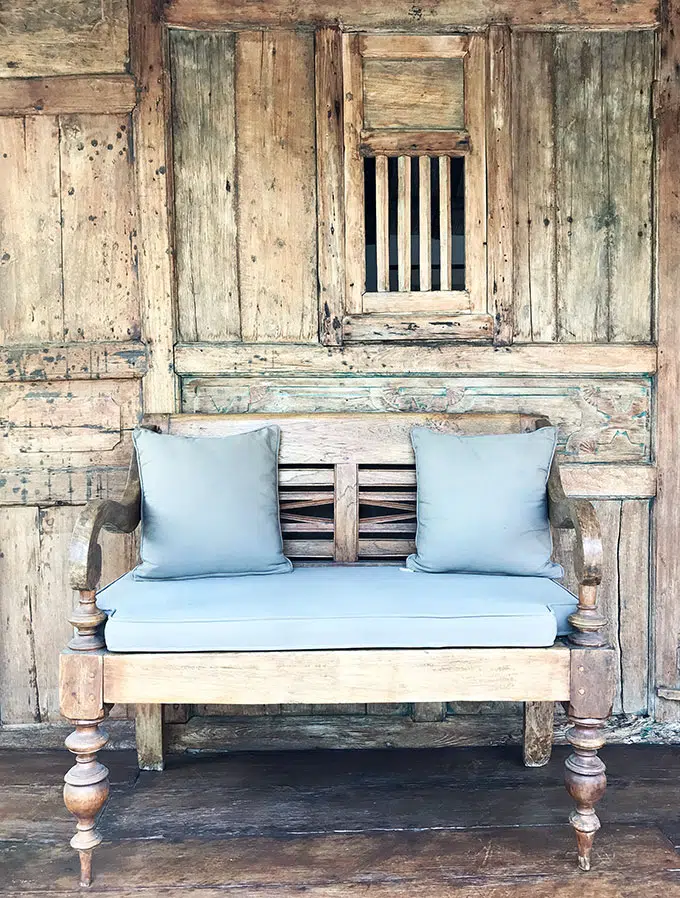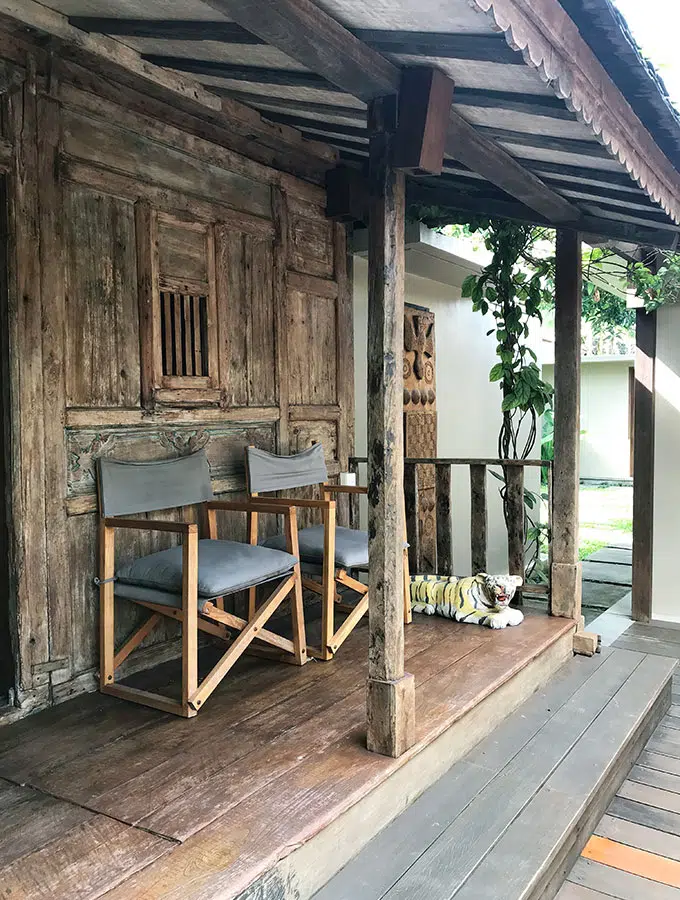 Bathrooms for All!
As mentioned the master suite and cabins all have ensuites. The photos below are from one of the cabins but they are all very similar. The master suite has a larger glassed-in garden than the cabins.
They all give you a sense of nature and of showering outside. As well as doing other things outside! The rain showers are sheer bliss.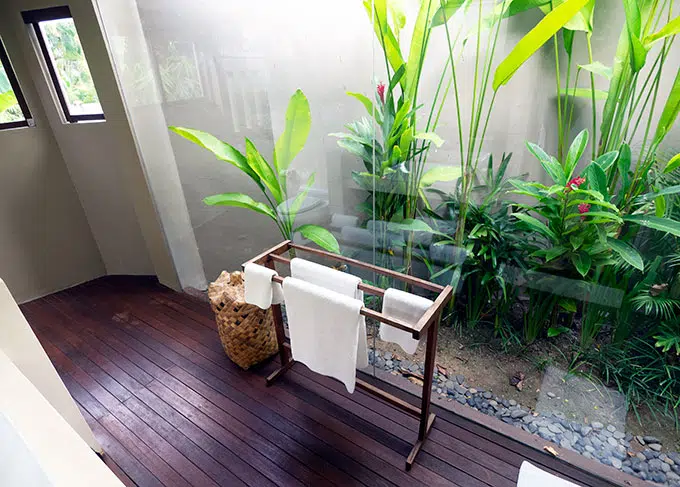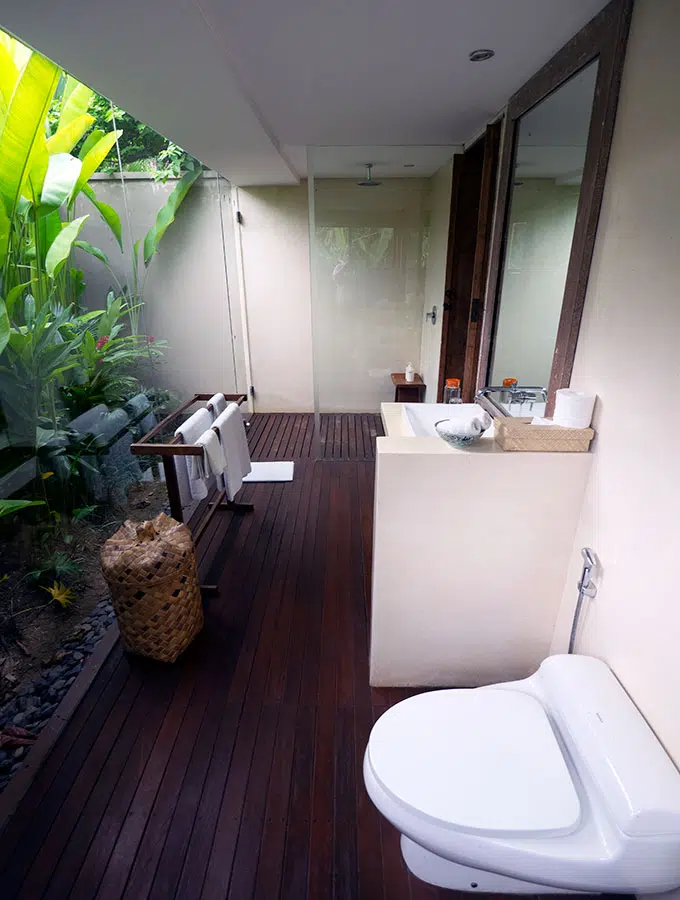 Surrounding Area
You will find numerous restaurants and cafes within walking distance of the villa. The beach is only a short drive away. There are also beauty spas in the area. For those really adventurous you will find an axe throwing club up the road.
Summary
I will admit I fell in love with Villa Amore. The villa itself is stunning and offered everything we needed. Even though we were having a family holiday, there was plenty of room for everyone to have their own space.
The staff are amazing. Super friendly and caring. Their presence provides you a hotel experience but in your own secluded villa. They are also experts at giving you privacy but magically being there when needed.
We used the driver that was recommended by the villa during our visit. Not only from and to the airport, but for touring and driving us to and from restaurants that were a long driving distance from the villa.
I highly recommend Villa Amore it is well worth checking out when researching other Seminyak Villas.
Sara xxx
More Tropical Accommodation
Viwa Island Resort Fiji - adult only bliss
Deluxe Suite Peninsula Hotel Bangkok - a touch of luxe
Shangri-La Hotel Singapore - tranquil escape in bustling Singapore
Sofitel Philippine Plaza - an oasis in mad Manila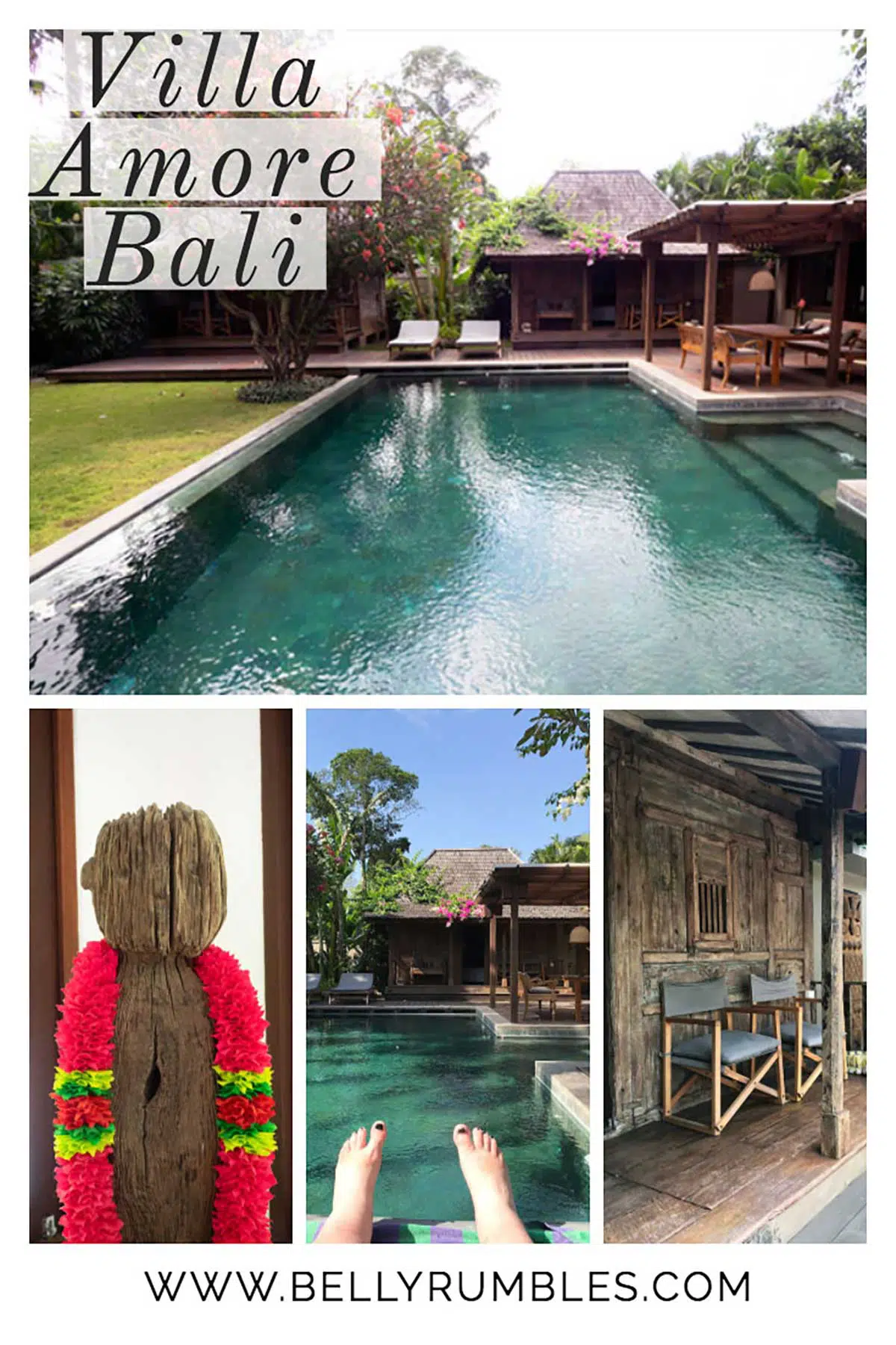 PIN ME TO YOUR TRAVEL PLANNING BOARD