Rum and Coca Cola Glazed ham is simple and delicious. Don't be put off by the thought of soda in your ham glaze. The results are a sticky, tasty glaze with a rum kick.
Another year, another boozy baked ham. Long time readers may have now worked out I like a dash or two of alcohol when it comes to glazing the Christmas (or Easter) ham.
So far I have shared with you my dark and stormy baked ham, and my peach and bourbon glazed baked ham. Both wonderful in their own rights, but this year I wanted to go for something a little different but keep it boozy.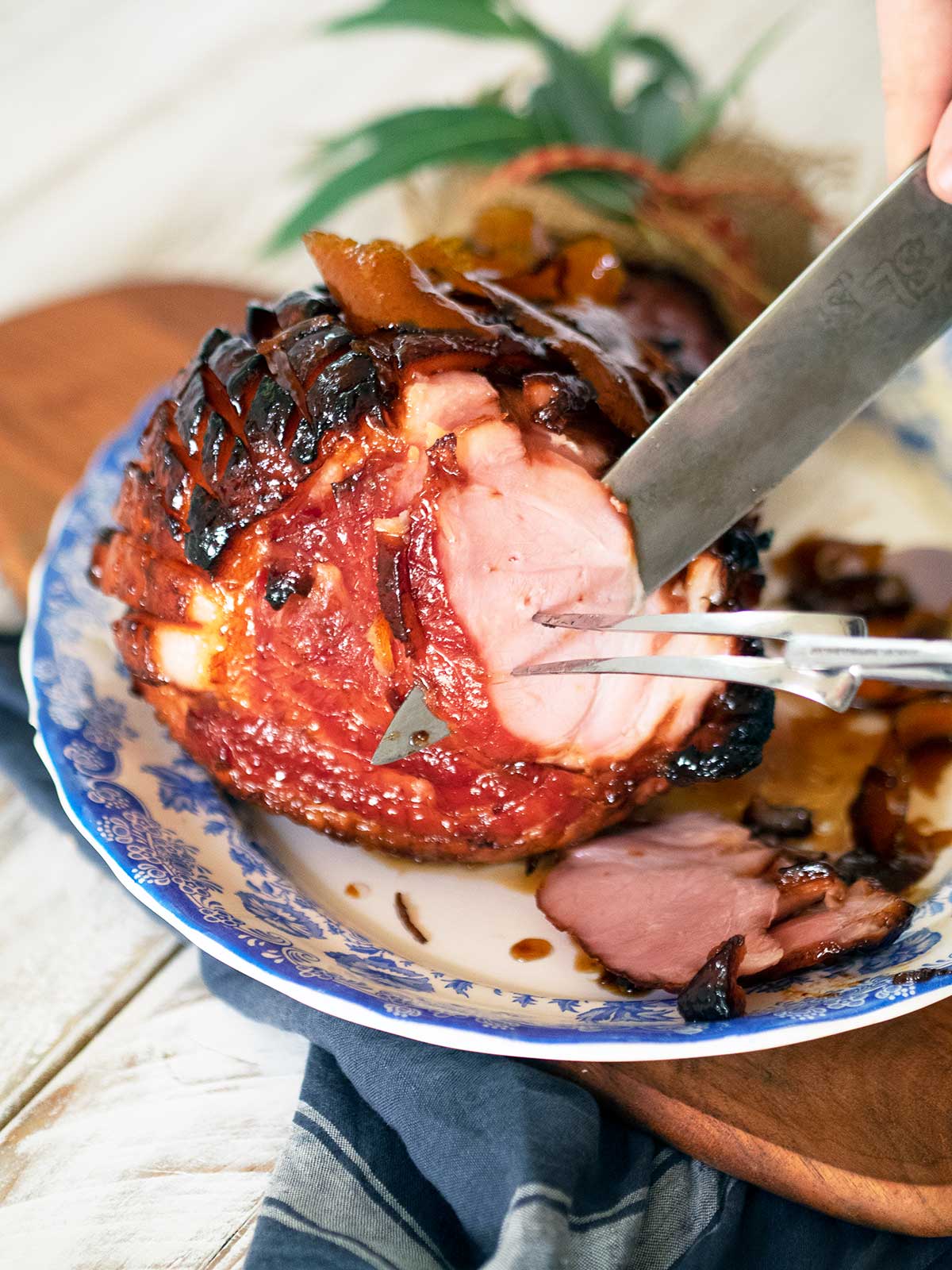 Contents
Ingredients
As with my past Christmas ham glaze recipes, this rum, and coca cola glazed ham doesn't have an extensive ingredient list. A simple baked ham recipe with a five ingredient glaze.
The ingredients are all pantry staples. Except maybe for the coca cola. Yes it does need to be coca cola, no substitutes. Pepsi will not win this taste challenge.
Coca Cola: You will be surprised how this soft drink/soda transforms when mixed with other ingredients, you wouldn't know it was in the glaze.
Dark Brown Sugar: Use dark over standard brown sugar for a deep caramel flavour.
Orange Marmalade: Adds a little bit of bitterness to the glaze, plus enhances the orange flavour.
Dark Rum: It goes with coke, it goes with orange, it just works.
Orange: Juice and peel and more orange flavour and a little freshness.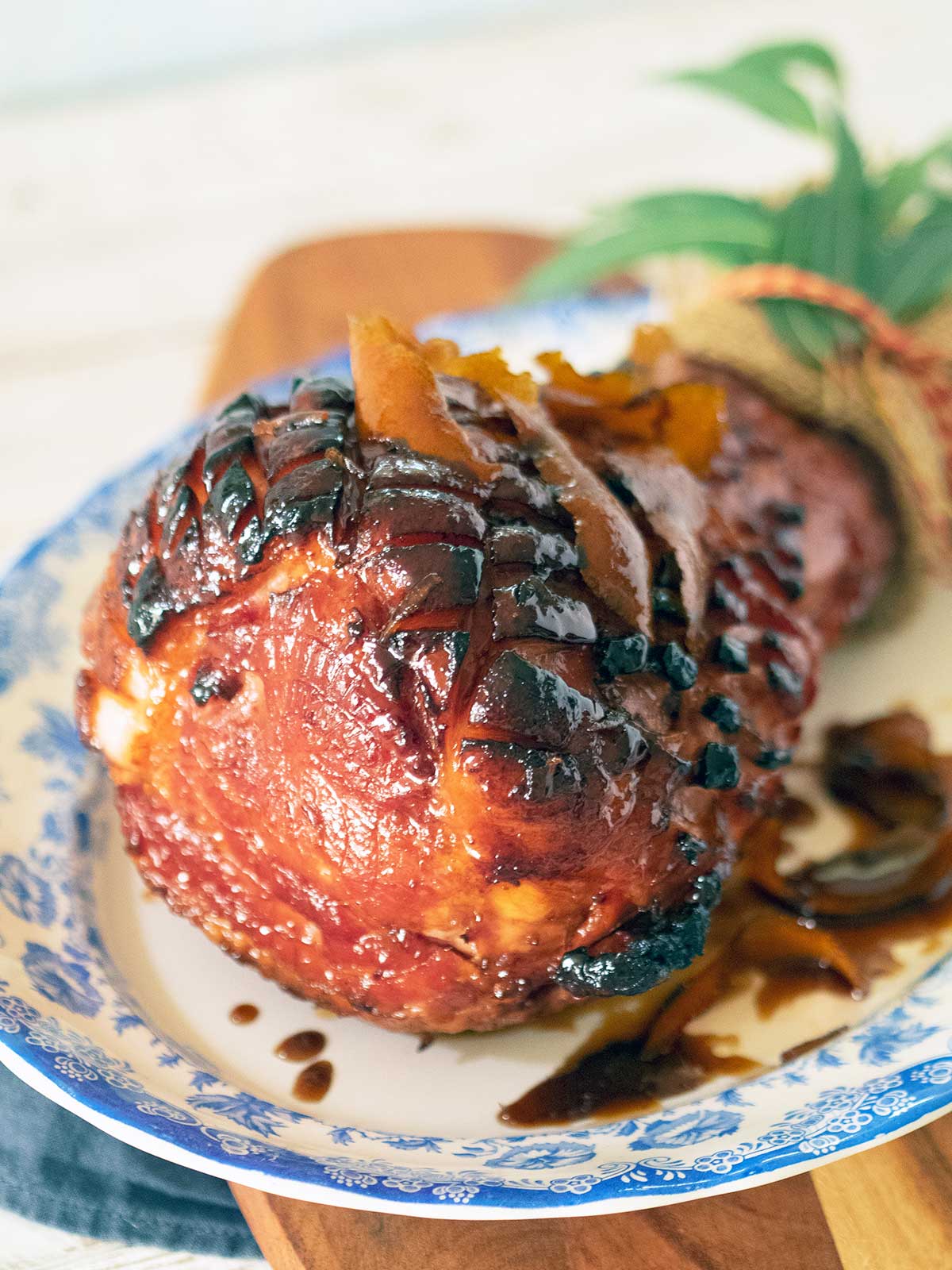 Why Cola?
Don't turn your nose up at the thought of a coca cola glazed ham. Instead have a think of the aromatics that go into making cola.
I made my own cola syrup a while back, it was an educational experience. From the process, I learned that a mix of spices and citrus make up the flavour of cola. I elevated these flavours with orange juice, peel, and a generous dollop of marmalade.
Recipe Walk Through
Please read my comprehensive How to Cook a Ham guide. This will guide you through how to prepare the ham for baking and general baking tips and tricks.
Place coca cola, brown sugar, and marmalade in a large heavy based saucepan. Place over medium heat and mix well. Once sugar and marmalade have dissolved bring to a hard simmer.
Simmer the coca cola mixture, stirring occasionally, until it has reduced by two thirds. This will take 30-40 minutes. While the mixture simmers, prepare your ham.
To the coca cola mixture add rum, orange juice, and orange peel. Stir to combine.
Simmer mixture until it has reduced and thickened. This will take approximately 15 minutes.
Once reduced remove from heat. At this time pre heat your oven to 180°C (360°F)
Place prepared ham in a lined oven baking dish.
Brush ham liberally with glaze and place in the oven on the middle shelf.
Continue to brush the ham liberally every 10-15 minutes with glaze and pan juices.
Bake ham for 1 - 1 hour 20 minutes.
The ham is ready when well browned, glossy and there are a couple of slightly charred pieces.
To serve ham place on a suitably sized serving plate and carve at the table.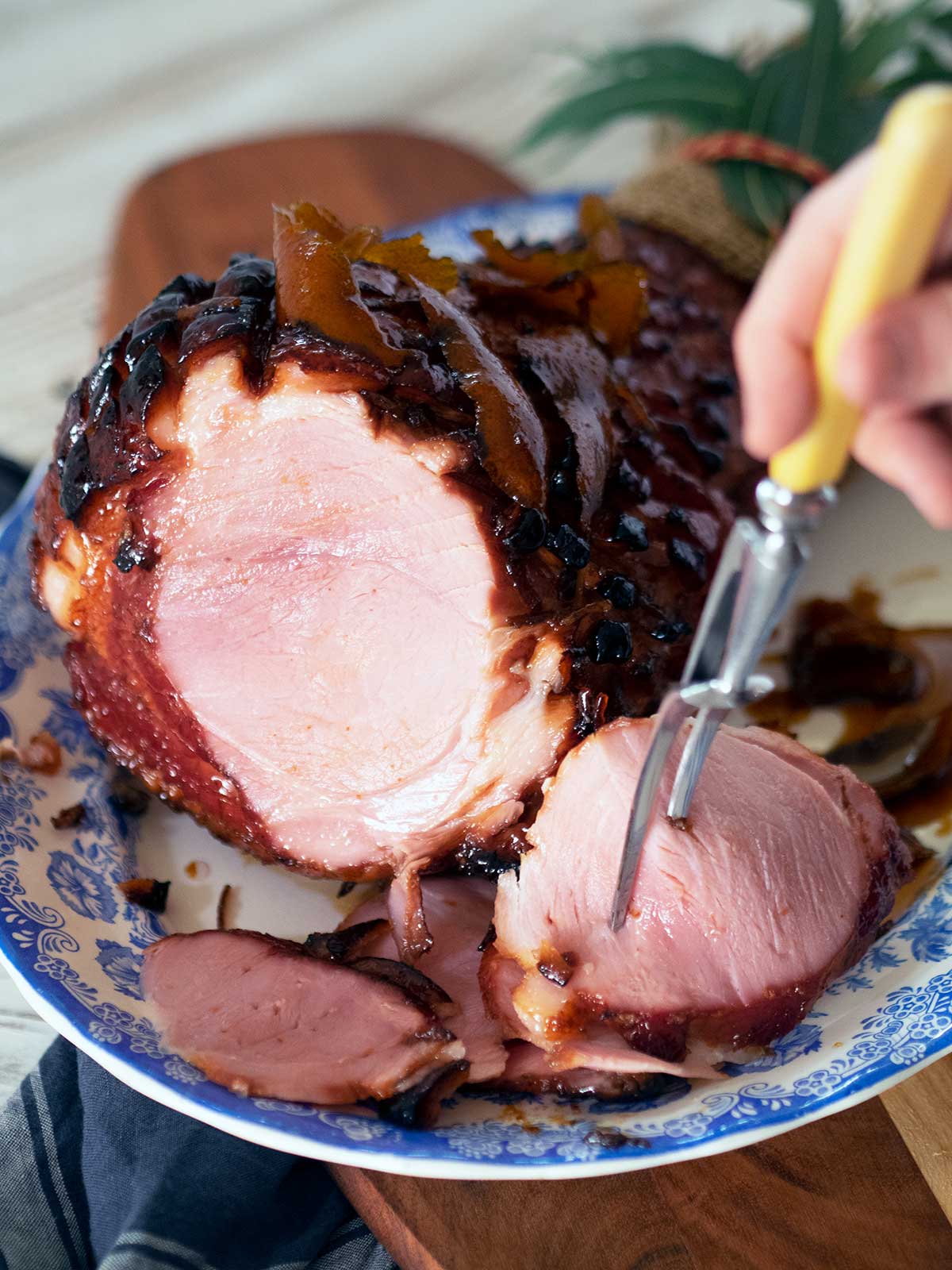 I do hope you enjoy this year's Christmas ham glaze. If you do end up making my rum and coca cola glazed ham do let me know via Instagram or Twitter. I would love to see how you go.
Your baked ham will end up being finger licking sticky. The finished ham will be a little darker than most baked hams, and to be expected. The cola glaze is basically black.
Everyone was surprised and blown away with the taste. We found ourselves using excess glaze as a drizzle sauce with slices of the finished ham, it was that good.
Sara xxx
More Christmas Mains
I have a big selection of Christmas recipes on the blog, including a section on Christmas dinner recipes for the main event.