Looking for a Kyoto apartment hotel? Accommodation a little roomier than a standard Japanese hotel room? With space to comfortably accommodate a family or group travelling together? Mimaru Apartment Hotels could be the right fit for you.
Mimaru isn't the kind of accommodation I normally review. But being a frequent traveller to Japan I know how tiny the rooms of some hotel accommodation can be.
The rooms aren't just spacious. As they are studio apartment style, they are self-catering. Making them perfect for extended stays.
Josh and I stayed at Mimaru Nishinotoin Takatsuji on our recent visit to Kyoto. There are six Mimaru Apartment Hotels in Kyoto, including one next to Kyoto Station.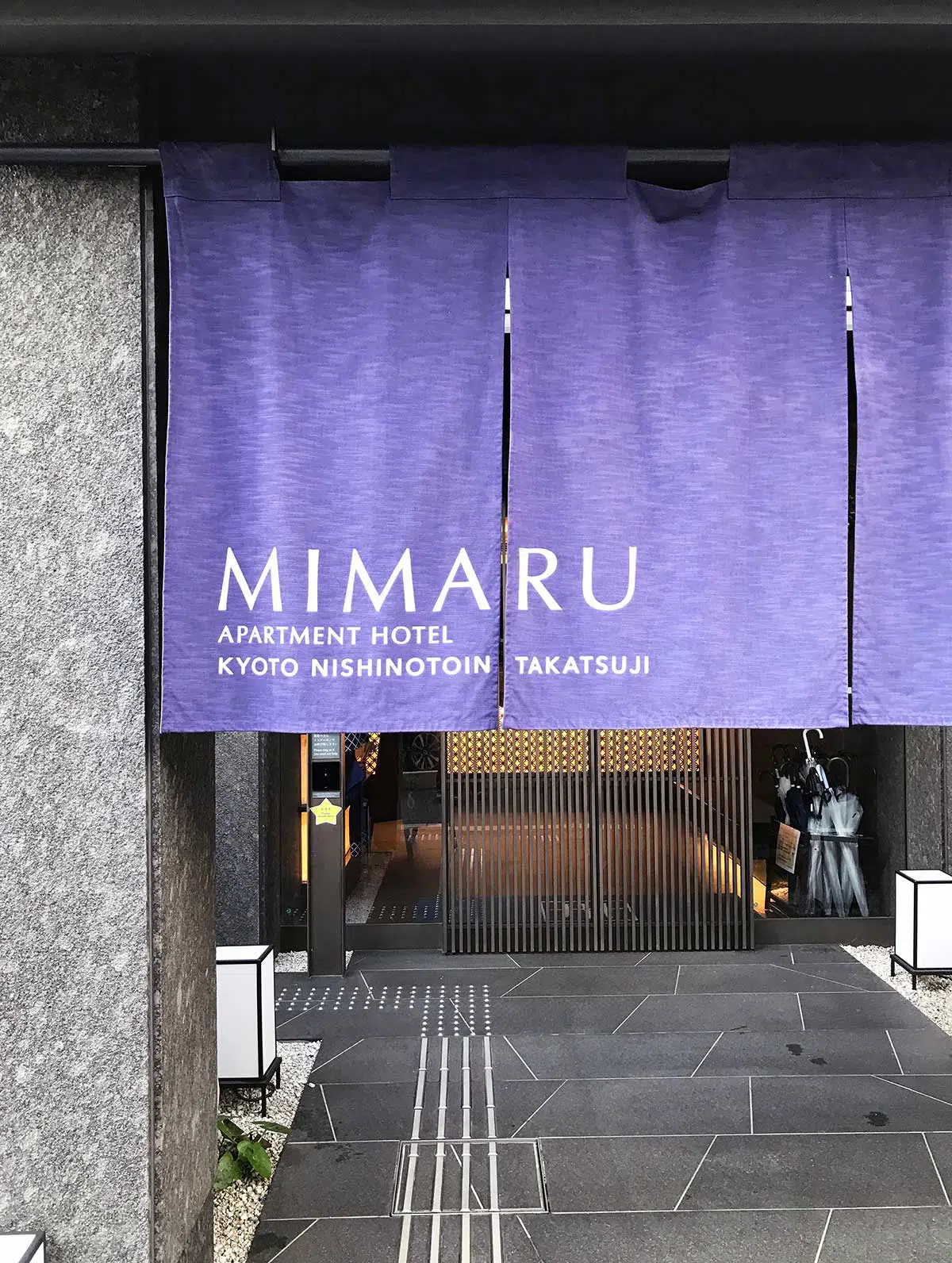 The Location of Mimaru Nishinotoin Takatsuji
The location of this Kyoto apartment hotel is rather convenient. It will take you approximately eight minutes via taxi from Kyoto station (20 minute walk).
Nishiki Markets: 17 minute walk (9 minutes by taxi)
Nijo-jo (Nijo Castle): 20 minute walk (8 minutes by taxi)
Kyoto Imperial Palace: 30 minute walk (12 minutes by taxi)
Gion Corner: 27 minute walk (11 minutes by taxi)
Kinkaku-ji (The Golden Temple): 38 minutes by train (20 minutes by taxi)
Read Other Glowing Reviews of Mimaru on TripAdvisor
On Arrival at our Kyoto apartment hotel
If your Japanese isn't the best, you will be happy to know that the staff at reception are multilingual. They speak both Japanese and English. If you don't speak either of those languages, I believe they are well versed in interpretive dance too.
Just kidding about the interpretive dance (or maybe not…..). There is a translator app for 12 other languages, you should be covered.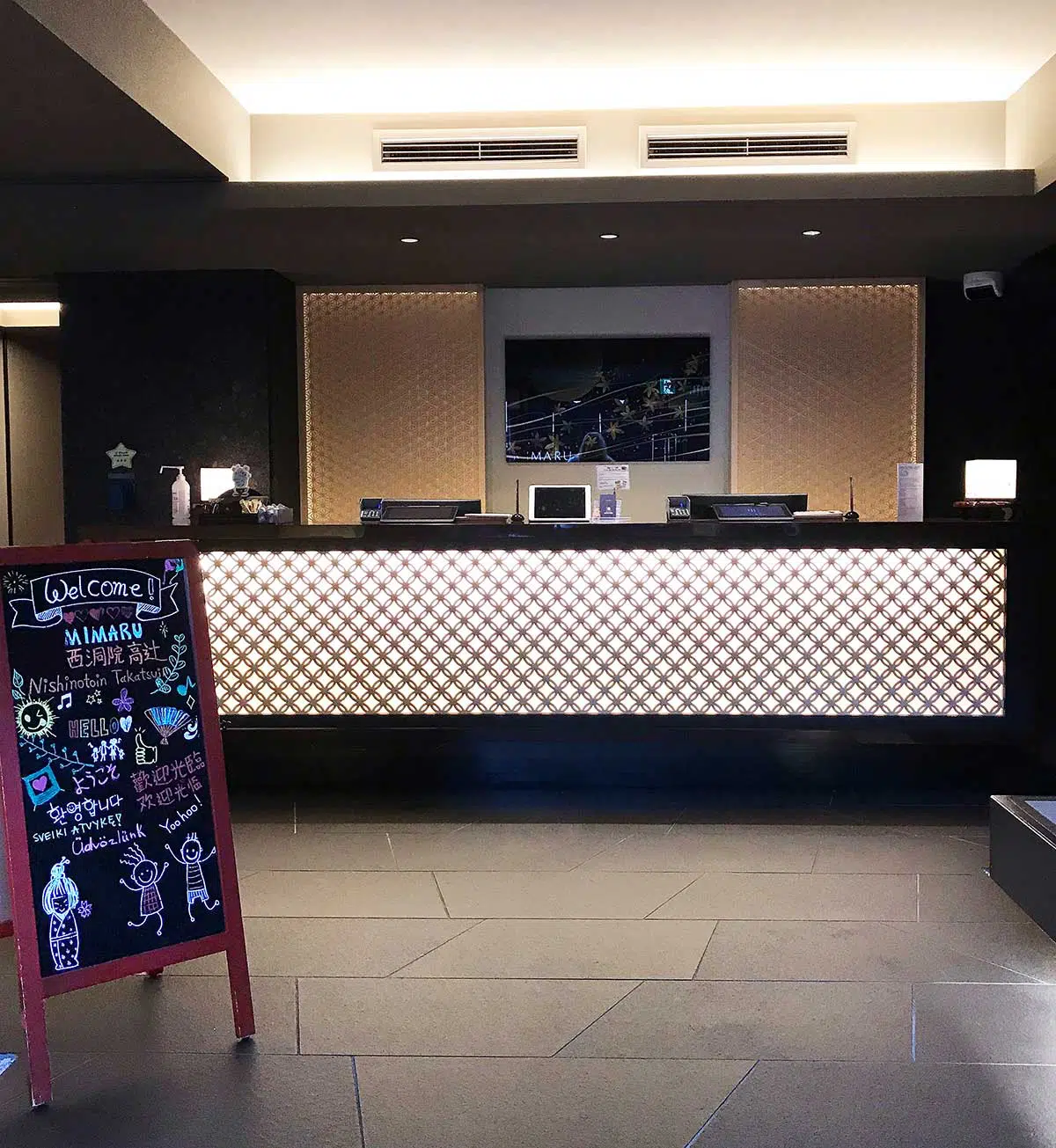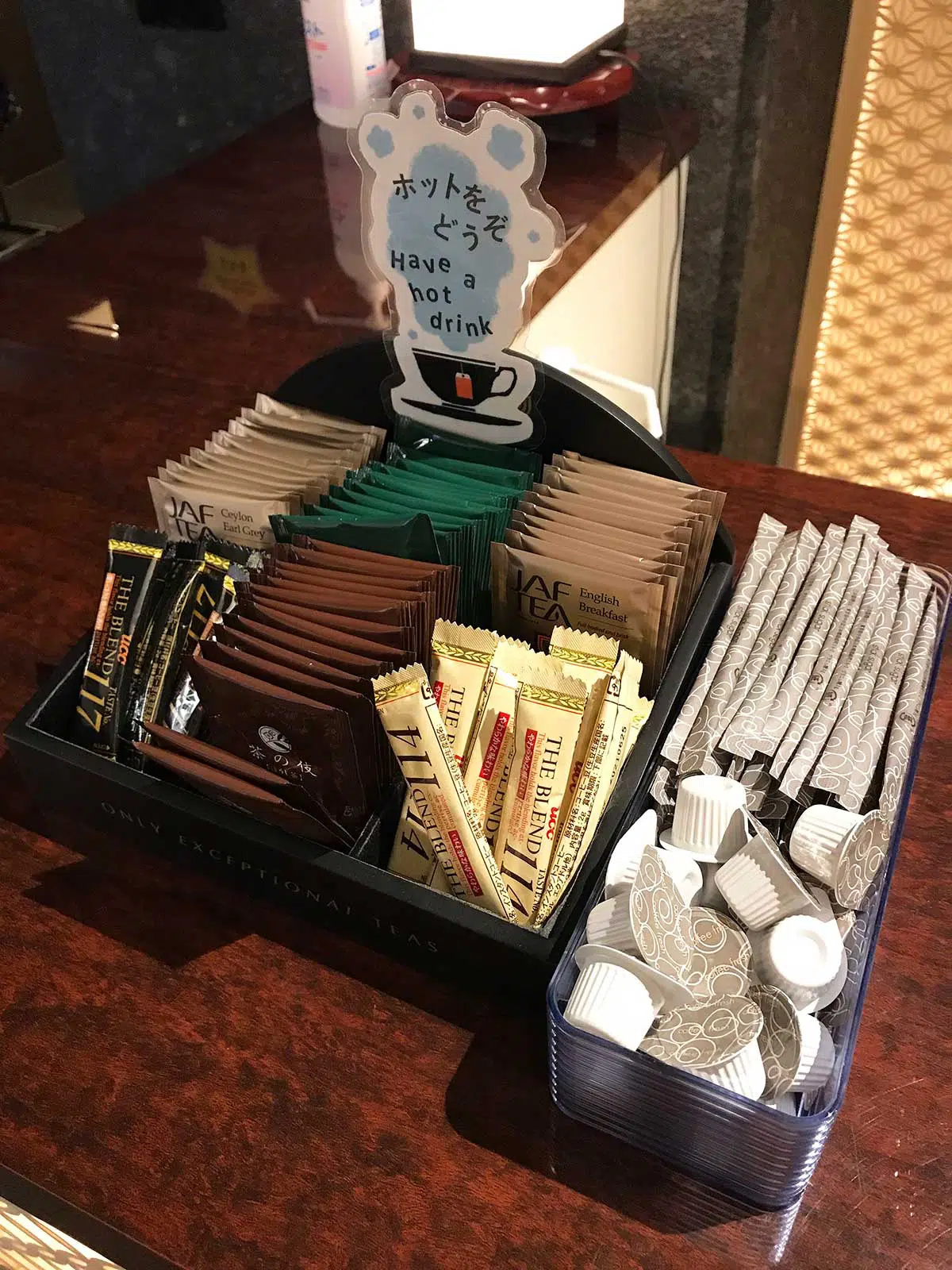 Staff are super friendly and helpful. More than happy to assist you with dining suggestions, sightseeing information and grabbing a taxi for you is needed.
When you check in you will be invited to grab some tea and coffee to take to your room. If you would like a pair of slippers they are available here too. Unlike most hotels you won't find these items in your room.
Our Room in General
We stayed in room 208 on the second floor. Located next to the elevator, but elevator noise was not a factor. It is a corner room which looks out over Nishinotoin-dori.
The rooms are large and open plan. When you walk in you pass the bathroom, separate toilet and a wardrobe (with ample coat hangers). The room then opens up to your sleeping, lounge and kitchen area (with more storage cupboards).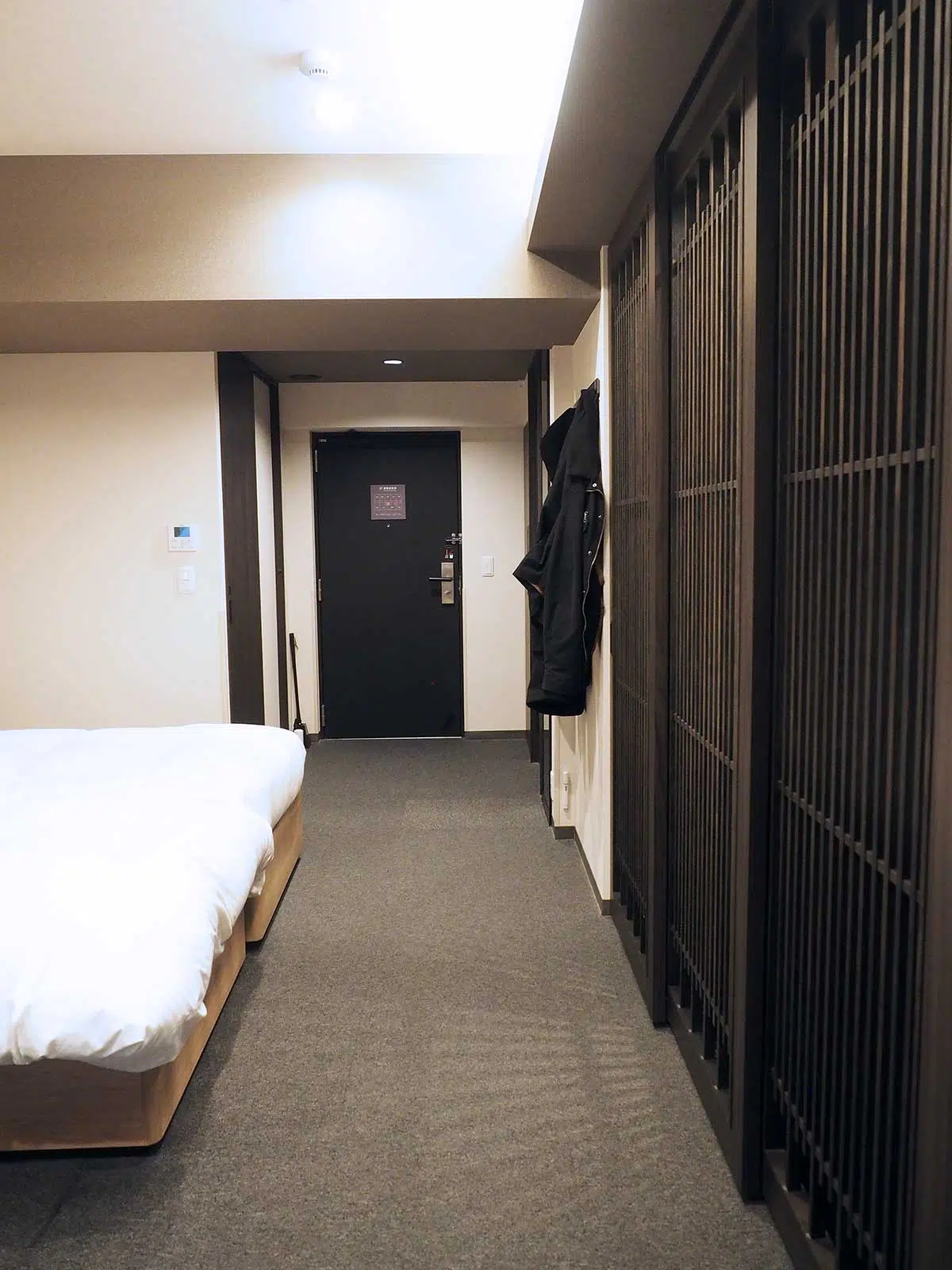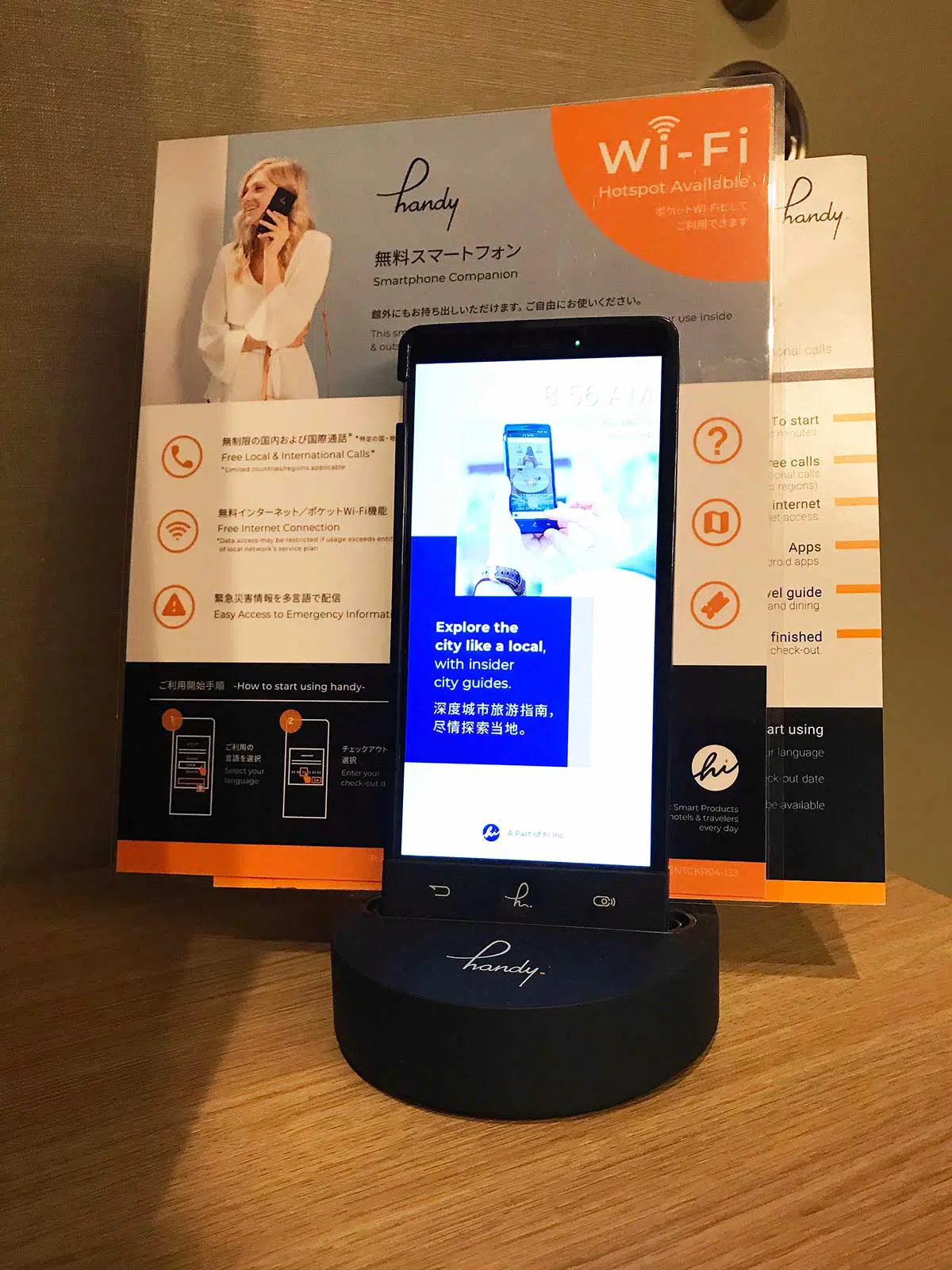 All rooms have free Wi-Fi, this is very normal in Japan. They also have smartphones available in all rooms. The phone will allow you to make unlimited free calls within Japan and a few select foreign countries. You can take it with you when you are exploring Kyoto and download any apps you need to make exploring easier.
The Sleeping Area
The main focus of the studio apartment are the two twin beds Hidden behind the headboard is a bunk bed. The twin beds are firm which is standard in Japan. You will find the bunk beds a little softer. The bottom bunk bed has a pull down blind at one end for extra privacy.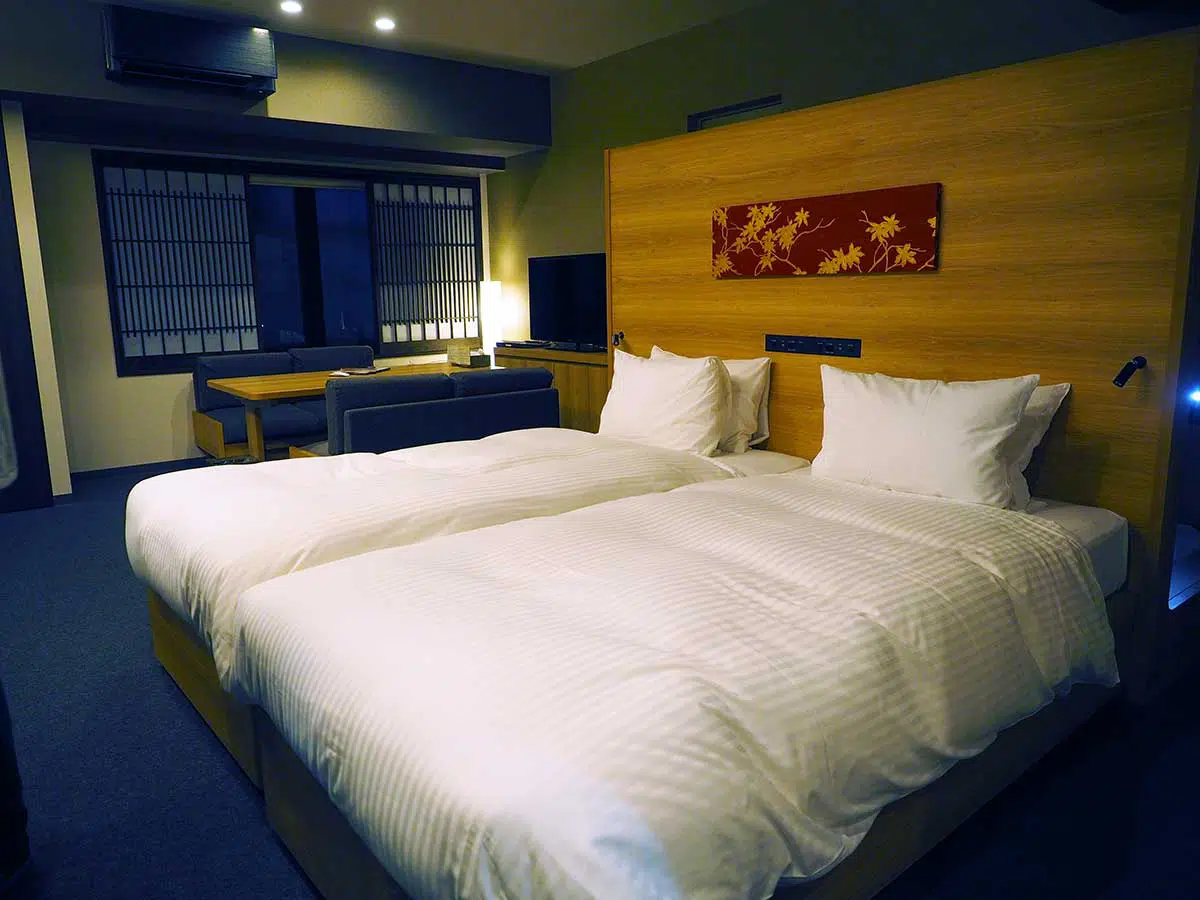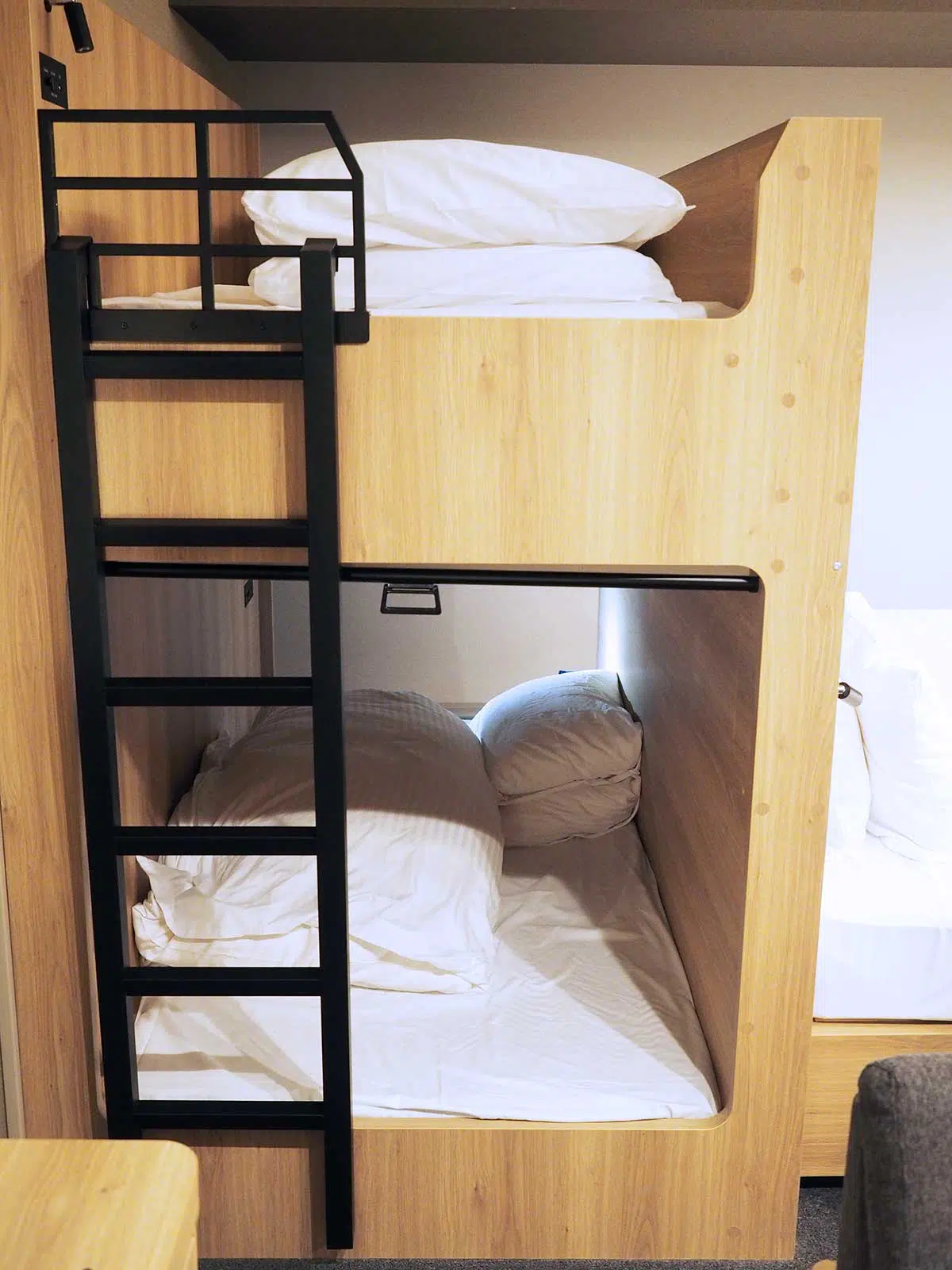 The Lounge Area
Next to the beds is the lounge area. A decent size wooden table with two padded bench seats. Plenty of room to have dinner, play board games or research your sightseeing plan of attack. A large flat screen television sits against the wall at the end of the table.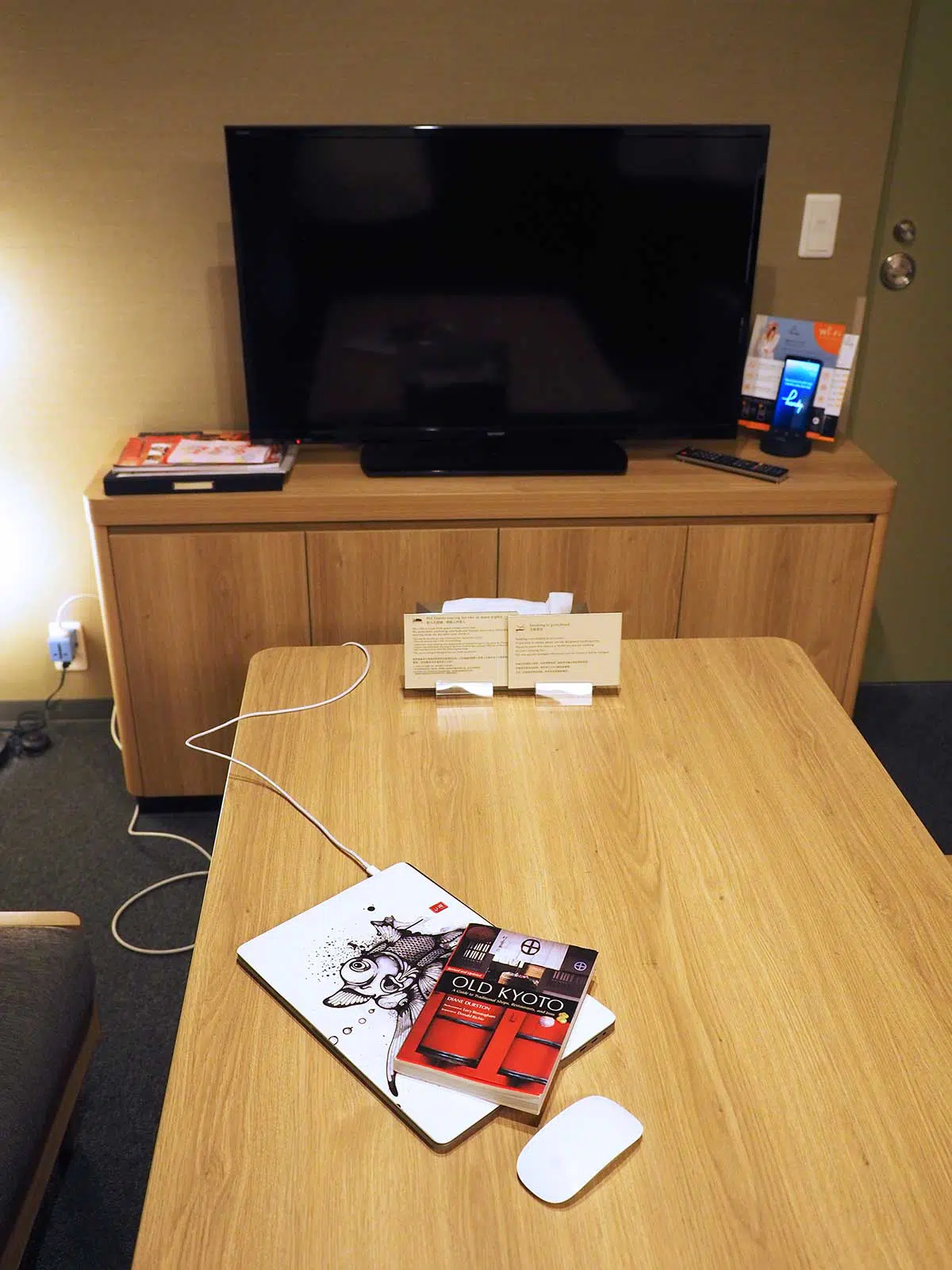 The Kitchen
The kitchen is compact but has everything you need for four people. A good size fridge with generous freezer. Small electric stove top to cook on. There are saucepans, mixing bowls, cooking utensils, as well as plates, bowls, glasses, cups and eating utensils.
The kitchen is disguised when not in use behind sliding wooden slatted doors.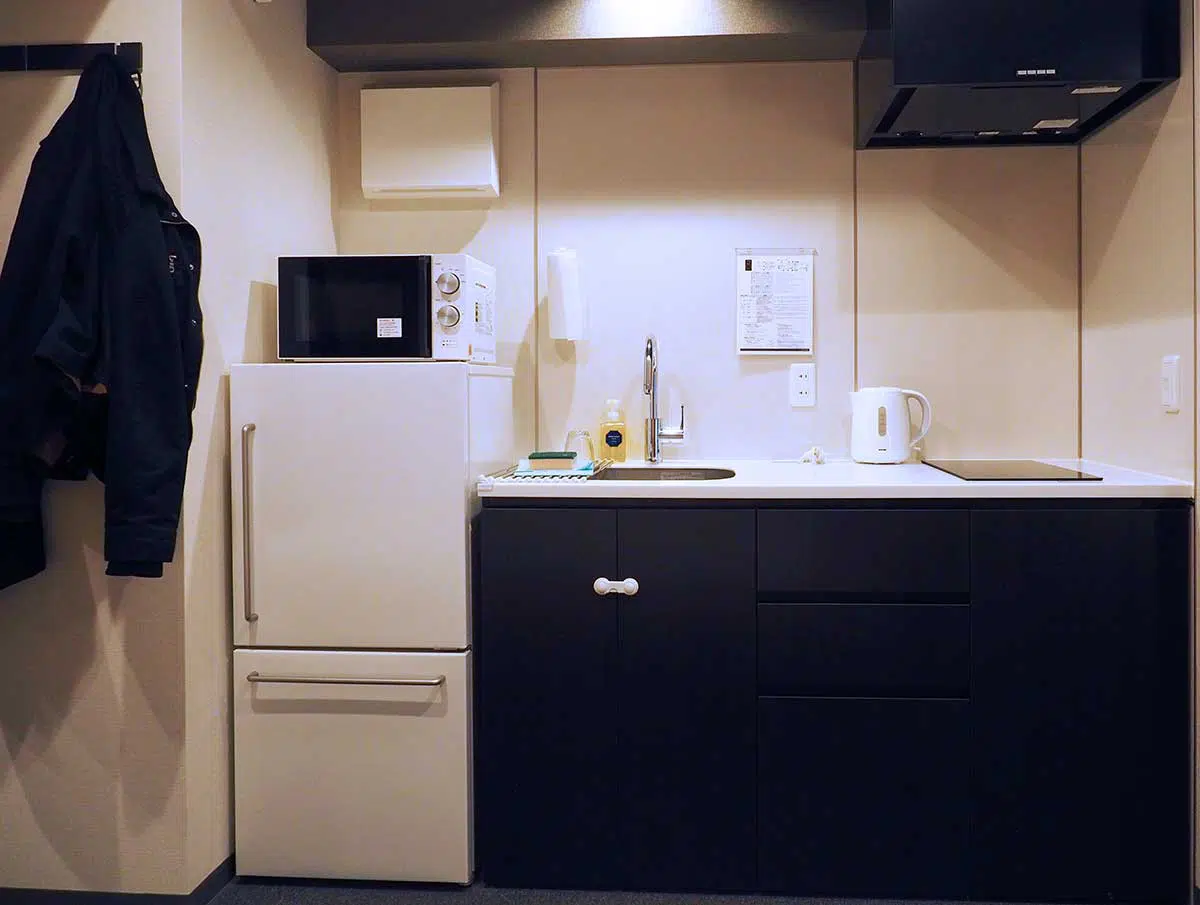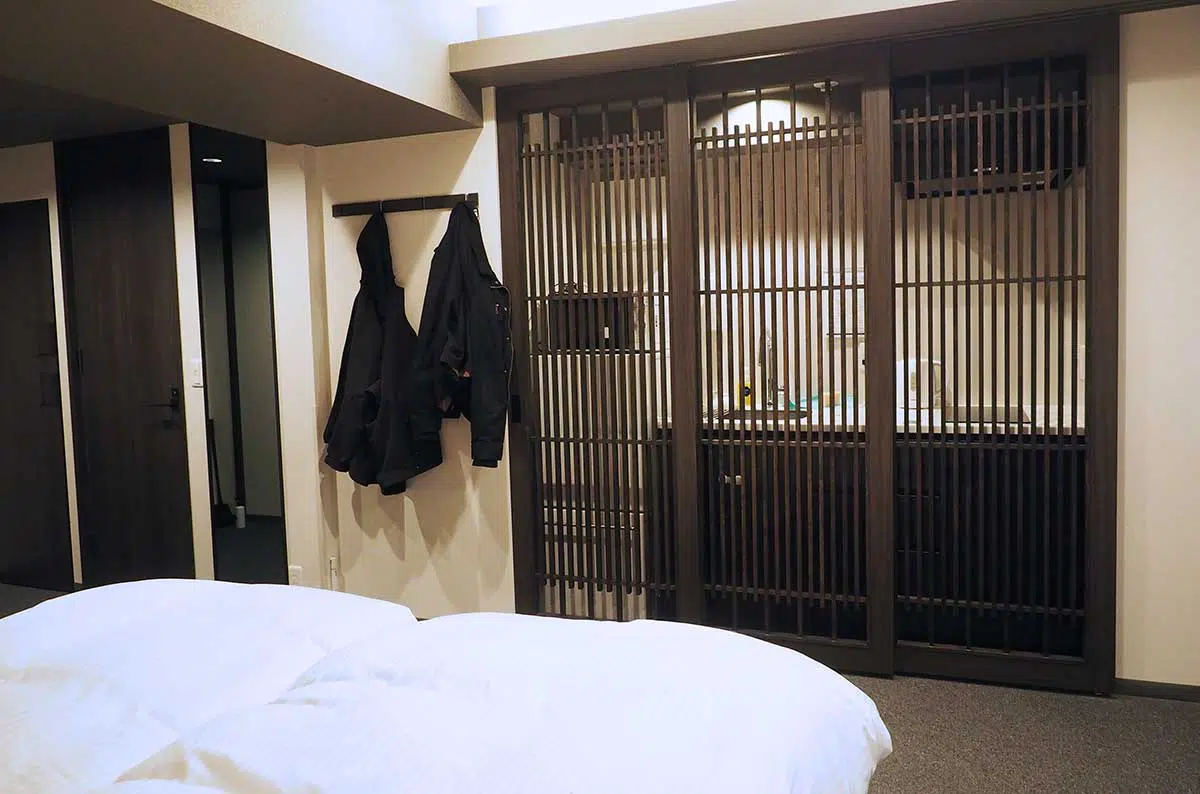 The Bathroom
In the bathroom you will find a rain shower, hand held shower and a nice deep bath for soaking. Shampoo, conditioner and body wash is provided in big pump packs. The hand basin is separated from the shower and bath by a frosted glass door. There is a hairdryer if needed.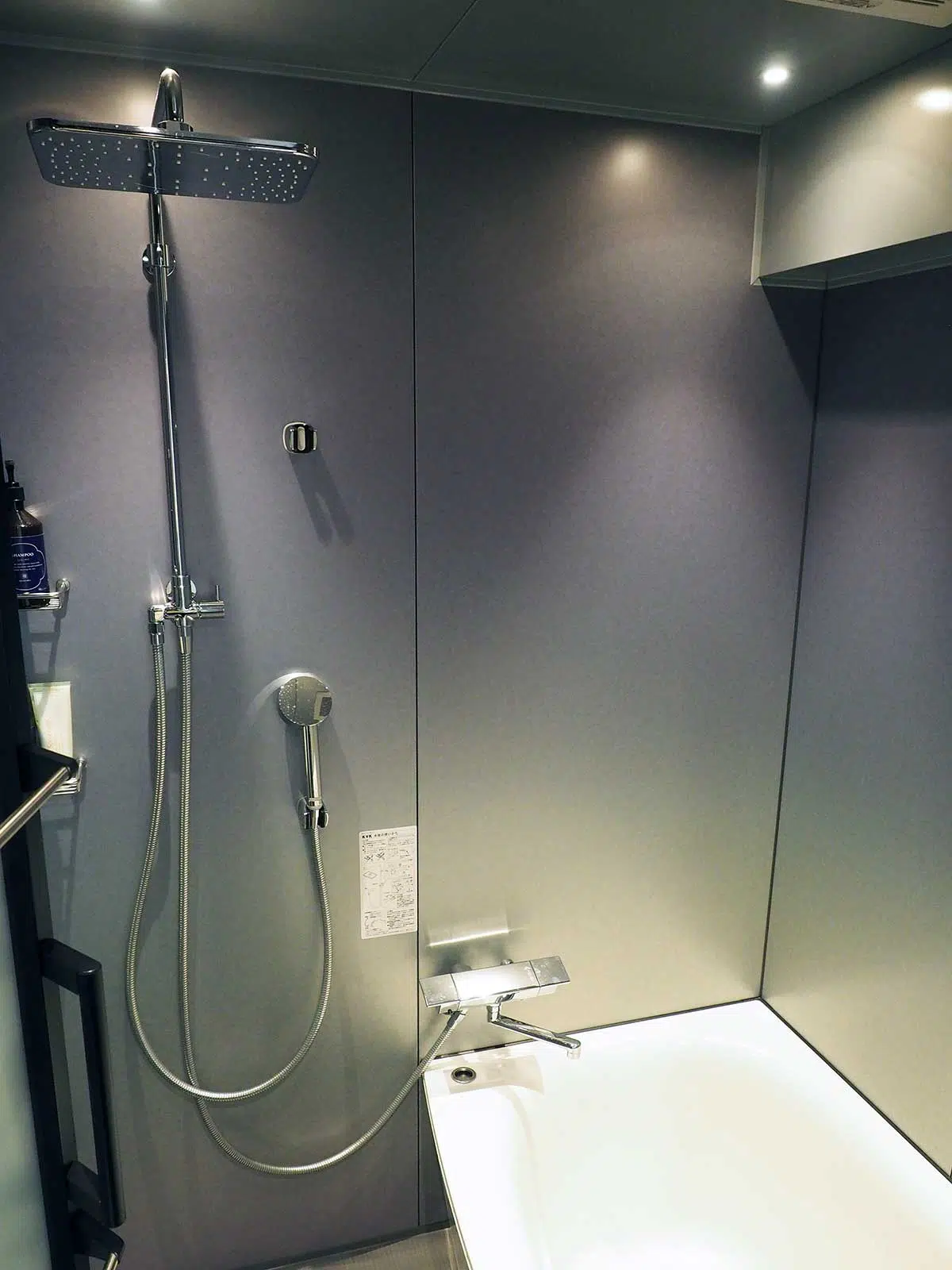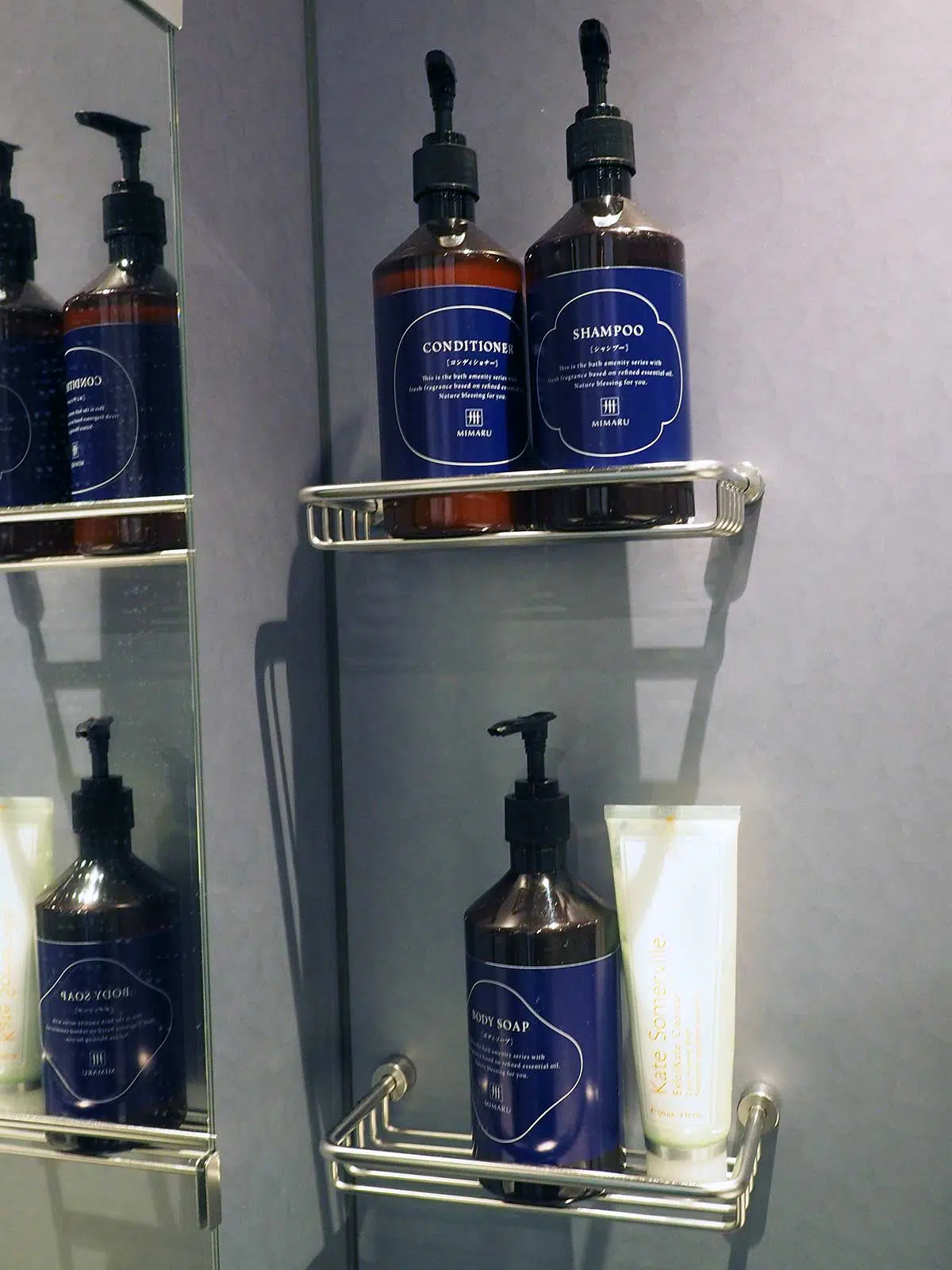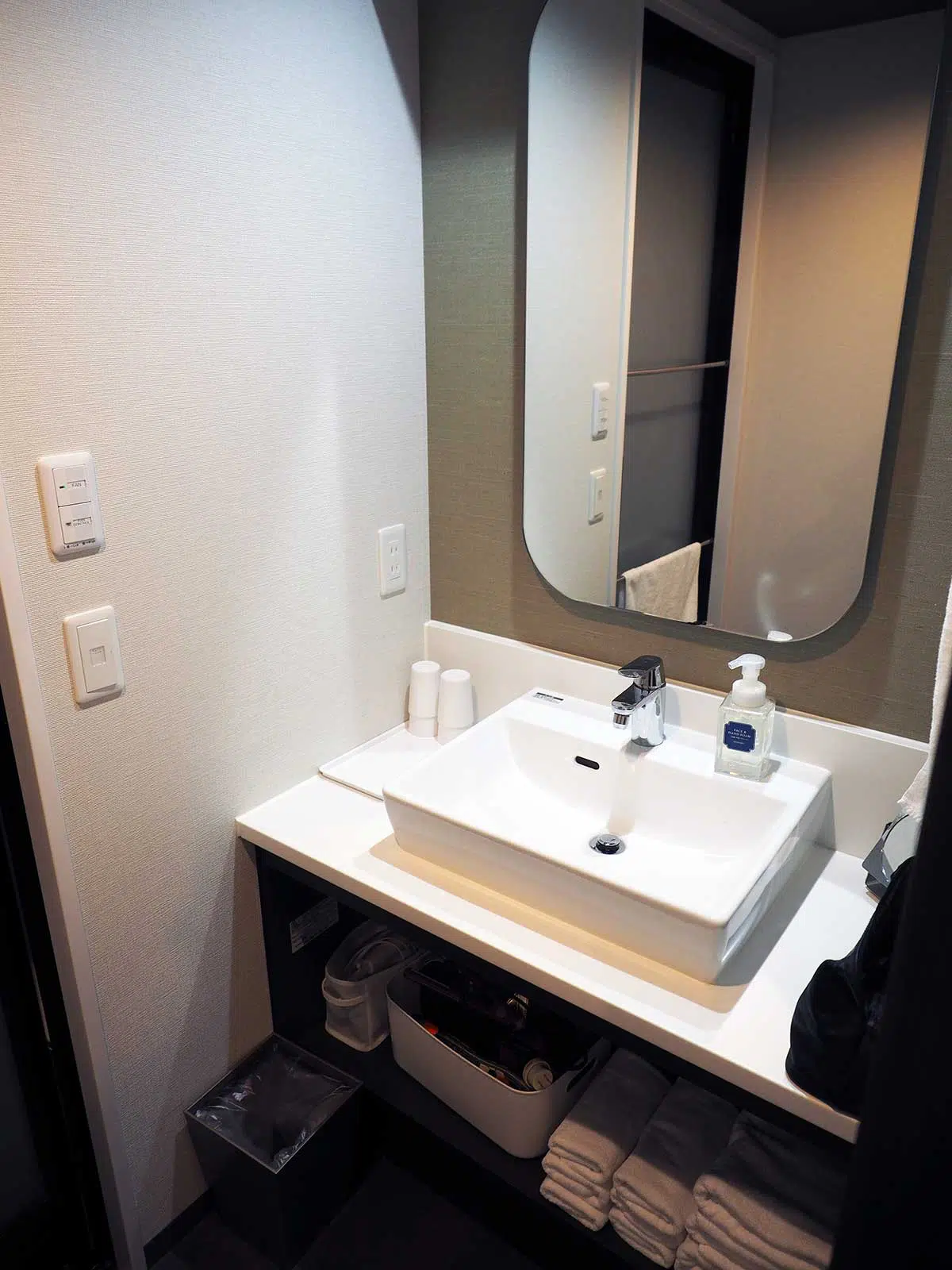 Across from the bathroom you will find a separate toilet. A Japanese Toto toilet. It does everything except sing you a lullaby. For the uninitiated to Japanese style toilets, there are translated instructions for you to follow on the wall.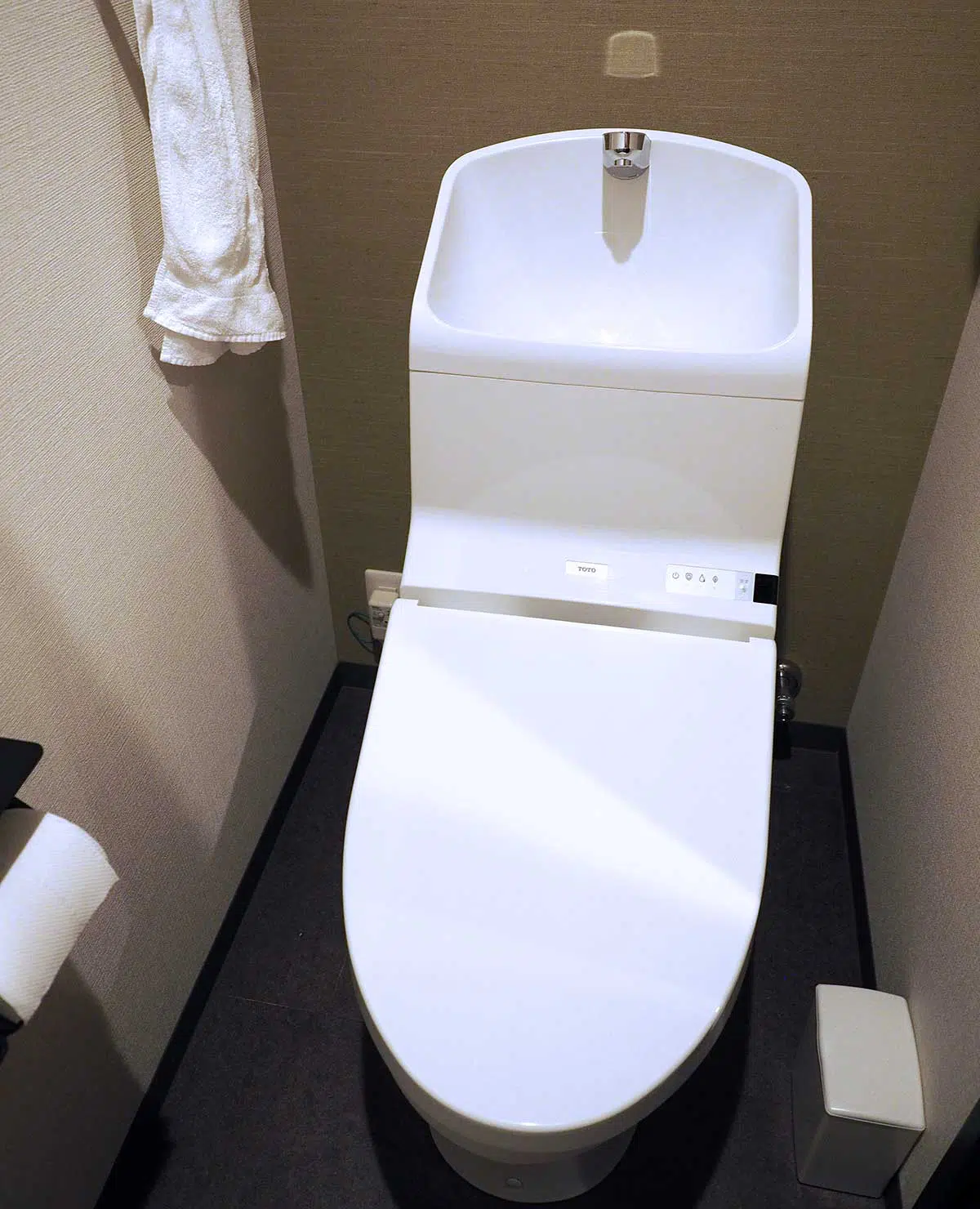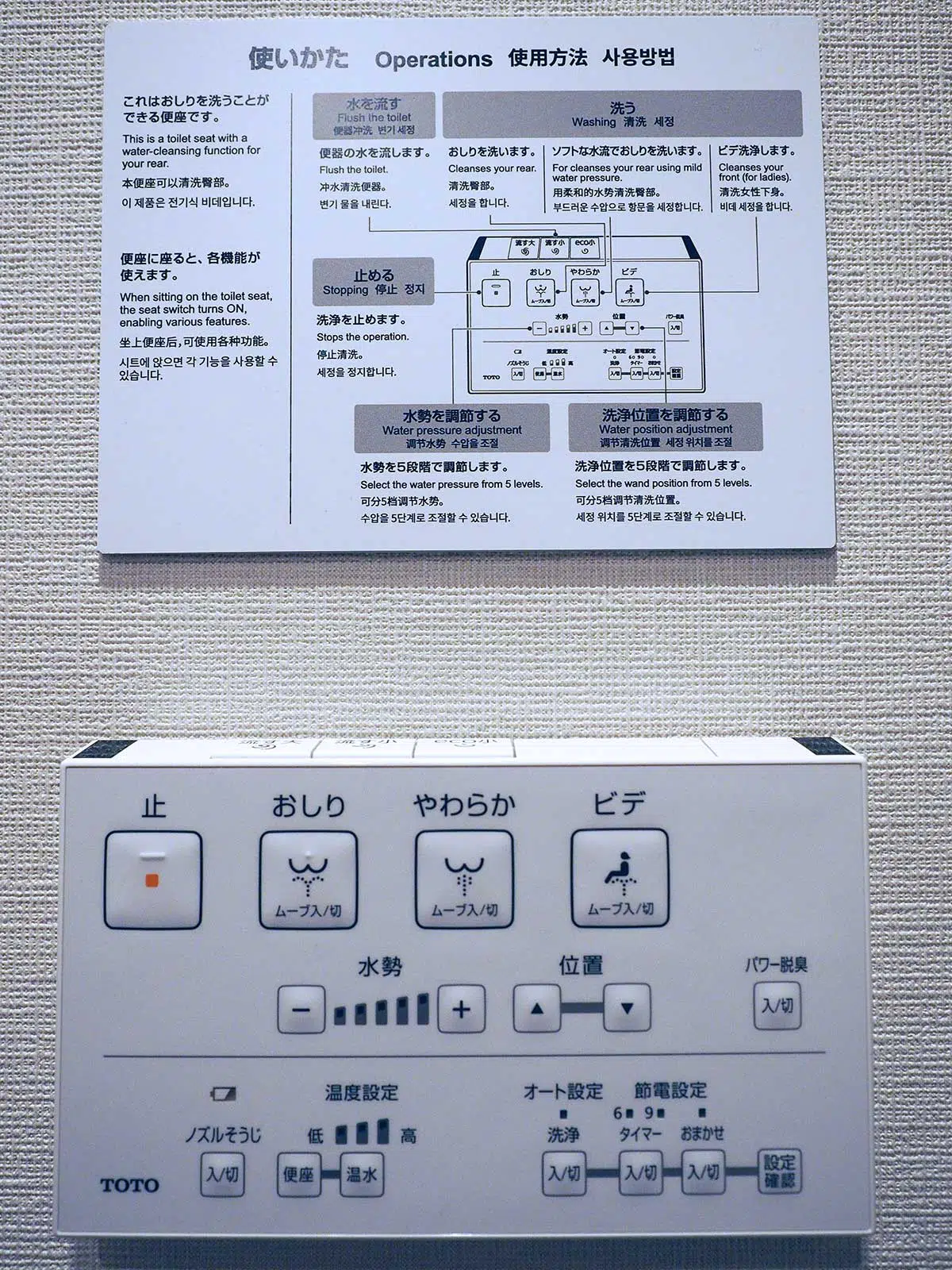 The Hotel's General facilities
There is a coin laundry located near reception. It has both washing machines and dryers. Washing powder is available to purchase.
Miramu does not have a restaurant. As it is an apartment hotel it isn't necessary. Plus there are many places to eat in the area. You will find a vending machine for drinks near the laundry.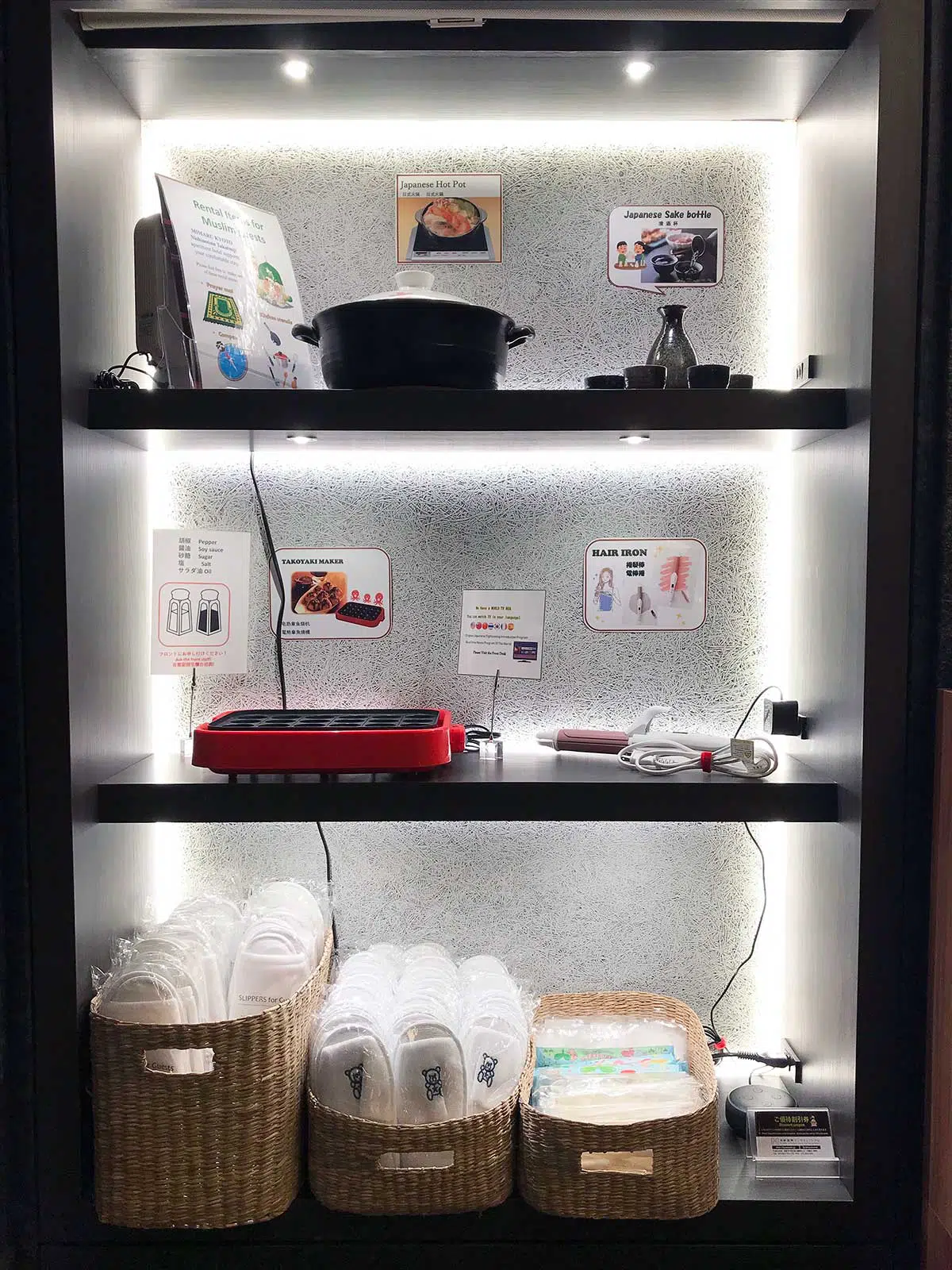 From reception you are able to hire a few items you may need. Cooking items like a Japanese hot pot, takoyaki maker and sake bottle with cups. Other personal items such as a hair straightener and a TV translator.
If you are Muslim you may rent a prayer mat, compass and kitchen utensils.
Reception is open from 7am until 10pm daily. In between these hours you will need your room key to access the building. Check in is 3pm and check out is 11am.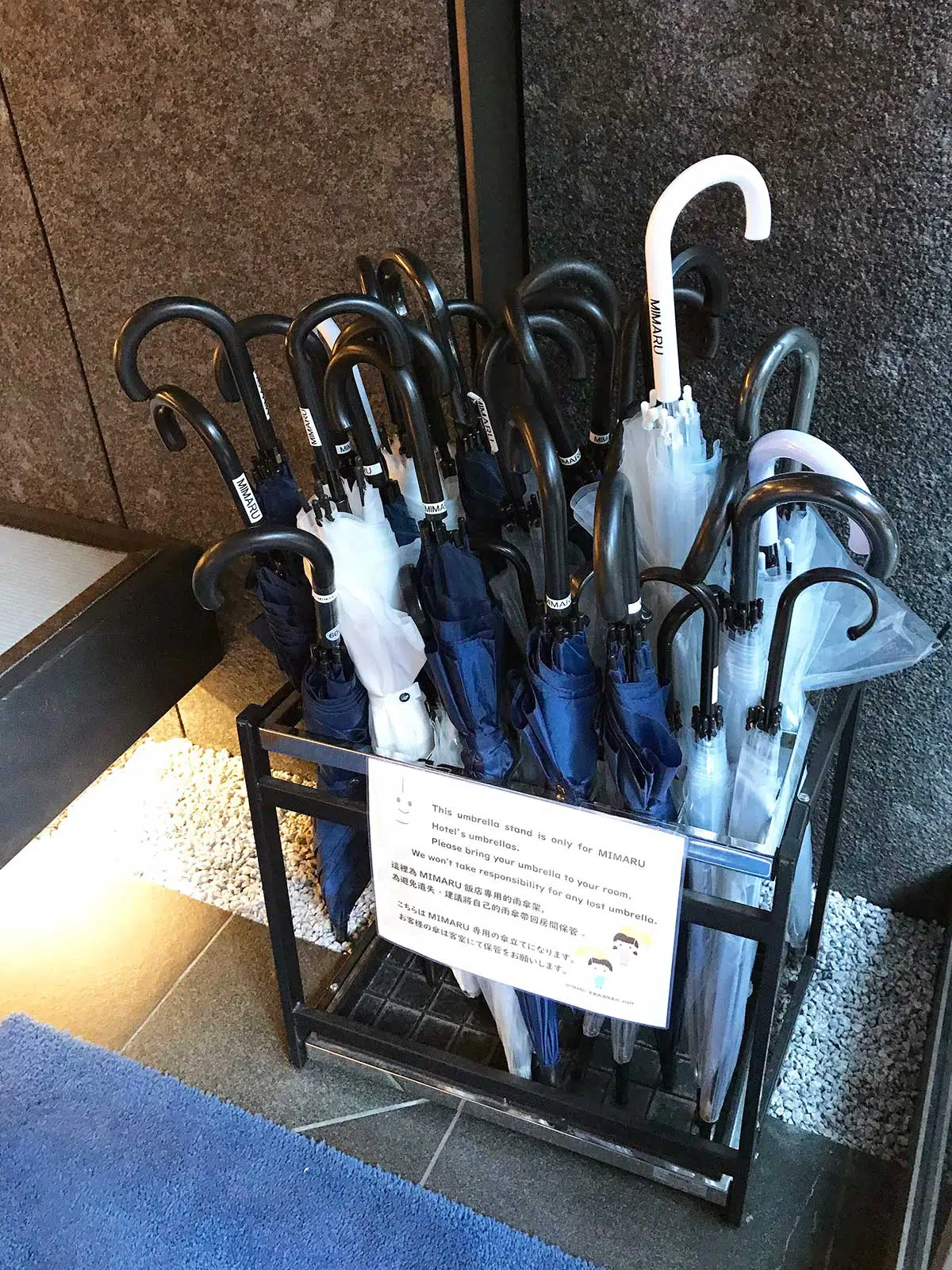 What I loved about our stay at this Kyoto Apartment Hotel
The space of this self catering Kyoto accommodation is a bonus. Plus the fact you can self cater if you want to. With Nishiki Markets a short stroll away you may want to take advantage of eating in. If you are staying in Kyoto for more than a couple of nights Miraru will give you room to breath.
What I didn't like about our stay at this Kyoto Apartment Hotel
Even though we are in a corner room, the room we had was incredibly dark during the daytime. This is due to the large set of windows being up close and personal with the building next door. The other window that looks out over the street is quite small and does not let in a lot of natural light. The main room lights turned on during the day to see.
If we were on a higher floor, floor three or above, I believe there would have been a lot more natural light in the room. These were floors above the height of the neighbouring building.
Sara xxx
Belly Rumbles stayed as a guest of Mimaru, but as always Sara's opinions remain her own.
Mimaru Nishinotoin Takatsuji
782 Honryusuicho, Nishinotoin-dori Takatsuji-agaru
Shimoguyo-ku, Kyoto-shi, Kyoto
Tel: + 81 75 744 6035
website
Other Japan Articles You'll Love
Tsumago - a charming edo era town
Sake Bar O - hidden speakeasy in Tokyo
Become a subscriber and don't miss a single delicious recipe, restaurant review or travel adventure.
PIN ME TO YOUR JAPAN TRAVEL BOARD